When I was considering relocating from Los Angeles to SLO CAL, the main draw was the burgeoning craft beer scene. I had been visiting San Luis Obispo County for a few years as it's only a three-hour drive from Northern Los Angeles County, perfect for a spontaneous weekend getaway, and I was always excited to experience a brewery that I haven't tried yet. But my bucket list of beers was slowly growing so I decided to become a full-time resident and hit the brewery trail!  
Laid Back Brews 
Sipping in Relaxing Atmospheres
The craft beer breweries in SLO CAL offer an ambiance that you won't find in big cities, the serene surroundings and the laid-back, friendly attitude of the brewers contribute to the quality of the beer. You can certainly taste the dedication and love that goes into creating these high-quality brews. One spot where this especially rings true is Tent City Beer Co. in Atascadero. The Taking Care of Business (TCB) IPA is a consistently smooth West Coast IPA that has a full flavor contributed by citrus and tropical hops. The Intensity (In-Tent- City) Imperial Red is a local favorite (you can always find this on-tap at Street Side Ale House ) and deserves a mention as well for the nutty, malty flavor. Enjoying a beer on their front patio offers views of the main strip and the beer garden out back is host to picnic tables, ample shade and the Big Orange Food Truck with rotating vendors and menus. Another favorite of mine is Barrel House Brewing Co. in Tin City, Paso Robles. In their vast beer garden, try a Big Sur, this double IPA is unforgettable in this setting with the red sail shades and string lights, the El Dorado, Citra and Mosaic hops create a piney smooth hoppy flavor that really reminds you of Highway 1.  Central Coast Brewing, with TWO locations in San Luis Obispo, has been around for 20 years and is always a good stop. The Monterey St. location offers an intimate taproom, perfect for my favorite Lucky Day IPA, a World Beer Gold Medal winner with a hoppy flavor! Another fun spot located in downtown SLO is Antiqua Brewing which is the only brewery to grow its own hops in SLO CAL, making them a SLO CAL Crafted favorite.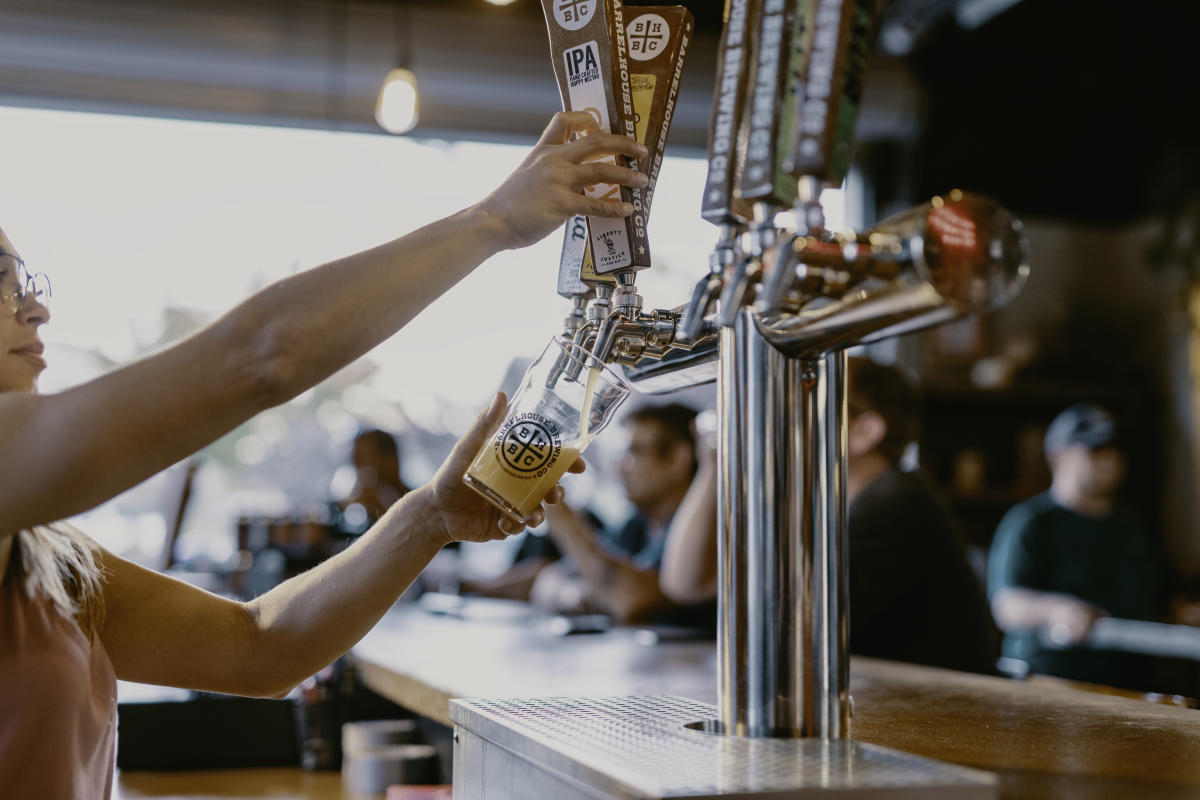 Photo credit: Barrelhouse Brewing
Hopping Adventure
Tasting Different Kinds of Beer
If you are adventurous with your beer, like me, Kilokilo Brewing Company in Paso Robles is an excellent choice. With their love of brewing interesting beers and of course sharing their passion, they bring a bit of the Hawaiian Islands to SLO CAL. Their Milk Shaka Tangerine IPA was the first creamy IPA that I ever tasted and now I will compare every creamy IPA I have to this. This is basically a creamsicle on tap where the Citra, Mosaic and Simcoe Hops balance out the vanilla, tangerine, milk and sugar… Anyone ready for dessert now? The Kilo Garden is their outside oasis where you'll find music, fun and of course great beer. Since we are talking about adventure, Humdinger Brewing serves up their Peanut Butter Falcon, a brown ale with chocolate and banana that is a pleasant dessert beer option. Their garage-style space in Arroyo Grande offers a full-service kitchen with a great menu selection for pairing and their live music calendar is as eclectic as the beer.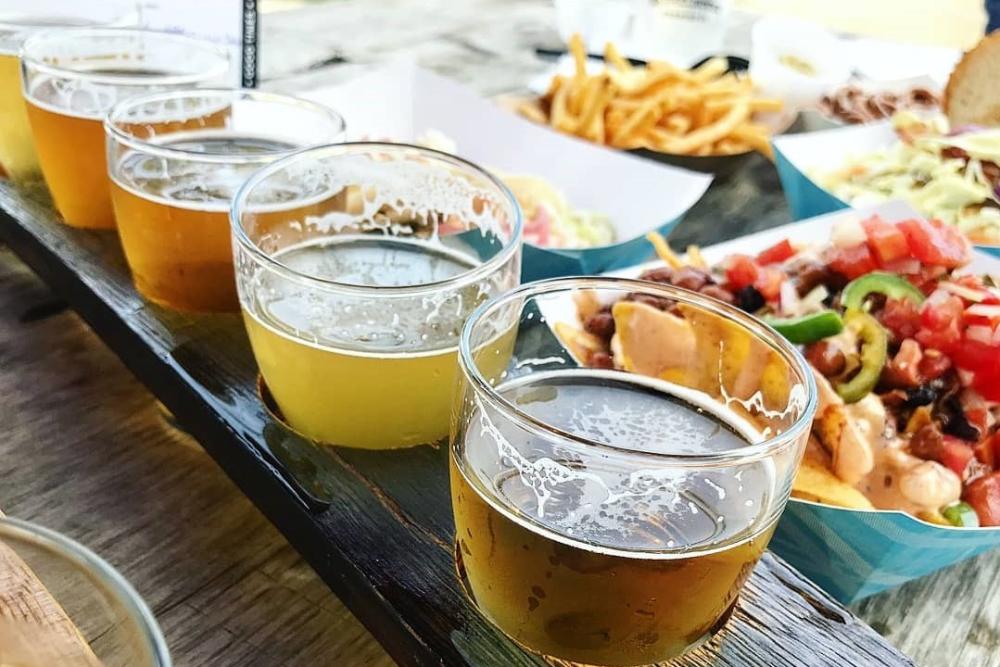 Photo provided by: inmyaliment
Local Love of the Craft
Smaller Breweries with a Big Taste
One of my favorite finds is the Marine Layer, a hazy New England style IPA from Three Stacks and a Rock, the only Nano Brewery in Morro Bay. Brewing their batches in three barrels or less with quality ingredients, this is the place to taste dedication to the craft of brewing in a relaxing, friendly atmosphere. And I forgot to mention the blistered shishito peppers, pretzels, flatbread, and sausages – all prepared with the same dedication from their food menu. 
Off the beaten track in San Luis Obispo, Liquid Gravity Brewing Company demands attention. Every beer is a true passion project and is consistently flavorful and fresh. The West Coast Pale Ale, Pale from the Crypt, is a favorite and has become a staple in my own refrigerator. The bold blend of aromatic fruit plays perfectly with the clean, balanced hoppy flavor and really has you coming back for more. With rotating food trucks and live entertainment, every visit here will be a unique experience in a vibrant setting. And up in Paso Robles is California Coast Beer Co., its intimate taproom with a large patio is the perfect place to sip a malty and balanced Blonde.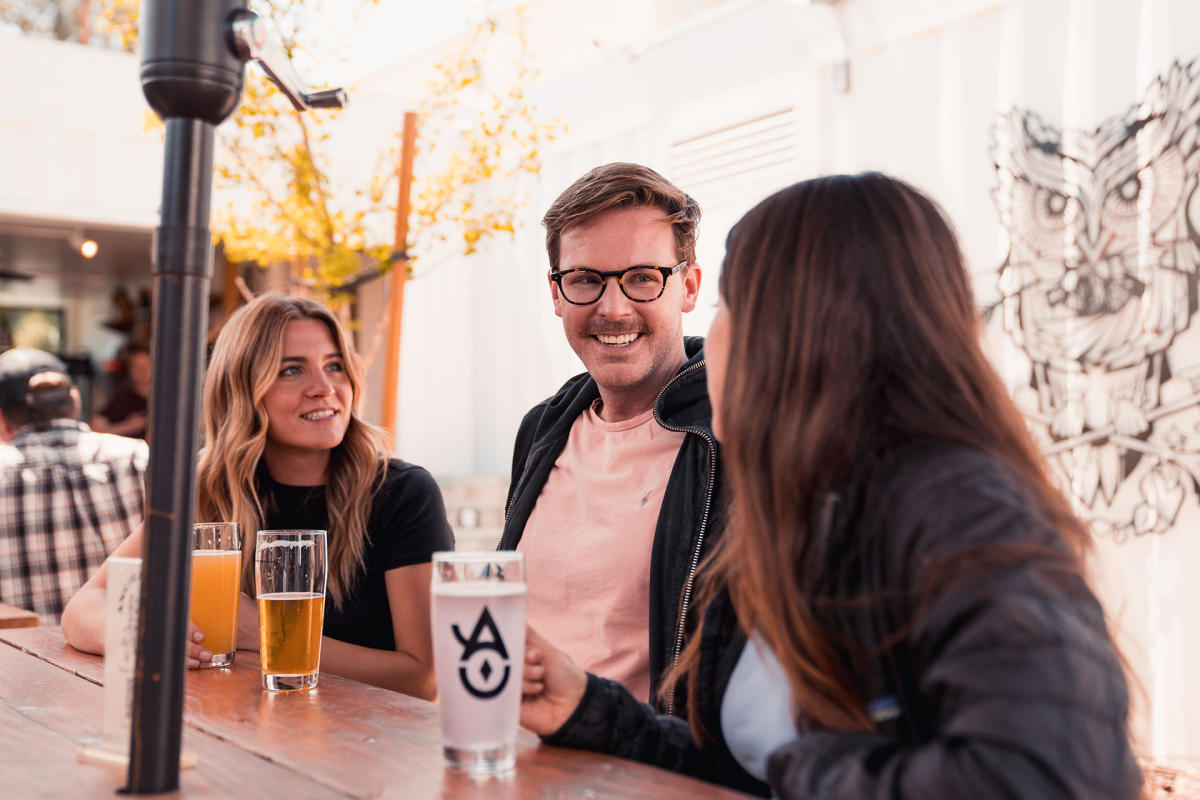 A Taste of Every Hop
Beer Gardens in SLO CAL
 Sometimes a craft beer lover (maybe me) needs a bit of variety in their life and to branch out and try local—and not so local—beers all in the same place. In SLO CAL, you'll find what you are looking for. Two blocks from Downtown City Park in Paso Robles, The Backyard on thirteenth is a family-friendly oasis with twenty-four different varieties of beer on tap. Here, grab a draft of a sour beer from Oklahoma, a lobster roll from Roots on Railroad and play a round of cornhole while enjoying the perfect beer garden weather here in SLO CAL. A newer addition to the beer garden scene is the Ancient Owl Beer Garden & Bottle Shoppe, in Atascadero. Here we are tasked with choosing from their curated unique list of craft beers from all over the world and let me warn you, it is a hard choice with twenty-four beers rotating on tap and more in the bottle shop fridge! And every Tuesday is Taco Tuesday with La Parilla Taqueria.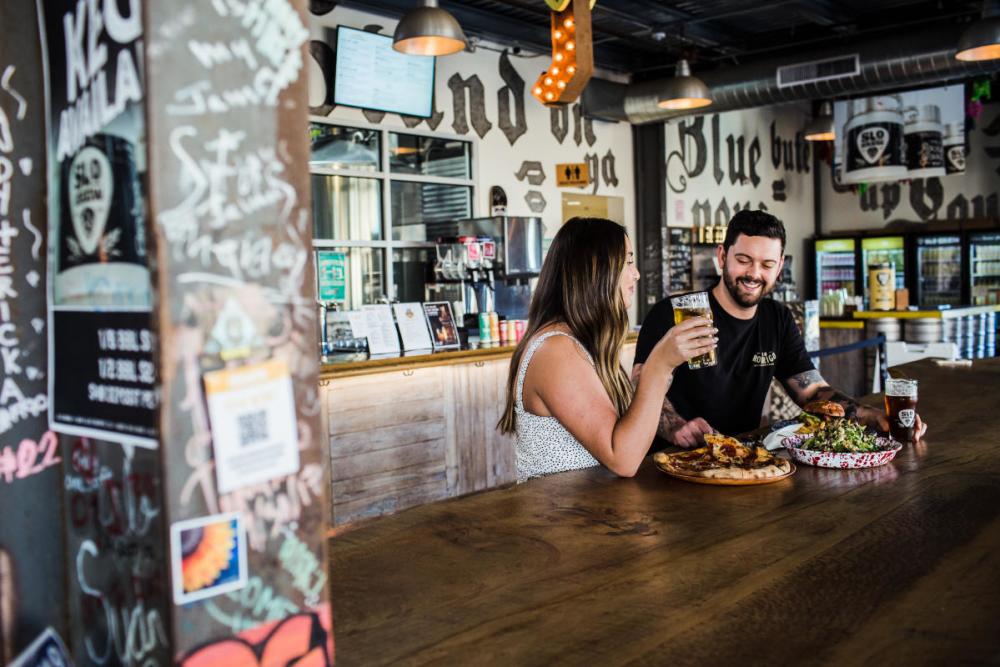 SLO Brew. Photo credit: Acacia Productions. 
To Beer or Not to Beer
Where to Find Beer and More
Not everyone I travel with (or drink with) loves beer the same way. That's what makes SLO CAL's variety so great even for the non-beer lovers. The Raconteur Room in Atascadero offers a quirky fun environment with wine, hard seltzers, ciders and beer.  They even bottle and produce their own wine in partnership with Nelle Winery, a 50/50 blend of Syrah and Grenache. If you are headed towards the surf and craving suds, Shell Beach Brewhouse in Pismo Beach has 30 beers on draft, a full bar and four wines on tap. And if friends are craving some craft distillery as well, check out Rod & Hammer's SLO Stills where sipping whiskey amidst vintage surfboards in itself is an art. The good news is that SLO Brew (original home to Firestone Walker's Cali Squeeze, the blood orange Hefeweizen) is located right next door.
Cheers
Check out the complete SLO CAL Brewery Trail, complete with over thirty local craft brewery outposts (and more opening throughout the year). Hopefully, you will be as excited as I am to experience a new beer in SLO CAL, where the pace of life is a bit more relaxed, and the beer flows just as free. And now, you just maybe are beginning to plan that long-awaited beer tour here in SLO CAL where there's a good chance you'll find yourself relaxing with an SLO CAL craft brew in hand, chatting up an SLO CAL brewer, or just daydreaming about how much SLO CAL beer you can actually carry home.
For more breweries click here.
Header image provided by @fetterhops