The San Luis Obispo County shoreline is an outdoor lover's paradise, dotted with coastal hills and expansive sand dunes, hidden coves, and an extensive network of beach trails. Whether by foot, bike, kayak, or horseback, it's a perfect place to explore the best of what SLO CAL has to offer.  
From Montaña de Oro to Los Osos + Baywood Park and up to Morro Bay, this stretch along Estero Bay is one of my favorite areas for an outing by the water. You'll find some of the most rugged and untouched coastlines along the bluffs in Montaña de Oro State Park, or MDO as we locals like to call it. Head towards Los Osos to stroll along the boardwalk that winds through the twisted pygmy oak trees of the Elfin Forest, or continue north into Morro Bay to explore the area by kayak. Being out on the water offers a great vantage point to view the local wildlife.
I recently headed out with SLO CAL for a play day along the coast. Despite growing up on the Central Coast, this was my first time experiencing this area with a guided tour on kayak and horseback. It reminded me how much there still is to discover in my own backyard!
Kayak Morro Bay with Central Coast Outdoors
Whether it's your first time paddling out, or you are a seasoned kayaker, Morro Bay is one of the best places in SLO County to ocean kayak because of its somewhat protected and calm waters, shielded from Estero Bay by a three-mile stretch of sandspit. You'll encounter an abundance of marine life - from numerous species of seabird to harbor seals, sea otters, sea lions and the occasional close encounter with bat rays. 
Kayak rental shops dot the Embarcadero but one of my favorite places to launch is the Kayak Shack, located further south next to Morro Bay State Park. Launching from this area puts you in the middle of the Morro Bay State Marine Preserve. You can head north and paddle around closer to Morro Rock, beach your boat and explore the generally secluded strand along the sandspit or, if the tide is right, paddle south from the boat dock to explore more of the back bay and the channels of the estuary.
We met up with John Flaherty at the Kayak Shack, owner of Central Coast Outdoors, for a kayak tour. I've paddled around Morro Bay plenty of times, but this was my first guided outing. It was much more of an educational experience being able to explore the bay with an expert nature guide. John is a wealth of information when it comes to the ecology, marine birds and animals, and plant life around the bay. I can imagine John has guided this same tour more times than he can count, but the sight of a blue heron at the water's edge still manages to elicit a big smile as he points it out to us. "Isn't that such a magnificent looking bird?!"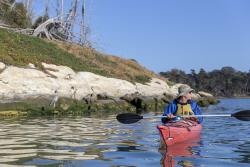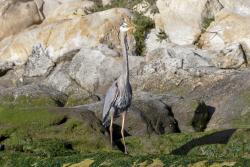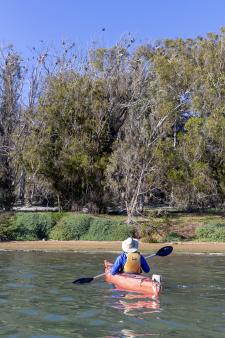 After paddling around the eastern shore of the bay, exploring the heron rookery and admiring the chattering cormorants roosting in the trees, we paddled across towards the sandspit. This time of year, a large portion of the dunes are roped off to protect the snowy plover during nesting season, but if you paddle to the northwest corner of the bay, you can beach your boat and walk around the point to find your own secluded hideaway to relax and enjoy the panoramic views.     
   
Lunch at Bayside Café
Returning to the Kayak Shack, we dropped off our kayaks and headed to the Bayside Cafe located right across from the dock. This laid-back, rustic cafe provides indoor and outdoor seating with beautiful views of the bay. It's the perfect place to refuel after spending a day out on the water. The menu offers plenty of variety, from your standard seafood options, pastas, burgers and sandwiches, to Mexican specialties. Additionally, their wine list features a nice selection from local SLO County wineries. The charbroiled salmon filet sandwich is one of my go-to dishes. Whatever you order, be sure to leave room for one of their homemade desserts, the Chocolate Oblivion is deliciously decadent.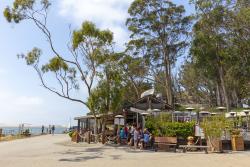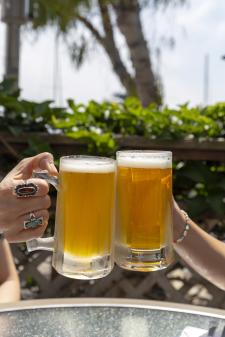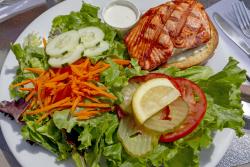 Ride Horseback on the Beach with Central Coast Trailrides
After fueling up, we hopped in the car and headed south towards Los Osos where we met up with Brian Hallett, co-owner of Central Coast Trailrides. Brian and his wife Crystal lead guided horseback rides at various locations throughout the county, including several North County vineyards and Santa Margarita Lake. Brian grew up in North County and after chatting for a few minutes, we discovered we graduated a year apart, he from Atascadero High, and I from SLO High. I always enjoy meeting fellow SLO County natives. Crystal and Brian have done a wonderful job of turning their passion into a family business that showcases some of the most beautiful locations around the Central Coast.
We set out from Sea Pines Golf Resort and followed the trail along the southernmost tip of the back bay, passing Shark Inlet, another location I had yet to explore despite having been by this area countless times en route to MDO. After making our way along the water's edge and through about a half mile of coastal scrub, we headed up and over the sand dunes onto the south end of the Morro Bay sandspit where we were met with expansive views from Morro Rock down to MDO.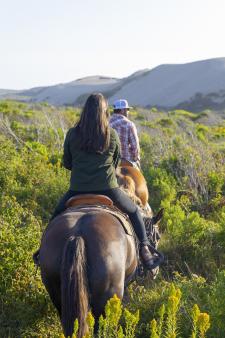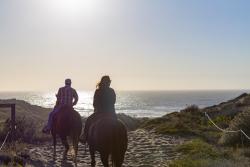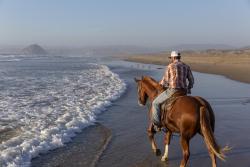 Brian is such a fun and personable guide, riding with him felt like spending a day out exploring with an old friend. "Do you guys want to pick up the pace?" he asked. No need to ask us twice, we took off down the beach. After a few seconds of ducking and dodging my camera which I mistakenly clipped to my backpack strap a little too close to my face, I decided loping wasn't for me, not this time - not if I planned to keep my front teeth. After about an hour riding along the beach, we made our way back up onto the top of the dunes and watched as the sun dipped below the horizon. It could not have been a more perfect SLO CAL day of adventures along the coast.