Grab onto your handlebars and pedal into SLO CAL!
Our scenic bicycle routes offer up a unique way to explore stunning coastal views, dreamy backroads and sunny, blue skies. From dramatic cliffs and pastoral farmland to the winding trails of rural wine country, SLO CAL is home to some of the most popular and pleasurable cycling opportunities in the world. Whether you bring your own wheels, rent a beach cruiser or hop on an e-bike, you'll take the fast-track to fun. With plenty of road cycling, mountain biking and family rides to explore, get ready to see SLO CAL from a whole new vantage point: your bicycle seat!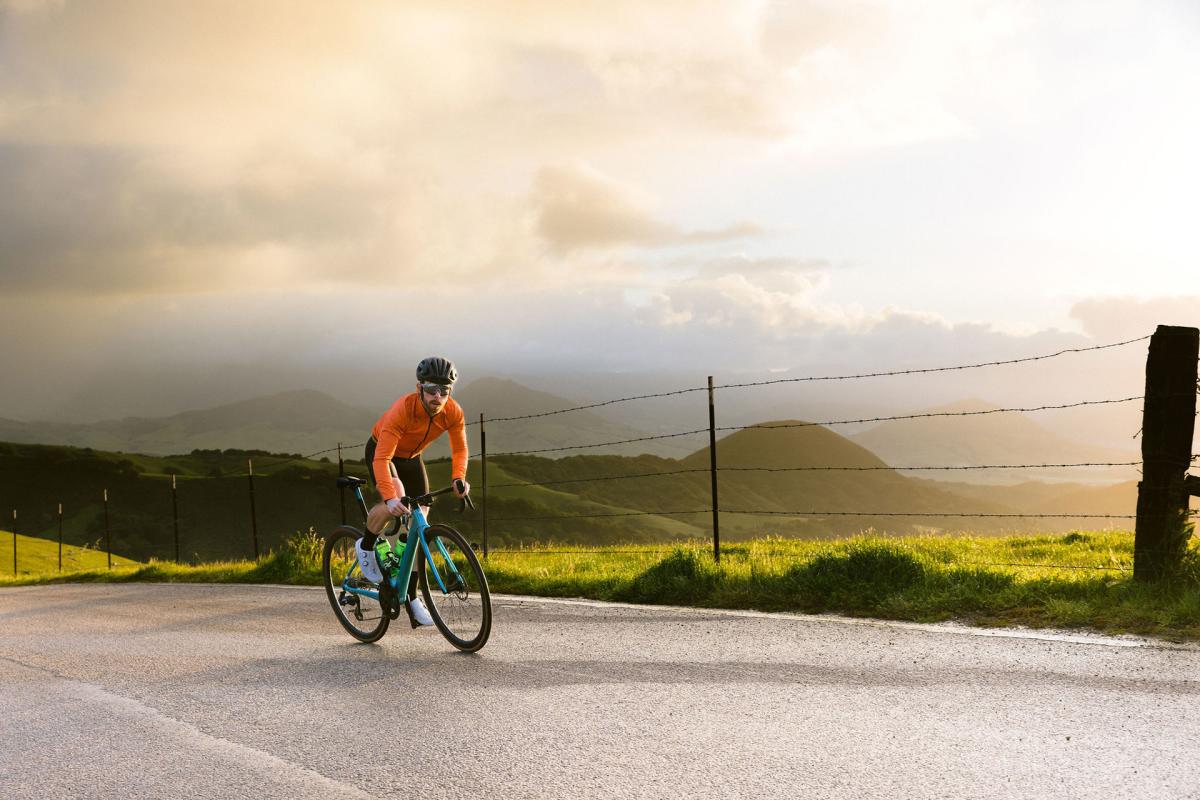 Photo credit: Acacia Productions
Highway to Heaven
The breathtaking 20-mile stretch of Highway 1 from San Simeon to Ragged Point is a universal favorite for its fiery sunsets, wildlife sightings and elevated ocean views.
Get rolling: On Highway 1, zip by Elephant Seals lounging in their natural habitat, take in amazing views of the coast and discover landmarks like the Piedras Blancas Light Station, all while frothy waves crash below.
Avid cycler? At 64 miles round-trip and 783 feet gained in elevation, San Simeon to the Silver Peak Wilderness route is a scenic challenge winding through the Gateway to Big Sur (it's well worth the effort, we promise).
Push yourself further: Nearby Eroica road cycling routes also include the 36-mile, 1,600-foot elevation gain Piedras Blancas Route; 72-mile 6,000 elevation gain Santa Lucia Route; 81-mile, 6,400 elevation gain La Via Dello Scalatore Route and 108-mile, 8,200-foot-elevation gain Heroic Route. Keep pedaling, pal—you got this!
Pedal to the Pines
Cycle your way to art galleries and tasting rooms in the quaint coastal community Cambria, where pine-studded hillsides meet the sea. 
Get rolling: Ride happy! Heading inland from Cambria on Santa Rosa Road, you'll find a pastoral route with challenging hills and a peaceful meadowland dotted by ancient barns. Ready for a romantic ride? Hug the rocky coastline as you ride along Moonstone Beach—even more magnificent come sunset. Nearby to the south, the route along Highway 1 from Cambria to Cayucos is relatively easy, yet features sweeping ocean views worth a photo opp. Pack a picnic and make a day of it!
Backroads Beauty
Hit SLO CAL's backroads to discover lush vineyards, farmland and peace of mind.
Get rolling: Claim your tranquility. At 25 miles round trip, the gorgeous Prefumo Canyon Road/See Canyon elevated storybook views–including one of Morro Rock looming in the distance!
Ready to ride our world-famous wine country? Pedal the SLO Coast Wine region through Edna Valley, where sun-dappled vineyards and tasting rooms are conveniently located along Highway 227.
To the north, rural Paso Robles and San Miguel offer up their own oak-studded wine trails, wildflower-emblazoned hillsides and iconic tasting rooms. Want to see what's growing in our fields? Cycle along the western edge of Arroyo Grande Valley on Branch Mill Road, where farmland and wide-open charm await.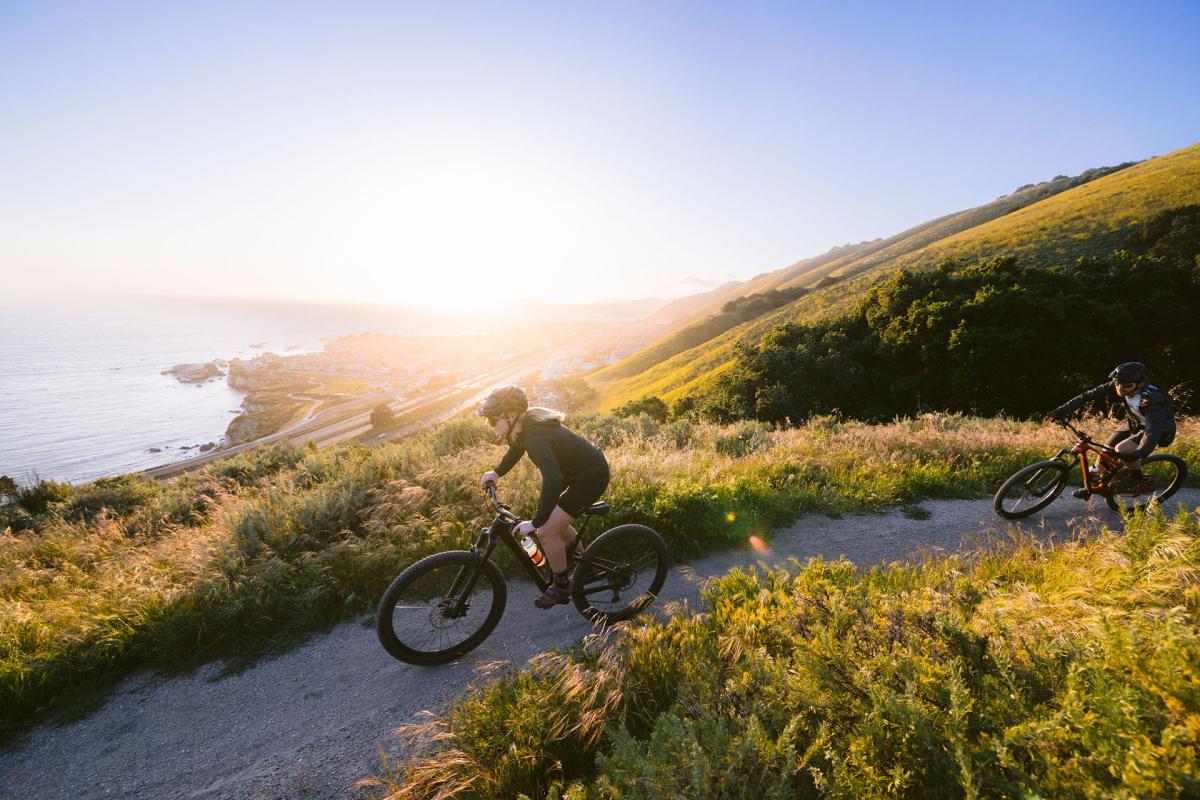 Photo credit: Acacia Productions
Off the Beaten Path
Whether you're an expert or a newbie to the sport, you'll discover off-road excitement in SLO CAL.
Get rolling: Go wild! With a 720-acre riding area, Irish Hills Natural Reserve in San Luis Obispo contains over eight miles of trails, with many double-track loops to enjoy.
Stenner Springs and the Poly Canyon Loop in San Luis Obispo present awesome off-road fun, including Shooters Trail, Elevator Trail, Morning Glory Trail and "The Eucs," set along a scenic Eucalyptus grove.
The Poly Canyon Loop's Design Village Trail in San Luis Obispo aka "the architecture graveyard," features an array of experimental architecture projects created by Cal Poly Students, which makes for a unique mountain biking backdrop.
Set midway between San Luis Obispo and Atascadero, Cuesta Ridge offers up a vast, elevated wonderland that affords views of endless wilderness and azure ocean just beyond. 
Ride the tide
Get your kicks on the mountain and your thrills in the water.
Get rolling: Majestic Montaña de Oro State Park in Los Osos is a mountain biker's dream! Featuring popular coastal trails leading to pristine beaches, pebbly coves and shimmering tide pools, you won't find a more spectacular beach day in SLO CAL. Looking for some lakeside fun to pair with your ride? Lopez Lake Recreation Area is home to 22 miles of rugged shoreline and many mountain biking trails to explore. Yes, that means you can ride to your heart's content before partaking in some refreshing water sports!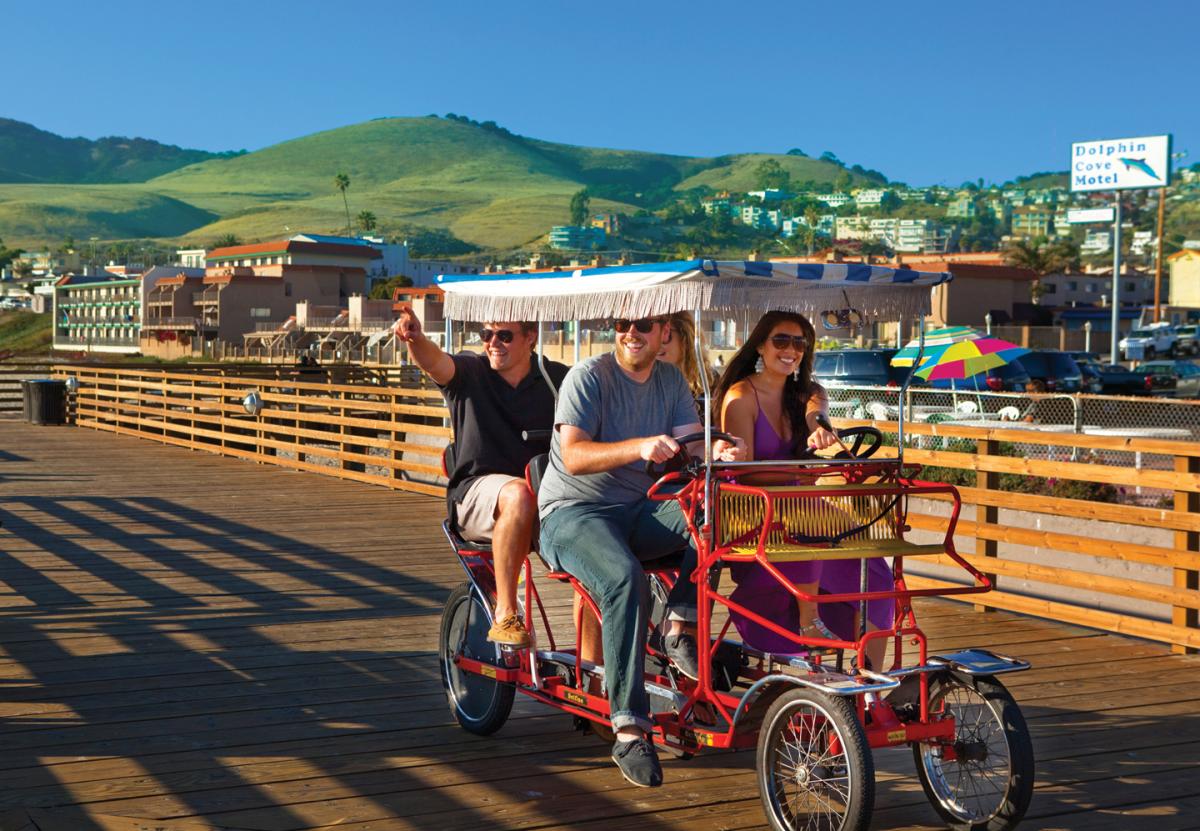 Photo credit: Experience Pismo Beach
The gang's all here
It's always "More the merrier" when you choose these family-friendly bike rentals.
Get rolling: Pismo Beach Bike Rentals and Pedal Up Bikes in Pismo Beach offer rentable banana bikes (which can be ridden on the sand), beach cruisers, mountain bikes, e-bikes and single or double surrey bike rentals that accommodate up to five pedalers at once!  Now you're ready to cruise together through Pismo Beach and Shell Beach or embark on a more high-speed adventure. Truly, you choose your own adventure. The open road beckons!
Rev it up
Whether you go electric or gas-powered, you'll love the feel of the wind in your hair.
Get rolling: Need for speed? Rent an e-bike and embark on the Avila Beach's Bob Jones trail, also known as the "City to the Sea Trail." This well-paved county-maintained bike route winds from San Luis Obispo to downtown Avila Beach, finishing along the water. From there, park and shop, hit the beach or check out the Avila Pier. Note: You can easily rent an e-bike from Pismo Beach Bike Rentals and Central Coast Kayaks in Pismo Beach as well as Bolt About in Avila Beach, among other local shops.
SLO CAL's only motorcycle/sidecar experience, Sidecar Tours allows you to hop into the driver's seat or cozy into a sidecar. You'll experience SLO CAL in the fast lane, a true sight to behold!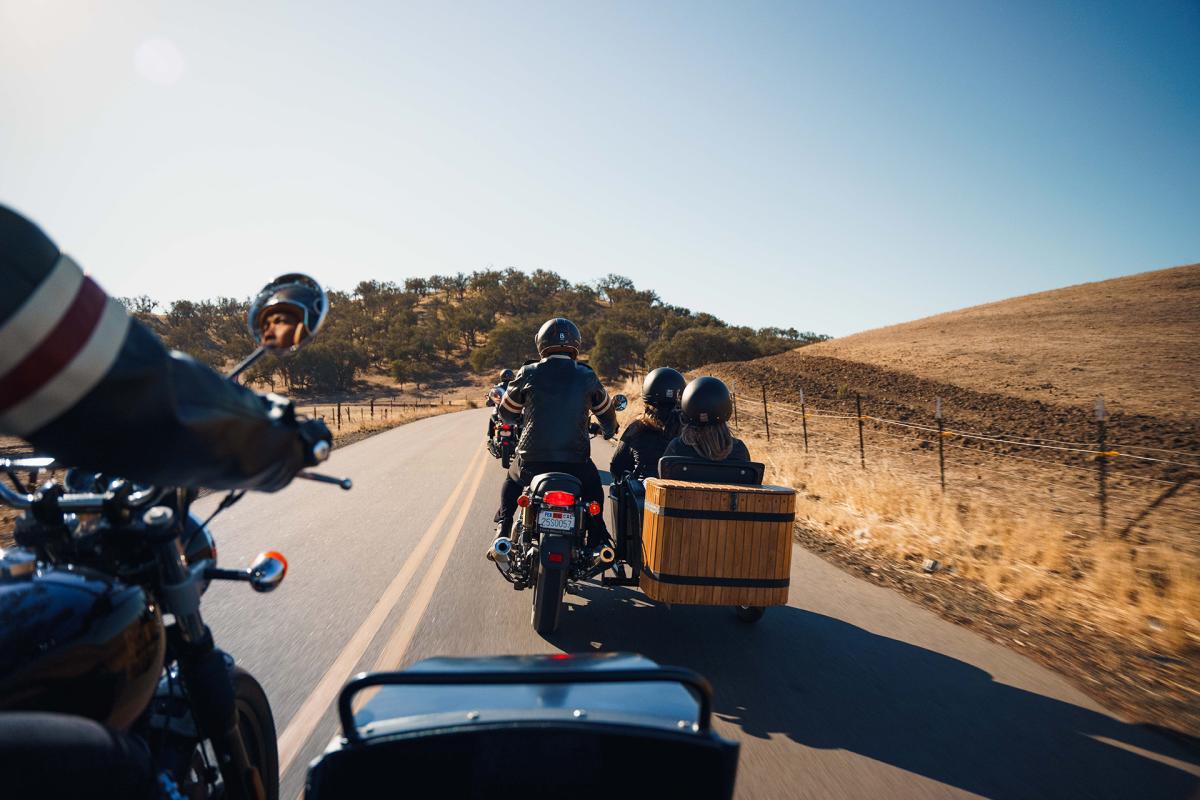 More to Explore
SLO CAL bike routes are always full of surprises.
Get rolling: Roll back the clock. The annual Concours d'Elegance brings together vintage bicycle enthusiasts for a fun-filled day of whimsy, showcasing the best vintage Road Racing, Track Racing and Randonneur bicycles (spectators are welcome, so bring the whole fam).
The Morro Rock to Cayucos Pier beach cruise offers a gorgeous 12.4-mile total ride in the sun best suited for a mountain bike or beach cruiser. There's no hurry—ride at your own pace and soak in the rays!
No destination in mind? Cycle to Dinosaur Caves Park in Pismo Beach, where the kiddos can tackle a super cool playground (and mom and dad can enjoy the elevated ocean views).
Join the community
Never bike alone! CycleCentralCoast brings together miles of world-renowned cycling routes for every level and interest. Cyclists, triathletes, and outdoor enthusiasts alike can discover trip ideas, tips and local resources all accessible from one handy website. If you're looking for an in-person cycling guide along SLO CAL, try Central Coast Outdoors, a tour company and outfitter based in San Luis Obispo. CCO sets cyclists up with bikes and gear, and offers half-day and full-day rides with options for lunch, wine tasting, and other attractions.
When borrowing is better: No bike? No problem. Take advantage of Cambria's Zagster bike-sharing app. Simply sign into the app, choose a bike and return it when you're done. Zagster is perfect for travelers on the go or families riding from West and East Village to Moonstone Drive.
Header image courtesy of Acacia Productions