Live it up in the bike lane along the SLO CAL coast
Could there be a more freeing feeling than hopping on your bike and chasing the sun in SLO CAL? With family-friendly bike routes, challenging climbs and stunning views, Highway 1 is a true cyclist's paradise. From avid pros to beginners, anyone can enjoy this world class joyride (yes, even the kiddos!). This spring, discover 57 miles of coastal cycling adventures between Ragged Point to the north and Nipomo to the south, including dramatic coastal peaks, vibrant wildlife, charming beach communities, stunning nature preserves, and lush vineyards. What are you waiting it for? It's time to live it up in the bike lane.
Take the scenic route
Cliffs, sunsets and wildlife as far as the eye can see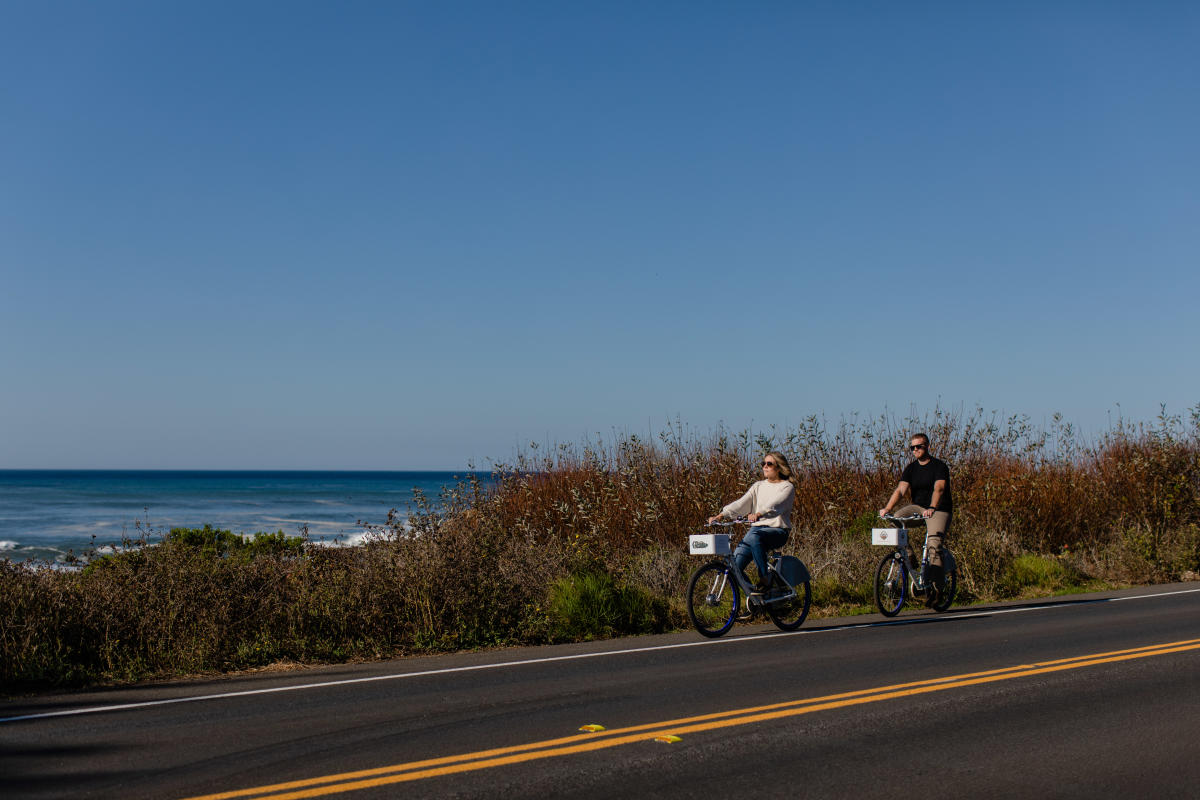 Scenic to the max: All of SLO CAL is stunning, but there's a reason why the breathtaking 20-mile stretch from San Simeon to Ragged Point is a favorite among cyclists the world over. Colorful sunsets, secluded black sand beaches and staggering seaside cliffs await along this picture-perfect slice of historic Highway 1. Whether you're planning an extended tour or just want to spend the weekend sight-seeing as you pedal along the coast, this northern gem of Highway 1 should be number one on your SLO CAL ride itinerary.
See the sights
San Simeon to Ragged Point: Ready to see all the sights from the comfort of your bicycle seat? Let's go! This 37-mile bike route along Highway 1 hugs the coast as it sweeps north from San Simeon to the ethereal Gateway to Big Sur. Wave hello to San Simeon's famous Elephant Seal population and discover incredible coastal landmarks like the Piedras Blancas Light Station (keep your eyes peeled for Hearst Castle's twin towers glittering in the distance). To be sure, this is a challenging ride for the more experienced. However, we can promise you the beauty is well worth the effort.
Bike with us
Join the community: Never bike alone! CycleCentralCoast brings together miles of world-renowned cycling routes for every level and interest. Cyclists, triathletes, and outdoor enthusiasts alike can discover trip ideas, tips and local resources all accessible from one handy website. If you're looking for an in-person guide along Highway 1, try Central Coast Outdoors, a tour company and outfitter based in San Luis Obispo. CCO sets cyclists up with bikes and gear, and offers half-day and full-day rides with options for lunch, wine tasting, and other attractions. When borrowing's better: No bike? No problem. Take advantage of Cambria's Zagster bike sharing app. Simply sign into the app, choose a bike and return it when you're done. Zagster is perfect for travelers on the go or families riding from West and East Village to Moonstone Drive.
Pleasure pier

San Simeon Pier: Looking for a scenic ride that's easy and breezy? Spin into San Simeon's historic beach community, where wine and history collide. Park your wheels at the W.R. Hearst Memorial State Beach and meander along the San Simeon Bay Pier and discover the wind-swept beach that so captivated the late great William Randolph Hearst. Take our advice: Bring a pair of binoculars and perhaps a picnic. Passing otters and whales are known to pop up along the surf!
Go wild
San Simeon to the Silver Peak Wilderness: Feeling ambitious? At 64 miles round-trip and 783 feet gained in elevation, this dynamic route is as pristine as it is challenging. Traverse San Simeon along Highway 1 through the Gateway to Big Sur and into the Silver Peak Wilderness, home to some of the most jaw-dropping scenery on earth (well worth that sweat on your brow). This magical paved route passes Arroyo Laguna State Beach, popular with kite boarders and windsurfers alike. Tip: Head up Highway 1 to Ragged Point, where you can catch live music on the lawn or order lunch with a million dollar view. How's that as reward for a day's ride well spent?
Tackle the mountain

Mountain biking along Highway 1: Born with rugged ambition? We have a local secret for you. Just grab your mountain bike and take the fire road across from Ragged Point Inn and Black Swift Falls trailhead. This well-maintained trail is often overlooked, but those who seek a detour off the beaten path are rewarded with a challenging climb and unmatched ocean views. This steep out-and-back trail gains 1,873 feet in just 4.6 miles, but a lack of trees both ways reveal crystal clear ocean views. Keep your eyes and ears peeled for the sound of trickling water: small waterfalls flow in the tranquil brush each spring. Now you're in on this awesome SLO CAL secret, too.
A steady pace
San Simeon to Cayucos: Slow and steady wins the race! At 42 miles round-trip, this mellow, mostly-flat route whisks you from San Simeon to the friendly, laid back beach town of Cayucos to the south. Don't let the long miles deter you; expect zero major climbs on this smoothly paved ride (plus, there's awesome treats to sample along the way). Speaking of rewards, be sure to stop at the 14-mile mark for a taste of bliss at Harmony Cellars Winery, located adjacent the tiny town of Harmony, population 18, if you count the cows. Morro Rock rises in the distance as you head south on Highway 1 along the captivating water's edge. Tip: Be sure to stop at Estero Bluffs State Park, where gentle pathways lead to tide pools, a secluded beach and fascinating shipwreck site.
Moonstones make the ride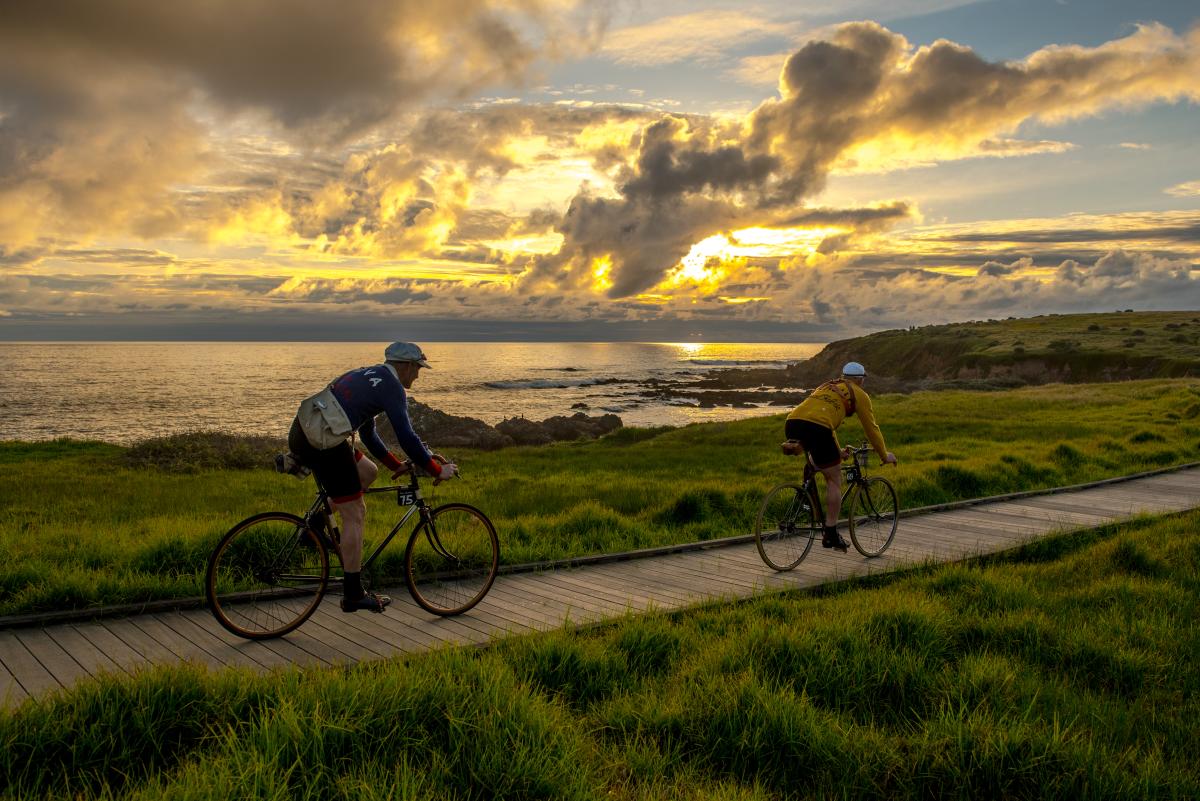 Cambria to Gorda: All that glitters is gold (or, more aptly, moonstone) along Highway 1. The gorgeous route between Cambria and Gorda makes for a fantastic day and an even more enticing sunset along the coast. Hug the rocky coastline as you ride along Moonstone Beach before heading up the coast through the Gateway to Big Sur. Keep watch for some surprising local wildlife along the way (especially zebras descended from Hearst's original herd known roam the hillsides surrounding Hearst Castle).
Pedal Back in time
Santa Rosa Creek Route: Heading inland from Cambria on Santa Rosa Road, you'll find a rustic, mellow 22-mile out-and-back route beloved by locals and tourists alike. As you pass farms, wildflower blooms and softly rolling green fields, you'll begin to feel that you've traveled back in time to an enchanted countryside. However, the seaside town of Cambria with its boutique shops, awesome restaurants and art galleries lies just minutes away. Ah, the best of both worlds!
Big blue
Cambria to Cayucos: Allow seabirds and surfers to be your only riding companions as you take a serene solo cycling trip in Cayucos. This beloved beach community is all about laid back charm and is perfect for a relaxing cruise along the coast. The 35-mile route out-and-back route from Cambria to Cayucos is a manageable route that still affords sweeping ocean views you'll want to write home about. Tip: Grab fish tacos to-go from Ruddell's Smokehouse and chow down on the sand. Welcome to the SLO life, as it was meant to be experienced.
The art of riding
Cayucos Loop: Looking for a challenging ride that still affords an artful escape? Take this route, a 47-mile loop with a total elevation gain of 3,647 feet dotted by wineries and artist studios along the way. This bucolic route begins in Cambria at Moonstone Beach, leading south through before heading east, where green fields, fruit stands, tasting rooms and artists studios await. Be aware: this is no walk in the park. At mile 12, be prepared for The Wall, a 1,871 feet climb that doesn't fully let up until mile 20. We know you can do it. You got this!
Cayucos charm
Cayucos routes rule: There's plenty of remarkable routes in Cayucos to explore many converging around the scenic junction of Highway 46 and Highway 1. Choose your own Cayucos route and experience incredible peaks and valleys as you travel along the coast north, south, east and west. Tip: A few landmarks on your list? Starting from Cayucos, savor a heart-pounding ride while stopping to explore the tiny town of Harmony, Whale Rock Reservoir, Moonstone Beach, Estero Bluffs State Park, Harmony Headlands State Park, Morro Bay State Park and the Fiscalini Ranch Preserve, just to name a few. We'll show you which road to take.
Family fun
Charming coastal communities and accessible adventures for the whole fam

Ever notice that families who bike together just seem to have more fun? Enjoy laughs, learning and a whole lot of nature as you explore the allure of Los Osos/Baywood Park, Morro Bay and Avila Beach. Last one to the water's a rotten egg!
The ultimate nature ride
Los Osos/Baywood Park: Want to wow the kids with a word of wonder? Los Osos is home to the majestic Montaña de Oro State Park, known for its rugged cliffs, tucked-away sandy beaches, coastal plains, streams, canyons, and golden flower-streaked hills. Here, you'll find a handful of incredible trails that will delight everyone in your pack. With spectacular scenery produced through millions of years of volcanic activity, plate tectonics and erosion, you'll find yourself riding along ancient history in the making. Tip: Take a detour and mountain bike along a trail brimming with wildflowers. Can you name them as you go? Yes, this ride is an immersive experience for naturalists of all ages.
Morro Bay Embarcadero to Harbor walk: Something fun for everyone? Absolutely! Although kayaking is probably the favorite activity preferred by visitors of Morro Bay's peaceful estuary, there are bountiful biking opportunities to enjoy, too. Invite the whole family on a casual ride along the Embarcadero to the Harbor walk, stopping to check out the seabirds, saltwater taffy and otters known to lounge and nosh along the water.
Morro Rock to Cayucos: Cruise like you mean it! This one's for kids who really want to go for it and soak up as much sun as possible. The Morro Rock to Cayucos Pier beach cruise offers an easy, gorgeous 12.4-mile total ride in the sun. Bring a mountain bike or beach cruiser, either will do! Just remember, it's all about the journey, not the destination.
Bike like Bob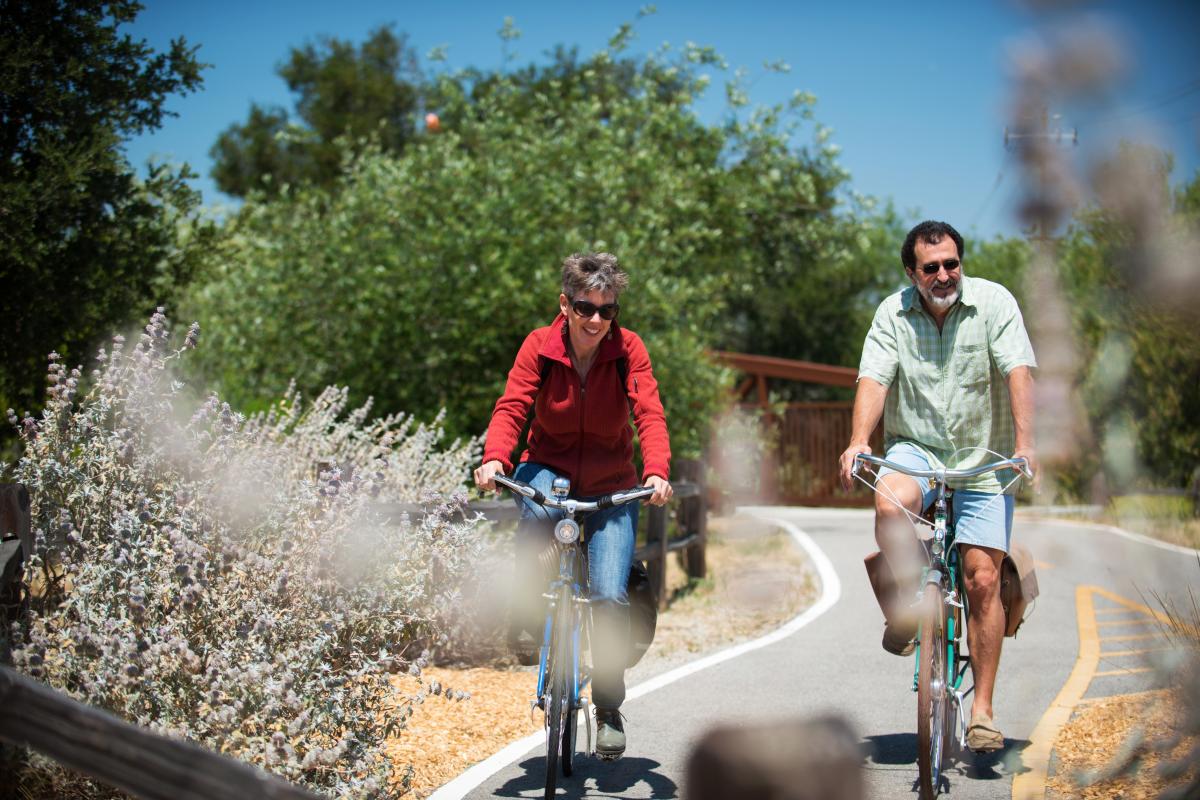 Bob Jones Trail: Travel a straight line to fun! Avila Beach's Bob Jones trail, also known as the City to the Sea Trail, offers an easy-going cycling escape for teens and toddlers alike. This well-paved county-maintained bike and walking trail is unique in its location: The trail starts right off Highway 101 in San Luis Obispo and ends in downtown Avila Beach, on the water. Park at the lot and enjoy a smooth and (mostly) flat ride with trail benches available throughout. Dogs are welcome on the trail, too! Note: From the trailhead parking lot to the end of the Avila Pier is 3.0 miles. Easy for even the smallest cyclists in the group to accomplish. Want even more Avila Beach cycling routes? Check out these awesome routes that wind along the beach, whisk you through wine country and ascend mountains.
Climb higher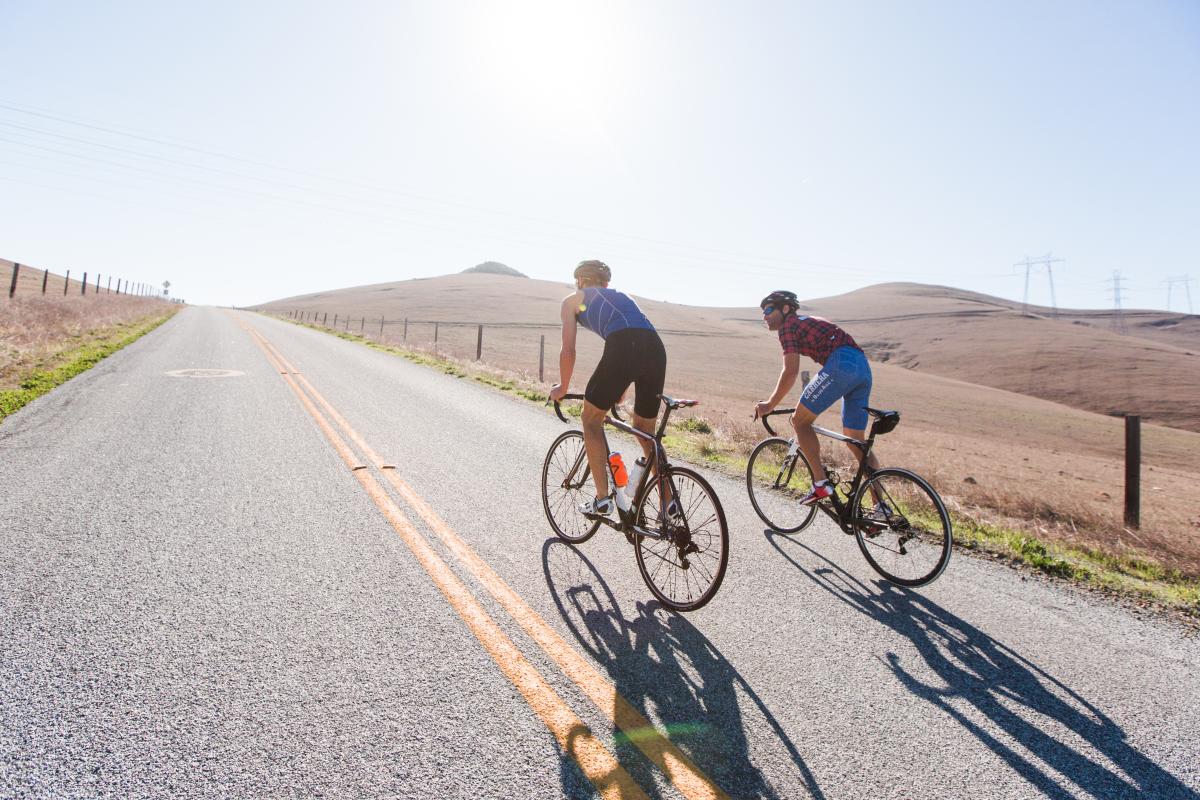 Perfumo Canyon: Want to take on a big family challenge together? At 25 miles round trip and a staggering swing in elevation, the Perfumo Canyon Road/See Canyon ride from San Luis Obispo to Avila Beach is a worthy workout filled with enchanted views. Pass storybook woods, grand vistas and experience a moderate-to-difficult climb high above the clouds. As you descend toward the coast, note Morro Rock in the distance and take in the sprawling view. Tip: On the way down, check out See Canyon's famed apple orchards and end a stone's throw from Avila Beach's sandy shore.
Let the sand fly
Easy-going routes that skirt the water & pique the imagination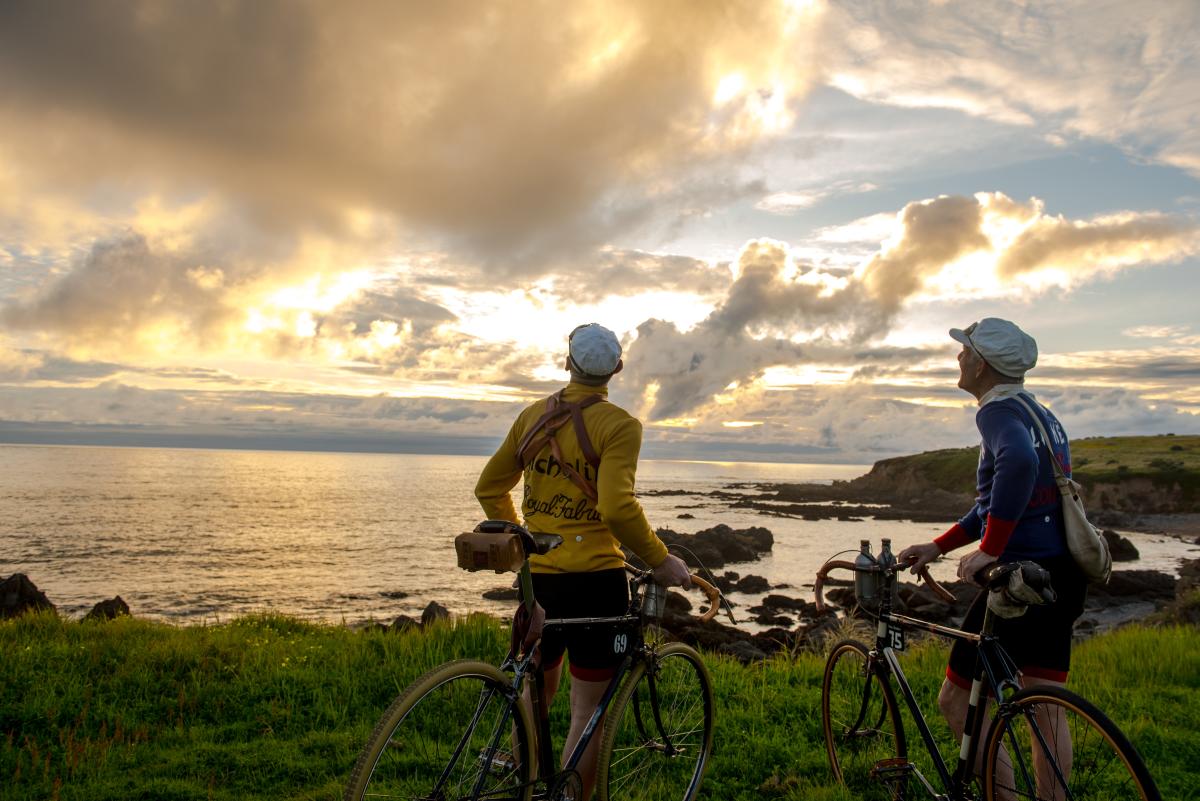 Don't miss your golden opportunity: Spin along sunny beaches and undulating dunes in Pismo Beach, Oceano and Nipomo. Here, the ready-to-roll routes are rewarding and accessible plus, each adventure ends with a delicious bite (a win-win if you ask us).
Gateway to SLO CAL
Oceano/Nipomo Dunes: Pedal along the dunes in Oceano, and Nipomo, where the landscape is truly remarkable, almost like a moonscape! Mesmerizing sandy dunes and endless blue skies offer a relaxing backdrop to your adventure crowned by the Oceano Dunes Vehicular Recreational Area, one of the largest dune complexes of its kind in California.
Park to pier
Pismo Beach: Plan to hop on and off your bike wherever the day takes you. Pismo Beach and Shell Beach are a walk in the park, with charming seaside paths that require minimal effort to enjoy! Cycle to Spyglass Park or Dinosaur Caves Park, where the elevated ocean viewing points are awe-inspiring, any time of day. You can also spend a chill afternoon biking through downtown Pismo Beach, where the clam chowder is world famous (yes, it's that good). Be sure to cruise along the Pismo Beach Pier, where fishermen cast lines and the fresh, salty air invigorates the senses. Tip: The nearby 900-acre Pismo Preserve features exciting elevated mountain bike trails affording views of the blue horizon.
Choose your adventure
Diversity is the spice of life! Lakeside fun, world class vines and good times await in Edna Valley & Arroyo Grande.
Wine down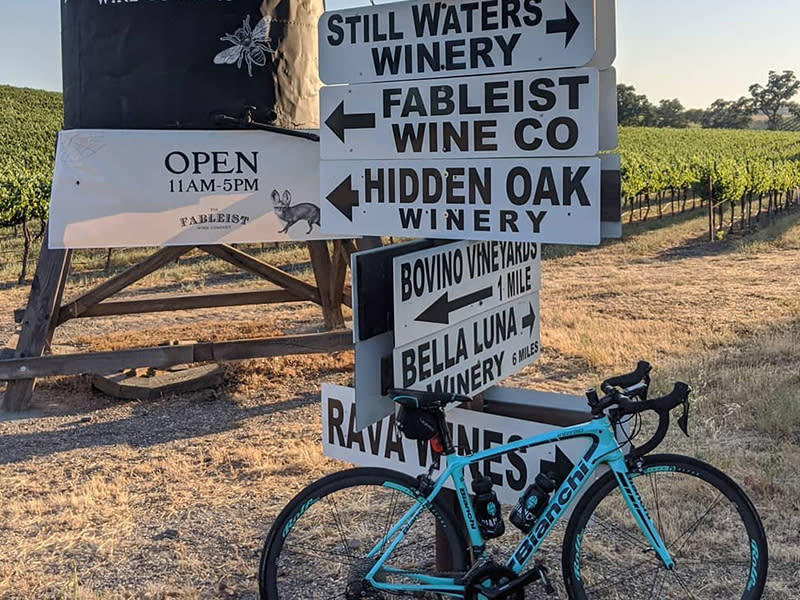 Edna Valley: Experience Arroyo Grande and the SLO Coast Wine region in an entirely new way: from the vantage point of your bicycle seat! Experience lush vineyards, chirping birds and quaint tasting rooms hidden along lush routes. Edna Valley offers a compact wine country experience, so you can see plenty of the region in a single ride. Tiffany Ranch Road loop in Edna Valley boasts a scenic tour through the SLO Coast wine region, just six miles from the Pacific. Note: Riders can expect hills at the end of the valley and winds from the north in the afternoon, so come prepared. Crossing the valley at Biddle Ranch Road makes for a shorter ride, if you prefer. Whichever way you slice it, you're in for a satisfying zip through the vines! Want more wine country rides? Check them out here.
Farm country
Sure, Edna Valley is wine country, but nearby Arroyo Grande it's all about farm country too! Known as a bountiful growing region, you'll find crops galore sprouting up along Arroyo Grande's pastoral backroads. This mostly flat land makes for a scenic and breezy ride, especially on a perfectly sunny spring day. Tip: Cycle along Branch Mill Road along the western edge of Arroyo Grande Valley, where you'll soon see signs for secluded Huasna, a rural community with plenty of wide-open charm. Here, pastures, ranch land and chaparral covered paths are dotted with farm stands and livestock.
Spin to the lake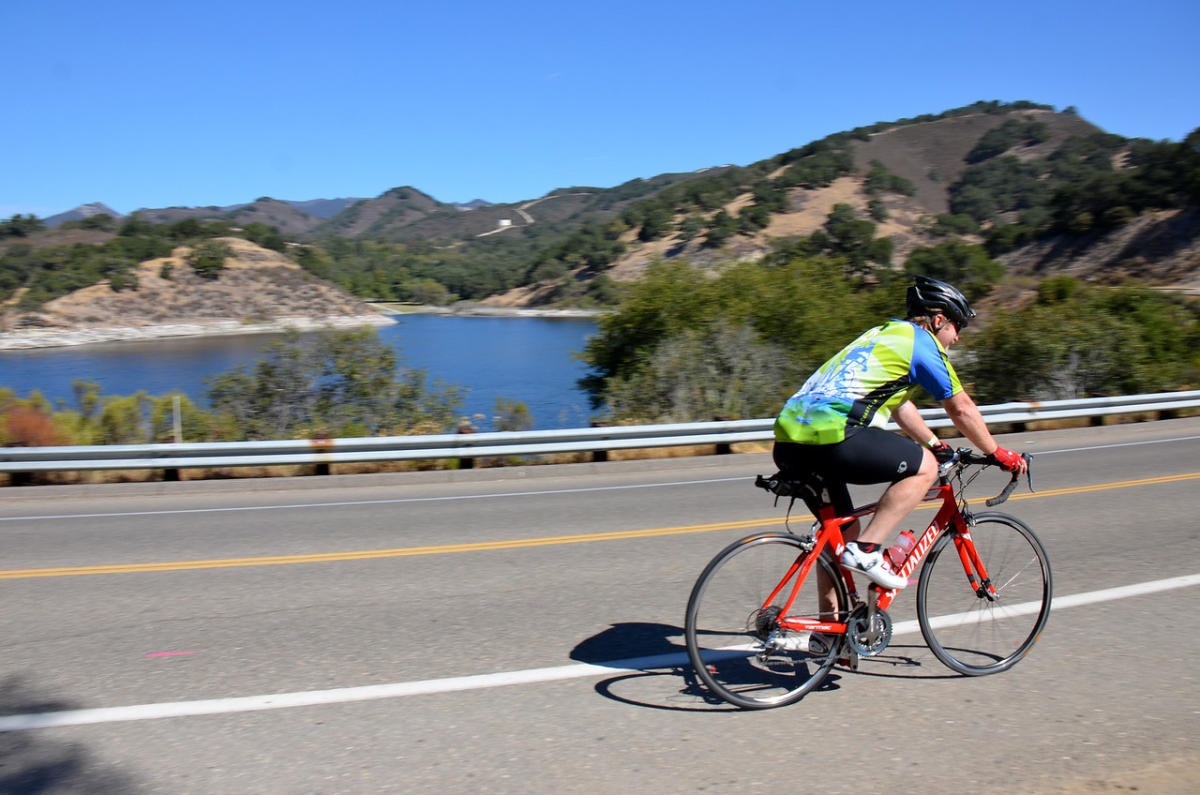 Hop in, the water's fine: Lopez Lake Recreation Area in Arroyo Grande is home to 22 miles of scenic shoreline and summer lake water temps of about 70 degrees (if that won't tempt you to get off your bike for a moment, nothing will). With a plethora of mountain bike trails to choose from, you'll hardly have time to identify the park's 175 species of flowering plants, and 150 species of birds!