SLO CAL has a reputation for being a welcoming place to all. Travelers come far and wide to shop, taste and sip from SLO CAL makers and producers. Some find SLO CAL such an appealing place, they decide to set up shop here. These Black-owned businesses throughout SLO CAL are celebrated for their unique SLO CAL history, culture and artisanship. SLO CAL welcomes you to map the perfect excursion and discover more about the heart and soul behind these local producers. 
• • •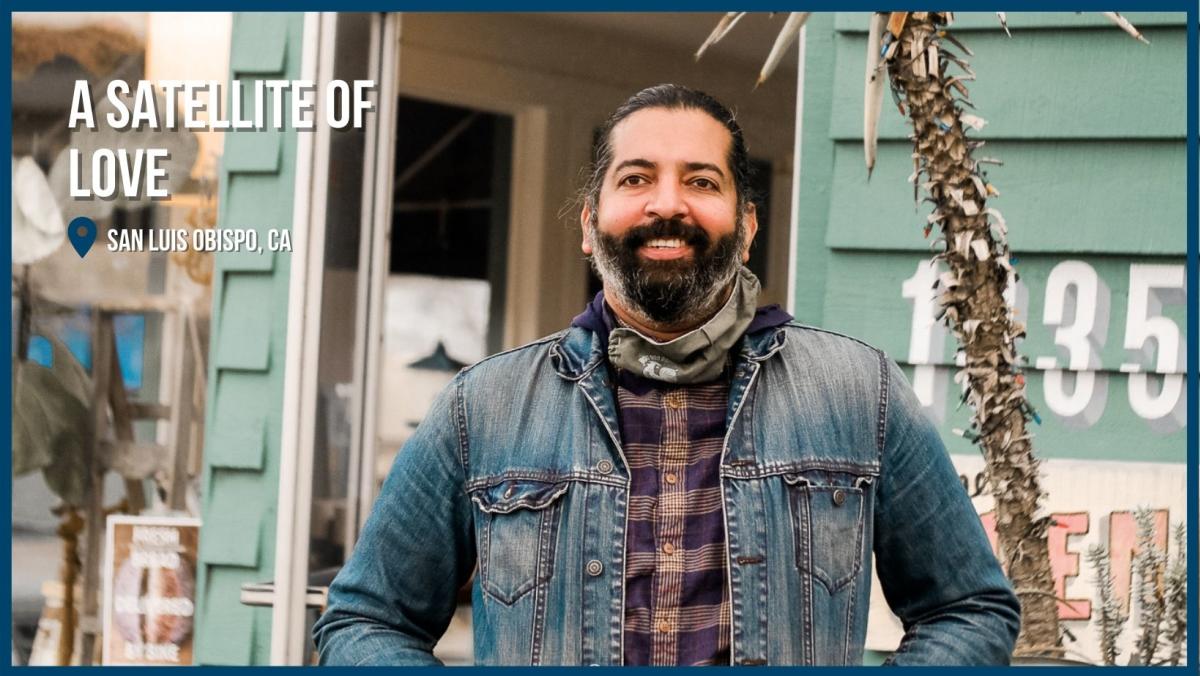 Malik Miko Thorne has supported himself in SLO CAL by offering his own personal style at boutique, A Satellite of Love. 
"My interests are pretty wide," he says from his San Luis Obispo store, where he offers clothing, housewares, albums, books and so much more. "A lot of what I carry at the shop resemble things I'm into—the stuff I would want in my house."
Community Culture
To make ends meet after graduating Cal Poly in the 90's, Miko Thorne took simultaneous jobs at The Palm Theater and he still maintains a job at Boo Boo Records. Both gigs informed his sense of culture.
"Watching those movies and listening to music was eye-opening for me. I also worked at Phoenix Books, so that gave me an interesting perspective on authors. I was self-taught."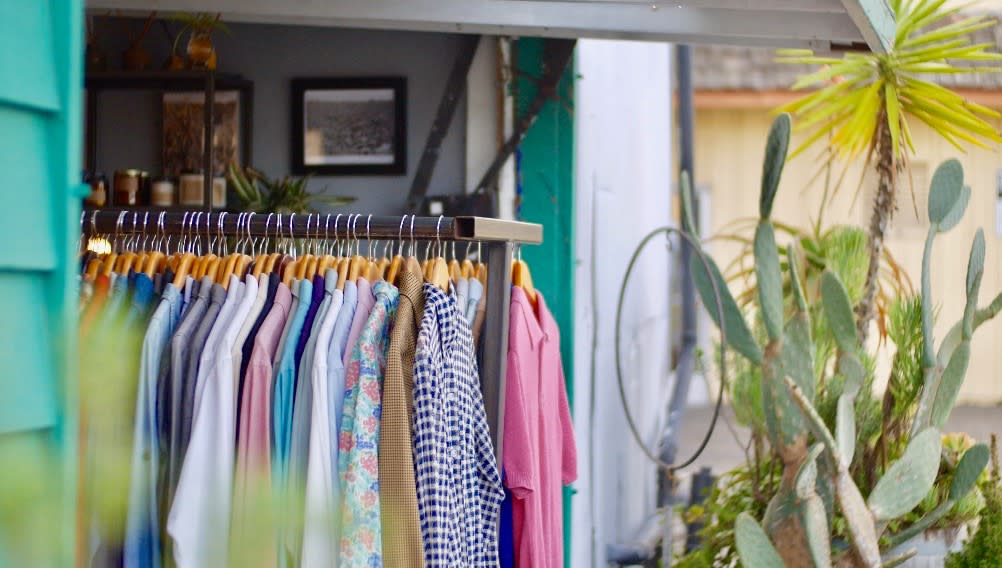 Having taken sole ownership of A Satellite of Love after buying his friends out, Miko Thorne has used his interest in the arts to supplement the SLO CAL community.
"Having a place to play in downtown SLO that isn't a loud bar is pretty difficult. With a background working at an independent record shop, it was an easy thing to invite friends to play music. That ballooned into hosting small acts traveling through a couple times a month."
"And we were hosting movie nights with Arts Obispo to highlight local artists. Since Covid, we've stepped away from all that. But recently we've been doing pop-up markets with local vendors to sell goods."
Miko Thorne notes his music nights may take a while to come back safely, there's a promise that movie nights may occur and their pop-up markets are still being planned with vendors like Wild Moon Collection vintage, FYK Creative ceramics and Monstera Mama plants. 
Travelers Paradise
Community support doesn't stop with local vendors, Miko Thorne takes care to provide suggestions for many traveling customers. 
"A lot of people that come through are headed to up Highway 1," he says. "I usually suggest they visit Edna Valley, because it's a beautiful gem that gives you a different view from our area. I also like to suggest places that fit what we're doing too, like Len Collective, Blackwater downtown, Calico Trading Co."
Miko Thorne has stayed put in SLO CAL for the longest period of time, after being born in Hawaii where his father was stationed after Vietnam and his mother was studying from Fiji. "My mom is Indian and my dad is black, with Cherokee and Seminole on his side.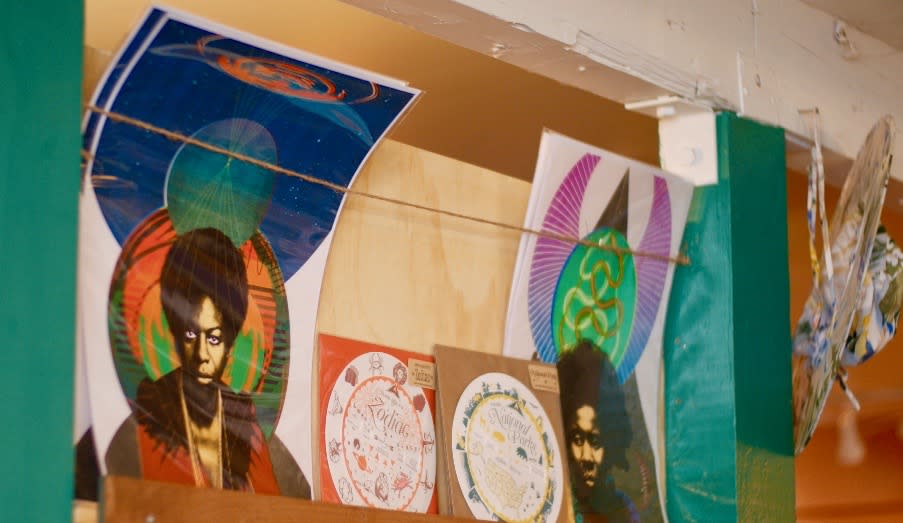 "We travelled around a lot, with the early part of my life spent in Georgia and the second half in the Bay Area until I came to Cal Poly for school."
His half-brother and half-sister, after his father re-married, live in Fremont and Japan, respectively. Miko Thorne decided to settle into SLO CAL not just because of the temperate climate, but because of the community he found. 
Making SLO CAL Home
"KCPR college radio really solidified it for me," he recalls. "Usually everyone's separated by the music they listen to. Suddenly there was this group of kids all hanging out and doing the same thing. That made a really big impression on me."
After that I was a DJ at the public radio station here KCBX, doing a soul show. Somewhere around there it grew into DJ'ing weddings and events for the past 15 years."
Miko Thorne spends more weekends at A Satellite of Love now that wedding gigs have been on hold during the pandemic. He invites everyone to keep up with A Satellite of Love on Instagram, and he keeps his door open weekdays from 12-6pm, Saturday 11am-5pm, and Sunday 11am-3pm.
• • •

Paso Robles barbecue sauce maker Miss Oddette Augustus didn't realize after retiring from corrections at age 50 would find her building, and then rebuilding a culinary empire honoring her Southern roots.
"My life got turned upside down after I had kidney failure and a divorce all in the same year," she reveals. "For two years I couldn't do anything."
The accounts she fulfilled for barbecue sauce with local outlets like Costcos, Food4Less, Albertsons and Spencers were lost. But in the reckoning, Miss Oddette says she found more of her true passion.
COOKING
"When I retired from the Boys School, I needed to figure out what I was going to do because what, I'm gonna go sit at home for the rest of my life?" she laughs. "I knew my next chapter had to have something to do with food, people and fun."
With an infectious laugh, the 20-year Paso Robles resident found her footing with twice-monthly pickups in San Luis Obispo and Paso Robles during the pandemic and previously catered privately with AirBnB's
"It's fun, my gosh! I did a grandmother's retirement with 16 of her family members at this big house and she wanted Southern greens and fried chicken. It was one of those families you just want to be a part of. Her daughter then came back with her clients for a weekend in Paso Robles and asked me to make jambalaya and shrimp creole with a black-eyed pea dip and a chocolate pecan pie. That was fun!"
Miss Oddette has recently stopped her catering and twice-monthly pickups, but still fulfills her barbecue sauce orders online and hopes to be stocked back in stores like Vons in 2022.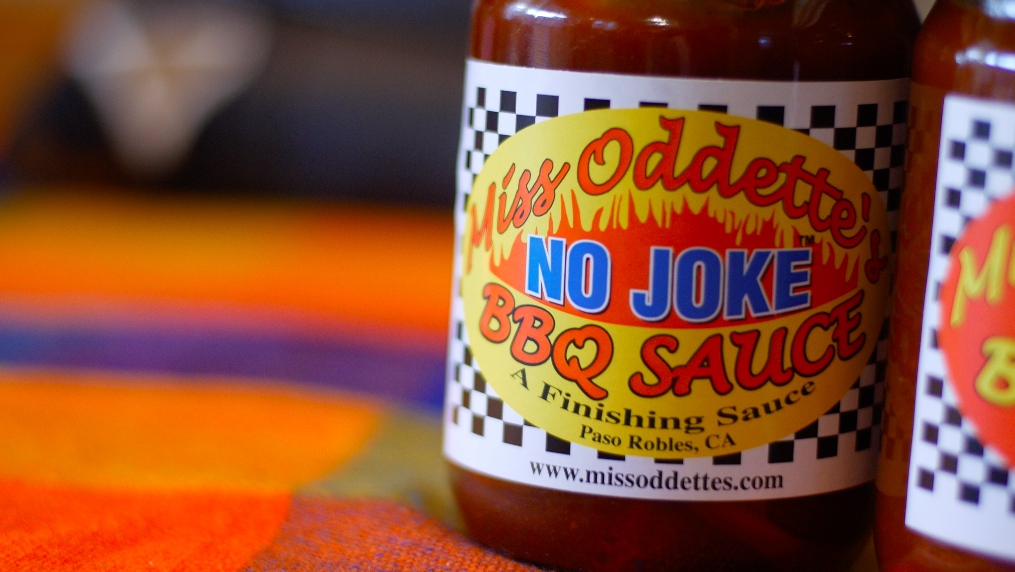 THE LOUISIANA COOKBOOK
A first-generation Californian, Miss Oddette cooks from her roots, having learned from her grandmother's Louisiana recipe book since 12.
"I got the barbecue sauce, my older cousin got soap making. My grandmother was not a touchy-feely person, but I know she loved what she did because it helped us. I believe we are all here to serve each other in some form or another. This is my service. I take it as an honor when people hire me to feed them—and hopefully their soul too."
Miss Oddette is equally excited about passing on the tradition to the grandchildren her son and daughter have given her.
"I actually get to train my granddaughter like my grandmother did me. The taller the five-year-old gets, the more she can do. For Thanksgiving, she almost made all the mac & cheese!"
It's a legacy that has heavy influence from the bayou country of Lake Charles, Louisiana, to Stockton, California. 
"My grandparents left the South because they didn't want to raise their family in Jim Crow," she says of Southern segregation instigating the Great Migration. "The barbecue sauces came along because someone opened up a barbecue shop in their neighborhood, and the kids would smell it but couldn't afford it."
With a barrel, Miss Oddette's Depression-era grandfather began barbecue season around Memorial Day with homemade sauce, all in an effort to save money.
"I didn't even know people bought barbecue sauce until I was in college," she laughs about the seeds planting her future business. Miss Oddette began to see the skill as a profitable but challenging retirement venture.
"The farmers market gave me paperwork, the city gave me more paperwork and the state gave me another set of paperwork," she recalls. "But we sold 12 jars on the rainiest day of the year in February. The next week we sold 40 jars. Now I'm shocked!"
SPECIAL INGREDIENTS
Miss Oddette used McPhee's Grill in Templeton as her prep kitchen. "It will be 18 years that I've been in business on April 1," serving Southern creole food on the Central Coast. This is about as authentic as you're gonna get." 
Authentic, with a little something special. Hanging in her house is a sign that says: I am the Special Ingredient! "I know for certain love has a flavor," she declares. "Cooking is an expression of love and an act of service."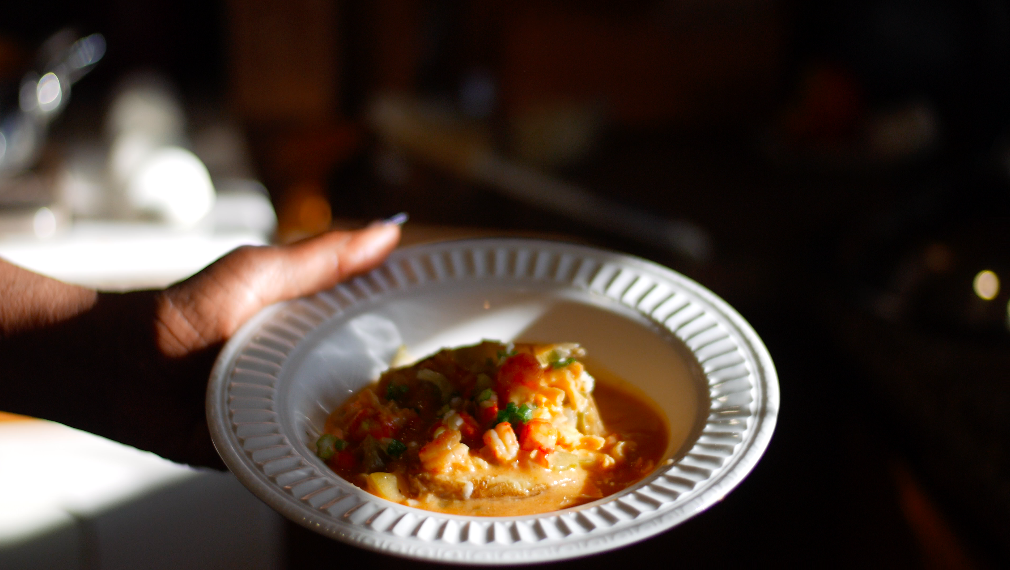 SLO CAL REJUVENATION
Miss Oddette refills her own spirit SLO CAL's scenery, settling into bringing her unique flavor to the community. 
"Sometimes I'm driving to Cambria or San Luis and think, 'I live here!' It is amazing I can get in the car and marvel at the scenery. There are beaches, green hills and seasons…Cambria's beach. I really like Ragged Point. I have a log on the beach that I take naps on often.
"I also love going to Ruddell's Smokehouse, Cayucos. Before he died, we used to make trades. Morro Bay's Papagallo yacht—he and I became friends when he was still working at Linn's doing the Cambria farmers market together. When I did a cookbook, I did the release party on his boat."
That community collaboration extends to her online video series, a suggestion from her social media manager. 
"When I ask where people hear about me, they said Google. Google? I asked, 'Under what?' They said, 'Best Food in Paso Robles!' I'm happy to have earned that rating!"
• • •

San Jose native, Michael Jones and his wife Rose put down roots in Paso Robles Wine Country in 2006 without knowing they would be pioneers in the field. From creating a different method of producing rosé to bringing traditional sparkling wine production techniques to the region, the Jones' stay true to their name and the rose flower branding on each wine label.
"We were the only winemaker in the United States that did a rosé with Alicante Bouschet, which are estate-grown," he says just feet from where his vines thrive in San Miguel. "We were told by judges and other winemakers that this couldn't be done, but I'm getting ready to release our eighth vintage of the full-bodied, bright beginning with a mid-palate and finish like red wine. My wife was one of the first in the Paso Robles area to do in-house traditional sparkling wine, and there's probably 10 producers doing this now."
ESTABLISHING ROOTS
For Jones, that experimentation began twenty-six years prior. He traded computer tech services for winemaking lessons from his mentor Jac Jacobs while in Sonoma County on work trips with Hewlett Packard. Jacobs is now in SLO CAL at Kelsey See Canyon Vineyards in Avila Beach.
"As the grapes get riper, I squeeze the berries to see what color I've got," says Jones of his rosé method, which doesn't sacrifice quality for quantity. "I prune and train my vines to produce 2 tons per acre equivalent. The Alicante Bouschet would do 7 tons an acre equivalent if I let it go, but then you wouldn't get the quality of the fruit."
Available for sale on his web store, Jones and his wife Rose have already achieved their retirement dream to maintain a profitable winery. "It's not enough to live on, but our winery pays all the bills for itself," Jones states proudly.
Part of his stewardship came from the decision to retire to the Paso Robles Wine Country. "We started looking in Sonoma, but property was in the millions," Jones says of San Miguel's appeal. "The wine industry here is a family. It didn't matter the color of my skin or anything; I was welcomed in as a family member."
Starting with small carboys, Jones now oversees over 600 vines. He also orders from neighboring family vineyards, trading for advice on organic farming practices. "I want to make sure I understand what type of fruit I'm using," he says.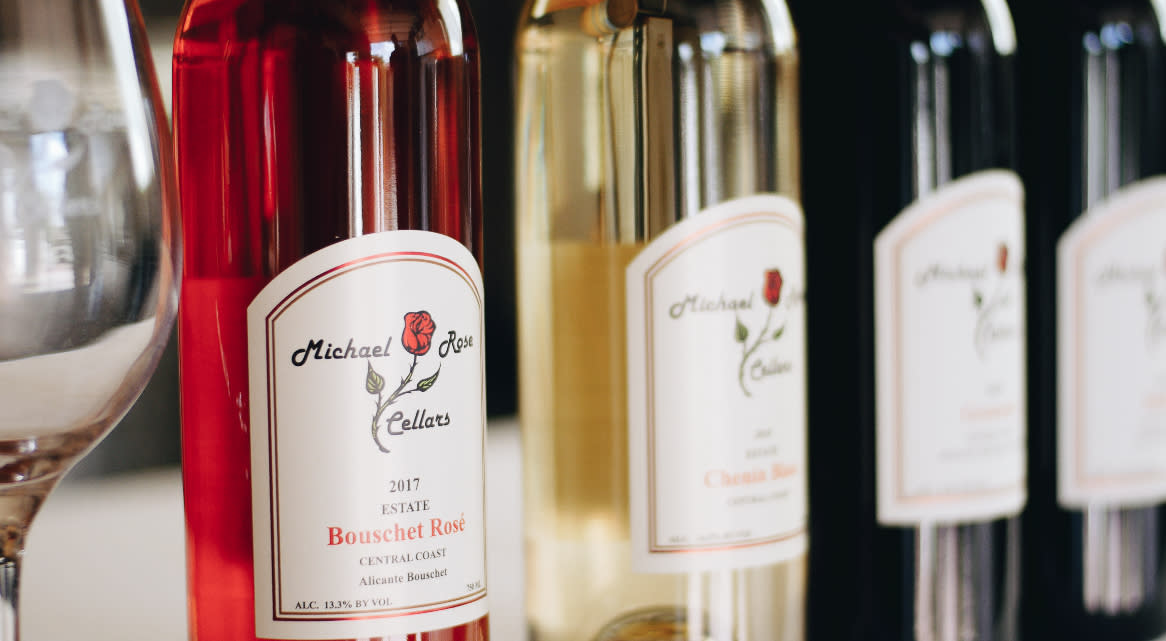 TECHNIQUE
Staying as close to the old-world technique as possible, Jones aims at remaining true to each varietal. "We don't do any blending. In the industry, you can put up to 25% of another wine and not tell the consumer. I've had horrible experiences walking into wineries and have the person behind the bar not know what they're talking about. There's nothing wrong with other winemakers using the crutch of adding certain varietals to get to where they want a style to be, but I have the challenge to try and get my wines right through winemaking techniques and care for my vineyard."
GROWING INTEREST
Jones' goal as a winemaker is to transfer what comes off the vines into the bottle and then onto your palate. The latter has proved challenging in the COVID-19 pandemic. He had been pouring at Paso Robles hotels La Bellasera, Hampton Inn & Suites, and The Oaks. 
"Those were great partnerships. I was getting a lot of new wine club interest from those tastings, selling about 15-20 cases a month. But since February 2020, we've only sold six cases of wine that aren't wine club," he notes.
"Our wine club has really saved us in this time. But we're starting to get recognized, which makes me feel nice," Jones says about inquiries he gets via phone reservation requests and orders. Jones recently held his first virtual tasting for a group in New England, which he hopes will spur sales leads. "You have to change your model in these times," he says of the COVID-19 pandemic.
SAN MIGUEL AND PASO ROBLES WINE COUNTRY
When not in lockdown, Jones is happy to welcome as many as possible for reservation-only, private tastings at his San Miguel estate. "We're so far out that when people come here, they're on a wine tour," Jones notes of other nearby destinations. "There are people that like to go to the Sensorio light show, and I hear about San Simeon, Hearst Castle, Cambria, Morro Bay and San Luis Obispo. Mainly though, people come here for the county's wine industry and go downtown Paso Robles and the eateries there. They want to know where to stay, eat and taste wine."
Jones has dreams of tripling production if the demand continues. "Right now, 250 cases a year will be our current production, until we make enough money to plant more," he teases.
UNCOMPROMISING 
High margins aren't what motivates Jones though, rather maintaining the highest quality product for the lowest cost to consumers. At under $50 a bottle, Jones hits that mark, although he notes price hasn't necessarily proved imperative for some of his guests. "Someone tasted here a while ago and I gave him a sample from a barrel and he pulled out his checkbook and offered to buy the whole barrel. I said, 'You know that would be thousands of dollars, right?' But I had to turn him down to supply my wine club."
FAMILY AFFAIR
"I don't know how this happened, but my son doesn't drink, and our daughter loves our wine but doesn't have a passion for the labor part," Jones laughs. "But our grandson loves it—he's involved with everything like crushing and bottling."
And that's a good thing because the Jones' will need as much help as possible while they continue sharing their passion with whoever comes their way. It's a story about the heart and soul they pour into each harvest, crush, press, moving/topping barrels, bottling, and glass.
"Part of the winemaking process is the experience," concludes Jones. "I take people on a journey as we're tasting. We walk through what it's like to crush grapes and the certain winemaking techniques I've clung to in maintaining how they made wine historically. So far, I've been very successful at that."
Are you ready to try what 100% really tastes like? Visit Michael Rose Cellars online.