In celebration of Asian American Pacific Islander (AAPI) Heritage Month, SLO CAL is proud to share three essential businesses to support any time of the year. Follow us from San Luis Obispo's Historic Chinatown to the bustling farmer's markets throughout SLO CAL. Each location is an important part of the culture and history of Asian American and Pacific Islanders in SLO CAL, which traces back to the 1800s. 
📍 Oceano & Farmers' Markets throughout SLO CAL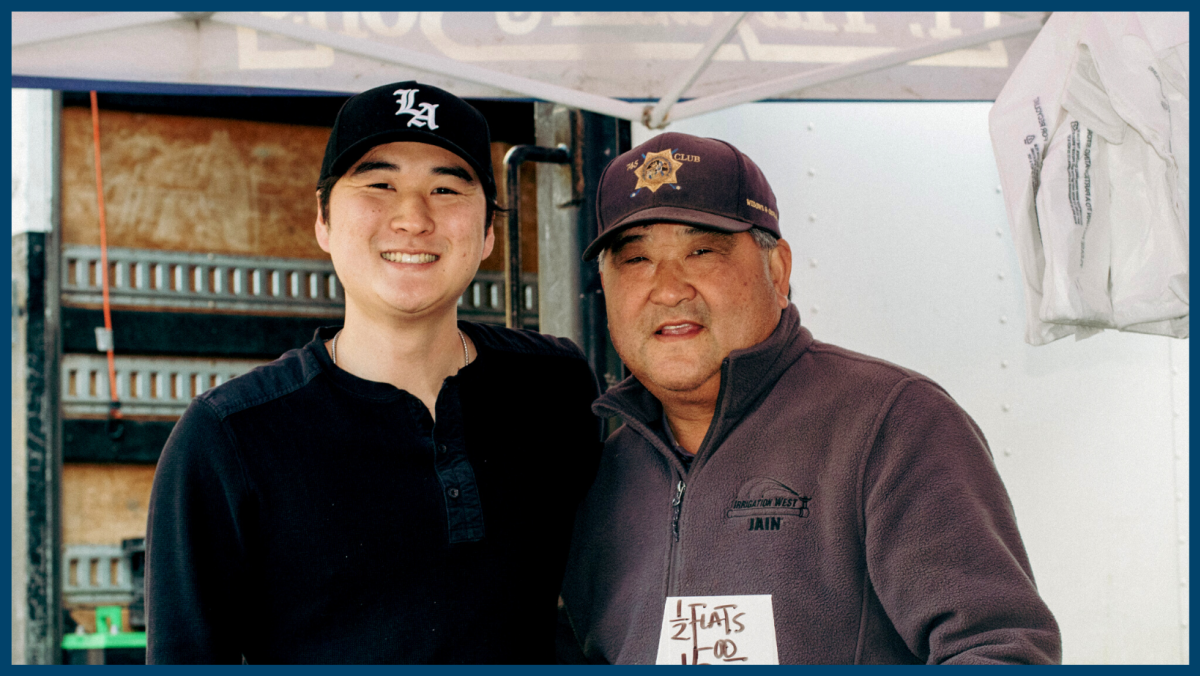 Alan Hayashi and his son at Downtown SLO Farmers' Market (Son and grandson of Haruo Hayashi).
We're taking a moment to celebrate the life of a local family whose Japanese roots have been firmly planted on the Central Coast for more than 100 years. Once you get to know this SLO CAL family, we're sure you'll want to shop Y. Hayashi & Sons at their Oceano fruit stand and farmers' markets throughout SLO CAL all year long. 
A Historic Start
The child of Japanese immigrants, Haruo Hayashi was born in Arroyo Grande in 1926 to parents who had sought out the Central Coast in hopes of building a better life. It was a harrowing beginning for Haruo's father, Yeiju, though. Yeiju left Japan in 1918, first traveling through South America and Mexico before settling in California. He met and married his wife, Toyo, and the pair had two boys, Haruo and his younger brother Akio.
By 1942, the farming family had established Y. Hayashi & Sons and cultivated about 100 acres of land in the Arroyo Grande valley with lettuce, beans, and celery. It seemed things were headed in the right direction. But then came World War II and the bombing of Pearl Harbor in December 1941. When President Franklin D. Roosevelt signed Executive Order 9066, forcing approximately 120,000 Japanese Americans into internment camps, life took an unexpected turn.
At 16 years old, Haruo found himself and his family on a bus to the Tulare California Assembly Center and later on a train to the Gila River Relocation Center in Arizona. Although Haruo entered the military and left the camp two years later, he and his family would not return to SLO CAL until after the war ended.
And that's where the SLO CAL spirit of neighborly love kicks in! Eventually, the Hayashis did return to their Arroyo Grande ranch and to a supportive community of fellow farmers ready to help them rebuild their lives on the Central Coast.
"Luckily for us, [some people] kept the ground, and when [our family] came back, they returned it," says Haruo's son Alan. Not only this but when the family of four arrived, friends and strangers alike loaned the Hayashis equipment and other essentials they couldn't afford due to lack of capital. "There was some adversity created that was out of their hands," Alan reflects. "But they came through it. Other families weren't so lucky. So that built a big sense of community."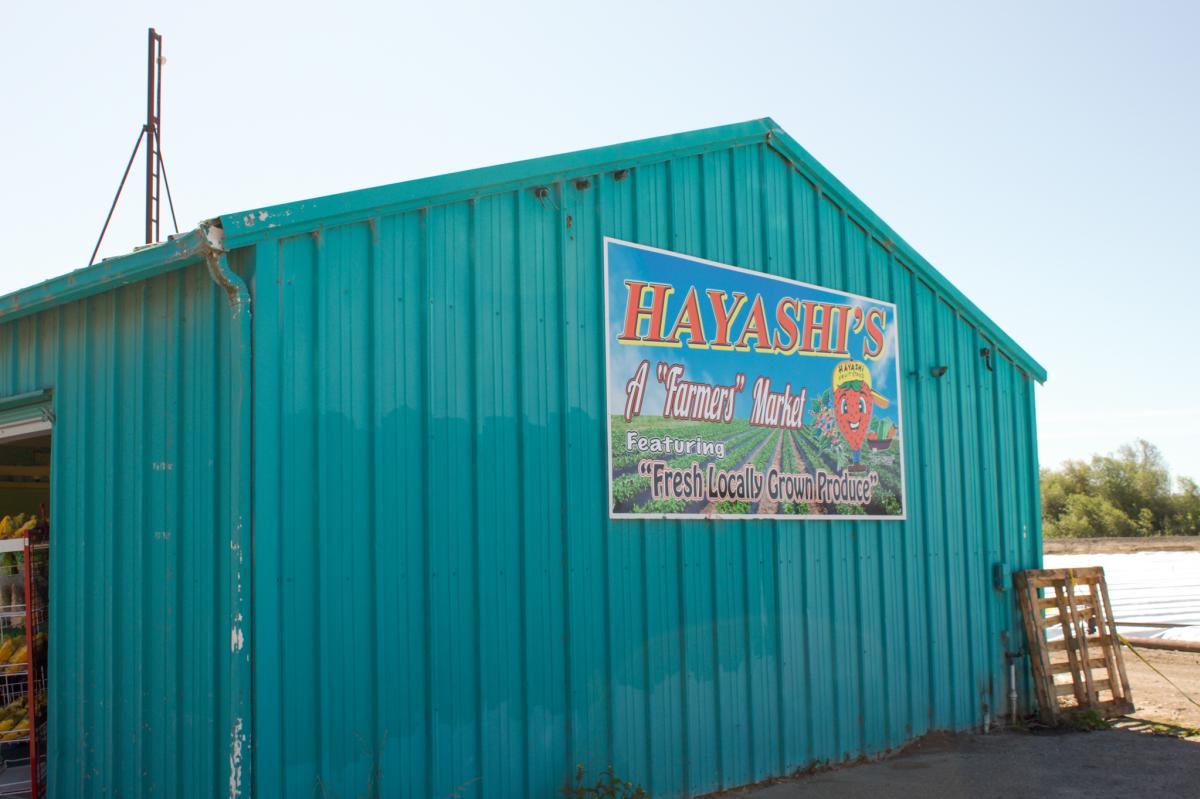 All in a Day's Work
When Yeiju first started, he probably never imagined that, at its peak, the ranch's few acres of land (mostly leased) would eventually grow to more than 1000 acres spanning SLO CAL from Arroyo Grande to Morro Bay. The family has since paired down the grounds to about 300 acres, but the work hasn't slowed. Up at the crack of dawn and home for dinner long after the sun has set on most days, Alan says the Hayashi boys have been farming since they were old enough to pull a weed or pluck a berry.
One of five sons, three of whom entered the family business, Alan explains this work is not for everyone. From planting, watering, tractoring, and harvesting to managing employees and office duties, "It's hard work; it's honest work. It's an everyday deal."
Plus, there's operating the Hayashi Fruit Stand at the intercession of Cienaga St. and S. Halcyon Rd. in Oceano and greeting regulars at six weekly farmers' markets. As head of farm production since his older brother Robert passed away in 2019, Alan's farming responsibilities are many. But he finds the work rewarding and satisfying. In addition to overseeing the farm, he helps care for his dad, Haruo, now 96 years old. Like his father and father's father before him, farming is in Alan's blood.
"We work hard because my dad told us to. I work harder today than I did 30 years ago," says Alan. "It's what I do; it's what I know. I think it's a good way of life."
A Family's Legacy
Looking back at his small start, Yeiju couldn't possibly have known how the Hayashi name would come to impact agriculture on the central coast and beyond. Y. Hayashi & Sons are partially responsible for bringing Nappa cabbage and bok choy to SLO CAL. In the 1960s and 70s, they were the biggest grower of those crops in the United States.
Today Hayashi grows more than 36 seasonal and year-round crops, from their famous strawberries to squash, peppers, and leafy greens. Some of those crops are sold through a non-profit co-op known as the Pismo Oceano Vegetable Exchange (POVE). Established in the 1920s and originally made up of seven Japanese farming families, including the Hayashi clan, POVE is now a wholesale distributor lauded for its exceptional Asian specialty crops. Companies like Taylor Farms use POVE greens in their pre-washed and chopped, ready-to-enjoy salad kits sold locally at California Fresh and nationwide through retailers like Walmart Neighborhood Market, Vons, and Grocery Outlet. POVE's success can be credited, in part, to Yeiju and his kin.


Farmers' Markets and Beyond
As one of the first vendors to participate, the Hayashis also helped get local farmers' markets off the ground. It was a slow start, but the wide variety of fruits and veggies they brought helped popularize the open-air markets among shoppers and sparked the interest of other producers.
"Now you come, and everybody's there with a huge variety," Alan explains. "Those markets have grown quite a bit. I remember when there were only so many of us [farmers]."
The Hayashi fields provide fresh produce for farmers' markets in Arroyo Grande and Santa Maria on Wednesdays, Downtown San Luis Obispo and Morro Bay on Thursdays, and the Madonna Plaza and Templeton markets on Saturdays. Alan says the variety and freshness available at the markets are unbeatable.
"We sell what we grow. [Name] a better place to get everything you need, all the vegetables, so fresh," he jests. "Here, you're miles away from [the source]. You [can] get that thing that's maybe picked out of the field that day. That's nice." 

Community First, Community Always
And while the food is good, what Alan loves most about farmers' markets is how they keep him close to the community that has been so dear to generations of Hayashis. Over the years, he's built relationships with frequent shoppers that go beyond a simple exchange of cash for goods. It's not just about selling fruit and vegetables; it's about cultivating and nurturing connections.
"They're not just customers to me; they're literally friends. That kind of relationship is really rewarding to me. We're still connected with our community… and that makes me feel like what I'm doing is worth it," he says.
By: Kristen C. Tiessen
• • •
📍Los Osos-Baywood Park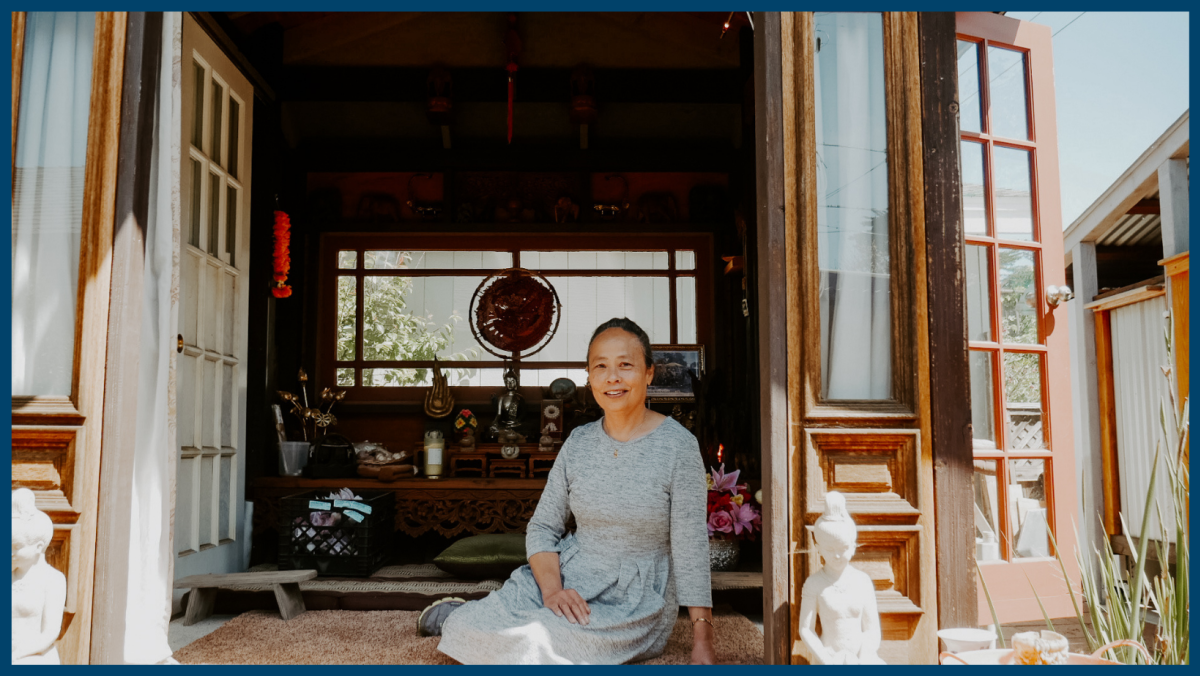 Noi Miner moved to SLO CAL from outside Chiang Mai, Thailand in 1994. She not only started the third Thai restaurant in the county, but has become what some call the mother of all SLO CAL Thai residents.
"Especially people that recently moved—like exchange students—they're lonely," Noi explains of her mentorship bent. "They feel at home [with us here in Baywood Park]."
Refusal to Quit
In reality, Noi makes everyone feel at home in her two Baywood Park, California restaurants; Noi's Thai Take-Out and Noi's 2nd Street Cafe. Both locations are across the street from each other and feature exterior work and gardens from Noi's husband Ron.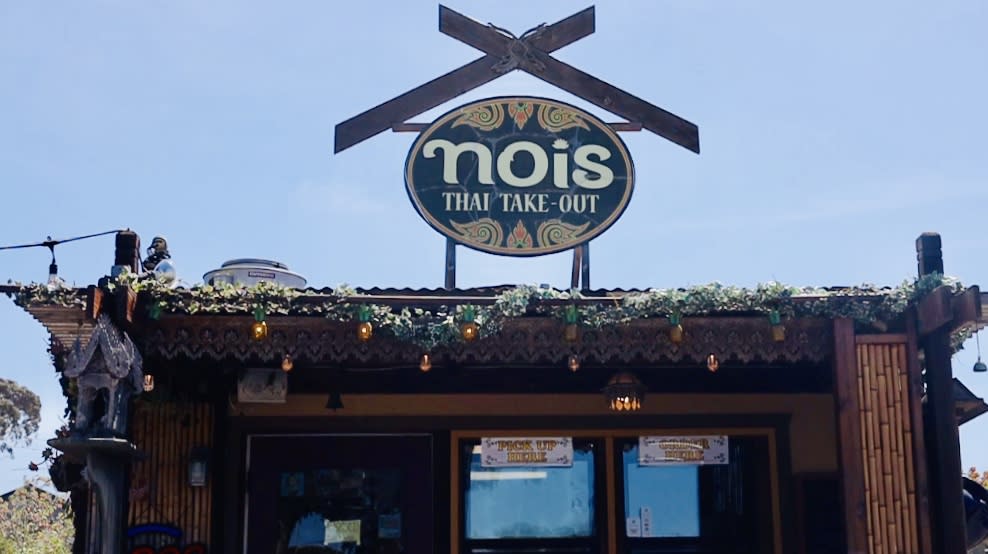 "Because we have two restaurants, we have two staffs, two utilities, two kitchens, so it's expensive and double the stress," she says, but Noi has found motivation since a 2016 and 2018 health scare. 
"The doctor suggested I close one restaurant. I said I would wait until everyone got a new job, but nobody wanted to quit. It made me think, if they don't want to quit on me, why would I quit on them? At least I feel good, and my health isn't 100%, but my heart and soul is with my community and this is the place that makes me happy."
The two restaurants have evolved over time and their menus and restaurant names might be unexpected.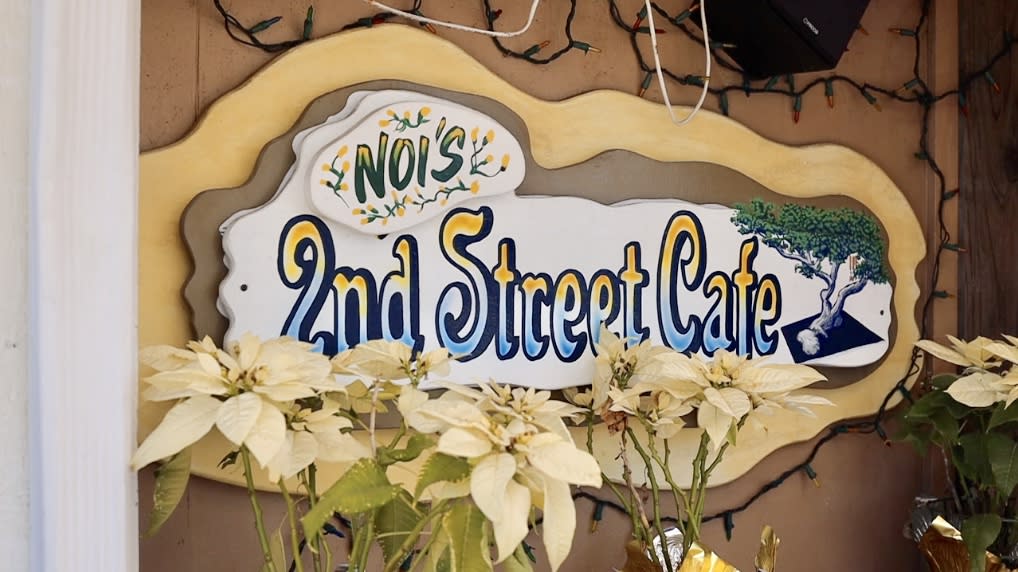 Double the Space
Noi's Thai Take-Out began in 1994, and recently reopened since Covid-19, serving a full American breakfast from 7 a.m. - 1 p.m. Across the street, Noi's 2nd Street Cafe, attached to Baywood's Back Bay Inn. Here, Noi serves Thai food from 11 a.m. - 8 p.m.
Originally, Noi's Thai Take-Out began as a one-woman operation, with help from Noi's sister Doi, who once ran her own Thai restaurant in Morro Bay. 
"She's a much better cook than me," Noi confesses of Doi. "She's not only my sister, but my best friend. She now comes in to cook a few times a week. She is great with things that go in pots—clam chowder and chili. She's older than I am and learned longer from our mother in the kitchen."
Because of county restrictions Noi's Thai Take-Out is the last restaurant to be permitted on the land and must retain its name despite now serving an American breakfast. 
"Six years ago we were having more and more customers," she says. "A customer asked me to cook for her rehearsal dinner on our busiest day—Friday. We didn't have capacity. We thought of asking Bill Lee, who owned the building where the old pizza place was, if we could use his kitchen. Bill said we could use the kitchen, but had to stay open for the public and couldn't cook Thai food. We agreed because some people had been requesting lighter food from the Thai Take-Out. I started with fish and chips, salads and soup at 2nd Street Cafe, but everyone kept asking for Thai food, even Bill himself!"
Built-in Spirituality
Now, Noi's 2nd Street Cafe serves a heavily influenced Thai menu that was impervious to the Covid-19 pandemic, with take-out and outdoor seating, including their Buddhist Temple Garden that Ron developed after meeting Noi on his travels to Thailand to study the practice.
"We have a tight Thai Buddhist community in SLO CAL," says Noi. "I never had a chance to get together with my Thai friends because everyone has work and if we wanted to go to temple, we had to go to Santa Barbara, Fremont or LA.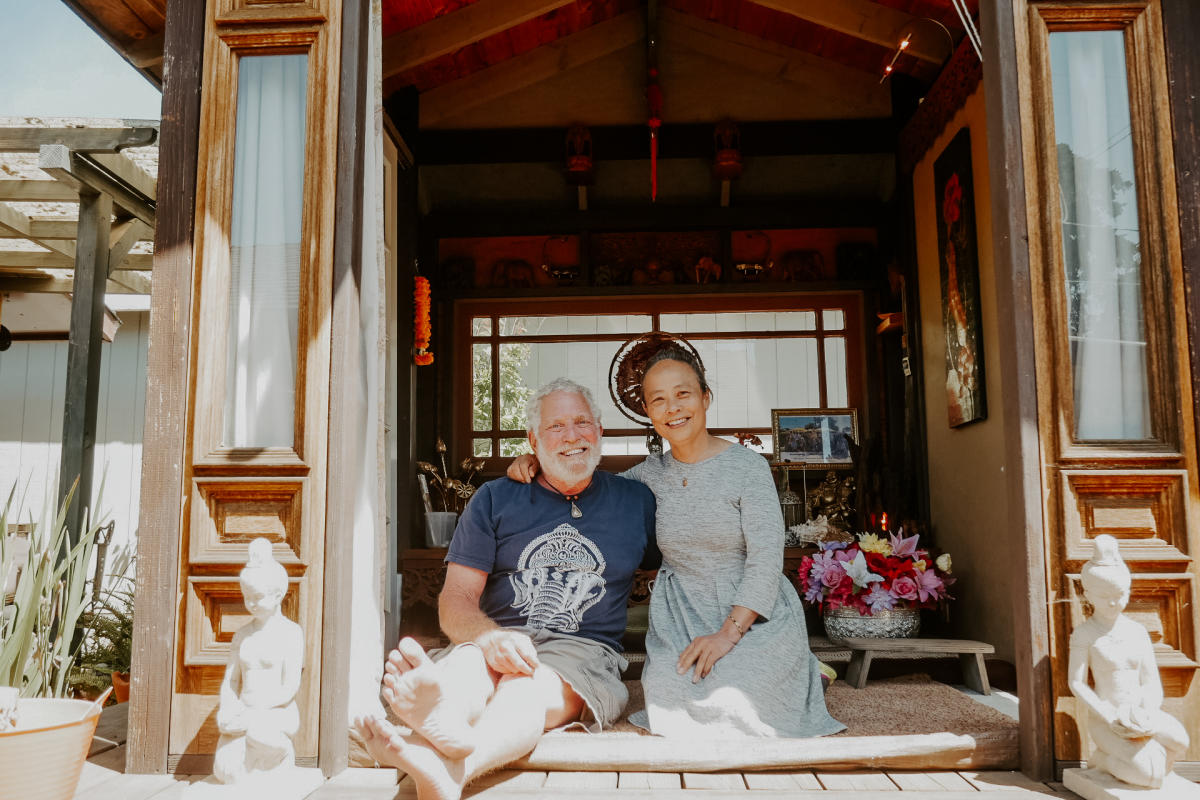 "Ron had created this garden and I talked to my Thai friends, like those who work at Thai-riffic, Thai Classic, Thai Boat, Basil Thai in Paso Robles, Royal Thai closed in San Luis Obispo but they have another restaurant in Arroyo Grande called Thai Kitchen. One day we got a call to bring a monk to this area. It's good luck for Thai people to have a monk come. We had the monk come every weekend from LA and we dress up Thai, and have a huge picnic. Our temple is a nice place to get together because we chant and understand Thai. I am glad I have this place for them to do what we usually do in Thailand. At night I almost started crying, when the monk lights candles, it feels like a real temple."
Take Your Community to SLO CAL
Previously, Noi and Ron enjoyed showing the monk around SLO CAL at places like Montana de Oro and San Simeon Cove, located at the William Randolph Hearst Memorial State Beach. During the Covid-19 pandemic, the monk returned to Thailand, but Noi hopes to resume the ceremony as soon as they are safe for the whole community.
"It's not only for Thai people, she continues. "Friends, neighbors and public are invited, and welcome to join. This is the way Thai temples work. We eat together, and clean together. It's fun to do with friends and family. We're not a poor people, but we're not rich either. We're generous and kind. You can see that here, we always offer food to everyone because its a Thai tradition—eating and sharing community. I'm not going to get rich. Our community is family. I am proud to be Thai."
By: Eric Parker
• • •
📍 San Luis Obispo

Enjoy the history of San Luis Obispo's Mee Heng Low Chinese restaurant, located in San Luis Obispo's Chinatown. The San Luis Obispo historic district consists of seven listed historic structures, with only four of them Chinese-associated, one of which is Mee Heng Low Noodle House. While upstairs jazz night festivities are on pause during Covid-19 restrictions, indoor dining has resumed and takeout continues. 
Owner Russell Kwong follows in the footsteps of his chef father, Paul, who purchased the Mee Heng Low business in 2009. As the third owners of the restaurant, the Kwong's have close ties with the founding owners family, the Gins, who still own the historic building. 
"I grew up with their grandson," says Kwong a week before reopening post-Covid. "We were neighbors and our parents know each other well. I'm getting the business and he might be in line to inherit the building at some point, so we might be business partners as well as friends."
Family Legacy
Russel's father Paul Kwong was raised in England before moving to the west coast in the 1970s. 
"My great-grandfather was a fisherman in the Yangtze River in China. I've never visited China, but the story goes that he walked to France at one point and married an English woman. She was kicked out of her family because he was Asian. They had my grandmother. We don't have a ton of information about my grandfather, except he was a Chinese-American on R&R During WWII when my father was conceived. That makes my dad 3/4 Chinese. He married my mother who is not Chinese, so I am 3/8 Chinese—a little less than half."
Kwong honors his grandparents with the twice-cooked pork on the Mee Heng Low menu today. "It was a dish that she made for my father growing up." 

Pictured: Ah Louis with beard with son Howard Louis and two unidentified people, standing in front of the Ah Louis Store in San Luis Obispo's Chinatown, Palm Street. The old Mee Heng Low sign can be seen across the street. Circa 1934-1936. Photo: Louis Family Papers, Special Collections and Archives, Cal Poly.
Adding to the Cookbook
Before moving back to San Luis Obispo to help take over Mee Heng Low, Kwong spent time in Portland, Oregon working for a James Beard Award-winning chef Vitaly Paley. Kwong brought his experience to change up his family-owned business' menu, which skewed more American Chinese with the previous owners. 
"A lot of people weren't pleased when we went to a strict noodle house, but American Chinese food had come to be known as greasy, fried and salty. We didn't want that."
Early Chinese workers brought Cantonese food (now Guangzhou and Guangdong), which popularized chop suey (Chow mien if served with noodles instead of rice). "With the opening of the People's Republic of China to the rest of the world in 1970, other spicier styles of Chinese cuisine became more popular, such as Sichuan (or Szechuan; Szechwan)," notes Alan Gin, of the original Gin family line, in the Mee Heng Low Gin Family Cookbook. 
A Return to Normal
And as for historical and entertainment value, modern-day Mee Heng Low is as authentic as it gets.
"We would really cram people upstairs for the jazz band shows. It is what was cool previously."
Upstairs will be in phase two of re-opening, post-Covid-19.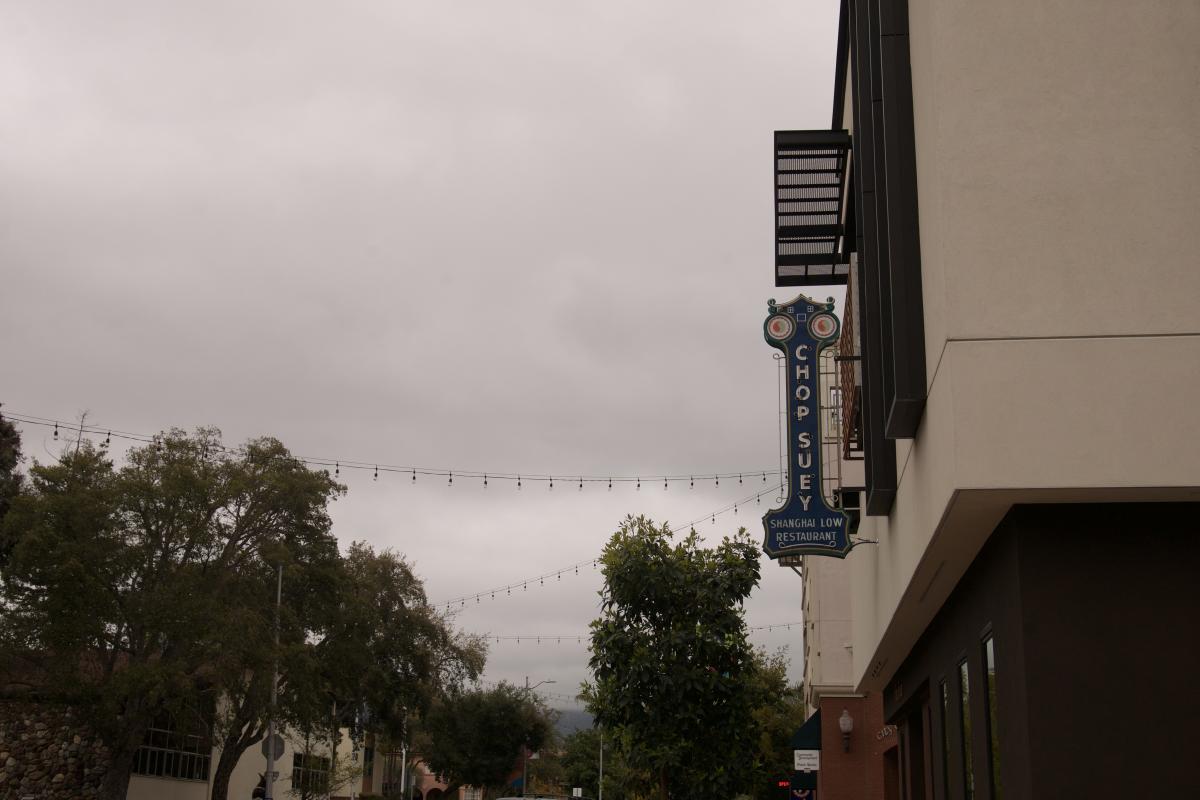 "It's like starting from square one, says Kwong. "They closed the street for four years when they built Hotel SLO, and that was about as tough as the past year because nobody was coming in and there were no loans or rent relief for that period. It's been setback after setback. This is kind of our third time rehiring everyone and starting over again but I think we'll be okay."
San Luis Obispo's Historic Chinatown
The building itself has had a long line of reopening. In 1927 Gin Jack started Mee Heng Restaurant.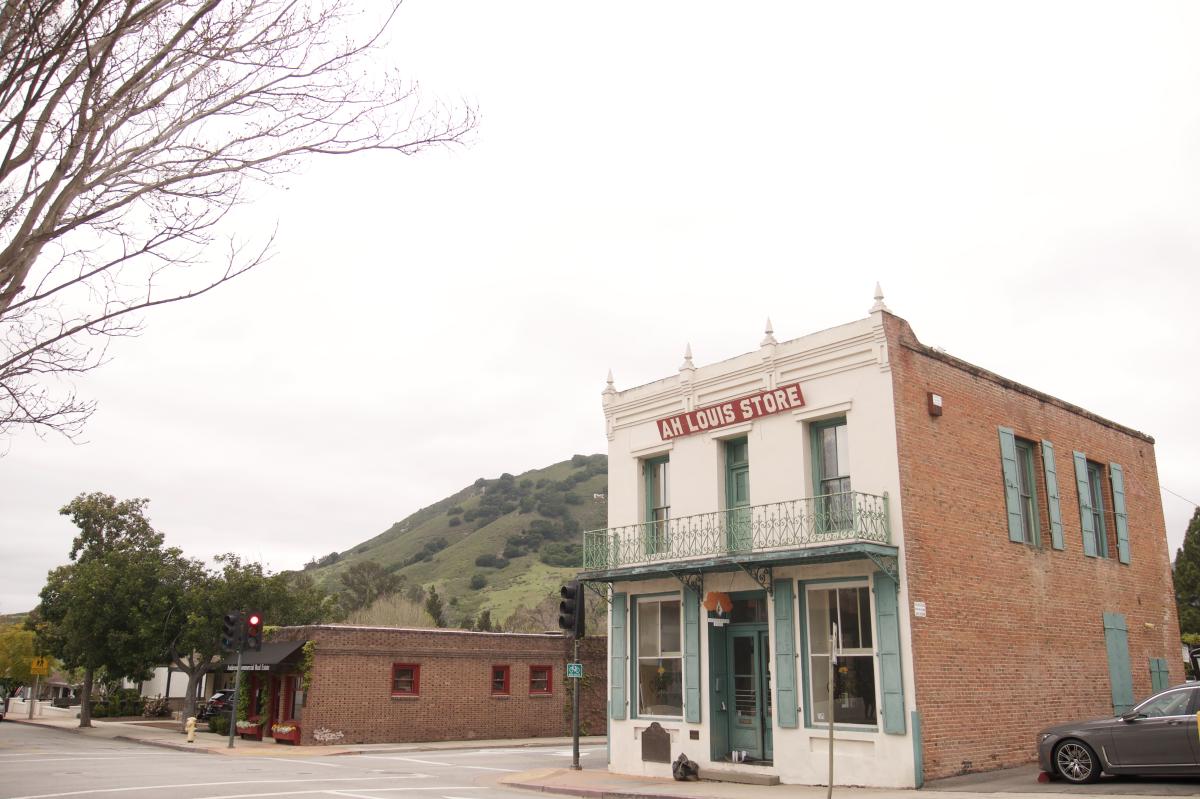 The original Ah Louis Store, built of wood in 1874, was moved to the south side of the street in 1885, when Ah Louis (Wong On) used his brickyard to build a new structure, now housing Karson-Butler Events. The wood building contained the Gin family's restaurant and living quarters from 1927 until the family demolished it in 1957, replacing it with today's Mid-Century Modern concrete structure but reinstalling the wood building's Mee Heng Low neon dragon sign.
"The north side of Chinatown consisted of the brick Ah Louis Store and a row of wooden false-front buildings like an Old West Hollywood set," says architectural historian James Papp. "In 1950 the city decided to demolish the entire block to put up a parking lot. Ah Louis's youngest son Howard fought back, and they compromised on saving the Ah Louis Store," now a State Historical Landmark. Shanghai Low moved to the south side of the street, and when its building was recently demolished to build the Hotel SLO, the neon sign was preserved and installed on the hotel. 
"Now we're down to four Chinese-associated buildings in Chinatown: The 1883 Ah Louis Store, 1926 Chong's Chow Mein across Chorro Street (798 Palm Street, now Anderson Real Estate), 1923 Quong and Mary Chong Bungalow next door to it, and Mee Heng Low," says Papp. "All are still owned by the families of the original builders—Wongs, Chongs, and Gins—but only the Ah Louis Store has full historic recognition and protection. We're working on changing that."
As for Mee Heng Low, their menu may be inconsistent online at sites like Yelp, so be sure to check the official Mee Heng Low website and look up when they cater at Liquid Gravity. The original Gin family cookbook is printed with a second edition, and available in the San Luis Obispo Chamber of Commerce. 
Add to Your Itinerary
While you're in town, Kwong suggests visiting Liquid Gravity Brewing Company and getting outside.  
"I'm an avid mountain biker and runner like Cerro San Luis Obispo and Reservoir Canyon/High School Hill is a great one too, says Kwong. "South Hills Open Space is really fun too to go look at the tanker circles. I love SLO CAL beaches, too."
By: Eric Parker