Get an all-access pass to SLO CAL winemaking this fall—and enjoy the wine, too
Sure, you've heard a lot about SLO CAL's award-winning wine regions. But have you ever ventured behind the scenes to see what it takes to really make an award-winning bottle of Paso Robles Cabernet Sauvignon or Edna Valley Chardonnay? Lift the curtain this harvest season—which runs roughly from September through November—and enter a passionate and exhilarating world of flavor, texture and color.
Here, vineyard workers race against time to preserve the perfect balance of acid and sugar; whole clusters of grapes are crushed and de-stemmed in the heart of the afternoon; and young barrels are opened early so that the winemaking professionals (and the rest of us) can get a fresh taste of what the next vintage will bring.
With hundreds of unique behind-the-scenes wine events kicking off throughout the energetic and exciting SLO CAL harvest season, you're never far from your next sip. Taste the whole picture along with us!
1. Head to the coast
Surf's up this fall. With 30 wineries averaging only five miles from the Pacific, explore cool climate handcrafted wines that reflect the magic of SLO CAL's coastline. Harvest on the Coast weekend, running Nov. 1 through 3, is your gateway to understanding all in's and out's that go into every bottle of SLO Coast Wine pinot noir and chardonnay.
On Nov. 1, savor a Crafted on the Coast Winemaker Dinner, featuring artfully prepared food and wine pairings showcasing the San Luis Obispo Coast Wine region, encompassing Edna Valley, Arroyo Grande, and Avila Beach. You'll learn about the area's long growing season (in fact—one of the longest in the world) as well as how the grapes are naturally refined by the coast's wind, soil, fog and sun. Wine education near the beach? We'll take it!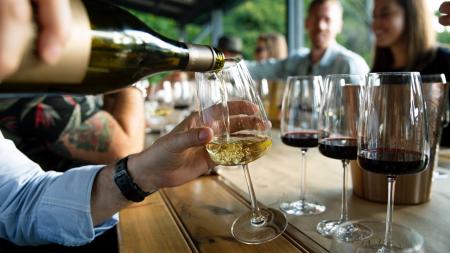 2. Kick up your boots
Live folk bands and wine glasses unite under the oaks each fall in Paso Robles, Templeton and San Miguel. Here, cozy up to casual yet elegant wine tasting offerings and—with more than 300 wineries in this world-renowned wine region—you can choose the event that's perfect for your personalized harvest excursion.
The official Harvest Wine Weekend kicks off October 18-20, featuring 140 events across Paso Robles, including tastings, barbecues, and behind-the-scenes offerings. Be sure to bring your cowboy hat and water bottle—early fall weather in Paso Robles is usually quite warm, as evidenced by an earlier picking schedule. See you at the barn dance!
3. Taste from the barrel
No, you don't have to be a winemaker to get a first sip of the coming vintage. You just have to be in SLO CAL. Behind-the-scenes barrel tastings are a fabulous way to sample new wines, learn about the barrel aging process and see what truly gives that wine its characteristic "caramelized" or "toasty" components.
Welcoming hangout Still Waters Vineyard in Paso Robles will host barrel tastings on Oct. 18 from noon to 2 p.m. Get a fresh sample of El Pomar District small lot, premium wines, including cabernet sauvignon and zinfandel. There's even estate-grown olive oil—so prepare to spend a few hours tasting as well as lingering by the Koi fish pond.
Local favorite Peachy Canyon Winery in Paso Robles welcomes anyone with a nose for the new to get an early taste of their forthcoming 2018 vintages. On October 18 from 10 a.m. to 5 p.m., sample the youth and vibrance of the wines (including their famous zinfandel offerings) before these "diamonds in the rough" have been shaped and polished. We're sure you'll discover a gem.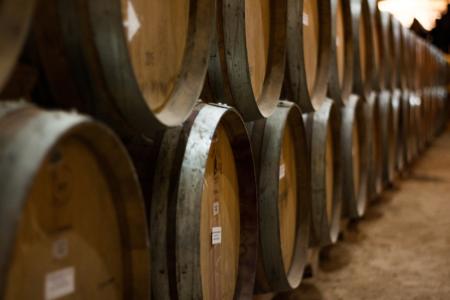 4. Venture into the vines
Any SLO CAL winemaker will tell you that this is where the true action really happens. Yes, great wine starts in the vineyard—a cliché, but so true. The grapes may grow slowly throughout the year, but come the first days of fall, there's a major push to pick at just the right moment of ripeness. Feel the electricity in the air and be part of this historic moment. This is the time that everyone's been waiting for. Time is of the essence!
Embark on an adventure into the vineyard at Austin Hope and Treana Tasting Cellar October 18 through 19 from 10 a.m. to 5 p.m. in Paso Robles. You'll sip wines right at their source—amidst lush ripening Grenache vines. You'll also learn some fun facts that will help you understand how the interaction of soil, microclimate, exposure and varietal selection make these estate Rhone varietals unique and delicious. Trust us. The more you know, the more you'll enjoy.
Tolosa Winery in San Luis Obispo will salute where it all started for them: their estate Moretti Vineyard at Edna Ranch. Enjoy an exclusive multi-course harvest luncheon slated for October 13 crafted by Chef Will Torres of Farmhouse Corner Market. This sun-dappled vineyard experience features more than stunning ambiance. Expect incredible pours from the winery's exquisite large-format single-vineyard wines. Bring your SPF—skies are sure to be sunny and bright.
5. Raise a glass
Harvest season requires sleepless nights, long days and lots of faith. Why not cheers to the winery workers who make it all happen, from the cellar workers to the folks out in the field? Winemaker dinners held throughout harvest season allow everyone to come together and enjoy the fruits of all that labor. All work and no play...you get the idea.
Avila Beach-based Peloton Cellars will celebrate its Tenth Annual Winemaker Dinner on October 12 with a five-course meal, live music and lots of camaraderie. Hear from proprietor Bill Kesselring as he speaks on the wines served and gives an update on the 2019 harvest, which will be in full swing. Meet and mingle with fellow proprietors and their spouses, too. Here, you're just one of the gang (although you're just sipping the wine; they're actually making it).
Paso's iconic Adelaida Vineyards and Winery knows how to keep the party going all harvest long, even when there's still lots of work to be done. Attend an intimate harvest dinner at BL Brasserie in downtown Paso Robles on October 19 and revel in the labor of love that is harvest season in SLO CAL. Prepared by Chef Laurent Grangien, this four-course dinner will feature the freshest local ingredients at peak season perfection. After all, "harvest" is happening for all produce, not just wine grapes. Winemaker Jeremy Weintraub will guide guests through each wine poured and shed some light on how he uses sheep in the vineyard to keep weeds down in an eco-conscious manner. When sustainability meets sumptuous, you know you're experiencing harvest in SLO CAL.