Putt along Highway 1's pristine beaches, rolling dunes and lush vineyards

Photo by: Morro Bay Tourism
The grass is greener on the SLO CAL Coast: Tee off in paradise, where white sand beaches, mesmerizing dunes and rolling vineyards come together to conjure up a putter's dream. Located midway between San Francisco and Los Angeles, SLO CAL is home to a host of tantalizing golf courses welcome to all levels (plus, with more than 300 days of sunshine per year, you'll never need a raincheck). Whether you're looking to challenge your game or just seek a bit of friendly competition, you've brought your clubs to the right place. With ten great golf courses located on or near Highway 1, an incredible experience is always par for the course.
Putt along the Estero Bay, where the green meets the sea
Stretching between Cayucos in the North and Los Osos in the South, this gorgeous coastal oasis is home to incredible courses in Los Osos and Morro Bay
Photo by: Morro Bay Tourism
Spray and play at Sea Pines Golf Resort in Los Osos: Challenge yourself with a fun nine-hole, 62-par executive course nestled on the edge of the Pacific. Breathe in the fresh, sea air as you take in views of majestic Morro Rock, the Morro Bay Estuary and coastal dunes. Looking to work on your swing? A driving range, putting green, chipping area and golf lessons help to make good golfers great. Fans of disc and foot golf will be glad to know that Sea Pines Golf Resort is the only course in SLO CAL to offer these awesome alternatives, perfect for whiling away a few blissful hours in the sun. Feeling peckish? Savor a meal at The Clubhouse Bar and Grill, open for breakfast, lunch and dinner on their outdoor patio or for take-out.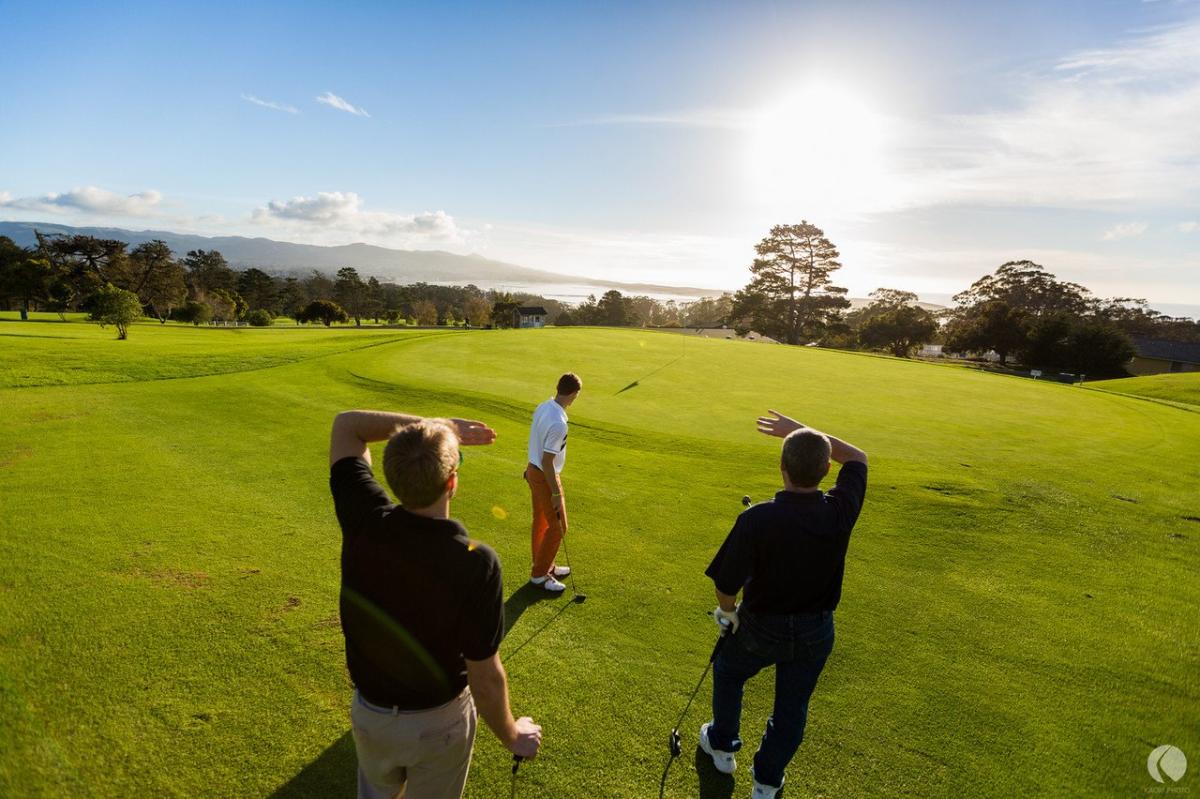 Photo by: Morro Bay Tourism
Panoramic views at Morro Bay Golf Course: Plan to hit Morro Bay's must-play 71-par course, where every swing is iconic and all 18 holes boast an outstanding ocean view. Located at the base of Black Hill, overlooking the picturesque hamlet of Morro Bay and the coast, Morro Bay Golf Course offers up a scenic ambiance to spare. With bentgrass fairways, well-kept greens and a stellar driving range, you're in for a robust round of golf. Plus, players seeking a challenge will appreciate the tree-lined fairways and hilly, natural terrain found along this classic Pebble Beach-inspired track. An added bonus? The course is part of Morro Bay State Park and a bird sanctuary, making for plenty of pleasant chirping throughout your game.
Photo by: Morro Bay Tourism
Up the ante at Dairy Creek Golf Course in Morro Bay: Push your game to new limits at one of SLO CAL's most dynamic and formidable golf courses. Located between Morro Bay and San Luis Obispo, this 18-hole, link-style par 71 course features dramatic changes in elevation, rocky gullies and difficult water hazards, as well as tricky bentgrass greens sure to challenge your skills. Yes, even longtime players will need to keep their wits about them; especially when coastal winds whip around nearby Hollister Peak. At 6,548 yards, the design incorporates native plants and wildlife as well as top-notch training facilities with a driving range, practice greens, bunker and chipping greens.
Tee off in sunny San Luis Obispo, where the fun rolls on
From casual courses to charming clubs, swing into the SLO life with these local faves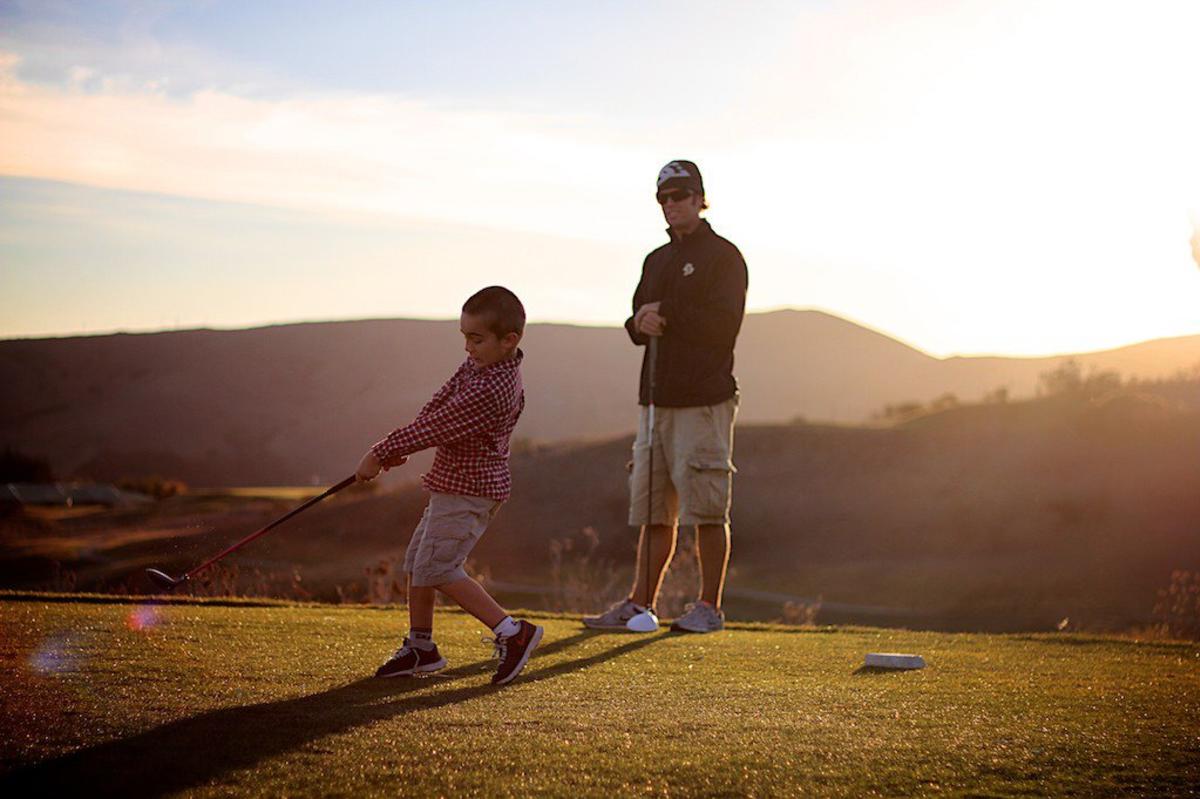 Photo by: City of SLO
Claim your hole-in-one at Laguna Lake Municipal Golf Course in San Luis Obispo, a treasure for golfers of all skill levels. No matter where you're from, you'll be right at home at this approachable ten-hole, 23 irons course beloved by the locals. Located adjacent to stunning Irish Hills—a popular stop for mountain biking and hiking—you'll get a real feel for SLO CAL's outdoor allure. Bring the whole family and get in on twilight play, family play and free golf on your birthday. With casual grub, friendly staff, an excellent driving range, golf lessons for adults and juniors, a repair/pro shop and hard cart rentals, this warm and unforgettable course will welcome you back again and again.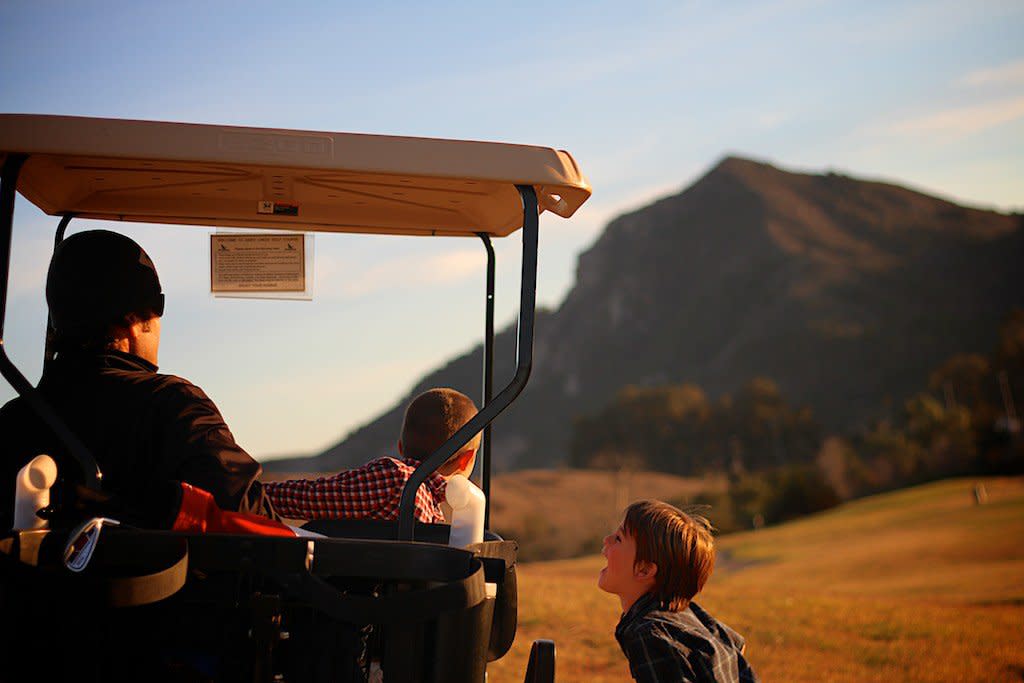 Photo by: City of SLO
Join the family at San Luis Obispo Country Club, a stunning putter's retreat open to members and their guests. If you've ever dreamed of pairing wine and golf, your next vacation might very well bring that fantasy to life. This 18-hole, par 72 course affords breathtaking views of Edna Valley and the SLO Coast Wine Region, with vines as far as the eye can see. The manicured grounds offer rolling greens with deceptive slopes, sharp doglegs and thoughtfully placed hazards to keep you on your toes. Home to the Straight Down Championship, the club also hosts the likes of Fred Couples, Tom Lehman, John Daly, and Loren Roberts. Who wouldn't want to join their ranks?
Swing near the sand at these beachy-keen courses
California dreaming begins at these coastal courses just steps from Avila and Pismo Beach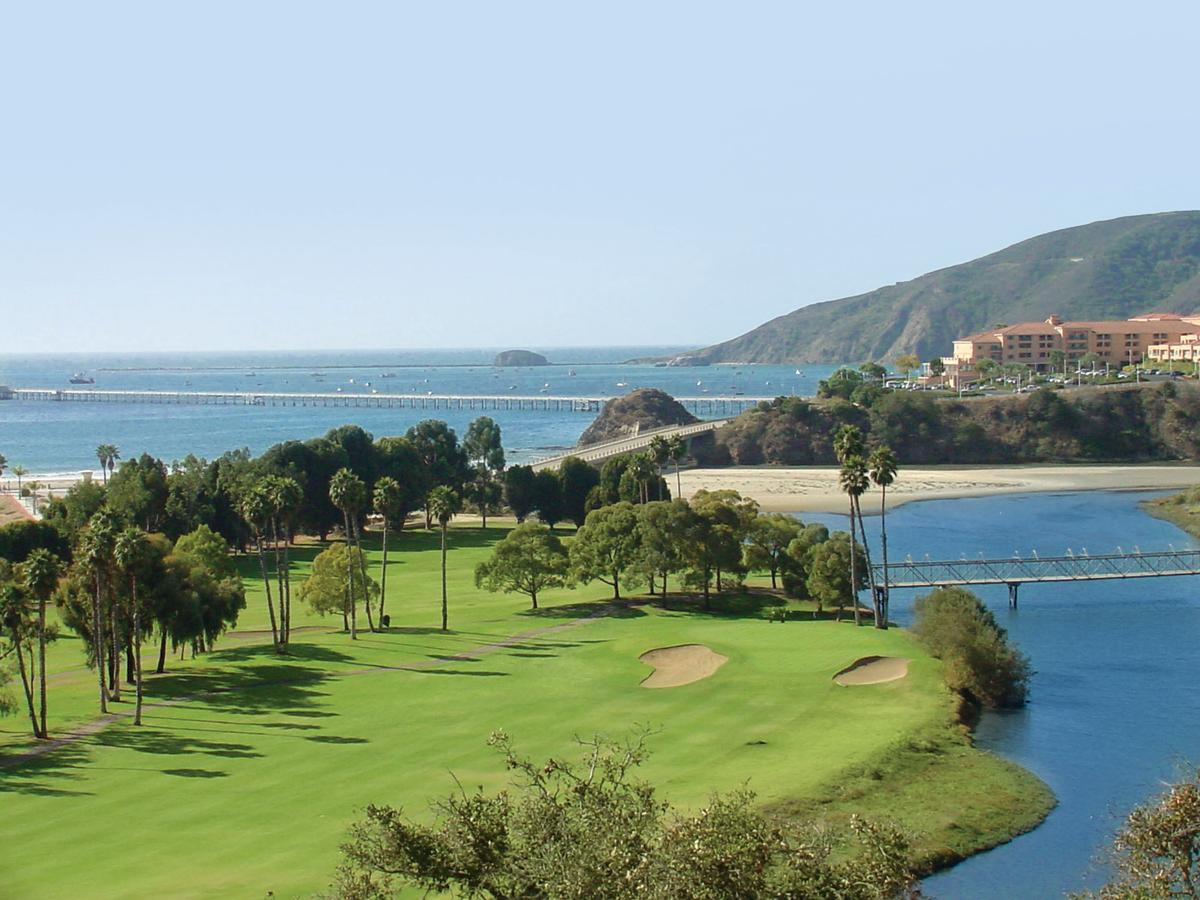 Get back into the swing at Avila Beach Golf Course, known for pleasurable play along the San Luis Bay. A stone's throw from Avila Beach's white sand coastline, this attractive course is beautiful and cunning, providing exciting challenges around every bend. With 18 holes, a pro shop and private lessons, the 72 par course measures a whopping 6,364 yards and is studded with kikuyu grass fairways and bentgrass greens. Command your cart across hilly terrain flanked by stately oaks, ending your game with a glass of local wine from Mulligan's, the onsite full-service bar and restaurant. From elevated greens affording sweeping views of the sea to a unique tidal estuary, you'll be wowed again and again by the natural wonders on display in awe-inspiring Avila.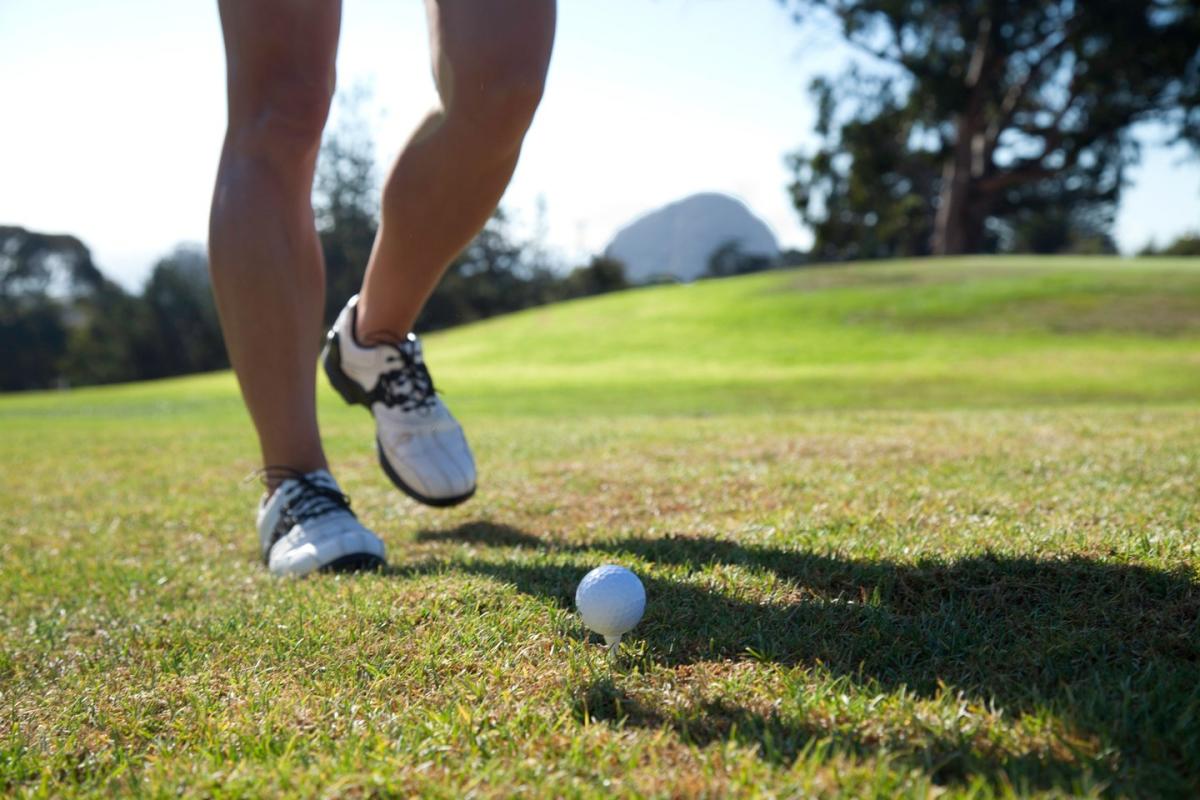 Photo by: Morro Bay Tourism
Your golden opportunity awaits at Pismo Beach Golf Course, mere steps from the sand. Hit the links while seagulls and pelicans soar overhead in Pismo Beach. This nine-hole par 27 executive course covers 29 acres of oceanfront with views of the Oceano Dunes Preserve—an impressive swatch of SLO CAL real estate. The sound of crashing waves adds a true-blue California vibe to this treasured coastal gem. Yes, you can enjoy the allure of Pismo Beach, even if your idea of "fun in the sun" doesn't include a surfboard!
A relaxed wonderland among the dunes
Laid back luxury awaits at these courses tucked along the Oceano-Nipomo dunescape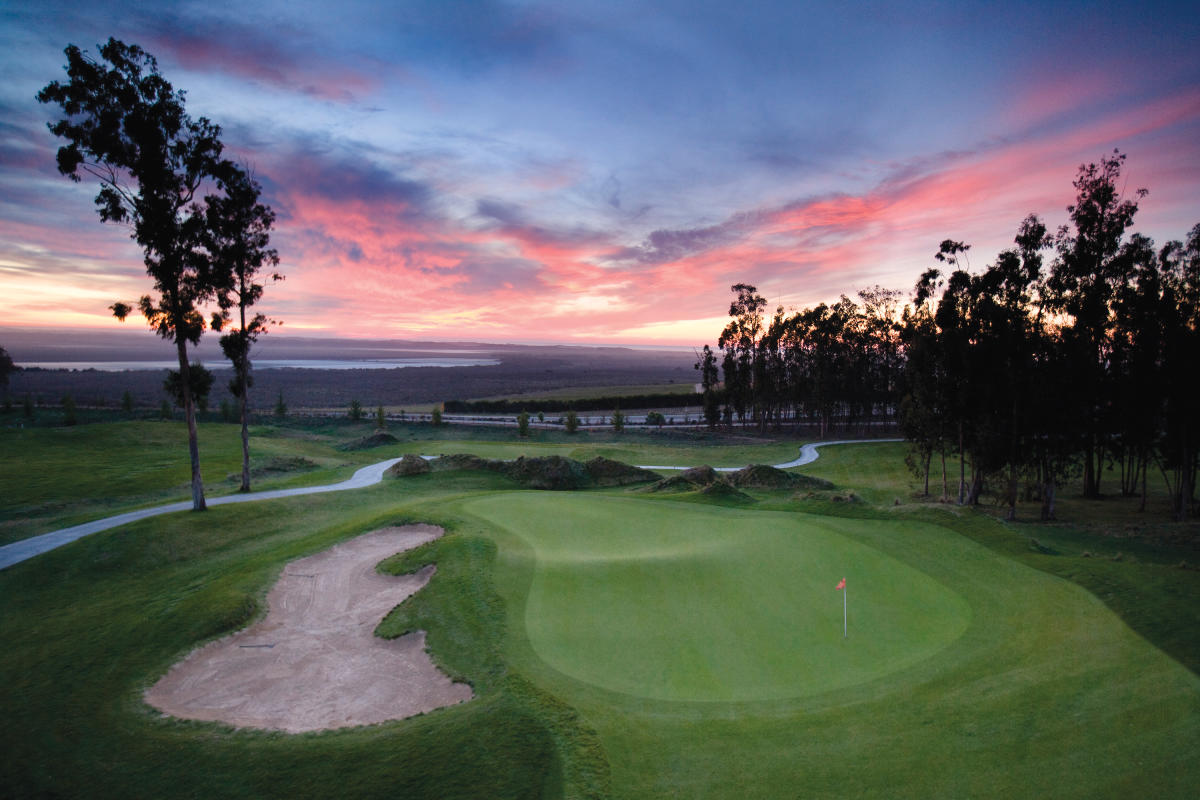 Lose yourself in at Monarch Dunes Golf Course, backdropped by Highway 1's coastal highlands and otherworldly dunes. Nestled atop the Nipomo Mesa, this unmatched golf resort is home to a pair of award-winning courses crafted in the Scottish links style. Expect to be wowed by views of windswept dunes, eucalyptus groves, the coast and amber-colored hillsides. The 18-hole, par 71 championship course takes full advantage of its glorious setting—which might be partly why it's garnered so many accolades from GOLF Magazine, Golf Inc. Magazine, Fairways + Greens Magazine, Golf Digest and more. The course's five scenic lakes, spacious driving range and onsite bistro, the Butterfly Grille, might also factor in, of course. Monarch's second offering, a unique 12-hole, par 3 course lives up to its name: "The Challenge."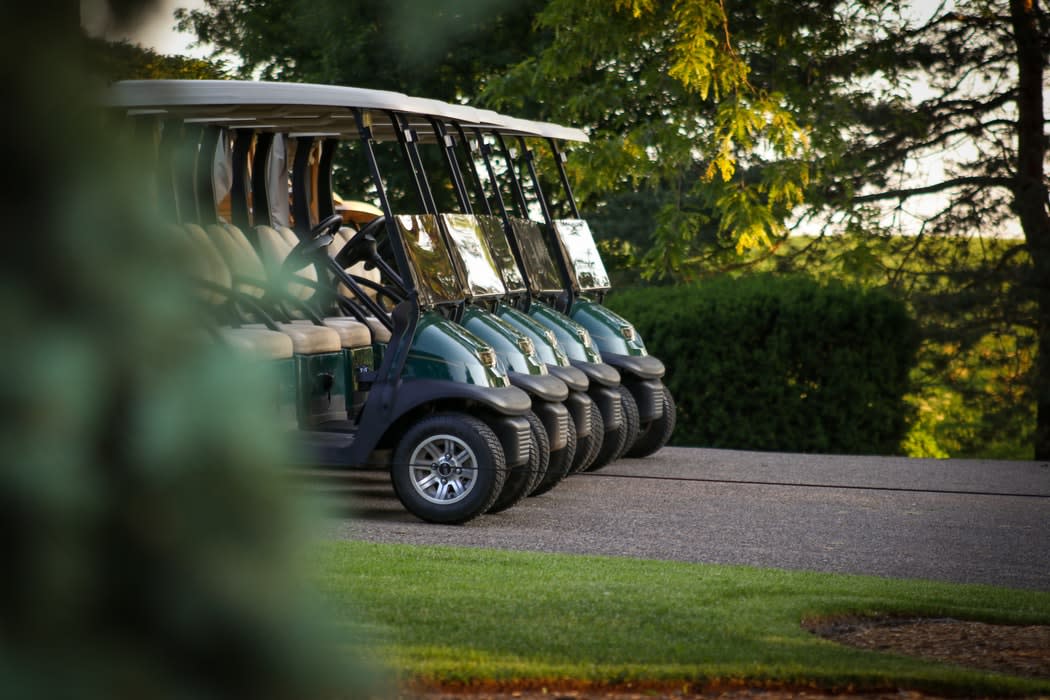 Mix and match at Blacklake Golf Course, famous for its unique three-course, 27-hole layout. That's right—play nine, 18, or 23 holes all in one stop, providing a game tailored to your specific preferences or skill level. Located between Santa Maria and Pismo Beach, the nine-hole "Canyons Course" features gentle variations in terrain and plenty of long views of the fairway from elevated tee boxes above. Winding along a coastal oak forest, the championship "Oaks" course is a bit trickier, ready for seasoned golfers looking to up their game. Designed with the beginner in mind, "The Lakes" course features wide, forgiving fairways that help new golfers improve and hone their craft. With the addition of a driving range and chipping greens, instruction clinics and the onsite Blacklake Bar and Grille for outdoor dining, you might need more than a day to truly explore every nook and cranny of this multi-tiered adventure.
Savor the calming scent of cypress branches at Cypress Ridge Golf Club in nearby Arroyo Grande. As challenging as it is beautiful, this 18-hole, par 72 course sits alongside a pristine cypress grove lush with rye glass greens and fairways. At length of 6,800 yards, you'll hustle to master various back tees, sharp dog leg holes and fast, true greens. A hidden gem? Not anymore.