Spots to merrily explore SLO CAL this holiday season
SLO CAL means grabbing a pair of sunglasses for the winter months here and letting your heart be cheery and bright. That's because SLO CAL experiences more than 300 days of sun per year, which means your winter distancing plans has little chance of being rained out. So pack your swimsuit, hiking boots, appetite, and perhaps a festive sun visor for legendary outdoor fun, delivered cuisine and all our enchanting destinations that remain open to the public year round. Remember to wear your mask and follow all COVID-19 safety guidelines wherever you are, and plan to visit us as soon as restrictions lift.
Festive feasts & treats for a jolly good time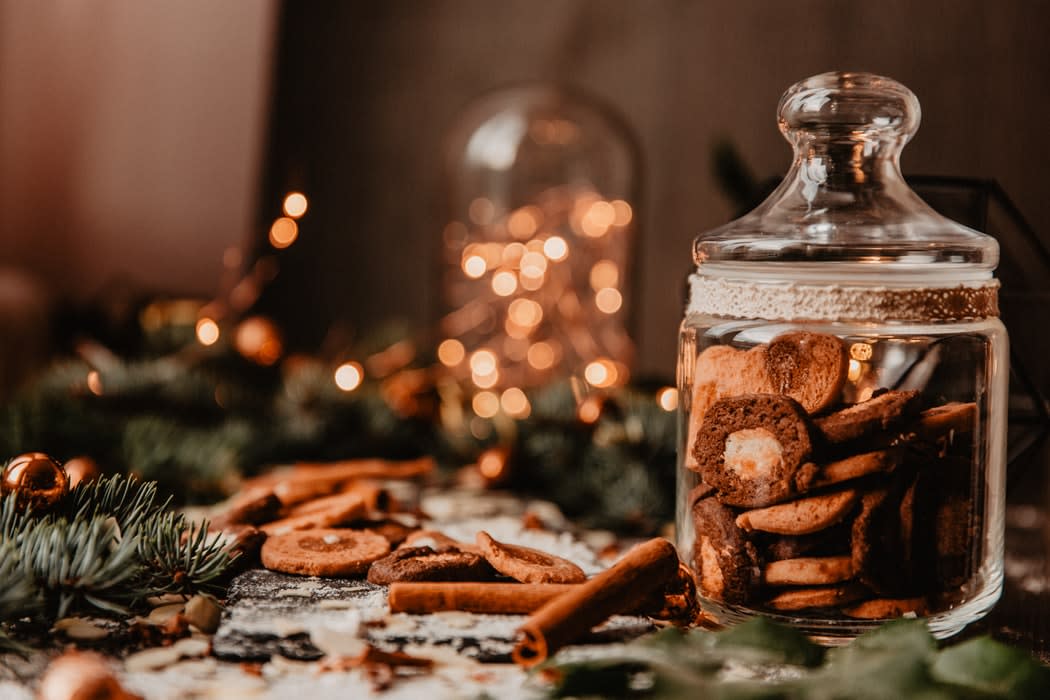 Magical meals in San Simeon, Cambria, Harmony and Cayucos
The holidays are all about sharing special dinners (and wine pairings) with those you love. San Simeon might be known for Hearst Castle, but the wines at Hearst Ranch Winery are just as opulent—plus, the view from nearby Ragged Point Inn Restaurant rivals a few of the castle's most epic views. Cambria's sophisticated, farm-fresh restaurant scene is bursting with winter produce to savor, so make your reservation today. When you dine at Black Cat Bistro or Harmony Cafe, you can rest assured you're nibbling the finest bounty of the season. Just remember, chefs will trade sugar plums for olallieberry (pronounced oh-la-leh berry) this time of year, a popular pie order at Linn's Restaurant. Tip: Grab a few frozen pies to go for your holiday meals back home. You won't regret it! Cambria's coastal tasting rooms—including Cutruzzola Vineyards, Stolo Vineyard, Moonstone Cellars and Twin Coyotes Winery—showcase grapes grown steps away from the Pacific Ocean and make spectacular gifts. Don't forget to stop by Harmony Cellars, located in the nearby hamlet of Harmony population 18, if you count the cows. Harmony Cellars wine—along with a selection of Harmony's own glass-blown jewelry and tableware—make creative presents for your most artistic friends this holiday season. Not sure if you've heard, but Santa's bored to death of chocolate chip cookies and milk. This year, grab a sea-salted bag from Brown Butter Cookies in downtown Cayucos and a bottle of local vino from Cayucos Cellars. You'll be on the "nice" list for the next decade!
If you have hotel reservations at the Cambria Pines Lodge, J. Patrick House, and Sea Otter Inn, you'll receive access to the Lights at Cambria Pines, running through January 2 (closed Christmas eve and day). Two million lights are condensed on a one-way path for safety with cozy fires, food and drink options. So while Hearst Castle remains closed for visitors due to COVID-19 restrictions, be sure to check out what all of these small surrounding communities have to offer.

De-stress in Avila Beach
Any lingering remnants of holiday stress will be instantly melted away upon your arrival to Avila Beach, where you can dine at a plethora of seafood restaurants along the water or sink into a private tub filled with hot, naturally soothing mineral water. Sample Avila Beach wine selections from Alapay Cellars, Sinor-Lavallee, or Peloton Cellars or embark on a day tour through magical terrain where vines meet the sea. Your friends will love cruising along The Avila Beach Wine Trail, which leads to festive tasting rooms (including Kelsey See Canyon Winery, famous for its coastal Chardonnay mixed with See Canyon apple cider). These crisp, slightly sweet bottles make for fabulous stocking stuffers! Any holiday pie needs can be solved at the Avila Valley Barn, which is decked out in fragrant wreaths and jolly ornaments this time of year. Tip: Grab a family photo-op with the resident farm animals and fresh-cut Christmas trees. Yes, there's mulled apple cider, too! The Point San Luis Lighthouse, decorating for the holiday season, offers a virtual tours on Saturdays throughout December.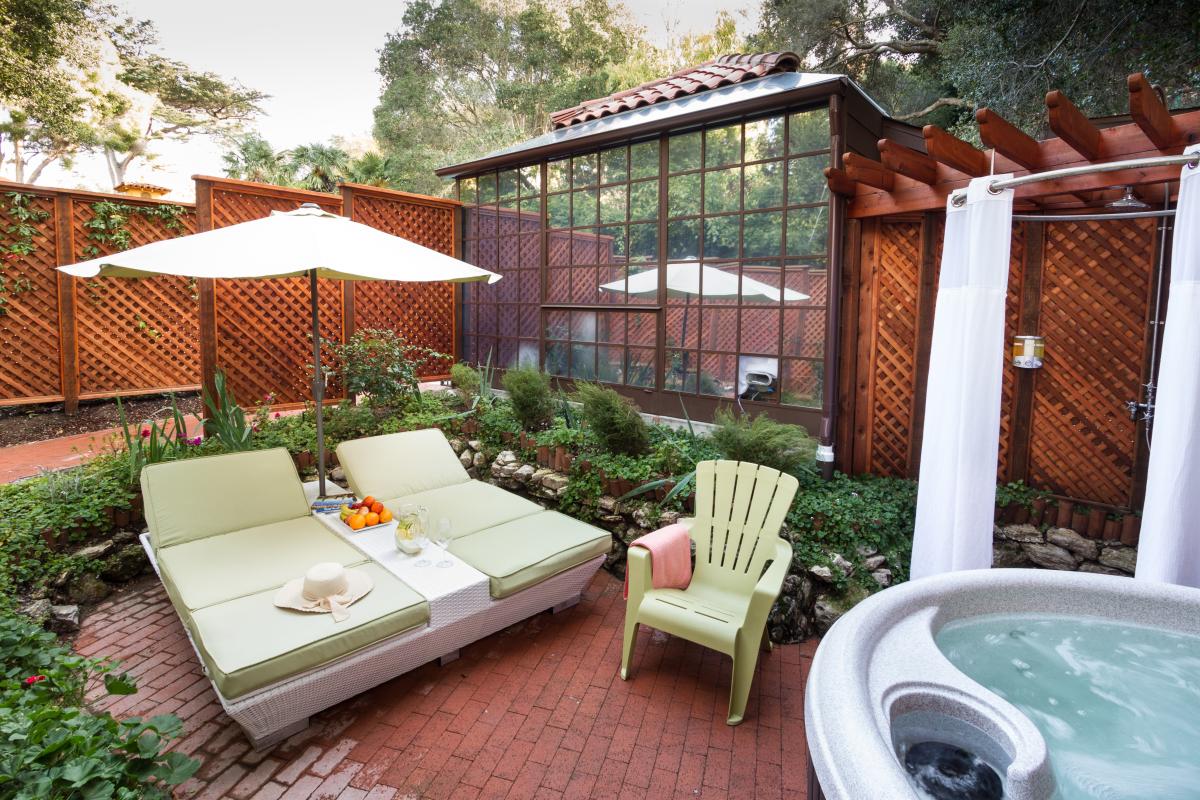 Sip up in Pismo Beach
Surf's up, Santa! When you think of Pismo Beach you may think primarily of surfing, sun, and the bustling pier. But did you know that this classic beach town is home to Splash Cafe's world-famous clam chowder? Get your fill of this hot comforting winter treat, then head to the area's unique tasting rooms, like Sans Liege, which offers up a laid back, family-friendly tasting experience. Looking to pick up multiple bottles from an array of producers to give away as holiday gifts this year? Stop by Taste of the Valleys, where you can sample flavors from across the southern SLO CAL coast. Be sure to take a picture at one of the hottest selfie spots in SLO CAL on the Pismo Beach Pier Plaza with the giant customized lettering. For those looking to countdown to the holidays, check out The Cliffs' 12 Days of Cliffsmas. December 3-24 that will feature various giveaways for community members, such as a healthcare workers, teachers and first responders. Special gifts are promised on Dec. 15 for those helping with the Shell Beach cleanup on Dec. 21: a free drink at Marisol.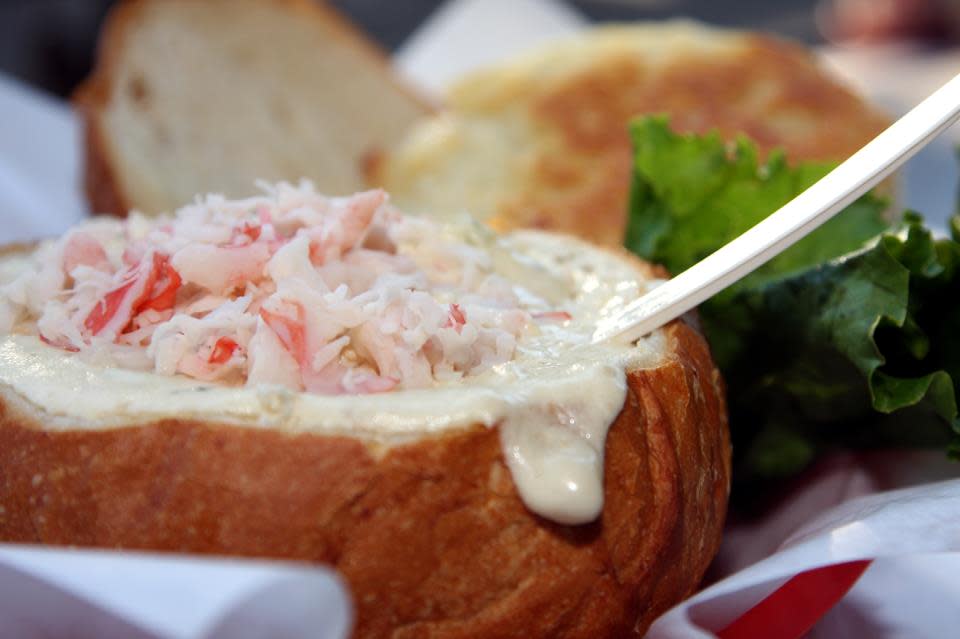 Feed the fam in Grover Beach
Known for its mesmerizing sand dunes, Oceano is not without its own unique holiday flavor. Here, it's all about fine wine served alongside casual comfort food. Stop by Monarch Grove Winery, a stellar tasting room along Highway 1, or grab a bite to eat at Rock & Roll Diner. This classic train car-turned-1950s-diner offers up generous breakfasts, juicy pastrami burgers, great guacamole burgers and a number of authentic Greek dishes sure to stick to your gills. Sometimes you need a quick, filling bite to keep the holiday fun rolling on! The 50+ year holiday parade and tree lighting are on pause due to COVID-19. But that's no reason to halt your own distancing plans with this much to see.
Waterfront dining in Morro Bay
Morro Bay is a quaint fishing village that celebrates its roots over the festive period with trees made from crab pots, seasonal Dungeness crab and saltwater taffy to indulge in, plus many opportunities to get out on the water. Delicious Morro Bay oysters are a must every holiday season. Try a half dozen on the half shell from both Morro Bay Oyster Company and Grassy Bar Oyster Company, both of which have retail establishments on the Embarcadero. Yes, that means you can take some fresh morsels back to your vacation rental, if you so desire! Waterfront dining is a big draw each holiday season. Stax Wine Bar and Bistro is a great place to sip wines sourced from SLO CAL's diverse microclimates.
While there is no formal boat parade this year due to COVID-19, peek around at night to maybe catch a glimpse of one or two local boats decked out for the season. The largest commercial crab pot "tree" will be going up at the south T-Pier to provide some local holiday flair. Smaller crab pot trees will be dotted around town, so see if you can catch them all. Grab a wreath making kit from the Art Center Morro Bay to make your own succulent wreath and follow along on Nov. 29 and Dec. 6.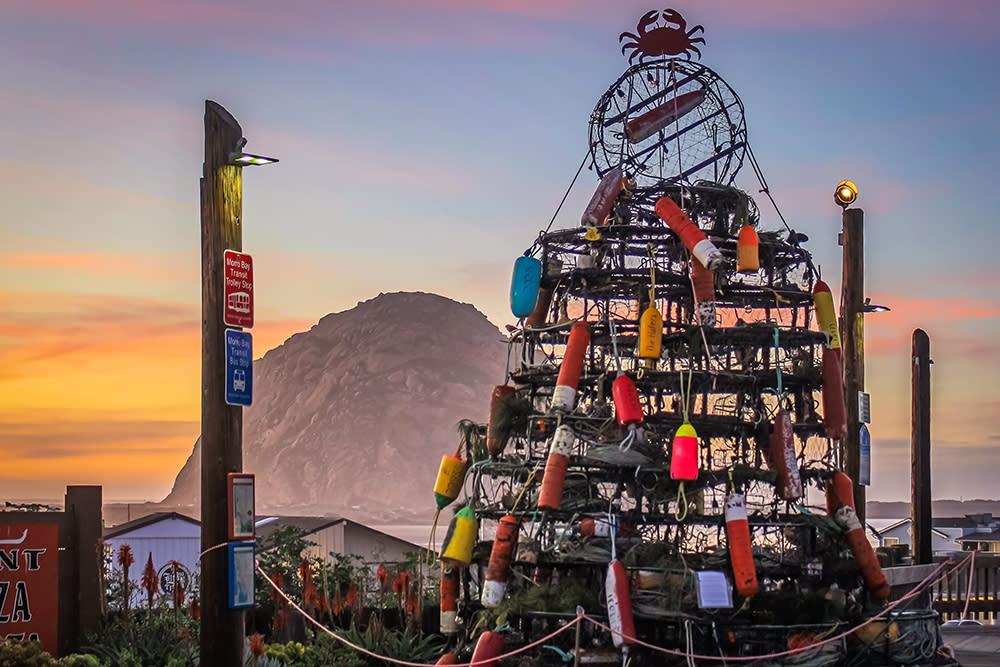 Taste Edna Valley, SLO and Arroyo Grande this holiday season
No matter which holiday you're in town for, the SLO CAL Coast is rife with flavorful gifts sure to put a twinkle in your eye. Just four miles from the beach and boasting more than 30 wineries, you'll find Edna and Arroyo Grande Valleys—two renowned wine regions you won't want to miss on your next holiday adventure. Explore a whole new world of wine and food crafted to be enjoyed together. Sip famous Pinot Noir, Chardonnay, and aromatic white varieties like Albariño, all of which are known for exceptional balance due to their coastal growing conditions. The Southern Charm Wine Trail also includes an array of nearby tasting rooms perfect for toasting the season, including Laetitia Vineyard & Winery, Verdad & Lindquist Family Wines, Talley Vineyards and more.

Holiday flair in San Luis Obispo this year will safely be celebrated with Mission Plaza's Light Up Downtown. A life-size Santa cutout will be outside of his house for photos, and surrounded by creative and family-friendly activities during the day and night. Drop off letters for Santa, and this year, children will receive a letter back! Grab a free activity book, available at shops around downtown and online (beginning Nov 28) to participate in The Search for Santa's Mouse Scavenger Hunt. The socially-distanced Menorah lighting ceremony, coordinated by the JCC-Federation, happens outside the steps of the Mission in San Luis Obispo each night of Hanukkah at 5pm, December 10–17. Downtown businesses will celebrate the holidays with inspired window displays. Scan the QR code on your favorite shop window and vote for the one you think is the best! Madonna Inn is also a must-see sight for holiday cheer. Reindeer, ornaments and lit trees are sure to get everyone in the mood to celebrate.
North County Fun In Atascadero and Paso Robles
Are you in town for world-class wine tasting at Halter Ranch or Niner Wine Estates? Don't miss a stop to Paso Robles's town square, all decked out for the holidays with 18 trees. The insulated park is circled by restaurants, including cocktail bar Eleven Twenty Two, for those who are wined-out on the trail. Quaint collective, Tin City, takes sheepsmilk icecream to the next level for those needing a lactose-free dairy fix. Nearby establishments make casual tasting a pleasure from up-and-coming winemakers and brewers. The holiday spirit is strong here, with weather averages bottoming in the 30s, so bundle up with your loved ones on a farm tour of Kiler Ridge Olive Farm, another industry this region is famous for.
Nearby Atascadero is also centered around a town square known as Sunken Gardens. Downtown businesses will be competitively decorated and open for holiday shopping and dining. Neighborhood maps will also create a trail to tour the top-lit spots. The Charles Paddock Zoo's annual Holiday Magic event is virtual this year due to COVID, so anyone can join on December 19th. Atascadero festivities officially kick off on December 4th with the annual countdown to light up Historic City Hall. Due to COVID-19, "Light up the Downtown" will be drive-in style. Rumor has it that the Claus' will have a couple of their famous reindeer on site for photo opportunities. After the lighting, Atascadero High School will hold their Glow, Shine, Sparkle Reverse Holiday Parade on High School Hill. Each of the school clubs and organizations will be creating a standing float. Two annual holiday events, Holiday Walk Around the Lake at Atascadero Lake and Winter Wonderland, have been rescheduled for 2021.
Outdoors for the holiday
No snowmen here, but plenty of smiles!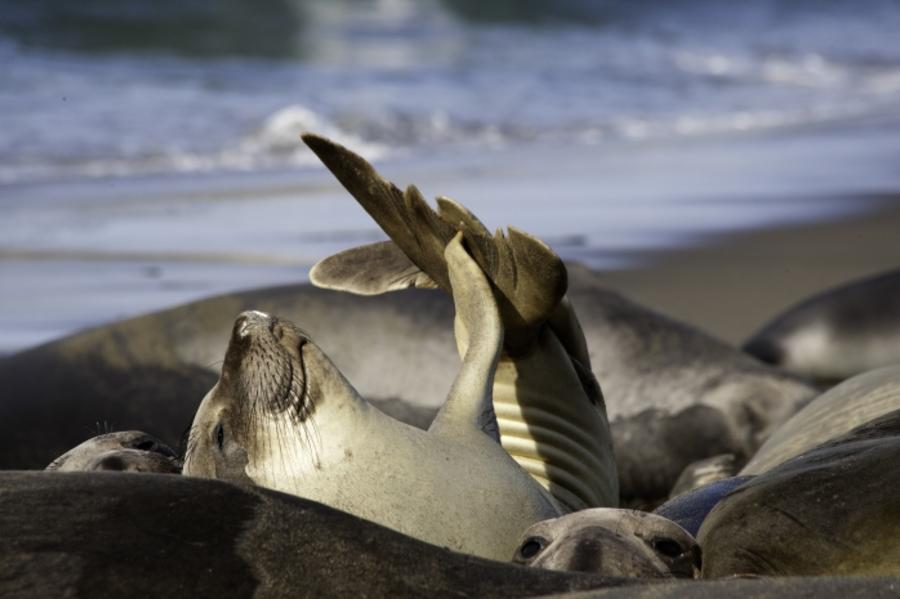 See the Elephant Seals in San Simeon
Pay a visit to SLO CAL's unofficial ambassadors. Yes, the Great Northern Elephant Seal is a sight to behold, especially in wintertime. These majestic animals migrate to a rookery just north of San Simeon in November when the seals root around (and even compete) for choice birthing spots. By mid-December, the first pups usually makes their debut! Perhaps Christmas will come early on your visit. Tip: Looking to burn off some extra energy before heading back to the car? Built in 1875, the nearby Piedras Blancas Light Station can be seen with its 100-foot-tall lighthouse. This is a great place to get your wiggles out and pose for one heck of a holiday card photo.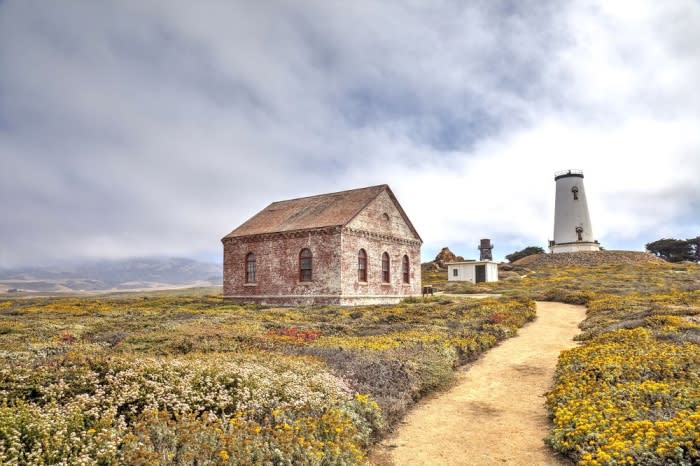 A harbor-full of friends in Morro Bay
Meet a wild band of carolers who live beneath the sea. With ideal waters for first-time kayakers and experienced paddlers alike, the Morro Bay Estuary offers a special protected cove that hosts as many as 20,000 migrating sea birds annually, including the Marbled Godwit and Long-billed Curlew (keep an eye out for Western Pond Turtle, Swell Sharks, and sea lions, too). Rent gear from a local outfitter, or reserve a spot for a tour with an experienced guide. SLO CAL's newest aquatic attraction, Estero Adventure, offers up electric pontoon boats ready to take you around the harbor in style. Pile the family into one of these nifty vessels and traverse the peaceful harbor in search of floating otters and curious seals. Reserve your rental at the Estero Inn (boats launch from the hotel dock). Kayaks and paddleboards are also available for hourly rental. Just pray there isn't a mutiny on board!

Swimming and soaring in Arroyo Grande and Pismo Beach
Cannonball into the holidays! Imagine: lake swimming in winter! In SLO CAL, this isn't a crazy idea at all. Lopez Lake Recreation Area has delighted families for decades with swimming, water skiing and fishing. Come see why it's one of SLO CAL's most popular family-friendly destinations all year round. In non-pandemic times, check out Mustang Waterpark or the Vista Lago Adventure Park with ropes challenge courses and ziplines. Tip: Not able to get out to the lake on this stay? Visit the historic Swinging Bridge in the Village of Arroyo Grande, which swings (and creaks) 40 feet above the Arroyo Grande Creek. The kids may shriek but it's all in good fun. For a low impact adventure filled with natural wonderment, look to the sky. Each winter, thousands of Monarch Butteries cluster within the leaves of local eucalyptus trees, their orange and black wings opening and closing in the sun. You've got to see it to believe it—just head to the Monarch Butterfly Preserve for your own mind-blowing experience.

Cambria's natural gifts
Who says holiday gifts have to cost a dime? Cambria's Moonstone Beach is littered with glittering treasures just waiting to be found. These wave-worn stones and smooth lumps of sea glass look lovely alongside any holiday décor. Stroll the gentle Moonstone Beach Boardwalk, an ADA-compliant one-mile path along the beach perfect for the whole family to traverse. Wildlife abounds with dolphins, seabirds, and otters lounging on their backs. Gray and Humpback whales are also found emerging from the dramatic waves, so keep your eyes peeled. Tip: To help your party out, The Whale Trail organization's interpretive signs stand at 10 different whale watching outposts along SLO CAL (that's more than any other county in California). Looking for more fun on land? The kids will love Covell's California Clydesdale Ranch, home to a herd of 100 freely-roaming majestic Clydesdale horses. The 2,000-acre ranch is made possible through a nature conservation easement, with views of a Monterey Pine forest, glimpses of the ocean and pristine pastures. Tours of the 2,000-acre property are available in the ranch's open-air trailer or on horseback. Whew! After all that, it's time to relax and enjoy a picnic at nearby Shamel Park, featuring scenic day-use areas.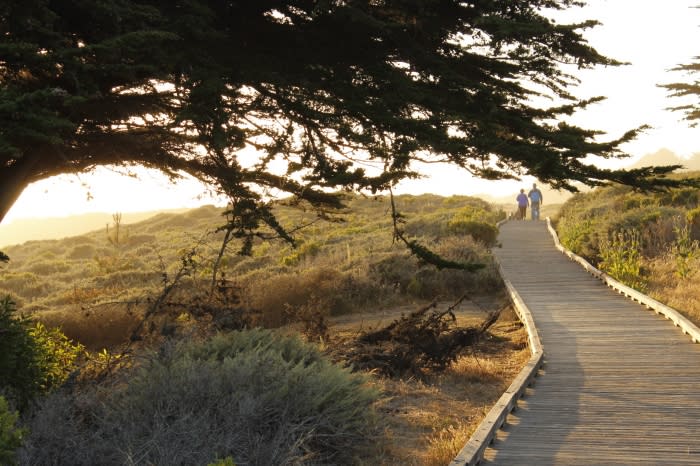 History in the making
Tour SLO CAL's most magical cultural destinations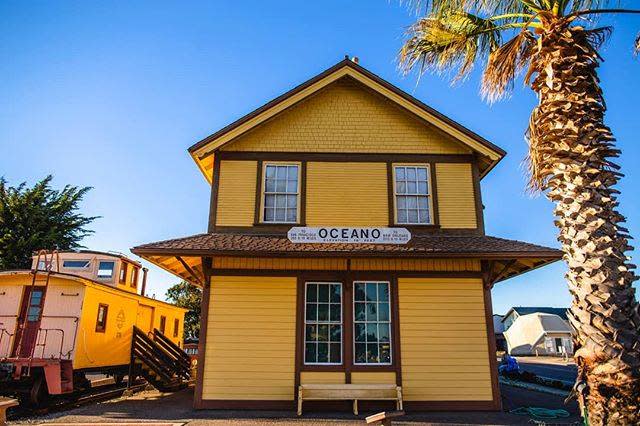 Christmas past meets SLO CAL's future
Want to learn more about SLO CAL's interesting and ever-evolving heritage? It's this easy: Just check out the History and Heritage Trail, a compilation of museums, historic homes, and other significant sites along Highway 1. With pandemic restrictions closing the inside of many sites, such as Hearst Castle, let's turn to those with outside viewing opportunities. Trains have long been associated with the holidays—moving people and packages to spread joy. Train enthusiasts in SLO CAL will totally dig the Oceano Train Depot & Museum, complete with a 1940s era Southern Pacific boxcar and 1907 wooden caboose. San Luis Obispo has a train museum sits on grounds once known as the ending point for rails from Los Angeles, where Santa's presents stopped for distribution. The train yard once featured a roundtable, where now sits the museum with historic cars outside to peruse. 
Train travel can only take you so far. For those needing an escort for the extravagant schedule, look no further than SLO Safe Ride. Guests of Allegretto Vineyard Resort, Hotel Cerro, Hotel San Luis Obispo and Vespera On Ocean are able to book with SLO Safe Ride's fleet of luxury buses, limousines and large-group vehicles. Clean and sanitized for families during the holidays, Hotel Wine Tour Packages are specifically designed for guests to stay and play safely in SLO CAL.