Harmony Valley Creamery is a hidden gem along Highway 1 that offers a big piece of SLO CAL history in a small vicinity. The creamery lives in the small town of Harmony, which is a great place to stroll, see local artisan goods and try SLO CAL Crafted products like freshly made ice cream.
Harmony Valley Creamery has been in business since 2015, however, it was originally established in 1913 as part of a dairy cooperative in Harmony. After 1970, the Harmony Valley Creamery Association closed, and the town was purchased in 2014 by the Vander Horst family. Today, the town of Harmony is known for its unique population of 18 residents, which many locals joke is made up of the roaming cows in the town.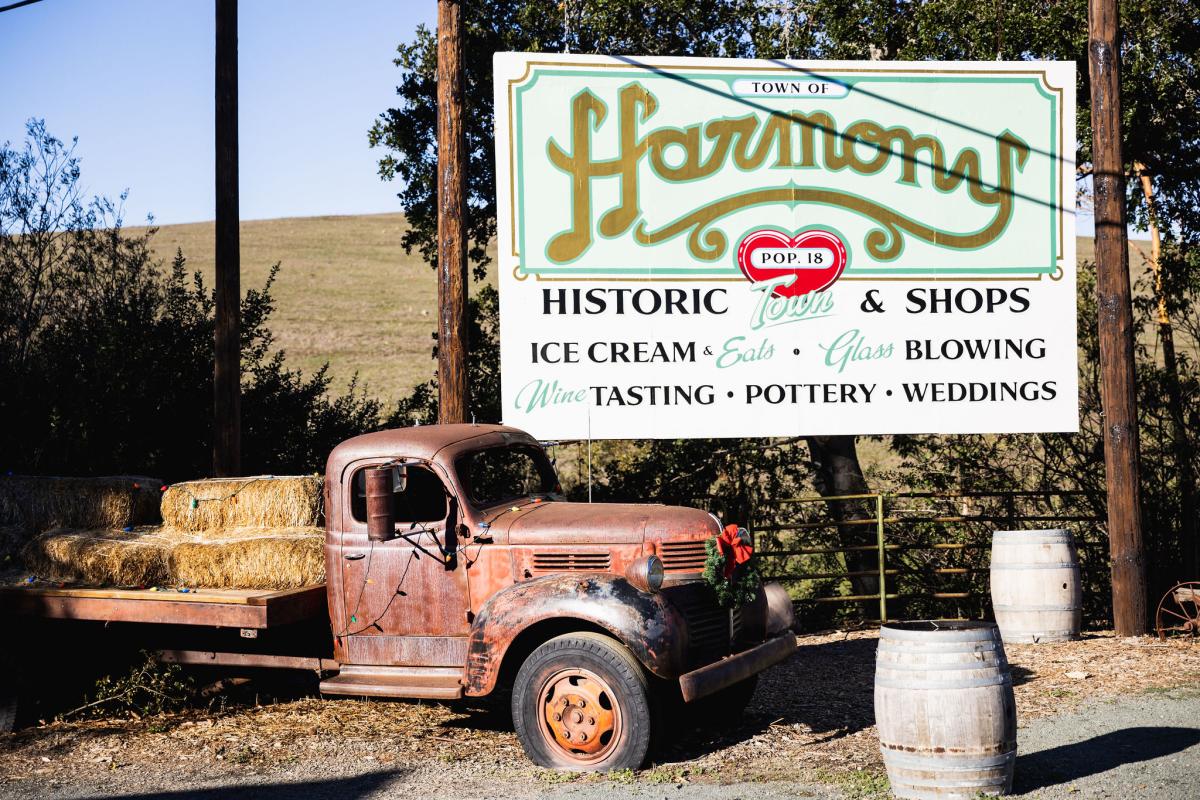 Once repurchased by the new family in 2014, the first goal was to resurrect the old Harmony Valley Creamery in a new way, so they chose to start by creating craft ice cream. The secret to their quality ice cream is using local ingredients as much as possible. Their milk comes from California dairy cows and they use California-grown strawberries and fruits. For the coffee-flavored ice cream, they source from Spearhead Coffee in Paso Robles. "Having a SLO CAL local business with SLO CAL local products is what makes the difference," says Tom Halen, creamery general manager and chief flavor officer.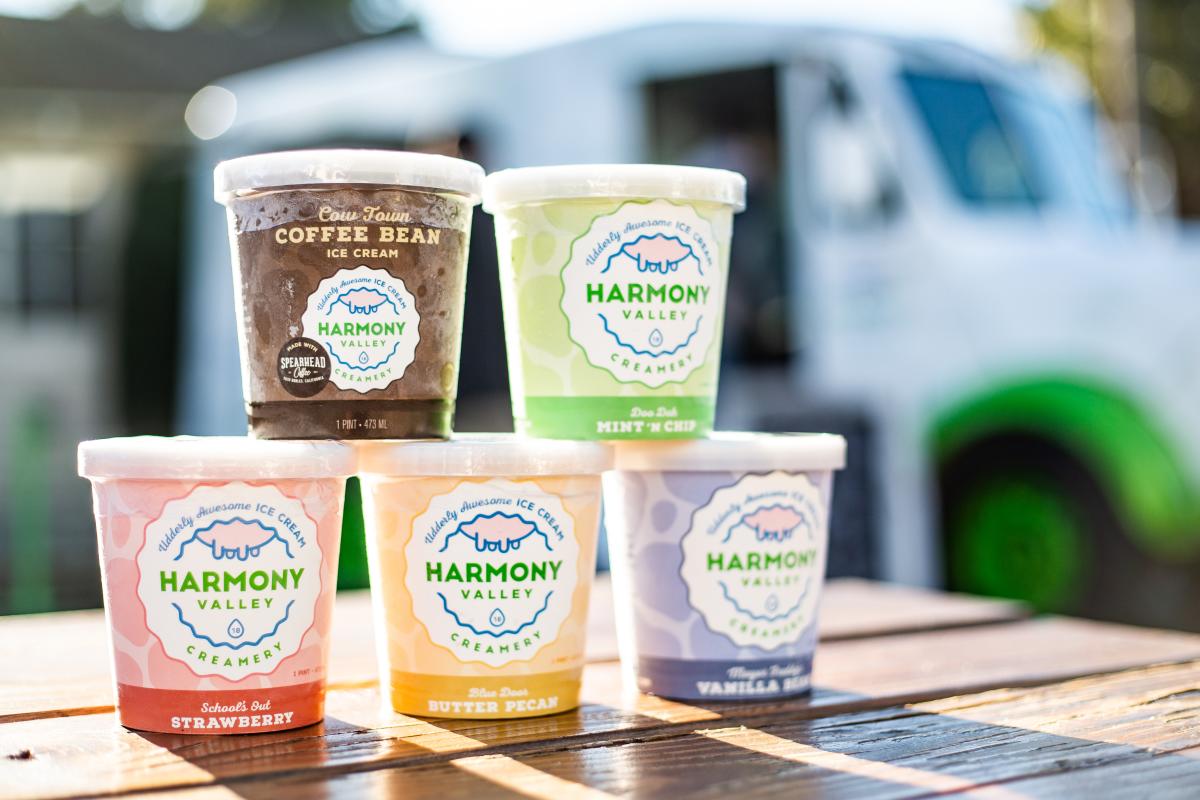 All ice cream made at Harmony Valley Creamery is made in small batches. They make about 5 gallons of ice cream at a time versus a big production facility that might make hundreds or hundreds of thousands of gallons at a time. With that comes handcrafting which makes the product extra special.
As a small tourist town along Highway 1, the creamery has created a great hub for visitors to stop by, walk around and enjoy a sweet treat or snack along the way. When walking through the town of Harmony you will see a food trailer that serves locally made cheese used in gourmet grilled cheese sandwiches as well as the swiss cheese dish, raclette. Beer and wine are also sold at the food trailer to give visitors a chance to hang out and wind down after a day of sightseeing. Harmony is also known for its staple businesses, Harmony Glassworks, Harmony Pottery Works, Harmony Chapel & Gardens and Harmony Cellars, so there is plenty to check out while strolling through.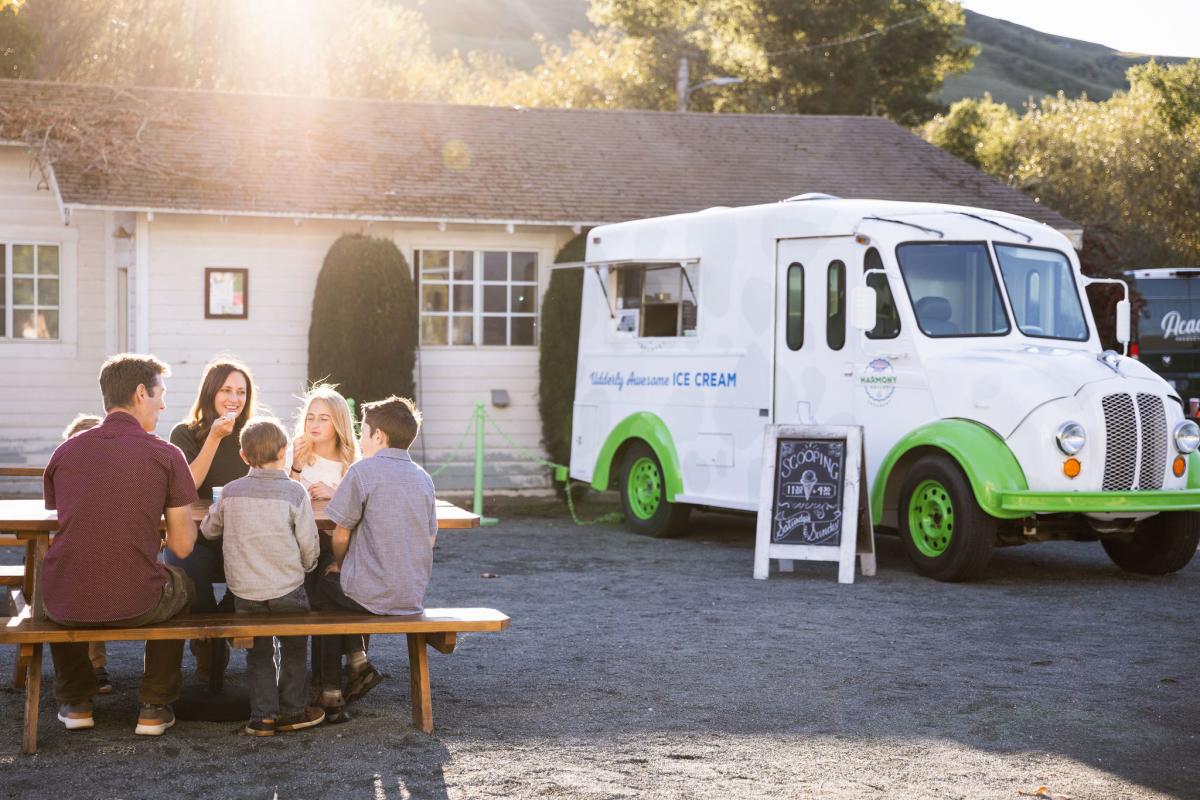 The best way to try ice cream from Harmony Valley Creamery is to visit the town of Harmony in person. Located between Cayucos and Cambria, it's a short scenic drive down Highway 1 to explore everything Harmony is known for. Ice cream is served out of the famous Scoop Truck on the weekends, and every day during the summer. Pints can also be purchased at local SLO CAL markets and Ralphs grocery stores throughout Southern California.
So don't wait, come visit the small-but-mighty town of Harmony and try the SLO CAL Crafted ice cream goodness for yourself!
Photos by: Acacia Productions