See SLO CAL through the lens of its 30+ public murals (including two brand-new ones) on the Mural Trail
SLO CAL has a long history of supporting works of public art that energize and beautify civic spaces. Murals, in particular, have become staples of the local quality of life, portraying everything from the history of agriculture in the area to mermaids, cowboys, wildflowers and the cultural contributions of women.
SLO CAL recently developed the SLO CAL Mural Trail for visitors and locals to explore the many eclectic murals painted throughout the area. The trail covers over 30 large-scale works throughout San Luis Obispo County and offers a fantastic way to enjoy the best SLO CAL has to offer. Buckle up, grab the snacks, and take a spin to find inspiring murals painted by a wide array of artists, from talented amateurs to notable professionals. 
But where to begin? 
Two new SLO CAL murals
Get ready to take flight with two new large-format paintings in Cambria and San Luis Obispo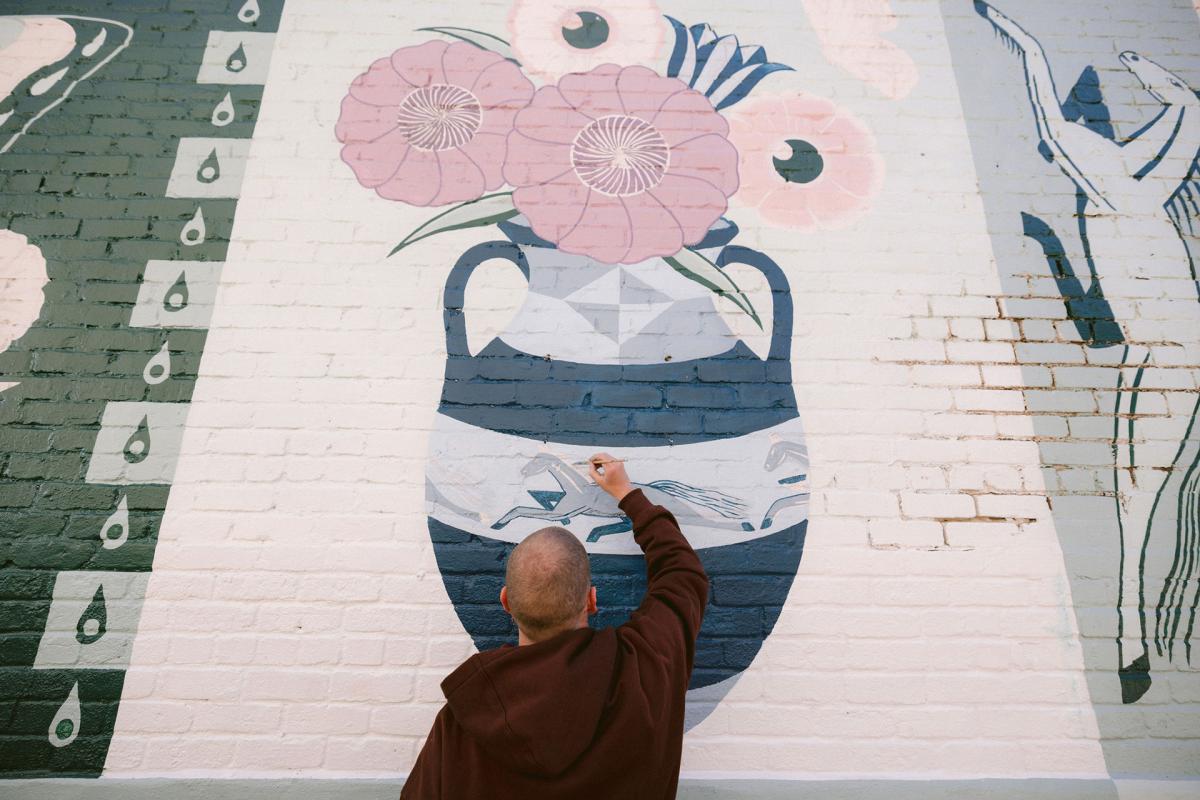 Photo credit: Acacia Productions
Start with one of two new murals commissioned by SLO CAL to feature the annual migration of the regal Western Monarch Butterfly to our communities. Designed and installed by SLO CAL-based muralists Christopher "Buddy" Norton and Shelby Lowe of Canned Pineapple Co, these crisp, modern paintings on the sides of downtown buildings will bring a smile to anyone who's ever met a Monarch.
"Everything we chose for these pieces was something that either migrates or carries the spirit of something coming and going," says Buddy Norton. "The Monarch butterflies, wildflowers, horse and sun were all things we thought held that and represented the coming and going of life in SLO CAL." 
Norton and Lowe painted one mural in downtown San Luis Obispo, and installed the other in downtown Cambria. "Each wall has Monarch Butterflies on them in different ways," Norton says. "We wanted it to feel as if the butterfly was taking you on a journey from wall to wall, landing in each town's unique environment.
"Eternal Blossom"
A new mural celebrating San Luis Obispo's culture and natural history pops up on Garden Street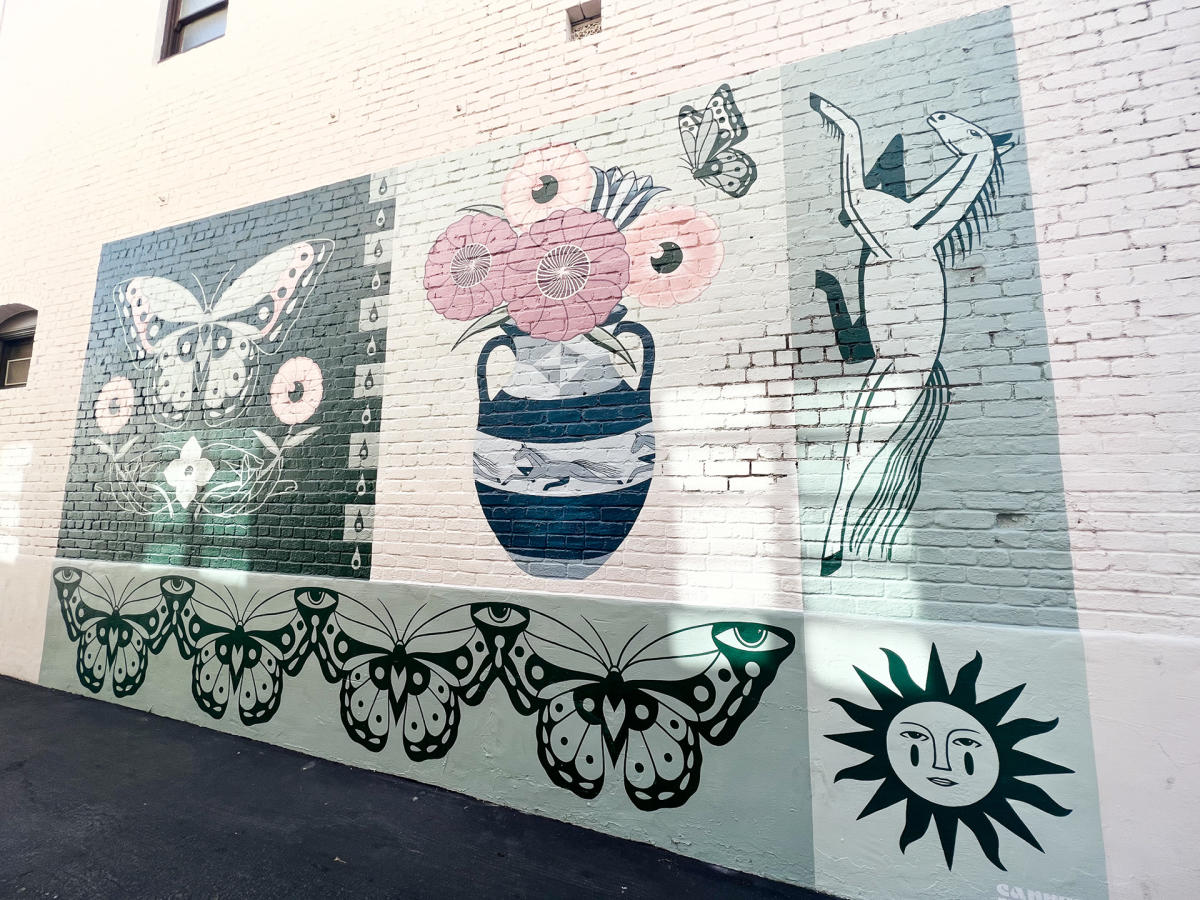 Find charming Garden Street in downtown San Luis Obispo to locate this mural. Painted on a wall in the alley between Baxter Moerman Jewelers and Scout Coffee, the subjects include Monarch butterflies with overlapping wings, a sun, a vase of flowers and a trotting horse. The latter image harkens back to the 1800s when horse carriages used the alley to access the back of downtown buildings. Flanked by Monarch butterflies and wildflowers, the mural shares a story that's inspired by hallmarks of the SLO CAL way of life.
"I wanted to represent the feeling of brushing shoulders with people, which is why the butterflies overlap," Norton says. "I wanted the butterflies to represent people and the unique perspectives they have and get to share with each other." As for the horse, Norton says he used it in part as a nod to Cal Poly University, home of the Mustangs. 
"Fly to Her"
A lucky horseshoe and Monarchs take center stage in Cambria's new East Village mural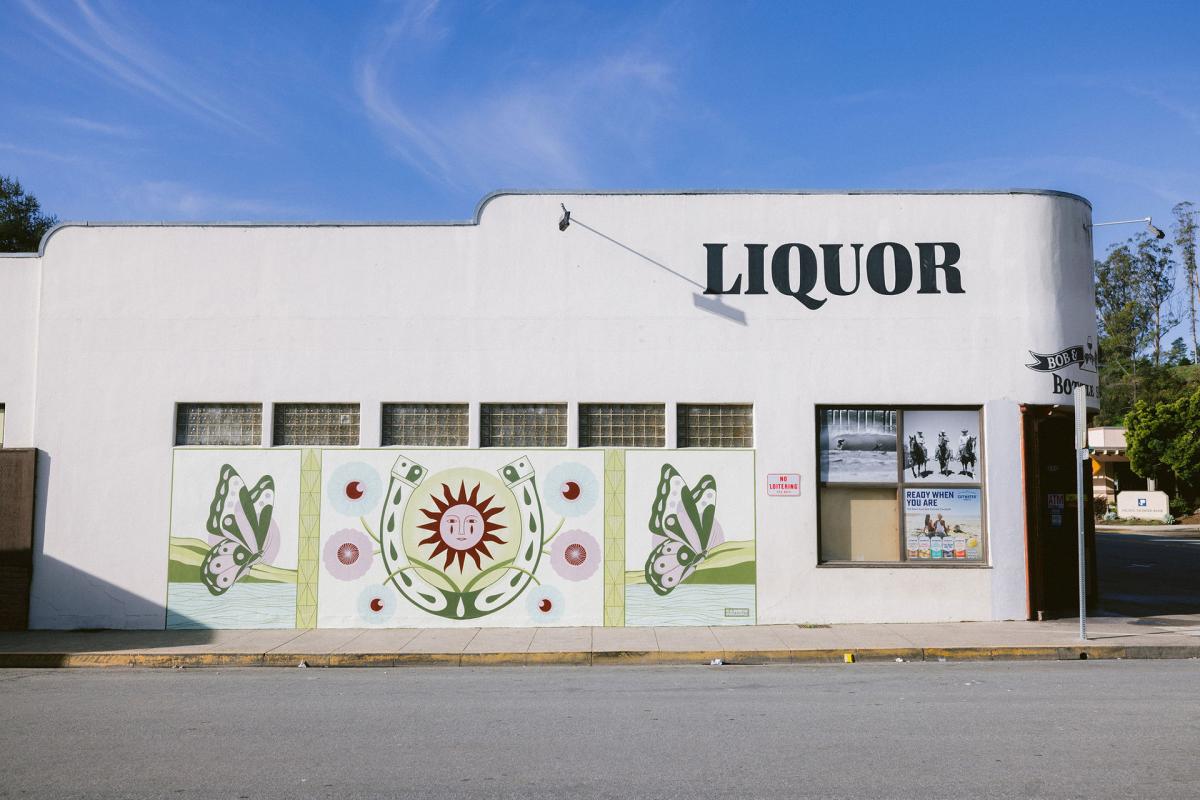 Photo credit: Acacia Productions
Wander through Cambria's picturesque East Village to find Bob & Jan's Bottle Shop at the corner of Bridge and Main Streets. Along the Bridge Street wall, Canned Pineapple Co. has painted a scene of coastal serenity, with wildflowers and Monarch butterflies hovering over the ocean, and a large horseshoe that points to Cambria's heritage as a ranching and riding town. 
"The horseshoe represents the trails and ranches, and the ability to ride horseback in the area," Norton says. (Notably, the large horseshoe is turned upside-down, perhaps to signify the incredibly good luck of stumbling upon such a stunning, abundant place). As for the other iconography in the mural, he says it's all a reference to SLO CAL's natural splendor.
"I wanted to touch on the feeling of wildflowers and ranches that surround [the] town and welcome you to Big Sur," Norton says. "The butterflies represent the continued journey and migration up north." In a delightful play on the iconic orange and black pattern of a Monarch's wings, Norton and Lowe used soft pastel violet, sage and teal. 
Juicy-sweet images
Canned Pineapple Co. masters the art of the mural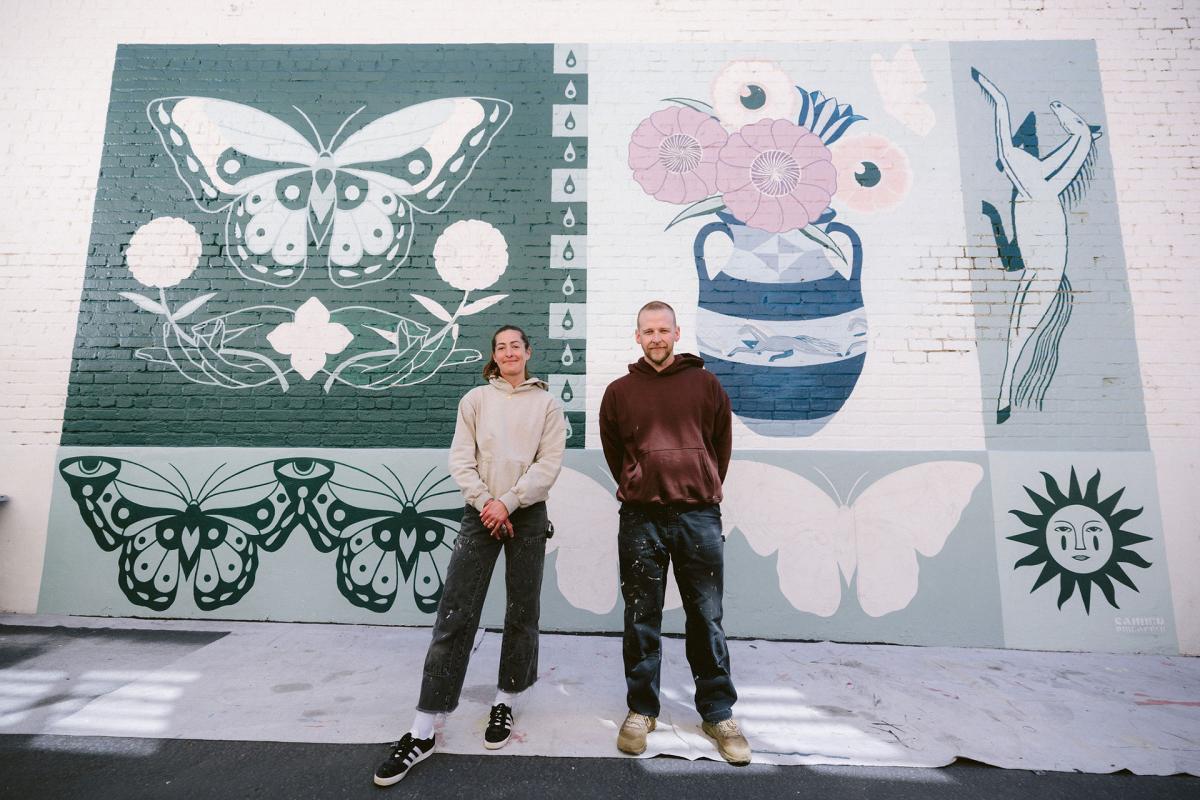 Photo credit: Acacia Productions
Canned Pineapple Co is an art company known for its iconic art pieces throughout SLO CAL and beyond. Specializing in art murals, signs and storefronts, gold leafing and more, Canned Pineapple Co has created many of the local art and signage around SLO County that locals and visitors know and love. "I started working at a traditional sign shop over ten years ago," says Buddy Norton of his background before muralism. "From there I was introduced to the craft of hand-painted signs and gold leaf work." 
With the mentorship of artist Sean Beauchamp of Southpaw Signs in Oceano, Norton learned how to paint and gild with the best signmakers in the area. Along the way, he taught his partner Shelby Lowe what he'd learned, and they eventually decided to start their own operation as Canned Pineapple Co being the dynamic duo behind the well-loved art. What started as a sign-painting business evolved over the years to include producing large-scale original murals for businesses and public spaces. 
"We do such a wide variety of work but, at the core, we create unique imagery that is hand-painted to draw people into a place or space, or simply to brighten someone's day," Norton says.
Focusing on what sets SLO CAL apart is integral to Canned Pineapple Co's public work. Norton and Lowe's murals always feature images specific to their locale. Just as significant, their murals highlight the community itself. "Whether it's through the signage for their business or a mural in a public space, we represent the community in a visual way."
Norton encourages art lovers to take their enjoyment of Canned Pineapple Co's murals one step further: "Visitors can go throughout the county and check out our artwork while simultaneously supporting the businesses our artwork resides in!"
To see more of Canned Pineapple Co's art, check out their Instagram at @cannedpineappleco
To see more artistic murals around the county, check out the SLO CAL Mural Trail.