If these walls could speak, the stories they'd tell. In SLO CAL, each ceramic tile tells a rich and tale of early California history; each brick whispers secrets of prohibition-era lore. Whether you yearn to explore opulent castles filled with worldly wonders, sun-dappled terraces dotted with marble statues or a quiet, turn-of-the-century rotunda gleaming with polished brass, stepping back in time is easy in SLO CAL. Let others hustle and bustle their way into the dizzying future. Today, we're taking a long, mesmerizing detour into "The Wild, Wild West Coast." Your adventuring guide is as follows:
Enchant and Re-Energize at Hearst Castle

Bask in the sun as you peer out over the poolside terrace of world-famous Hearst Castle. Feel the ocean breeze as you take in the exhilarating view of ocean, cliffs and green hillsides. Experience the scent of citrus and jasmine wafting in from one of the monument's manicured gardens (there are 127 acres of whimsical greenery to be exact). Zebras and exotic deer can still be spotted in the foliage around these parts of Highway 1, remnants of William Randolph Hearst's larger-than-life persona.
Known as "La Cuesta Encantada," or "The Enchanted Hill, Hearst Castle combines a tapestry of cultural sights into one breathtaking destination (discover a gilded pool, Renaissance-era paintings, a vintage theatre that oozes Old Hollywood grandeur, stunning gothic library and more). With 165 rooms and several tours to choose from, you won't know whether to marvel more at the castle itself or the logistical feat it took to build it. One thing is for certain: you will leave feeling as though you were an esteemed guest of W.R. Hearst.
Tip: Watch "Building the Dream," produced exclusively for Hearst Castle's five-story screen. This short, fascinating flick runs every 45 minutes and takes you for a 360-degree ride of the property, as well as touching on Mr. Hearst's earliest inspirations behind what would become his architectural legacy.
Live the Early California Life at Mission San Luis Obispo de Tolosa and Mission San Miguel ArcAngel

No running water. No electricity. No "take out." It's hard to imagine what it would have been like for those first Spanish missionaries setting up shop on the wild and untamed Central Coast of California some 300 years ago—and even harder to imagine what local Chumash and Salinan tribes might have thought of these strange, new settlers. Up and down the West Coast's El Camino Real (locals just call it the 101) you'll see shepherd's hooks staked into the ground alongside modern day exit signs. These markers signify the old Mission Trail, once dotted by lanterns that lead the way.
SLO CAL's two historic missions, Mission San Miguel Arcangel to the north and San Luis Obispo de Tolosa to the south, are not only incredible relics, they also are both current places of worship, holding regular mass and cultural events. Tours of both grounds are available regularly, showcasing ancient tribal wall paintings, arrowheads, hunting tools and cooking utensils as well as winemaking equipment and black and white photographs detailing mission inhabitants throughout the years. Ever wonder how Native Americans turned acorns into a hearty meal? Did you know that these tribes—and the early missionary settlers—enjoyed natural sulfur hot springs hundreds of years before the modern-day Jacuzzi had been invented? Intrigued? Yep. You're on the right trail.
Tip: Don't forget to visit the Rios-Caledonia Adobe, located a stone's throw from Mission San Miguel. Built in 1835, this historic two-story mission-era structure (made from rustic plaster containing lime, river sand and animal hair) was home to an early rancho family and later became a stagecoach, factory, inn, school and more. Learn more by strolling the halls and rooms, which are decked out as they would have been "back in the day." Can't get enough? The Dana Adobe sits on 130 acres of preserved land just south in Nipomo, and offers up a peek into the agricultural region's fascinating history.
Explore Bygone Elegance at Atascadero's Historic City Hall

Nestled among the undulating, oak-studded hills of Atascadero, you'll find an unlikely sight: Atascadero's Historic City Hall. This incredibly ornate, double-domed work of art built from 1914-1918 presides over downtown with six grand columns, a regal, statue-speckled lawn, and one truly majestic art deco fountain. After the earthquake in 2003, the building was beautifully renovated and reopened in 2013 after being closed for 10 years. It now gleams with shiny brass, polished wood, and old-school skeleton key doorknobs.
Settlers to the area were known to pitch tents on the grand lawn (now known as the Sunken Gardens) while working to build permanent housing, earning this historic site the title of "Tent City." Back then, advertorial postcards were sent around the world championing Atascadero's temperate climate, rich agricultural potential, and natural beauty, and many heeded that call. Will you?
Tip: Schedule a free educational tour with the Atascadero Historical Society to learn the complete history of this beautiful building.
Illuminate Coastal Treasures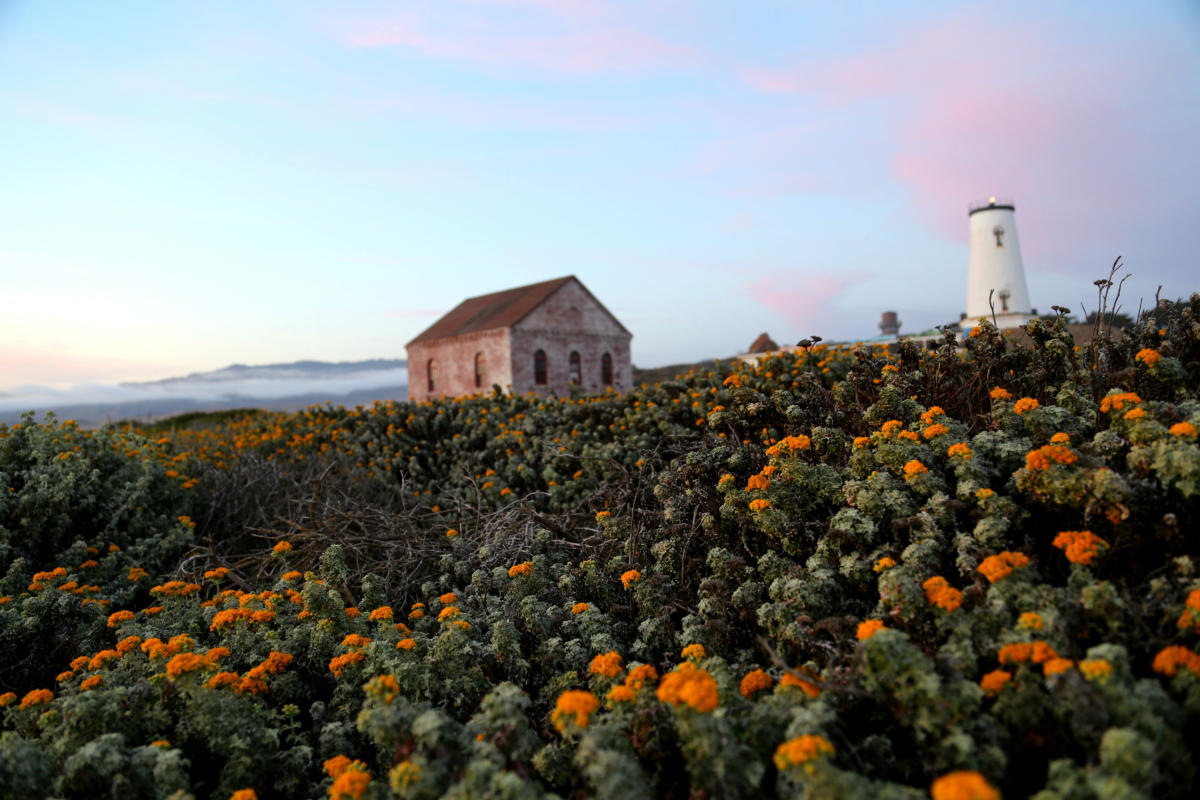 The idea of an old-fashioned lighthouse might conjure up cheesy inspirational quotes about "finding your way through the storm." Well, back in the day, light houses were no joke. In fact, the Point San Luis Lighthouse, located in Avila Beach, played a major role in bringing ships into safe harbor for 127 years. Founded in 1890, the Point San Luis Lighthouse is actually still doing its job. The Coast Guard still maintains a light at the station which blinks all night long, every night, and is visible up to 17 miles away. The rest of the station is operated as a historic site and open to visitors who can reach the property thanks to the on-site trolley, "Lucy."
Tip: Rent a kayak in Avila Beach and paddle the short but scenic distance to Whaler's Beach. From there, the lighthouse is just a few steps away. Looking for more illuminating coastal excursions? Native American history, elephant seals, and spectacular sunsets are all part of the experience at Piedras Blancas Light Station, located along Highway 1 just north of San Simeon. Recently declared part of the California Coastal National Monument, tours are available year round every Tuesday, Thursday and Saturday, and events—including photography and whale watching guides—are plentiful.
Looking for more coastal cultural cool? Check out the Price Anniversary House, a Historical Landmark that will propel you back to 1893. That was the year that John Michael Price and his wife Andrea moved into the then-new two story redwood home, featuring a parlor, dining room, kitchen, two bedrooms, and ample veranda. A year after moving in, the railroad came to San Luis Obispo, as captured by a now famous black-and-white photograph that ran in the Tribune circa 1894. Learn more about this fascinating time to be a Central Coast resident with a tour today.
Take in the Color of the California Valley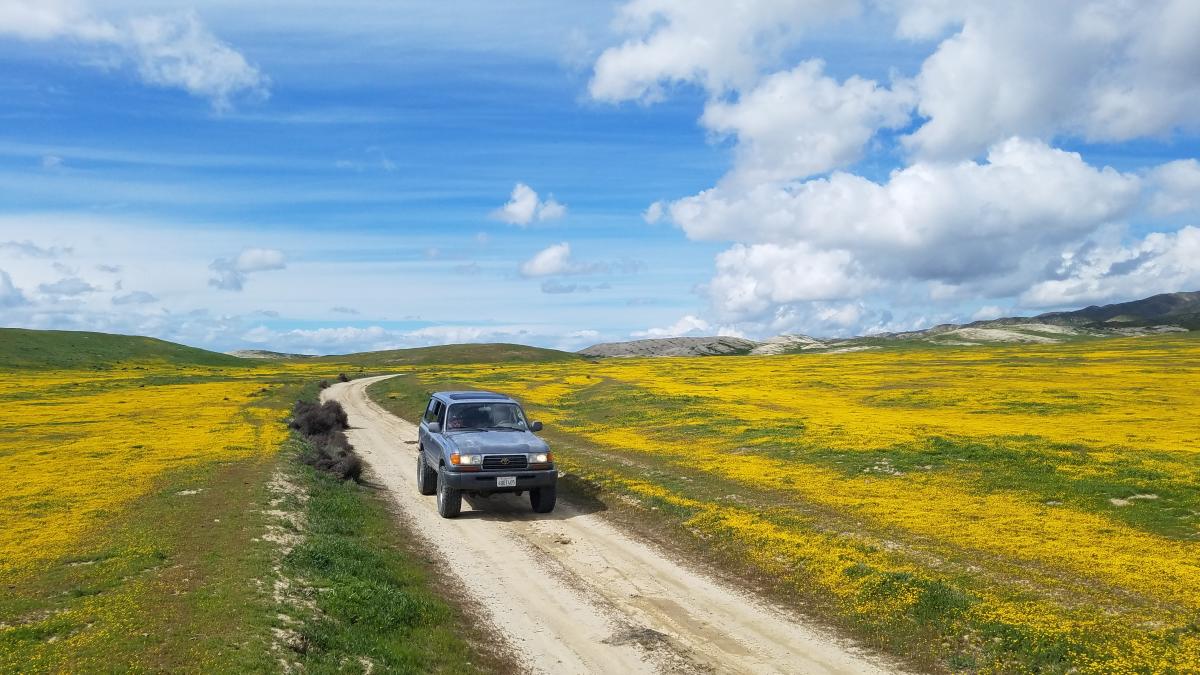 John Steinbeck knows a thing or two about the Central Coast's dazzling wildflower displays. In his book East of Eden, he writes, "The spring flowers in a wet year were unbelievable … Every petal of blue lupin is edged with white, so that a field of lupins is more blue than you can imagine." Well, thanks to late 2016 rains and a subsequent super bloom, there is more to feast your eyes on than ever before. The Carrizo Plain National Monument is currently ablaze with tiny bright yellow flowers, purple petals, and green, glossy grasses that shimmer like waves.
Three hundred years ago, California's Central Valley was a vast grassland where antelope and elk grazed and wildflowers swept the spring landscape. Today, amid urban and agricultural development, a remnant remains in the Carrizo Plain National Monument.
Tip: Bring a picnic and spread out in this once-in-a-lifetime display of pure color.
If you're headed inland, don't forget to stop at the James Dean Memorial Junction in Cholame, located on State Route 46, about 20 miles off Highway 101. Here, you'll find a massive mural crafted in honor of the movie star, who perished in a car crash on this iconic stretch of road back in 1955.
Tip: Stop and eat lunch at the Jack Ranch Cafe in Cholame after paying your respects to the Rebel Without a Cause heart throb.