Before I wrote The San Luis Obispo Farmers' Market Cookbook, one of the first things I noticed was the abundance of excellent sandwich shops. Some SLOcals feel a hardcore loyalty to align themselves with one sandwich joint only: the 2 main rivalries (if you must know) within SLO City limits are High Street and Lincoln Market & Deli. Truly no surprise since these establishments have a historical hold in each of their respective neighborhoods as the go-to corner bodegas from back in the day. But like many things in life, I say, "Why choose when you can have it all!" I hope you support and love each of these delicious deli shops throughout SLO CAL:
Bustling Tongue-in-Cheek Sandwich Joint
📍 San Luis Obispo
📍 Baywood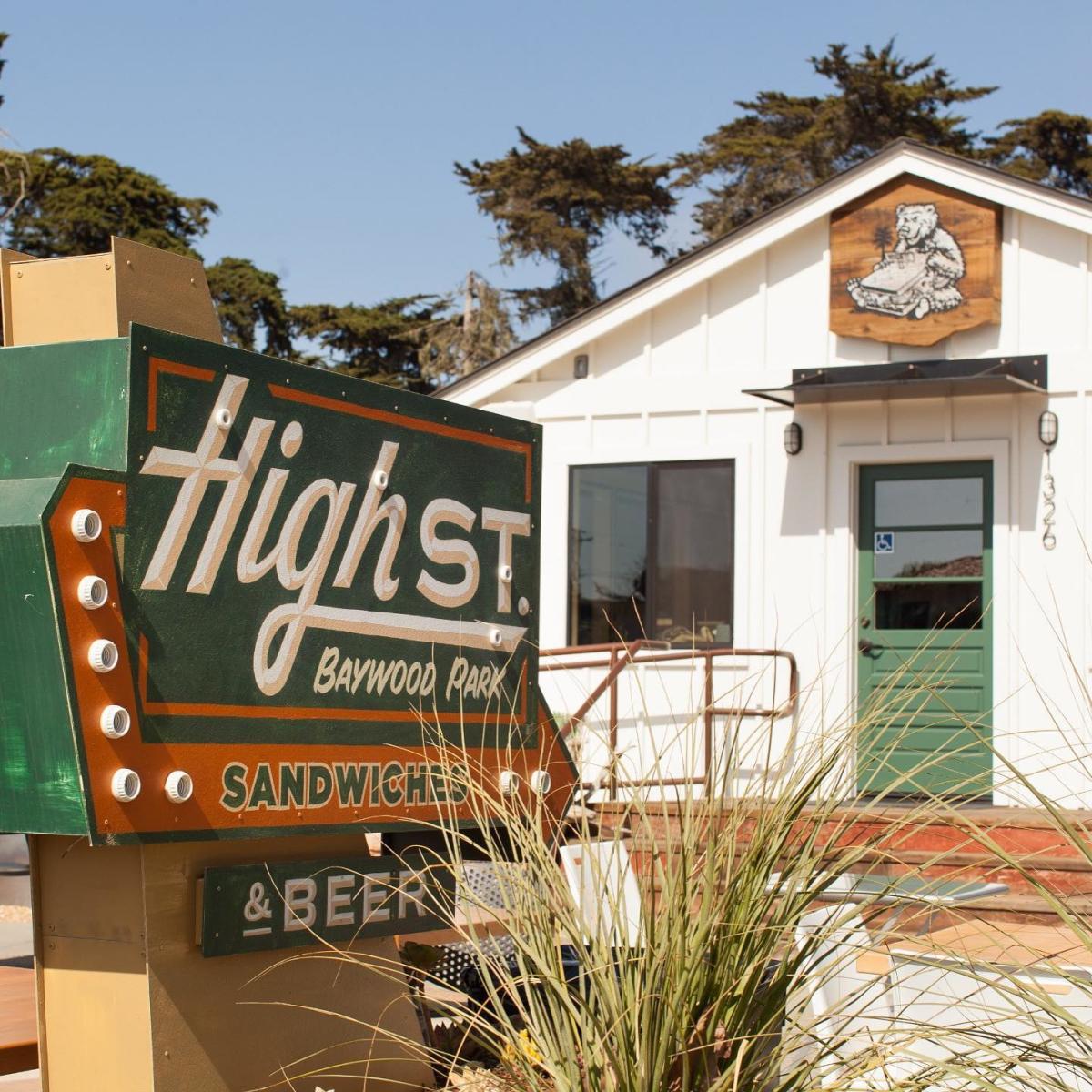 Photo provided by: High Street Deli
Housed in an iconic San Luis Obispo craftsman building built in 1927, this historical market turned modern-day sandwich-slinging-machine oozes with character: from their vintage road sign-studded patio to their outdoor Eskimo Pie replica mural, to their tongue-in-cheek branding (think: freshly baked, devil's lettuce, stoney sandos). Speaking of which: if you can hold out for a late lunch or opt for an early dinner, all their sandwiches are half off after 4:20 p.m. (if you know, you know). My personal order is the California Turkey sandwich with the works: mayo, mustard, pickle, red onion, tomato, shrettuce, and herb juice paired with a local Negranti sheep's milk ice cream sandwich for dessert. Their new Baywood location has the same charm as the original (with even more vintage tchotchkes!) but with an expanded menu, interiors, and exteriors. In addition to their full menu of cult-fave sandos they also exclusively have excellent Italian-style chicken cutlet sandwiches, local Hearst Ranch grass-fed beef burgers, animal-fat fried french fries, and Straus Organic Soft Serve cones. They have a curated bottle shop brimming with local wine and beer, and tons of amusing High Street-branded merchandise. Plus their beautifully landscaped, spacious, kiddo-friendly patio overlooks the Bay. TL;DR: Eat High (Street) at either location ASAP! 
Kendra's Sandwich Order: California Turkey 
Quaint Neighborhood Market Gem
📍 San Luis Obispo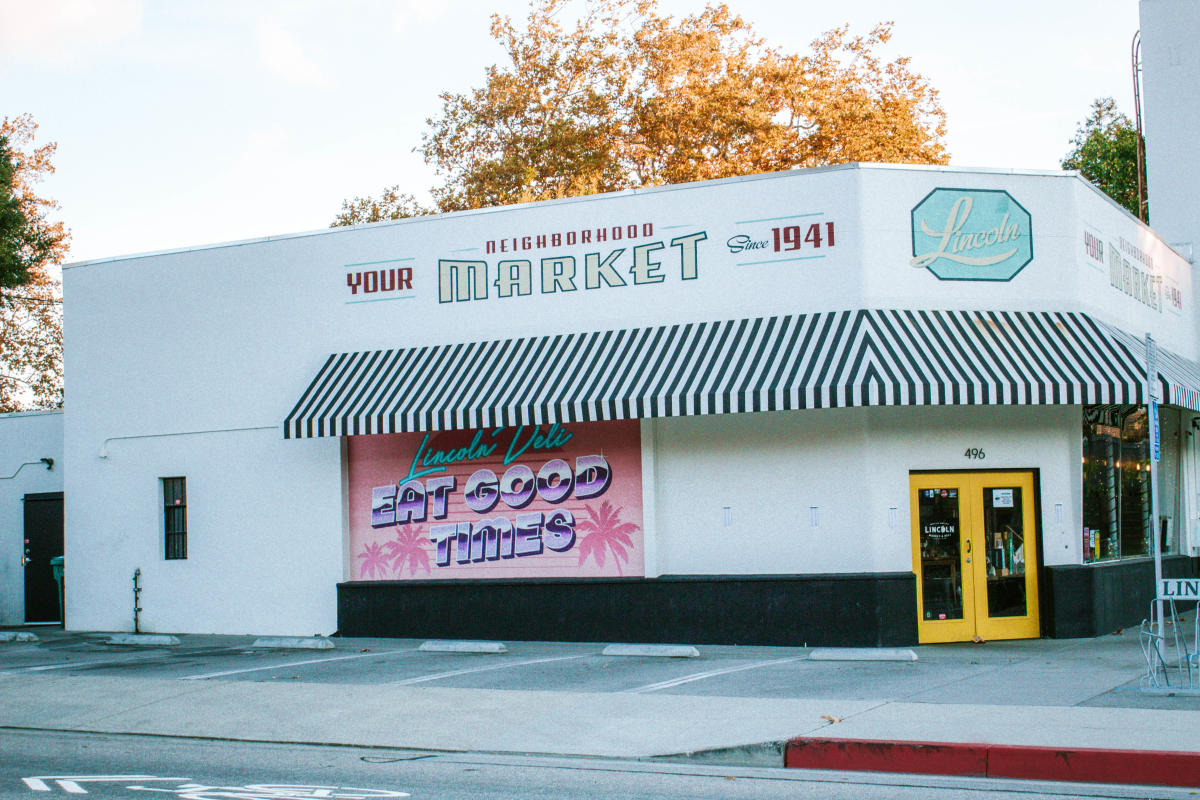 Another historical SLO gem built in 1941, the beloved Lincoln Market and Deli formerly known as Ellsworth Market, was SLO's original butcher and grocer back in the heyday. Nowadays, Lincoln serves up loaded California-style sandwiches, a wide variety of fine beverages, specialty groceries with a focus on hyper-local small-batch food artisan products as well as organic big brand pantry staples, and nifty gifts. My go-to order is the quintessential Lincoln Ortega sandwich: turkey, pepper jack, ortega chiles, avocado, and the works: mayo, mustard, lettuce, tomato, red onion, dill pickles, pepperoncini, balsamic vinegar piled high on toasted sliced sourdough. The cross sections of their sandwiches are *art*. Insiders club: Make sure to sneakily ask what's on their secret menu—a collection of sandos from previous daily sandwich specials that regulars just can't get enough of! While you wait for them to build your sandwich, peruse the chip aisle (yes, an entire aisle dedicated to chip choices!), the seemingly endless wall of beverages options (SLO CAL wine, craft beer, kombucha, iced teas, selters, milks—you name it, they have it), the frozen case chock full of tasty ice creams and local meats, or stock up on the delightfully curated aisles of essential grocery goodies. Next: queue in line (there is always a line at Lincoln!) while taking a gander at all the unique gifts, cute cards, local landscape artwork, books, apothecary, jewelry, and Lincoln-branded merch. By the time you and your (very full) cart arrive at the counter, your sandwich order should be done and you can dine inside at the community table or opt for their sunny patio. Still have time to kill while waiting on your sandwich order? Take a spin on one of their many old-school pinball machines!
Kendra's Sandwich Order: Lincoln Ortega
Inviting Community Hub
📍 Atascadero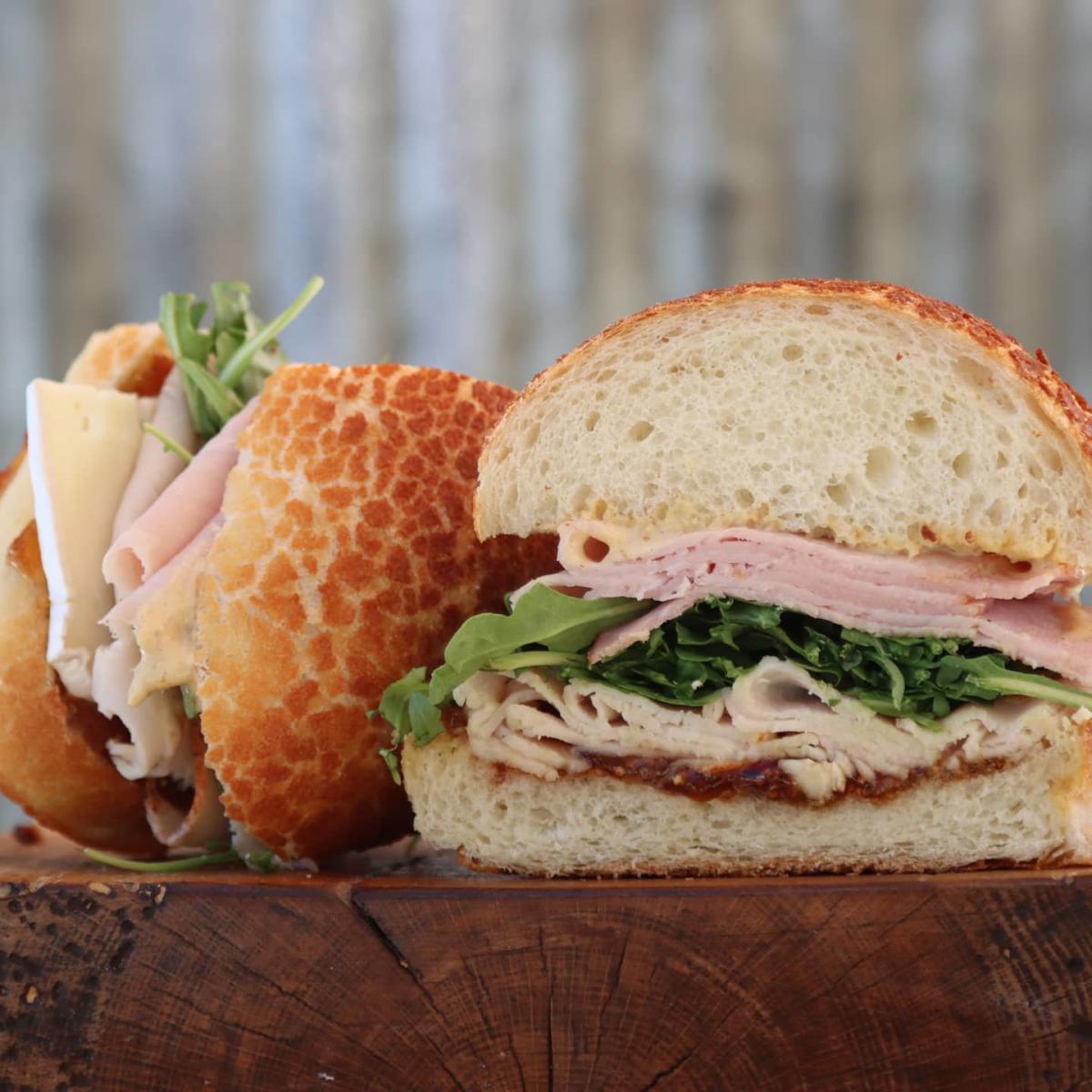 Photo credit: Colony Market & Deli
Colony Market & Deli has been the go-to community hub in downtown Atascadero since opening its doors in Spring 2019. Housed in a former 1950s era gas station, their space features two wide roll-ups (the former garage) and a humongous patio (the former pump area). It's the perfect place to fuel up on specialty sandwiches, seasonal soups and salads, plus appetizers and desserts. Be prepared to have decision-making disorder when ordering because every sandwich sounds incredible and truly is as good as the description! I'm taking slow-roasted pork Cubanos, herby porchetta with punchy arugula pesto, BLTs with tomato bourbon bacon jam, and crunchy buttermilk fried chicken with spicy slaw, just to name a few. Their duck-fat fried french fries are not to be missed—finished with sea salt, orange zest, rosemary, and Colony sauce for dipping. Are you drooling yet? They carry a range of local beers on draft, local wines, and canned hard ciders to wash it all down. Come hungry, leave extremely satisfied. 
Kendra's Sandwich Order: The Porchetta
Old-School Italian Mom-and-Pop Grocer
📍 Shell Beach
Swing by this quaint mom-and-pop Italian grocer, deli, bakery, and wine cellar conveniently located right off the freeway and a few blocks from the beach. Their deli case features grab-and-go housemade soups, sandwiches, baked pastas, rotisserie chickens, and gourmet prepared foods like lamb lollipops, antipasto salads, hearty vegetable quiches, and even dolmas, egg rolls, potstickers, and coleslaws. They truly cater to all tastes with an eclectic mix of mainstream products (i.e. Mountain Dew) to niche products (e.g. fancy imported Italian sodas) in their grocery department. If you're more in the mood for a picnic sandwich spread, there are loads of artisan crackers, imported cheeses, and cured salamis to choose from. And don't forget a sweet treat (or five), they have two dessert cases: one filled with generously tall cake slices (or whole cakes if you're feeding a crowd); and another case filled with Italian shortbread cookies, muffins, chocolate-dipped coconut macaroons, and more. I'm a fan of their Tuscan Roasted Sliced Sirloin sandwich with sliced pepper roasted sirloin, caramelized sweet onions (!), asiago cheese, garlic tomato fresca, balsamic reduction, and arugula. Insert *chef's kisses*. I suggest ordering a trifecta to go (sandwich, deli item, dessert) and heading to any of the nearby lookouts: quick drive northbound to Pirate's Cove or Shell Beach Bluff Trail (Northbound), to walk to South Palisades Park South Staircase or Memory Park, or short drive southbound to Eldwayen Ocean Park or Dinosaur Caves Park.
Kendra's Sandwich Order: Tuscan Roasted Sliced Sirloin
 
Biscuit Brekky Jackpot
📍 San Luis Obispo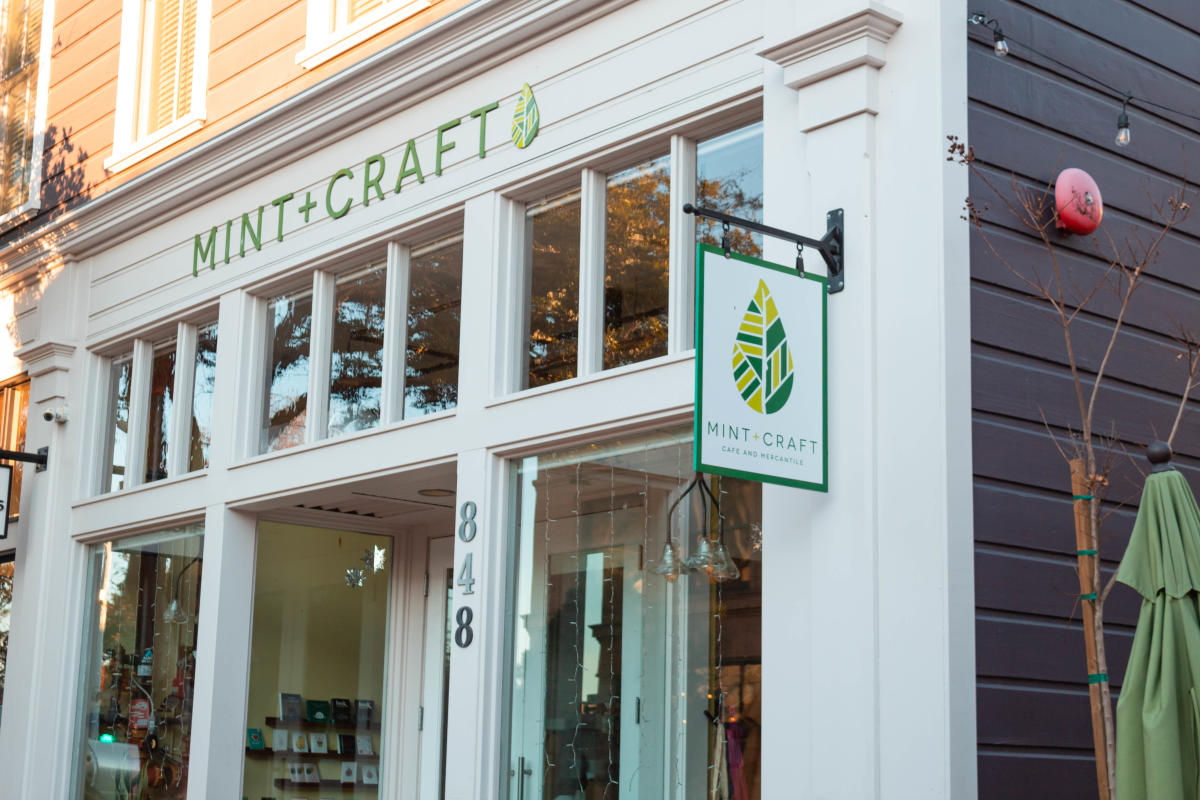 Disclaimer: Mint and Craft is not a sandwich shop, nor is it a deli—but they do have the best biscuit breakfast sandwiches in SLO CAL! Beautifully flakey, buttery biscuits are baked in-house multiple times a day to keep up with the demand. My go-to order is The SLO Biscuit Sandwich topped with a fried egg, sharp cheddar, arugula, tomato, oregano, Pasolivo lemon olive oil—and I always opt for their thick-cut, housemade 7-day-brown-sugar-cured bacon on the sandwich AND on the side (more is more, I say!), plus slices of their locally-sourced Cambria avocados and doused in Cayucos Hot Sauce. It's an indulgent belly-busting breakfast sandwich I crave often and I'm sure you will too. 
Kendra's Sandwich Order: The SLO Biscuit (add avocado, add bacon, add hot sauce)
The Tried-and-True Village Sandwich Shop
📍 Arroyo Grande
Small town, big flavor! The Village of AG's favorite deli is Branch Street. Their extensive menu features cold sandwiches, hot sandwiches, open-flamed ½ pound burgers on brioche buns, hot dogs, hot wraps, cold wraps—basically every variation on the sandwich (Deep thoughts: Are burgers and hot dogs considered "sandwiches"? I digress…). Their menu includes comforting classics like French dips, Tuna melts, or my fave the turkey bacon Swiss club with quintessential frilly toothpicks! Their french fries are especially tasty and worth ordering an extra basket for the table. Oftentimes they host local bands and musicians to play on their large outdoor patio, check their events calendar for upcoming shows. 
Kendra's Sandwich Order: Turkey Bacon Swiss Club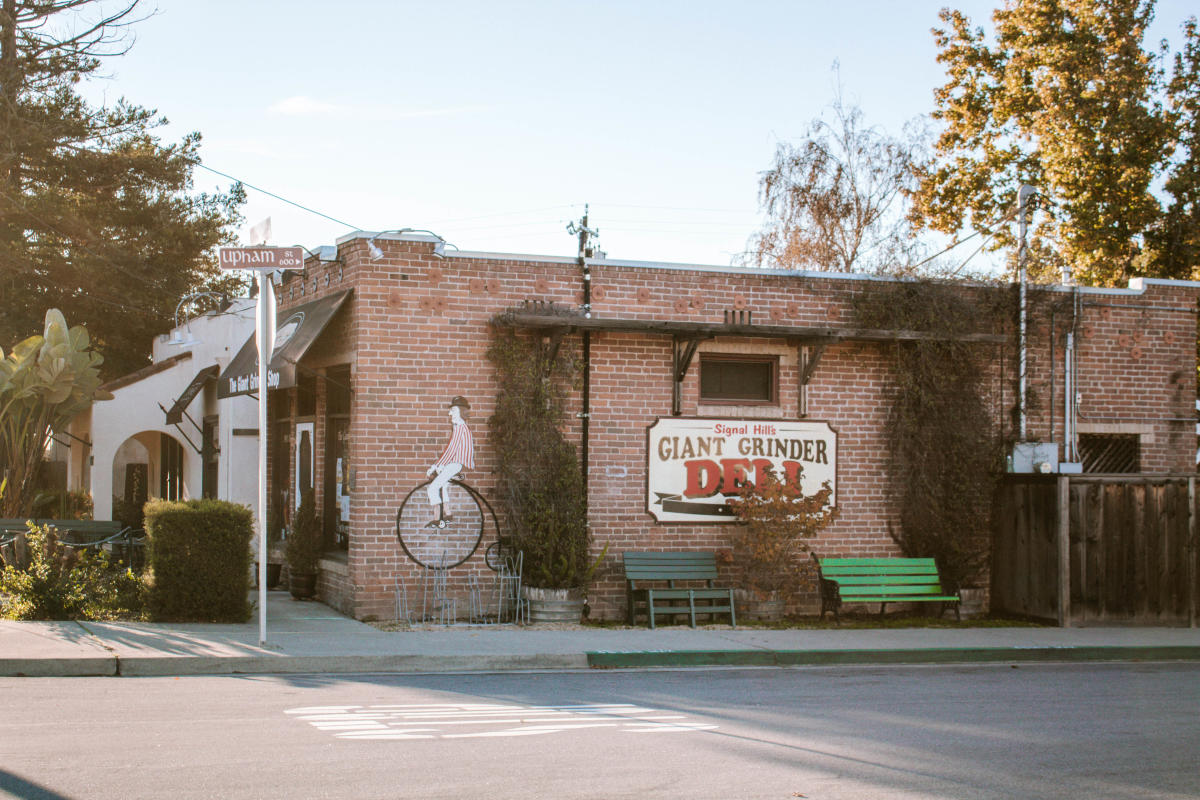 East Coast-Style Sub House
📍 San Luis Obispo
If you are looking for East Coast-style sub sandwiches, look no further. Enter: Broad Street Giant Grinders. As their name implies, they do not skimp on the size of their sandwiches: 6" (Junior), 9" (Half), or 18" (Whole)—yup that's right, a FOOT and a half is their 'regular' size! Their cold grinders feature an array of fine Italian deli meats: Mortadella, salami, Capicola, Prosciutto, pepperoni, as well as chicken breast, roasted turkey, roast beef accompanied by the works (Italian peppers, tomato, lettuce, 100% extra-virgin olive oil, salt, pepper, oregano, and Provolone cheese) on their signature pillowy French roll. Their 3 most popular hot grinder options include meatballs, sausages, or eggplant parm — all slathered in marinara sauce, Italian peppers, and melted Provolone cheese. And don't forget about their salads—which are more loaded with accouterments than they are salad greens, but hey, this is East Coast-style after all. Buon appetito! 
Kendra's Sandwich Order: The East Coast Combo
 
City to Sea Sandwich Pit Stop
📍 Avila
Conveniently located a mile-and-a-quarter into the easy-breezy Bob Jones trail (also known as the City to Sea trail), Woodstone Marketplace at Avila Village is the perfect place to pop over to for a mid-trail sandwich or sweet treat. They offer well-stocked fridges of chilled local white wines and imported champagnes, a wall of local reds, and gourmet cheeses, salamis and crackers. If you are looking for something more hearty than picnic-y finger foods, check out their deli options of freshly prepared hot sandwiches, tall slices of housemade quiches, cold wraps, and salads. Depending on the season, opt to eat Inside their craftsman-style cabin-esque interiors with a wood-burning stone fireplace or snag a table creekside amongst the shady Oak trees. 
Kendra's Sandwich Order: The Italiano