Don't be caught in SLO CAL without these wine tasting must-takes
You've picked the dates, notified your boss, and bought those coveted tickets to that insanely delicious winemaker dinner. It's finally time for your SLO CAL summer wine tasting trip! Isn't it amazing how much the anticipation adds to the experience? With a slower pace of life and a larger value placed on quality over quantity, you won't leave these SLO CAL wineries disappointed. That is—if you remember to pack correctly! From bikinis and picnic baskets to bocce ball-appropriate white linen, here's what you should be throwing in your bag before you hit the road. See ya'll at the wineries!
Cool, Coastal Edna Valley and Arroyo Grande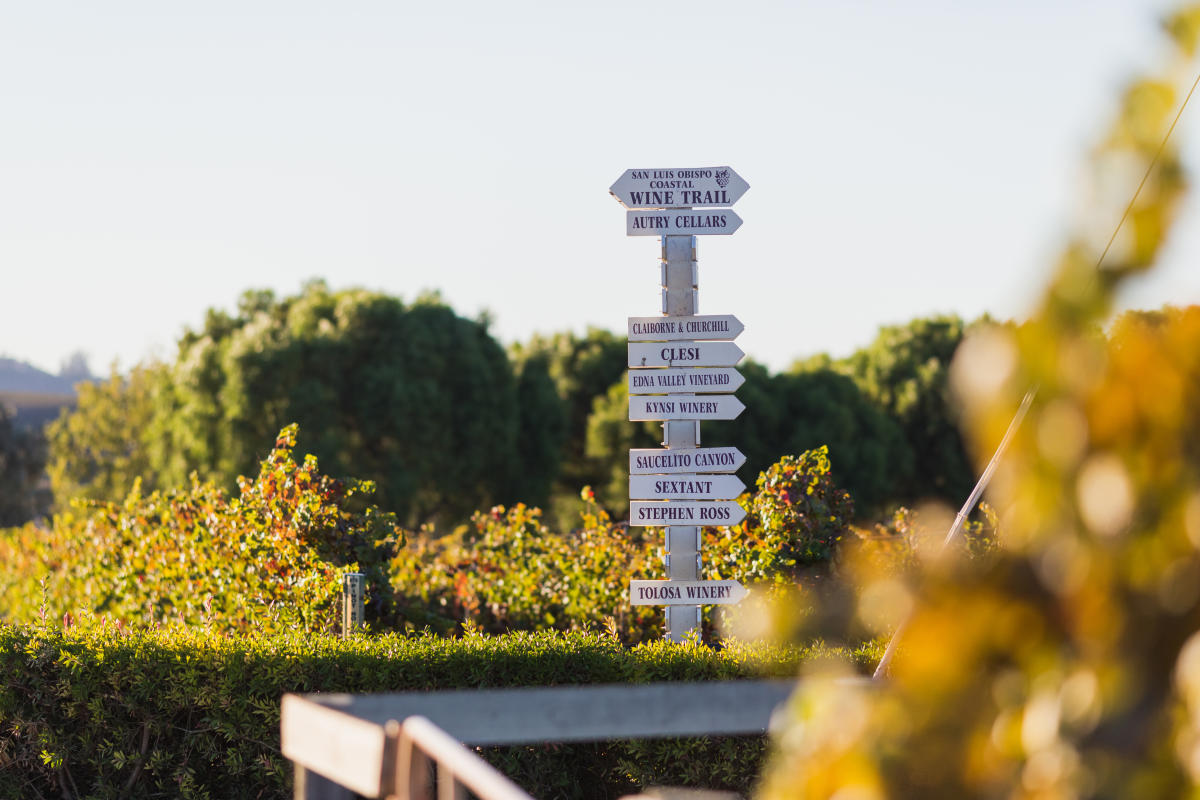 Photo credit: Kaori Photo
Vibe: Chill yet sophisticated
Claim to fame: Edna Valley, located just a few miles from downtown San Luis Obispo and the Pacific Ocean, is a cool climate region known for elegant pinot noir and chardonnay.
Pack: World-class wine warrants thoughtful consideration. Bring a notebook to jot down your favorite wines at Biddle Ranch Vineyard Tasting Room, a jacket to keep warm when coastal breezes blow, your game-face for a rousing game of bocce ball at Baileyana, Tangent and True Myth Winery, and your dancing shoes (live concerts abound each summer throughout SLO Coast Wine region; many with food options and wine available by the glass). Outside food is not often welcome at vineyards, so check before or plan to have a small bite offered from the winery. Talley Vineyards offers the most seclusion and stunning views, surrounded by agriculture and nature for sophistication, rooted in practicality. You'll bring home a bottle of their pinot noir rosé for sure, so bring a tote bag or two. And remember, you're not too far from Arroyo Grande's city center. 
Pristine Avila Beach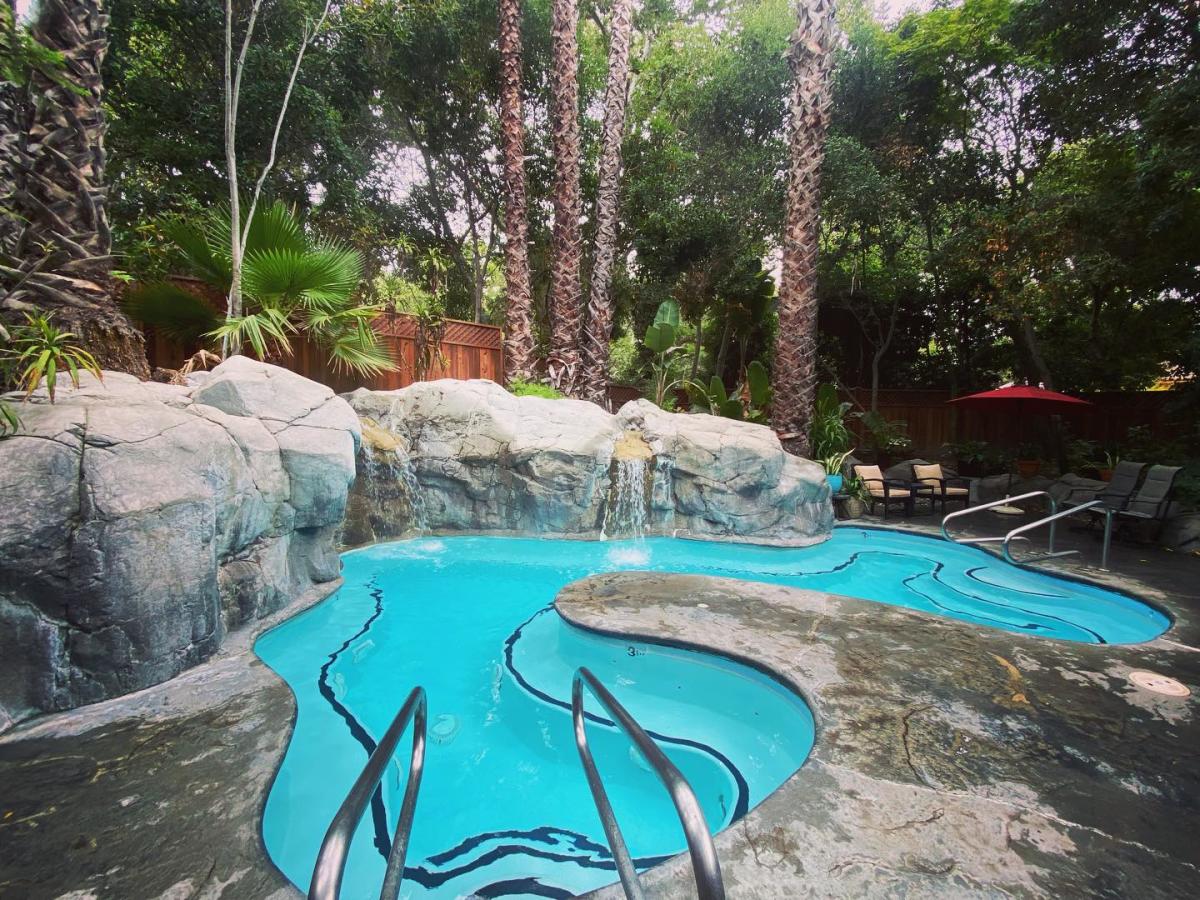 Photo credit: @sycamoresprings
Vibe: Relaxing and rejuvenating
Claim to fame: Calm waters make for the perfect place to paddle-board by day, but come sunset, it's all about unwinding with a glass of local wine.
Pack: Planning a drive from San Luis Obispo's breathtaking Prefumo Canyon through See Canyon to peacock-dotted Kelsey See Canyon Winery. Don't forget your picnic basket and binoculars, as the hilltop views overlooking the ocean and Morro Rock are gorgeous, and you'll want to linger for a while. Nearby Avila Beach boasts laid-back tasting rooms like Peloton Cellars as well as natural hot springs. Pack your flip flops and pause for a soak at Avila Hot Springs or Sycamore Mineral Springs, where you can enjoy wine by the glass. When happy hour begins, stay at Sycamore Mineral Springs for their Secret Garden off of the Bob Jones Bike Trail to enjoy a glass among the secluded chef and floral haven. We hear the only stop in SLO CAL to get Santa Ynez Valley's Ferguson Crest. Why are we recommending wine outside SLO CAL? Well, it's made from Black Eyed Peas member, Fergie. Try to pick up a bottle of Fergalicious at Avila Wine Company. Also keep an eye out for farm stands selling market-fresh produce along the way. Pack an assortment of cheeses and pick up some fruit and fresh baked bread to complete your wine tasting snack pack on the go. At Avila Valley Barn, you can grab yummy plums and pet cute ponies! We should add: hand sanitizer and baby wipes are also a good idea.
Scenic and Unique Highway 1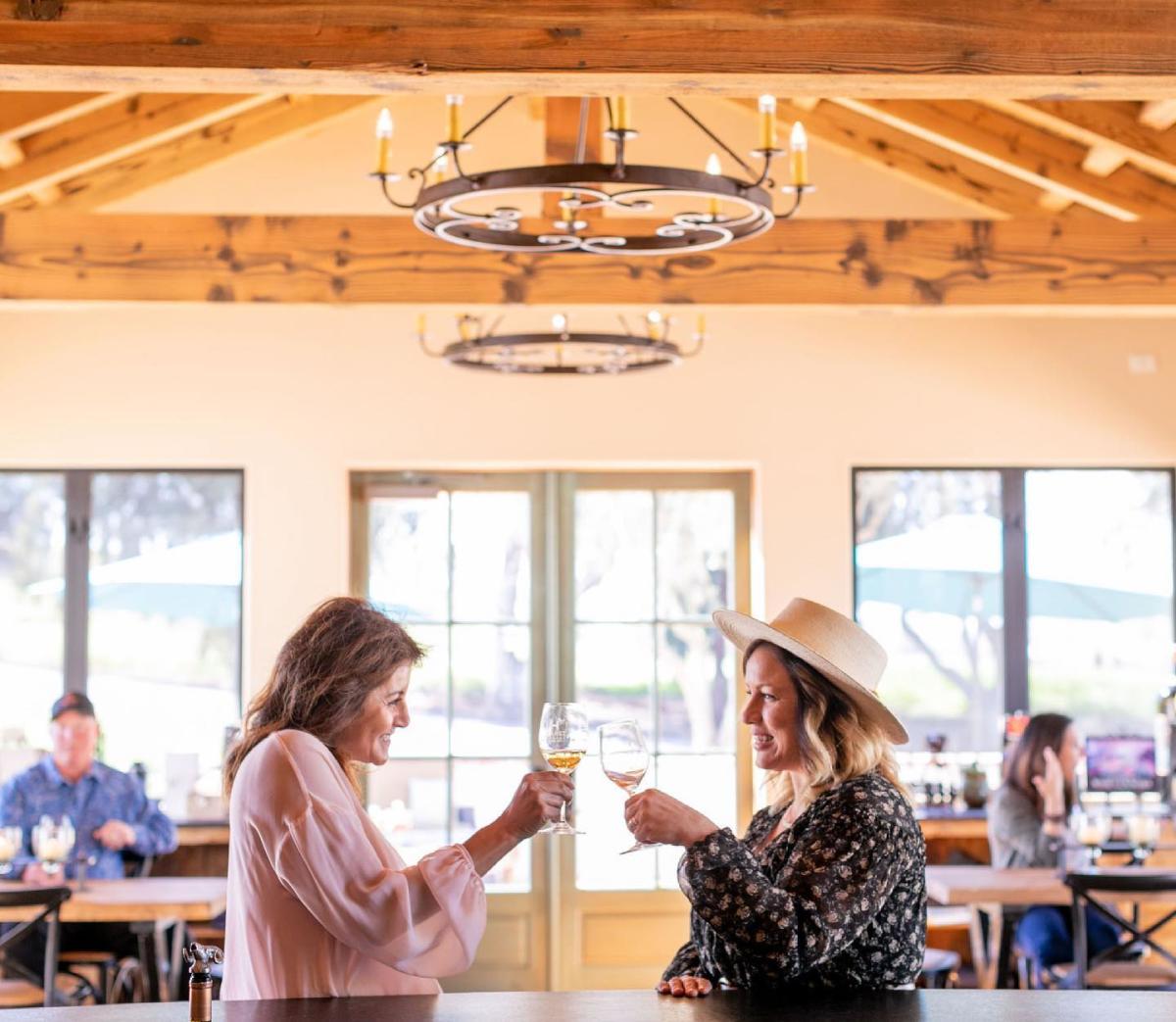 Photo credit: Hearst Ranch Winery
Vibe: Cali cool and deep red
Claim to fame: Sun, fun and wine
Pack: SLO CAL wine tasting just got cooler. But on the hottest summer days, fill a beach bag with powerful SPF, a broad-brimmed hat and even a swimsuit. When you're tasting in San Simeon, the sand at Hearst State Beach is truly mere moments away. Hearst Ranch Winery in San Simeon is a casual experience on picnic tables, just moments away from the pier. The tasting room sits right below Hearst Castle, but grapes grow on their vineyard in the warmer climate of world-renown Paso Robles. Bring a blanket to cozy up with as well, since you are on the coast. If you like, bring your hiking shoes to join the magical path leading out to San Simeon Point. At the end of the half-mile peninsula, a backward look toward the sparkling cove gives breathtaking views of rock formations carved by the sea. Located on the private property of the Hearst Ranch, the trail is frequently used, but there are no public easements to the point. Hikers can find the path by ascending the bluff at the north end of the cove. Speaking of stunning views. If you have an extra 20-minutes, continue north to Ragged Point Inn for mesmerizing, million-dollar ocean views towering 400-feet above icy blue waters. Grab a wine glass at the nearby Ragged Point Inn Restaurant and enjoy the Portal to Big Sur art installation, which perfectly frames a photo opp. You'll for-sure want to bring your camera and have this photo printed as a reminder of the recharge you found while gazing out at this essential roadside attraction. Various pull-offs along the coast allow for whale watching. Head back to Cambria for a drink of local variety at Robin's Restaurant, and don't leave your dog behind, all furry friends are welcome to sit on the patio here. 
Bold, beautiful Paso Robles

Vibe: The wine country Napa wishes it still was
Claim to fame: Cabernet Sauvignon is king in Paso Robles Wine Country, but bold Rhone blends also beckon with equally alluring charm.
Pack: If you're heading to one of Paso Robles' more than 250 wineries, be sure to bring your protective hat and light-weight clothing. Vineyard tours are common, so plan accordingly, but many of the top winery experiences accommodate all types of footwear, you'll just want to make sure whatever you select is breathable. Although there are a slew of wineries offering sit down meals in Paso Robles, like Niner Wine Estates or Cass Winery (not to mention all the farm-to-table eateries located in downtown Paso), you'll always want to have a bag of trail mix or a few snacks handy to hold you over between stops. Consider soaking up some of the bounty with a Pasolivo olive oil tasting on Vineyard Drive while you're out on the west side. Because after all, no one likes a hangry wine taster. While you're at it, remember to bring your insulated water bottle. The car can get pretty hot while you're sipping among the vines and we don't want you to overheat while hydrating. Don't forget a jacket—although temps soar to triple digits in Northern SLO CAL each summer, nights can still be chilly. Luckily, wine tastings usually end in the late afternoon, but the party continues at certain hotspots, including around the Paso Robles town square.
Super scenic Templeton/San Miguel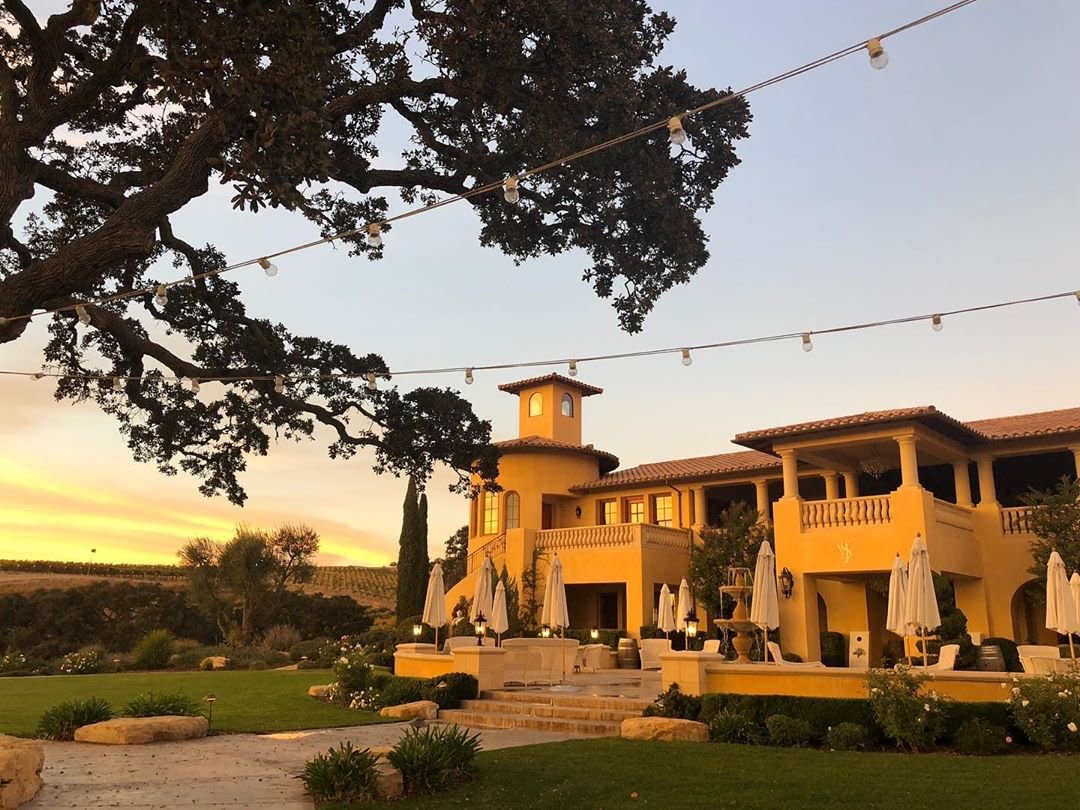 Photo credit: Villa San-Juliette Winery
Vibe: A quiet place unchanged by time
Claim to fame: Rural, quaint Templeton and rustic San Miguel are both great places to enjoy the picturesque agricultural scenery and a glass of locally sourced wine (in Templeton, you'll find craft beer and spirits, too).
Pack: Heading to San Miguel's Pleasant Valley Wine Trail? Bring an extra jug of insulated water, a full tank of gas, your wine opener and a picnic blanket (many wineries out here are dog-friendly, so don't forget your dog's treats and water bowl). Stop by a tasting room like the elegant Villa San-Juliette for some lunch in this truly relaxing oasis. Grab a bottle to go, then see where the road takes you when the pavement ends. Yes, you will absolutely want to download a map before you leave the hotel—sometimes cell reception can be spotty out in San Miguel, especially if you wander out toward the ranch-land of Shandon, Creston and Cholame. And since this region is still considered the Paso Robles Wine Country, don't forget that jacket—although temps soar to triple digits in Northern SLO CAL each summer, nights can still be chilly. That's actually called a diurnal temperature swing—it's very good for the grapes in the famed Templeton Gap.