Plan a perfect event by pairing world-class accommodations with outside-the-box gathering spaces
With its cascading mountains, uncrowded beaches, rolling vineyards, and bustling downtowns, it's easy to see why planners choose SLO CAL as their meetings destination. If you're looking for comfortable accommodations as well as spacious, creative meeting venues, there's no need to look any further. SLO CAL's mix of beachfront, rural, and downtown venues allow organizations to keep their attendees engaged and refreshed while meeting their business objectives. As you coordinate your gathering, keep in mind that SLO CAL can accommodate large meetings, conferences, and the like. Here, we suggested a few fresh ideas for how large groups can work, play, learn and stay in SLO CAL.
The best of Paso Robles wine country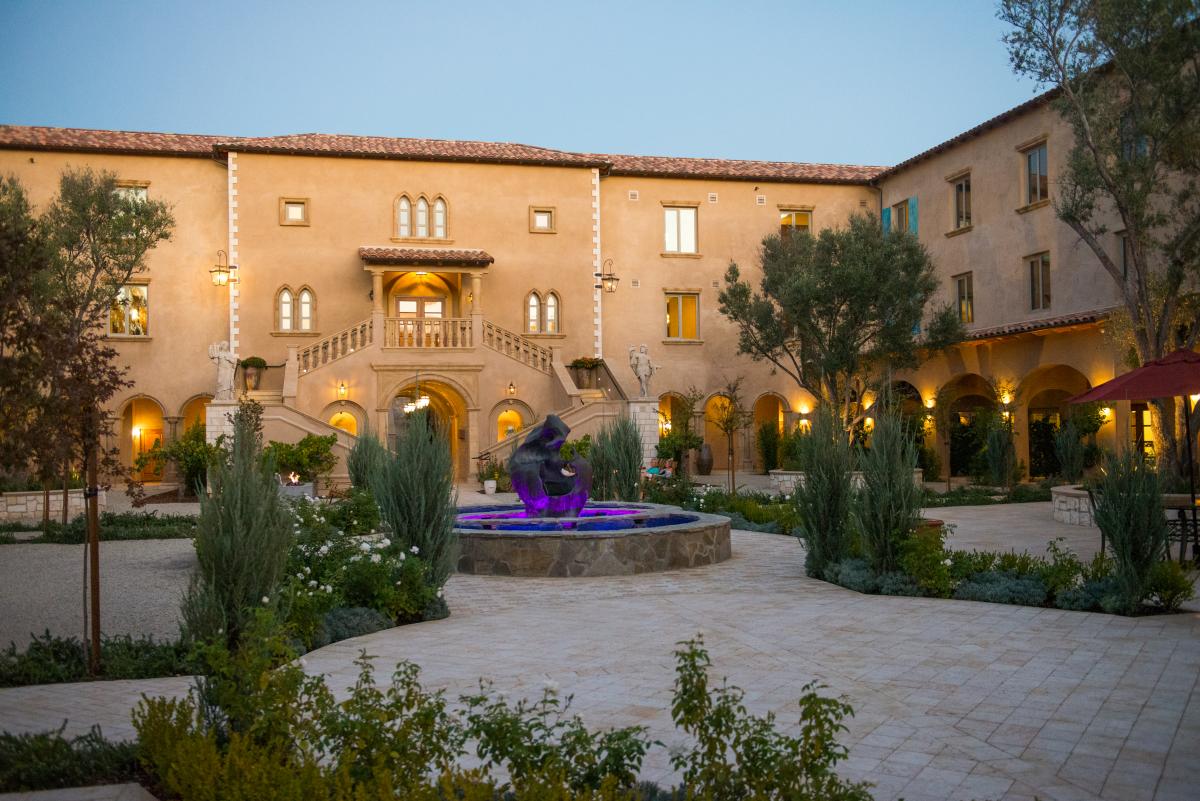 Photo credit: Allegretto Vineyard Resort

There are lots of benefits to meeting in Paso Robles wine country — the most obvious being direct access to some of the finest wines in the world. But for all its accolades and activity, Paso Robles remains a peaceful place, just right for meetings where the distance from distractions is key.
Set amidst Paso Robles's 40,000 acres of vines, several venues offer a distinctive experience to get the most out of a work-and-play day.
For groups of up to 250 people, it's easy to block rooms at Allegretto Vineyard Resort and the La Quinta Inn & Suites by Wyndham, paired with offsite meeting space at CASS Winery.
 
To stay:
Check into the Allegretto Vineyard Resort off Highway 46 East for one of the most picturesque and remarkable properties in SLO CAL. The Allegretto resembles a Tuscan estate, complete with art and antiquities collected from across the world by owner Douglas Ayres. The resort offers 171 rooms, including 14 two-room suites with optional patios, balconies, and fireplaces. A wine-tasting room, day spa, award-winning restaurant, fire bowl patio, and swimming pool with seasonal cabana service make this a luxurious accommodation choice.
 
Just next door, seamlessly accessible from the Allegretto along Highway 46 East, La Quinta Inn & Suites by Wyndham Paso Robles provides comfortable wine country accommodations for large groups. This property includes 138 guest rooms with complimentary wired and wireless internet access, a swimming pool and jacuzzi, a fitness center, and a complimentary buffet breakfast. Like the Allegretto, this inn also lies one mile from the River Oaks Golf Course, and five minutes drive from City Park and downtown Paso Robles, and the Vina Robles Amphitheater.
To meet:
At CASS Winery, the Barrel Room provides unique offsite event space for any kind of gathering. The hilltop venue accommodates up to 250 people, with climate control, A/V technology including a portable projector, restrooms, an indoor/outdoor bar, tables and chairs. The winery also specializes in catering with fresh, locally-sourced ingredients, all of which pairs seamlessly with CASS Wines. CASS Winery occupies the Geneseo sub-appellation in Paso Robles, about 12 miles away from the Allegretto Vineyard Resort and La Quinta Inn. (And on that note, transportation is available to and from any of these locations. Thanks to the needs of visitors to wine country, vendors like SLO Safe Ride, Obsidian Luxury Services and Breakaway Tours have the expertise and fleet to get you and your team where they need to be.)
The best of Pismo Beach and beyond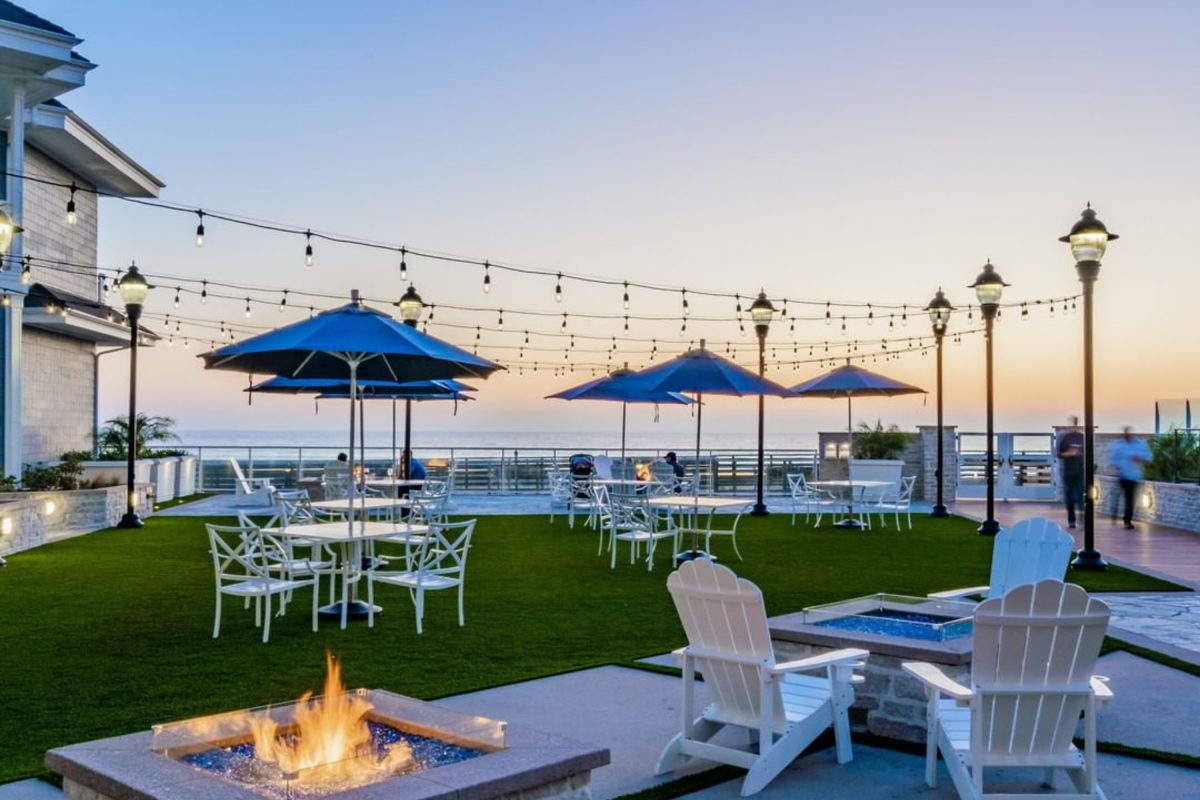 Photo credit: @vesperaonocean
Pismo Beach has delighted generations of visitors with its long beaches, dunes, hiking trails, dining, shopping and more. Plus: those views! Tucked back into the canyons that run perpendicular to the coastline, find patchwork farmland and tumbling vineyards. Visitors are often surprised to find quiet, pastoral Edna Valley just a few minutes drive from the coast. If the sparkling Pacific Ocean and countryside farmhouse views inspire your team, these are pairing options for you.
Bring your group of up to 200 people to Pismo Beach and book blocks of rooms at the Vespera Resort and Inn at the Pier, paired with offsite meeting facilities at Greengate Farms or the Edna Valley White Barn.
 
To stay:
Vespera Resort stands practically at the waters' edge in Pismo Beach, with beachfront access and ocean views for many of its 124 rooms and suites. The vibe here is an "upscale beach house," with a beachfront pool deck and direct beach and boardwalk access right outside. Somerset Grill, the hotel restaurant, is respected by visitors and residents alike as a stand-alone success, with fresh-caught seafood, locally-grown produce, an inspired wine list and house-made everything.
 
At Inn at the Pier, guests have their choice of 104 rooms and suites, many of which face out onto the Pacific Ocean, just steps from the surf line. While amenities like high-speed complimentary wifi, private patios and balconies, and centrality to downtown are terrific, the star of the show is the inn's rooftop deck. Here, enjoy the hotel restaurant, the swimming pool, and views for days.
To meet:
At 5,500 square feet, the Edna Valley White Barn can accommodate up to 300 people for meetings, presentations, or large-group dinners. The barn's striking white facade stands at the junction of Price Canyon Road and Highway 227, just five miles from the Pismo Beach Pier. The White Barn is an authentic remnant of Edna Valley's dairy-farming history, making it a more rustic, but flexible, venue for meetings. While the barn doesn't offer its own audio/visual services, they can connect you with their preferred vendors for equipment, operation and expertise.
 
Also at the intersection of Price Canyon Road and rural Highway 227, Greengate Ranch invites groups between 100 and 200 people to gather in the venue's 2,500 square-foot barn. Once a working dairy farm, then a horse facility, Greengate Farm today includes guest restrooms, a prep kitchen for caterers, tables and chairs for 200, and a bar. Like Edna Valley White Barn, Greengate Ranch doesn't provide audio/visual equipment or operation. But after hosting hundreds of successful events, the team at Greengate Ranch can set you up with their favorite audio/visual teams.
The best of downtown San Luis Obispo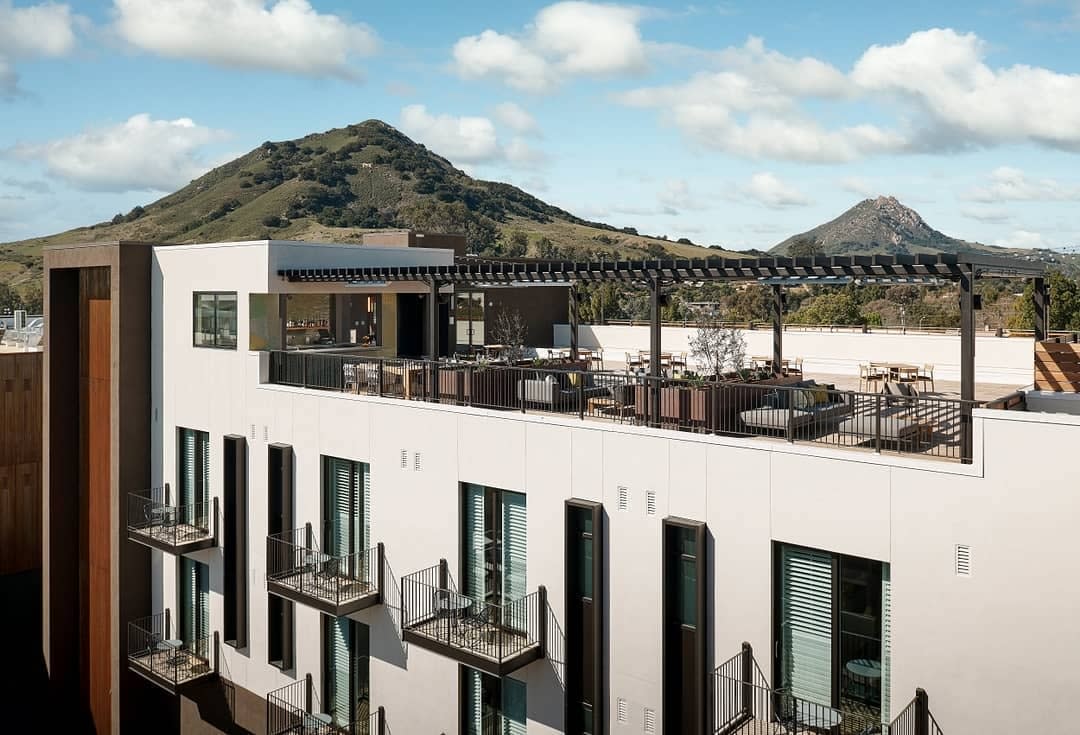 Photo by: thehotelslo
Does your team need the energy of a vibrant downtown for inspiration? Consider gathering in downtown San Luis Obispo, a college town buzzing with restaurants, nightlife, public art, and boutiques. In many ways, Cal Poly University sets the tone in SLO, attracting, educating and graduating some of the world's top innovators. To ride that wave of entrepreneurial excellence, plan your meeting and/or retreat in downtown SLO, where one of the major perks is walkability; each of the following venues is reachable by foot in six minutes or less. If transportation is a must, however, the drivers at SLO Safe Ride, Obsidian Luxury Services and Breakaway Tours can help.
Groups of up to 150 people can book room blocks at Hotel SLO, Hotel Cerro and Granada Hotel — located just a few blocks away from each other — with meeting facilities at Hotel SLO, Hotel Cerro, and The Carrisa.
 
To stay:
A modern resort in an urban setting, Hotel SLO sits at the center of San Luis Obispo's historic Chinatown district. The hotel offers 78 rooms and suites, all of which boast either a balcony or terrace. Everything here is chic, understated, and fun, with thoughtful design touches, two restaurants, and a killer rooftop bar with views of the mountains.
 
Built into the former Downtown Brew location on charming Garden Street, Hotel Cerro mixes contemporary design with luxurious touches like a rooftop swimming pool, below-ground parking, and farm-to-table brasserie. Each of Hotel Cerro's 65 guest rooms and suites looks in over the property's edible garden, or out across the rooftops of downtown SLO.
 
A jewel box of a property, the boutique Granada Hotel offers 17 guest rooms, each showing the exposed brick of the historic building. Aside from charming accommodations and at-your-doorstep access to downtown SLO, the Granada's greatest assets are its in-house bistro and Nightcap bar, where everything is fresh and flavorful.
To meet:
Hotel SLO also has great large-group meeting facilities, whether you want to stay headquartered at one site or mix it up a bit. The primary event hall, the Seven Sisters Ballroom, seats up to 180 people and includes cutting-edge A/V, high-speed wifi, tables, chairs, and catering.
 
In addition to comfortable accommodations, Hotel Cerro also offers meeting space for up to 75 people in the Olive Tree room. Located on the second floor, this gathering space welcomes in plenty of natural light and offers access to fresh air and a secluded garden. Additional amenities include fiber-optic internet, A/V facilities, tables and chairs, and catering.
 
Owned by the rock and roll team at SLO Brewing Company, The Carrisa is a refined property featuring a spacious floorplan, Creekside outdoor deck, and headliner-worthy audio/visual amenities. Exposed brick walls, high ceilings, catering, and seating/tables for 300 people make this a comfortable spot for a large-group meeting.
Book your group stay today! 
Header image courtesy of: Hotel SLO