Get your hands on sweet, savory, sprinkled and every flavor in between
In SLO CAL, we know how to enjoy the little things. Like, for instance, rising early for a piping hot cup of coffee and a warm, freshly made donut (oh-so-decadent). We dare you to find a better flavor combination for a Sunday morning exploring SLO CAL. Whether you prefer yours maple coated, vegan, or covered in your favorite kid's cereal, SLO CAL is serving up the delicious donuts of your dreams. These addictive treats are so much more than fried dough. Taste for yourself:
1. SloDoCo in San Luis Obispo and Atascadero
It's always time for donuts in SLO CAL. Open 24 hours, this popular Cal Poly hangout is a hub of community activity (and amazing sights and smells). Yes, SloDoCo in San Luis Obispo is more than just a donut shop—it's a happening place to chill, connect and meet up with pals. Check out a live band, kick back with your laptop, or just grab a dozen to go (although it may be hard to pick just a few flavors with so many enticing creations to choose from). With an array of unique varieties baked fresh daily—including vegan options, lavender, red velvet mint chocolate chip, "the galaxy" (which looks like a starry sky), cream-filled espresso and even a donut covered in white and pink Circus Animal cookies—you really can't go wrong, even at 3 a.m. Find yourself north of the Cuesta grade? Stop by their sister location in Atascadero, too.
Gotta try: You'll see plenty of eye-popping Instagram-worthy donuts here, but the king is truly the "Cinnabomb," basically a cinnamon roll contained inside a glazed donut. If they happen to be out of that one, go for the maple glazed bacon.
2. Surfside Donuts in Pismo Beach
Catch some gnarly dough. From gluten-free to extra fatty, Surfside Donuts in Pismo Beach knows how to make all mouths water. You don't have to be a surfer to get in on these fab flavors, which range from blueberry fritter bites to spiced chai to Cap'n Crunch covered. Ask for the newest creation, like the super seasonal "Dad Bod," a maple bacon donut filled with bourbon and smoked salt custard and topped with crunchy pretzels. Grab some strong Stumptown cold brew and a bag of love (we mean donuts, of course) and take a stroll down the Pismo Beach Pier.
Gotta try: The Mexican Hot Chocolate (when available) is a spicy-sweet treat covered in spiced chocolate, cinnamon and marshmallows.
3. Foster's Family Donuts in Grover Beach
Classic is cool. Fluffy, fresh donuts need nothing more to standout. Foster's Family Donuts in Grover Beach is all about the old school charm, with a solid selection of buttermilk, old fashioned, crumb, and cake morsels to perk up your a.m. This family-run joint knows that you don't need to make anything ornate to wow customers—who, we should say, tend to come back daily like clockwork. Perhaps you'll become one of these loyal fans while visiting SLO CAL!
Gotta try: The croissants here are exceptionally massive and oh-so buttery, but keep your eyes on the prize. A classic cake donut covered in pink frosting and rainbow sprinkles is totally the way to go.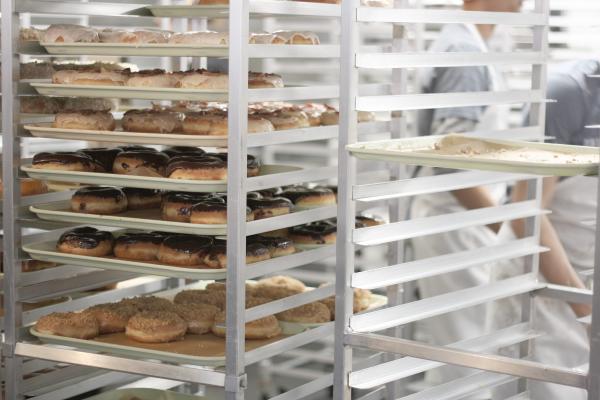 4. Dolly's Donuts in Morro Bay
This is Morro Bay donut shop is loved by the locals, through and through. Don't let the sign for the ham, sausage and egg breakfast sandwich fool you. Despite serving up boba tea to brownies to cinnamon rolls, Dolly's is really famous for their donuts. Do what the locals do, and stop in for a half dozen and a cup of joe. From an artful panda flavored donut complete with Oreo ears to the iconic glazed and powdered varieties, you never know what you might come across at Dolly's. 
Gotta try: Is a fritter still a donut? We think so! Try Dolly's famous Apple Fritter, which is sweet, slightly savory, and totally warming on a cool coastal morning.
5. Twisted and Glazed in Paso Robles
Don't get it twisted—these deep-fried masterpieces are way off the charts in terms of both flavor and creativity. Twisted and Glazed is a 24-hour, vintage-styled stop in Paso Robles is well stocked with unique creations that just beg to be photographed and texted to your (now very jealous) friends. Take your pick of artful flavors, from spiced old fashioned chocolate with butterscotch chips, peanut butter and blackberry jelly, Black Forrest (with a cherry on top), s'mores, to root beer.
 
Gotta try: Cure those Monday blues with a Fruity Pebbles donut. Seriously—its multicolored powers work wonders! Some kids just refuse to grow up.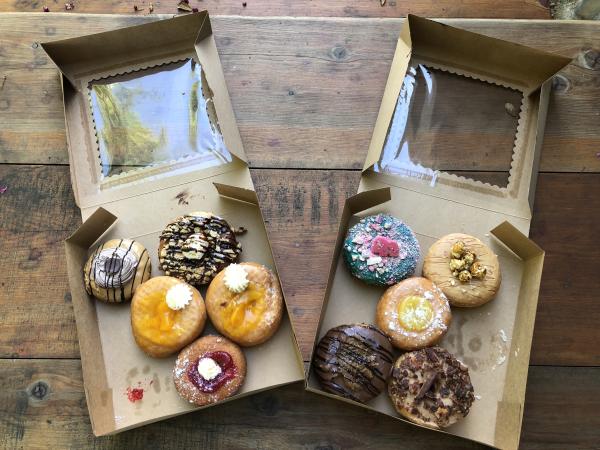 6. Templeton Donuts Plus
Get your paws on a truly tantalizing bear claw at Templeton Donuts Plus, not to mention a slew of other fresh-baked beauties smothered in chocolate, sprinkles, and coconut bits. This family-owned operation known for its casual sandwiches, salads and fresh baked goods is always churning up new donut ideas, whether they be color coordinated for a bride and groom's big day or for your own private party (just ask; they'll create). Of course, you'll find all the familiar characters: donut holes, old fashioned and powdered—alongside some interesting new works of edible art. Wondering what's in a "butterfly" donut? Only one way to find out!
Gotta try: Their sweet blueberry cake donut, chock full of berries, is all the rage.