6 Reasons SLO CAL is a farm-to-table paradise
From veggies to vino, SLO CAL knows how to savor the seasons
With a long, temperate growing season, there is no limit to what we can grow (and eat) in SLO CAL, year round. Foodie folks know that we love to share our incredible edible bounty with the world in the form of food and wine pairings, chef-driven menus and feasts set in the field. Here are 6 reasons why there is no better place than SLO CAL for your next farm-fresh meal.
1. The Farms
SLO CAL's agricultural heritage is strong with many multi-generational farms growing everything from apples in See Canyon to kale in Los Osos to peppers in Templeton. Sunny days and fertile soil abound in California—it's why the Golden State produces the most food (by value) in the United States. SLO CAL represents the state's green thumb well, with kiwi, luffas, and strawberries grown in Nipomo, broccoli grown in Edna Valley, avocados and finger limes grown in Morro Bay, and sustainably raised, grass-fed meats raised in the ranch lands of northern SLO CAL. High-quality farms equal high-quality meals. SLO CAL is also home to passionate organic farmers who are pushing the limits of biodynamic farming.
Dig deeper: There are plenty of SLO CAL farms that offer agricultural experiences to the public, including Talley Farms in Arroyo Grande and Windrose Farm in Templeton, known for its annual Heirloom Tomato Festival. You can also explore the SLO County Farm Trail, and see where all of your favorite SLO CAL crops are grown.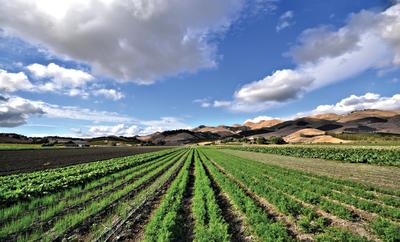 2. The Wine
Sip and you'll see what we mean by the phrase "great wine starts in the vineyard." SLO CAL's many wine regions are diverse, with cool climate pinot noir and chardonnay grown in Edna Valley, Arroyo Grande and along Highway 1 and robust reds like Cabernet Sauvignon,  Bordeaux and Rhone varietals grown in warmer Northern SLO CAL (plus, literally hundreds of unique varietals you've probably never heard of). Paso Robles, in particular, has been showered with awards and accolades from the world wine media, and for good reason: the terroir (soil, climate, and other environmental factors) make for dynamic, distinct wines. Truly: It all comes back to the vineyard.
Dig deeper: Book an educational vineyard tour at one of the hundreds of wineries in SLO CAL including Paso Robles, Templeton, Arroyo Grande, Pismo Beach, Edna Valley and Cambria, and see how soil, water, and growing technique come into play with every bottle. At Graveyard Vineyards in San Miguel, hot days and cool nights make for perfectly ripe estate grown Zinfandel.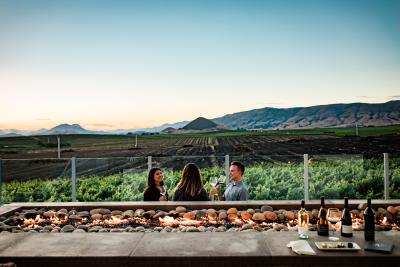 3. The Seafood
We know how to make a splash on your plate. Located on the West Coast, SLO CAL is lucky to have such close proximity to the bounty of the Pacific. Local seafood is truly a delicacy here, so be sure to check out the catch of the day, whether it be sea bass, halibut, or even salmon, which are currently being caught in surprisingly high numbers on the Central Coast. Find abalone raised in Cayucos at Cayucos Abalone Farm, or stop by a local seafood restaurant like Giovanni's Fish Market in Morro Bay, and see what's fresh now. Oysters are also raised in the calm waters of Morro Bay, which—thanks to a unique aquifer that mixes fresh and salt water—give these shellfish a "merroir" all their own (yes, that's a marine version of terroir, or "the essence of the place"). Just try a few Pacific Gold Oysters from Morro Bay Oyster Company or Grassy Bar Oyster Company and taste the SLO CAL difference.
Dig deeper: Walk the Hanford Pier at the Port of San Luis Harbor in Avila Beach, where fishermen haul in the daily catch (or cast your own line off the Cayucos Pier and see what you can find). If the fish aren't biting, grab some at the Custom House or a host of other local eateries.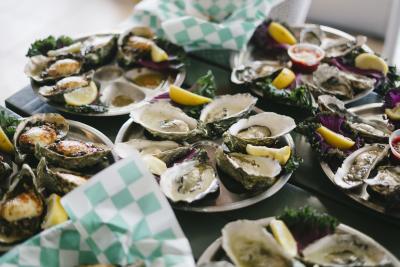 4. The Artisan Snacks
You'll never go hungry (even between meals). With a surplus of locally made honey, olive oil, baked goods, cheeses, jerky, nuts, and charcuterie, you can extend the "farm-to-table" SLO CAL vibe to your snacking, too! Alle Pia Salami in Atascadero churns out delicious prosciutto, salami, and sausage made onsite in the traditional Italian way, while Stepladder Creamery in Cambria offers up a range of cow and goat's milk cheeses (plus you can tour the breathtaking farm and meet the charming goats).
Dig deeper: Stop by a local market like Mint + Craft in San Luis Obispo or the General Store Paso Robles and grab a basketful of locally made products. From gourmet vinegar to toffee, SLO CAL will keep your next picnic well stocked.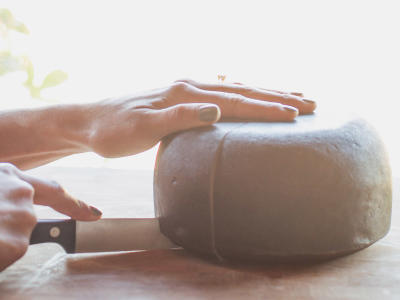 5. The Farmers Markets
Get out there and meet the makers. There's a farmers market happening almost every single day in SLO CAL, so you'll never have to worry about missing peak season pleasure. Whether you prefer to wake up early to shop for fresh veggies or enjoy an afternoon stroll through the produce bins, you can take the farm-to-table experience into your own hands. Taste apricots and strawberries in the spring, tomatoes in the summer, apples and persimmons come fall and squash in the winter.
 
Dig deeper: While currently closed until further notice, the Thursday night farmers market in San Luis Obispo is SLO CAL's most well-known market and quite a sensory sight to behold. Farmers sell deliciously ripe produce while other vendors offer artisanal goods and scrumptious meals. Local musicians add to the festive vibe.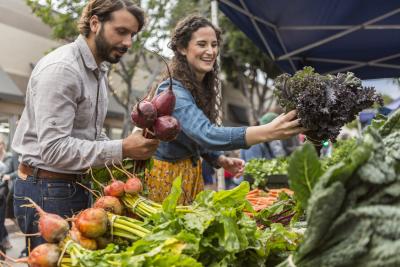 6. The Restaurants
Feast with the seasons. SLO CAL is known for its chef-driven restaurants that celebrate the best flavors of each time of the year. From sophisticated food-and-wine pairings to more casual lunch spots paired with local craft beer, you can tailor your farm fresh experience to your hunger level, budget and personal preference. Look for wine-centric eateries in Paso Robles, global fusion menus in downtown San Luis Obispo, family friendly haunts in Atascadero, coastal creations in San Simeon, Cayucos and Cambria and dining rooms with breathtaking ocean views along the coast.
Dig deeper: Many SLO CAL wineries also feature food grown onsite, so you can enjoy a full experience of the land. At Cass Winery in Paso Robles, dine on a burger of estate-raised beef on a locally made Edna Valley Bakery bun topped with a duck egg raised from the winery's own flock. You should also check out SLO CAL's year-round tasting events, many of which feature a farm-to-table twist.