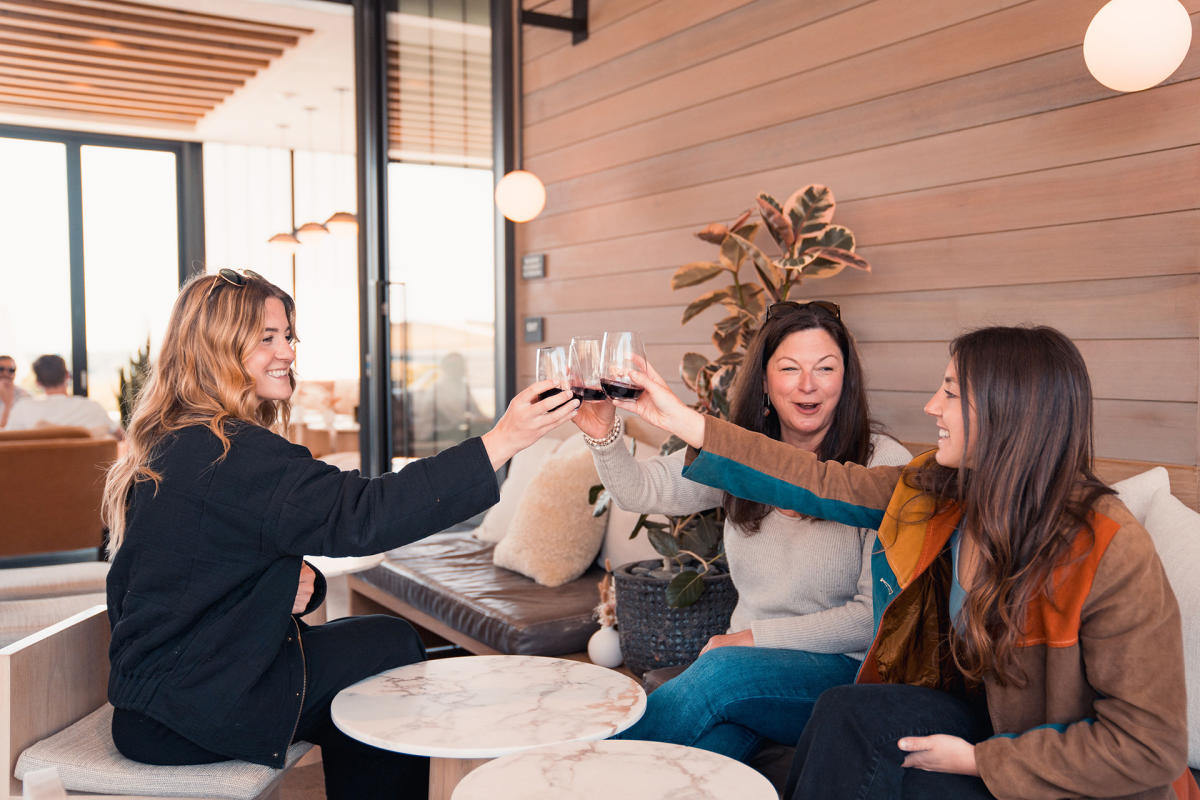 With these tips you'll taste like a pro from Paso to Edna Valley
We get it. Wine tasting can be a tad intimidating. Should you sniff? Swirl? What's the protocol here? If that's not enough to get your mind reeling, there's the ever-present conundrum: Where should we taste next? With literally hundreds of wineries to choose from, SLOCAL is a wine taster's playground, catering to every palate and passion (Rhone and Bordeaux-style wines, sparklings and bold, rule-breaking blends abound). Before you get too anxious about whether to revisit that rose or jump to the reserve list, read these basics. We promise: It'll be as fun, never fussy.
Keep calm and designate a driver
If you're hitting more than one tasting room, it's best to designate a driver, or—better yet—allow a passionate professional to drive you around in style. Uncorked Wine Tours and Breakaway Tours and Event Planning are both amazing, friendly choices when it comes to crafting a unique multi-stop wine tasting trip that includes lots of insightful insider information about the region. The best part? Most tour-goers are known to make friends their tour drivers and fellow wine tasters.
Remember the four S's
Forget about slurping audibly while simultaneously swishing the wine throughout your gums. SLO CAL wine tasting is all about simplicity. Follow the four S's: Swirl (this helps aerate the wine); sniff (to experience the aroma of the bouquet); and sip (the fun part). Oh, and don't forget to savor (because that's the whole point, right?). P.S. Spitting helps when you're visiting a host of tasting rooms and want to remember which wine is which. One last tip? When swirling your glass, keep the stem firmly planted on the tasting room bar-top. This helps discourage any unnecessary spillage. Look at you! Tasting like a real pro.
Keep an eye out for the winemaker
In SLO CAL, we believe wine tasting should be a friendly, intimate experience that allows visitors to connect to the land and the people who farm it. Don't be surprised if you see winemakers, vineyard managers and even owners behind the bar at tasting rooms Edna Valley Vineyards, Field Recordings and others. From smaller, boutique operations to larger wineries, a similar feel pervades: Leave your ego at the door and enjoy the world class wines without pomp or pretense.
Map a plan
Create a plan of action. There are several wine regions in SLO CAL, including Paso Robles Wine Country to the North and SLO Wine Country to the South. Within these larger swaths you'll find distinct subregions and wine trails, too. Don't fret! Before you head out the door, make sure you've mapped out a reasonable journey that focuses on one specific area or varietal (you cannot explore the whole of SLO CAL wine in a day, we assure you). Love dry-farmed Zinfandel and juicy Cabs? Head to the Pleasant Valley Wine Trail in San Miguel or check out Highway 46 East in Paso Robles. More into cool-climate Chardonnay and Pinot Noir? You'll want to go coastal with the wineries of Edna Valley.
Go beyond the glass
You might think wine tasting is a one-fits-all activity and that tasting rooms don't necessary vary much from one to the next. You'd be dead wrong. In SLO CAL, our wineries are as diverse as our microclimates. Whether you stop at Santa Margarita-based Ancient Peaks Winery and grab a gourmet sandwich from their kitchen; enjoy a farm-to-table lunch pairing at Niner Wine Estates; head to Paso Robles' Tin City — where you'll find boutique tasting rooms alongside hand cider, craft beer, brandy and other unique offerings—or swing by Pomar Junction Winery for live music, you'll find that each tasting room has its own sense of community and culture. Be sure to check those event calendars ahead of time and make a day (or night) of it.
Header image courtesy of Acacia Productions