This remarkable SLO CAL-based nonprofit stokes folks of all abilities from across the globe
SLO CAL is home to some of the world's most beloved beaches, from the quiet cove of Hearst Memorial State Beach to the bustling promenade of Avila Beach. It's also home to a unique organization that helps people of all abilities ride high on SLO CAL waves. 
Dana Cummings and the Journey to AmpSurf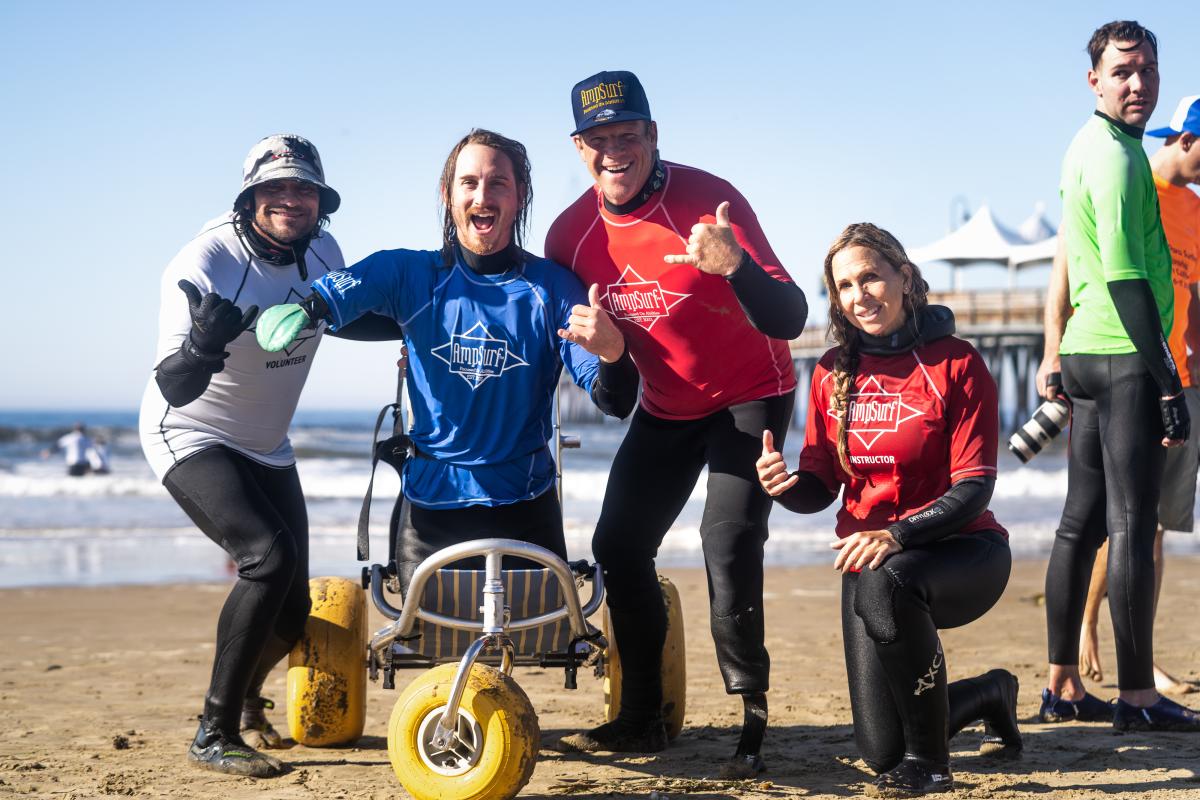 Dana Cummings (third person from the left) with an AmpSurf volunteer, surfer and instructor. Photo courtesy: Sean Evans.

Since 2003, AmpSurf has empowered people with disabilities through the gift of surfing. Founded in Pismo Beach by competitive surfer and adaptive surf instructor Dana Cummings, AmpSurf has taught and rehabilitated thousands of people who live with a life-long disability. From children and adults to veterans and first responders, amputees, visually impaired people, those who suffer from post-traumatic stress, people with autism and cancer survivors—AmpSurf has inspired them to experience the healing power of the ocean by focusing on abilities rather than disabilities.
The seeds of AmpSurf were planted when Dana, a Marine veteran of Operation Desert Shield and Operation Desert Storm, lost his lower left leg in a car accident in 2002. Within just four months, he was on a surfboard for the first time in his life. Today, nearly 20 years later, Dana is a member of the US Para Surf team, a four-time West Coast Champion, and ranks 7th in the world in his division. Even more importantly, he's a father of five.
Dana's own experience of healing on the waves compelled him to establish the AmpSurf: Learn to Surf program, which serves to rehabilitate and challenge people through adaptive surfing. But it didn't end there. Dana went on to develop an instructor training program that's used by the International Surfing Association and SurfAbilityUK. By teaching adaptive surf coaches worldwide, the AmpSurf method has had a massive global impact. Today, AmpSurf includes four chapters along the West Coast and East Coast, developed to reach those looking for ways to live life to its fullest potential. These chapters host adaptive surf clinics all over the U.S. throughout the year, spreading awareness about the power of appealing to folks' abilities.
Surf Opportunities for All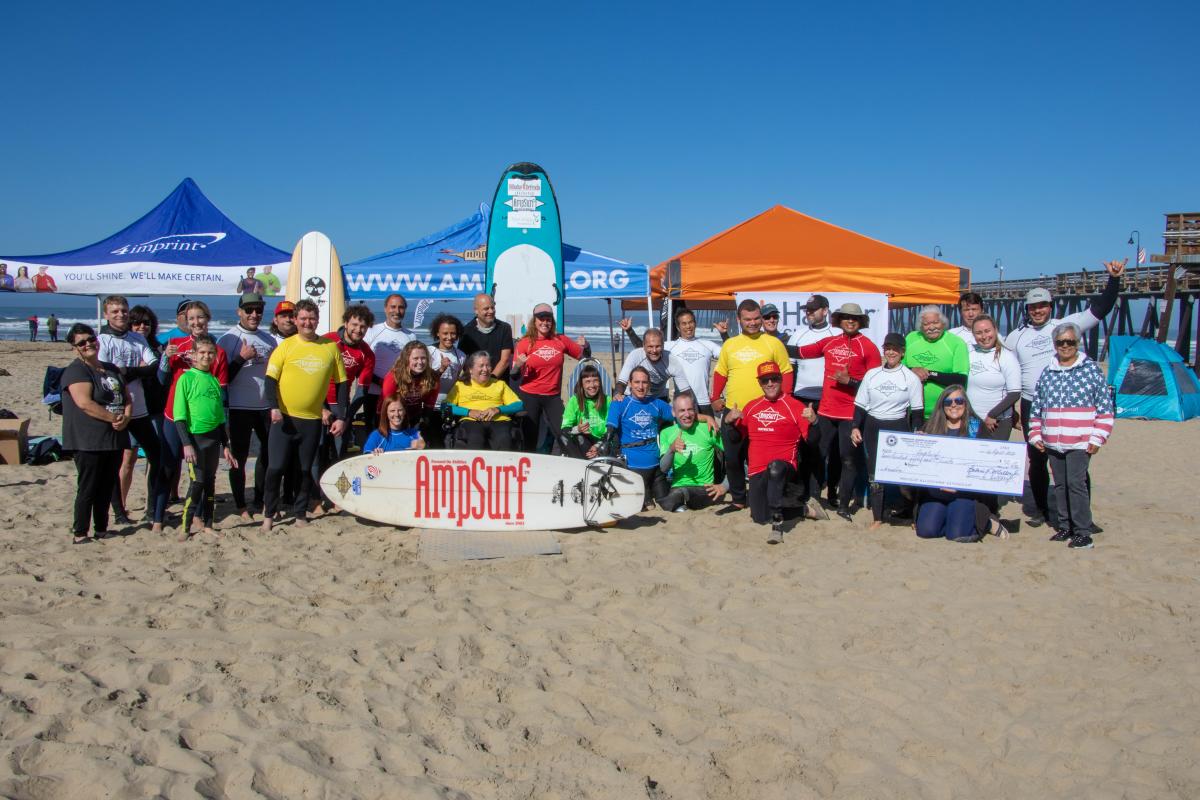 Amp Surf clinic. Photo courtesy: DSC Photography

The heart of AmpSurf may beat in Pismo Beach, but the reverberations can be heard all the way around the world. Every week, AmpSurf provides free surf instruction for veterans and those living with lifelong disabilities. Called VetSurf/SOS (Surf on Saturdays) these laid-back sessions take place Saturdays from 8:30am to 11am at the Addie Street parking lot in Pismo Beach. The events are open to surfers and non-surfers alike, providing coffee and snacks, instruction from Certified Surf Instructors, and camaraderie. 
Brand-new surfers need not bring gear, as AmpSurf provides all the necessary equipment, including boards and wetsuits. And if veterans who are new to the sport come out just four times, they can take home a new surfboard and wetsuit to keep, care of AmpSurf's partners. Because accessibility is key to surfers' success, the organization also provides a beach-access wheelchair for anyone who needs it. AmpSurf also provides a free shuttle from the Fresno VA to Pismo Beach for veterans who want to learn to surf on the coast. 
ISA World Para Surfing Championships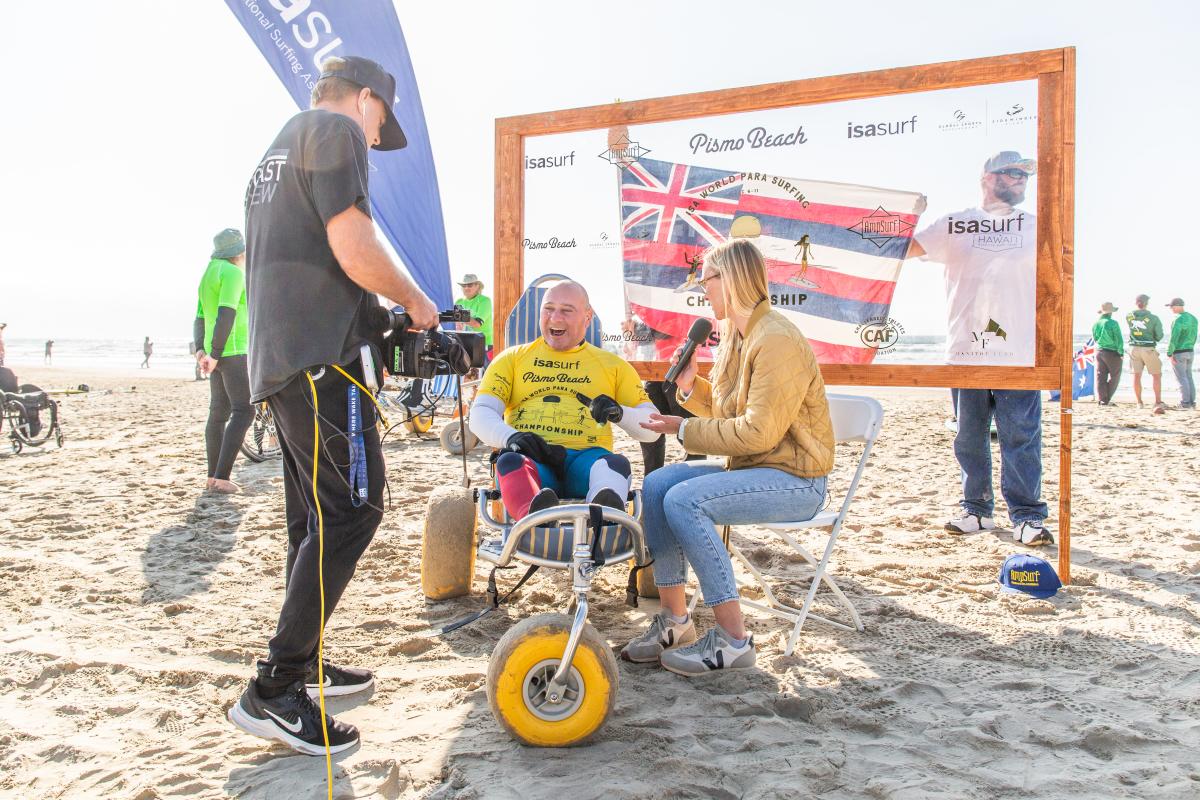 ISA World Para Surfing Championship in Pismo Beach 2021

For the second year, AmpSurf will host the International Surfing Association World Para Surfing Championships in Pismo Beach, December 3 through 11, 2022. Being one of the largest international surf contests on the central coast, the 2022 event will welcome 180+ Para Surfers from 30+ countries. Last year, the event saw 134 athletes from 24 countries compete for the ISA World Para Surfing Team Champion trophy. The 2021 event's success raised awareness for the sport, and helped build a case for including para surfing in the 2028 Paralympic Games in Los Angeles. 
The dates for the championship are auspicious: December 3 is International Day of Persons with Disabilities. According to the U.S. Census, one in five Americans live with a lifelong disability or condition. It also reports that 6.2 percent of children between the ages of 5 and 15 have a disability. In studies conducted by Activity Alliance in 2018 and 2019, people with disabilities are twice as likely to be inactive as people who are typically-functioning, but 70 percent of them are motivated to be more active to maintain or improve their health.
AmpSurf provides a golden opportunity for people who want to focus on their abilities, increase their mobility, and engage with a sport that has life-changing potential. SLO CAL and Pismo Beach are proud to be the headquarters for such an impactful organization and all the people with disabilities around the world who have made surfing their own. For more information on AmpSurf, including details about VetSurf/SOS, instructor clinics, methods, chapters, and the International Surfing Association World Para Surfing Championships in Pismo Beach this December, head to ampsurf.org.
Cover image courtesy of: Sean Evans