Meet SLO CAL's seaside animal ambassadors this winter
While the winter months mean long naps for some animals, the coastal creatures of SLO CAL are wide awake and ready to meet your acquaintance. The offseason is the best time to explore SLO CAL's unhurried beaches, where you'll encounter vibrant wildlife around every aquamarine wave, fragrant Eucalyptus tree and sandy bluff. From majestic whale sightings that inspire gasps of awe to the enchanting flutter of a thousand Monarch butterfly wings, one thing's for certain: In SLO CAL, hibernation is so overrated.
Slow down for dolphins at play
As intelligent as they are beautiful, humans have harbored a long love affair with the charmers of the sea. These fun-loving mammals prefer open water and are known to dodge in and out of waves as if to outdo each other. What fun to watch! Only have a short visit in SLO CAL? You're in luck. Dolphins are commonly spotted frolicking in the waves along the entire stretch of Highway 1, so wherever you end up, you're likely to spot a pod.
Wild idea: Rise and shine and cast a line. The historic Cayucos Pier is the perfect place to take in a quiet sunrise with your fishing pole and a hot cup of coffee. You'll also likely see dolphins (and surfers) reveling in the epic winter surf.
Sea otters out to lunch
One great way to spot an adorable family of furry otters in SLO CAL? Look for floating kelp beds. These patches of vegetation act as protective habitats. Otters are known to hang out on their backs, but they're nothing if not industrious. A pair of binoculars reveals nimble fingers hard at work preparing a meal. Watch the otters as they utilize rocks to open up delicious clams, urchins or crabs. Anyone else getting hungry?
Wild idea: Avila Beach offers up a warm balm for the winter blues. Sink into a natural mineral spring tub at Sycamore Mineral Springs, then stroll the beach and take in the calm protected bay, where friendly otters are known to bob in the water.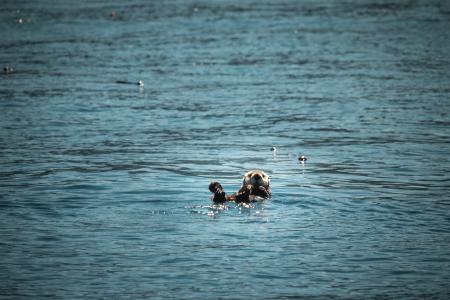 Elephant seals, the original soap opera
Once you spot a male Elephant Seal for the first time, you'll understand how he got the name (his nose is trunkish, to say the least). A cruise north up Highway 1 is incomplete without a stop at The Piedras Blancas Elephant Seal Rookery in San Simeon, where you'll get an up-close view of the daily trials and tribulations of these fascinating animals. Depending on the season, you may see males challenge each other to a scuffle or even witness a birth! October through March sees an uptick in population, so winter is a fine time to tune in.
Wild idea: Tour the nearby Piedras Blancas Light Station before taking in the endlessly entertaining saga that is "Life with the Elephant Seals." Yes, there is a Web Cam, too!
Behold the beauty of butterflies
One butterfly is pretty. Thousands? That's a downright otherworldly sight. The Monarch Butterfly Grove in Pismo Beach is the place to catch these ethereal insects soaring. More than 10,000 butterflies migrate to this locale annually, escaping cold weather in favor of SLO CAL's temperate climate (just like many of our human visitors). From late October to February, you'll find the most to marvel over. Expect to see endless butterflies clustering amongst the limbs of towering Eucalyptus trees.
Wild idea: Keep the peaceful vibe flowing. At the southern end of SLO CAL, within the Oceano Dunes State Vehicular Recreation Area, you'll find the Oso Flaco Lake Natural Area Preserve. With a river, freshwater lake, dunes, sweeping ocean views and an array of flora and fauna, you'll walk through a waking dream.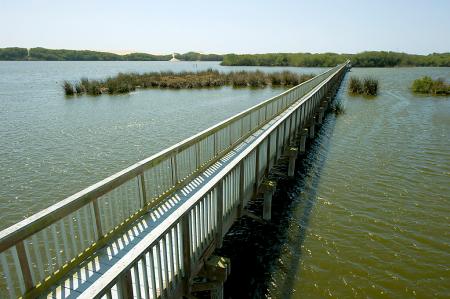 Join the flock
Birders flock to SLO CAL for a reason: the entire region is rife with winged wonders. One of the largest state parks in California, Montana de Oro in Los Osos offers up an abundance of seabirds to catalog. Be sure to bring your binoculars (and check out the tide pools beneath your feet)! We recommend checking out "Pecho Road Willows," a primitive trail that offers a number of rare birds throughout the year, including the Yellow-rumped Warbler, Black-bellied plover and Great Egret.
Wild idea: Every Martin Luther King weekend over 500 birds visit Morro Bay to see, photograph, and swap their latest glory stories. Interested in learning more about birding? The next Winter Bird Festival, scheduled for January 17-20, 2020, is a great time to visit SLO CAL (more than 200 species are usually sighted during the festival weekend).
Be there for the big breach
Regal, gentle and altogether magnificent, whales have a way of igniting our imaginations like no other animal on earth. In SLO CAL, you might see any number of species, like blue whales (including Humpbacks, Bryde's, Sei, and Minke whales) and more commonly spotted Gray whales, which usually migrate south from Alaska October through early spring. This winter, you'll also want to keep an eye out for more sealife, including dolphins, California sea lions, harbor seals, and sea otters.
Wild idea: Visiting Hearst Castle this winter? The Old San Simeon viewpoint, located at the San Simeon Bay Pier overlooking William Randolph Hearst State Beach, is a superb spot to watch for a massive dorsal fin or fluke emerge from the sea. You'll also want to check out the Whale Trail, your one-stop source for all places to whale watch in SLO County.
Your pass to undersea discovery
Explore an aquatic world filled with colorful characters, including playful seals, glowing jellyfish and steely-eyed sharks. From Ragged Point and Cambria in the north to Avila Beach and Oceano in the south, you'll find more than 40 special events celebrating undersea life. It's all part of the annual Coastal Discovery Celebration, which welcomes visitors to dive head first into local marine culture. As you traverse scenic Highway 1, you'll enjoy food and wine tastings, Stewardship Travel for Good activities, and special events like "Sharks After Dark" at the Central Coast Aquarium. Anyone and everyone is welcome to take the plunge.
Wild idea: Paddle back in time with professional kayak guides to the 125-year-old fully restored and quite beautiful Point San Luis Lighthouse in Avila Beach. Bring your adventurous spirit and interest in California mariner history – no kayaking experience is necessary and beginners are welcome.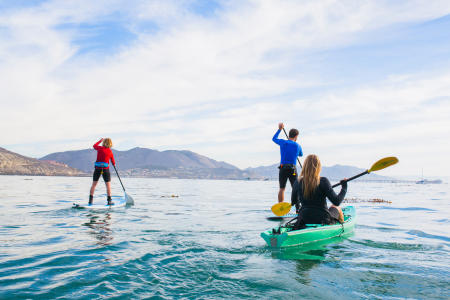 Tips for Wildlife Viewing along Highway 1
Don't blink! Wildlife sightings are unpredictable and exciting, but also require a level of patience and planning. Follow these tips to maximize your wow.
- Go for a stroll outside during dawn, dusk and incoming tides, when birds, fish and mammals are active. Be calm and collected, as a state of relaxed alertness is the best way to ensure you don't scare off any new friends.
- When kayaking, keep a slow, steady paddling rhythm. You're more likely to have curious seals, otters, or dolphins approach you for a joyful "hello."
- Use binoculars, spotting scopes, and zoom camera lenses to see wildlife action "up close at a distance." If you do snap a shot and post it, tag us #SLOCAL for a chance to be featured.
- Look for animal tracks and droppings (scat). Large birds like ospreys, hawks, vultures, and cormorants leave noticeable white droppings (whitewash) on bushes, trees, sea cliffs and rocks. When you see this, lookup to find where birds roost or nest.
- Low tide exposes fascinating and fragile life on the rocks. Venture carefully on rocks for a close-up peek into the exciting tidal world of animals feeding, interacting or waiting for the incoming tide.
- Look for whales when seas are calm. Keep your eyes peeled for whale spouts or blows, tail flukes and dorsal fins. Big splashes may indicate a whale has just breached.
See even more SLO CAL wildlife viewing tips here.