SLO CAL born and raised, Dylan Efron shows off the county that he and his brother Zac Efron call their hometown. During his video series in SLO CAL, Dylan explains: "I really believe growing up here shaped me into the person I am today." See why this undeniably beautiful location gave Dylan his love of adventure and witness the magic it held for his big brother Zac to turn his talent to stardom. Come along as Dylan shares their favorite "world-class" hometown spots and discovers there is a diverse freshness of activities and gastronomical delights which he is thrilled to share with his family, including his charming little sister Olivia and the newest Efron brother, Henry! 
Dylan Efron's Excellent SLO CAL Adventures: 
Walk in the footsteps of Dylan's favorite places growing up that made him who he is today!  Find out why Dylan calls SLO CAL the perfect place for:
 
Cinematic Hiking: "SLO CAL showing off!" 
Serenity Swing Hike: A three-mile hike above Dylan's alma mater Cal Poly SLO leads you up through grassy meadows to possibly the most dreamy and instagrammable location in San Luis Obispo any time of day; however sunrise and sunset are hard to beat for the perfect picture. Follow Dylan's tip and bring a picnic or hike with your four-legged friends or if you are up for a challenge, hike one of the  "Nine Sisters," stunning volcanic mountains, between SLO and Morro Bay.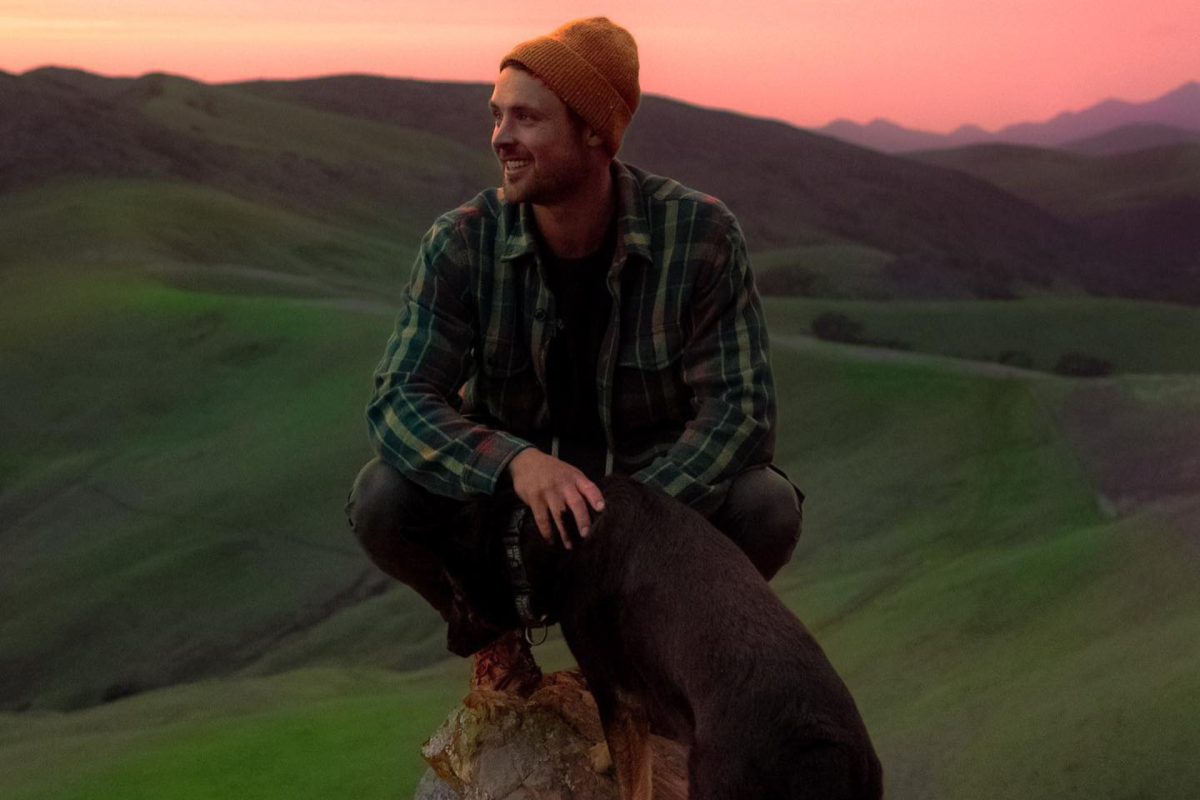 Photo credit: @dylanefron
SLO CAL Farmers Markets: "A farm stand that has been around for generations"
San Luis Obispo's Historical Original Farmers Market: Dylan supports local farmers at Hayashi Fruit Stand, buying some juicy SLO CAL strawberries. There is a market every single day of the week in SLO CAL moving from town to town, however every Thursday night on Higuera Street, in the heart of downtown SLO, is the premier farmers market, serving up every good smell, sight, sound and culinary flavor! Truly an experience for the senses not to be missed. Take the time to listen to local musicians and come hungry to feast and sample offerings from SLO's sundry of farm-to-table delights. Pop into tiny Bubble Gum Alley where you can dare your friends to touch their tongues to the walls like Dylan (a local tradition). 
Walking through the past: "The Last California Beach Town" 
Cayucos Beachfront and Main Street: Easy beach access for anyone. Excellent for families with small children. Dylan likes to dip his little sister Olivia's feet in the gentle waves while their Dad, David Efron chases his brother Henry before he reaches the surf. Oceanfront playground, great places to eat, and lots of antique shops make this a fun stop for the whole family, especially for the surfer in the group.
Discovering one of California's most iconic landmarks: "A great way to spend the day"
Morro Bay Harbor:  Dylan calls Morro Rock "one of the most iconic landmarks on the California coast" and it's one of the most photographed places in California. The protected harbor it marks offers all kinds of water activities and wildlife sightseeing. Dylan enjoyed e-foiling for the first time with Central Coast Lift before renting a kayak to explore the bay further from Rock Kayak. Don't miss other activities that leave from the harbor, like whale watching or e-boat rentals within the harbor as you see the laissez-faire life of wildlife, like sea otters and sea lions.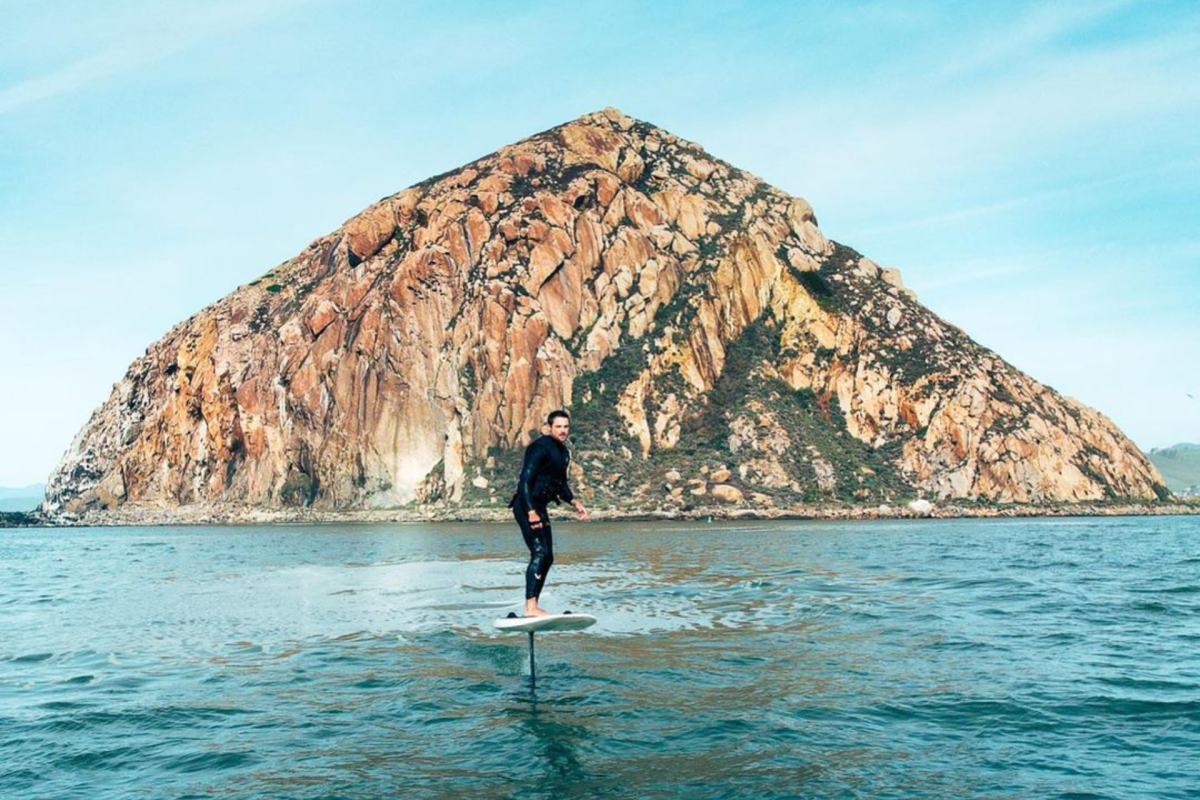 Photo credit: @dylanefron
Morro Bay Estuary: Walking inside "a big heart or lung"
Morro Bay State Park Estuary Boardwalk: A leisurely loop of about half a mile on a "cool little walk" where from a seemingly floating boardwalk you can see the birdlife and tides of the estuary up close. A great warmup or warm-down walk before you hit the scenic gentle slopes of SLO CAL's most iconic Morro Bay Golf Course, right next door, or hike in the beautiful landscape of Montana de Oro on the other side All of this is right next to the equally unique Elfin Forest to walk in a magical fairyland.
Oso Flaco Lake: Catching "favorite little hikes – The world is your playground out here"
Oso Flaco Lake: Intimate boardwalk trail over a lake and through the ocean dunes that ends with an amazing, usually private, beach vista. Known by Audubon Society members for being the best birding in the area with nearly 300 bird species reported, including Western Snowy Plover and American Peregrine Falcon. This is also a close destination to the Pismo Monarch Butterfly Grove to catch sight of this silent species, especially in the winter months.
Clark Center for the Performing Arts: "Performing Arts Center is where Zac first started acting"
Clark Center for the Performing Arts: Located in the quaint village of Arroyo Grande this modern, two-theater facility hosts local and touring concerts and theatrical productions. For regular acting productions, travel just down the road in Oceano to the locally-loved Great American Melodrama. For all ages, this cabaret-style evening will be full of laughter and yummy food. Get tickets to a show and see the next big superstars before they hit Hollywood!
Pismo Beach & Pier Plaza: "The whole family on a Sunday riding little bikes, That's Pismo Beach for ya"
Pismo Beach & Pier Plaza: A great place for fishing, shopping, or watching the sunset. Lots of equipment rentals if you've left yours at home! Challenge your friends and family to a game of bowling or billiards with a side snack of frog legs, then bring the kids to the newly renovated Whale Surfing Playground. Keep your eyes open for whale sightings all along SLO CAL! Rent surrey's, e-bikes and cruisers and more with local vendors offering tours, like Momentum Sports. 
Moondoggies Beach Club: "If I was gonna buy a local piece of clothing from any store, it would be this"
Moondoggies Beach Club:  This local surf shop has multiple locations in SLO CAL and is known for its easy California cool style. Offering their iconic warm thick hoodies and quality T-shirts that last, as well as a smattering of surfboards and wetsuits and everything you'd need for a day at the beach. Moondoggies is a must-shop stop.
Dylan Efron's "World Class" SLO CAL Cuisine:
Giant Deli Sandwiches and Subs: "Best sandwich in SLO!"
High Street Deli: Light into High Street Deli to try the sandwiches that got Dylan through college. See which sandwich he calls "the bomb" and why he recommends going at 4:20 pm (when sandwiches are even cheaper). A great stop to grab a picnic lunch before you hit the trails or beach! And now with their second location in Los Osos/Baywood, there are even more convenient spots to dine in or take out.
SLO CAL Barbecue: "Lemme get one bite for nostalgia's sake!"
Firestone Grill: A downtown family-friendly legendary classic that Dylan has deemed a "world-class" BBQ. Taste the famous Firestone Tri-Tip, which Dylan is craving, and why he says: "This is where I tell everyone to go." Don't forget to try Dylan's college days order of "The Pig"-- a pulled pork sandwich that can rival any American BBQ across the United States. Enjoy the corner patio and people watching or one of the games on the many big screens inside. 
Liquid Nitrogen Ice Cream: "It's so creamy"
Nite Creamery: Dip into Nite Creamery for the drama of a nitro-crafted ice-cream delight that looks as creamy and delicious as it tastes. "World Class" for creaminess, they say. Central Coast Crunch, Roast Malone, or Dolce & Banana are some of the amazing flavors offered for a quick pick-me-up sweet lullaby treat in the quaint shopping square of San Luis Obispo's The Creamery.
Hidden Breakfast & Brunch Spot: "The blue corn waffle makes it taste healthier"
Hidden Kitchen: A new organic "world-class" experience for the Efron Family. Dylan highly recommends the healthy taste of the hand-pressed blue corn waffles named after local SLO CAL spots. They offer a variety of savory or sweet toppings and combinations. They even offer both in one with bacon, grilled banana, peanut butter and maple syrup named the Weirdos Waffle after a Cambria surf spot where they have their original location (too good not to share). Note for travelers: tacos are only available at their Cayucos location.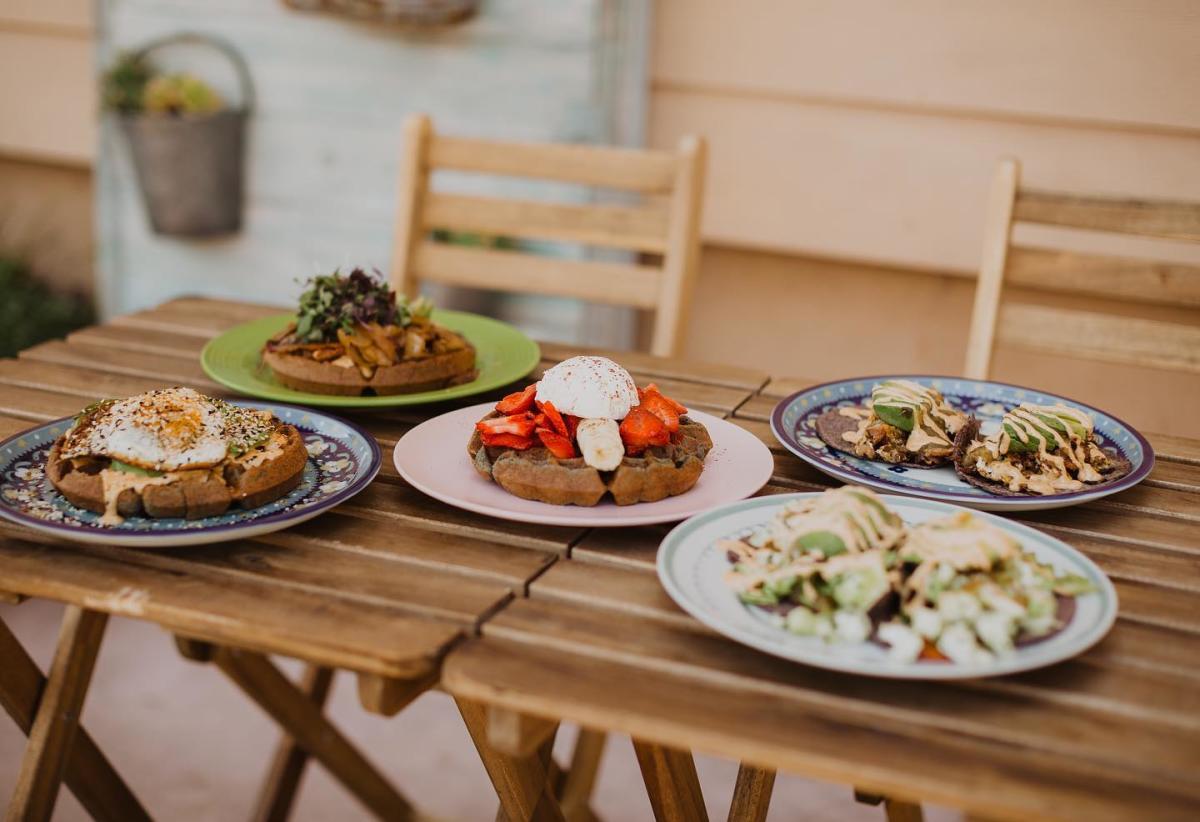 Photo credit: Hidden Kitchen
Cave Wine Tasting:"This is Crazy, This is like a James Bond Room!"
Booker Estate Cellar Tour: The Efron family visits one of SLO CAL's newest and most special wineries where Dylan learns about Eric Jensen's 100 acres of organic farming which has an emphasis on limited production Rhône varietals. Dylan and his family experience a state-of-the-art tour and tasting in one of the newly appointed underground cellar caves, where Dylan gets to "steal" a bottle of wine to take home! Definitely a memorable must-do "world-class" wine-tasting experience for any wine aficionados. 
Homey Pizza Joint: "This is my favorite pizza of all time"
Klondike Pizza: Have you ever eaten in a place where you can throw your peanut shells on the floor? Find out why Dylan calls it the "best pizza in the world." Maybe it has something to do about him growing up in Arroyo Grande. Find his picture on the wall of Local Little League Teams from when he played soccer as a child. Thin crust pizza lovers will blow their minds on this topping heavy delicious pizza with a family atmosphere. Great for large parties and kids. And the player piano is sure to entertain!
Sweet Cinnamon Rolls: "I would always get this after playing beach volleyball…woah so much flavor!"
Old West Cinnamon Rolls: Dylan's favorite sweet treat after a game of beach volleyball in Pismo Beach is an original roll with cream cheese frosting on top. Dylan and his friend Brenden agree that it's a "world-class" cinnamon roll, wondering: "how is there that much cinnamon sugar on there?" No sharing here, get your own!
Clam Chowder: "It's been here since I can remember…It's only ten dollars and you get all this!"
Splash Cafe: Calling all clam chowder connoisseurs! With locations all over SLO CAL the original Splash Cafe in Pismo Beach serves their "world-class" Pismo Clam Chowder in a freshly baked sourdough loaf bowl with a buttery lid to dip! Show up hungry here and be satisfied for under ten dollars!!! See why Dylan can't stop smiling after one bite!
Photo credit: Visit Pismo Beach
Health Foods: "My favorite healthy spot on the Central Coast"
Joy Health Bar: Dylan takes us on a tour of his favorite, full organic menu with assorted smoothies and bowls, waffles and toasts! To fuel up for a day of activity, Dylan is drawn to the "Healthy stuff…it's good, not overly sweet." If you need a healthy quick energy boost, their in-house juices and freshly pressed elixirs will be just the thing when you're in Pismo Beach!
Favorite Mexican restaurant: "It's hard for me to eat Mexican food in [LA]"
Tacos de Acapulco: "While SLO CAL might be known for our seafood, I'd argue that our Mexican food is what stands out the most." Visit the spot where Dylan and his high school buddy Kevin Kim would "pile in cars for an easy go-to quick lunch" with friends during high school. Locally known as "Tacos De" be sure to try Dylan's favorite vegetarian especiale burrito! Dylan and Kevin agree," they haven't changed anything… just how we like it!"