You've savored a feast for the eyes! Now, for a real feast to satisfy your stomach. This year, dig into incredible culinary experiences nestled just steps from this year's SLO International Film Festival venues. Whether you plan to dine before or after the show, be sure to make room for SLO CAL's iconic farm-fresh flavor paired with local libations galore. Here's a few awesome eateries conveniently close to all the action:
1. Fremont Theater

Photo by Valeria Boltneva via Pexels
Far east: Clean, simple and fresh, expertly crafted sushi satisfies like no other. When a rainbow roll topped with creamy avocado calls your name, head to Shin's Sushi, located a few doors down from the historic Fremont Theater. Serving traditional sushi, nigiri and sashimi—plus crispy tempura, steamy gyoza and crunchy salads topped with snow crab or salmon, you can fill up completely or grab a light bite. Out west: Craving some smokey brisket slathered in tangy barbecue sauce? Nearby Mo's Smokehouse is here to quell your need for meat (and, let's be real, you've got to have beans, corn bread–all the fixings)! Tender pulled pork sandwiches, savory baby back ribs and locally beloved tri-tip are all slow-cooked to perfection. Sorry-not-sorry if you're already drooling!
Knock one back: Seeking a chill gathering place near the Fremont Theater where you can sip a craft cold one with friends? Talk over the finer plot details with your crew at Antigua Brewing Co., where it's always hoppy hour.
History on display: While enjoying the show at the Fremont Theater, be sure to marvel at this celebrated venue's unrivaled antique charm. A grand pink palace known for its flashy retro marquee, the Fremont Theater stands as an homage to the old art deco movie houses of old. In fact, this historic venue stands among the last "streamline moderne" theaters. Built by architect S. Charles Lee, it first opened in 1942 on the eve of the U.S.'s entry into World War II. Can you imagine what they paid for popcorn back then?
2. Palm Theatre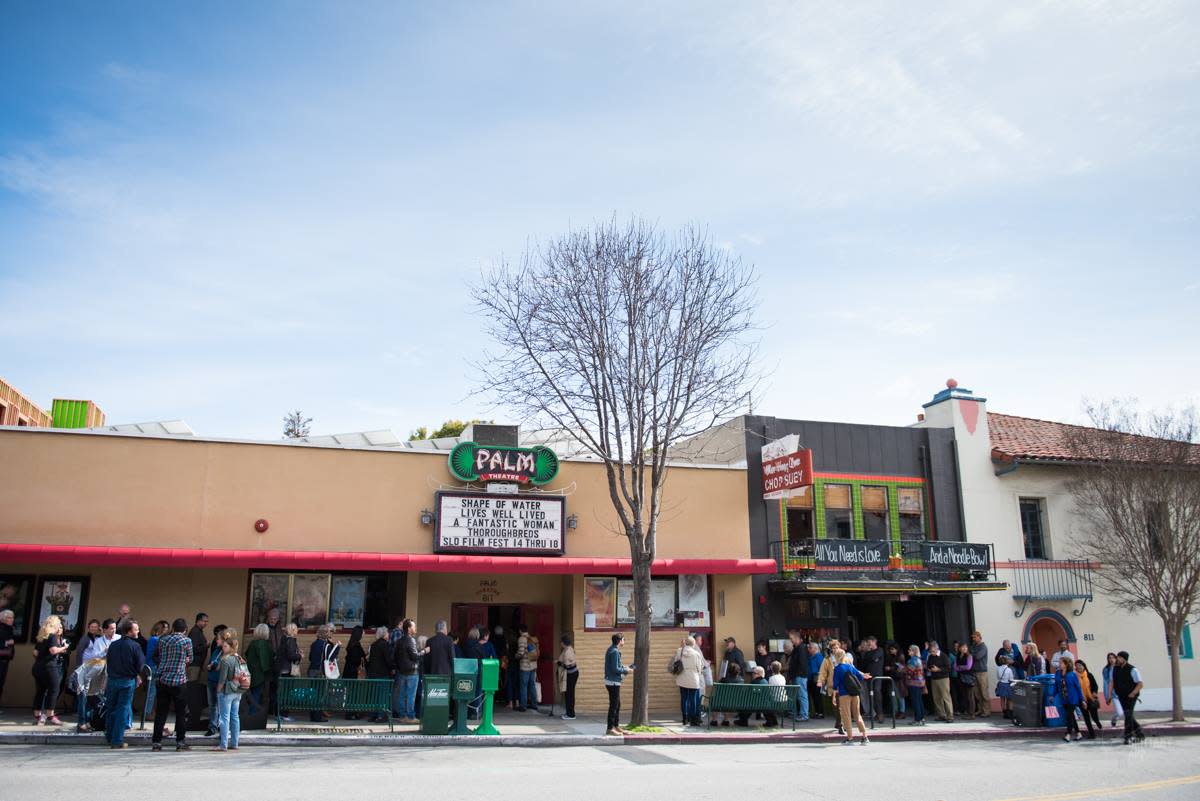 Hot noods: If a steaming bowl of noodles tickles your fancy, Mee Heng Low Noodle House is ready to wow, one slurp at a time. A relic of San Luis Obispo's historic Chinatown district, this celebrated haunt is still serving up incredible chop suey, low mein, chow mein and—of course—popular hot noodle soup crafted from a time-honored savory broth. Conveniently located next door to The Palm Theater, you can easily grab a table downstairs or upstairs, where local jazz bands are known to serenade patrons. Pick and choose: Want to claim your own flavor adventure? Just around the corner from The Palm Theater, Mint + Craft offers up a gourmet cafe and mercantile where farm-fresh flavors meet global flair. With curated grab-and-go salads, wraps and sandwiches paired alongside an extensive selection of fine locally made provisions, wine, beer and cider, you're never far from your next foodie find. Kick back on the sun-dappled patio or take the culinary experience with you! It's nice to have choices.
On a mission: Have a few minutes before showtime? Take an illuminating stroll through the courtyard at Mission San Luis Obispo de Tolosa—a sight to behold and just a block from The Palm Theater. Along the way, you might want to peek your head into SLO Museum of Art (SLOMA), which hosts unique exhibits year-round in a dazzling array of mediums.
Clink clink: Just a few doors down from SLOMA, Sidecar Cocktail Co. beckons with coveted creekside seating and crave-worthy craft cocktails. Plus, with an extensive food menu of glazed pork belly, fish tacos and garlicky brussels sprouts, you can make it more than just drinks. Why not grab a few apps?
3. Downtown Centre Cinemas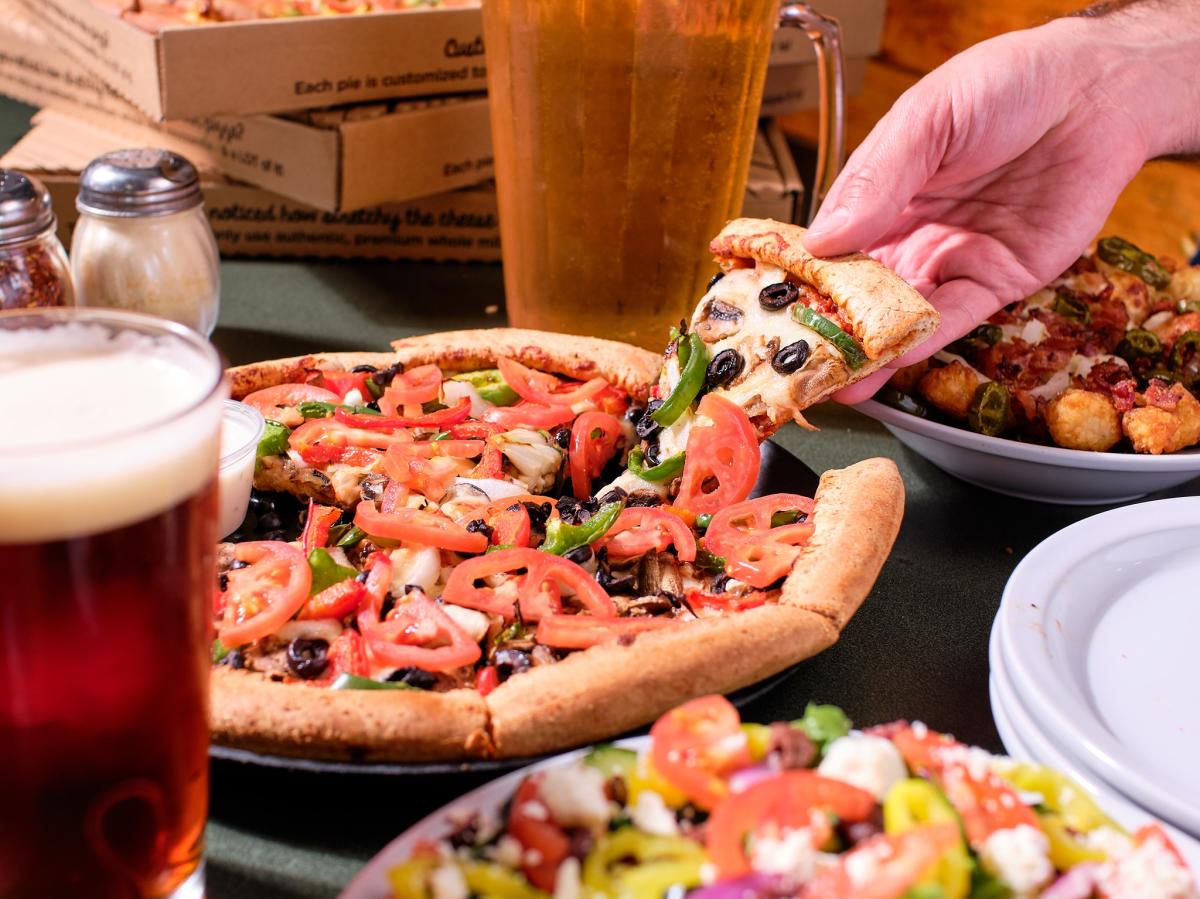 Photo provided by: Woodstock's Pizza
All the toppings: A romp through vibrant downtown San Luis Obispo is incomplete without a grub-down at Woodstock's Pizza, where college students, locals and visitors come together over cold beer and hot pies. Perhaps there's something in the dough—or the plethora of fresh toppings—that keeps folks coming back, decade after decade. With an extensive selection of craft beer, wine, cider, hard kombucha and more, you can wash down your 'za (or salad—we won't judge) in true SLO style. P.S. You can't go wrong with the Kickin' carnitas pizza, topped with southern chipotle sauce, slow marinated carnitas pork, crispy bacon, red onion and fresh cilantro! Ciao, bella: For a full range of Italian delicacies—including traditional house-made pastas, antipasti, steak and fish entrees and scrumptious desserts—no one beats Guiseppe's. Located in the heart of downtown SLO, you'll find the perfect combination of sophistication and friendliness served with a heaping side of authentic Italian heart. Carbonara, Bolognese, meatballs, wood-fired pizza, eggplant—you're the lead in this role. Go with your gut!
Shaken and stirred: With a moody, dark allure, flickering candles and luxurious mirrored ceiling, Nightcap is a swanky little bar serving vintage cocktails and small plates. Although located steps from the Downtown Centre Cinemas, you'll feel worlds away (think: an updated take on a 1960s spy movie). Sip, sit and soak in the vibes.
Chew on this: Downtown San Luis Obispo is awash in unique shops, tasting rooms, art galleries and eateries. But have you seen Bubble Gum Alley? Around here, we aim to keep it real. Proof lies in our famous alleyway encrusted with more than 40 years of...well...you'll see for yourself. Feel free to contribute to this ongoing "masterpiece!" Happy chewing.
4. Park Cinemas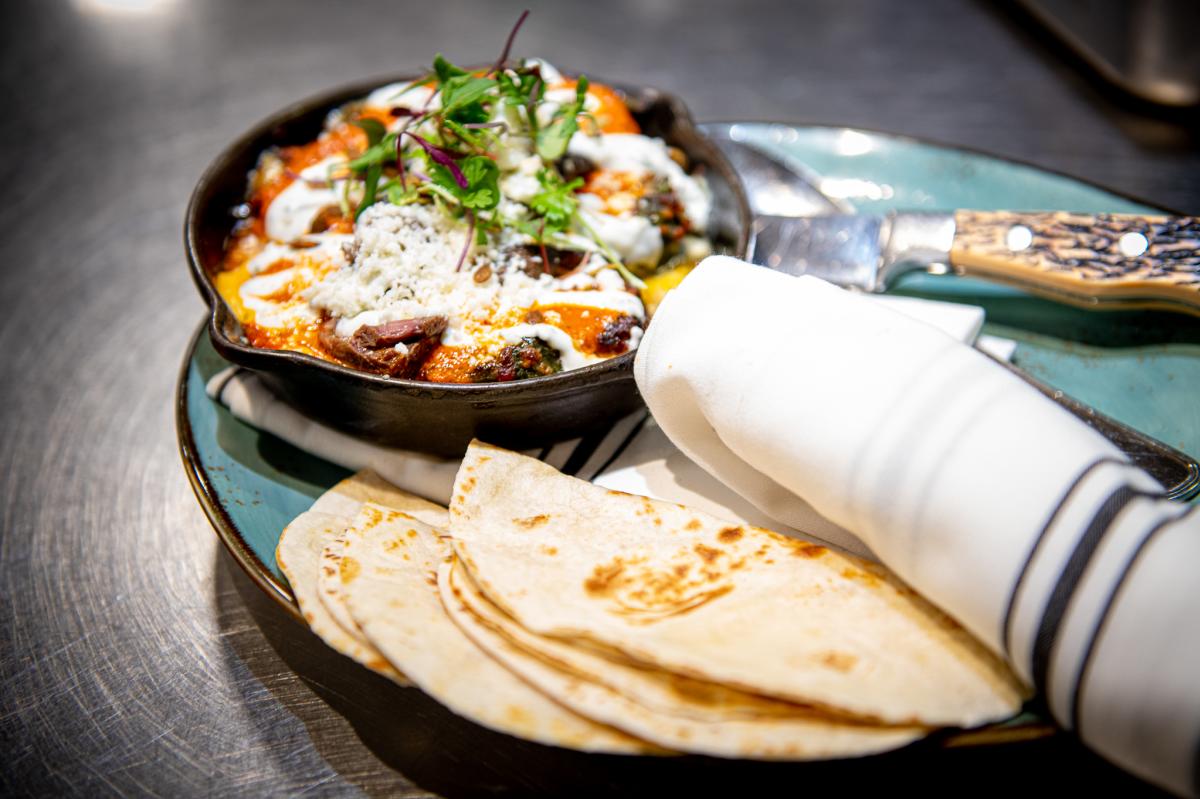 Photo provided by: Fish Gaucho
Fiesta, found: Fresh Mexican fusion cuisine and a vast list of refreshing tequila offerings make Fish Gaucho a truly festive hangout for Park Cinemas audience-goers. Located a block from the theater, you'll find an epic eatery where the guacamole and conversation flows naturally. Spicy Ahi tacos, steamy chicken lime soup, and slow-roasted steak chile verde come together with creative craft cocktails like the "Oaxacan Old Fashioned" and "Carne Colada." Now that's one drink you've probably yet to try! Farmer approved: Thanks to SLO County's year-round growing season and super temperate climate, we're able to grow just about anything (and we do). Taste the proverbial rainbow at nearby Thomas Hill Organics, where the plates morph with the seasons and the wine list is always a cut above. Located in the heart of downtown Paso Robles and home to an epic dining patio, you'll find farm-to-table freshness with none of the fussiness. House-made burrata mixed with local produce and edible flowers, crispy skin salmon topped with locally foraged mushrooms and a "hippie" bowl heaped with tofu, avocado, pickled carrots, grains and black sesame tahini? Oh yes, please!
Artful escape: A few doors down from the Park Cinemas, you'll find a buzzing artist's alcove like no other. Showcasing multi-media works by a bevy of diverse regional artists, Studios on the Park is always good for a pre or post-screening stroll! Plus, you can pick up unique gifts, including artwork, jewelry and more all crafted by local artists, too.
5. Hotel San Luis Obispo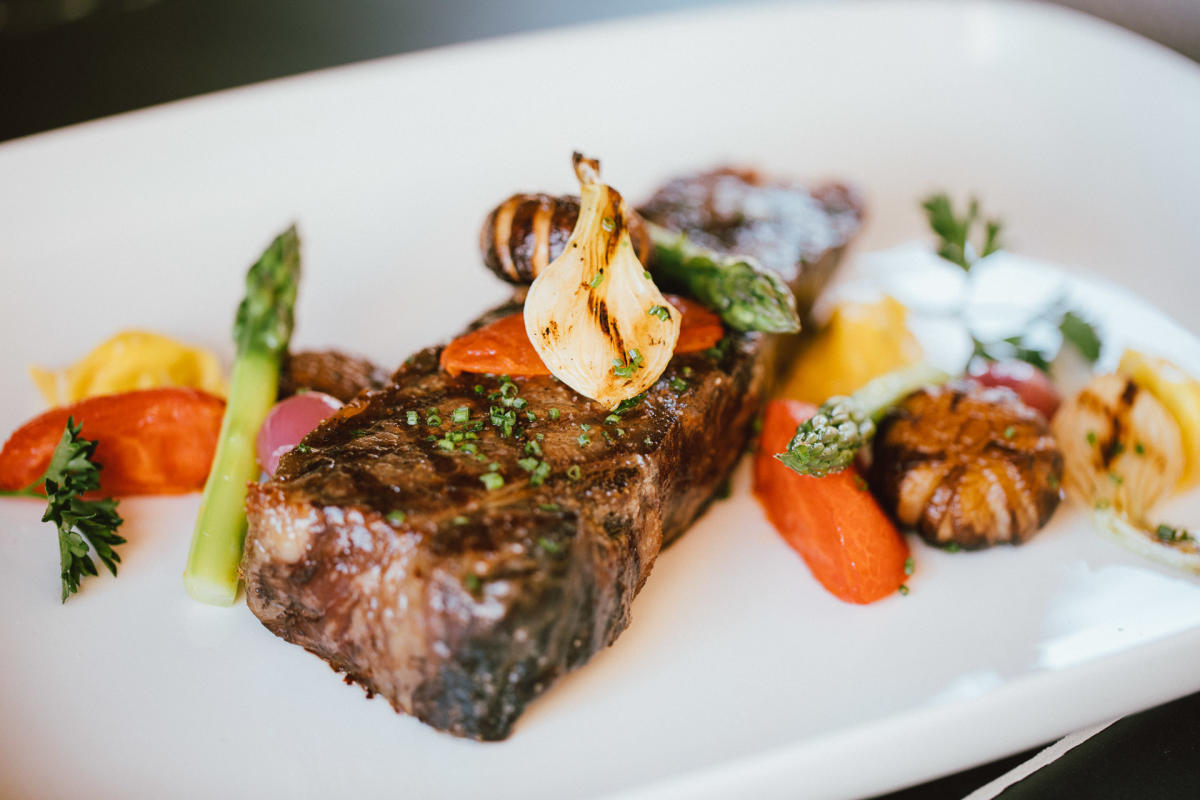 Photo provided by: Ox + Anchor
A twist on the classic: Hotel San Luis Obispo's own Ox + Anchor is more than your average "hotel restaurant." After all, Hotel San Luis Obispo is far from an average hotel! As the official host of this year's VIP Festival Lounge, attendees are encouraged to mix and mingle with filmmakers and fellow festival-goers (no room reservation required). Plus, you can savor a revamped spin on the classic steakhouse experience at Ox + Anchor, where Chef Ryan Fancher shines a spotlight on the most luscious local ingredients. Sure, you can order up fab filet mignon, an excellent ribeye or a 10 ounce Kobe flat iron steak that'll make you weep with joy—but have you tried the bone marrow tater tots and truffle fries? Belly up to all this and more without stepping far from this awesome film fest venue! Keenly crafted: To call yourself a "crafthouse," you need to be crafting up some major flavor bombs, right? Well, nearby Finney's Crafthouse knows a thing or two about tantalizing taste buds (namely, the chef firmly believes that more is always more). Juicy made-to-order burgers, hefty salads, fantastically fried apps and comfort grub all shine when paired with local wine, beer and cocktails. Not sure what to order? Grab a mess of chicken wings and call it a day. Choose from a myriad of flavors: yuzu buffalo, garlic parm, Nashville hot, chipotle barbecue, Cajun seven spice or mango habanero. What a delicious conundrum to have!
Live action: You love going to the movies, so chances are you might also enjoy live theater, too. The SLO Repertory Theater is ground zero for brilliant plays, including comedies, dramas and experimental productions. Check out their seasonal offerings and tell 'em we sent you!