U-pick apples, friendly farm stands and surprising "ag-ventures" ripe for the tasting along Highway 1
There's a little farmer in all of us. This fall, roll up your sleeves and get growing! Find fertile fields, rugged ranches and friendly farm stands along Highway 1 along the SLO CAL Coast. From apples and avocados to oysters and wine, you'll be surprised to discover the diversity—and decadence—this sun-soaked agricultural wonderland has to offer. With a long, temperate growing season, there is no limit to what we can grow (and eat) in SLO CAL. Go on: pick your own pumpkin, get your boots dirty on a farm tour and sample just-picked produce. From harvest to bud break, peak season pleasure awaits along the SLO CAL Coast.
Lively Livestock in San Simeon and Cambria
Ranchers raise happy herds by the sea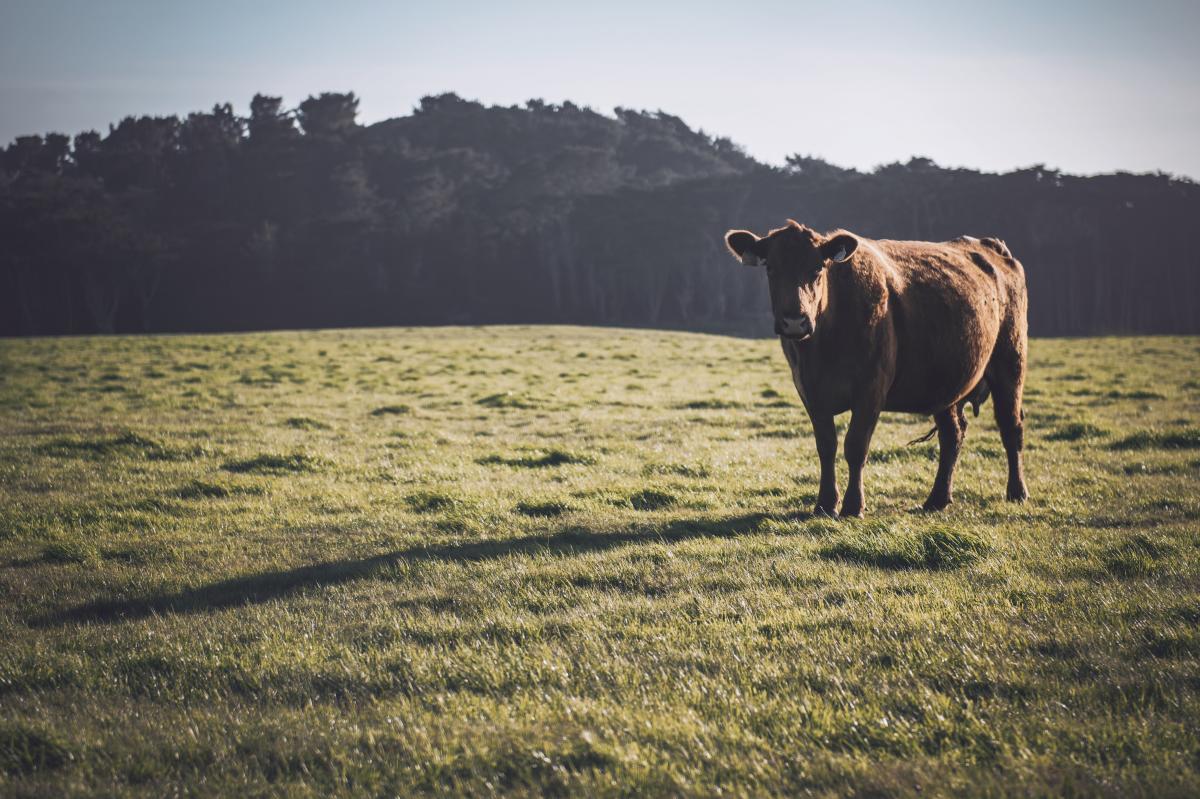 San Simeon Grazing. Photo: Tim Mossholder
We found the beef: You may not think "beef" when you think "Hearst," but that'll change once you sink your teeth into a juicy, free-range Hearst Ranch burger. One of America's oldest and largest working ranches, Hearst Ranch in San Simeon is one of the nation's largest single-source producer of grass-fed beef. If you ask us, that's almost as impressive as Hearst Castle's glittering art collection! The 83,000 acre ranch is not open to the public, but if you drive by on Highway 1, you just might just spy a zebra or two hanging with the coastal cows. You guessed it: they are the famous descendants of William Randolph's Hearst's private zoo!
Juicy tidbit: Take home your own slice of Hearst Ranch history when you order online. Hearst Ranch beef is also available via Larder Meat Co.'s "Mixed Grass-Fed Box." Alternatively, find Hearst Ranch beef in late spring and summer at 41 Whole Foods Markets across Southern California. Need something to pair that meaty morsel with? Pop open a delicious local wine courtesy of Hearst Ranch Winery in Old San Simeon.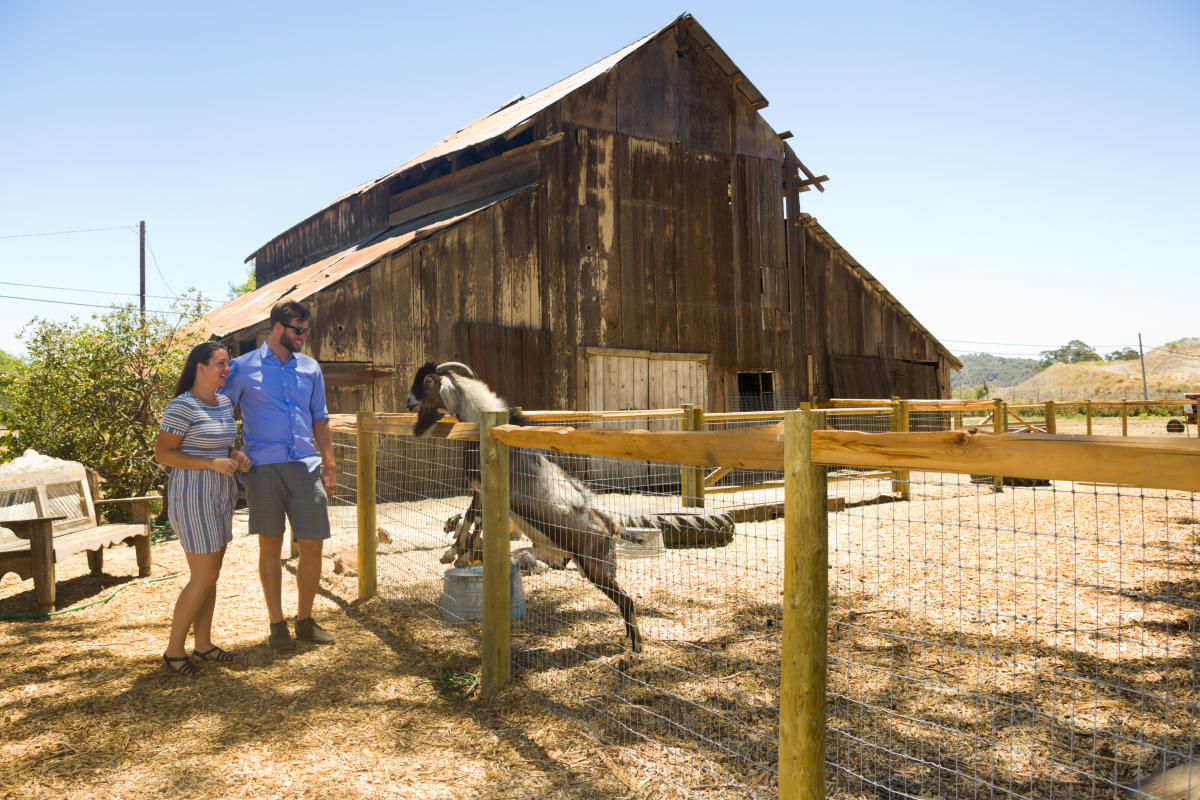 Get your goat: Serene Cambria is known for moonstones, seabirds and sweeping coastal vistas where pine trees meet the sea. Goats? Not so much. However, at Stepladder Creamery in Cambria, you might just see more goats than people! Take a tour of this working creamery and avocado farm and meet the personalities behind the dairy (they love to prance, jump and generally get into mischief). The happy herd of LaMancha goats graze on three acres of open pasture and oak woodlands, making their cheeses particularly delicious.
Juicy tidbit: A trip to Cambria is incomplete without a leisurely stopover at Linn's Farm Store, open seasonally. The old homestead, that spawned Linn's culinary legacy (including Linn's Restaurant in downtown Cambria), is flanked with stoic sycamore trees. Take our advice and try a slice of olallieberry pie, a local delicacy.
Savor the Sea in Morro Bay and Cayucos
The catch of the day is always fresh and flavorful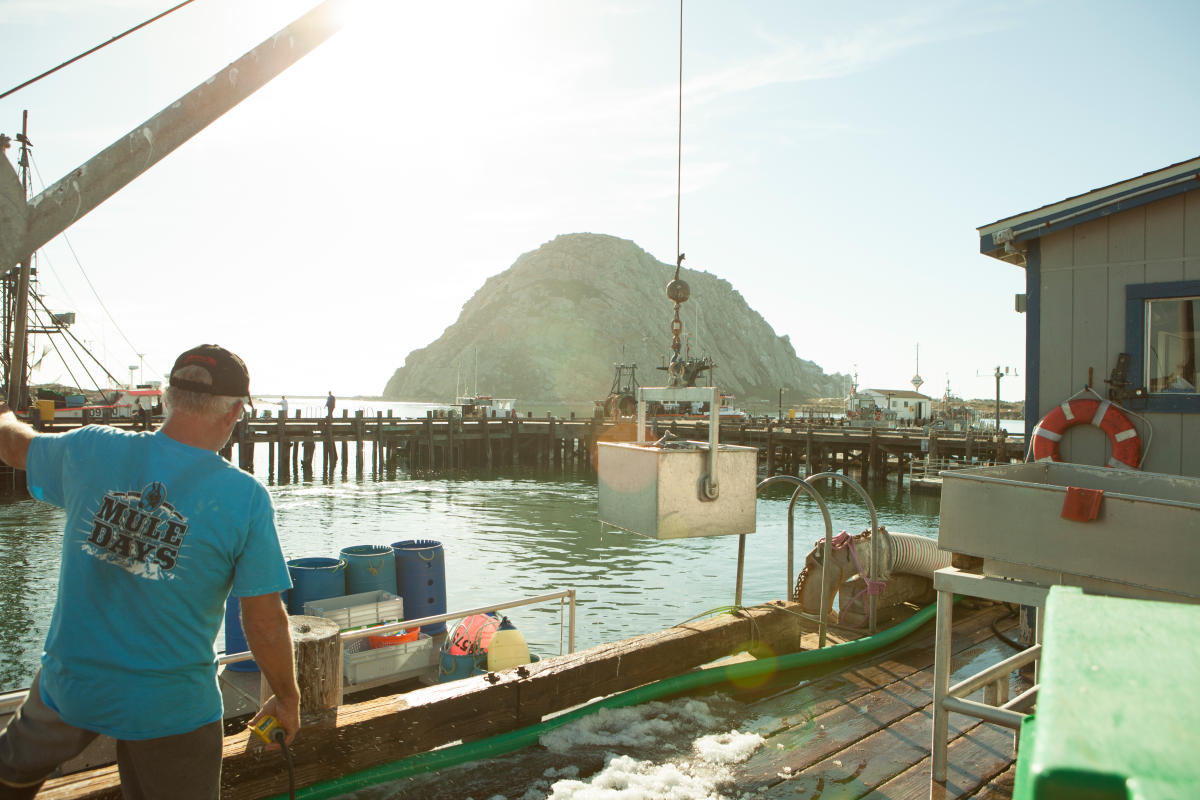 We know how to make a splash: Local seafood is truly a delicacy along the SLO CAL Coast, so be sure to check out the catch of the day in Morro Bay and Cayucos, where local fishermen haul in sea bass, halibut and rockfish. Stop by a time-honored seafood restaurant like Giovanni's fish Market in Morro Bay, and see what's fresh now. Oysters are also raised in these calm waters, which—thanks to a unique aquifer that mixes fresh and salt water—give these shellfish a "merroir" all their own (yes, that's a marine version of terroir, or "the essence of the place"). Just try a few Pacific Gold Oysters from Morro Bay Oyster Company and taste the difference.
Juicy tidbit: Dozens of eateries nestled along SLO CAL's coast serve up fresh finds caught in local waters, including Ruddell's Smokehouse in Cayucos and Robin's Restaurant in Cambria. In SLO CAL, your dinner is served just off the boat!
Surprising Bounty in Los Osos/Baywood Park
Los Osos and its beautiful back bay is full of edible surprises
Brookshire Farms Corn Maze. Photo: @osephotos
Treat the tots to all the fall fun. Brookshire Farms, located just a few miles from Los Osos, is a coastal harvest hangout sprung from a child's imagination. A popular stop for the young and the young-at-heart, this fall haven boasts a pumpkin patch as well as an ingenious corn maze (open Tuesday through Friday from noon to 6 p.m. and Saturday and Sunday from 10 a.m. to 6 p.m.). What better way to kick off the season than picking out a cartful of perky orange pumpkins?
Juicy tidbit: You've been warned! Your kid (or husband) may never want to leave the grounds. With grain cart rides, pedal carts, corn hole, a hay climb, a hay maze and plenty of games, it's easy to lose a few hours time. No big deal, just make sure to grab a wrist-band for an all-day experience!
Forage the depths: Did you know that just outside Los Osos-Baywood Park you'll find some of the best seaweed foraging areas in the nation? A bevy of edible seaweed varieties thrive along this scenic stretch of Highway 1, including wakame and nori. Marley Family Seaweeds can get you better acquainted with the concept of dining on underwater foliage during a seaweed foraging tour. Yes, this ancient superfood is not only nutritious—it's totally delicious.
Juicy tidbit: Bring your sunblock and a pair of water shoes because you'll be heading to the beach! Along the water, you'll learn how to forage for seaweed yourself. Feel free to work up an appetite (you'll end the tour with a steaming bowl of delicious traditional Japanese ramen).
Garden Gourmet in SLO
Culinary-minded farms are all about reimagining how you drizzle, sprinkle and savor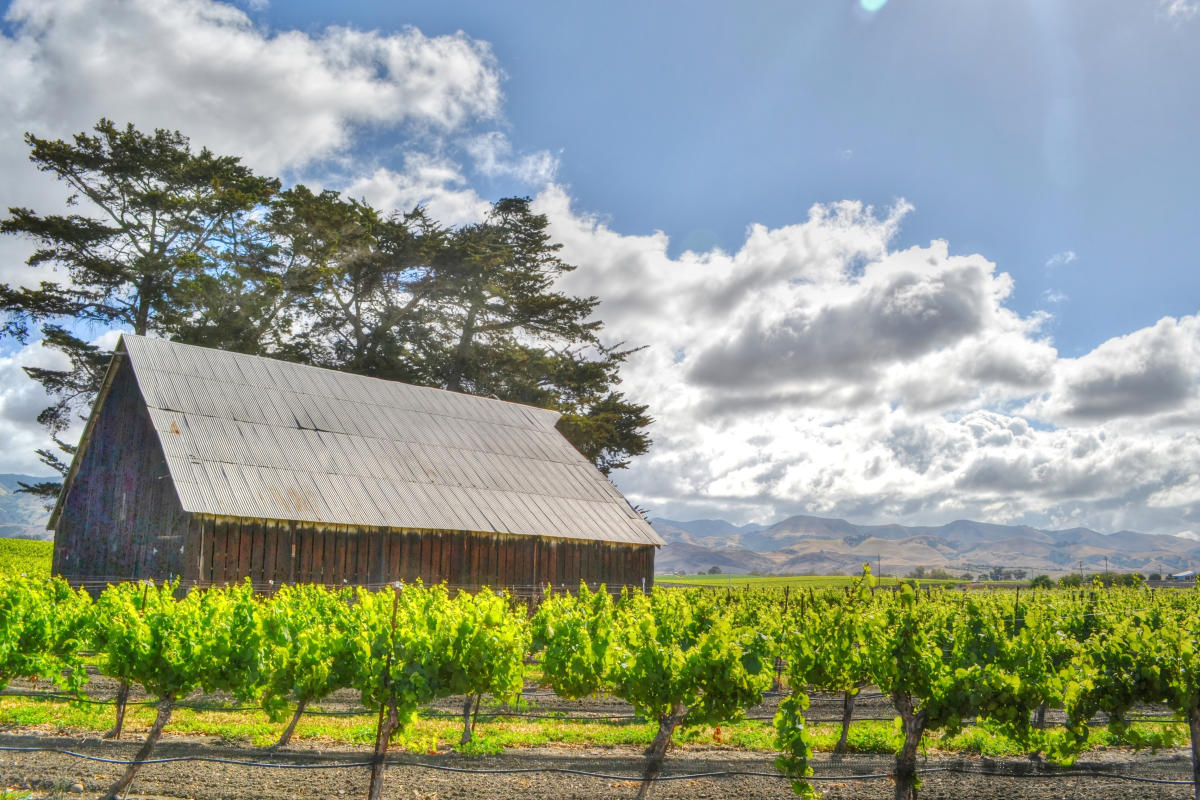 A golden opportunity: Tucked back into a small canyon in SLO Coast Wine Country's Edna Valley, Tiber Canyon Ranch is a wonderland for olive oil lovers. I mean, everything's better with a drizzle, right? Enjoy olive oil tasting in the ranch barn, check out glass-blown art throughout the space, and marvel at the views featuring native oaks and manzanitas. Note the 50 acres of olive trees, including leccino, frantoio, coratina and pendolino varieties — all of Italian stock. Pick up a few bottles of Tiber Canyon's fabulous Tuscan olive oil and know that you have all your holiday gifts covered this year.
Juicy tidbit: Thanks to a mild coastal climate, Tiber Canyon Ranch's olive trees are known to produce some of the finest olive oils available in the Golden State. In fact, Tiber Canyon Ranch oils are certified each year by the California Olive Oil Council. This is not your everyday cooking oil, that's for sure.
Rub elbows with chefs, farmers and locals. Known as the "biggest little farmer's market" around in non-COVID times, locals love the vibrant farmer's market hosted between 8 a.m. and 10:45 a.m. each Saturday at Madonna and Dalidio roads in San Luis Obispo. Farmers sell deliciously ripe produce while vendors offer artisanal goods and scrumptious meals ready for devouring. You'll even find salsa, bread, cheeses and pre-made soups!
Juicy tidbit: Did you know that there's usually a farmer's market happening along the SLO CAL coast? Whether you prefer to wake up early to shop for fresh veggies or enjoy an afternoon stroll through the produce bins, you can take the farm-to-table experience into your own hands.
Pick your Pleasure in See Canyon
Each fall, cool coastal orchards open for apple picking and tasting fun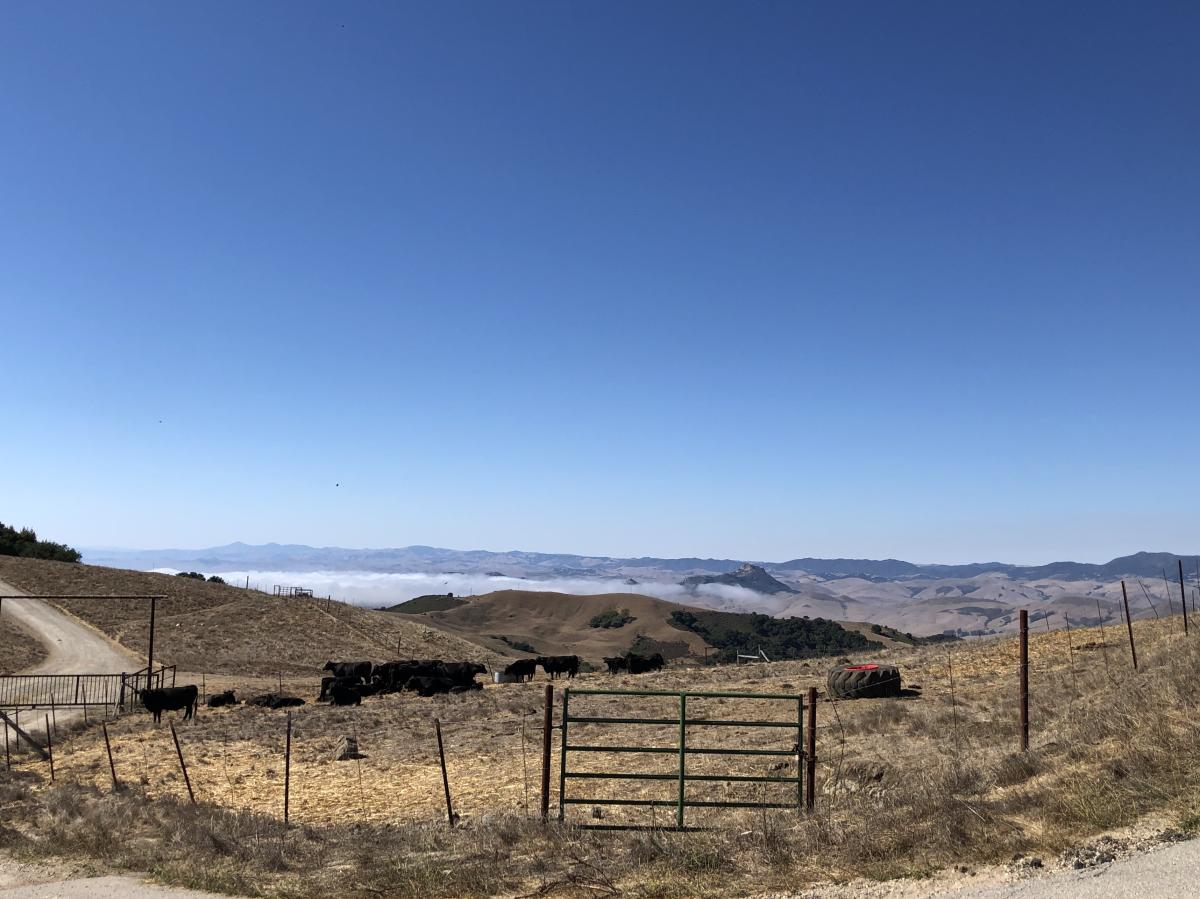 Juicy tidbit: If traveling from San Luis Obispo to See Canyon, consider taking Prefumo Canyon Road. You'll cruise through a storybook landscape of lush, green hills, climbing higher as you go. Pack a picnic and take in a sunset at the top of the world. Below, you'll enjoy an astonishing view of San Luis Obispo, Morro Rock, and the Pacific Ocean.
Friendly faces abound at this whimsical barn. With happy farm animals, homemade pies and sweet barbecued corn, Avila Valley Barn is a must-visit for fun loving families looking to get their wiggles out. Each fall, apples ripen to perfection and the U-pick stand overflows with unusual pumpkins and gourds. Whether you pick up a box of apples, some farm-fresh jam or a jug of fresh apple cider, you'll leave feeling bountiful (hours are 9 a.m. to 6 p.m. daily). Don't forget to say hello to the petting zoo of goats, chickens, pigs, donkeys and cows!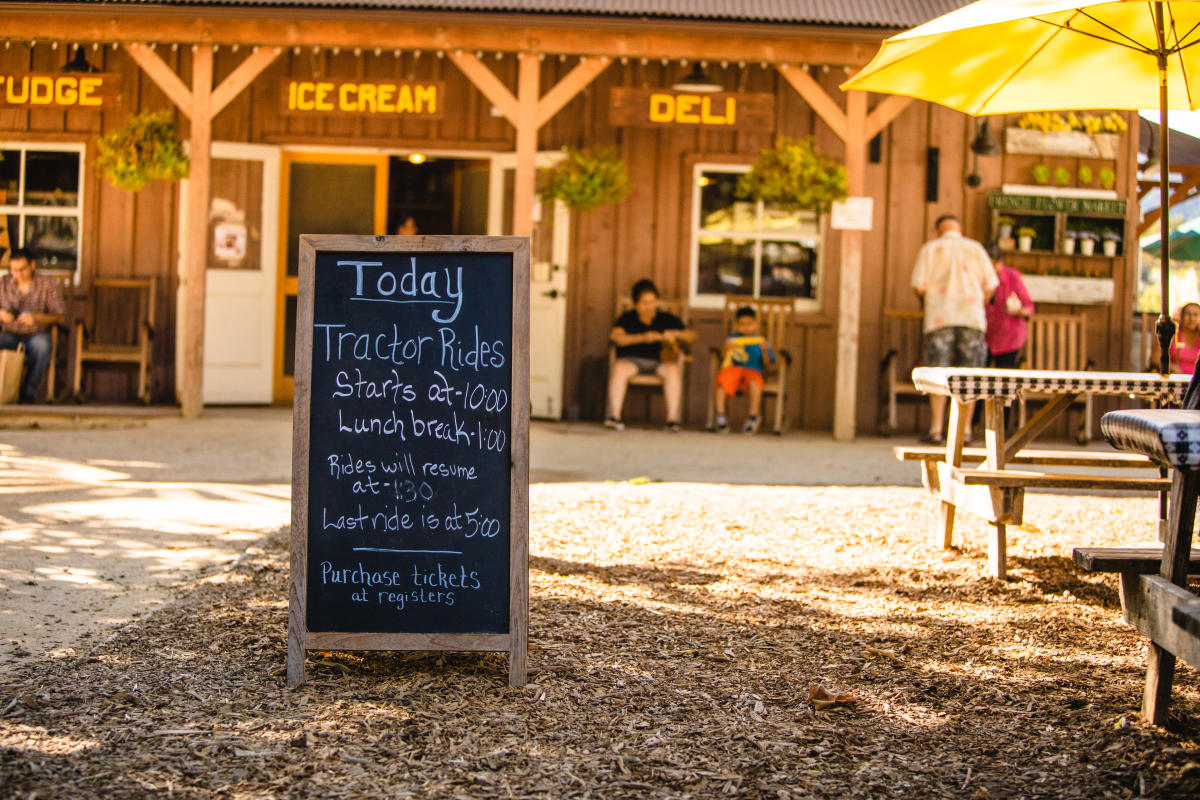 Juicy tidbit: Tummies grumbling? Avila Valley Barn offers barbecue Thursday through Monday from 11 a.m. to 6 p.m., roasted corn Thursdays through Monday from 11 a.m. to 5:30 p.m. and a sweet shoppe open daily from 10 a.m. to 6 p.m. Go on, get your grub on.
Discover dozens of flavors. With over 65 varieties of apples planted at nearby Gopher Glen Apple Farm it's no wonder that these crunchy offerings change hour-to-hour. Aside from unique heirloom apples, you'll also find fresh apple cider and hard cider, plus fall squash, gourds and avocados (the apple stand is open from 9 a.m. to 6 p.m. Monday through Saturday and from 10 a.m. to 6 p.m. on Sundays).
Juicy tidbit: Adventurous eaters wanted! Enjoy old fashioned varieties like Rhode Island Greening, Skinner and Missouri Pippins alongside uncommon varieties—including some new and never-before-tasted. Go forth and crunch into greatness!
Greener in Arroyo Grande
Flanked by lush vineyards and home to a quaint town square, Arroyo Grande's farmland is greener than most.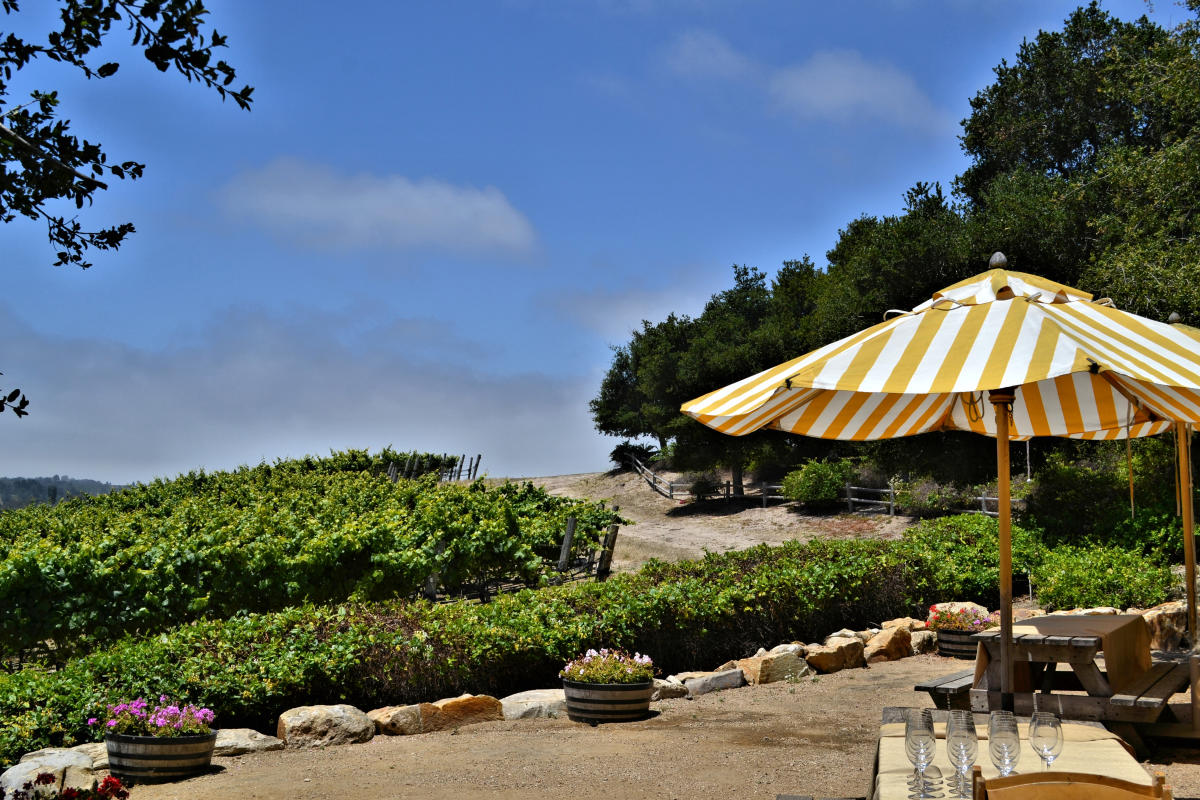 There's more than meets the eye. Just beyond a line of pastoral eucalyptus trees, you'll find Arroyo Grande's hidden gem, Rutiz Family Farms (just keep an eye out for the farm stand, flush with fruits, veggies, eggs and herbs). Harvest boxes always showcase the best produce of the week. Stop by Tuesday through Friday from noon to 4 p.m. and Saturday from 10 a.m. to 3 p.m. The best part? You don't need to sign up for a subscription to take your own box of goodness home!
Juicy tidbit: This community-driven farm stand is known to periodically host area ranchers, fisheries, pastry chefs and rustic bread bakers, so keep your eyes peeled for the latest local purveyors. Who knows who'll pop up next?
Enjoy farm-fresh produce paired with a side of wine. If this sounds heavenly, you've got to head over to Talley Farms in Arroyo Grande, a testament to the dynamic and fertile soil. Known for growing incredible organic produce alongside world class Chardonnay and Pinot Noir (via their winery, Talley Vineyards), this family-owned operation is the essence of SLO CAL's "ag" spirit. Discover acres of fields, cooling facilities and nursery on a riveting farm tour that'll take you around the gorgeous grounds. On the flip-side, winery tours include the vineyard, barrel room, and bottling room (where the magic happens). Feet getting tired? You can also just hang out in Talley Vineyards' plush tasting tables, too!
Juicy tidbit: Talley Farms' CSA boxes are legendary, featuring everything from mini seedless watermelon and golden beets to broccoli and purple radishes, all depending on the season. Nothing pairs better with the terroir or the farm than a vineyard-specific flight of earthy, estate grown pinot noir. Go for both!
The Ripe Stuff in Oceano and Nipomo
Home to miles of farmland planted to greens and flowers, you'll experience the region's rich agricultural heritage first-hand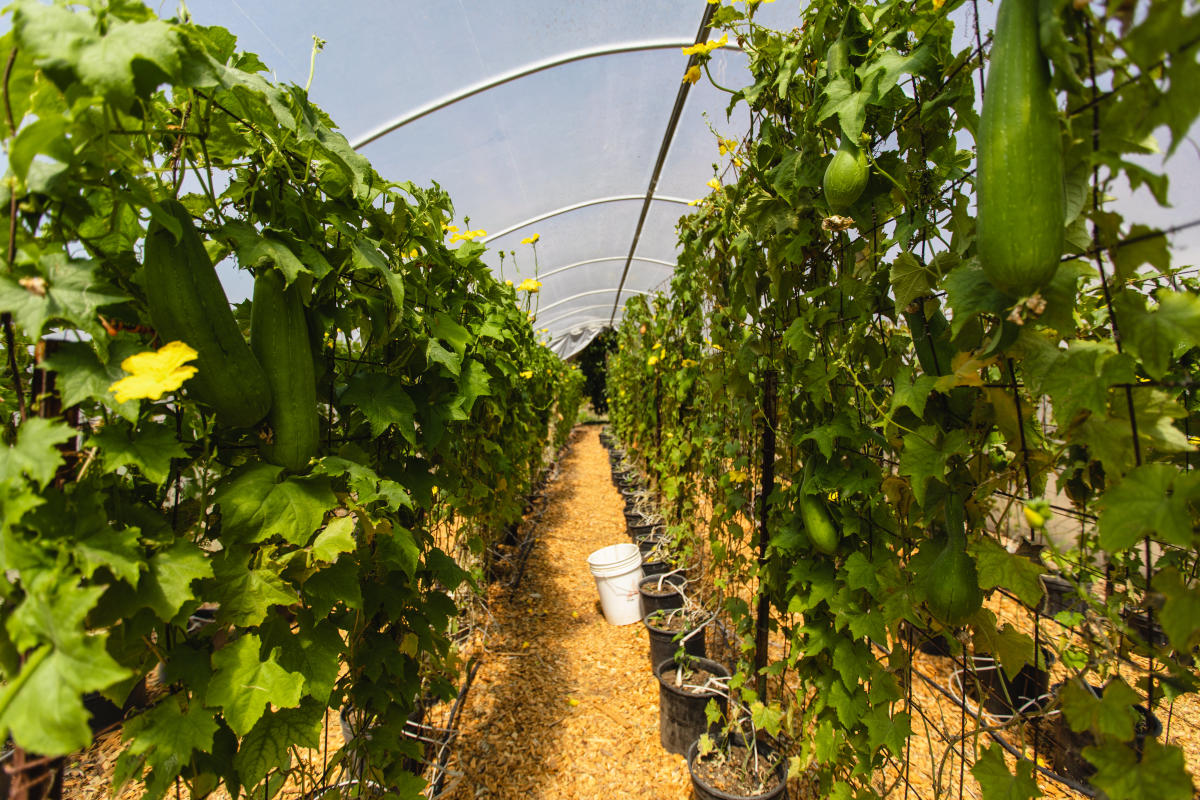 Take a drive back in time, stopping to sample local flavor along the way. With peppers, squash, kale, lettuce, cauliflower, cucumbers, berries and lemons growing on site, there's always a new crop to savor at Peacock Cellars & Farm Stand. Located between Nipomo and Oceano, this agricultural oasis also offers delicious wine, eggs, nuts, dried fruit and baked goods (yum). Stop by Tuesday through Sunday and enjoy the quiet country charm.
Juicy tidbit: Don't make the mistake of missing this farm stand's flavorful tomatoes, grown year-round. They're famous for a reason! Better grab an extra handful.
Seeking a quirky outing off the beaten path? Kids and grownups will get a kick out of Nipomo's own Luffa Farm, where the star crop is for lathering not eating. A vine-grown member of the pumpkin, squash and gourd family, luffa are harvested, de-seeded and soaked before they begin to look like the sponge you have hanging in your shower. Learn about the process from start to finish during an educational farm tour (and walk away with a few all-natural sponges of your own). The farm offers free tours Wednesday through Sunday for small parties without a reservation. Yes, you'll be squeaky clean in no time.
Juicy tidbit: A cool eco-conscious gift to be sure, pair your locally grown luffa souvenir with soothing bath salts and soaks, also on offer at this one-of-a-kind farm stand.
Keep Growing!
Looking for more coastal farm action? Check out FARMstead ED's Farm Trail, which invites locals and travelers alike to explore local vineyards, ranches, orchards and nurseries. Each tour features a hands-on experience that better brings the area's dynamic agricultural offerings to life. Learn how to grow a cocktail garden, get acquainted with local goats and alpacas or dive deep into the world of olive oil making.