Heidi Petersen Ceramics is a proud SLO CAL Crafted partner. Located in San Margarita California, Heidi creates elegant pieces that feature simple lines, crafted from warm earthen clays and glazes. Her designs beautifully highlight the presentation of food and beverages. Taking pride in catering to individual preferences, Heidi's work is mainly made to order, encouraging clients to ask questions and express their personal style.
About Heidi Petersen Ceramics
Heidi Petersen is a skilled potter based in the heart of San Luis Obispo County (SLO CAL) since 2005. With a focus on tableware, she understands the value of creating a remarkable setting.
"I originally had a career in agriculture and work a lot with the soil. I was also in the Peace Corps in a desert country. I was influenced a lot by the colors of the sand and the soil, just the reds and browns. All my work has some bare clay showing on it, the juxtaposition of the lovely glazes with the rich earthiness of the brown clay. That line between my love of the soil and the pieces itself just make me really makes me happy."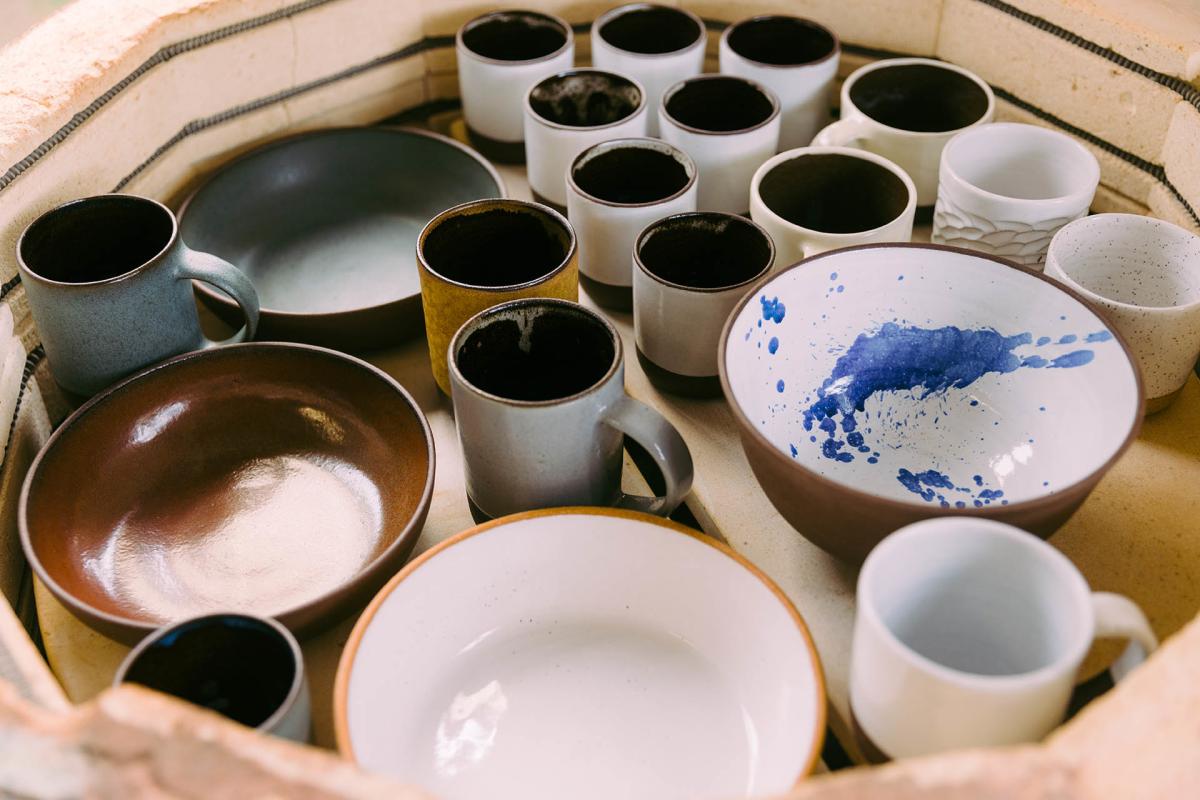 Heidi has been fortunate to collaborate with several local restaurants, including Fish Gaucho, Momotaro Ramen, Park 1039, Paso Robles Wine Merchant, Cass House, and Blue Heron. These establishments appreciate the artistry of food and have sought Heidi's custom tableware to complement their unique menus. All of them are highly recommended culinary destinations.
"We have this huge wine industry and food industry. My passion is the pottery and we can bring our passions together by mixing the pottery with their beautiful food and their beautiful wine. It's a synergism that is really exciting to be a part of."
To view and purchase Heidi Petersen Ceramics' recent creations, her shop, TABLE, is the ideal destination. TABLE offers a range of off-the-shelf and custom-made tableware, drinkware, household items, as well as locally sourced textiles, wooden utensils, candles, and artwork. The shop is located at 22210 El Camino Real in Santa Margarita, CA. It's situated on the same property as The Educated Gardener plant nursery, adding to the charm of the experience.
Heidi Petersen Ceramics Studio & TABLE welcomes visitors Wednesday through Saturday, 11:00 am to 5:00 pm, with appointments available upon request.
To learn more follow Heidi on Instagram, check out her Visit SLO CAL listing and find further information on her website.
About SLO CAL Crafted
SLO CAL Crafted® celebrates the quality, local products made, farmed, and grown in SLO CAL. SLO CAL Crafted is an initiative of Visit SLO CAL, an organization working to inspire travel and foster our unique experiences to create life-long ambassadors and economic growth for SLO CAL.
Businesses that have earned the SLO CAL Crafted seal produce a uniquely local product, experience, or service that enhances the tourism experience in county and is mainly created in county. Get the specific program requirements on the partner page.
Check out a list of SLO CAL Crafted vendors or you can learn more about joining the program.
Photos By: Acacia Productions