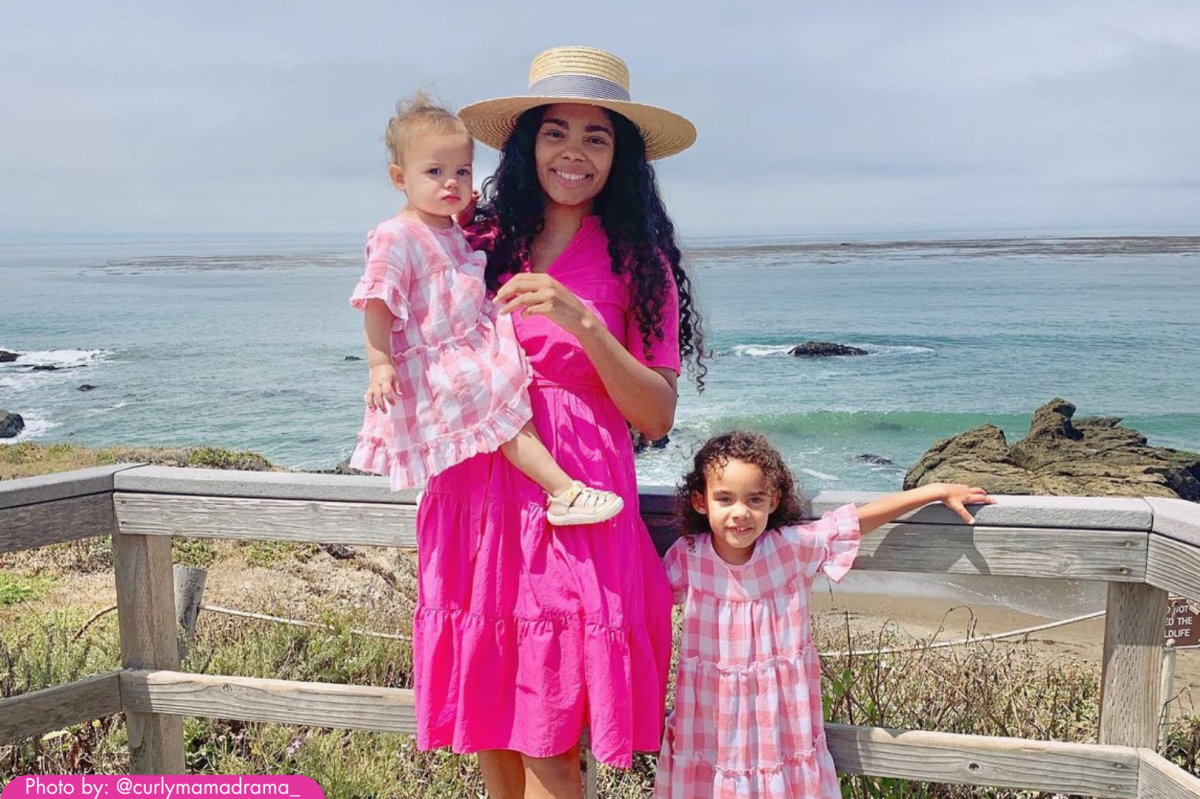 Bring mom to SLO CAL, and you'll have everything you need to give her a Mother's Day to remember. From hotel packages and brunch hot spots to wine tasting and workshops, these are the experiences guaranteed to make her feel like a queen for a day.
Give mom the gift of a getaway! Located on a quaint street in downtown San Luis Obispo, Hotel Cerro offers the perfect Mother's Appreciation Package. This includes a $50 credit to be used at the hotel's on-site bistro, Brasserie SLO, or for treatments at the on-site full-service Spa Cerro, as well as 25% off her stay.

San Luis Obispo
Looking for a great Mother's Day brunch? Hit one of downtown San Luis Obispo's hottest new restaurants, Nate's on Marsh, between 10 am and 2 pm. This spot celebrates classic Italian-American cuisine with luxurious style and Rat Pack attitude. Go for dishes like the Chopped La Scala Salad, Prawn Cocktail, or Avocado Salmon Toast, and pair with a nice list of bubbles or signature cocktails. Tell Mom to put on her Sunday best for this fun, playful eatery. Reservations recommended.
Also in downtown San Luis Obispo, French-California bistro Brasserie SLO serves Mother's Day Brunch from 10:30 am to 4 pm. Moms and their fans can dine on decadent dishes like Crab Cake Benedict, Lemon Poppyseed Waffles, and Whole Roasted Prime Rib. Opt in for bottomless mimosas, which include a bottle of Champagne and the fresh-pressed juice of Mom's choice. But don't wait to walk in: reservations are highly recommended.
If Mom is into Janis Joplin or Stevie Nicks, brunch at the new Highwater Bar & Restaurant in San Luis Obispo will be a hit. And if she's a stepmother, grandmother, drag mother, fur mother, or even a brunch mother (that's the person who makes the brunch reservations!) Highwater wants them to celebrate in style. The a la carte menu will feature dishes and drinks inspired by the staff's favorite mothers, like the Boozy Orange Julius, dedicated to "all the 80s mall mothers of our youth." The fun runs from 11 am to 3 pm, and reservations are recommended.
In fine weather, there's no prettier patio than at Novo Restaurant & Lounge in downtown San Luis Obispo. On Mother's Day, Novo opens an hour earlier to serve its famous brunch with a la carte menus made from local ingredients. From 9 am to 2 pm, enjoy a flavorful, creative meal, framed by the twisting oaks above the patio and burbling creek below. Just be sure to make your reservation early, as Novo serves 500-600 people on Mother's Day.
Of course, the Madonna Inn always has a hearty dinner planned at the Gold Rush Steakhouse for you and your mom. But if you have your heart set on a special Mother's Day breakfast or brunch, the breakfast specials at the Copper Cafe are tough to beat. Can't do either? Bring Mom over anytime to the Copper Cafe for a slice of pink champagne cake and a glass of sparkling wine. These treats will be sure to make any mom feel special.
Extra SLO treats: Don't miss free drip coffee for moms at all Scout locations, and free mimosas for moms at Lincoln Market and Deli.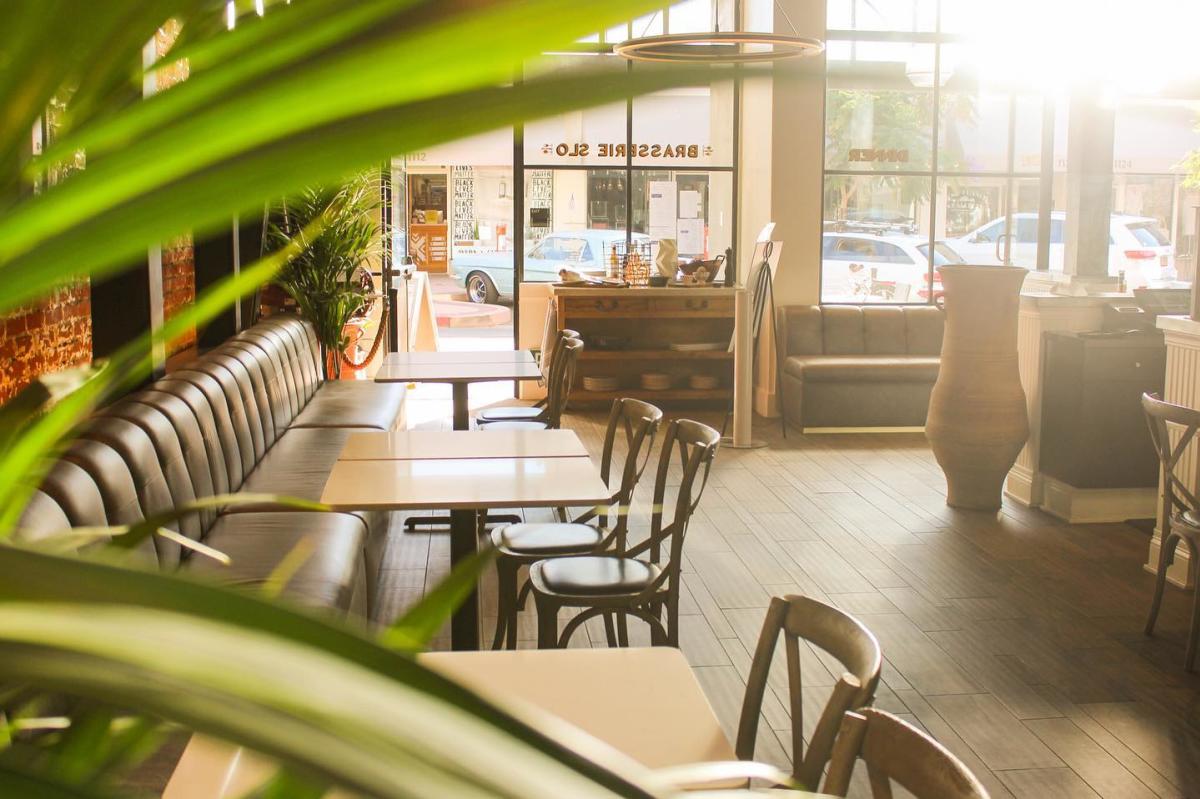 South Coast
Want a vast ocean view with your brunch? The coastal restaurant Lido at the Dolphin Bay Resort in Pismo Beach will offer a four-course prix fixe menu from Executive Chef Matthew Robinson between 10 am to 2 pm. In addition to their multi-award-winning wine list, Lido will offer diners one "mom-osa" with her meal.
Does Mom like gastropubs, Central Coast wines and craft beer? The a la carte brunch menu at Mason Bar & Grill in the Village of Arroyo Grande includes fan favorites like Brioche French Toast and Fried Chicken, and Black Truffle and Turkey Croque Madame. Plus, choose from 20 rotating taps of craft beer and one of the most generous by-the-glass wine lists in all of SLO CAL. Reservations recommended.
North
In Paso Robles wine country, Cass Winery will host a Mother's Day brunch among the vines and in the sunshine. With seatings at 10 am, 11 am and 12 pm, this event includes bottomless mimosas as well as dishes like made-to-order omelets, Smoked Salmon Hash with Poached Egg & Dill Hollandaise, Chevre & Cream Cheese Blintzes with Fresh Berry Compote, and Raspberry Stuffed Creme Brulee French Toast. Let father-daughter musicians Chris and Harmony Beland serenade you as you enjoy this special and sumptuous time together. (And don't miss the additional opportunity to create your own vibrant floral arrangement afterward: see "Experiences" below.) Reservations required.
Just off quaint City Park in Paso Robles, Thomas Hill Organics has a Mother's Day Brunch planned to treat Mom like royalty. Available between 10 am and 2 pm, the three-course menu features both sweet and savory dishes, from Pork Belly Tacos and a Brie Omelet to Olive Oil Cake and Lemon Curd Parfait. Sit indoors in the tasteful dining room or on the cozy heated patio, and enjoy!
Along 46 East at the Paris-inspired estate winery, Paris Valley Road is offering a decadent three-course Mother's Day brunch. With seatings at 10 am and 11:30 am, treat mom to a delightful meal consisting of ahi poke, lobster, and pound cake French toast. Each course is paired with a complimentary glass of Paris Valley Road estate wine. Tickets required.
Treat mom out for a stiff cocktail, glass of sparkling wine, and bites to share at the historic Paso Robles Inn. With their newly opened Cattlemen's Lounge, the Steakhouse at the Inn also typically offers a delectable spread for breakfast, lunch and dinner.
North Coast
For a farm-to-table spread (and a farm-fresh rose for Mom to wear on her special day), head to Linn's Restaurant in Cambria. With brunch from 8 am to 2 pm and lunch from 12 pm to 4 pm, Linn's is a tried-and-true spot for a beautiful, delicious spread. Specials include a Scotch egg, Waldorf Salad, Butternut Squash Ravioli, and Eggs Benedict. For drinks, choose from a Berry Wine Sparkler, mimosa, or Linn's signature Olallieberry Lemonade. Reservations

North
 After dining at Cass Winery for Mother's Day brunch among the vines, stay for a floral design workshop that Mom will love. From 2 pm to 3:30 pm, this add-on activity includes a glass of champagne, instruction from a professional floral designer, and seasonal, native California blooms to arrange into the bouquet of your choice, for you to take home. Reservations are required.
On the west side of Highway 46 in Paso Robles, Grey Wolf and Barton Family Wines want to celebrate Mom, too! Tap your toes to live folk-rock music from Noach Tangeras from 12:30 to 3:30 pm while sipping wine and specialty cocktails, paired with just-right bites and stunning vineyard views.
Paso Robles winery Opolo is known for its "fun times and award-winning wines," and that includes this Mother's Day. Moms of all types are invited to enjoy a complimentary mimosa made with Opolo sparkling wine during tasting hours, 10 am to 5 pm. Choose to sit at a table on the patio, or at the indoor bar. Reservations recommended.
For the crafty mom who delights in beautiful decor, take her to Hoyt Vineyards, also in Paso Robles, where she can make a stunning succulent wreath for her door. All materials are provided, including a glass of bubbles that's included with her ticket. Reservations required.
For an exciting afternoon of crafts and snacks head to Derby Wine Estates on Friday, May 6th from 3-7 pm for a Mother's Day Market. The outdoor craft market will include delicious food like pizza and wine and live music to dance to. There will be many local vendors with handmade products to shop from, so grab your mom and canvas bag and check out Derby Wine!  
North Coast
In Los Osos, small-batch skincare company FABLERUNE will host a Mother's Day warehouse party and outdoor market from 10 am to 3 pm. Find promotional sales on all FABLERUNE skin, body, and hair care products, plus a selection of vendors selling vintage clothing, ceramics, decor, cocktail kits, jewelry, dried flowers and indoor plants, holistic goods, art and wine.