These SLO CAL Crafted® cocktails aren't just mixed in SLO County, the spirits, mixers, and bitters are made here, too! Yes, we're crazy for wine, but just wait till you try our drinks, served shaken, stirred, and neat. From distilleries tucked away along vine-studded backroads to hip industrial hangouts, you'll find a new reason to say cheers in SLO CAL. For a truly local drink that refreshes the senses, check out these clink-worthy experiences from Arroyo Grande to Paso Robles.
Garden Fresh Drinks
Belly up to the bar! All across SLO CAL you'll find bars and restaurants teeming with seasonal cocktail specials. Herby cocktails made with local spirits are the main event at SLO's Sidecar Cocktail Company, Arroyo Grande's Mason Bar, as well as Paso Robles restaurants La Cosecha, Fish Gaucho and new speakeasy 1122 Cocktail Lounge. Sip farmer-approved drinks imbued with the amazing produce you've come to know from our bountiful growing region. You'll also find locally produced bitters from SLO Bitter Co., mixers from Root Elixirs and Yes Cocktail Co. and other artisanal products shaken right into your glass. Juices are always fresh squeezed and syrups are always made in-house.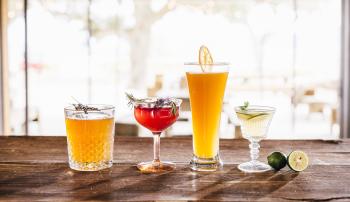 Sip Hip
Fancy yourself a spirits specialist? Then KROBĀR Distillery is a must-stop on your next Highway 46 West wine trip. Not only can you taste a range of unique spirits (rye whiskey, bourbon, gin, barrel rested gin, port finished whiskey), you'll also be privy to small batch seasonal offerings, like KROBĀR's rose-hued pink gin, which, with 14 different aromatic botanicals, smells like summer vacation in a glass. Don't forget to ask about their unique bitters, which include flavors like Olallieberry cacao and Olallieberry citrus (great options to take home for your own bar cart). A nearby kitchen window offers sandwiches, small plates and hot meals to keep you grounded.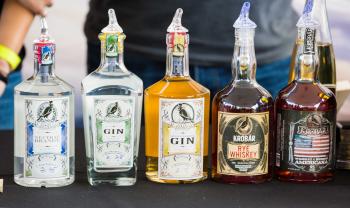 Great Grappa
Never had grappa? You're in for a treat. The Distillery at Opolo is crafting unique libations bursting with fresh elegance. Expect a new twist on grappa made from Opolo's estate grown Muscat blanc, a Williams pear brandy distilled from northern California Bartlett pears and even a nocino, a delicious walnut based liqueur made from organic estate-grown walnuts. Yes, you'll want to take a few bottles home Tip: buy two: one for now, one for the upcoming holiday season.
Find Re:Find
One of the first in SLO CAL to produce spirits from premium wine grapes, Re:Find's distillery is the perfect place to kick back on a summer day. These offerings are especially light and perfect for the warmer months, although you'll also find the darker stuff, too. Think smoother-than-smooth vodka, locally famous gin, and an intense and zesty limoncello you'll want to drink after every meal from here on out. Tip: A great cooling drink for summer parties: Mix Re:Find Cucumber Vodka with soda and a squeeze of lime. Your friends will swoon. You'll be stoked that, instead of making drinks, you'll be hanging out and enjoying the barbecue.
Tour the Trail
The Paso Robles Distillery Trail is rife with luscious libations sure to surprise and delight—plus, it's always growing! Book a tour with 101 Wine Tours or Breakaway Tours this summer and discover the hidden distilleries nestled among the vines in Paso Robles Wine Country. Yes, you'll find whiskey, gin, grappa and liqueurs, too! Newcomer Calwise offers up a Big Sur-inspired lineup of spirits and mixed drinks (distilled with native herbs), while Wine Shine, located in Paso's popular Tin City, makes fabulous wine-centric offerings like a fully mixed Manhattan and a popular hibiscus lemon brandy. Be on the lookout for Bethel Road Distillery to be opening later this summer, another great stop on your Paso Robles distillery tour.