The best places to gaze all year long
SLO CAL is known for its gorgeous vineyards, pristine coastline, undulating hills and majestic oaks. That said, all you have to do is look up to see the biggest star of all: the gloriously clear night sky packed with billions of glittering stars. Far removed from the hustle and bustle of bi city life, SLO CAL is the perfect place to cozy up under the deep, dark night sky all year long. The Milky Way, constellations and shooting stars—these are the only distractions you're sure to find.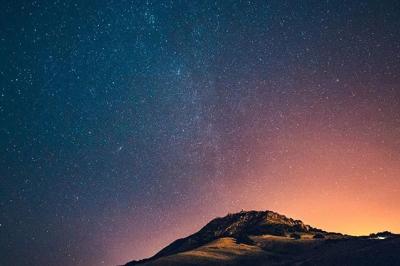 1. Santa Margarita Lake
Light up the family: Delight the kids and pitch a tent under a swath of stars. Your summer family stargazing session has begun! Santa Margarita Lake offers plenty of wildlife and open space to enjoy while you await sunset. Cast your line for trout, catfish or bluegill, hike or bike while you take in views from the surrounding mountains or set up camp for the night. Come sundown, find the perfect spot at the individual picnic sites and wrap up under the stars.
2. Cholame Valley Road
Take a Breather: When life gets hectic, snag some "me time" for yourself. Self-care soars to new heights when you roam outside of cell reception to Cholame Valley Road, perfect for stargazing solo. At the corner of the Highway 41 and 46 junction, you'll find Cholame and the James Dean Memorial stretch of highway. This small town boasts rural ranchland and is also home to a 1950s-themed restaurant beloved by travelers from around the world (grab dinner before you set your gaze above). Located near the Creston Wine Trail—dotted with laid back, family-owned wineries, this stargazing spot if also near Shandon's Chapel Hill, a stunning private sanctuary. Catch Festival Mozaic's annual classical concert, hosted at the chapel each July (this historic open-air venue is perfect for stargazers).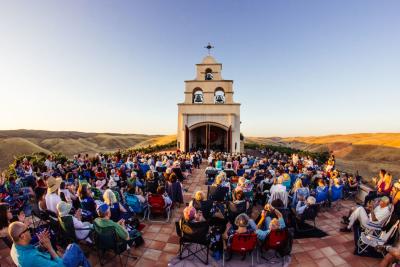 3. Shell Creek Road
Get in touch with nature: Not far from Santa Margarita's unique wine tasting and dining offerings, you'll find a rural wonderland awash with wildflowers. Just drive a few miles east on Highway 58 toward Pozo and stop when you get to Shell Creek Road (pack a heavy blanket and a thermos of ice tea). As summer sets in, the bold blooms populating this famous wildflower-sight-seeing spot will give way to fields of stunning gold. Don't fret—a true interstellar show will truly blossom overhead.
5. Montana de Oro State Park
Chill on the coast: When the sun sinks into the Pacific and the birds settle in for the night, Montana de Oro State Park lights up with a specular after-hours display. On nights where the fog isn't obscuring the sky overhead, you'll see the full splendor of the Milky Way bolstered by the fortifying scent of eucalyptus leaves and salty sea air. Book a room at the nearby Baywood Inn and plan to hike coastal bluffs or horseback ride along the coast come sunrise.
5. Paso Robles' Eastside
Romance takes flight: When you want to impress your sweetheart with a charming and unique date, look no further than Northern SLO CAL's enchanting wine regions: Templeton, San Miguel, and Paso Robles. Eastside Paso Robles, in particular, is known for velvety blue skies and twinkling stars made all the more romantic when viewed amidst lush vineyards. Grab dinner in downtown Paso Robles, then drive east to where the stars are brightest. Pick your spot and watch the proverbial fireworks explode!