Female leadership in SLO CAL has a strong past, and bright future. Modern-day makers keep our community engaged, entertained and nourished. Come along with SLO CAL to map an interactive path to visit these modern-day women-owned businesses while walking in the footsteps of a SLO CAL pioneer.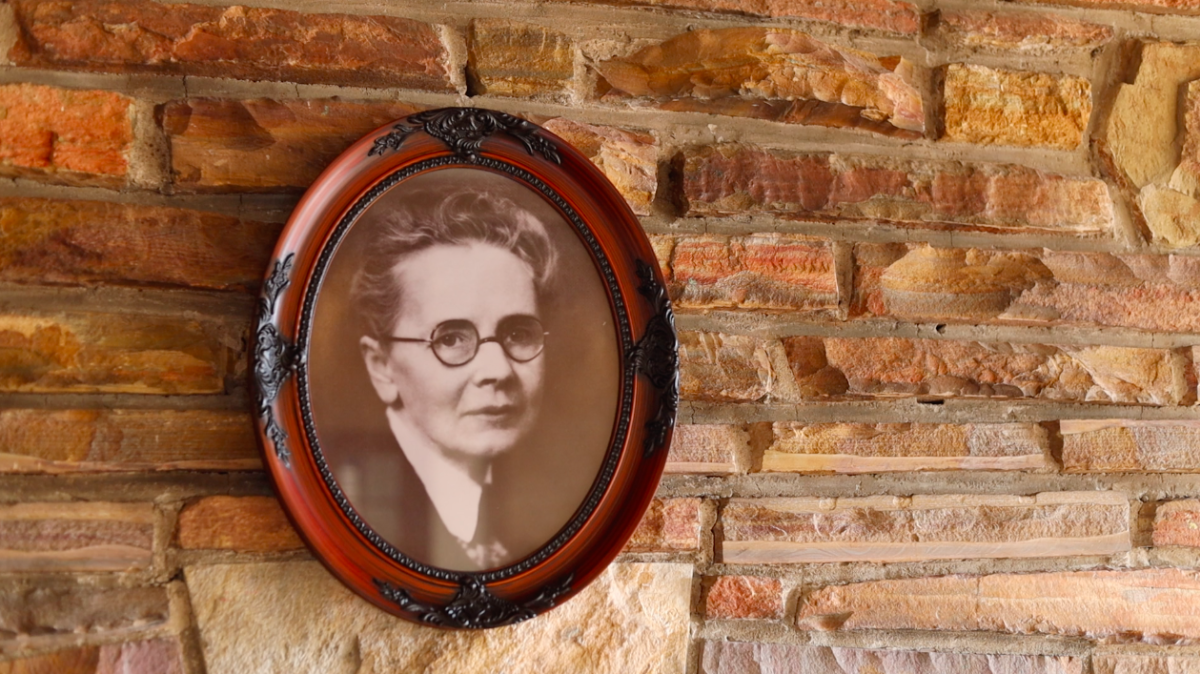 Renowned architect Julia Morgan's influence can be seen throughout SLO CAL—two in San Simeon, one being the oceanfront, in addition to San Luis Obispo's Monday Club. Julia Morgan was the first licensed female architect in California and designed over 700 buildings, the first female to graduate from her architectural school in France and the first woman to receive the Gold Medal from the American Institute of Architects. SLO CAL has mapped an itinerary of Miss Morgan's interests to follow in her footsteps today. Join SLO CAL on a fun, educational, multi-sensory journey, and support women-owned small businesses along the way!
Dining
Coffee: Julia Morgan got down to business every day, fueled by a cup of coffee
A quick pick-me-up breakfast is all you'll need to follow in Miss Morgan's footsteps for a fast-paced SLO CAL tour. Fuel yourself at Linnaea's Cafe in San Luis Obispo. This near-40 year establishment sold in 2008 from founder Linnaea Phillips to the longtime manager, Marianne Orme. The outdoor patio is inviting, and the menu is still as lovely. Don't worry; there's more than coffee on the menu for those who might require more sustenance. Also in San Luis Obispo is Lucy's Coffee, owned by mother Lisa, who named the shop after her daughter Lucy. This place on Laurel Lane started from the ground-up as a food truck.

Sweets: Julia Morgan had a sweet tooth and was known to skip meals
If you're in Paso Robles, look to Negranti Creamery's rare sheep's milk ice cream. This delectable palace is owned by local Alexis Negranti. Although her ice cream sandwiches are stocked around the county, you might be in the mood for larger cookies? Try Brown Butter Cookie Co., owned by two sisters Traci and Christa Hozie. For over 10 years, they have cranked out tasty treats, now at their flagship location in Cayucos, in addition to their Paso Robles and their San Luis Obispo outlet. While northward, try Cambria's Stash Local Goods. Here, Monica Casas stocks another local sweetmaker, Celia Chocolatier. This recently opened supplier was established by sisters Rhonda and Dinah Nassar, who collectively hold a undergrad and master's in engineering from UC Berkley and UCLA. But for the highest-end chocolates, don't pass on Sheila Kearns Chocolate & Confections in San Luis Obispo. Otherwise, name-brand, recognizable sweets and a few local goods are few blocks further downtown at Miranda Battenburg's SLO Sweets. Become visually dazzled with color and brand imagery in your attempt to elevate your blood sugar.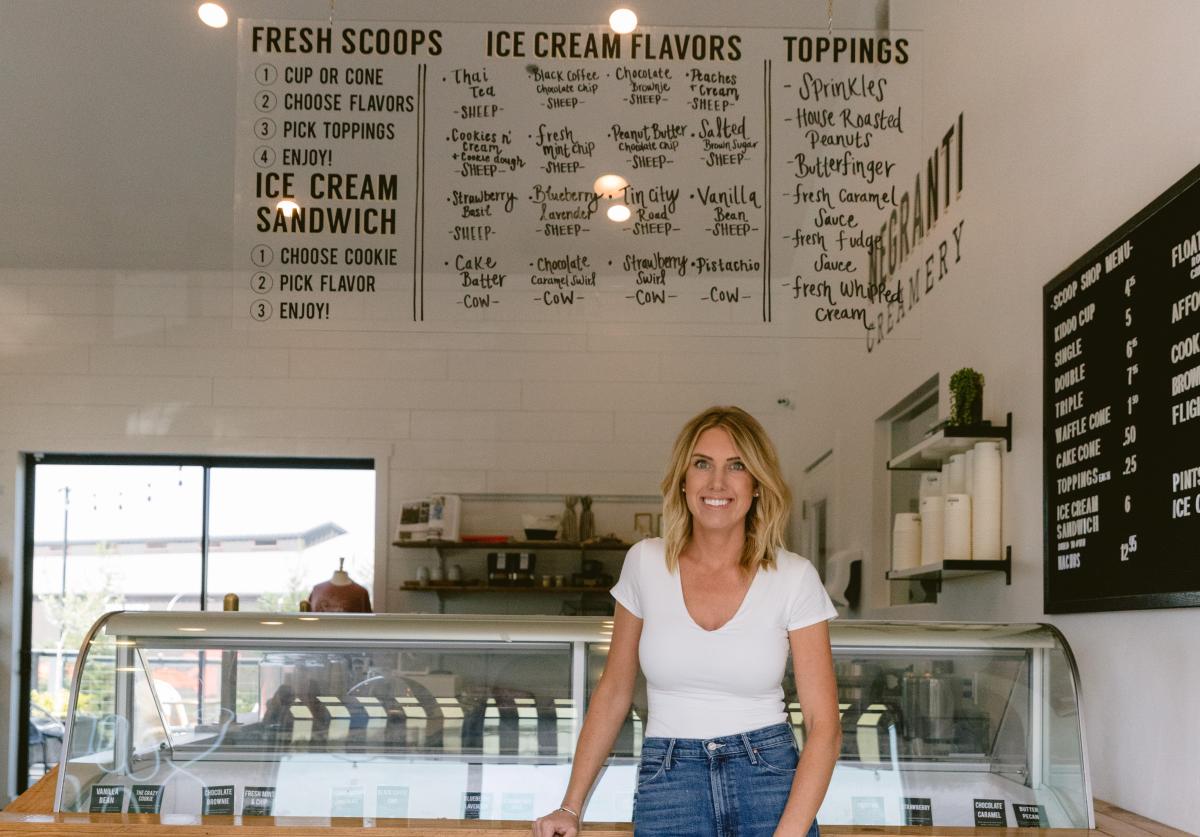 French Cuisine: Miss Morgan studied architecture in France in the late 1890s
Okay, so you need more sustenance? We've got something special. Check out Paso Robles' Les Petites Canailles for the husband/wife-owned French eatery. The son of Paso Robles winemaker at L'Aventure Winery (who in his own right studied culinary arts in France) and the daughter of a South Carolina butcher paired perfectly for this cuisine. Stop in for a fine meal that Miss Morgan would have likely tasted while in Paris all those years ago. For French-style baked goods, consider Pardon my French in Grover Beach for even more French flair on the go.
Wine: While there is no indication Miss Morgan drank wine, we know she appreciated its value in designing wine cellars for clients
Let's embark on a woman-owned winery tour of SLO CAL! For a personalized tour of SLO CAL wineries, consider Katie Hayward at Uncorked Wine Tours, who created this perfect itinerary for Women's History Month.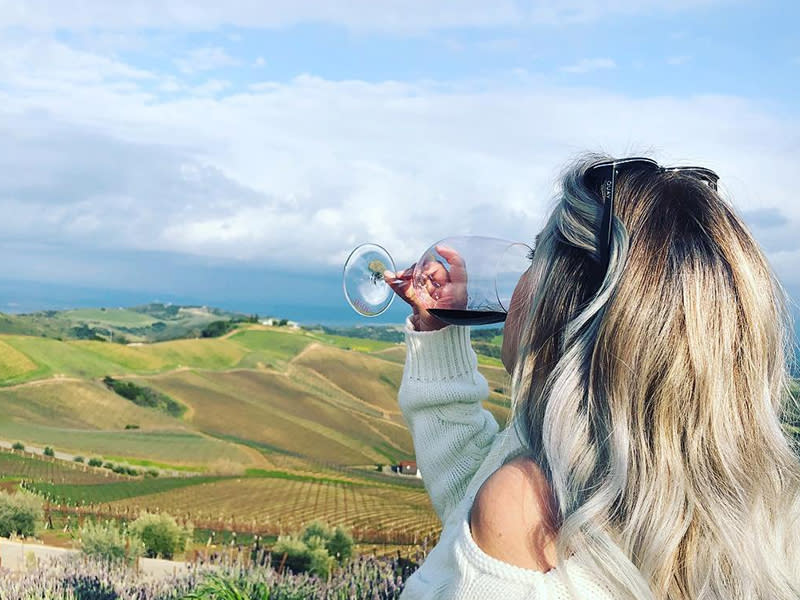 You'll consider stopping at J. Dusi Wines in Paso Robles for a tour of Janell Dusi's family tradition of Italian winemaking. The Dusi vines trace back to the 1920s, which was the same time Julia Morgan was coming to SLO CAL. Meanwhile, Bon Niche's 10-acre spread is owned by female veteran Melani Harding. While stationed in Italy, Harding traveled around, enjoyed and eventually studied varietals throughout Europe before taking over this SLO CAL estate. Also of the Italian varietal is Janis Denner's Pelletiere. Denner sold her Bay-Area business to follow her college-aged sons to SLO CAL and set up shop with female winemaker Amy Butler. Butler oversees her own label, too: Ranchero Cellars. Go taste Butler within the Paso Robles city limits at the co-op, Paso Underground. Nearby, visit some Spanish/Portuguese varietals at Dorothy Schuler's own tasing room at Bodega Paso Robles. Take a journey with Vailia From, winemaker and owner of Desperada Wines, where her process takes the winemaking tradition back to its roots. Or there's Riley Roddick, who is tasting her Hubba Wine brand at hip Paso Robles community Tin City. Cypher Winery is led by adventurer Susan Mahler in Paso Robles. Stop in and taste the energy from the woman affectionately known as SAM ZinPunk. In San Luis Obispo, visit Mindy Oliver at her micro-facility, Croma Vera Wines.
Design and Art
Architecture: Julia Morgan designed buildings at three SLO CAL Spots
Consider visiting San Luis Obispo's Monday Club (check for Covid-19 availability). The building's exterior reflects Miss Morgan's Spanish Colonial style with the cross-gabled terra cotta roof, stucco exterior walls and ironwork windows. Go inside on tours or rent the space for your special event. You'll notice how Miss Morgan incorporates the surrounding natural elements in the geography. On-site milling of the exposed wood trusses and the large flagstone fireplace was sourced locally. For more examples of Miss Morgan's work in SLO CAL, visit the buildings when you stop at the Hearst Ranch Winery at San Simeon Point. Julia Morgan's designs are apparent in the warehouse as well as private residential buildings nearby.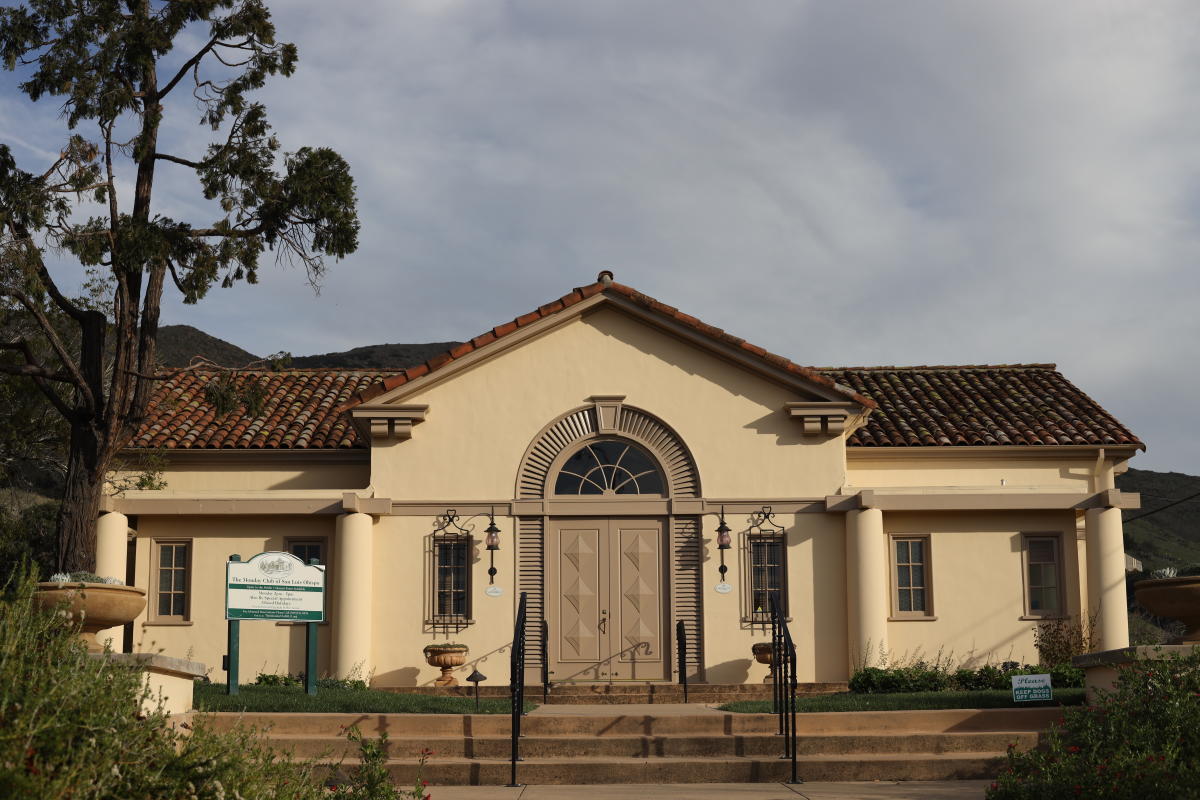 Julia Morgan's work incorporates the Spanish Colonial style and also the European Classicism at larger projects nearby. For more female architectural work in SLO CAL, the Monday Club organized an architectural tour highlighting San Luis Obispo architects Laura Gough (Studio 2G), Marilyn Miller Farmer (Habitat Studio) and Louisa Anne Smith, designer of Edna Valley's Claiborne & Churchill Winery.
Art: Miss Morgan incorporated art collections in design and employed artists
You'll pass through Morro Bay on your way from San Simeon to San Luis Obispo, so stop in at the woman-led Morro Bay Art Center. Here there are current exhibits and interactive workshops to get your hands dirty, like Miss Morgan. Once you've seen The Monday Club, stop by the San Luis Obispo Museum of Art with Executive Director Leann Standish. Their new outside mural is available for viewing as Covid-19 restrictions begin to lift. When you stop by the Monday Club in San Luis Obispo, notice the interior murals of loquat trees mimicking those she admired while walking around San Luis Obispo.
Transportation
Trains: Julia Morgan commuted to SLO CAL from the Bay Area
AMTRAK still runs the lines with the Coast Starlight. Another option opens up if you want to take the rails from the south, with the Pacific Surfliner all the way to San Diego. Enjoy private rooms on the Coast Starlight, sleeping families of four, or other rooms for two with private bathrooms and turndown service. Or arrive efficiently with coach tickets. While on the rails, visit the San Luis Obispo Railroad Museum for a glimpse of their rolling stock on display outside. Saturdays are when the museum is traditionally open (check Covid-19 restrictions). More rail cars you say? Jaunt down to the Oceano Train Depot to glimpse their rolling stock outside the historic structure, now moved 400 yards north of the original site where it originally operated from 1904 until 1973.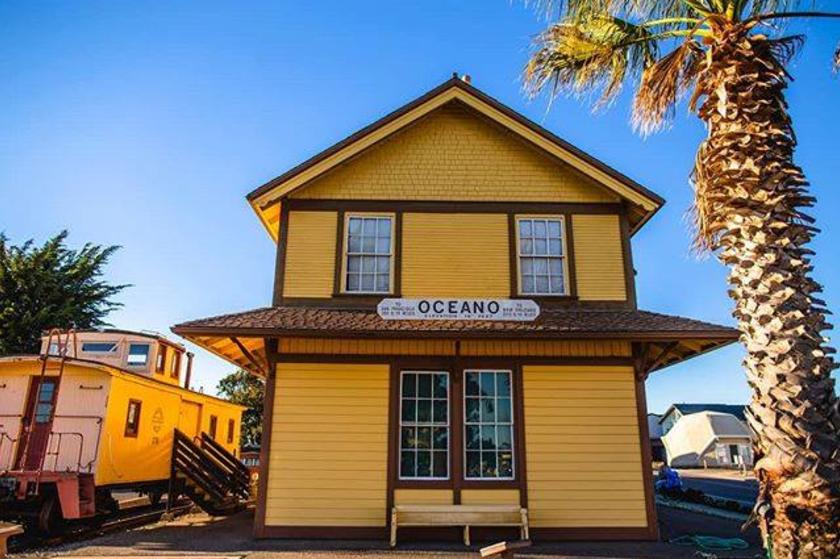 Hotels: Julia Morgan stayed at private homes, but did take a meeting at a hotel
After Miss Morgan arrived at the San Luis Obispo train depot, she would rest at the houses of Monday Club members in exchange for architectural services at the historic building. But there is one record of her holding a meeting at San Luis Obispo's Anderson Hotel. Turned into apartments in the late '70s, The Anderson Hotel building still stands. Walk downtown San Luis Obispo to catch a glimpse of where Miss Morgan conducted business and consider sleeping over a night or two at one of San Luis Obispo's downtown hotels, like Kimberly Walker's Granada Hotel & Bistro. The Hotel Cerro in downtown San Luis Obispo will also be a nice option with Natalie Ward as General Manager. Or enjoy the amenities of the woman-led Martin Resorts' oceanfront properties like Avila Lighthouse Suites, Shore Cliff Hotel and Pismo Lighthouse Suites, or vineyard-side properties like Paso Robles Inn and The Piccolo. 
SLO CAL's Highway 1: Miss Morgan would taxi up the rugged terrain to San Simeon
Luckily, we now have Highway 1, which offers many breathtaking views as you travel from San Luis Obispo. Stop at the many whale-watching locations to catch a glimpse of migratory gray whales, dolphins, California sea lions, sea otters and the less common humpbacks. Don't be surprised at one of SLO CAL's most unique features: The Piedras Blancas Elephant Seal Rookery. Here, you'll glimpse the largest seal in the northern hemisphere basking in the sun and nursing their young. Not the animal type? Consider the views. If you want to recreate the Spanish Basque Coast or Ireland's rugged terrain, visit SLO CAL to glimpse at the sheer cliffs, bluffs and rugged terrain that shoots up from the ocean bed. Visit the Portal To Big Sur art installment for the most unbelievable views, especially during warm spring days. While the road quality changed, and businesses and homes have popped up since Miss Morgan traveled SLO CAL coasts, the one thing that has not changed is the views. Take in the same scenery that Morgan took inspiration from while designing in SLO CAL.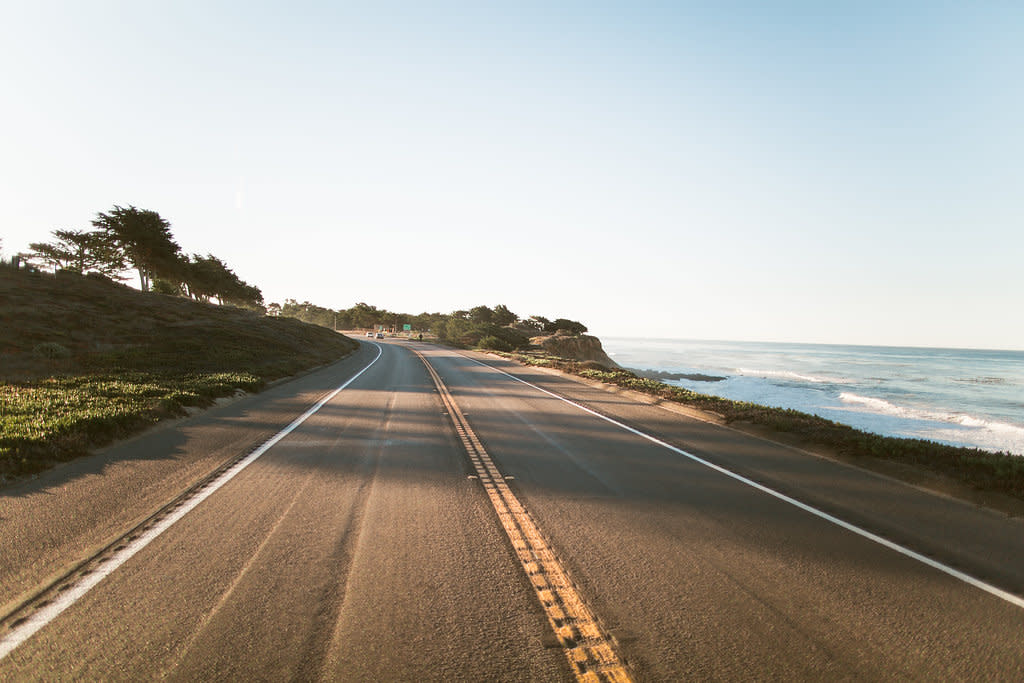 Outdoors
Walking: Miss Morgan loved beach walks
Take in some fresh air while you're in SLO CAL! Enjoy some time in the Estero Bluffs State Park. The San Simeon Pier is a stunning backdrop to this stroll, as you glimpse at the stucco exterior of the private residential buildings sprawling on this coastline. For the adventurer, add on to this walk by exploring San Simeon Point. Perhaps you prefer the opposite, keeping sand off your toes. Try enjoying a glass of the Hearst Ranch Winery's rosé, aptly named Julia. Many other trails await you on your journey in SLO CAL. Try the ADA-compliant walkway at Cambria's Fiscalini Ranch Preserve. You'll find stunning cliffs along a two-way trail with many park benches to catch your breath from the gorgeous bluffs below.
Hiking: Miss Morgan also enjoyed hiking in her private time
Montaña de Oro State Park is full of adventure. For the ocean view seeker on the Bluff Trail to Valencia Peak, this glorious SLO CAL hidden gem is a sight to behold on horseback, surfboard or maybe even sandboard. The Ontario Ridge Trail can be sought to break a sweat for a swing reward or sample the Pismo Preserve's views atop this SLO CAL hotspot. The possibilities are endless for your hiking difficulty and adventure. Waterfalls? We've got that if you've got 4x4, past Lopez Lake at Little Falls and Big Falls. Santa Margarita's Rinconada Trailhead, north of Arroyo Grande, will take you past abandoned mines now decorated with graffiti art for a sight to behold. Wind your way to Atascadero for the Three Bridges Oak Preserve Trail or Stadium Park, where a monolith once was erected. San Luis Obispo's Terrace Hill is the best view for your buck, with an easy difficulty level, while Cerro San Luis may be a bit challenging, but you'll get quite a reward atop this vista.