Hang Ten in no time with these 5 tubular tips
Catch a wave and you're sitting on top of the world. The Beach Boys knew the power of rising atop the perfect crest, popping up on your board and riding the surging power all the way to shore. Now, it's your turn. Whether you're a seasoned pro or a total newbie (a "kook," as the old school surfers might say), SLO CAL is your destination for sweet surf and tasty sets. Sure, you might wipe out a few times, but it's all in good fun. No guts, no glory!
1. Grab your gear
Load up and head out. You may not have arrived in SLO CAL with a fully loaded woody. No worries. Renting your surfboard in SLO CAL is as easy as throwing on a pair of flip flops. With plenty of friendly surf shops to choose from, including Shell Beach Surf Shop in Shell Beach, Pismo Beach Surf Shop and Pancho's Surf Shop in Pismo Beach, Wavelengths Surf Shop in Morro Bay, and Good Clean Fun Surf and Sport in Cayucos, your long board, short board (or boogie board—hey, no judgement), is a simple conversation away. While you're there, grab some serious SPF, surf wax, and a wetsuit, too. Sure, the weather is warm in SLO CAL in the spring—oftentimes downright hot—but those waves are known to be a tad chilly.
2. Learn from the pros
Don't go at it alone. Ever wonder why so many high-stress lawyers and doctors love paddling out? Surfing is a unique sport, requiring both full mental and physical engagement. That means you'll work hard as you fully concentrate on watching the waves, working your arms and legs, and (hopefully) engaging those ab muscles as you pop up on your board! That last part is way easier said than done, though. Don't leave your surf experience up to chance. Sign up for a few classes and learn from the pros! Avila Beach Surf School and Van Curaza Surf School in Avila Beach, Sandbar Surf School in Pismo Beach and Central Coast Surf School are great resources for anyone looking to dive in for the first time or just kick off the cobwebs.
3. Pick your spot
Here in SLO CAL, everyone's a local. Enjoy the gorgeous beaches and pick your favorite surf spot. SLO CAL is known for its gorgeous beaches and its surf spots? Well they are far from secret. From the endless sandy coastline of Cambria to the bustling Pier of Pismo Beach, there are no shortage shreddable waves to choose from. Pismo Beach is a popular pick for a reason—with a good break at high tide and favorable south swell direction, it should most certainly be on your radar. Lots of locals love to wade into the water at Morro Bay's Morro Rock Beach (best during a north swell, and always scenic). Avila Beach is a great spot for true beginners, as the protected bay calms the waters down to approachable ripples.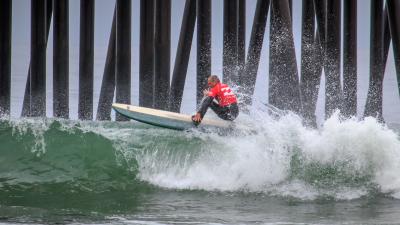 4. Fuel your body
Every surfer knows that it's just as important to eat before and after your session as it is to reapply that SPF. Surfing takes a lot out of your body, especially when you're working on mastering that duck dive. Hydrate with lots of water before you go, and keep a bottle of H20 on the beach in case you end up with a mouth full of salt water (which is all part of the game if you're just learning to surf). Eat a nutritious breakfast, like a fruity acai bowl from Kravabowl and a cup of Kraken Coffee in Avila Beach or go for a plant-based breakfast from Goddess Goods in Morro Bay. End your session with a meal that truly sticks to your gills (no pun intended). A steaming hot bread bowl of clam chowder from Splash Cafe or a large pizza from Del's Pizzeria in Pismo Beach, a thick burger courtesy of Flavor Factory in Morro Bay, or smoked fish tacos from Ruddell's Smokehouse is just what you need to refuel after all that paddling. You earned those extra calories!
5. Enjoy the view
Don't forget to soak it all in. Surfers know how to enjoy the moment (half of surfing is marveling at the grandeur of nature). Watch the sunrise and greet the day with that cool-salty refreshment that only the ocean can bring. As you paddle out and wait for your set, take a good look around. You may be sharing the water with a dolphin, sea otter or seal! Few visitors are afforded a more beautiful view than what you're seeing right now. Bobbing in the water, gulls overhead and blue water all around, this truly is the meaning of living the SLO CAL lifestyle.