When I set out to create The San Luis Obispo Farmers' Market Cookbook it was equally important to showcase simple seasonal recipes that any home cook could easily reproduce after a trip to a local farmers' market AND uplift our incredible SLO CAL chefs and restaurateurs that believe in the farm-to-table mission.  In the spirit of creating a collaborative community-driven cookbook, the majority of the published recipes are provided by these chefs to showcase the true taste of SLO CAL. Since the book publication in 2015, I'm happy to report that even more farm-to-table establishments (!) have opened their doors, here are my faves:
Wood-Fired Honest Food
📍  Arroyo Grande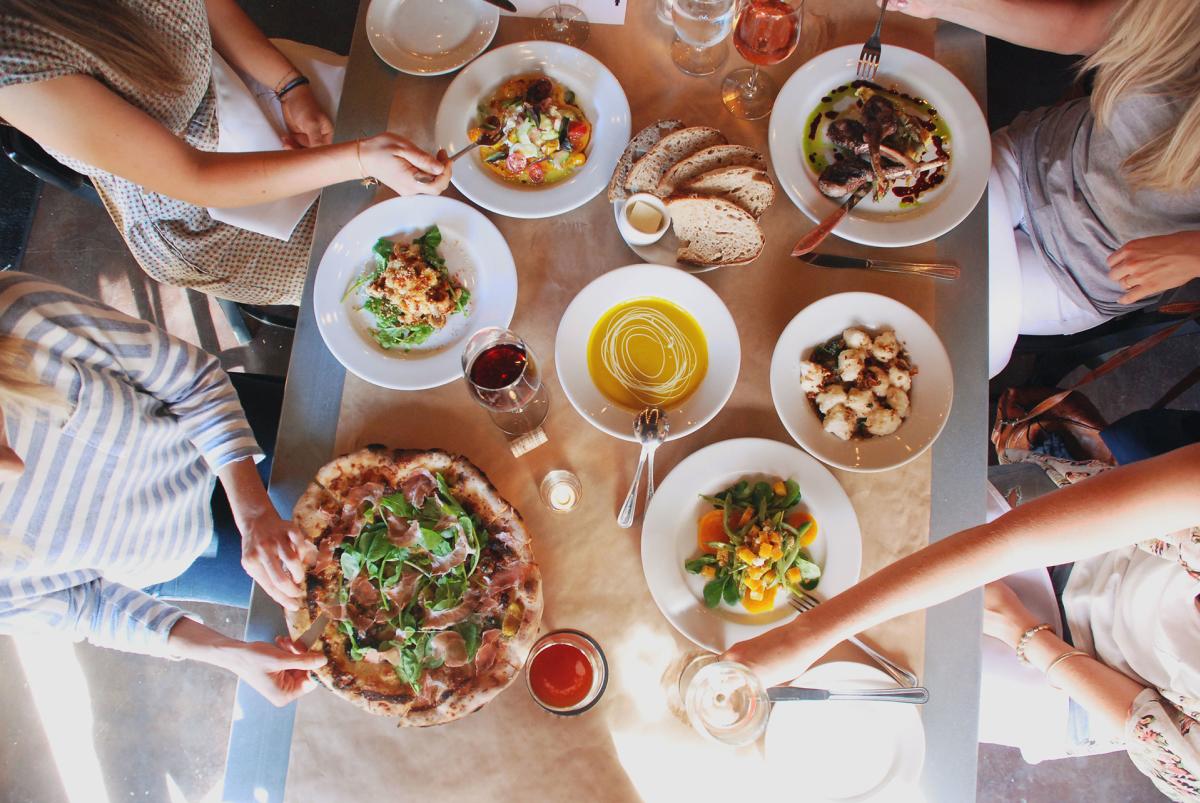 Photo courtesy of Ember. Photo credit: Kendra Aronson
Ember offers elevated, wood-fired honest food—their fresh, rustic, seasonally-driven, Italian-inspired, California-influenced menu changes every single month. From the parking lot, the whole building gives off a cozy, soft, welcoming orange glow. Their open kitchen showstopper is the gorgeous turquoise tile-studded wood-fired oven churning out pizzas and fire-finished appetizers. Next to the roaring oven is the hot local oak wood-burning grill with Chef Brian Collins at the center of it all. With many years of experience at Chez Panisse in Berkeley under farm-to-table goddess Alice Waters and Full of Life Flatbread under Chef Clark Staub, Ember is arguably the best restaurant in SLO CAL. 
American Classics with a Modern Twist
📍 Grover Beach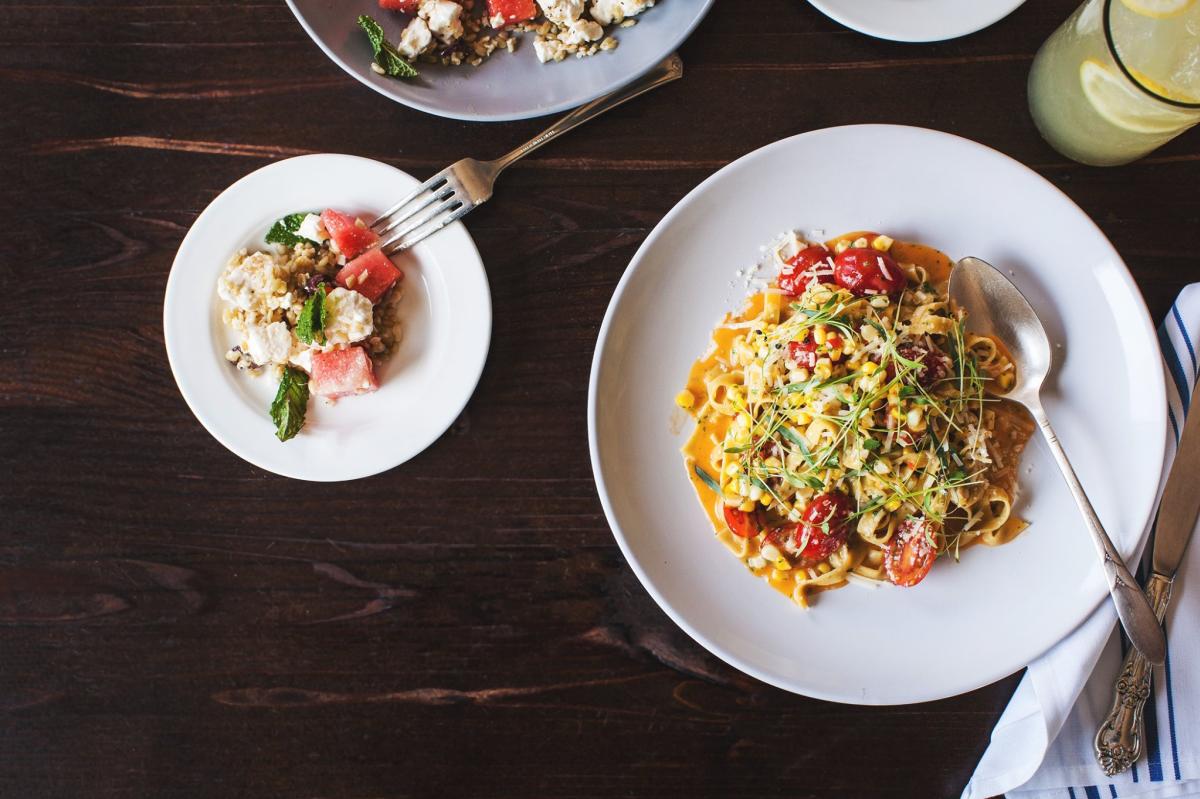 Photo credit: The Spoon Trade
The Spoon Trade offers comforting American classics with a modern twist, think fried chicken and waffles, hand-cut pastas, housemade bologna sandwiches, and (in my opinion) the very best burger and fries in SLO CAL. The husband and wife duo, Brooke Town (FOH) and Jacob Town (BOH), are both extremely passionate about spooning up delicious, approachable, seasonally-dictated food and stories—hence the name of their establishment (bring in a vintage spoon to add to their collection in their wall entryway!). Not to be missed: their bakery across the street—Grover Beach Sourdough—offers daily traditional fermented sourdough, buttermilk biscuits, waffles, brown butter cookies, and more!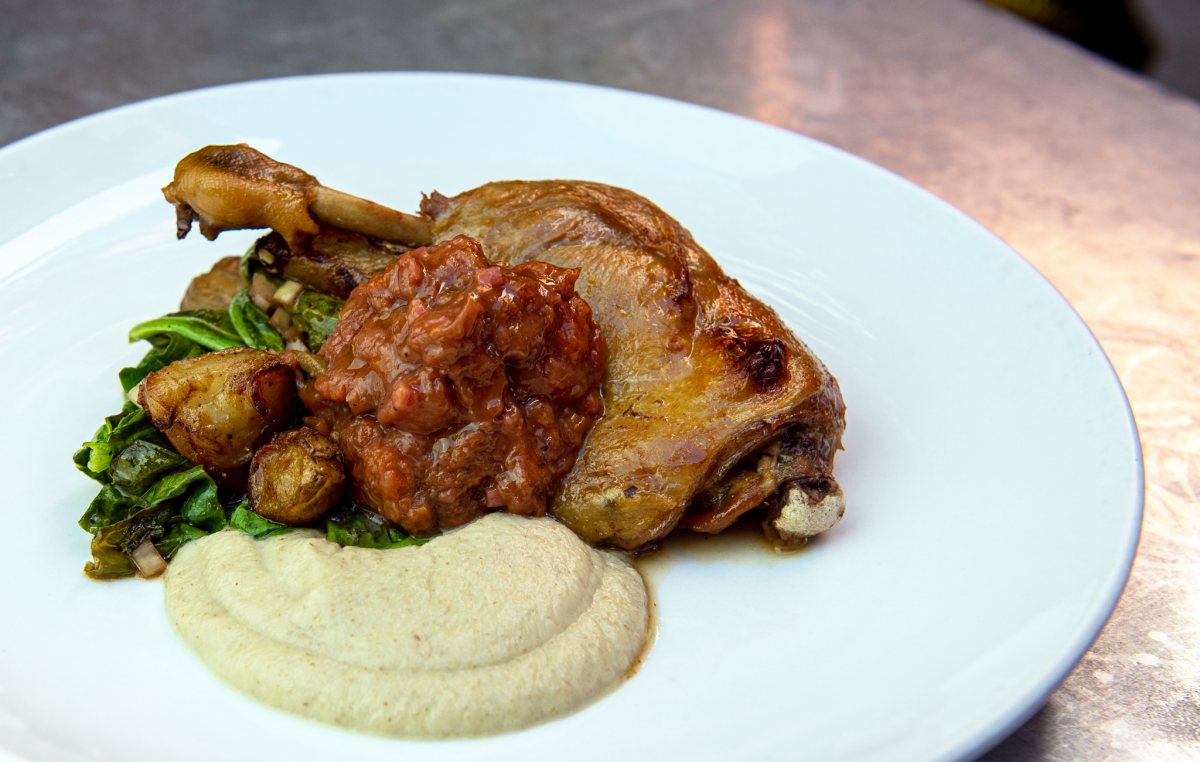 Photo credit: Thomas Hill Organics
Fancified Organic Farm-to-Table
📍 Paso Robles 
What originally started as a ten-acre organic farm with a CSA (Community Supported Agriculture) box program, Thomas Hill Organics has evolved over the years into one of downtown Paso's destination restaurants. Over the years, they have attracted many talented established chefs from San Francisco and Los Angeles who put their spin on showcasing some of the most imaginative, inventive, bold dishes—always with a focus on sourcing the absolute best, hyper-local, organic ingredients SLO CAL has to offer. 
 
Comfort Food & Farm-to-Glass Cocktails
📍 Paso Robles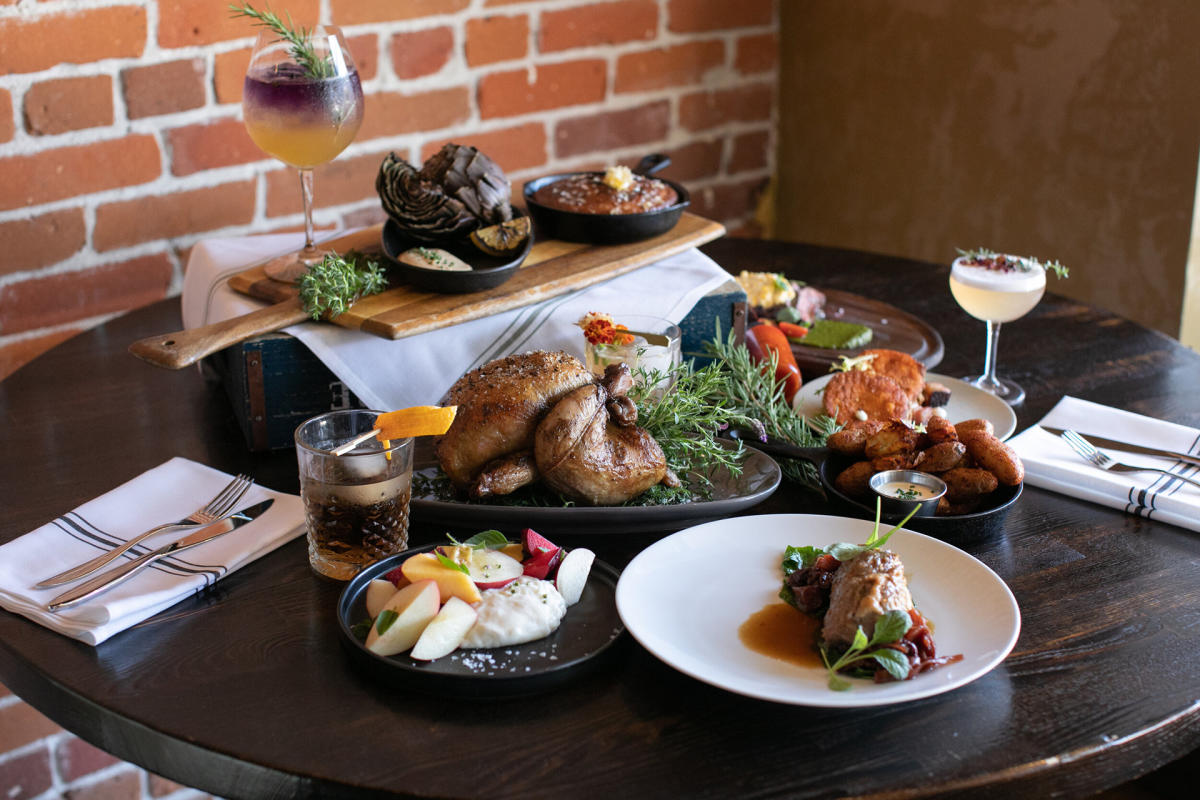 Photo courtesy of: Alyson Magda
With their wood-fired rotisserie at the helm of their operation, The Hatch serves up knock-out comfort food, an impressive selection of small-batch whiskeys, and a farmers-market-driven cocktail program featuring freshly squeezed juices, herbaceous garnishes, and house-pickled local produce. Their daily specials are subject to change and not to be missed: unquestionably the best fried chicken in SLO CAL (Mondays and Tuesdays), beef ribs (Wednesdays), shepherd's pie (Thursdays), grilled ribeyes (Friday and Saturdays), prime rib (Sundays). Make sure to check out their sister restaurant next door, Della's, which features wood-fired pizzas with housemade crust dippers and a build-your-own gin-and-tonic cocktail menu. 
 
SLO CAL Farm-to-Table Pioneers
📍 Cambria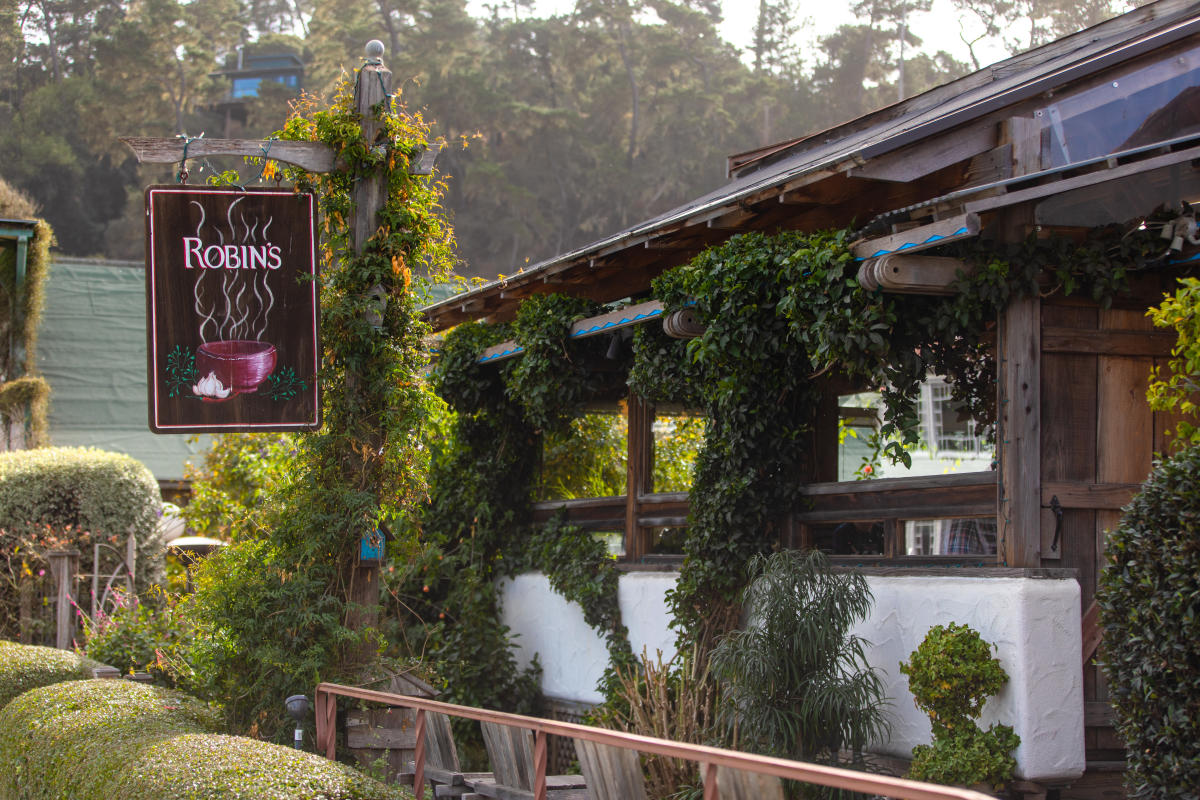 Photo credit: Highway 1 Road Trip
Credit where credit is due: restaurateurs Robin Covey and Shanny Covey are the unsung heroes of the SLO CAL farm-to-table movement. In the early 80s the two opened The Robin's Nest, a health food store in Cambria stocked with fresh produce and served sandwiches, smoothies, and fresh juice. They started hosting dinners 3 nights a week in the Nest's garden which inspired them to open the present-day Robin's Restaurant off the main drag of downtown Cambria. They have been supporting local farmers for 40+ years every single week to create local, wholesome, global cuisine for Robin's Restaurant and their sister restaurants Novo and Luna Red (see below) in San Luis Obispo. All the seating options are amazing: an indoor table inside the intimate, cozy, thick-walled historical adobe home, or outside in their beautiful, lushly landscaped garden, or in their in-between space: a covered porch with colorful mosaic tabletops that feels like you are inside a glass-window greenhouse. Open for lunch, dinner, and Sunday brunch—their salmon bisque is a must-try!
Globally-Influenced Creekside Dining
📍 San Luis Obispo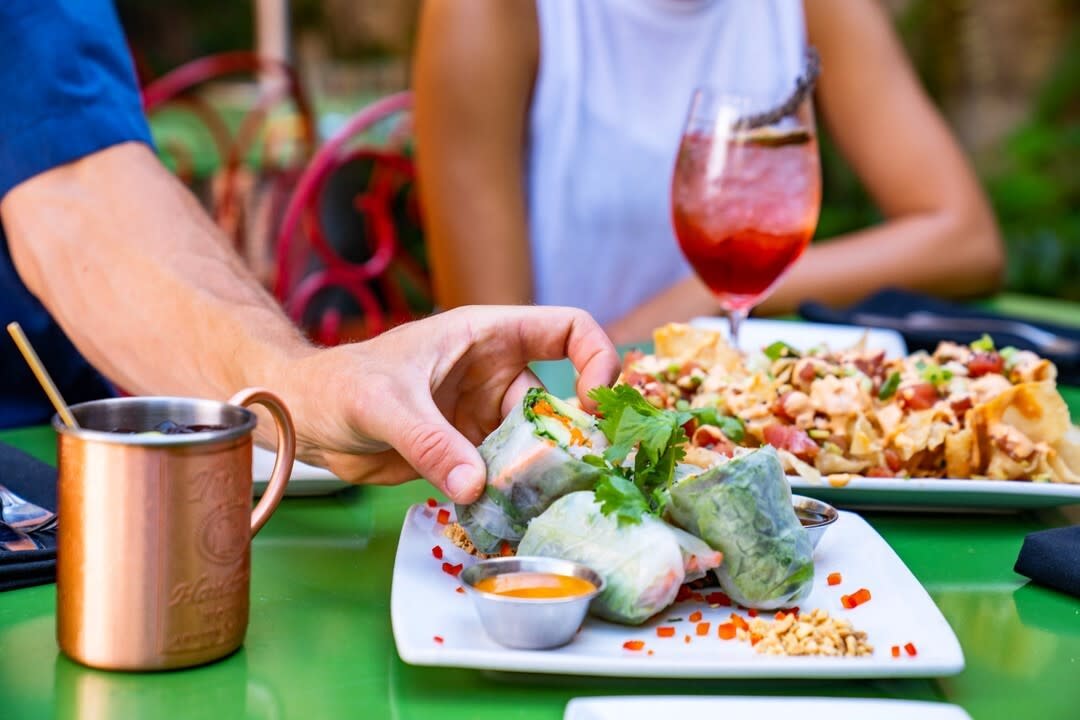 Photo credit: Novo Restaurant
You simply cannot beat Novo's award-winning, creekside-facing outdoor patio right in the heart of downtown San Luis Obispo. Open 7 days a week, they offer non-stop daily service with brunch, lunch, late lunch, dinner, dessert, and an extensive cocktail and wine list. Their globally-influenced menu features crowd favorites like Vietnamese shrimp spring rolls, Singapore chicken satay, Mediterranean meze platters, Korean short ribs, Mexican pork carnitas sopes, and my personal favorite the spicy Thai green chicken curry. The strategy here is to dine with a large group so you can sample their substantial menu offerings!  
Latin-Inspired Outdoor Dining
📍 San Luis Obispo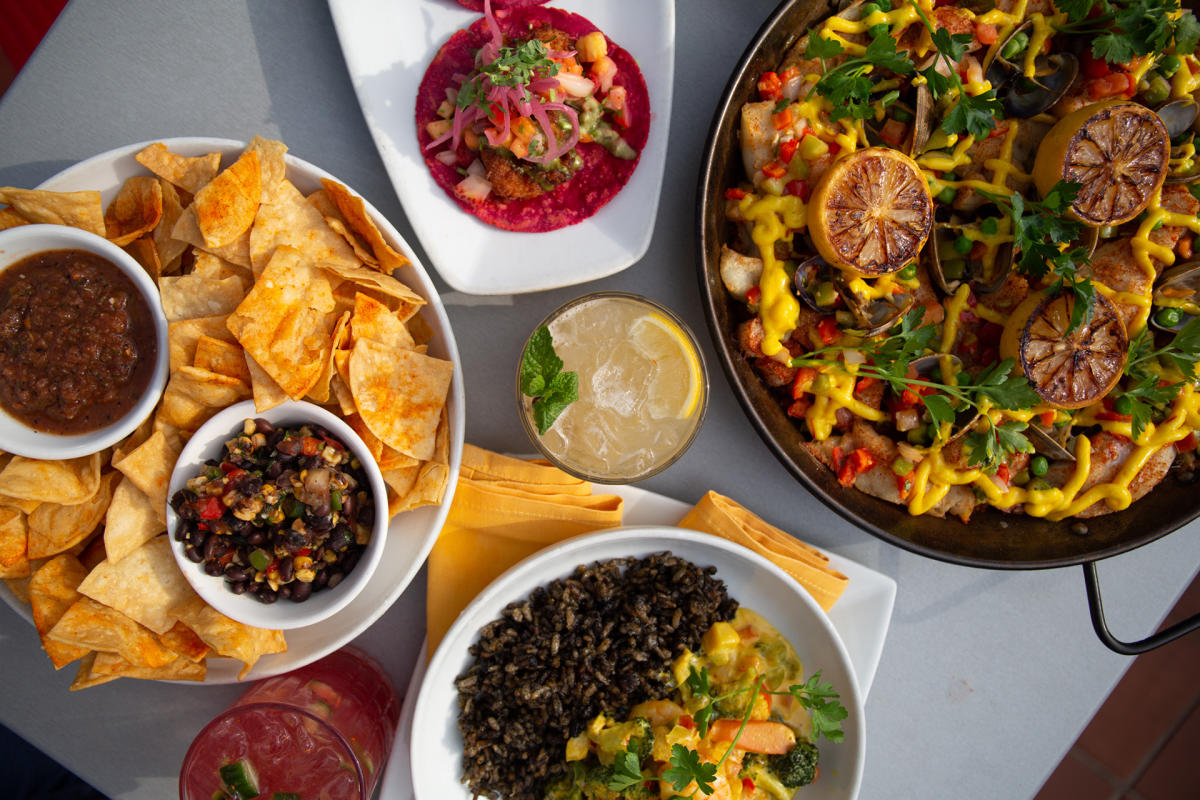 Luna Red is the sassy Latin-inspired sister restaurant to Robin's Restaurant and Novo Restaurant & Lounge (see above). Think citrusy ceviche, spicy gambas al ajilo, award-winning paella, and the best sangria roja made with malbec, pisco, citrus, ginger beer, fresh fruit juice—which is sold by the glass or the pitcher (dear reader: order the pitcher!). Their dog-friendly, string light-studded, terracotta-tiled patio overlooks the historical 1772 Mission San Luis Obispo de Tolosa and is consistently voted best outdoor dining in SLO CAL. Open every day for lunch, dinner—do not miss their hearty happy hours and tasty "Taco & Tiki Tuesdays" too!
Gourmet Takeaway 
📍 San Luis Obispo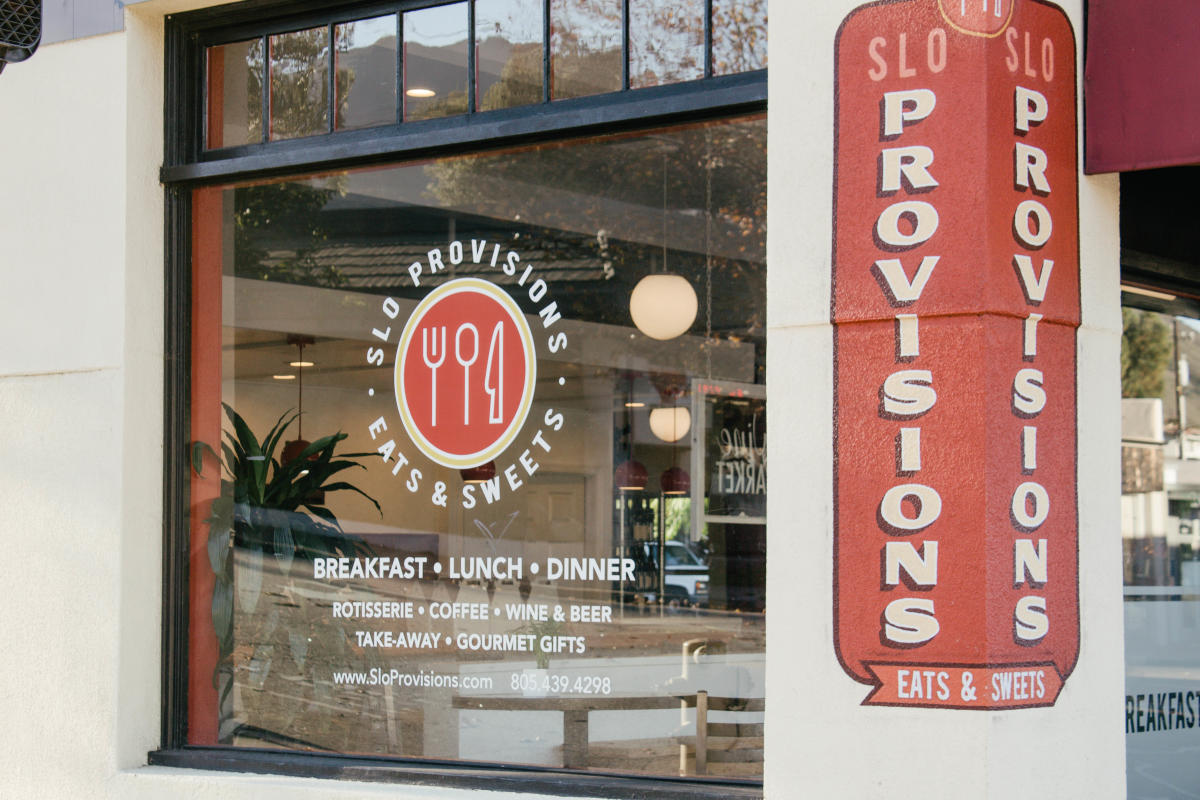 SLO Provisions—located in the MoJo (cross streets: Monterey + Johnson) district of downtown—offers all-day take-away and dine-in options with rotating rotisserie meats specials, family-style dinners, crave-worthy sandwiches, farm-fresh salads, and buttery baked goods, as well as signature drinks, coffees, wine, and beer. What's the secret ingredient to their delicious home-style scratch cooking? The Southern hospitality slathered into every interaction by business and life partners Dwyne Willis and Steve Bland and their friendly, tight-knit team. SLO Pro—as it is affectionately called by us locals—is a fantastic place if you want to load up on gourmet takeaway for a day of SLO CAL wine tasting, beach hanging, or hiking, or grand some shelf-table goodies like cookbooks, bottles of wine, and gifty food items!
Healthy and Hearty Farm Fare
📍 San Luis Obispo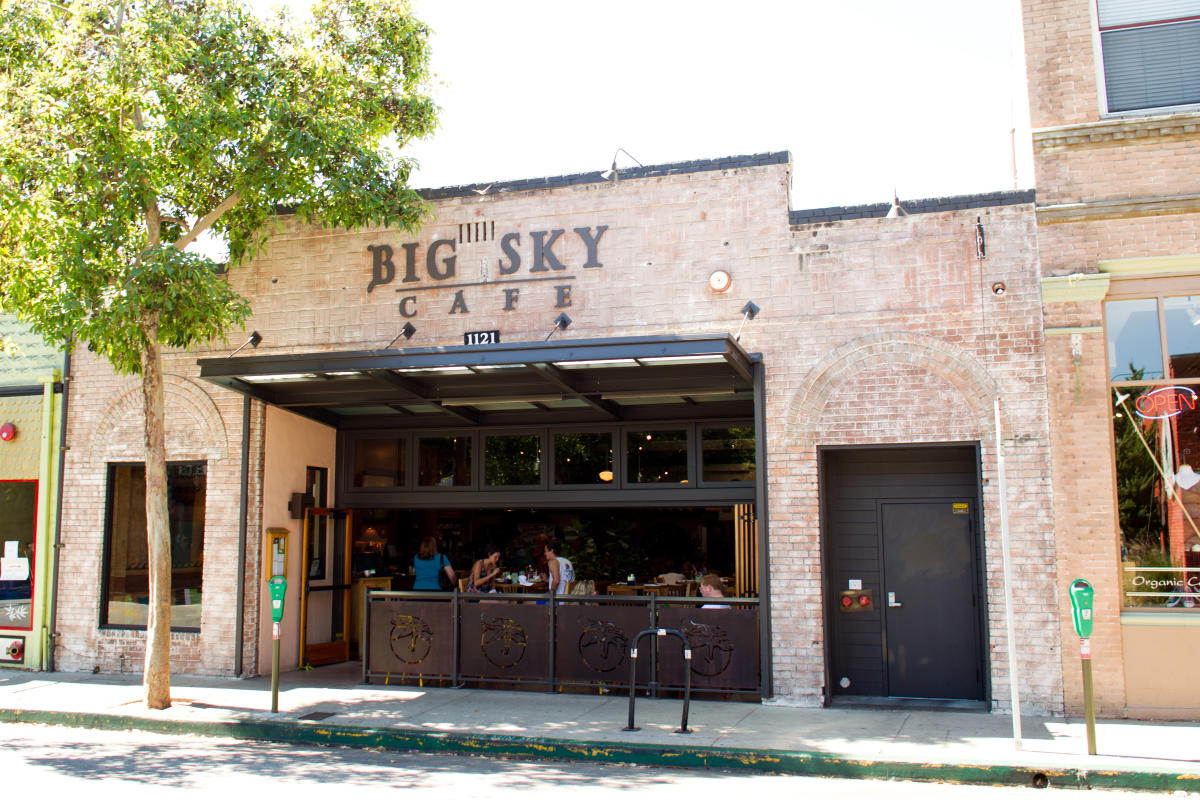 Photo credit: Visit San Luis Obispo
Big Sky Cafe serves up belly-busting portions that you can feel good about because every dish is loaded with locally-grown vegetables and locally-raised proteins. Their adaptable menu allows for allergen substitutions, and many dishes are flexible enough to be prepared vegan or gluten-free on the fly. Their beautiful brick building boasts of a high-vaulted beamed ceiling which feels both spacious and intimate at the same time. Sourcing local is their north star—even down to the rotating exhibition of local artwork that adorns their walls. Big Sky has continuous service 12 hours a day, which makes this beloved staple an easy option at any time. 
Very Good Gluten-Free
📍 Cayucos
📍 Cambria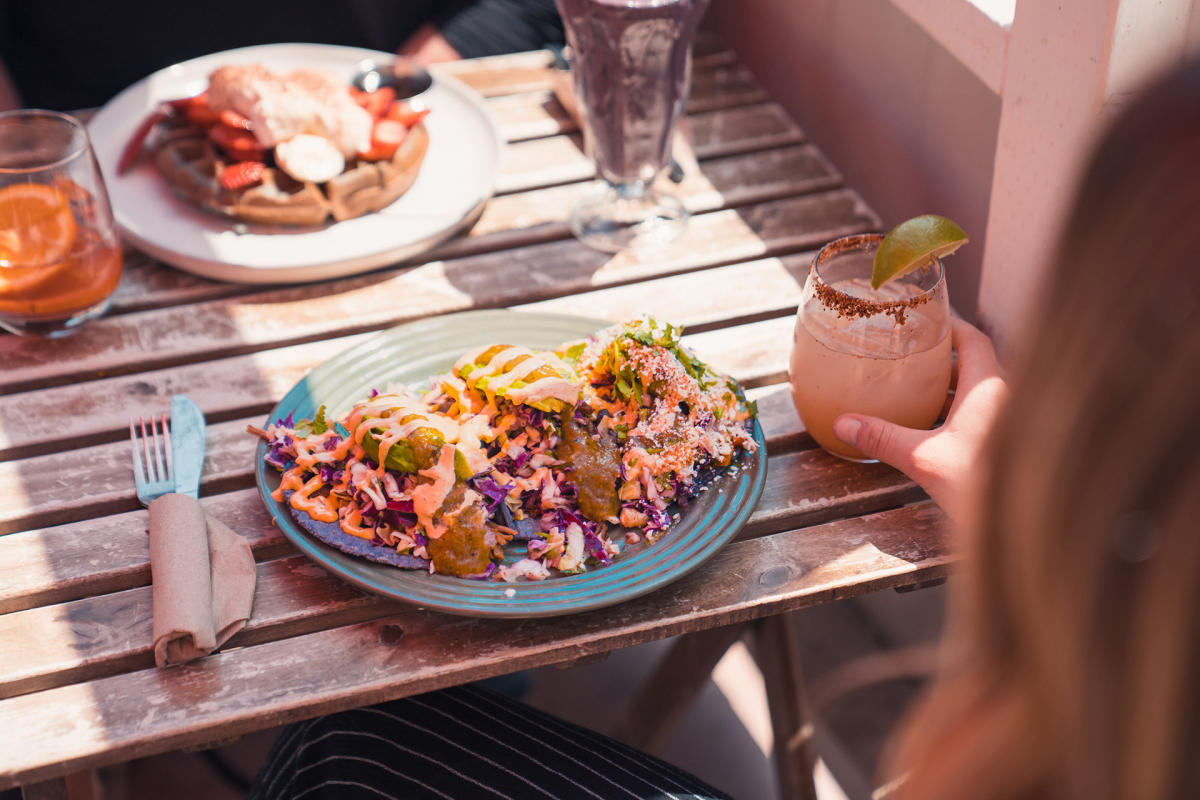 With two perfect Hidden Kitchen locations to choose from: Cayucos with its beautiful beach-front porch views or Cambria with its ivy-covered magical fairyland-esque patio—you cannot go wrong. Famed for their savory or sweet blue corn waffles, blue corn tacos (at the Cayucos location only), and superfood smoothies, their kitchen is 100 percent gluten-free! As a gluten-fiend myself who is skeptical of gluten-free food *actually* tasting good, I am a complete convert when it comes to their all-organic, sustainably-sourced, downright delicious menu offerings. This not-so-hidden gem is equally adored by both the local community and tourists alike.
Casual Cal-Ital
📍 San Luis Obispo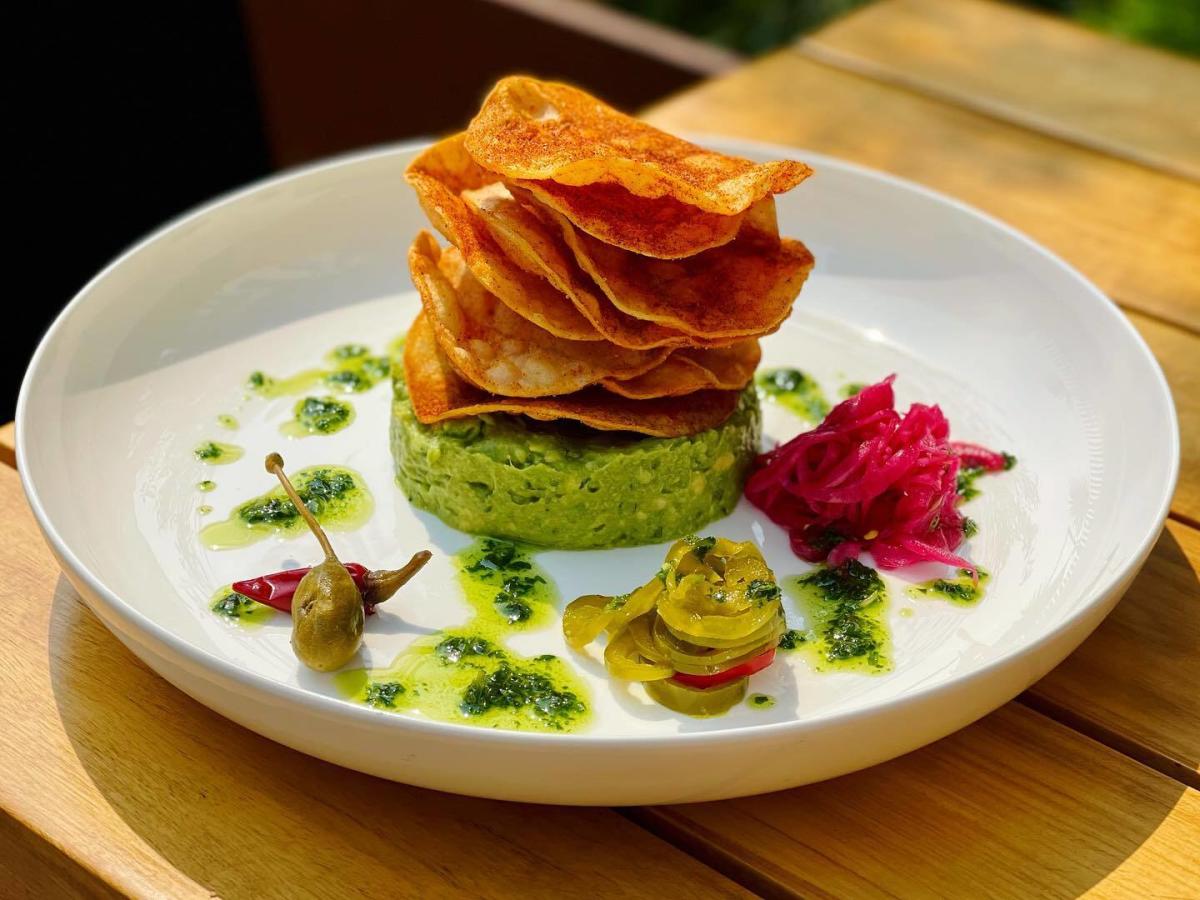 Photo credit: Piadina
This casual California-Italian restaurant is attached to the gorgeous Hotel San Luis Obispo and is run by Executive Chef Ryan Fancher, who also helms Ox + Anchor (see below). Their Scandinavian-esque calming interiors feature light birch tables and chairs with hygge-inducing overhead light fixtures. Their menu features a variety of veg-forward starters with local love shout-outs to Bautista Farms and Chavez Family Farm, original oven-fired pizzas, and tried-and-true entrées like herb-roasted chicken, grilled swordfish, smash burgers, and steak frites. Be sure to check out their seasonal cocktails and spirits flight (a trio of tequilas, bourbons, mezcals, and ryes) to wet your whistle!
Modern Michelin-Approved Steakhouse
📍 San Luis Obispo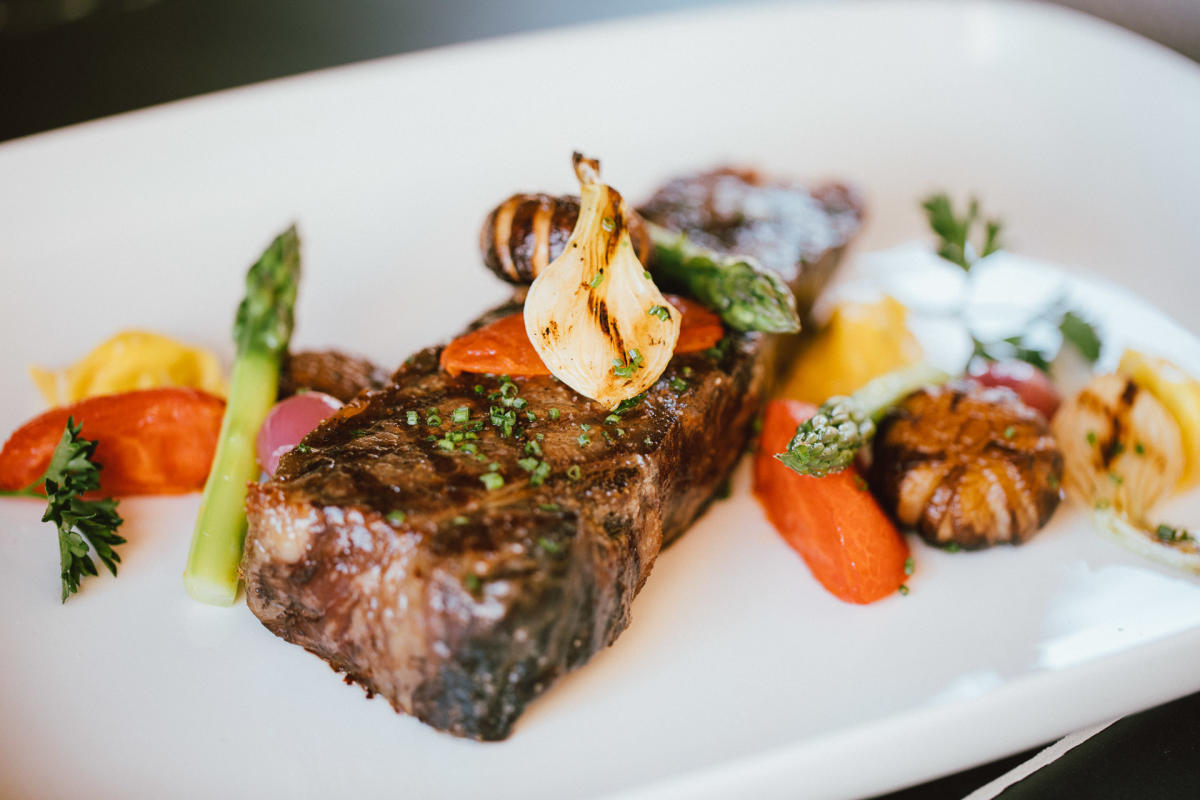 Photo credit: Ox + Anchor
Ox + Anchor is home to downtown SLO's first steakhouse and features all the quintessential old-school hits with a modern (Michelin-approved!) twist: oysters, shrimp cocktail, tartare, bone marrow, loaded baked potatoes, creamed spinach, and more. With eight cuts of meat to choose from (plus pork chops, lamb, or lobster) and four in-house sauces (bernaise, bordelaise, chimichurri, or their signature steak sauce), every selection and combination is an ace. Make it a celebratory evening at this elevated stop: don your best outfit, savor every course, treat yourself to that second (or third!) bottle from their extensive wine list, and make sure you save room for dessert too!
French-inspired Bistro
📍 San Luis Obispo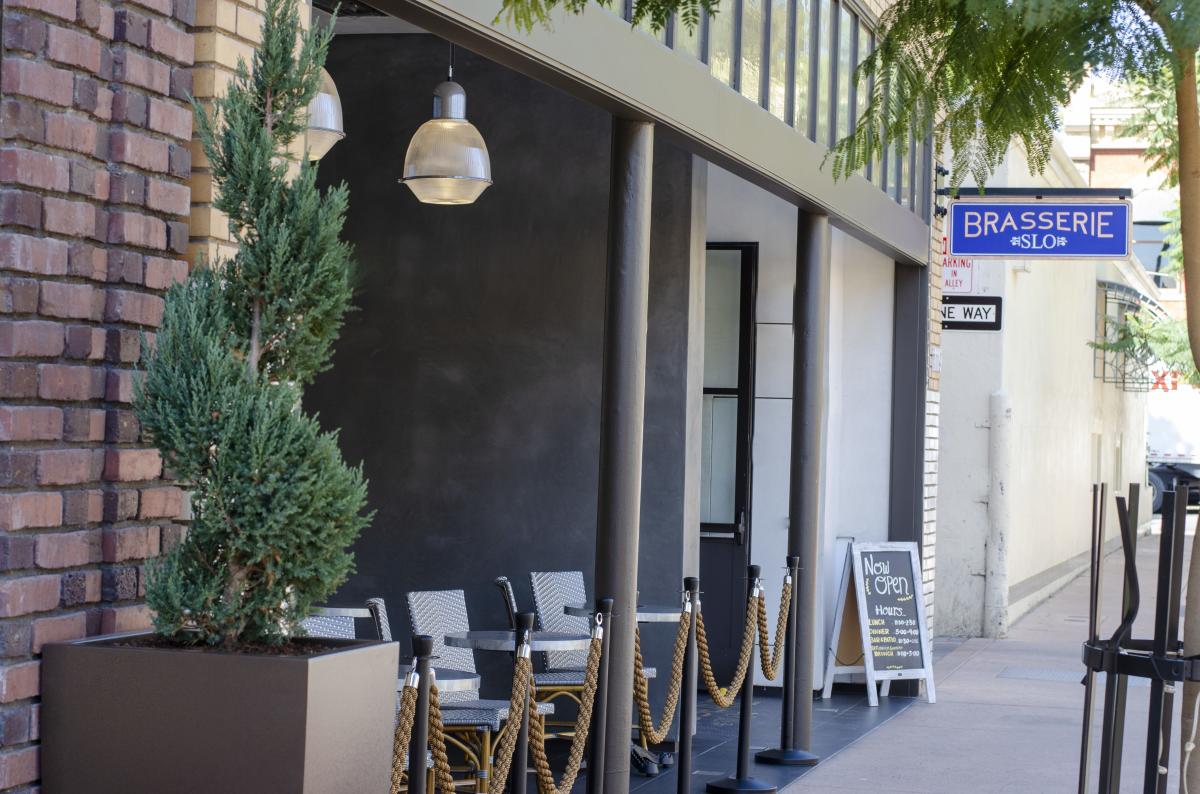 Located inside the classy Hotel Cerro in the heart of downtown San Luis Obispo, Brasserie SLO serves up French-inspired bistro fare and brunch. Their European street-style seating with 2-top round tables and wicker chairs facing outwards on quaint Garden Street will transport you to the cafes found in every bustlin' French town. Live it up on their stunning 360-degree-view rooftop pool with lavish poolside eats (Oysters! Charcuterie platters! Bloody Mary poached shrimp!)—no reservations necessary and no cover charge. Plus their full dinner menu is available in the evening, so time your rooftop dining experience with the sunset over Cerro San Luis Obispo, or "Madonna Mountain" as it's colloquially known. On top of all that, Brasserie SLO has its own on-site organic garden, where they use the organic produce directly in the restaurant! Talk about farm-to-table! 
Elevated Epicurean Eats with Sommelier Staff
📍 San Luis Obispo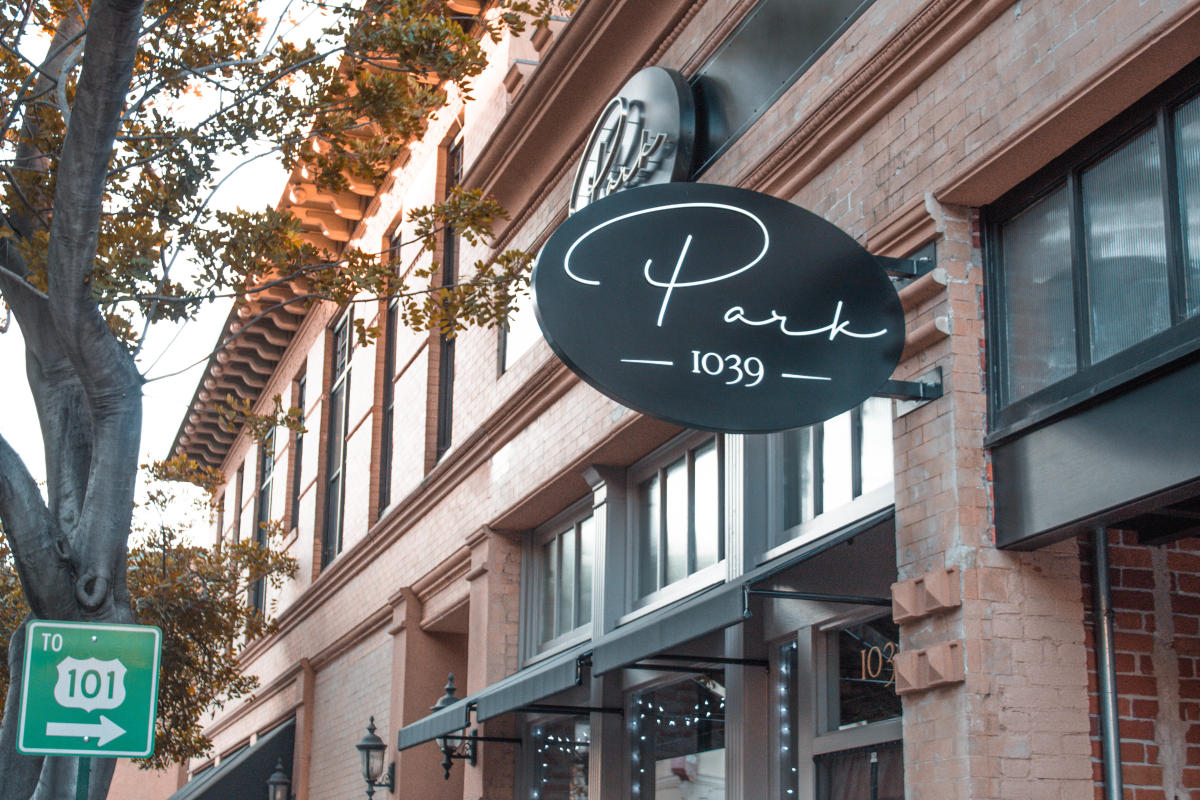 Park 1039 is quickly becoming SLO's hot spot destination for its somm-forward superior service. Everything is done to the nines: a world-class wine list (over 2,000 bottles from over 26 countries!), imported cheeses curated by their expert cheesemongers, luxury gift goodies featuring their tailor-made leather baskets and custom hand-blown crystal glassware, and more. The presentation of their dishes —plated on custom ceramics commissioned by local ceramicists—are truly epicurean works of art. Their impeccable service is enthusiastic, passionate, and never pretentious. If you have a penchant for the finer things in life (i.e. caviar, confit, and charcuterie, oh my!), you will fall in love with Park 1039. Insider tip: They bake only one Basque-style cheesecake per day—if you are lucky enough to snag a slice be ready for a creamy dreamy mic-drop dessert moment.