Have fun exploring the wild, wild west in this trio of authentic and picturesque ranching towns.
Located along the northeastern edge of SLO CAL lie the little towns of Creston, Shandon and Cholame — a land of hay barns and fertile pastures, where cattle graze golden rolling hills reminiscent of a John Steinbeck novel. It's also the land of olive trees and abundant vineyards that grow grapes for deeply-colored, full-bodied red wines. Historically, this agricultural space has supported ranchers, ropers and growers, but it's also home to artists and renowned chefs, mystics and makers. The common theme among them all? They want land, lots of land, under starry skies above — so don't fence them in.
Ready to explore? Here's our list of things to do, eat, see and experience for 24 hours in Creston, Shandon, and Cholame.
Breakfast: The Creston House & General Store
Giddy up for a satisfying breakfast, then pick up gifts and goodies for the cowboys and cowgirls in your life
Creston may only take up a total of three square blocks, but it has lots of heart — a fact that's easy to discover when you spend any amount of time here. The Creston House & General Store is one of several hubs of activity in town, where locals catch up with each other over coffee, shop for farm-fresh produce, and pick up unique gifts. The vibe is casual and country, with a menu to please the whole family. Choose from hearty dishes like the Brisket Breakfast Burrito, Biscuits and Gravy, or a Ham and Veggie Scramble. Don't forget to pick up coffee or hot cocoa, especially if it's a chilly morning. The general store carries apparel, decor, jewelry, and leather goods like belts made just across the street at Allgood Custom Leather. You can also purchase locally-grown fruits, veggies, cheeses, and other provisions for a picnic later in the day.
Morning activity: Chapel Hill, Shandon
Discover a secret, sacred space with a fascinating history — perhaps amid a carpet of wildflowers (if you time it just right)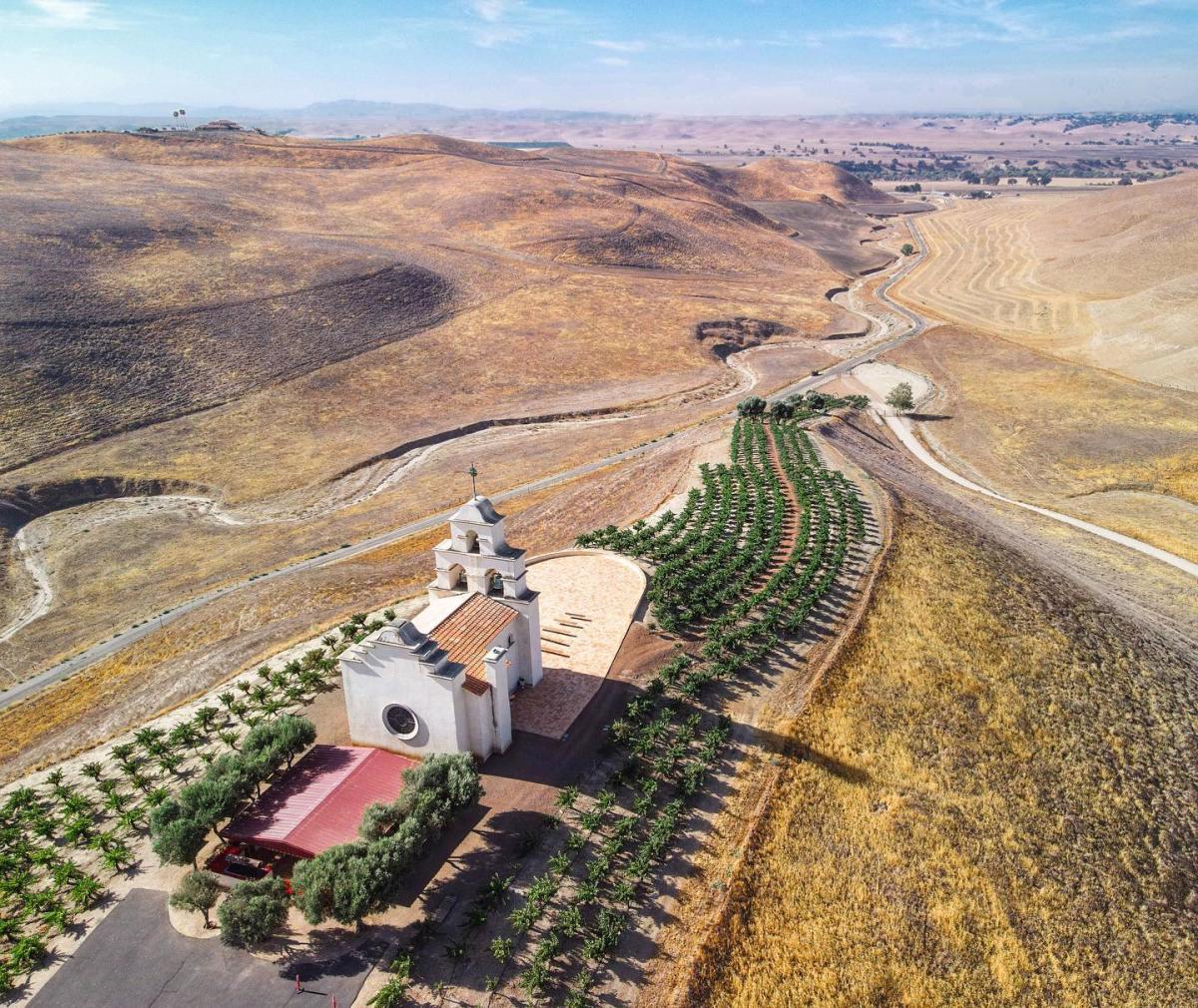 Photo credit: @huntingtondrones
Drive past Shandon and if you blink, you'll likely miss a view of Chapel Hill tucked into the hills north of East Highway 46. The facade of the pint-sized, mission-style chapel gleams in the sunlight, with rows of grapevines planted on a steep pathway up the hillside. The building, known officially as Serra Chapel, was designed by William "Judge" Clark, a local rancher and attorney who served in the Reagan administration. Legend has it that in the late 1980s, Judge Clark was piloting a small plane that became caught in crosswinds just after take-off. His plane crashed a little ways off the runway, narrowly missing a fuel storage tank. Clark escaped the wreckage with the help of a ranch hand; though he was severely injured, he survived. In gratitude for his survival, Clark promised to build a beautiful chapel to the glory of God, and Serra Chapel is the result. (In fact, the building opened to the public on Thanksgiving Day, 1993.)
Today, Serra Chapel offers Sunday morning mass in Spanish and English, but the building is closed for the rest of the week. A visit is still well worth your while: come for the unique sight of a quaint, pristine chapel situated on a hill amidst the rolling hills of Shandon, as well as views from Chapel Hill itself. Bonus: Between March and May, you might even get to see colorful carpets of Shandon's famous wildflowers.
Continued Fun: Mission Trail Taproom and James Dean Memorial, Cholame
Enjoy cider tastings at this roadside taproom, and learn about the life and career of its claim to fame, actor James Dean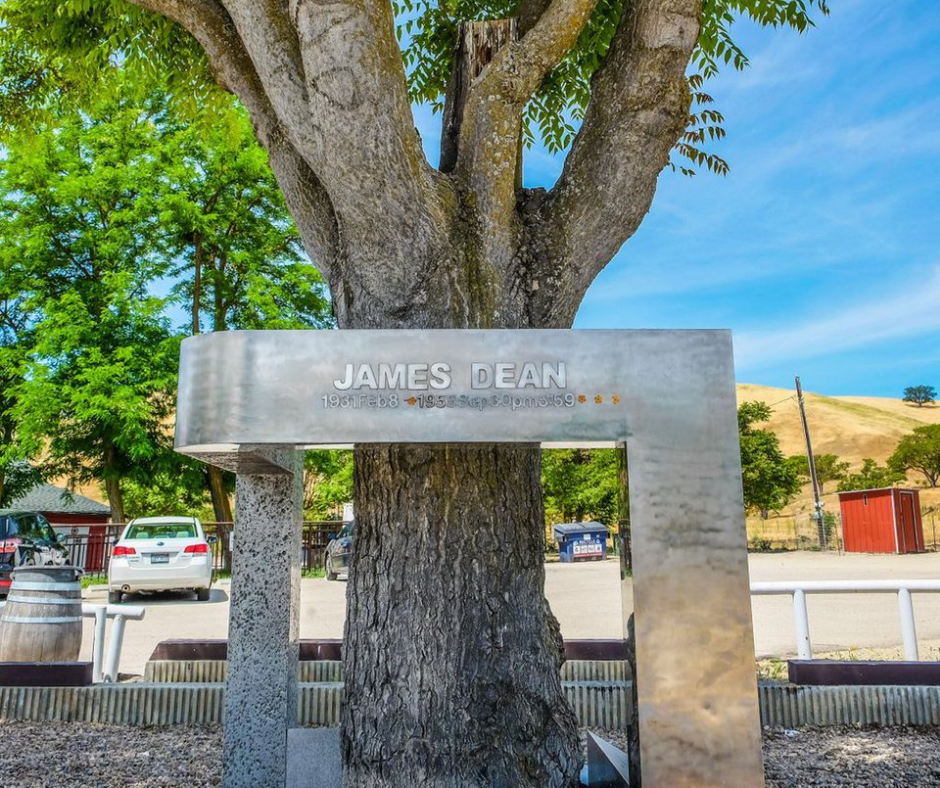 Photo credit: San Luis Obispo Guide
The little building occupied by the Jack Ranch Cafe in Cholame has stood for generations, albeit with different purposes. It began as the Cholame Store and Post Office, but turned into a simple, tidy cafe that served breakfast and lunch. Although it is now closed today, the menu was once influenced by the history of Cholame and its earliest settlers. Today, the property remains a working cattle ranch, now owned by the Hearst Corporation. 
Adjacent to the Jack Ranch Cafe, Mission Trail Taproom samples its unique hard beverages made from local fruit. Many of these are based on recipes and concepts that date back to the ancient world, including jerkum, a plum-based cider; perry, a pear-based cider; mead, a honey-based drink; plus apple cider, wine, port and brandy. Mission Trail is actually the only 100-percent pure jerkum producer in the world and California's only producer of 100-percent pure pear perry. The business is owned by two brothers who grew up in Sonoma and studied winemaking. They've since planted acres and acres of fruit orchards in north SLO CAL for their distinctive fruit-based beverages. With 12 taps flowing at the Mission Trail Taproom, these drinks are available to sample and/or order by the glass.
Something else also happened just footsteps away from the Jack Ranch Cafe: the fatal car crash suffered by James Dean on September 30, 1955. Dean was driving to Salinas from Bakersfield when his Porsche Spyder collided with an oncoming driver due to glare from the setting sun.  After a cider tasting, walk outside to check out the James Dean Memorial erected beneath a statuesque oak tree, donated by a Japanese businessman in 1977.
Afternoon: Lunch and Trail Rides, Creston
 Scarf down some lunch then hop in the saddle for a relaxed horseback ride

Grab a cold one and enjoy some comforting bar food
By now you're probably starving and are ready for a lip-smacking lunch. When in Creston, you can't miss this favorite watering hole. Just look for the little red building with the sign "EAT" on the roof. There's a lot more than eating going on at Long Branch Saloon, though. This cowboy bar serves wine, beer, spirits and cocktails to thirsty locals and curious visitors. While the indoor bar only seats about 12 people, the property extends to the outside, where a fire pit, outdoor bar, and tables and chairs await. (Heaters and market lights keep the back patio comfortable, but you may want to bring a jacket, just in case.) And kids are welcome, too! They can enjoy the backyard play area while their parents settle in to relax. Pick your poison at the bar, listen to live music on the back patio, and order a round of Long Branch Saloon's "almost famous" fried pickles as a snack before getting ready for your final activity of the day. 
Grab the reins for a laidback ride through ranchlands
Out in the great wide open, nothing beats an afternoon of horseback riding. Based out of Creston, Central Coast Trailrides takes cowpokes on safe and serene trail rides for riders seven years old and up. Depending on your experience level, you might find yourself (and your trusty steed) walking through vineyards, over rolling ranchlands, beside lush oak trees or up rocky mountain switchbacks. Central Coast Trailrides sets guests up with everything needed to have a great ride, including helmets, tack, and well-trained, experienced horses. They'll also work with you to design the perfect ride. Beginner favorites include trails through Ryan Ranch and Rainbow Ranch in Creston, each about an hour long.
Dinner: The Loading Chute, Creston
Slide into a cozy booth at this beloved family-friendly BBQ restaurant
This down-home restaurant is a local favorite, specializing in steaks and prime rib. Choose from a menu that makes the most of local ingredients like locally-raised beef, pork and chicken. Husband-and-wife team Jacob and Brooke Town left the heights of fine dining restaurants in San Francisco to return to their hometown and open a spot of their own. The vibe is relaxed and casual here, but don't let that fool you: the Towns are seriously talented. Everything is made in-house, from the jams and sourdough to the American cheese and bologna on their nostalgic bologna sandwich. (Trust us: you've never had a bologna sandwich like this.) The best seller? Fried chicken and sourdough waffles with kimchi and spiced honey. And here's another hot tip: Don't miss the excellent wine list curated by Brooke, or the selection of bread and pastries available at the counter.