Bring your appetite for these two free-wheeling, flavorful communities on the coast.
Bigger is definitely better in SLO CAL's Grover Beach and Oceano. Set against a backdrop of towering sand dunes and world-class beaches, these communities live large and offer big thrills, big flavors and big-time fun.
Adjacent to one another, Oceano and Grover Beach lie at SLO CAL's southern end, with the Pacific coastline forming a natural boundary at its western edge. The Oceano Dunes — one of the largest sand dune systems in the world — hold special significance here. These elegant windswept formations influence nearly every bit of these towns' history, culture, and vibe.
If you spend time here, you might find yourself catching air on the dunes in a Hummer, ordering breakfast in a 1946 Pullman dining car, or belly-laughing at an authentic Western melodrama performed by professional actors. You could also wind up high in a historic biplane, puzzling yourself out of an escape room, or moaning over the best fried chicken and ribs you've ever tasted. Folks who visit here discover that Oceano and Grover Beach are two down-to-earth communities with attractions that overdeliver. Spend just 24 hours with them, and see for yourself. Where to start? Use our punch list of the best things to eat, see, and do in Oceano and Grover Beach.
Breakfast: Rock & Roll Diner
Revel in old railway culture — and a tasty breakfast — from the booths of two vintage dining cars

Eating breakfast inside two historic train cars is a rockin' way to start the day. Located right on Highway 1, the Rock & Roll Diner is actually a restaurant on wheels, built into a 1946 Pullman Standard dining car and a 1947 Budd Car Company lounge car. A restaurant in a pair of train cars? Yes: Oceano once served as one of SLO CAL's biggest railway hubs, and played a major role in developing its infrastructure. Today, the Oceano Train Depot (just a half-mile up the road) is a museum rather than a station, but the Rock & Roll Diner keeps railroad fever alive here. The Amtrak still stops at a new station on a daily basis. Dine in one of the restaurant's classic dining car booths, surrounded by memorabilia, vintage train ads, and movie posters. Indulge in a hearty breakfast like Chorizo & Eggs, French Toast or a Denver Omelet, or keep it simple with an Old West Cinnamon Roll or bowl of oatmeal. Wash it all down with a piping-hot cup of coffee or tea, then sit back and enjoy "the ride."
Morning activity: Oceano Dunes Hummer Tour
Feel the thrill of flying over, between, and around sand dunes in a real USMC-issue Hummer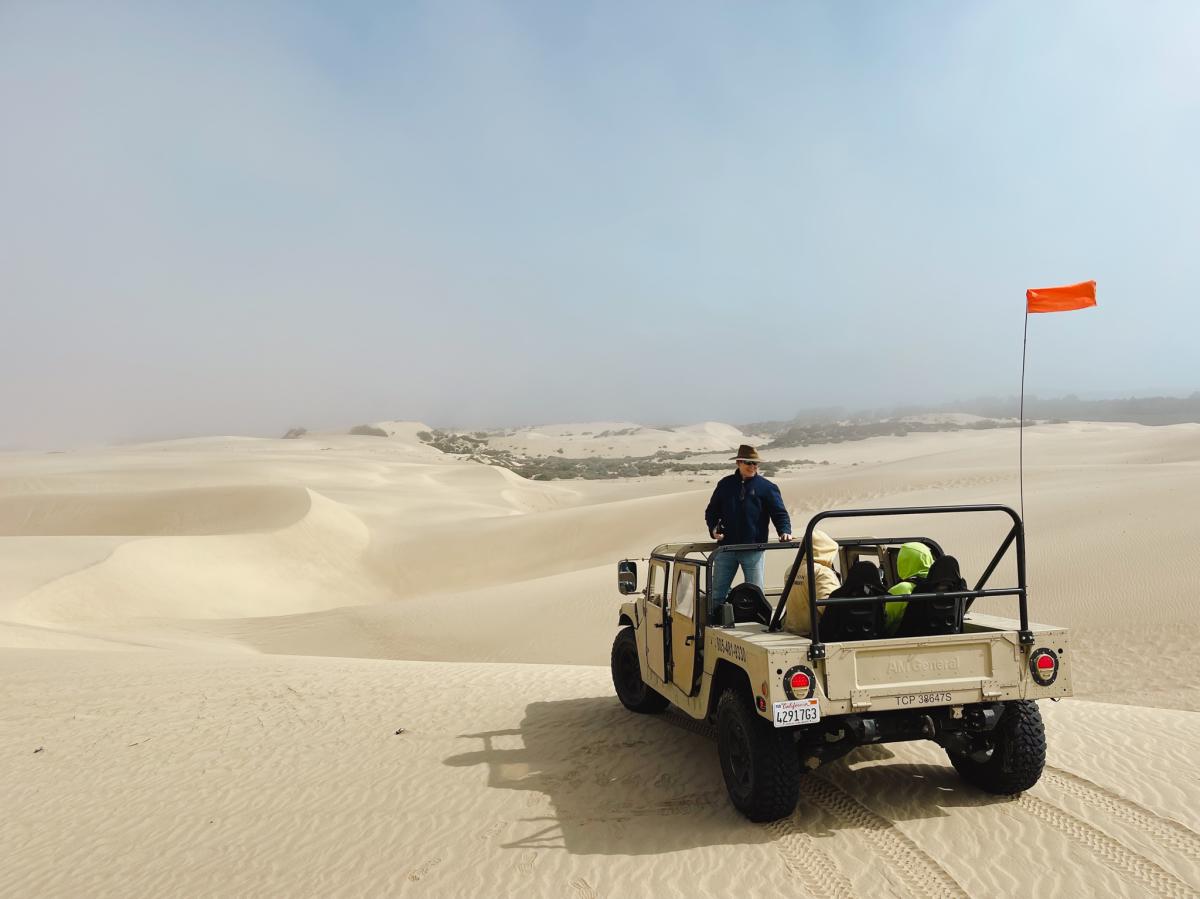 The Oceano State Vehicular Recreation Area (SVRA) is one of the only drive-on beaches in the country — and that includes sections of the Oceano Dunes. The best way to experience the dunes is with a Hummer tour company like Pacific Adventure Tours and Xtreme Hummer Adventures. These groups have knowledgeable drivers who know the dunes like the back of their hands and can give you a thrill by cresting peaks, charging berms, and rolling around bowls. Pacific Adventure Tours/Xtreme Hummer Adventures is the largest Humvee tour company in the nation and holds the highest standards for both safety and fun on each one-hour tour. Their United States Marine Corps-issued Hummers can scale a 22-inch vertical wall, traverse a 40-percent slide slop, and ford 30 inches of water. Made with bonded and riveted aircraft aluminum, these vehicles can do just about anything, and in style. 
Lunch: The Rib Line
Bring a good appetite for ribs, burgers, chicken and more at this classic SLO CAL BBQ spot

Photo provided by: The Rib Line
Since 2010, Chef Brian Appiano has pleased hungry folks far and wide with his award-winning BBQ at The Rib Line. Brian has won multiple cook-offs and competitions, including placing first in the World Food Championship in Las Vegas. His secret? Succulent, sweet and meaty ribs, tri-tip, burgers and chicken. Let your nose be your guide: the aroma of Rib Line's BBQ is unmistakable. A favorite order here is a good old-fashioned BBQ plate, complete with tri-tip, pulled pork, baby back or beef ribs, plus beans, coleslaw, cornbread, and all the fixings. If you're more in the mood to sample several of the Rib Line's delicacies, go a la carte with tri-tip and fish tacos, award-winning chili and macaroni and cheese — even clam chowder. Kids especially love the long children's menu, with lots of choices for entrees, as well as a side and a drink. This is a great place to bring family, with plenty of seating both indoors and out. Just remember to save a little room for dessert: the Turtle Cheesecake and Chocolate Fudge Brownie are made in-house and are deadly delicious.
Afternoon activity: Biplane Ride and Okui Strawberry and Fruit Stand
See the Central Coast from up high, then snack on locally grown ruby-red strawberries
Fly high over Oceano in a biplane
For 30 years, passengers on Banner Airways have flown in a bright yellow 1942 open cockpit biplane over Oceano. Owners Jorden and Kandis Hevle take great pride in showing off the Central Coast from above, guiding sightseeing tours that take in the Pismo Beach Pier, dunes, mountains — even all the way out to the vineyards and wine country. As a pilot, Jorden also specializes in thrill rides that are not for the faint of heart. Each tour/ride is 50 minutes long and includes the option to buy a video of the flight experience.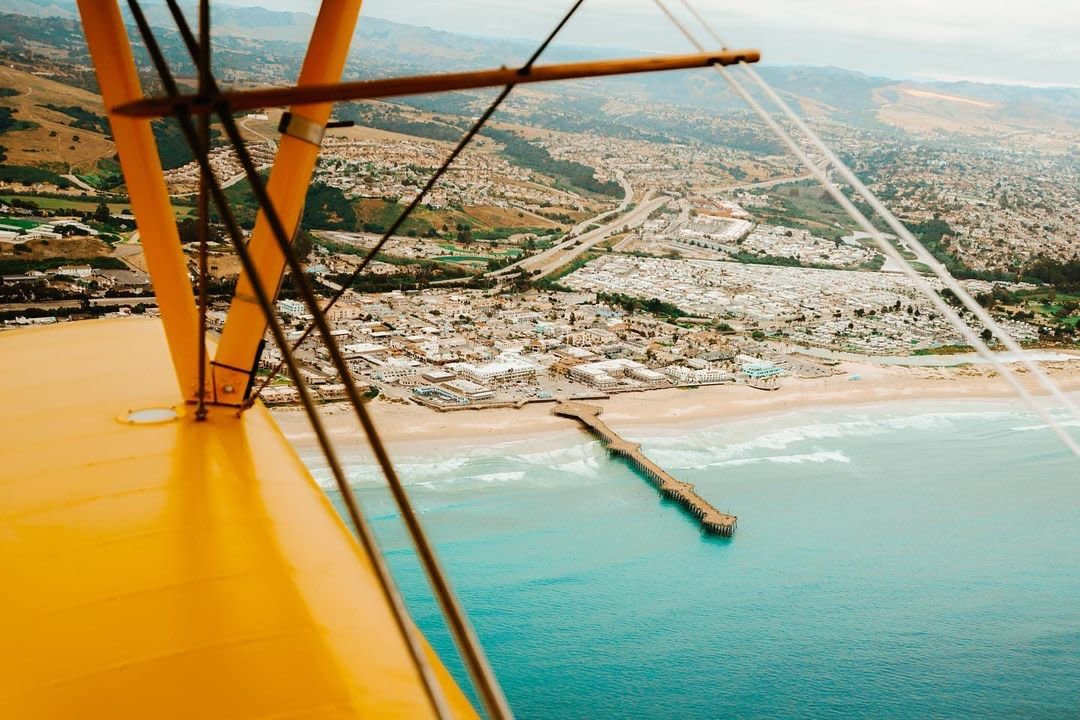 Banner Airways. Photo provided by: @nicole_thenomad
Taste the sweetest strawberry for miles around
Oceano and the Central Coast, in general, have a strong tradition of Japanese families who farm along the coast, going back as far as the early 20th century. The Okui family began growing strawberries in Oceano in 1948 and is known as one of the best places to buy strawberries in the area. Between the months of March and September each year, you'll find the Okui family selling giant, jewel-toned strawberries, lined up in boxes at their farmstand on Highway 1. They also offer a variety of vegetables, depending on the season, plus sponge cake, strawberry glaze, and whipped cream for strawberry shortcake. Another farm family with lots of SLO CAL history is the Hayashi Family. Being based in SLO CAL for over 100 years, they have been making a name for themselves in the farming and agritourism industries. You can support Y. Hayashi & Sons' efforts year-round by purchasing produce from their Oceano Farm Stand and from various farmers' markets throughout the county.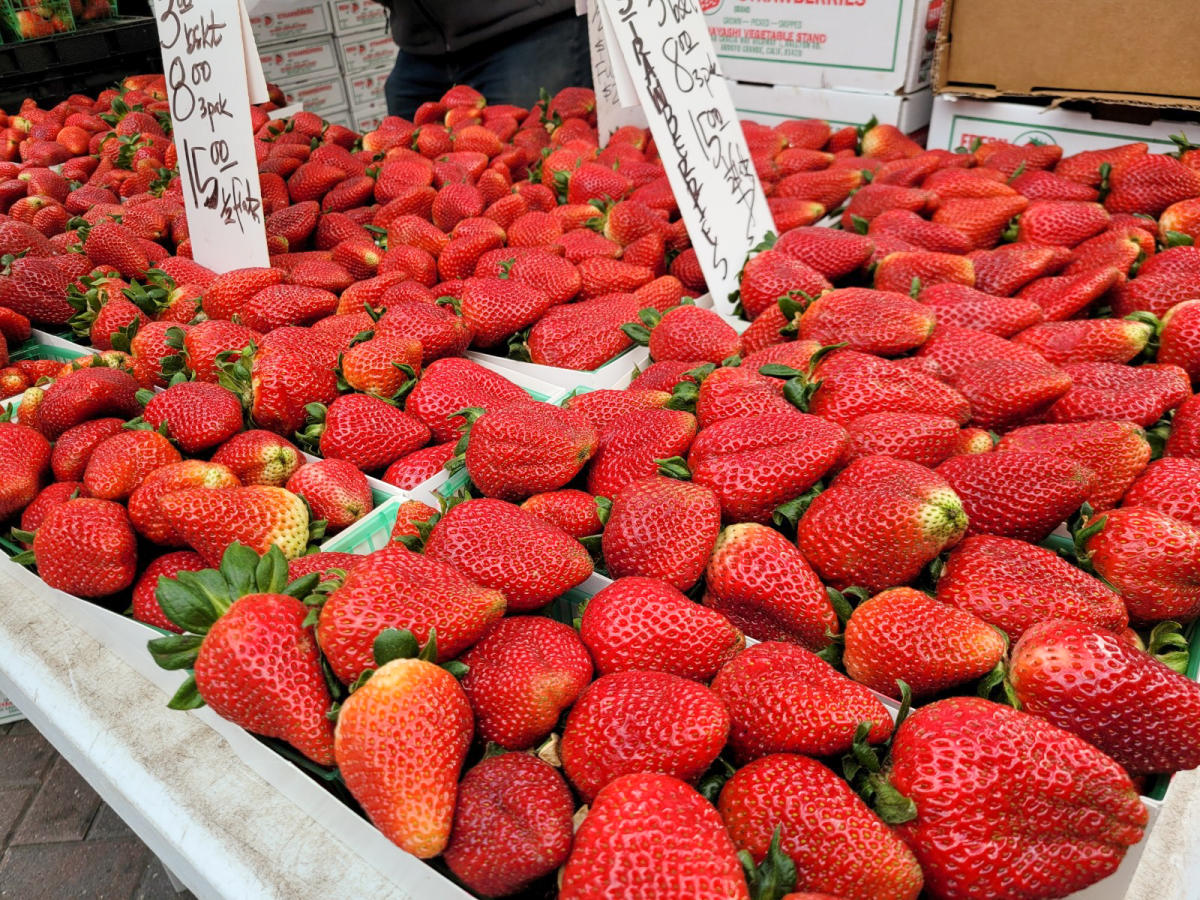 Dinner: The Spoon Trade
Dine on elevated American comfort food in a beachy-keen, comfortable bistro.

Husband-and-wife team Jacob and Brooke Town left the heights of fine dining restaurants in San Francisco to return to their hometown and open a spot of their own. The vibe is relaxed and casual at The Spoon Trade, but don't let that fool you: the Towns are seriously talented. Everything is made in-house, from the jams and sourdough to the American cheese and bologna on their nostalgic bologna sandwich. (Trust us: you've never had a bologna sandwich like this.) The best seller? Fried chicken and sourdough waffles with kimchi and spiced honey. And here's another hot tip: Don't miss the excellent wine list curated by Brooke, or the selection of bread and pastries available at the counter.
Nightlife activity: The Great American Melodrama or The Locked Inn Escape Room
Enjoy a knee-slapping good time at a traditional saloon theater, or solve the riddle to escape an immersive game of whodunnit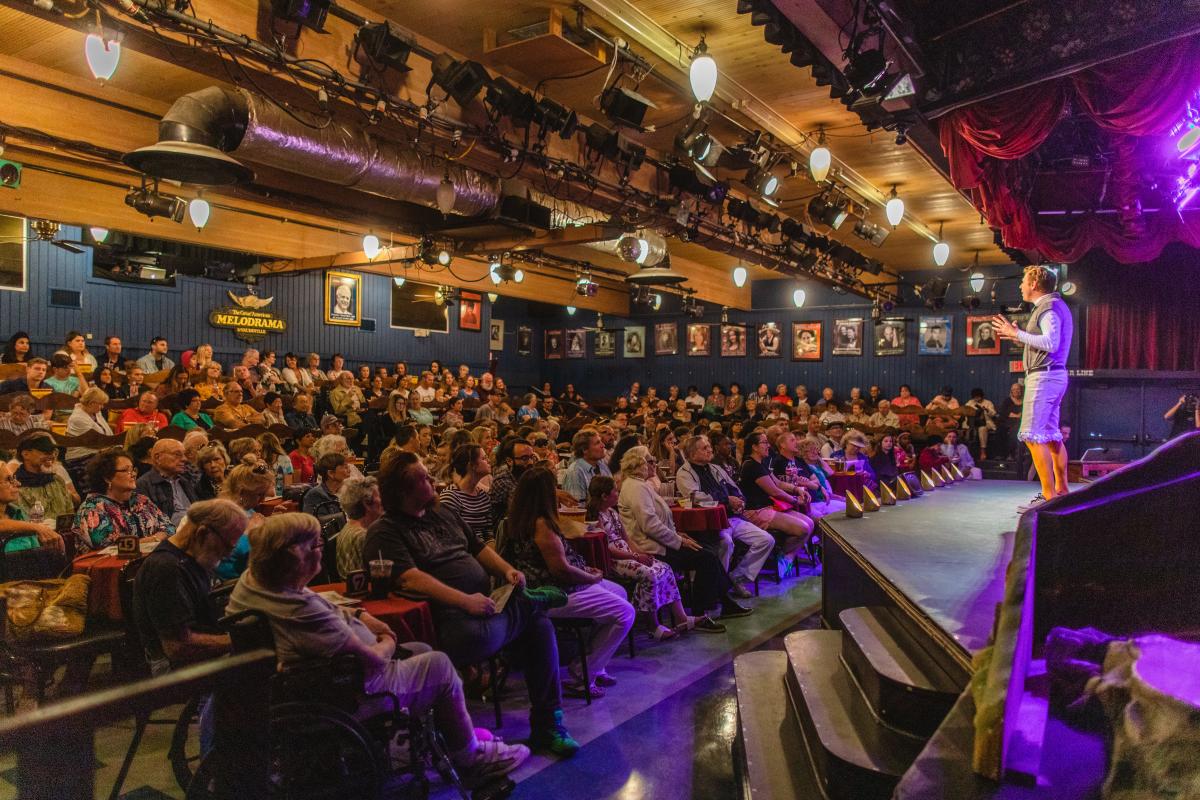 Photo provided by: Highway 1 Discovery Route
Melodrama Theater
The Great American Melodrama and Vaudeville Revue have brought smiles to theatergoers' faces for generations. A real old-timey melodrama theater, the Great American Melodrama performs saloon favorites (think: Damsel in Distress on the Train Tracks, Sherlock Holmes, etc) and short vaudeville revues with a cast of just a handful of skilled actors and one live pianist. One of only a few professional theaters around, it's a unique window back in time — but these aren't out-of-date jokes. Buy a hotdog and a beer at the snack bar, sit down and enjoy uproarious stories and humor the whole family can enjoy.
Central Coast's first escape room experience 
Everyone loves a good whodunnit, and The Locked Inn escape room in Grover Beach puts players right in the center of the action. Enter one of two escape rooms at The Locked Inn, and gather clues like lock combinations, secret words, and hidden keys to bust yourself out. Do it all in 60 minutes or less, and you win! These escape rooms are open by reservation until 8:30 pm and are great for people over 13 years old who like a good challenge. Bring the whole family for a fun, interactive time of gaming and solving together.