Natural wonders, wildlife, and art make for a sweet stay in these sister communities by the sea
The neighboring communities of Ragged Point and San Simeon are each a study in contrast. They're rugged as well as refined, otherworldly and yet totally familiar. San Simeon is where wealthy newspaperman William Randolph Hearst chose to build his masterpiece of Spanish colonial revival architecture, La Cuesta Encantada, commonly known as Hearst Castle. It is the definition of luxury, and yet right down the road, the wild, windswept cliffs of Ragged Point tumble to the churning Pacific beneath.
Our itinerary for 24 hours in San Simeon and Ragged Point takes in the best of both, in all their many forms. Find yourself here, whether while watching the elephant seals at the Piedras Blancas Elephant Seal Rookery or while watching a film in Mr. Hearst's private theater. Either way, you'll discover that San Simeon and Ragged Point are spectacular in a multitude of ways.
Breakfast: Ragged Point Inn
Rise and shine with a wide view of the ocean and farm-to-table breakfast favorites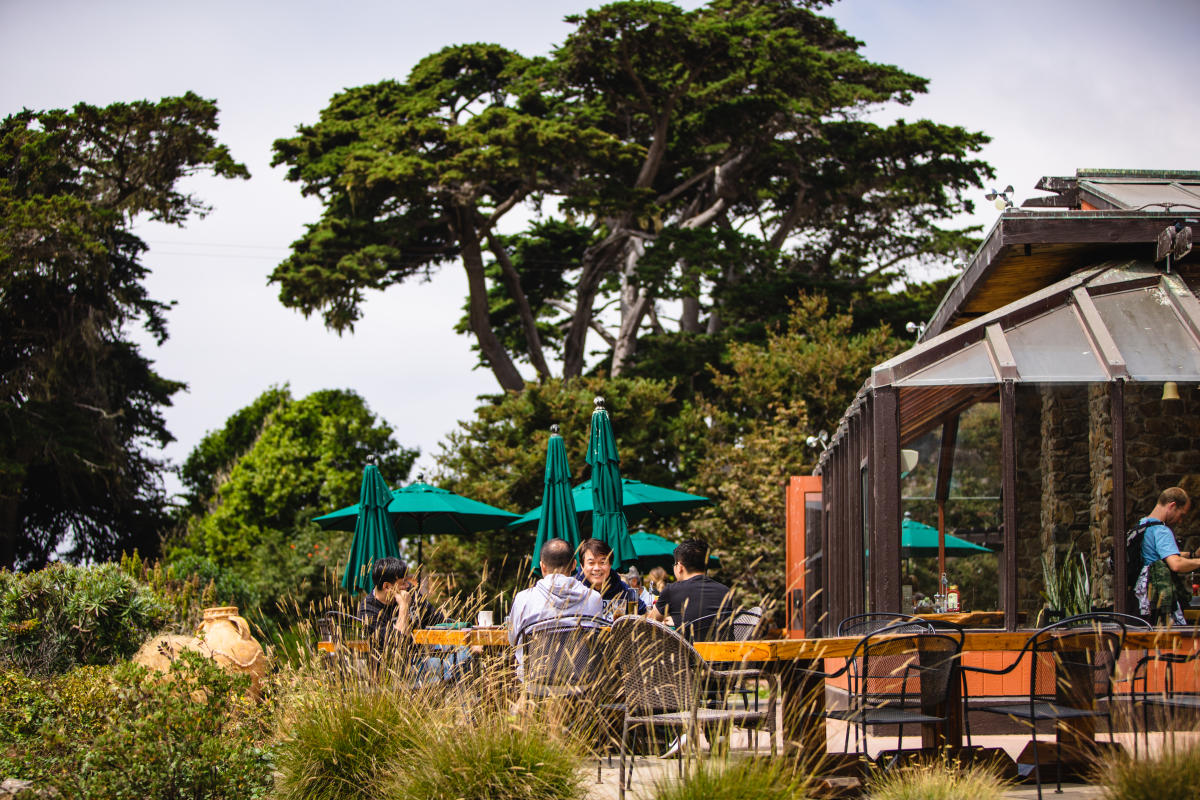 Photo credit: Highway 1 Discovery Route
It's easy to get out of bed when incomparable views, fresh coffee and French toast await. Visit the Ragged Point Inn Restaurant, just off Highway 1 in Ragged Point, for breakfast with a view. Here, you can be seated on the heated patio overlooking the ocean and the cliffs of Big Sur, or you can pull up a chair in the glass dining room. Choose from a menu of farm-fresh classic breakfast dishes like Eggs Benedict, Belgian Waffles, and Bagels with Lox and Dill Cream Cheese. Don't miss the Spanish frittata, made with Manchego cheese, serrano chiles and chorizo, served with warm corn tortillas and fruit. Open for breakfast from 8 am to 11 am, the Ragged Point Inn Restaurant has all the delicious sustenance you need to start a day of serious discovery.
Activity: Explore the coastline
There's so much to do and see at the shoreline, from hikes and beaches to wildlife and a historic lighthouse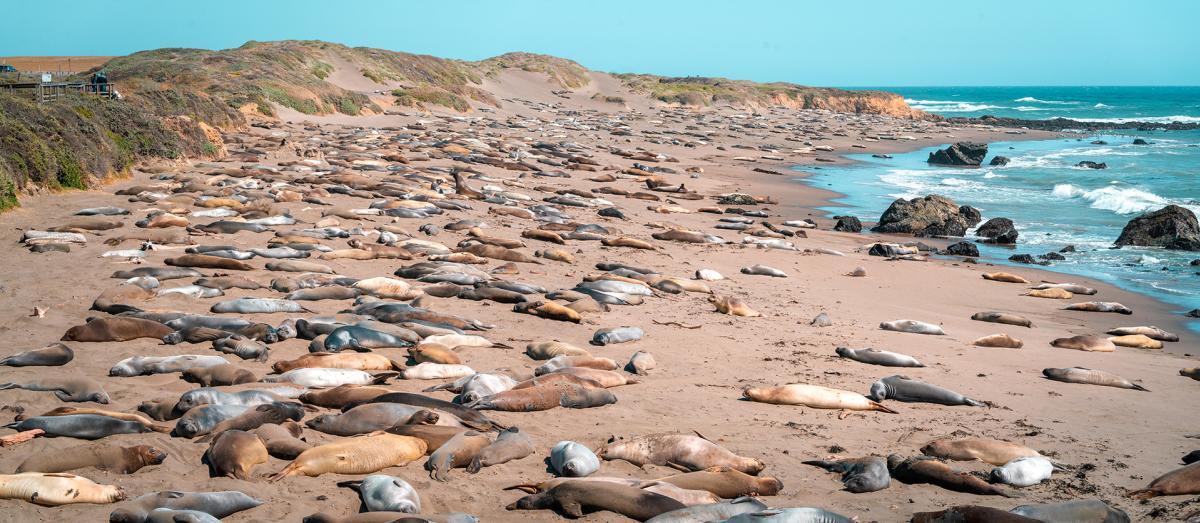 To the untrained eye, San Simeon and Ragged Point may look remote and quiet. But look a little further and you'll discover that there's far more to see and experience here than one visit could ever contain. Ragged Point is the portal to Big Sur, but it has many hidden gems of its own to be uncovered. Park at the Ragged Point Inn and take a selfie at the Million Dollar View, a circle sculpture that perfectly captures the best of the Big Sur coastline. Then put on your grippiest hiking shoes to wander down the Black Swift Falls path. This quick descent leads to a small black sand beach, fed by a seasonal waterfall. Take in the spellbinding surroundings, then hit the trail again — probably a little more slowly than you did on the way down. 
Next, head to the Piedras Blancas Lighthouse, 10 miles south along Highway 1. This stretch of coastline was once one of the most dangerous for passing ships, with many of them crashing into the bluffs and cliffs. Built in 1875, the Piedras Blancas Lighthouse provided guidance for seacraft and continues to shine today. Visitors can tour the fog signal building and lower level of the lighthouse by reserving ahead. Just a mile or so further south, the Piedras Blancas Elephant Seal Rookery offers the opportunity to see the Great Northern Elephant Seal in one of its most populous natural habitats. Each year, thousands of elephant seals migrate to the rookery to mate, birth their young, and molt. At the rookery, find viewing areas where it's possible to get up-close-and-personal with the elephant seals, in all their phases of life. Look for interpretive displays as well as knowledgeable docents there on weekends to educate and enlighten you on these fascinating creatures.
Lunch: Big Sur Restaurant
A tasty roadside and seaside spot for lunchtime favorites, just a few miles from Hearst Castle
An easygoing lunch awaits at Big Sur Restaurant, a diner that sits just off Highway 1 with views of the vast Pacific. Come with an appetite for classic dishes and friendly, reliable service. Seafood lovers will delight in the restaurant's fish and chips, clam chowder, and Fisherman's Combo with shrimp, calamari, cod, French fries and cocktail sauce. The menu also features a long list of burgers, sandwiches, and salads. Opt for a hearty BBQ Burger or Steak Sandwich, both of which come with housemade hot sauce and fries or a salad. For lighter eaters, try one of the fresh salads, or choose from the appetizer menu. (Did someone say nachos?) Kids 12 and under will like ordering from their own menu, which includes chicken tenders, a grilled cheese sandwich, a hamburger and spaghetti and garlic bread. And don't skip dessert! Big Sur Restaurant serves sinfully delicious treats like Chocolate Lava Cake, Apple Pie, and housemade "Grandma's Pudding," a custard bread pudding with raisins and whipped cream.
Activity: Hearst Castle and Hearst Ranch Winery
Experience the art, architecture and opulence of Hearst's "Enchanted Hill," then taste the Hearst family's award-winning wines

Touring Hearst Castle is like visiting a museum, only far more immersive. (In fact, W.R. Hearst's hilltop home has been called "a museum like no other" precisely because it is the only art museum operated by the California State Park system.) From the moment you hop on the shuttle bus to leave the Hearst Castle Visitor Center, the wonder and magnitude of this place don't stop. Drive past the grounds of Hearst's private zoo, take in the unparalleled ocean views, and marvel at the architecture of the home's main house and several guest cottages. Hearst's architect Julia Morgan designed every part of the estate, including spaces to show off his collection of 25,000 antiques and artifacts from across the globe. Take one of many styles of tours, and soak up the information provided by knowledgeable tour guides. From the famously picturesque Neptune Pool to the dining room with its centuries-old French tapestries, you'll find that Hearst Castle is as unique and commanding as the man who built it.
After returning to the Hearst Castle Visitor Center, drive a few hundred feet across Highway 1 to the town of Old San Simeon, where one of Hearst's old warehouses has been converted to the Hearst Ranch Winery tasting room. This building once served as the receiving center that housed Hearst's antiquities when they arrived at the port; today, it is a legacy tasting room that pours Bordeaux, Spanish, and Rhone-variety wines. Sample the award-winning wines, or purchase them by the glass or bottle. The tasting room invites guests to sit at their outdoor tables and enjoy the wines with a view of San Simeon cove.
Dinner: Cavalier
Ocean views meet tasteful, fresh dishes — plus local wine, beer, and craft cocktails
Walk through the craftsman-style entry of the Cavalier Restaurant in San Simeon, and choose one of the restaurant's seats with an ocean view. Then peruse the menu, stacked with options like the Charcuterie Plate, Hearst Ranch beef burgers, or Pacific Halibut with Truffled Mashed Potatoes. Folks with dietary restrictions will appreciate the wide variety of dishes available, from the vegan Impossible Burger and Vegetarian Shepherd's Pie to the gluten-free Seafood Stir-Fry with Rice Noodles. A glass of craft beer, locally-made wine, or a cocktail from the full-service bar makes the meal.
Nightlife activity: San Simeon Beach Bar & Grill
Kick back with a drink, snacks, the big game, or karaoke in this easygoing beach bar
The charming oceanfront towns of Ragged Point and San Simeon close up pretty early each evening, but San Simeon Beach Bar & Grill offers a place to relax and have fun into the wee hours. Order domestic, imported and craft beer, local wines, and cocktails from the full bar. The grill also offers snacks like wings, fish and chips, and mozzarella sticks alongside your drink. Enjoy large-screen TVs for watching the game, or participate in "Karaoke With Elvis" on Friday and Saturday nights. The San Simeon Beach Bar & Grill offers a cozy oceanside spot that's perfect after a long day of seeing the very best of San Simeon and Ragged Point.