Seize the day? Absolutely. Live your best life with our fun-filled, flavor-forward, no-time-like-the-present itinerary for 36 hours in SLO CAL. 
There's a reason "you only live once" became an acronym: it's true! The sentiment has a way of snapping us back to the present moment, guiding us to savor, breathe, connect, celebrate and appreciate. We're confident you'll see that there's no place more conducive to slowing down and soaking it up than SLO CAL. To spark your carpe diem, we've designed a two-day itinerary that'll help you live life to the fullest. From hot air balloon rides to Michelin star dinners, here in SLO CAL, you only live once. 
Day 1
Breakfast of champions
You're going to need the energy to take on the next 36 hours. Visit these spots for unique eats and breakfast goodies.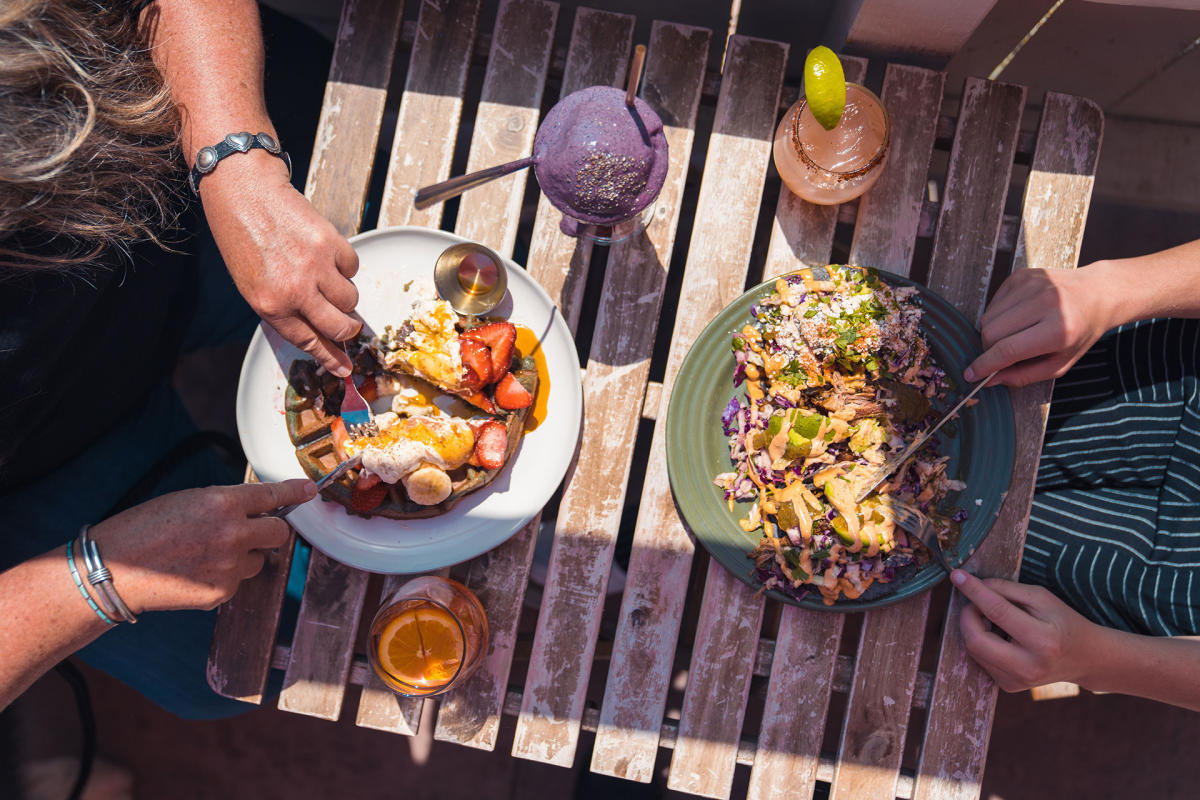 North 
Start your day at Kitchenette in Templeton, where farm-fresh ingredients and foodie finishes make breakfast a real treat. Go savory with killer chilaquiles or keep it sweet with ricotta pancakes, blueberry compote and lemon curd. Along the north coast in Cambria and Cayucos, Hidden Kitchen bakes up blue corn waffles in both sweet and savory styles. All of their dishes are gluten-free and free of refined sugar.
San Luis Obispo
Everybody loves Bon Temps Creole Cafe for its hearty southern-style breakfast. Wake up your taste buds with Louisiana-style omelets and pain perdu, and let sides of Creole-spiced hash browns, creamy grits and freshly baked buttermilk biscuits seal the deal.
South Coast
Head to the Honeymoon Cafe in Pismo Beach for delightfully fresh dishes like the Farmwich egg sandwich, served with peppers, onion, bacon, romesco sauce and arugula on a brioche bun. Or keep it sweet and simple with housemade chia seed pudding.
Morning activity: Off-the-beaten-path beaches
Time to catch some rays. Get away from the crowds and visit some of our lesser-known beaches. 

Photo courtesy: @capturemomentsphotos
North
Don't let the steep path down to Ragged Point's Black Swift Falls Beach deter you: this is one of SLO CAL's best-kept secrets. Located right at the gateway to Big Sur, this beach features purple sand (yes, purple) and a seasonal waterfall. If you're in the mood for a long walk in the sand, follow the trail to Sandspit Beach between Los Osos and Morro Bay. This beach is one of the least-crowded in SLO CAL and features some of the best views of Morro Rock around. Just around the corner within Montana de Oro State Park, check out Spooner's Cove, a tucked-away haven for picnickers, sunbathers and beachcombers.
South Coast
Located just beneath the historic Point San Luis Lighthouse in Avila Beach, Point San Luis Beach is only accessible by kayak. Paired with a paddle through San Luis Bay and a tour of the lighthouse, this beach brings new meaning to the term "hidden gem." For another rare find, wander down to the Dinosaur Caves in Pismo Beach, where time and the elements have made caves and interesting rock formations to explore. And to see a wide view of SLO CAL's south coast, hike out to Oso Flaco Beach in Nipomo. To get there, traverse Oso Flaco Lake, crest the powdery-soft sand dunes, and park it anywhere you like along the seashore. Here, there's no competition for space.
Lunch: Authentic tacos
SLO CAL's taco scene is off the hook. Be sure to come hungry and ready for authentic Mexican flavor.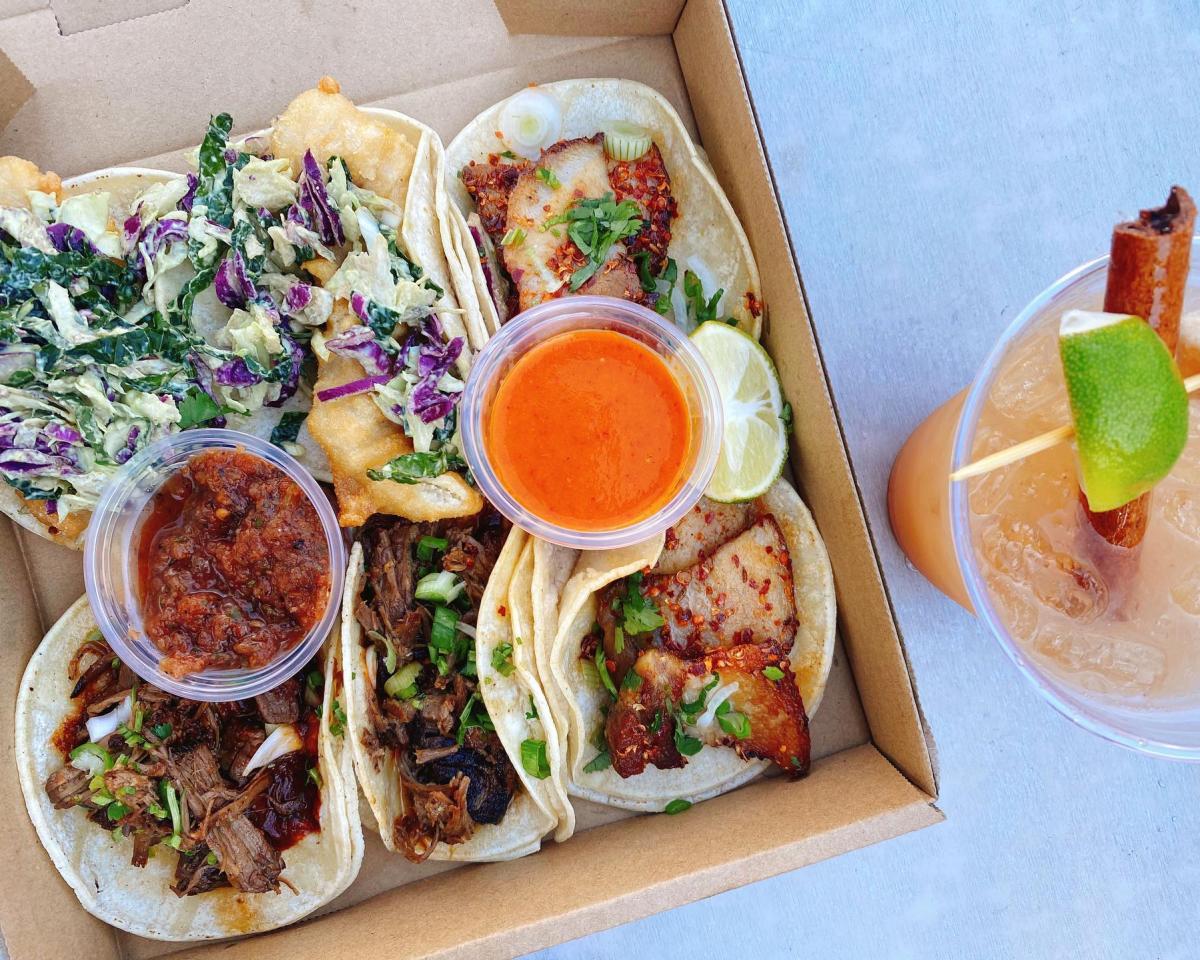 Photo courtesy: Luna Red
North
In Cambria's East Village, Boni's Tacos serves flavorful tacos by the hundreds each day. Go for carne asada, chile verde, al pastor or pollo asado in either "street taco" size or 6" corn tortillas. Down the coast at San Miguel Market & Deli in Los Osos, you have your choice of eight different types of meat for your tacos, as well as access to what some consider the best guacamole in all of SLO CAL. And at the well-stocked La Reyna Market in Paso Robles, folks love trying all the different styles of meat, served traditionally with house-made salsa, onions, and cilantro.
San Luis Obispo
Try the tacos at San Luis Taqueria, right across from Mission San Luis Obispo de Tolosa, for a hit of authentic flavor. Order soft, crispy, or hard-shell tacos — and don't sleep on the offerings at the salsa bar. Also in downtown SLO, Tortilla Town serves simple, delicious tacos made with handmade tortillas, patted and cooked to order. An order of guacamole elicits a fun exclamation of "GUACAMOLEEEE!" from servers.
South Coast
Drive south from Pismo Beach on Highway 1 and you'll come upon Efren's Deli in Oceano, a longstanding destination for authentic tacos. The fish tacos are a specialty here and taste great paired with a bottle of Mexican coke or a michelada. For tacos served Mexico City-style, head to Fruitiland La Casa del Sabor in Arroyo Grande. You can't miss the bright yellow little building with the cheery name — and you wouldn't want to. Get the "arcoíris" tacos (translated as "rainbow" in English) for a colorful, veggie-filled dish on blue corn tortillas.
Afternoon: Drives worth the detour — plus wine/beer/spirits tasting
Panoramic ocean views and quiet countryside drives intersect nicely with opportunities to taste wine, beer and spirits right where they're made. (Just be sure to keep your designated driver happy and hydrated!)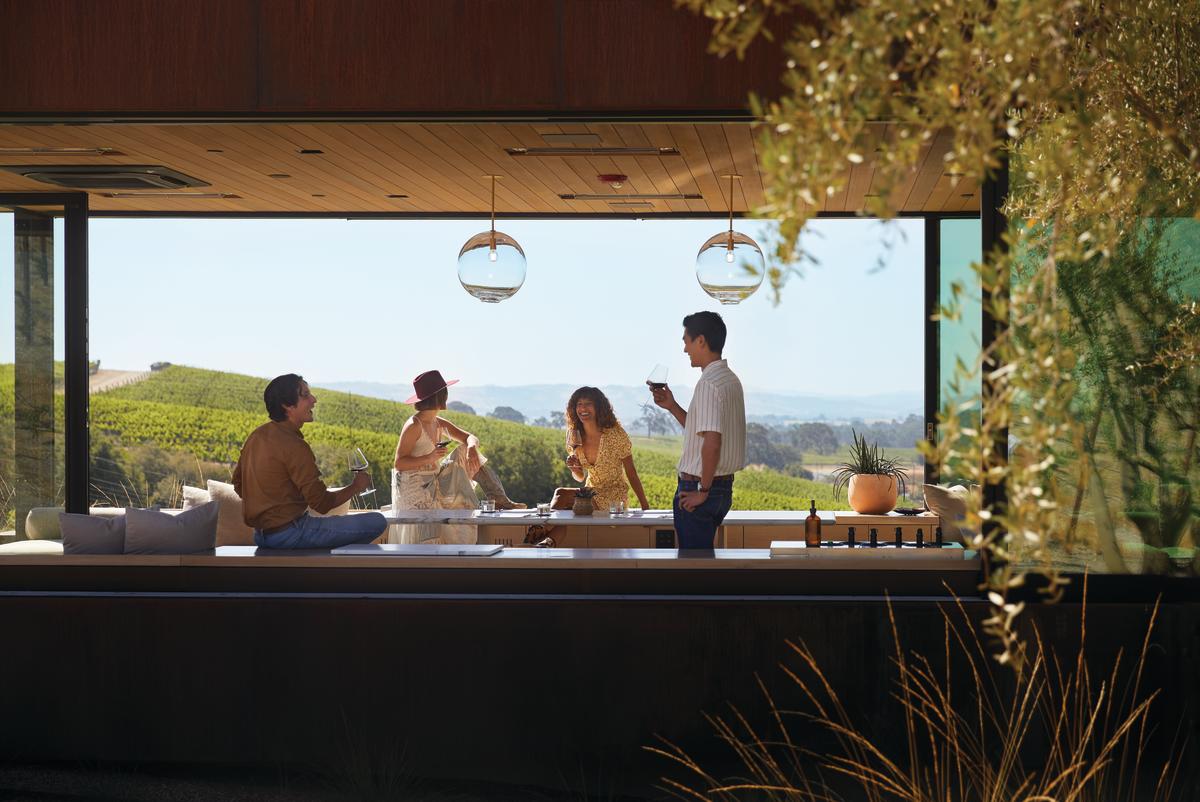 North
Drive the spellbinding stretch of Highway 1 from Ragged Point south to Cambria, then head west on Highway 46 into Paso Robles wine country. This drive features rugged coastline, quaint towns, rolling hills, and top-shelf wineries, breweries and distilleries. Favorites include Hearst Ranch Winery in San Simeon, Stolo Vineyards in Cambria, Re:Find Distillery in Paso Robles, and the world-famous Firestone Walker Brewery and Taphouse at the intersection of Highway 46 West and Highway 101 in Paso Robles.
San Luis Obispo to South Coast
Take Orcutt Road south from San Luis Obispo to the countryside east of Arroyo Grande to experience some of SLO CAL's prettiest vineyard views and wine tasting. Destinations include the tasting rooms at Baileyana, Chamisal Winery, and Talley Winery & Vineyards. Tired of wine? Head west to the Village of Arroyo Grande for a cold beer at Humdinger Brewing.
Dinner: Flavor to Spare
With cuisines ranging from a French bistro, wood-fired Napoletana pizza, sushi, and elevated American, dinner on the town is sure to surprise and delight.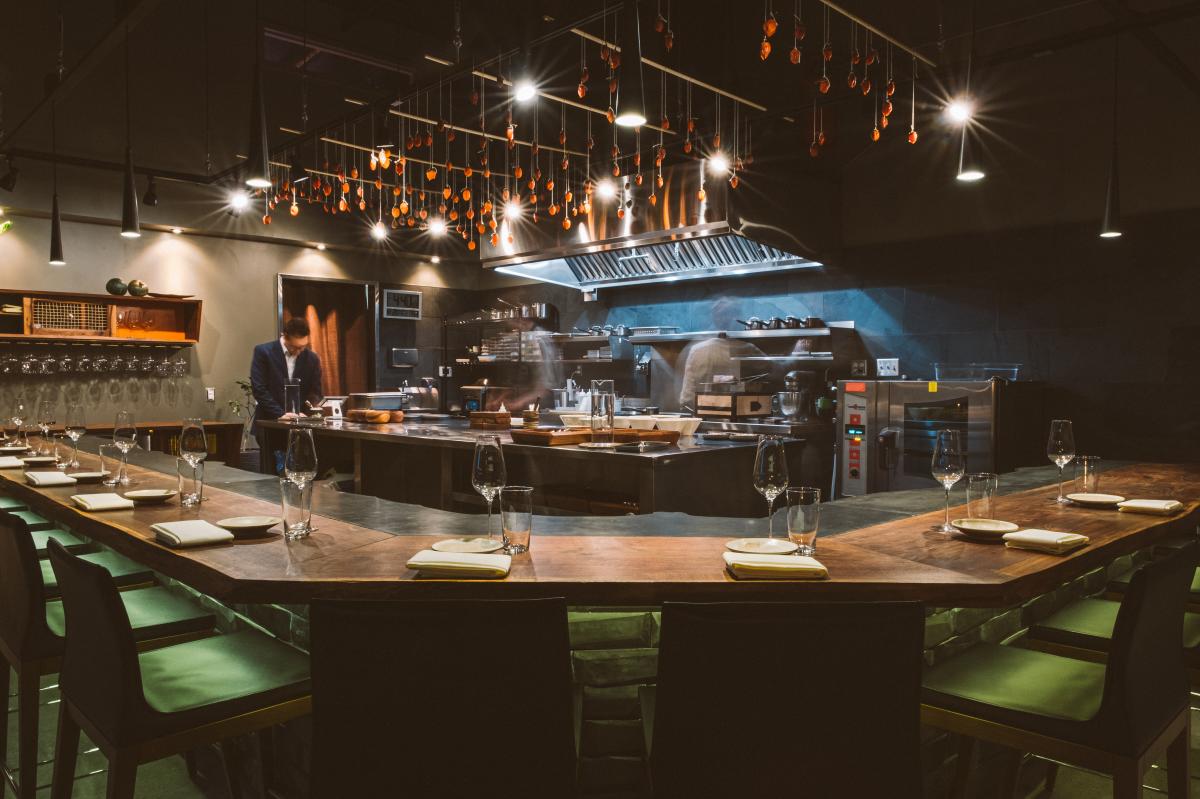 Photo credit: Six Test Kitchen
North
The first restaurant in SLO CAL to receive a Michelin star, Six Test Kitchen in Paso Robles plays with locally-sourced ingredients to serve multi-course tasting menus and optional wine pairings. Also in Paso Robles, the team at Les Petites Canailles (French for "the little rascals") is helmed by Chef Julien Asseo, a French-trained talent who served as Guy Savoy's right-hand man in Las Vegas before opening his own bistro. A little further south in Santa Margarita, The Range merges crisp, modern cuisine with a cowpoke sensibility — all set to a soundtrack of Hank Williams and Patsy Cline.
San Luis Obispo
If you need proof that a visit to Flour House in downtown San Luis Obispo is worthwhile, consider that this modern pizza Napoletana joint was recently named one of the top 50 pizzerias in the US. For a real flavor bomb, order the Queen Margherita Pizza with a fizzy Aperol spritz. Just around the corner at Granada Bistro, enjoy an intimate meal complete with thoughtful seasonally-driven dishes, signature cocktails, and robust wine and beer lists.
South Coast
Get ready for fresh, seasonal French fare at Blue Moon Over Avila in Avila Beach. The vibe is continental and coastal, with dishes like escargot, Provence-style chicken, steak au poivre, and vegan vegetable wellington. Be sure to ask for a seat on the patio with a view of the waves. When it comes to flavor-filled, seasonally-centered comfort cuisine, Ember in Arroyo Grande checks all the boxes. Look for wood-fired flatbreads, steaks and poultry, plus a killer cocktail list, beer and wine. And don't forget dessert: Ember's pastry chef has a knack for re-imagining classic treats like pavlova, black forest gateau, and creme caramel. This is not the time to skip the sweets!
Nightlife: Unexpected entertainment and watering holes
Prepare to be surprised by headliner venues and one-of-a-kind acts, plus bars, lounges, speakeasies and saloons worth the hunt.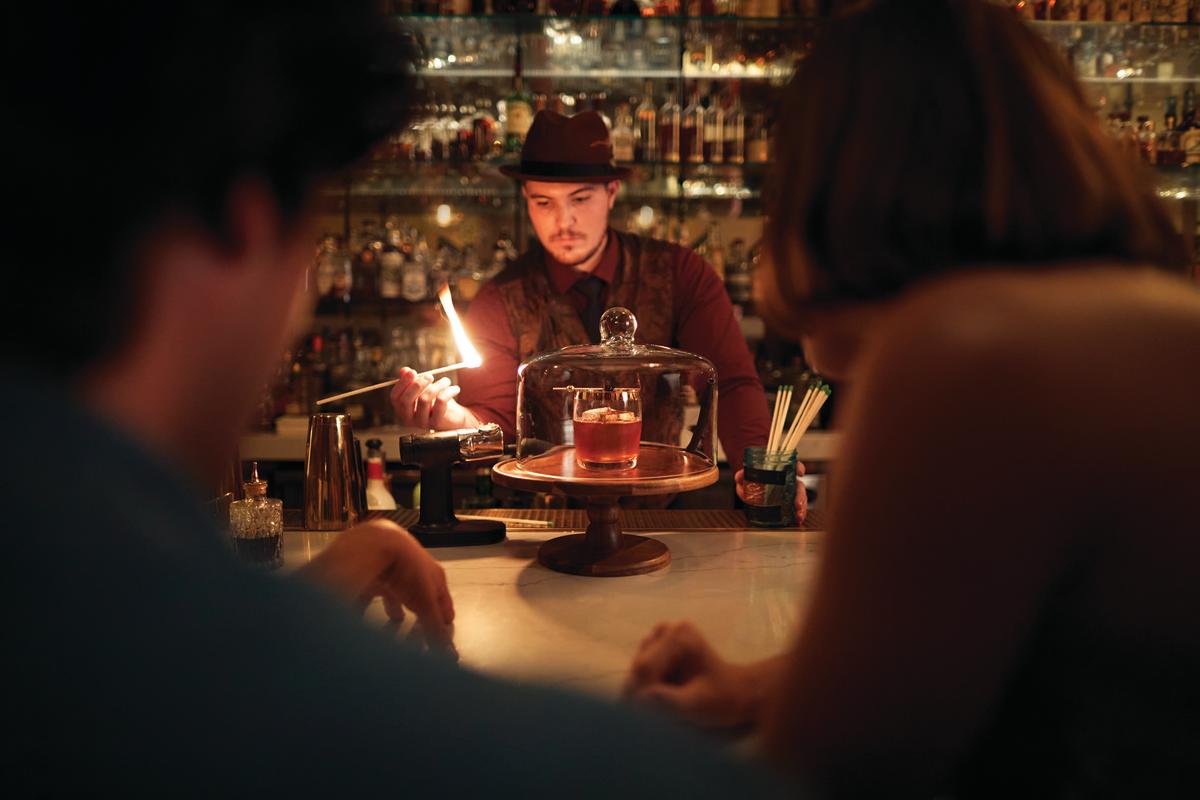 North
You can always head to Vina Robles Amphitheatre in Paso Robles for headliner entertainment like internationally-known bands and comedians, but don't miss more offbeat options like a drive to Sensorio, just a little further east on Highway 46. This massive outdoor installation by artist Bruce Monroe features illuminated glass orbs across acres and acres of rolling hills; the effect is mesmerizing. Walk through the landscape and even stop for snacks and grown-up beverages along the way. Or for musical entertainment, try AMSTRDM Coffee House Piano Lounge, also in Paso Robles. This underground spot features jazz artists from around the world and feels like an old-school supper club. Around the corner at the 1122 Speakeasy, visitors can experience vintage glamor and high-end cocktails in an intimate setting. Wear something chic and bring someone to cozy up with in one of the bar's deep booths. In Morro Bay, The Siren hosts musical acts from near and far — mostly jazz, blues and soul artists. And a little further down the coast in Baywood, make your way to the Merrimaker Bar for pool, karaoke, and stiff drinks. (Local lore: Look up "dive bar" on Wikipedia, to see a photo of the Merrimaker!)
San Luis Obispo
Search for the neon lights on the art deco Fremont Theater marquee to locate some of the best acts traveling through the area, from rock bands to jazz, indie, and soul. Also in San Luis Obispo, the Performing Arts Center on Cal Poly University's campus hosts touring international groups from acrobats and Broadway musicals to acclaimed bands and solo musicians. When you get thirsty, climb to the rooftop bar of Hotel SLO for an expertly-crafted cocktail.
South Coast
Never been to a traditional vaudeville theater? Now's your chance. Visit the Great American Melodrama in Oceano for a one-of-a-kind experience. This professional theater company has entertained audiences with capers, hilarity, and spunk since 1975, and remains one of SLO CAL's most precious treasures. Before or after the show, grab drinks at the Mason Bar and Grill in Arroyo Grande, where whiskey drinks and cask-aged cocktails are the specialties. They also offer a long list of draft beers and wines by the glass. Looking for a place to sip with zero pretenses? Jocko's Steakhouse in Nipomo is best known for its oak-fired steaks, but the bar is legendary in its own right. Order a martini, put a quarter in the jukebox, and count the number of cowboy hats and belt buckles at the bar.
Day 2
Breakfast: Cozy cafes and tasty bakeries
Linger over a cup of tea or coffee and a treat from one of these flavorful spots while gearing up for another inspired SLO CAL day.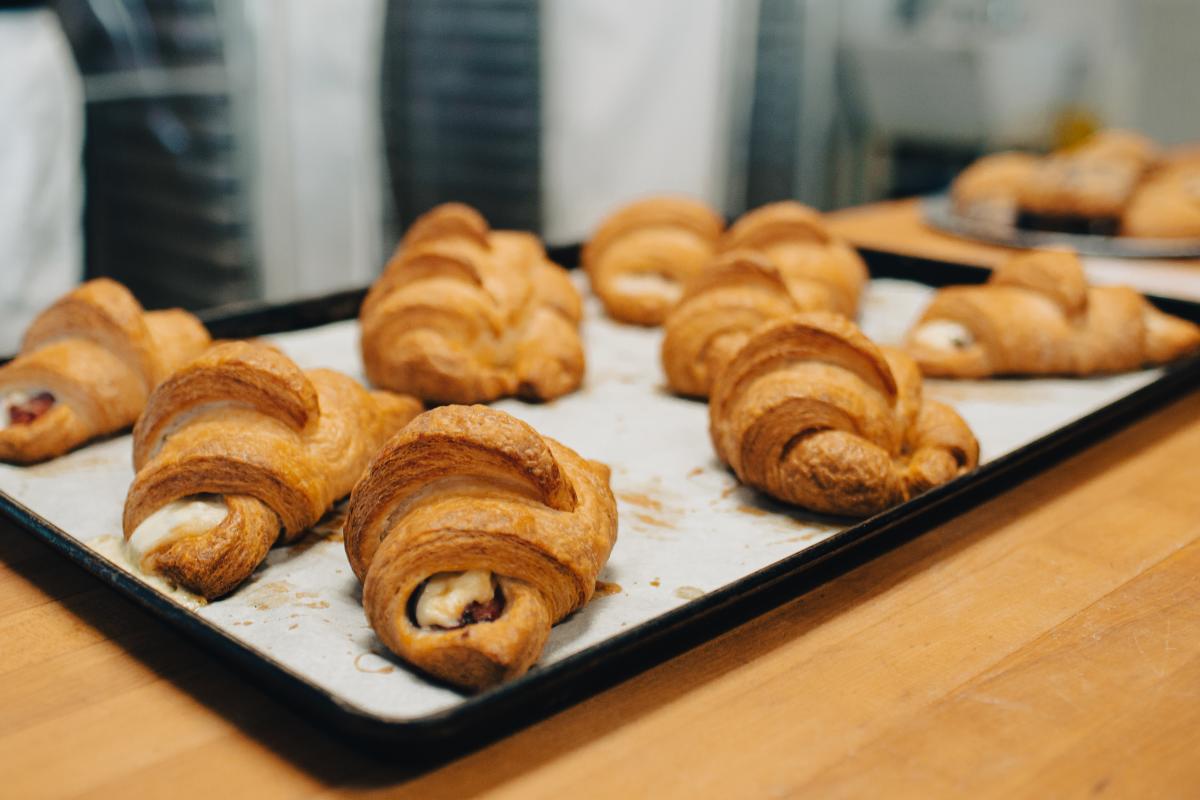 North
Backporch Bakery in Atascadero is famous for its flaky, melt-in-your-mouth croissants. (Pick up a loaf of rustic sourdough to bring home, while you're at it.) And at Wayward Baking in Baywood, delectable pastries like cherry-almond tarts, strawberry scones, kouign amann and canelés de bordeaux. Pick out a few, grab your drink of choice, and walk down to the Baywood Pier to sit, sip and savor.
San Luis Obispo
Baker Chloe Fertel opened Joliene Bakery in San Luis Obispo after a successful career as a pastry chef in Michelin-starred restaurants in Napa and the Bay Area. The cafe serves up a selection of dainty and rustic pastries, including Chloe's locally-famous English muffins. But really, if you only live once, why not go all the way? Head to the Madonna Inn Copper Cafe for a cup of coffee and a slice of Mrs. Madonna's famous Pink Champagne Cake. (Who says cake can't be breakfast?)
South Coast
In the Village of Arroyo Grande, Mule Bakery serves seriously tasty pastries like eclairs, turnovers, muffins, scones, and croissants. 
Morning activity: Self-Care and Shopping
Experience the best spa and wellness services SLO CAL has to offer, including yoga, massage, and facials. (And yes, retail therapy counts too.)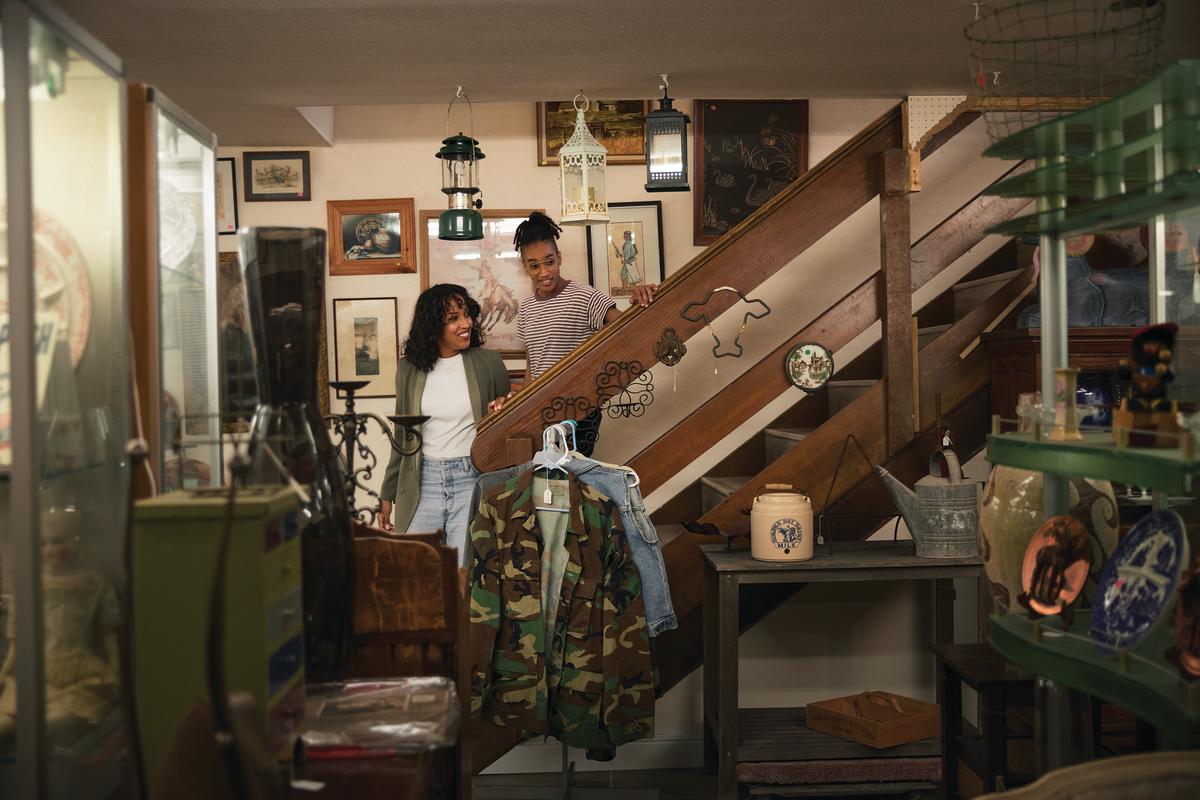 North
Head to VinYoga in Templeton for infrared yoga, pilates, sculpt and meditation classes. And at Spa Allegretto within the Allegretto Vineyard Resort in Paso Robles, choose from a full menu of spa treatments like massages, facials, scrubs and wraps. Also in Paso Robles, the General Store features cookbooks, gifts, textiles, greeting cards, and branded gear for folks who love the good life. For boutique shopping, visit Bounding Main in Cambria, where women's clothing and jewelry flatter all shapes and sizes.
San Luis Obispo
Excellent spa services can be found at Spa Cerro and the Madonna Inn Spa in San Luis Obispo. (All treatments at the Madonna Inn also come with access to the pool.) Don't miss the handmade jewelry, books, and gifts at local favorite boutique Len Collective in downtown San Luis Obispo. Music lovers will also enjoy Boo Boo Records, an old-school record store named one of the best in the nation by Rolling Stone Magazine.
South Coast
Just a block from the beach, Harmony House in Pismo Beach offers a wide variety of yoga classes for every ability in an intimate, serene ambiance. Don't skip the yoga boutique, which contains a selection of yoga apparel, gear, and gifts. Also close to the beach, Pancho's Surf Shop caters to the big kahuna in everyone, from little groms to pro surfers, with boards, wetsuits, apparel, sunglasses, and more. And at Village Vintage in Arroyo Grande, find carefully-curated clothing and decor to add to your wardrobe or home.
Lunch: Spectacular sandos
Vintage groceries across SLO CAL have been repurposed as delicatessens and butcheries, offering seriously sumptuous sandwiches perfect for packing on the go
North
In Cambria, Sandy's Deli & Bakery serves full-flavored sandwiches of all types, from turkey bacon cheddar melts to french dip sandwiches in a quaint atmosphere. You can also pick up tasty sandos at the Morro Bay Butcher in Morro Bay, and at Colony Market in Atascadero.
San Luis Obispo
Sandwiches are a hot topic in SLO, where everyone from kids and college students to parents and senior citizens have an opinion about where to get the best. Two standouts include Lincoln Market & Deli in the Anholm neighborhood, and High Street Deli on the southwest end of town. Both serve piled-high sandwiches in a variety of signature combinations, as well as build-your-owns. You can also pick up drinks, chips, and branded gear and apparel from each of these spots — and you can hang out on each of their leafy patios.
South Coast
De Palo & Sons in Shell Beach makes classic Italian sandwiches in the old-world style, with artisan meats, cheeses and breads, and fresh produce. Walk around the shop while you wait, and pick up pastries, provisions, and beer and wine from their extensive inventory.
Afternoon: Time to play
Take yourself on an adventure, complete with views of dunes, sycamore valleys, lakes, vineyards, or coastline.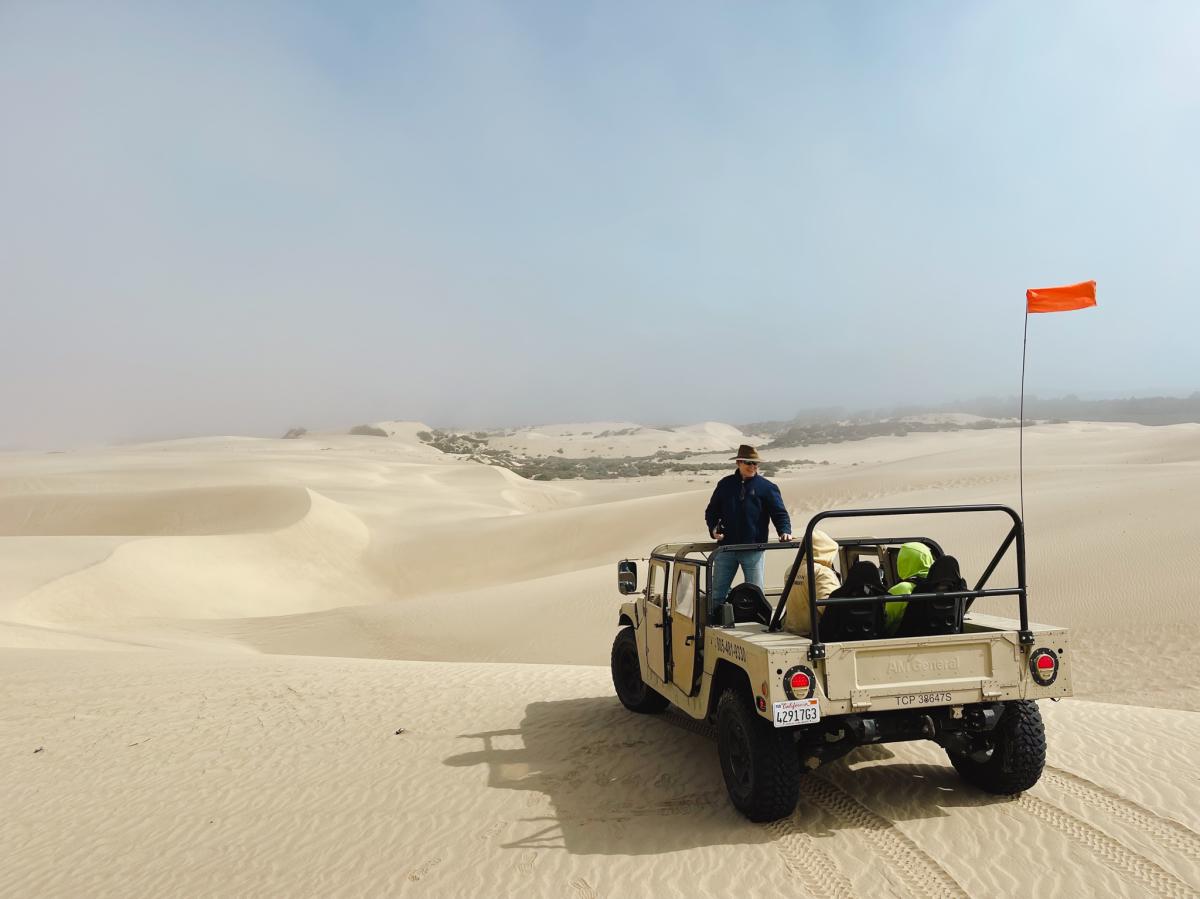 North
The sky's the limit with Balloons Over Paso in Paso Robles. Their qualified hot air balloon pilots love to take visitors up up up above the vineyards and rolling hills of wine country. Or, if zipping is more your thing, get after a zipline adventure in Santa Margarita with Margarita Adventures. Pay one admission and get access to all of their six ziplines, totaling 7,500 feet.
South Coast
In Avila Beach, Bolt About rents electric bicycles and scooters by the hour and by the day. Grab one of their safe and fun vehicles and head to the Bob Jones Trail, a picturesque three-mile round-trip path that stretches from the Avila Valley to the coastline. And if the bikes and scooters aren't fast enough for you, wander down to Oceano where a professional driver from Xtreme Hummer Tours or Pacific Adventure Tours will take you on a freewheeling Hummer tour of the Oceano Dunes, complete with lots of thrills and chills.