Health and wellness are a package deal in the Center of California's Central Coast
Here in SLO CAL, we don't just believe in relaxation and self-care: we excel at it. With abundant fresh, organic food at our fingertips, plus long, uncrowded beaches, hiking, biking and running trails, walkable downtowns, temperate weather and more, we find inspiration around every corner. When you visit, be prepared to downshift. Your mental, physical, emotional and spiritual health will thank you. 
Find a new, slower pace with some of these SLO CAL specialties, including farm-fresh dining, spa treatments, hot springs, meditation centers, sound baths, yoga, gardens, and quiet, healing hikes.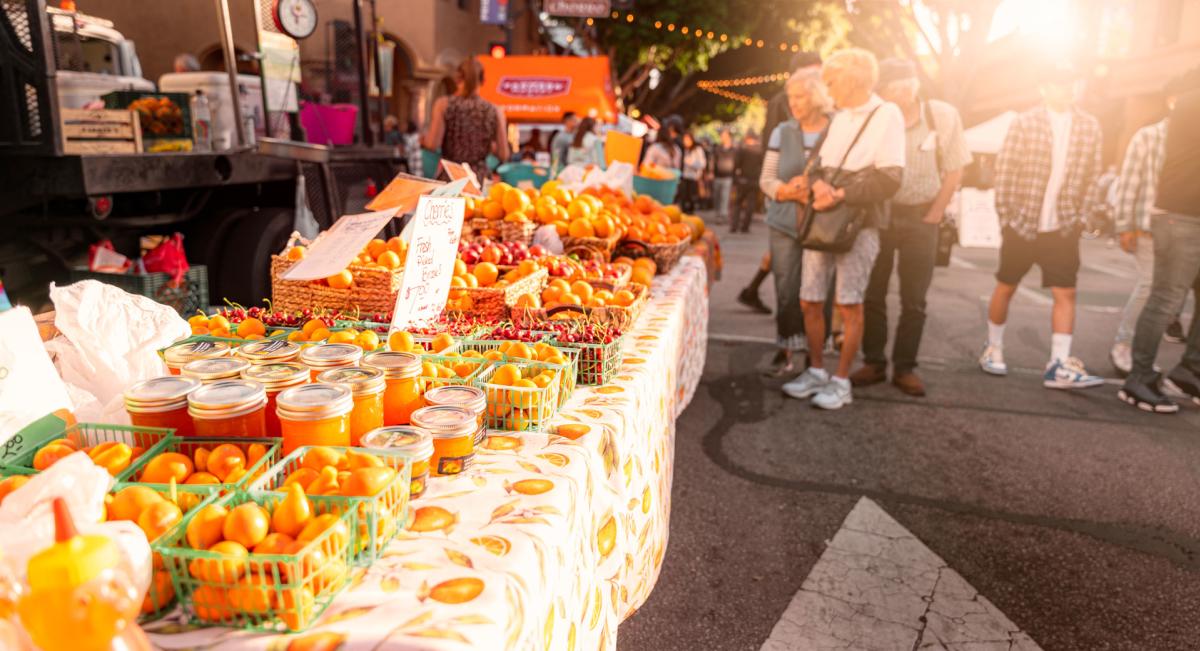 Some of the best whole-food dining around can be found at our local farmers' markets, whether for ingredients in your next nourishing meal or for prepared foods to go. One of the most popular is the Thursday night Downtown Farmers' Market in San Luis Obispo, where you'll find everything from juices and tree nuts to microgreens and juicy-licious strawberries. This market takes place every Thursday night, year-round. Other excellent farmers' markets can be found here.
Farm stands are another option for sourcing whole foods and clean ingredients — you can usually pick up freshly cut flowers, preserves, and baked goods there, too. In Arroyo Grande, Rutiz Family Farms has grown 30 acres of heirloom and non-GMO produce without the use of pesticides or herbicides for decades. (Note to self: do not miss u-pick strawberry season in spring!) Up the road in Edna Valley, the Cornercopia Fresh Market farm stand lies at the corner of Highway 227 and Crestmont Drive. Here, you can find locally-grown, pesticide-free produce, honey, baked goods, jams and more, right in the heart of SLO Coast wine country. And at Templeton Valley Farms in Templeton, the owners grow pesticide-free fruits and vegetables, sell eggs from sustainably-raised chickens, and honey from their own hives. Nature's Touch Nursery & Harvest in Templeton also carries local produce, grains, cheeses, breads, and more, plus a selection of edible and native plants for sale.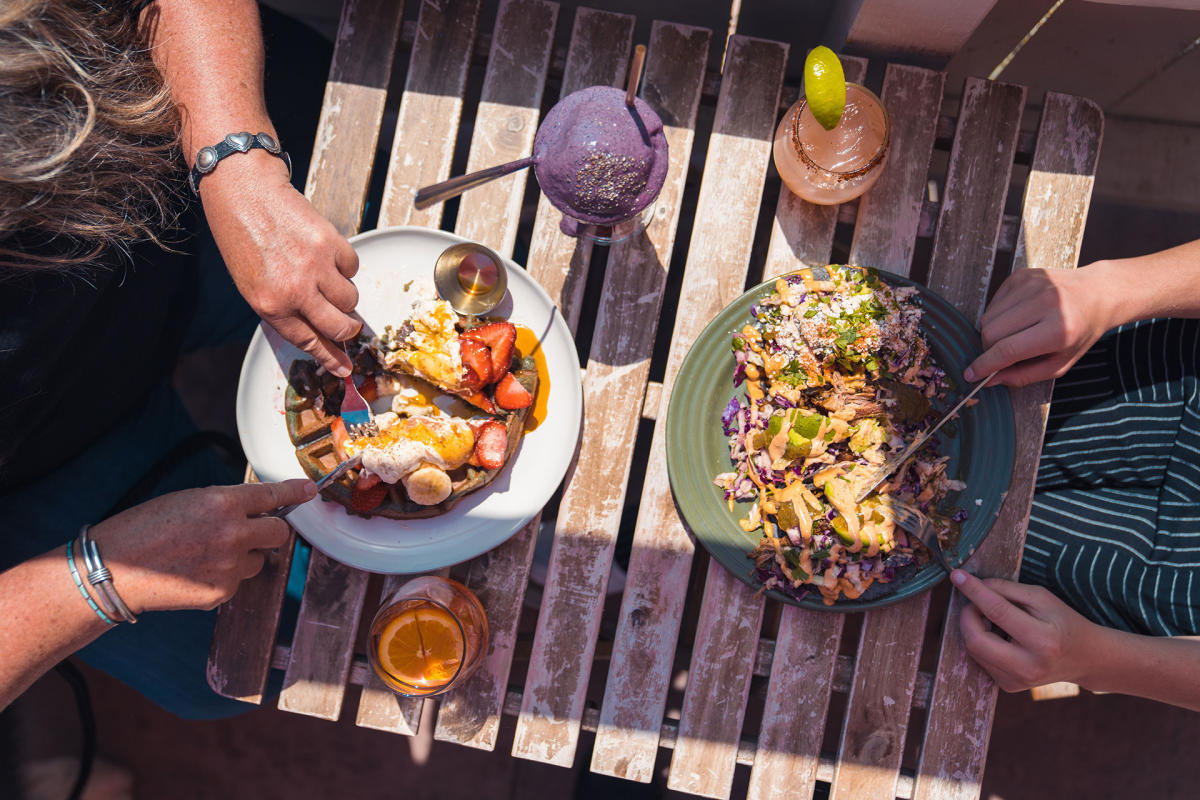 When it comes to dining out, SLO CAL offers an array of restaurants that prioritize clean eating and plant-forward options. Virtjuice in Arroyo Grande blends high-quality organic ingredients into "superfood smoothies" that are vegan, free of gluten, dairy, and refined sugars. They also serve juices and juice shots, acai bowls, salads, and kid-friendly juices and smoothies, too. In San Luis Obispo, the neon sign outside Ziggy's reads "Hot Vegan Takeout." Look for plant-based everything here: tacos, burgers, nachos, salads and vegan milkshakes. (Gluten-free friends have options here, too.) Linnea's Cafe in downtown San Luis Obispo is probably best known for its espresso drinks and teas, but locals love the vegetarian breakfast and lunch menus, too. Enjoy rustic, homey dishes, breads and pastries, many of which are also vegan. Up the coast in Cayucos and Cambria, enjoy the entirely gluten-free and refined sugar-free menu at Hidden Kitchen. The specialty here is blue corn waffles, served both sweet and savory — either in Cambria's leafy garden or with an ocean view in Cayucos. (And don't miss the blue corn tacos, only available at the Cayucos outpost.) And located just off City Park in Paso Robles, Thomas Hill Organics serves modern American cuisine made solely from organic ingredients that are sourced from local farmers and purveyors wherever possible.
Make Time and Space for Luxurious Self Care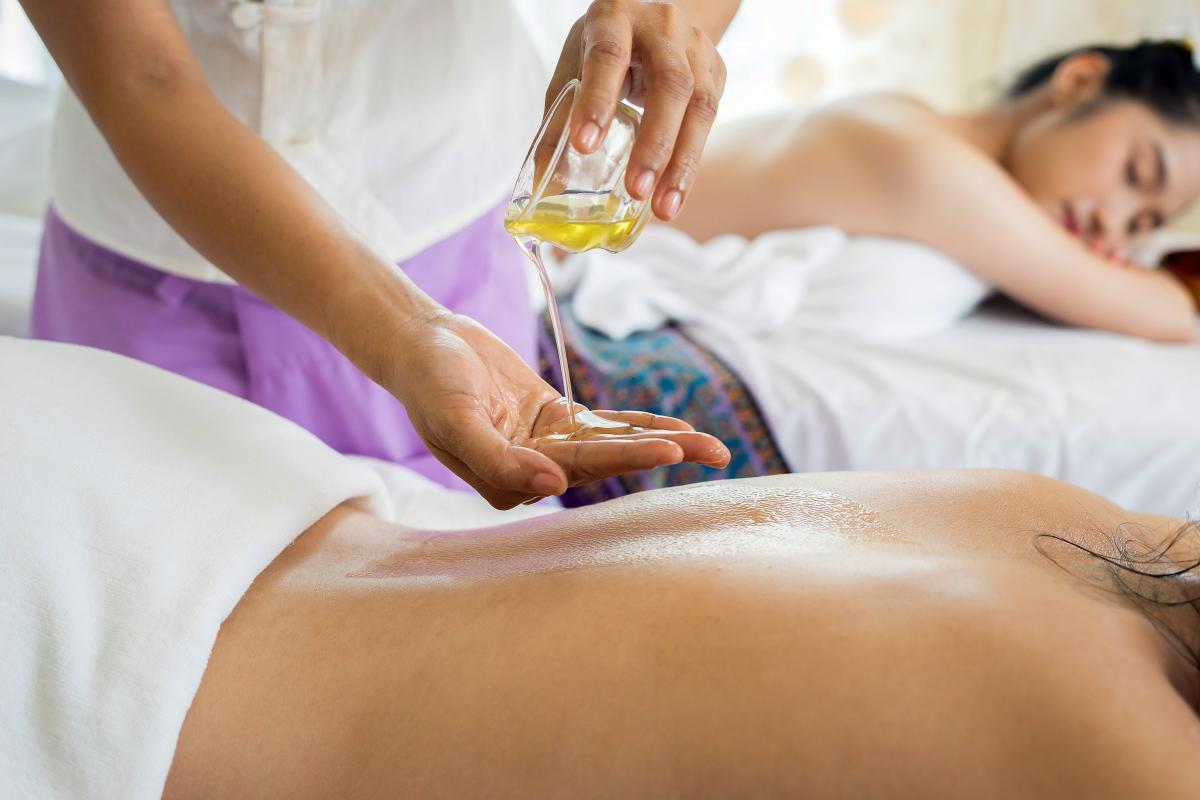 Photo by: Alan Caishan via Unsplash
When it comes to relaxation and self-care, nothing soothes quite like a day at the spa. At the Dolphin Bay Resort & Spa, guests can indulge in a facial or massage, including a popular prenatal massage option. Just up the coast, the natural hot springs in Avila Beach have drawn visitors from near and far since the turn of the 19th century. These days, when you book a massage or facial at the Sycamore Mineral Springs spa, you get a complimentary 30-minute soak in those waters prior to your treatment. In San Luis Obispo, the spa at the famous Madonna Inn includes a menu of massages, facials, and body scrubs, with complimentary access to co-ed jacuzzis, a fitness room, and the heated pool with a view of downtown SLO. While classic therapeutic massage is on offer at San Luis Obispo's SLOCO Health & Wellness, this destination also serves up specialty treatments like cryotherapy facials and body sculpting, Somadome meditation, infrared sauna, ionic foot baths, dry salt therapy, and more, whether a la carte or as a package. Also in San Luis Obispo, Spa Cerro sets a luxurious stage for self-care, providing massages, facials, and wraps, plus complimentary steam baths and a Relaxation Quiet Room. And overlooking the vineyards in Paso Robles, Spa Allegretto offers a getaway from your getaway, with massages, facials, and wraps performed in a Tuscan-style estate. Lastly, the Sol Spa at Hotel SLO provides a luxury getaway with a variety of massages, body treatments, and skincare options. Restore your body and mind with the classic and innovative techniques they offer.
Clear the Mind, Center the Heart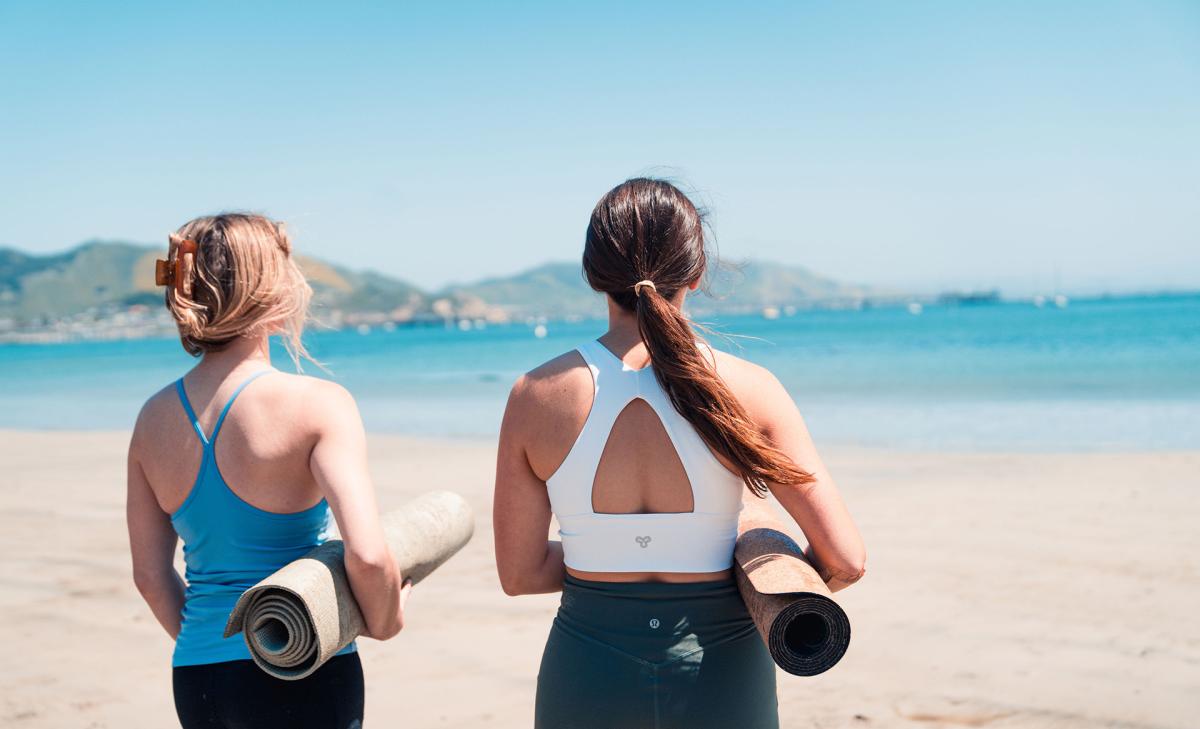 With its natural beauty, unrushed pace and abundant uncrowded open spaces, SLO CAL is a sought-after destination for retreats and meditation. Tucked back in the hills east of Arroyo Grande, Branch Mill Organic Farm & Retreat Center offers weekly classes and monthly workshops focused on wellbeing, including meditation, yoga, reiki, sound baths, and full moon celebrations. Along the leafy corridor of the Avila Valley, the White Heron Sangha teaches mindfulness and meditation, hosting speaker series, drop-in classes, and retreats. And east of Santa Margarita on Pozo Road, Sagrada Wellness & Yoga Retreat Center supports those seeking rest and growth through all-inclusive yoga, meditation, writing, myofascial, pilates, and renewal retreats. For restorative, calming sound baths, the sound meditation practitioners at Let's Get Tuned invite visitors to feel the vibrations at their Morro Bay studio, or they can come to you.
Aspiring and veteran yogis alike will find a wide spectrum of yoga styles and settings in SLO CAL. Harmony House Yoga in Pismo Beach teaches hatha, restorative, and vinyasa flow modalities in a warm, intimate setting. Yoga Village in Arroyo Grande offers drop-in beach yoga weekly, and YogaVentures welcomes visitors for outdoor yoga on Terrace Hill in San Luis Obispo. At The Center SLO, this downtown studio overlooking San Luis Creek holds over 50 classes, 7 days a week. In Cambria, Tula Yoga comes to you, with private yoga classes held outdoors in places like ethereal Moonstone Beach or in the Monterey Pine stands of the Fiscalini Ranch Preserve. The Dharma Yoga Loft in Paso Robles provides studio classes, as well as mobile yoga services, including standup paddleboarding (SUP) yoga on the ocean. For animal lovers and yogis with a sense of humor, Goat Yoga in the Madonna Inn Meadows in SLO is a must-try. (What is goat yoga, you ask? 1) Strike a pose and 2) let irresistible baby goats climb on you. In other words, this is joy-inducing self-care at its most adorable.)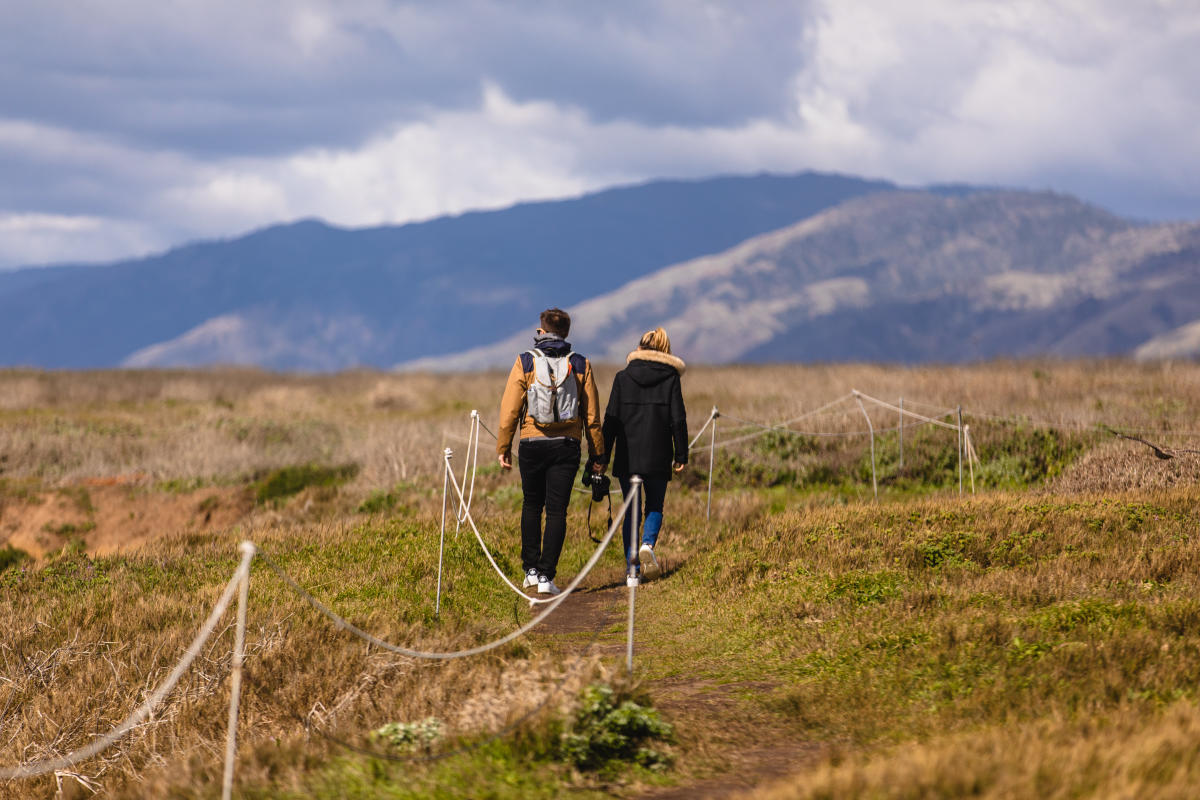 Photo provided by: Highway 1 Discovery Route
For a peaceful walk, head to the Leaning Pine Arboretum at Cal Poly State University in SLO. Soak up the beauty of horticulture students' work from the winding path through the Formal Garden, specialty gardens (e.g. the Mediterranean Garden, New Zealand Garden), manicured lawns, sand garden, water features, and gazebo. The Secret Garden at the Madonna Inn is another restful, restorative place to enjoy, with a lush lawn, pond and fountain, and shady trees. For those wanting to practice walking meditation in a more structured fashion, contemplative labyrinths are open to the public at Sycamore Mineral Springs in Avila Beach, the Allegretto Vineyard Resort in Paso Robles, and overlooking the Morro Bay National Estuary, on 1st Street in Baywood-Los Osos, behind the Back Bay Inn.
Looking to cover more ground and break a sweat? Quiet SLO CAL trails climb over mountains, dip through valleys, wind beneath ancient trees and parallel the Pacific shoreline. Look to the Estero Bluffs and Harmony Headland trails (7.2 miles and 4.5 miles, respectively) for north coast seaside hikes. For an elevation-gaining trek, the Cerro Alto Trail in Morro Bay (4.5 miles) and the Pismo Preserve Trail (11 total miles) in Pismo Beach provide breathtaking views — literally! — along the coastal mountaintops. The secluded Bob Jones Trail (3 miles) in the Avila Valley is popular with walkers looking for a flat, paved path through the sycamore trees, and the Bluff Hike (3 miles) takes hikers along the cliffs of Montana de Oro State Park in Los Osos.
Of course, as Oscar Wilde said: "Everything in moderation, including moderation." While we value our clean eating, self-care, and healing rituals in SLO CAL, we also like to let our hair down. Whether you plan a detoxifying retreat in our neck of the woods, or if you choose to mix and match your experiences to balance between peacefulness and playfulness, you'll find everything you need right here in SLO CAL.