Time for a tech detox? Plug in to these IRL wonders
Give Siri and Alexa the week off while you unplug in SLO CAL. Not sure if you need to take a break from your beloved devices? Look for the signs. If you're beginning to dream in e-mail or talk in text message slang, it's probably time for a tech detox. If you've double-tapped a physical object in the past few hours, you might be in need of an all-out intervention. Thankfully, your home away from the internet isn't far out of reach. SLO CAL offers up an array of offline oases to get you back in touch with what really matters (i.e. reality, not the virtual kind). Posting the vacation pics can wait till you get back!
Step back in time: Carrizo Plain
The Carrizo Plain National Historical Landmark or "Place of the Rabbits" is unlike anywhere else in SLO CAL or the world. Quiet and expansive, this vast region represents the largest single native grassland remaining California, giving visitors a vivid snapshot of what much of the Golden State once looked like. The drive from Santa Margarita through Pozo and beyond brings with it rugged animal sightings of deer, turkeys and bears—so keep an eye open. The Plain is home to Painted Rock, adorned with pictographs created by the native Chumash, Salinan and Tokuts people and a portion of the grassland also showcases remarkable surface fractures of the San Andreas Fault. You won't get cell reception but you will get a unique chance to hear miles of native grasses swish in the breeze. No, you can't get that in a ring tone!
Color your word: Visit the Carrizo Plains in the spring, when wildflowers cover the seemingly endless terrain in a kaleidoscope of color. In recent years, wet winters have produced what scientists call "Super Blooms," large swaths of wildflowers that can be seen from as far away as space.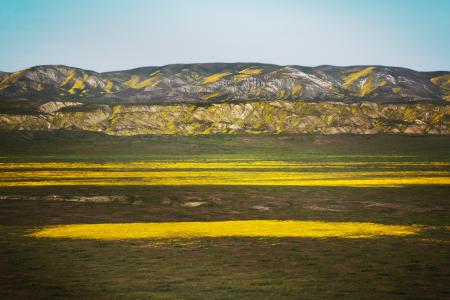 Wade into the blue: Ragged Point
Some say that the drive up Highway 1 to Ragged Point is the most beautiful in the world. Well, we tend to agree, and not just because you can catch epic cliffside views and thriving elephant seal populations. We also love that this is a place where cell reception goes spotty—not a bad thing when there's so much beauty to take in. Spend an hour, a day or a week at Ragged Point Inn, the original outpost of Hearst Ranch, and enjoy comfortable lodging, dining, a gift shop, and great places to pop the question, if you see fit. Yes, this is an ideal home-base for exploring all of SLO CAL's rugged north coast, including San Simeon, Cambria, Cayucos, and the charming little town of Harmony. Watching glassblowers create their molten hot works of art is so much more satisfying than playing a game on your phone.
Navigate off the trail: The Ragged Point Cliffside Trail can only be called "stunning." You'll be treated to a black sand beach and the base of the 300-foot Black Swift Falls seasonal waterfall. At a distance of just 0.8 miles, this moderately strenuous trail is best for experienced hikers wearing good shoes. Dogs are allowed on the trail, but only if they're kept on-leash.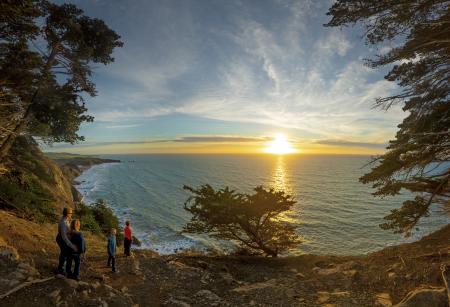 Backcountry bliss: Creston
The rural town of Creston might be a little off the beaten path, but that's the real joy of visiting this time-honored SLO CAL agricultural community. Experience what the ranchers see (and taste) daily with a leisurely drive through scenic farm stands. Sample locally grown and produced olive oils and wines or saddle up and embark on a horseback adventure through the oaks. You can just as easily spend an afternoon on two wheels traversing the rural countryside by bicycle, a great (and totally old fashioned) way to get an up-close look at neighborhood cattle. Just 15 minutes outside Paso Robles, Creston is a tucked-away gem as quiet as it is analog.
Cowboy up: Mark your calendar for the Creston Classic Rodeo, a family favorite event that includes bull riding, tasty barbecue, line dancing and live music.
A standing ovation: Shandon
Music to your ears: The scenic agricultural community of Shandon is most famous for Chapel Hill, a stunning private chapel built from remnants of Hearst Castle. This one-of-a-kind California monument hosts special tours and events throughout the year, including live classical music concerts courtesy of Festival Mozaic each summer. Sounds dreamy? Shandon is also located nearby Mission San Miguel (which hosts Saturday Mass and self-guided tours all week) as well as the Pleasant Valley Wine Trail, home to family-owned tasting rooms and down-home hospitality.
A must-see for movie buffs: Pay your respects to the late legendary Hollywood heartthrob James Dean in nearby Cholame. Stop by the James Dean Memorial at the junction of Highway 41 and 46.