Springtime in San Luis Obispo County (SLO CAL) means the season of wildflowers. From mid-March through April, hillsides around SLO CAL will be flush with purples, yellows, whites, blues and the orange glow of California poppies waving in the breeze. Head east to the wide open areas on the Carrizo Plain or travel to the coast for Pacific views accompanied by a spring bloom. No matter your game plan, embrace nature in SLO CAL at these wildflower viewing spots.
Shell Creek Road and BItterwater Road in Santa Margarita
Travel east along Highway 58 in the town of Santa Margarita and turn left on Shell Creek Road where you'll find a tapestry of blooming flowers. From Baby Blue Eyes and yellow Goldfields to white-tipped Tidy Tips you're eyes will gaze in wonderment at the color before you. Drive-by or pull off safely into one of the designated areas to view this display up close
Travel a bit further east on Highway 58 until you reach Bitterwater Road and you'll spy the orangey tones of the California poppy, blues of the lupine and golden Fiddlenecks for miles.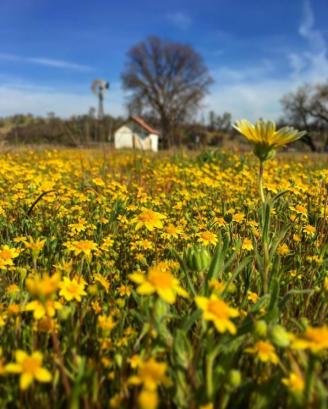 (Photo by Shell Creek Vineyards)
Carrizo Plain National Monument
If wildflowers as far as the eye can see are what you're after, look no further than the Carrizo Plain National Monument. Hillsides will be covered in a tapestry of wildflowers. Bring a picnic and enjoy the day exploring Carrizo Plain, Soda Lake and your colorful surroundings.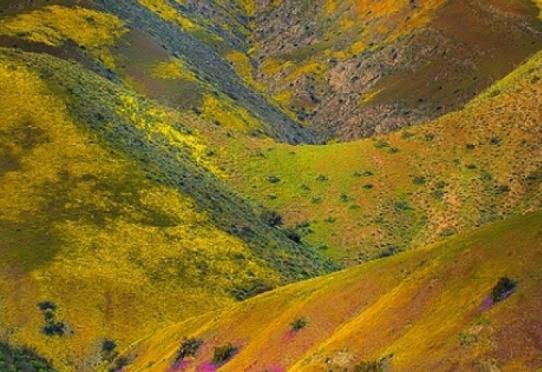 Montaña de Oro State Park
Whether you choose to hike the beautiful Point Buchon Trail teeming with purple flowers or wander Valencia Peak laden with California poppies, the coastal wildflower display found in Montaña de Oro is one to be savored.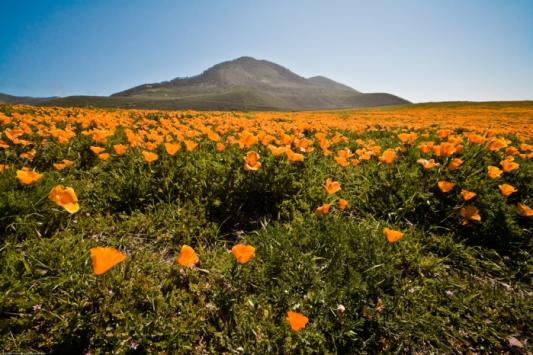 Drive Highway 1 west towards Morro Bay where hillsides are covered in yellow and green, meander along the Elfin Forest Trail, or simply enjoy a glass of wine on the patio at a winery in Paso Robles. No matter where you choose to watch the wildflower display this spring, it will be a SLO CAL memory you'll take with you forever.