Each year, millions of allotted vacation days go unused by Americans. It's no secret you want to vacation, but planning ahead for when it's going to happen can seem daunting. Spend that valuable time with your family, friends or even by yourself – you deserve it. But more importantly, spend your time in SLO CAL, where the perfect place meets the perfect pace of living. Don't worry about the planning, we're here to help.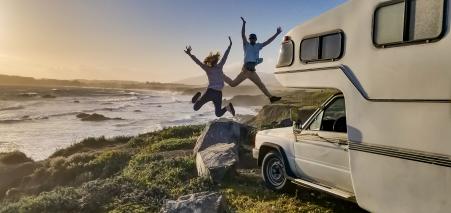 Step 1: Find your SLO CAL Destination
Whether you want a vast view of vineyards, coastal paradise, scenic communities or fun for the whole family, SLO CAL has it all! San Luis Obispo County stretches along 80 miles of Highway 1, features rolling hills full of vineyards and mountain-top trails waiting to be explored. So let's pick out the perfect destination for you (or maybe a few!).
Wine Country
Paso Robles
 is known for sunny days and rolling hills. Cowboy country collides with a world-class wine region. With more than 40 wine grape varieties, over 200 tasting rooms call Paso Robles home. Craft breweries, distilleries, olive oil tasting rooms add to the flavor of the community. SLO CAL's
Edna Valley
, most known for its award-winning chardonnay and pinot noir, also features an array of tasting rooms. 
Beach Daze
Miles of scenic coastline, rugged cliffs and stretches of soft sand and secluded coves make up SLO CAL's beaches. From Oceano to Ragged Point, adventure awaits. Kayak through caves at Dinosaur Caves Park in Shell Beach or paddleboard to the iconic Rock in Morro Bay. If it's a scenic Highway 1 drive you desire, start your engine and make your way through Cayucos, Harmony, Cambria and San Simeon. 
Fun for the Whole Family
Hey, sometimes the kids need a break too, right? Explore family-friendly Arroyo Grande and make plans to visit Vista Lago Adventure Park. There you can enjoy an array of ropes courses and see Arroyo Grande from new heights on their ziplines. Next on the list is the famous downtown San Luis Obispo farmer's market. Happening year-round every Thursday evening, downtown San Luis Obispo blocks the streets and sets up a market unlike any other. The kids will have a blast jumping around in the jump house, sampling freshly popped kettle corn and enjoy their oven-brick pizza right out of the mobile oven.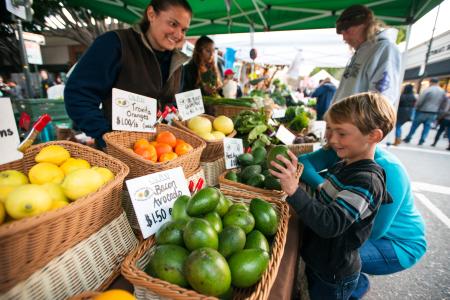 Step 2: Learn How to Get Here
Plane
You're in luck! San Luis Obispo County Regional Airport now flies direct to 8 airports with a 9th being added in June. Our direct flights are to and from San Francisco (SFO), Los Angeles (LAX), Seattle (SEA), Las Vegas (LAS), Denver (DEN), Dallas (DFW), Phoenix (PHX), and San Diego (SAN); The new flight being added in June is Portland (PDX). We also have thousands of connections only one or two stops away.
Train
Amtrak's Coast Starlight and Pacific Surfliner trains make daily stops at the City of San Luis Obispo Amtrak station, located near downtown. Amtrak also has services that stop at the Grover Beach and Paso Robles stations.
Automobile
SLO CAL is located about halfway between San Francisco and Los Angeles on U.S. Highway 101. We are also accessible from Interstate 5 via State Highways 41, 46 or 166. If you like to take the scenic route (who cares if it takes longer, you've got the vacation days for it) or are looking for an epic road trip down the coast, travel along State Highway 1. 

Step 3: Choose your Lodging
Are you looking for a luxurious hotel and spa? Try the new Hotel San Luis Obispo located in the heart of downtown San Luis Obispo. Complete with a spa, restaurant and rooftop bar, it's the perfect blend of luxury amenities and local charm. Maybe a cozy bed and breakfast on the coast is more your speed. Cass House is a five-room boutique hotel/bed and breakfast located in Cayucos. The traditional and contemporary house has ocean views and complimentary breakfast (what more do you need?). Looking for a home away from home in a vacation rental? Valentina Suites in Pismo Beach offers one-, two- and three-bedroom suites, with fully-equipped gourmet kitchens and all the comforts of home. Located two blocks from beachfront and in downtown Pismo, everything you need is within arms-reach. Discover a full list of SLO CAL accommodations.
Step 4: Pick your Activities
Whether you're a go-with-the-flow kind of traveler or the hyper-organized type (you know, itinerary planned down to the minute?), it's always good to know what you want to do when you arrive. SLO CAL has something for every person to do. Here's a list of some favorites around the county.
Water Dwellers
Land Lovers
Beverages and More
Foodie Desires
Shopping and Culture
Step 5: Share Your SLO CAL Vacation Photos
Now that you've planned your trip, don't forget to share it with us when you're here! Follow us on Facebook and Instagram @SLOCAL, tag us in your adventures and use #SLOCAL. We may even share your unique vacation with our followers!