TANTALIZING TREASURES AWAIT ON SLO CAL's ANTIQUE TRAIL
Collectors and connoisseurs of all things from the past will adore the world of vintage and antiquities in the variety of antique stores found nestled around SLO CAL (San Luis Obispo County, California). Home to maybe the most famous collector, William Randoph Hearst, SLO CAL is the place to discover heirloom relics in some of the best shops California has to offer. The choices range from American prairie houses to palaces of Europe with a wide selection of eras and designs to make your heart flutter. 
The land of collectible fun
With 5,000 square feet of wonders, this barn is a great spot in southern SLO county to spend time wandering into the past. Thirty dealers with more than 20-years in the business will keep you busy rummaging through collectibles, pottery, jewelry, swords, gold and silver for hours. The friendly staff is also great at giving appraisals so bring your treasures down and experience your own Antiques Roadshow. 410 E Branch St, Arroyo Grande, CA 93420.
The land of dusty gems
This 10,000 square foot, three-story warren of treasures is easy to spot with its heavy wooden doors which lead you into the world of the past. Staircases guide you up and down from the main floor to the upper and lower floors each filled with unique finds. Leave plenty of time to browse Depression Era glass, books, dishware, furniture, vinyl, dollhouses, and a collection of vintage. Walk through twice and still find new treasures while getting in your steps in this authentic shop. 2338 Main St. Cambria, CA 93428.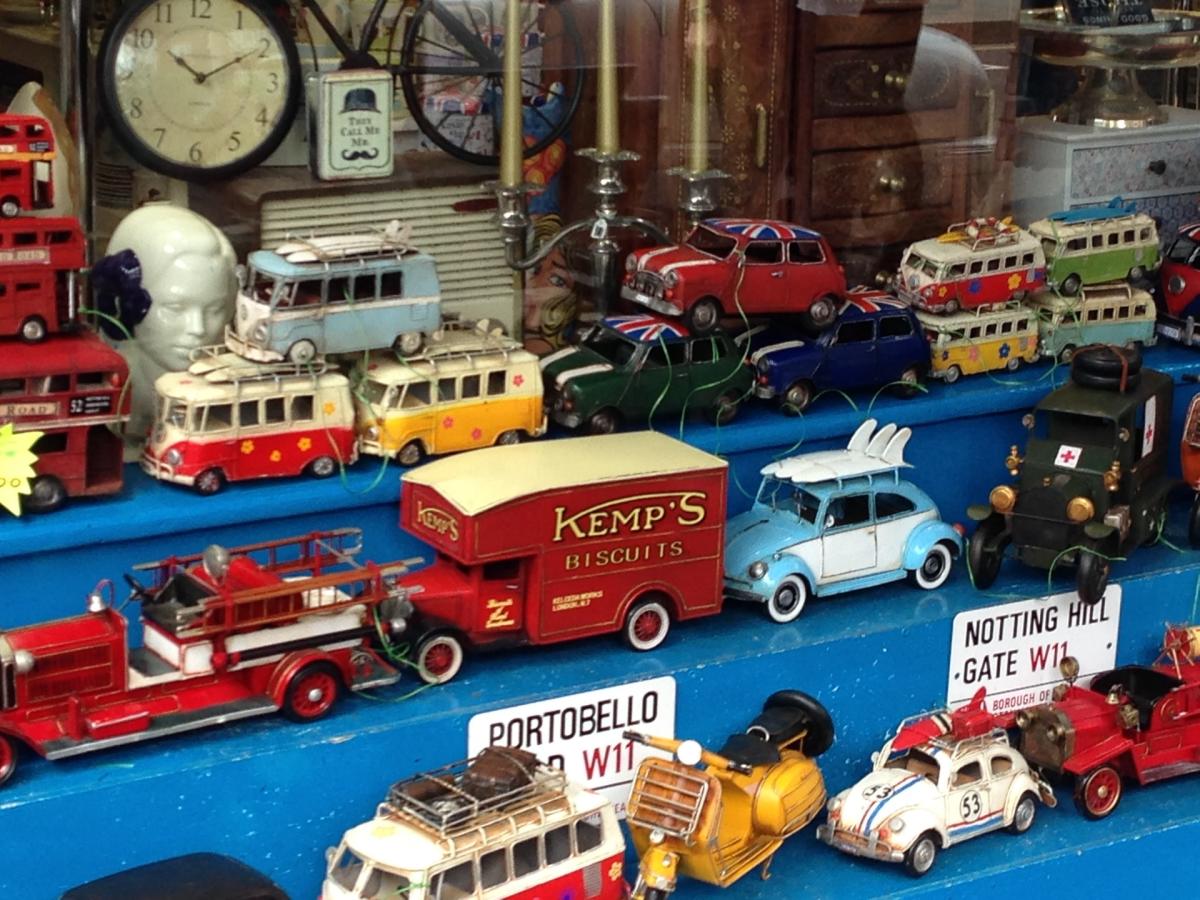 The land of curated accent pieces
In the heart of the quaint village of Arroyo Grande, this shop has been capturing collectors for years and they keep coming back because the great prices keep the merchandise moving. Beautiful jewelry from vintage estates as well as high-end costume pieces are some favorites in this curated, lower-level trove of wonders. Breeze in for a stroll through the past for small collectibles and accent pieces galore. 126 E Branch St, Arroyo Grande, CA 93420.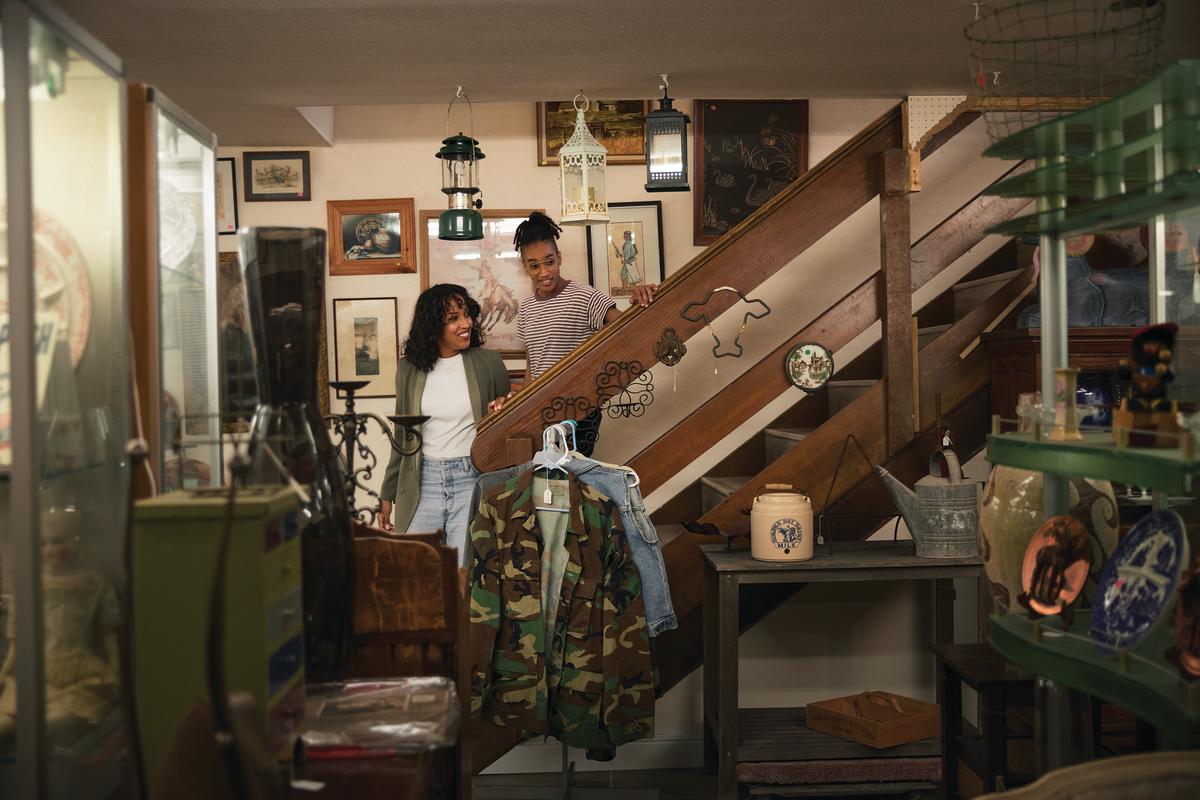 The land of serious collectors and daytime perusers
Two lifetimes worth of serious collecting. A father and son's shared hobby has turned a historical home into an antique shop, reminiscent of how antique shops used to be in the '50s and '60s. As you enter the garden, wind your way up to the porch through a succulent garden of pots, driftwood and architectural prizes. Once inside, every room of The Shaw Steiner house (1914) is stuffed to the rafters with something for everyone: vintage advertisements, statues, Americana folk art, coins, nautical, and architectural pieces. Serious collectors and daytime perusers alike will find a treasure to take home in this fabulous shop run by Brian and Abbey Lucas – local gems in themselves. A truly enjoyable visit and you may want to call ahead. 2442 Main St. Cambria, CA 93428.
The land of ships coming in
Appearing as elusive as the Isle of Avalon, which one can only see when the mists part at exactly the right time, "By appointment" is preferable to view this crème de la crème collection painstakingly curated from museums for over 40 years. Bring your checkbook or get ready to do some serious perusing of fine art, zebra rugs and top-notch furniture. At the venerable age of 92, the remaining partner Mr. Evans learned about antiques as a boy working in the Hearst Warehouse down the road from his family ranch and has been in the business ever since. He has come home to share his lifetime collection of art, bespoke furnishings, books, and architectural treasures with the Central Coast. 4111 Bridge Street, Cambria CA 93428.
The land of precious smalls
Tucked into a little prairie-style house in the west end of the cozy village of Cambria, Granny Had One is a charming shop with pieces you definitely saw at your grandmother's house and possibly your great aunt's too. A precious collection of smalls to display when you get home. 780 Main St. Cambria, CA 93428.
The land of fluctuating surprises
On a downtown corner of bustling wine-country Paso Robles, this is the place to find your favorite piece of Americana in between wine tastings. From cast-iron skillets, barbershop blades, polished stones, vintage clothing and Ball jars to military memorabilia, Breyer Horses, furniture, baseballs and baseball cards this place serves up more apple pie than your grandma. Don't miss "grandpa's" second floor of this unique shop with more than 30 dealers. 1305 Spring St. Paso Robles, CA 93446.
The land of true variety
A huge mall of 12,000 sq feet always feels spacious and is able to accommodate some large pieces. There are dealers with true antiques and some with vintage and retro items, consignment, local art, and thrift as well so it's usually easy to find something you want. They also have a great collection of estate jewelry, dishes and furniture. Make sure to visit their upstairs and new garden court. 520 Atascadero Rd., Morro Bay, CA 93442.
The land of architectural memorabilia
The iconic pink Art Deco building facing the three stacks and the rock of Morro Bay, is busting with the curated architectural finds from Los Angeles to San Francisco. A true variety of doors, windows, hardware, stained glass, nautical and industrial salvage, and the occasional motorcycle (in whole, or in parts). They have their fingers on the pulse of what the modern collector wants and will also rent some of their pieces of interest for weddings, commercials, photoshoots. Check them out before your next project, they will even keep your preferences on a list so you don't have to keep searching. 1612 Main Street, Morro Bay, CA 93442.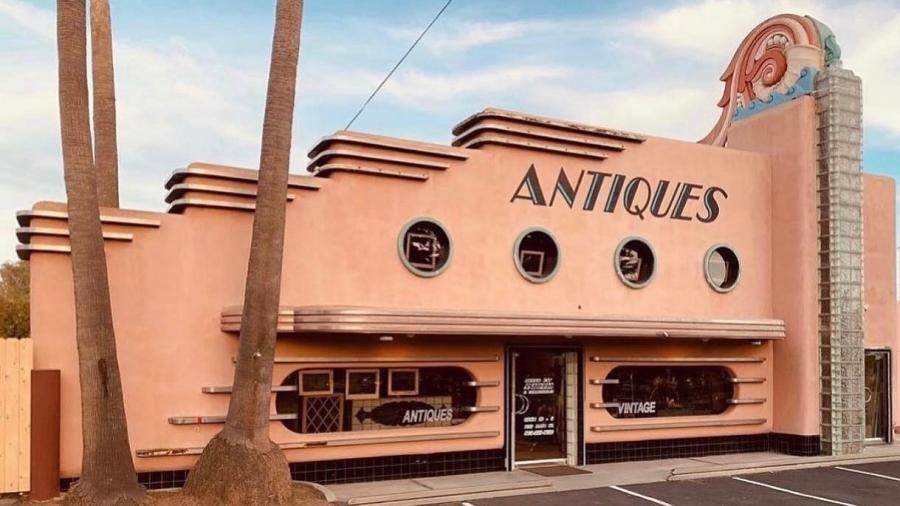 Photo credit: Morro Bay Antiques
The land of antique and vintage party wear
Tucked off the city street, find 25 dealers exhibiting in this Paso Robles purveyor spread. Chock-full of antiquities, respectable collectibles, furniture, polished stones and evening wear plenty. From French Provincial to Danish Mid Century Modern you will discover curated finds from antique dealers and designers alike. Head upstairs for the most unique collection of party garb, perfect for your themed costume party—truly a sight to behold. 1329 Spring St, Paso Robles CA 93446.
The land of antique and vintage party wear
Located one block from the Pismo Beach Outlets in the Pismo Coast Shopping Plaza which makes for a great day of something old and something new, dealers feature retro clothing, vintage fishing gear, fireman memorabilia, furniture and toys. However, Pickers is known for its huge collection of vinyl records and unique jewelry selection. 537 Five Cities Drive, Pismo Beach CA.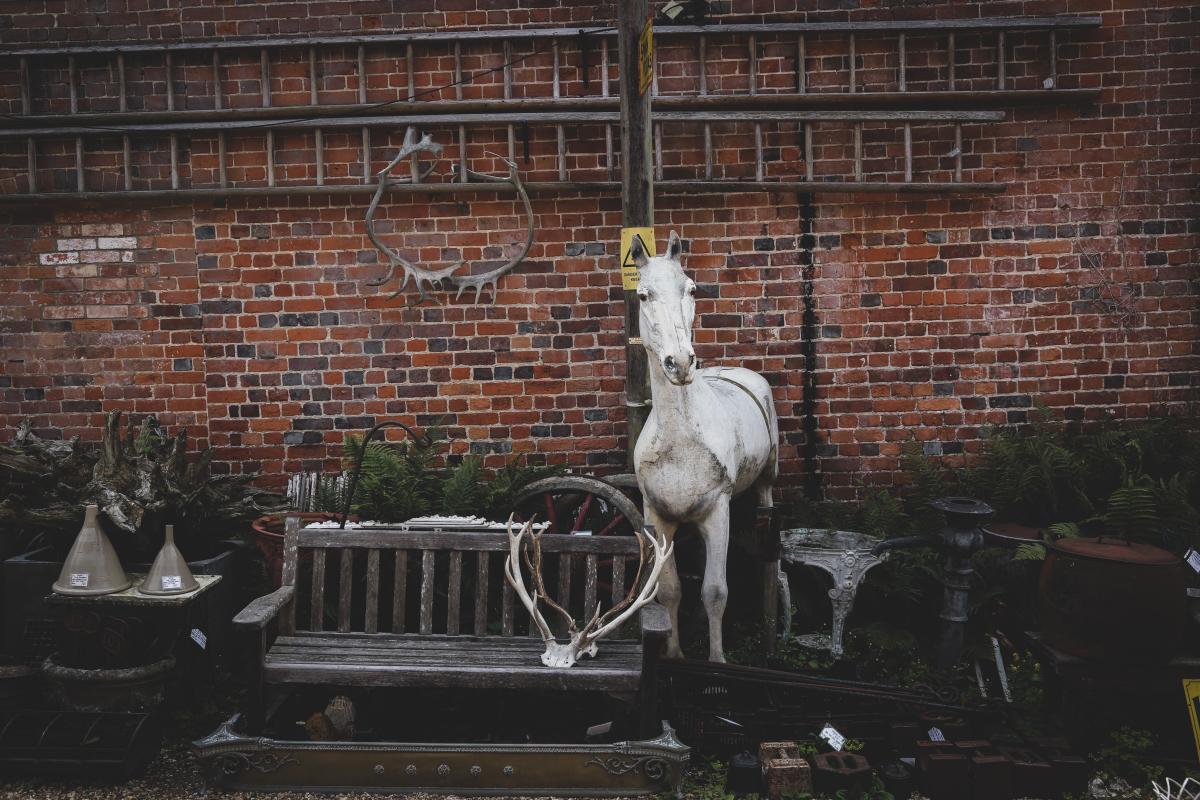 The land of vintage clothing and collectibles
Their flagship store boasts three whole floors of different vendors in a building near as old as the merchandise, all adding to the experience. Be prepared to lose yourself in the nostalgic details of the past because your memories will come flooding home and you'll forget the beach across the street. You'll find a hodgepodge of vintage clothing and collectibles here. Come in for dolls, vintage jewelry, art, clothing, tools, books, toys, records and musical instruments, as well as garden art and one-of-a-kind curios. This shop and its sister store just down the block will enchant you for hours. 152 N Ocean Ave. Cayucos, CA 93430. 
The land of objet d'arts
The not so little sister of Remember When, this large warehouse has different dealers than the main three-story building and sells fabulous vintage objet d'arts and lots of tomorrow's antiques. Make it a two-stop day to browse this collection of collectibles and tchotchkes. 36 N Ocean Ave., Cayucos, CA 93430.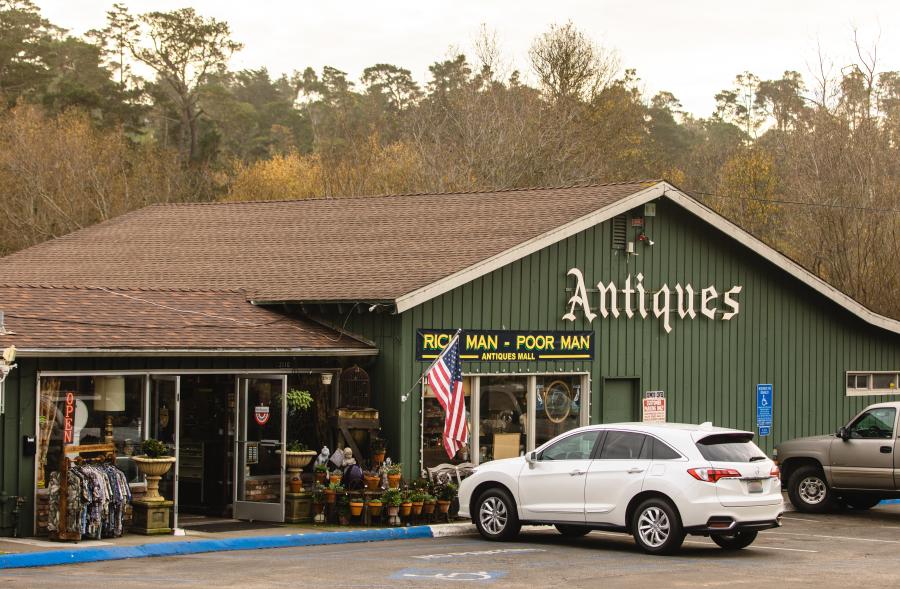 Photo credit: Highway 1 Road Trip
The land of rambling variety
Warm and welcoming Joanna and Myles have a lifetime of experience and long ago figured out how to establish different price points, variety! They boast more than 60 seasoned dealers! This rambling wonderland is stuffed to the beams on both floors and two laps may not be enough to discover secret rooms, tucked here and there, full of antiquities. Exquisite vintage diamond jewelry, antique lighting, clocks, McCoy pottery, European furniture, Native American, mid-century and Big John's man cave of Mantiques makes this shop one of the best in SLO CAL. Clients are like family and tuck in regularly to chat and shop because they know there is new merchandise daily. Your Pooches are invited too and might even be featured on their Pooch Cam! (Tip: Don't miss out on the back garden shed or the second-floor attic shops inside!) 2110 Main St Cambria, CA 93428.
The land of rambling con't
A rainy day must, don't be surprised if you happily lose a few hours between these two sister shops with completely different vendors. The Annex is a deeply filled second showroom now open in the same lot of Rich Man, Poor Man. Your antique itch will surely be scratched. Like the main showroom, the Annex offers discounts for military veterans on the rarities and curios from a bygone era. 2084 Main St Cambria, CA 93428.
The land of the old west
Smack in the heart of the tiny old west town of Santa Margarita, this old west shop has run the competition out of town. A great place to stop on your way to or from winetastin' or ziplinin', heck, the whole town is a trip down memory lane, complete with swinging doors. And hey, you may even find some for sale in this shop, which has a variety of pickin's like lanterns, pots and pans, and plenty of other treasures. 22390 El Camino Real. Santa Margarita, CA 93453.
The land of home furnishings
Although officially a consignment shop, this outpost takes an honorable mention for an excellent curated array of antique furniture in different styles at great prices. Come visit for home furnishings to cozy up your nest and accent any space. There are definitely some distinctly vintage finds from floor to ceiling such as lamps, mirrors, paintings and carpets. 1599 Monterey St. San Luis Obispo, CA 93401.
The land of vintage bling
A consignment shop with antique flair and thrifty finds, this clean and bright shop has lots (and we mean LOTS) of clothes and shoes, toys, kitchenware and art. Fit yourself in every era of vintage clothing or find some vintage bling to sparkle yourself with. You and your family will have fun poking around in this shop which has something for everyone. '80s and '90s kids will feel right at home. 248 Morro Bay Blvd., Morro Bay, CA 93442.
The land of vintage flair
This cute main street mall features vendors with a plethora of unique antiques and vintage finds like books, vinyl and coins. This is the place to find that vintage dress and a pair of shoes (or boots) to match! Maybe take away some decor flair for your home, too. 475 Morro Bay Blvd., Morro Bay, CA 93442.
The land of seismic antiquing
If you're a local, you've probably noticed the Old West, false-front barn which leans out over Highway 101 on the border of Paso Robles and Templeton. With over 100 dealers, this beast of an antique mall is where you come for your statement piece or perhaps that antique bar pulled from an old saloon. Take one pass, two, or even three in this giant metropolis, equally balanced with furniture, decor, knick-knacks, collectibles and statement pieces. From elegant Victorian dressers to farm tools and wagon wheels, you will not be disappointed to stop in on your way home. Their price points are reasonable so you won't have to choose which item to put back for next time. Don't miss the sideyard! 2320 Ramada Dr. Paso Robles CA 93446.