The best vacations leave a smile on your face and a good taste in your mouth. Can you smell the tri-tip sizzling over red oak coals? How about that hot bread bowl of clam chowder? With so many famous SLO CAL (San Luis Obispo County) foods to devour, your diet can wait. If you want to make your Instagram followers drool, look no further. These iconic bites taste as good as they appear (#nofilter). Here's your must-munch meal plan:
1. Madonna Inn Cake
The Madonna Inn's classic Pink Champagne Cake might have been initially whipped up by angels—if angels lived in the Malibu Barbie Dream House. From the fluffy, cloud-like white cake to the scrumptious champagne filling to the undeniably eye-catching hot pink white chocolate curls on top, this famous slice of sugary sin must be on your radar. Of course, there are plenty of desserts to choose from in the Copper Cafe (cookies, black forest cake, carrot cake, plus a slew of pies), but if you want to really experience the Madonna Inn's mid-century hospitality in style, ya better think pink.
2. Tri-Tip
It's a cut of beef that plenty of well-meaning Midwesterners will scratch their heads at. In fact, many folks across the globe have no idea that SLO CAL's classic Santa Maria style tri-tip -- a triangular cut of beef from the bottom sirloin subprimal cut consisting of the tensor fasciae latae muscle -- is the best cut of the entire cow. OK, I'm an SLO CAL local, so I am a bit biased here. Stay with me though, you wary ribeye fans. When seasoned just right and cooked over red oak coals, something special happens. A flavorful crust forms around the outside. Cut into this slab o' love and find tender, juicy beefiness marbled for your pleasure. Try it at Jocko's Steakhouse in Nipomo (a tri-tip stable since the 1940s) or, if in a rush, grab a tri-tip sando to go from Firestone Grill, Old San Luis BBQ Co. or The Ribline in San Luis Obispo or Grover Beach.
3. Morro Bay Oysters
Did you know that oyster farming in Morro Bay has been a tradition since the 1930s? The calm, protected bay isn't just the perfect place to raise millions of oyster babies. The estuary's mix of salt and freshwater help bring out the unique terroir (or merroir, as the foodies call it) in these meaty mollusks. Head to the coast and see for yourself. Fresh shucked or with a squeeze of lemon, morsels raised by Morro Bay Oyster Company and Grassy Bar Oyster Company taste distinctly of the SLO CAL seascape. Find them at local restaurants, farmers markets or straight from the source.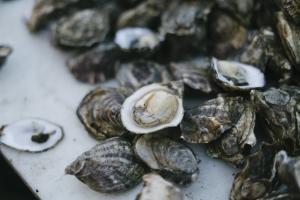 4. Splash Cafe Clam Chowder
Pismo Beach is often called a "Classic California" beach town, and for good reason. With surfboards bobbing in the water, a bustling pier and mom and pop shops galore, this sunny SLO CAL paradise feels plucked straight from a postcard. That said, you'd really harsh our mellow if you traveled to Pismo Beach and didn't try Splash Cafe's rich clam chowder, loved by locals and tourists alike. Of course, you can grab a bowl at the eatery's San Luis Obispo location, but we think there's something special about enjoying this steamy meal in its OG stomping grounds. Bikini or not, we recommend grabbing the bread bowl, which becomes even more delicious as the hot soup soaks into all that bubbly sourdough goodness. Super clam chowder tip: opt for the grilled sourdough loaf.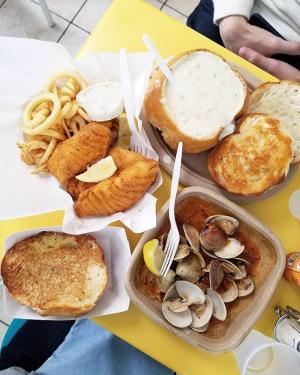 5. Sourdough
Speaking of sourdough bread, you know SLO CAL is pretty famous for that too, right? San Luis Sourdough has become synonymous with a great—if not a grand—sandwich, especially when it comes to grilled cheese. That squishy center! That golden brown crust! This is sourdough on steroids. The San Luis Sourdough facility is located right here in San Luis Obispo, yet if you want to grab a loaf, round, rolls or baguette, you'll have to head to a local retailer (Click here for a store locator). Want to try some other famous sourdough bread offerings? Make a beeline for Grover Beach Sourdough, where the baker uses wild yeast to create incredible sourdough tuna sandwiches and even biscuits and gravy.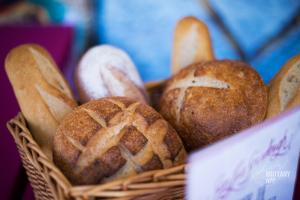 6. Cattaneo Brothers
SLO CALs will tell you, there is no better snack to munch on during a movie, ballgame or wine tasting excursion than Cattaneo Brothers jerky and sausage. This locally made, grass-fed beef jerky is legendary, coming in flavors like sea salt, cracked black pepper, chipotle and cayenne. Yes, it's a whole lot different from what you might find at your average gas station pit-stop, and yes, you can visit their production facility, located just a few blocks from downtown San Luis Obispo.
7. Coastal Avocados
There's something special about avocados grown in Morro Bay, Cayucos and Cambria. Some say they're creamier; others say they detect a particularly buttery flavor. Whatever it is—the coastal fog, the soil, the farmer's touch—it's worth investigating before you leave. Stop by one of SLO CAL's many farmers markets and grab yourself a bagful. SLO CAL tip: In dire circumstances, very unripe avocados can be frozen and re-thawed at a later date (just use them in guac, not for slicing). Imagine! You could bring a little dollop of SLO CAL home for the winter.
8. North County Burgers
A burger is just a burger, right? Not in SLO CAL. Head to Sylvester's Burgers in Atascadero is famous for its "big, hot, 'n juicy" burgers, too. Grab a one pound behemoth in any style, including wild boar, elk, turkey, beef, or "hippie black bean." Sylvesters also has locations in Los Osos and Oceano. When it comes to burgers, to each their own.
9. Apple Farm Comfort Food
You know that feeling of coming home to grandma's house? That's sort of the vibe with Apple Farm, a dining destination in SLO CAL that has welcomed road-weary travelers for decades. This beloved San Luis Obispo-based restaurant blends the time-honored tradition of old school from-scratch recipes (hello turkey meatloaf) paired with new school local wines. Plus—and here's the headline—the bakery cooks up fresh, unbelievably addicting pastries each day. You don't have to check-in to the Apple Farm's cozy inn to snag a few cookies or a sumptuous cinnamon roll, although you may want to.
10. Brown Butter Cookie Co.
Love a salty yet sweet flavor combo? Check out Brown Butter Cookie Company in Cayucos and Paso Robles. Wise locals know that you always have to purchase two bags at a time (no matter what, you'll always end up eating the first one in the car). While the original Brown Butter cookie is certainly a fan favorite, their other flavors like cocoa, almond and citrus (heck of all of them) are definitely worth giving a try.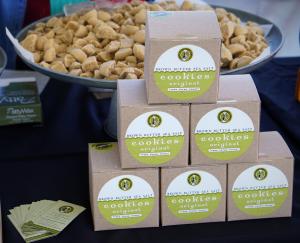 11. Olallieberry Pie
Seasonal pies procured from Avila Valley Barn are just better (maybe it's the assortment of cute farm animals). Olallieberry filling is a fabulous regional treat, so although you might be tempted to go with a fruit you already know, we say throw caution to the wind, especially when ordering from the original Olallieberry enthusiasts, Linn's Fruit Bin in Cambria. Seedy and tart with flavorful juice to spare, you may dribble down your shirt, but by golly—it will be worth it! Consider this the ultimate foodie souvenir.
12. Smoked Fish Tacos
So you've had fish tacos, I'm sure. But have you had smoked fish tacos? More importantly, have you had the smoked salmon fish tacos from Ruddell's Smokehouse in Cayucos? Just to warn you—one is enough to feed a hungry belly, although you may be tempted to gobble down two or three! Choose from salmon, albacore tuna, or shrimp and get it with "everything," which includes a refreshing sprinkle of celery on top. Extra points for adding a bit of locally made Cayucos Hot Sauce to your taco. You'll find them all over the plastic tables outside, so there's no excuse. When in SLO CAL, right?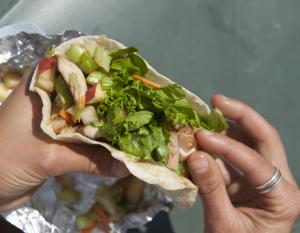 13. Nardone's Pizza
Nardone's Pizza in Baywood and Atascadero is a staple of family dinners, drive-in movies and little league games here in SLO CAL. Why? Well, when you bake copious amounts of toppings under (yes—under) oodles of bubbling cheese, dinner is served, sometimes for days. These delish deep dish pizzas are a lot to handle, so expect lots of leftovers. The owners know a thing or two about happy bellies, to be sure. Each 'za is square-cut so you get more even more caramelized crust.