With international travel on hold, many dream trips have been canceled with no reschedule date in sight. Whether you're looking forward to sipping wine from a French chateau or an Italian villa or tasting the fresh bounty in Spain, you may only need to look to SLO CAL to revive your dreams of escape. Located three hours' drive from either Los Angeles or the Bay Area, SLO CAL has many International influences to make you feel like you're abroad. 

Ireland
Ireland's Cliffs of Moher / SLO CAL's Ragged Point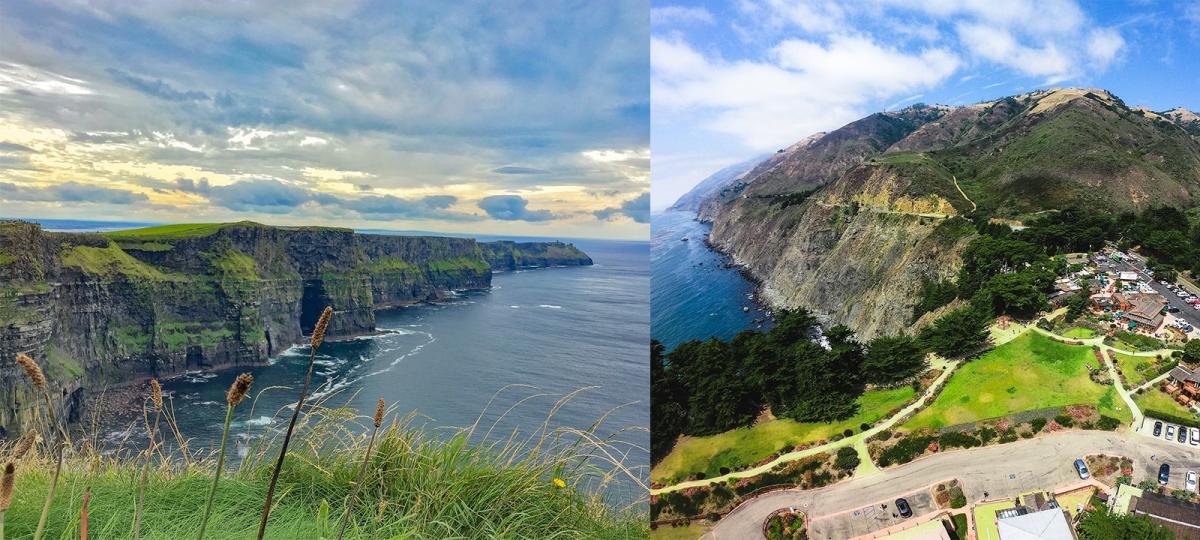 San Luis Obispo's Irish Hills get their name for a reason. Follow SLO CAL's Prefumo Canyon Road up to cast your eye on the breadth of the Nine Sisters mountain range or take a hike through the hills in the Irish Hills Reserve. If you're lucky enough to experience this gem in the spring, you'll be treated to the brightest green illuminations that give these hills their name. But remember, if you're hiking within the hills, you miss the view. Take the strenuous, yet rewarding Cerro San Luis for perhaps the best view. Further out, take Los Osos Valley Road to Montaña de Oro State Park to continue the luck of the Irish at SLO CAL's own bluffs that harken to the Cliffs of Moher. Strap on your hiking boots for a pleasant walk along the Bluff Trail to watch our Pacific Ocean lap on the rugged coast. If you continue up SLO CAL's Highway 1 towards Cambria and Ragged Point, you'll be at no shortage of breathtaking views of mystical cliffs careening into the ocean's depths.
 
Spain
SLO CAL's Piedras Blancas Light Station / Spain's Basque Coast

SLO CAL's Poly Canyon, Cuesta Ridge / Spain's Andorra Mountains

Photo by: ericaslocitycouncil
Speaking of Highway 1, do you have Spanish eyes? SLO CAL's northern coastline can also harken to the Basque Coast. Craggily hillside covered in grasses and boulders will transport you across the world as you seek serenity on the bluffs. Stop in Morro Bay to breathe in the sense of San Sebastian, with a still harbor and island rock as the pillar of both destinations. Take Highway 46 to Paso Robles from the ocean, and you'll find breathtaking views like those of the Spanish backcountry. Although snowcapped mountains don't exist in SLO CAL, you'll get a sense of the range in which our mountains dance. Take yourself to SLO CAL's Los Padres National Forest and East Cuesta Ridge for heightened views that hearken to train rides from Basque Country to Barcelona. Stop at either SLO CAL's two Spanish-style Missions or the Shandon Chapel for a taste of the religious ceremony, which welcomes visitors for services on Sunday (Check Covid-19 restrictions). Best of all, if you're interested in a heavier pour after Communion, check out SLO CAL wineries. Edgar Torres's Spanish varietals at Bodega de Edgar will offer a flair of this region's unique varietals and blends. Daou Vineyards' Spanish colonial architecture atop their gorgeous view of the Paso Robles valley will surely fill your cup. Although the Daou brothers were born in Beirut, they soon immigrated to France, producing Bordeaux-style wines. 
 
France
Avignon, France / SLO CAL's Paso Robles

SLO CAL's Niner Wine Estate / Provence, France 

Photo by: ninerwineestates
Wine
Along with Daou Vineyards grapes, Paso Robles is chock-full of French vines. For instance, Tablas Creek Vineyard was an original source for many French vine clippings stateside. Meanwhile, L'Aventure Winery began when Stephan Asseo sold three French chateaus to relocate in SLO CAL. Guillaume Fabre established Clos Solène in Paso Robles after similarly leaving France. For an ancient French countryside farmhouse experience, look to Niner Wine Estates in Paso Robles for expansive rock buildings, productive gardens and hillsides. Down the road, Denner Vineyards is another whose near-limitless funds brought vines from France to produce some of the most award-winning wines in the Paso Robles region. 
 
Food
Time to fill up your plate? Try Les Petites Canailles for the full French dinner experience. This Paso Robles luxe spot will transport your tastebuds, even during travel restrictions. On the lighter side, Atascadero's Hush-Harbor Artisan Bakery & Café offers delicious varieties of midmorning bread and pastries. Take in some time at Splash Café for either their larger menu, or at their dessert window. Located near downtown San Luis Obispo, this renowned bakery creates entirely hand-crafted breads and sweets. 

 
Views

Lavender is another French-inspired experience in SLO CAL. Harmony Lavender Farm, located right off of Highway 101 in Atascadero, is used to create essential oils, soaps and much more. A deep breath of lavender can calm the soul and send your mind directly to the famous lavender fields of Provence, France. While you're on the road from Atascadero, check out Morro Bay and Montaña de Oro State Park. Morro Bay's foggy seaside town is reminiscent of Normandy. Instead of a rock abbey, you'll have gorgeous Morro Rock and a fresh fish dinner. Cassis, France has vibes found on a warm day Montaña de Oro State Park, where the rocky beaches and shrub-filled cliffs not only resemble Ireland (above), but this gulf-side getaway. Take a step in to the border of San Luis Obispo and Arroyo Grande on either Highway 227 and Orcutt Road to Lopez/Husana Road, and transport yourself on a car ride to the south of France's farmlands and mountains. Check out the many wineries dotting this Edna Valley region like Talley Vineyards, and end up in the back hills of Lopez Lake for a few waterfall adventures, if your transportation is capable.

Italy
SLO CAL's DAOU Vineyards / Montepulciano, Italy

Photo by: kari.valdez
Tuscany Italy / SLO CAL's Villa San Juliette

Photo by: villasanjuliette
In the same way, Edna Valley is reminiscent of France; the same can be said about small backroads in Italy. Be sure to travel Highway 227 and Orcutt Road to Lopez/Husana Road for the full experience and judge for yourself at wineries along the way. Don't miss the Italian roots of Piedra Creek Winery, whose late founder came to the U.S. as a young man. The small establishment adds to the mystique similar to many wineries in Europe. Swing into San Luis Obispo to taste Flour House, where the pizza oven was made in Naples and ingredients are regularly imported. La Locanda in San Luis Obispo is also a great place to get lost in a snug white-tablecloth experience while you're dining alfresco. In Paso Robles, J. Dusi Wines has deep Italian roots and a lovely tasting room to showcase. Or get the Tuscan feel when you taste at Villa San Juliette. To rest your head, book a room at the Allegretto Vineyard Resort in Paso Robles or CaliPaso Winery and Villa. But don't forget one final flavor of SLO CAL; olive oil! Kyler Ridge has more than 15 acres to explore seven different Italian tree varietals in Paso Robles, or try out rural Pasolivo. Atascadero also takes the olive oil experience to a new level with mother-daughter-owned The Groves on 41.
 
Greece and more Mediterranean Climates
SLO CAL's Pismo Beach / Milos, Greece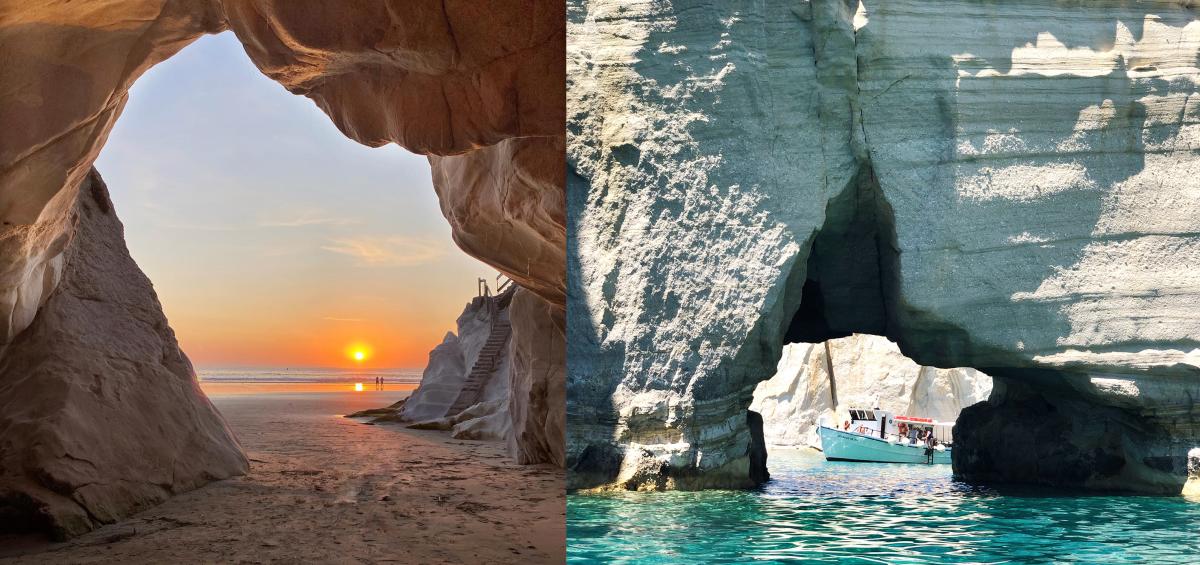 Photo by: lisamroeder
While olive oil tasting, enjoy the flavors that bring so many Greek and Mediterranean dishes to life. In San Luis Obispo, enjoy Petra's pizzas and grill to bring the freshest ingredients to your tastebuds. When you eat your fill, jaunt over to Pismo Beach for a photo opp. At the northern end of Pismo Beach awaits the most gorgeous white rock cliffs. Found just below SeaCrest OceanFront Hotel, Shore Cliff Hotel and Pismo Lighthouse Suites, you'll feel transported to white Greek cliffs. At the same time, you explore cave outcroppings below if the tide allows, or rent kayaks to explore the Dinosaur Caves nearby. If you prefer to surround yourself with lush greenery, check out Cal Poly's Leaning Pines Arboretum to experience five of the world's Mediterranean climate regions in one spot. With walking paths around trees, shrubs and gardens, stroll through the Mediterranean basin, South Africa, Australia and Chile.
 
South America
SLO CAL's Soda Lake / Atacama Desert, Chile

Photo by: urth_angel
South Africa / SLO CAL's Hearst Ranch

Speaking of Chile, if you take yourself past Santa Margarita, you'll hit a unique and barren part of SLO CAL terrain that has become a National Monument. The Carizzo Plain is home to Soda Lake, reminiscent of the Atacama Desert in Chile. Although Chile's abandoned Spanish colonial architecture (see also Spain) is not in this SLO CAL spot, just look nearby. Two very active SLO CAL missions in San Luis Obispo and San Miguel or the Shandon Chapel will give you a feel of stumbling on the past. Time to dine? Eat at a unique SLO CAL Peruvian restaurant Mistura for the meal of a lifetime. Colorful and adventurous, this place setting will leave you wondering if you've left the hemisphere—and that's what you want, right? Speaking of another similarity to South America, how about Argentinian cattle ranches. The grassland of Argentina as hospitable to raising cattle as those found at SLO CAL's San Simeon. Find Hearst Ranch cattle grazing near Zebra. Admittedly Zebra are not native to South America: But still cool, and a great transition.

Africa
SLO CAL's Cerro San Luis / Cape Town, South Africa's Devil's Peak

Morocco / SLO CAL's Oceano Dunes

Luxor, Egypt / SLO CAL's Guadalupe-Nipomo Dunes Center

Photo by: dunescenter
Speaking of Zebra sightings at San Simeon, visit Atascadero's Charles Paddock Zoo to see additional African species, like porcupines, meerkats, tortoises and a hornbill like Zazu in Disney's The Lion King. Afterward, strap on your hiking boots in San Luis Obispo to climb Cerro San Luis or hike Ontario Ridge in Avila Beach. At either of these two spots, notice city-dense peaks emerging near the blue oceans, almost like Devil's Peak and Table Mountain in Cape Town, South Africa. Albeit the South American peaks are nearly twice as high as SLO CAL's, you'll be relieved our SLO CAL peaks aren't twice the climb. Let's go north, now! Take off to Morocco when you visit SLO CAL's Los Osos-Baywood dunes. Have a little fun sliding down these with a sandboard, or enjoy the great expanse as you sink your toes into a picnic experience for a meal on the sand. Similar sights are found at the Guadalupe-Nipomo Dunes, this time with buried treasure. Built in the 1920s for the silent and Technicolor The Ten Commandments movie filming, The City of the Pharaoh was buried in SLO CAL. Visit the Dunes Center (Check Covid-19 Restrictions) for a unique exhibit featuring artifacts recovered from the set nearby. 
Germany
SLO CAL's Poly Canyon / Berlin Germany

Berlin Germany / SLO CAL's Kreuzberg California

Photo by: thecutestcoffee
That's right, SLO CAL can take you to Deutschland. Take in a Bavarian meal at Beda's Biergarten in San Luis Obispo, sipping on German beer and wine before diving into staples, like sauerkraut or spätzle. If you need to start your day with a coffee, look no further than Kreuzberg California coffee. Here, you'll find not only morning noshes but afternoon happy hours and plenty of outdoor socializing to make you feel like you're in the heart of Oktoberfest. Top off your German tour of SLO CAL with a hike out Poly Canyon to see the Architecture Graveyard, where nature intertwines with manmade structures that have been decorated with graffiti art over the years. This experience will really make you feel like you've stepped into an abandoned neighborhood of East Berlin. 
Central America
Guatemala's Lake Atitlán / SLO CAL's Laguna Lake

Photo by: reneetakespics
Have you wanted to book those gorgeous ziplining adventures in Costa Rica? Did you know SLO CAL is the lushest in the spring months and has two zipline adventures? Head out to Arroyo Grande's Vista Largo Adventure Park for a view and thrill of a lifetime. Perched high above Lopez Lake, soar through SLO CAL's green and blue landscape. Margarita Adventure is another option to feel the wind in your hair over gorgeous SLO CAL oaks and vineyards. Get a taste of Guatemala's Lake Atitlán here in SLO CAL when you visit Cerro San Luis from Laguna Lake. With plentiful hiking trails around Laguna Lake as you ascend one of the Nine Sisters in the SLO CAL range, you'll feel the same vibes of the Central American volcano above Lago de Atitlán.
Hearst Castle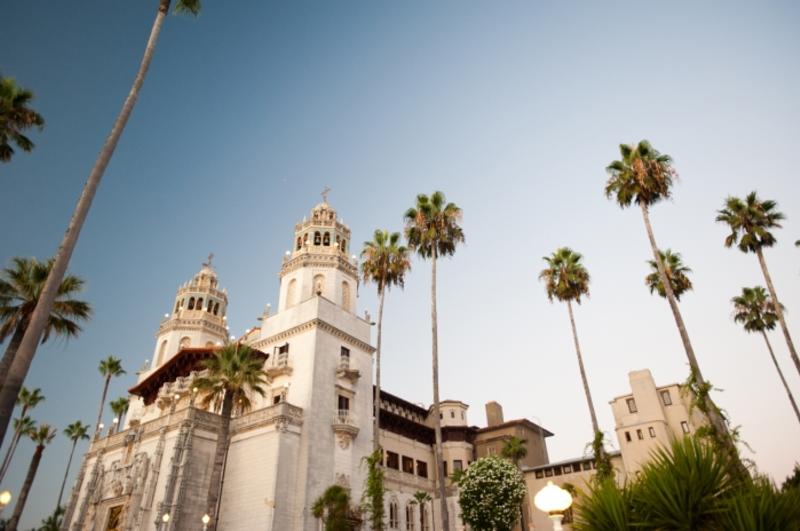 With over 68,000 square feet to cover in the main house, Hearst Castle sits in the top 20 largest houses in the United States (near top 10 if you count all the guest houses on the hilltop). SLO CAL is proud to represent this global icon, setting on our northern coast, and accessible for tours (when not restricted by Covid-19). All this SLO CAL real estate required decor to be sourced from across the globe. Architectural influences come from European Classicism and Spanish Colonial Revival. Doors, ceilings, artwork and bannisters were bid on by Hearst from all over ancient Europe, and come from Italy, Greece, Spain and France, just to name a few. For the ultimate taste of opulence and global history in SLO CAL, Hearst Castle is a must-see spectacle to add to your travel itinerary.