San Luis Obispo County, CA (SLO CAL) is approachable and laid-back. But don't think we're short on amenities for every budget. Our top-dollar experiences are more for the adventurer squeezing every ounce of life out of their time. Check out these bucket list, once-in-a-lifetime travel ideas and SLO CAL hidden gems that will satisfy anyone living life to the fullest. Helicopter wine tasting, yacht rentals, rose maze gardens and views to spare—you'll fill your bucket list travel ideas in SLO CAL.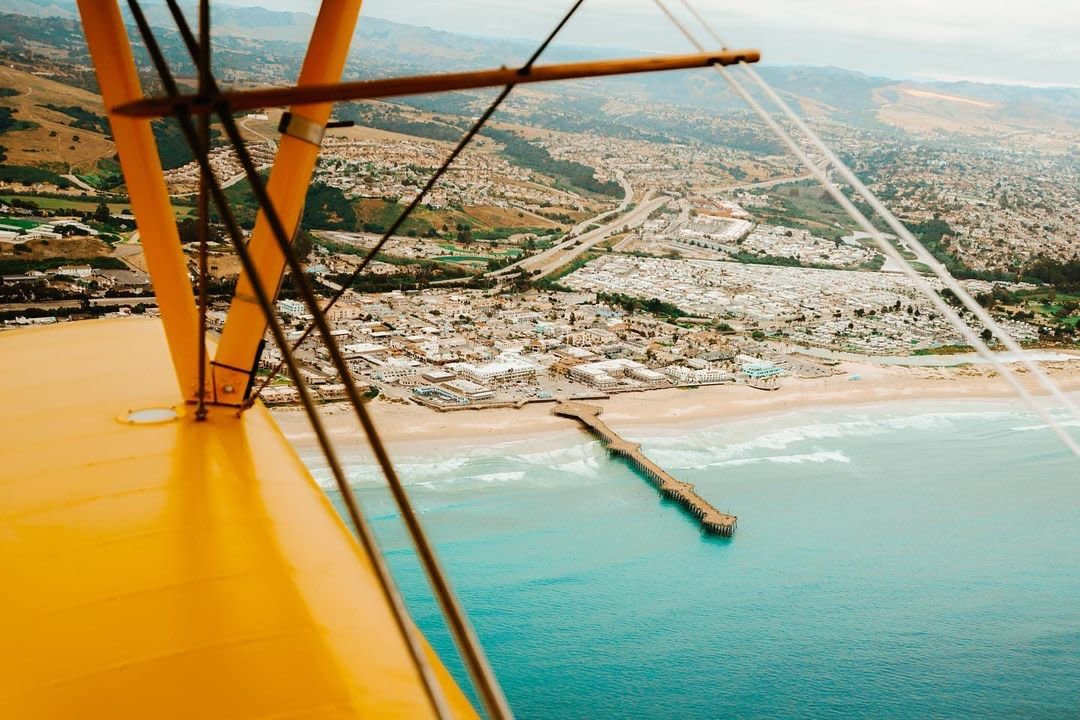 Photo by: @nicole_thenomad
ARRIVE IN STYLE
First, let's talk: getting to SLO CAL. Sick of first class? Step up your game with chartered flights from ACI Jets. Global Express jets are about as good as it gets. We're talking about renting $60,000,000 private planes—Oprah or Bruno Mars fancy. With a 7,000 mile range, you could fly up to 19 straight to San Luis Obispo, Paso Robles or Oceano from places like Rome. ACI has five Global Express options to choose from. Further down the lineup, there's a few Challengers to decide from, a Gulfstream and a few Cessna Citations. Remember, you have to pick just one. You can't fly all at once.
STAY IN LUXURY
Waterfront Accommodations
Are luxury hotel amenities from the nicest hotels what you're after? At around $1,000 a pop, all you have to decide is how many square feet you need. Let's first offer you a giant 2,100 sqft ocean view. Dolphin Bay Resort and Spa fits the bill with a private, two king bedroom and a gourmet kitchen. Take advantage of their spa and restaurant menu, or loop breakfast into the bill. Perhaps the Vespera Pacific Suite in downtown Pismo Beach will quench your thirst at 800 sqft for a one-bedroom king bed. For an ocean view, that's not bad. But maybe you want to see the water from a distance? Try this gargantuan 12,000 sqft hilltop estate, with eight bedroom suites and dining for 14. It's yours for $2,200 a night. 
Okay, too far from the water? Wash your woes away in Avila Beach with a 4,000 sqft house, supplied with a golf cart, electric bikes and scooters. Take the elevator up for seating for 37 and two hot tubs. You can enjoy this active getaway for $1,700 a night 
If you need more space—and we're talking land—click into this 16-acre estate a few miles from Avila Beach. It's not waterfront, but certainly not far either. And for $2,000 a night, you can host up to 65 (plus event fee).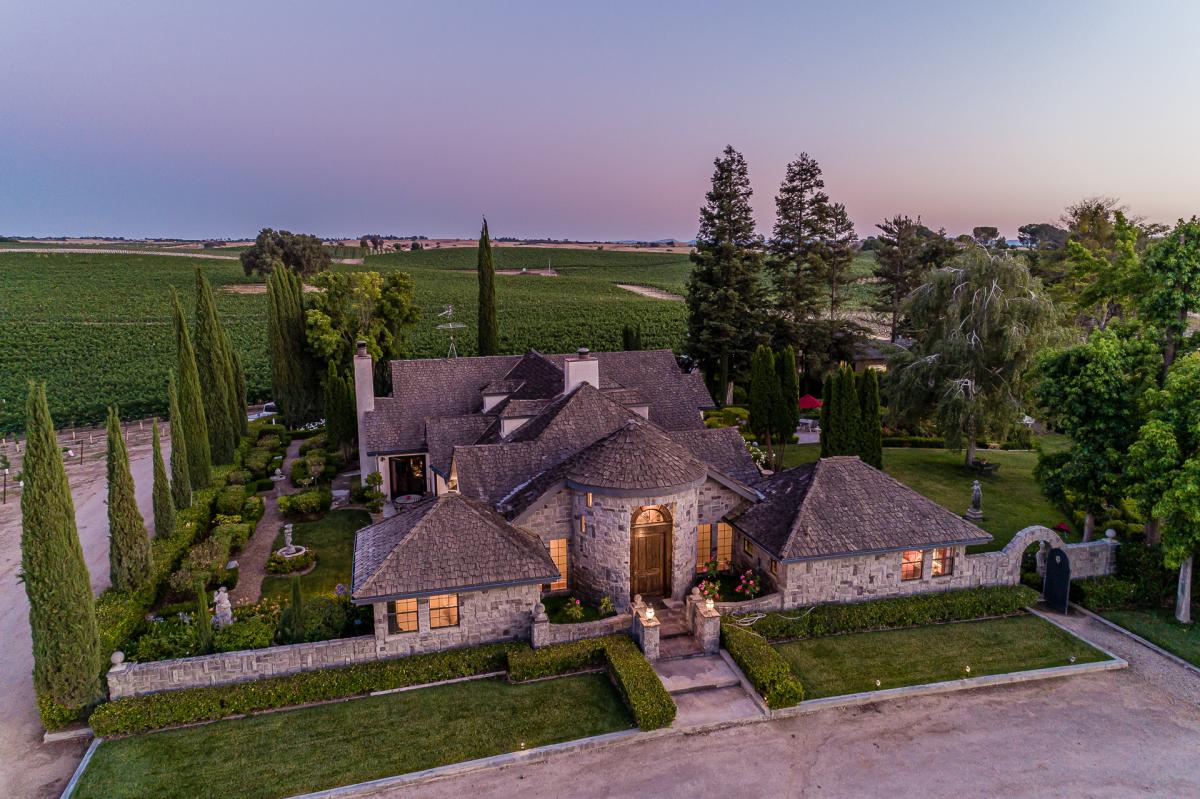 Photo by Neil Donaldson Photography and courtesy of @ChateauRobles and @AgapeLuxuryPropertyRentals
Wine Country Accommodations
Let us introduce you to boutique hotel The Piccolo. At $499 a night, the 730 sqft Sommelier's Suite features one king bedroom and walking distance to the most gorgeous town square with plenty of award-winning chefs. Cute, right? If you still prefer boutique, jaunt over to the Hotel Cheval, featuring a luxury room for over $500. Time to remove yourself from the hustle and bustle of Paso Robles' town square? Find yourself at CaliPaso Winery and Villa. With seven guest suites available, the Winemakers Residence will be your speed. With two king bedrooms, a hot tub and large living room amongst a backdrop of vineyards, you'll feel like you've gone to Europe. Drumroll, please. For the most expensive nightly property in SLO CAL, you'll check in at $12,500 a night. The 29,000 sqft residence of JUSTIN Winery founder Justin Baldwin sits on a hilltop with four bedrooms and rare art. But it gets better; a private chef-in-residence, housekeeper and private concierge will attend to your every need. Isn't that a deal?
Walking back down the price a bit, another working winery, ONX, has a few guest residences to stay. The most premier is the Briarwood Cottage. Feel like you've gone to Olde-England with this intimate elegance at $1500 a night. Also set amongst the vines with an old-time flair this time with rose maze gardens is Chateau Robles. The 3,500 sqft charmer has gilded elegance inside and luxury invitations outside. Another property set on a 40-acre vineyard is Loma Maria. This private villa offers three ovens, a theater room with "countless nooks and crannies to explore," a full-size bocce ball court and pizza-making lessons by request. Check-in at upwards of $1,400.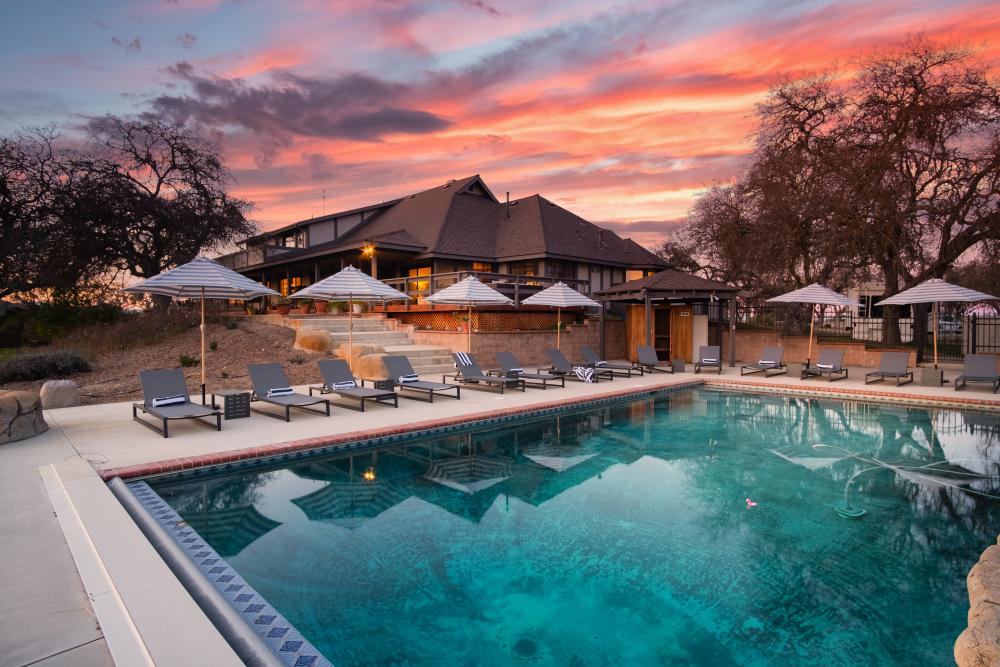 Photo Courtesy of @AvantStay
Vineyard Adjacent Accommodations
Let's drop down a town or two to Atascadero. This SLO CAL hidden gem is full of olive and oak trees on Bob and Susan's 5-bedroom, 5-acre estate. As the final architectural design from Marcel Sedletzky, the 6,000 sqft hacienda features an indoor pool, tiki lounge, pizza oven and meditation labyrinth for only $2,500 a night. The Cathedral in Templeton may also fit the bill if you have a flair for quality. The tastefully remodeled mid-century modern home sprawls for 5,600 sqft and has seven bedrooms, pool and sauna for $1,200 a night. 
San Luis Obispo Accommodations
Hotel San Luis Obispo has a secret. It's a gem called the Morro Suite. At 800 sqft, this king indoor-outdoor suite is one to remember at over $1,000 a night. On-site, you'll find two restaurants and a spa. Meanwhile, at a similar price point on the other side of downtown is Hotel Cerro. Check out a 900 sqft king bed penthouse loft with a dining table for six. Let's take you to the outskirts of SLO, to maybe one of the most stunning views you'll find of the Nine Sisters mountain range. You'll enjoy panorama views of the Los Osos Valley (visit in the spring, and you will honestly never leave). The Skyhouse is set on a 600-acre organic, grass-fed ranch for beef and subtropical fruits (and we hear you get a basket of fruit when you check-in. Check in to this 4,000 sqft house with 15 of your closest for a dream getaway in the clouds. 
EXPERIENCE ALL SLO CAL HAS TO OFFER
Now that you're arrived and settled in SLO CAL, let's walk through some top-notch experiences. No, butler service is not what we have in mind. Our high-dollar experiences are for the adventurer to explore—getting the most out of life by experiencing exclusive SLO CAL flavors.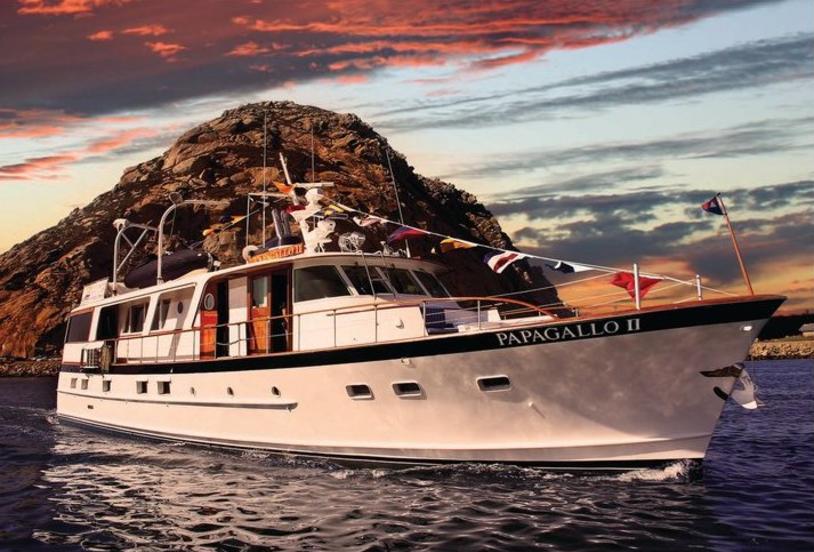 Photo Courtesy of: Onboard Nautical Events
Water Adventure
If you have a need for speed and want to keep yourself close to the SLO CAL waves (but not in the waves), try Banner Airways' 1942 biplane. Available for sightseeing to the pier and dunes, you're looking at over $500 for over a half-hour of fun for up to two. Wanna know a secret? If you have a need for speed. Try their Thrill Ride for the same amount of time, but a few dollars more. We're talking $750 total to feel like you're Tom Cruise in Top Gun. Tack on a custom video to commemorate your flight. Take to the water with Onboard Nautical Events' 72-foot yacht, perfect for sunsets, dinner parties, harbor cruises or whale sightings. The Papagallo II is the perfect place for your Morro Bay adventure. Unless, you prefer to get a little wet. Try out Maya Sailing Adventures crew, custom charter experiences give you the chance to design a trip of a lifetime, focusing on free diving or finding the best shores to practice yoga or meditation. 
Wine by Air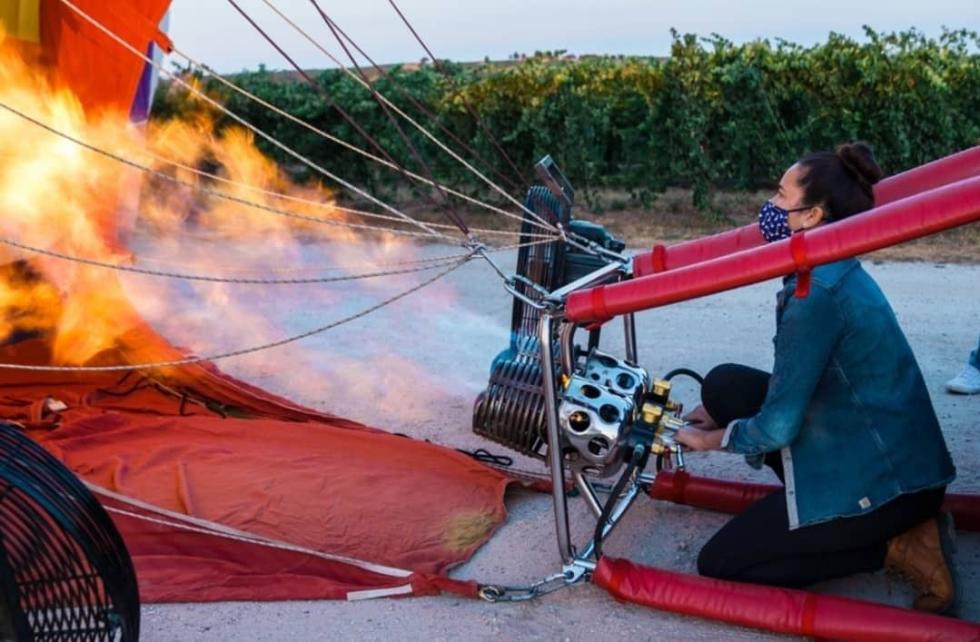 Photo by: @tiffanyevita
Let's start a SLO CAL shining gem: wine. You may choose to be chauffeured in Elegant Image Limousine's array of luxury coaches or SLO Safe Ride's LandJet. Did you know you can also travel by air to your favorite winery? Paso Air Tours, by Sinton Helicopters, delivers custom tours and packages for up to four passengers to taste wine. You'll spend about an hour in the air and land at three of 20 approved wineries to land at. Add on a decadent picnic lunch, and your afternoon journey could reach upwards of $5,000. So you have your afternoon booked? What about a morning flight with Balloons Over Paso? Take a silent flight over 2,000 feet in the air above vineyards and a chance to see the Pacific Ocean. With your FAA-certified pilot, enjoy your hour-long flight with your closest partner for $1,500. And afterward, enjoy a complementary bottle of sparkling wine to toast to the day ahead.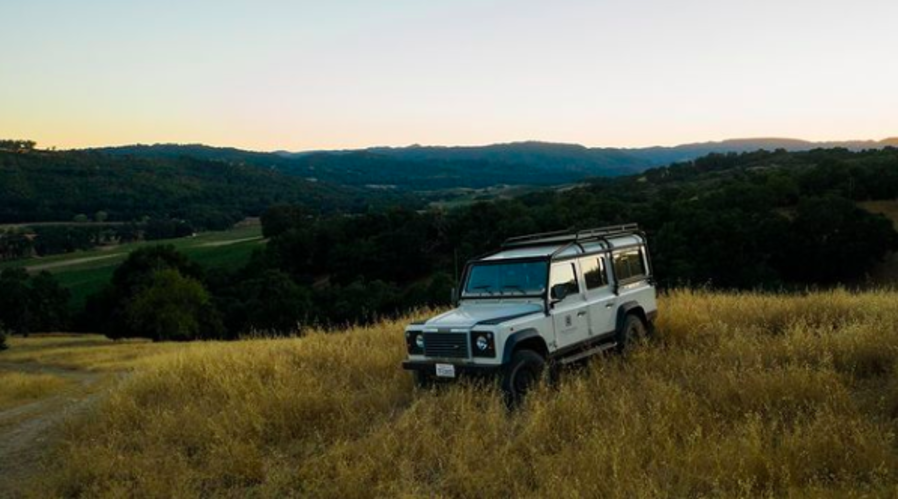 Photo by: King Lawrence courtesy of Halter Ranch
Wine/Farm Experiences
With over 250 wineries in SLO CAL to choose from, where do you begin? SLO CAL not only has world-class wine but world-class experiences that pair well when enjoyed together. 
Take, for instance, the hip, modern Booker Vineyard Cave Experience. At $150 per guest, owner Eric Jensen opens his personal vinyl collection to enjoy a private room underground once you take a private property tour. There are plenty of other accouterments offered to enhance your visit to Booker, including a vineyard picnic via Kawasaki Mule ride, bocce ball, terrace tasting and private event for up to 25 guests. Travel further into the hillside of West Paso Robles, and you'll come across over 2,000 acres owned by Switzerland's fourth-richest citizen. Welcome to Halter Ranch. Endless experiences await you in these secluded hills. Members can choose from many activities, just being revived since Covid-19 restrictions. Enjoy an excursion surveying the property via foot for the signature Halter Ranch hikes or by horseback, Land Rover Discovery, or by miles of miniature train track for those lucky enough to snag a ride on their scale trains. Follow the Halter Ranch caves in exclusive tours of their cellar to enjoy your exclusive wine flights deep inside the tunnels.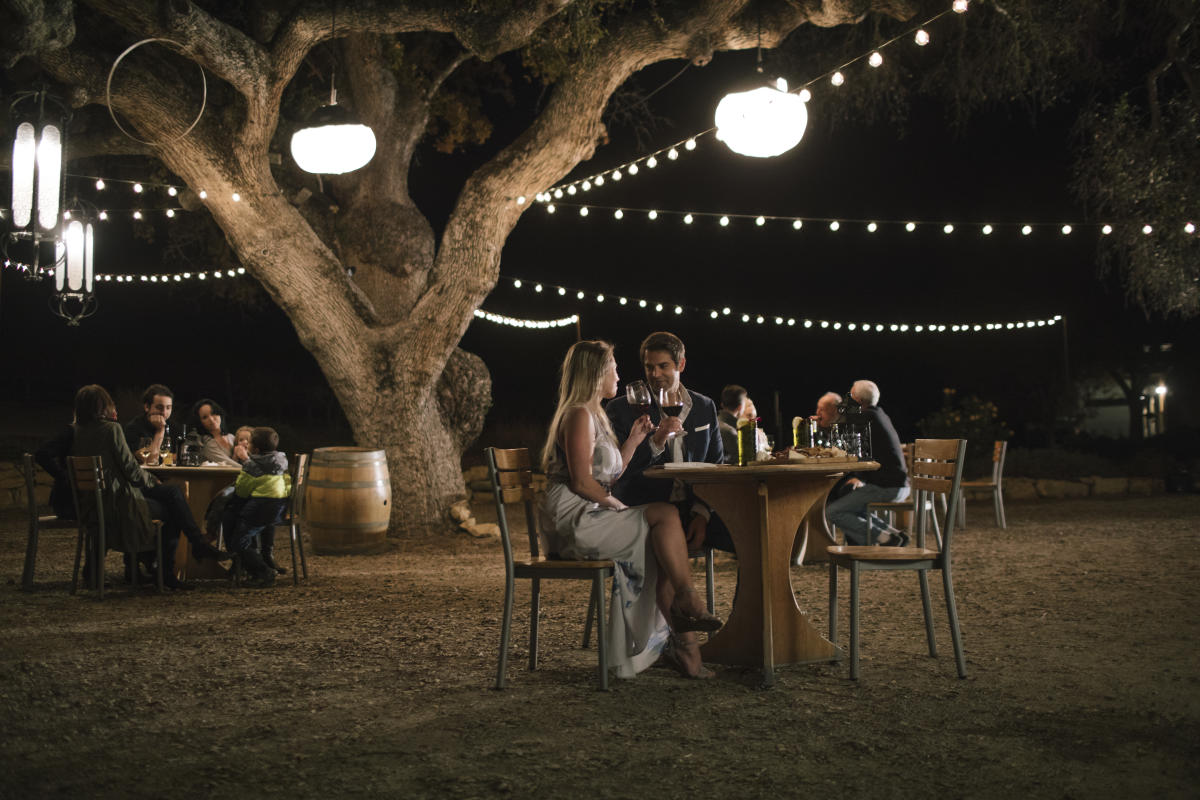 The adventure continues across Paso Robles with Cass Winery. In addition to their restaurant and inn, research the Camp Cass adventures. For parties of under 10, you can explore the 145 acres by taking archery lessons, painting classes, horseback riding, beekeeping lessons, olive oil pressing or scavenger hunt team building events. The most pricy among these are experiences like chef challenges or winemaking lessons, which take you upwards of $1,000. For more than public workshops starting at $75 per person, seek out FARMstead ED for customized experiences. These SLO CAL exclusives can easily reach from $150-350 per person for "table-to-farm" dinners to enjoy a meal with your farmer, winemaker as you create custom cocktails or stay over at olive oil groves.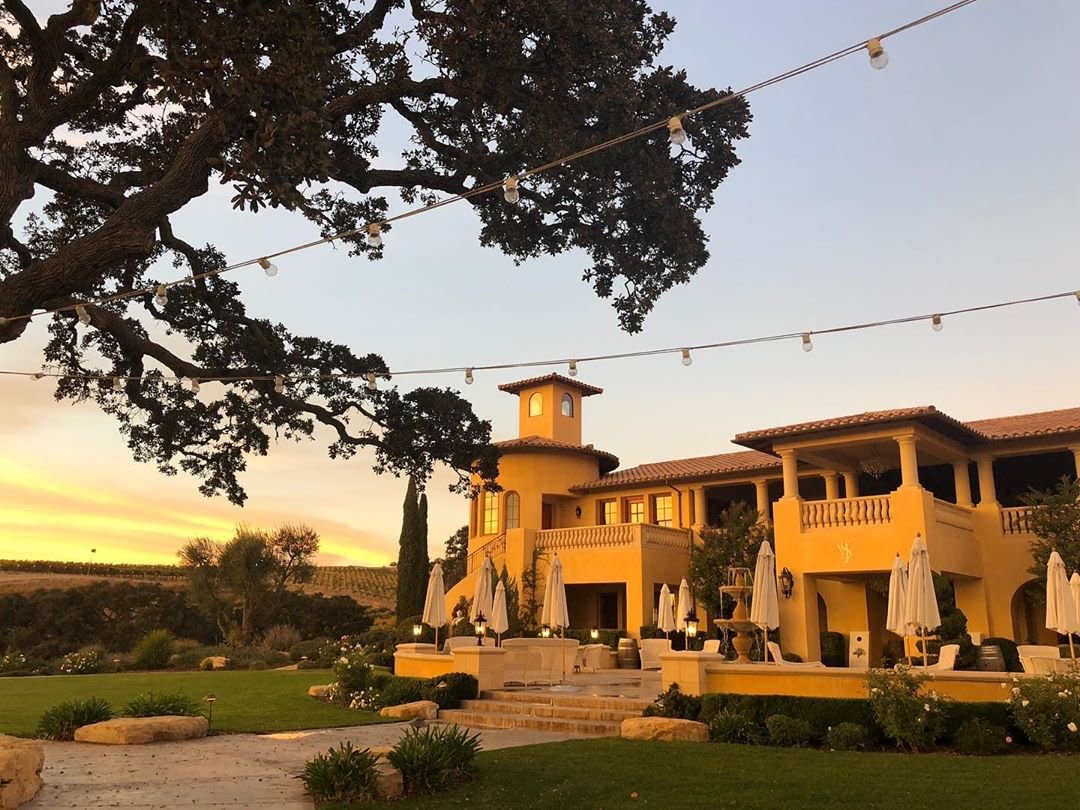 Photo by: @villasanjuliette
DINE IN EXCESS
Take SLO CAL's culinary scene by storm. Start the theme of curated meals with the 14-person table at Somm's Kitchen in Paso Robles. Chef Ian Adamo will guide you through at least an eight-course meal, offered at $125 per person. Similarly, a little out of Paso Robles at hip neighborhood Tin City, the 12-seat restaurant Six Test Kitchen offers an eight-course tasting menu that evolves seasonally for $155 per person. Escalate to the Grand Tasting Menu for $185 per person, adding four more courses. Welcome yourself to San Luis Obispo for a lovely lunch and brunch at Park 1039. This wine shop and the gourmet market opens its kitchen for a smattering of luxurious options, including caviar and charcuterie. The space is available for a complete takeover of custom cooking classes or events. For your evening dining, you may be interested in Mistura in SLO's Creamery Marketplace. Treat yourself to unique Peruvian food in this hip eating district. Is waterfront dining appealing? Check out The Cliffs Hotel and Spa's Marisol dining room or Dolphin Bay's LIDO. Lastly, but surely not least, our experiential gastronomy tour will leave you on a blanket. That's right, a luxury picnic. Have you ever tried Amazing Grazing? So exclusive, the pricing isn't even listed on their website. Get the works delivered to your favorite SLO CAL nature spot. Fill in the blanks with luxury lunches at Villa San-Juliette winery in San Miguel, Niner Winery in Paso Robles or Edna Valley at the Farmhouse Corner Market. 
Your dream SLO CAL trip is sure to satisfy every tastebud. So, come see us in the California Less Traveled for an experience you won't forget!