Ready for a happier hour? Raise a glass to San Luis Obispo County distilleries. On the List of SLO CAL Distilleries, top shelf craft cocktails and unique tasting experiences await, combining warm hospitality with incredible libations. Whether you're a first-time visitor or regular SLO CAL traveler, there's always a new spirit to savor at SLO County distilleries. The SLO CAL Distillery Map encompasses 19 local distilleries and tasting rooms pouring up everything from fruit-infused brandy and barrel aged whiskey to distinctive gin, vodka, rum and more. Sample handcrafted artisan spirits and peek behind the scenes at gleaming copper stills. Why let the winemakers and brewers have all the fun? Toast to the craft distillery revolution clinking to life right here in SLO CAL. Whether you like yours on the rocks or neat, distilleries in SLO County are here to shake things up. 
1. Spirited in Wine Country
Cheers to craft distilleries with vineyard views
Sip sustainably at Re:Find Distillery
Rolling hills and vineyard views make for a scenic backdrop for your next sip. Nestled in the heart of Paso Robles Wine Country, Re:Find Distillery offers up top tier whiskey, gin, limoncello and refreshing cucumber vodka served alongside boutique Paso-grown wines. In truth, it was a surplus of premium grape skins that led Villicana Winery winemaker Alex Villacana to craft the first bottle of Re:Find hooch back in 2011. These days, plenty of folks belly up to the bar at this popular hilltop tasting room, which combines pastoral wine country beauty with the utility of an onsite copper still. While each spirit you taste at Re:Find promises its own flair (kumquat flavored vodka vs smoky bourbon whiskey, for instance), you'll find that all Re: Find bottles shine with Villacana's sustainable "grape-and-grain-to bottle" philosophy.
Re:Find Distillery
2725 Adelaida Rd, Paso Robles, CA
Groove and gulp at Bethel Road Distillery
Located across from the Castoro Cellars tasting room off beautiful Highway 46 West in Paso Robles, Bethel Road Distillery is a wine country oasis for craft cocktail enthusiasts and live music lovers alike. Around here, expect small batch brandy aged in neutral, French oak and American char barrels, London Dry style gin and a handful of tasty liqueurs (including walnut nocino). Known for hosting rocking Bethel Road Live Sessions, check the distillery's calendar for seasonal events that heighten your tasting to new levels of fun. It's no wonder Bethel Road knows a thing or two about creating an inviting tasting room experience: the business comes from the iconic Castoro Cellars lineage, producers of "dam fine wine" since 1983 (you might know the wine by the beaver on the label).
Bethel Road Distillery
1266 N Bethel Rd, Templeton, CA
Come hungry and thirsty at Grain + Vine Craft Distillery
The name sums it up pretty well, don't you think? Grain + Vine Craft Distillery blends the best of both worlds with a wine country distillery that'll inspire you to linger over a very long lunch. Located on the pastoral Barton Family Wines property on Highway 46 West in Paso Robles, enjoy limited production craft spirits made with passion and ingenuity courtesy of Barton Wine founders Joe and Jenny Barton. Unconventional whiskeys are the main star here, with both bourbon and rye aged in premium wine barrels. Of course, you'll also find distinctive aged rum, gin and vodka on the roster. With a sunny vineyard-flanked tasting area serving up flights, cocktails and locally-sourced culinary creations, your afternoon meal just got a whole lot livelier.
Grain + Vine Craft Distillery
2174 Highway 46 West, Paso Robles, CA
Vodka and vines at Donati Spirits
Vodka lovers, rejoice! Home of Bear + Prophet vodka, Donati Spirits serves up your favorite drink two ways: clean and crisp or rested on oak barrels. Whichever you choose, take your time allowing the flavors to wow—no mixer required. Located on Highway 46 West with a stunning view of Paso's rolling hillsides, kick back with a snifter courtesy of the folks behind Donati Family Winery. From fine wine to vibrant vodkas, this all-around lovely tasting room is all about combining a dash of wine country elegance with a truly cutting-edge SLO CAL craft spirit experience. Vodka lovers should note that it's a great idea to book your visit in advance, as Bear + Prophet spirits tastings are available by appointment only.
Donati Spirits
2720 Oak View Rd, Templeton, CA
Secret's out at Red Soles Stillhouse
Sip something delightfully off the beaten path at Red Soles Stillhouse, nestled within the dazzling greenery of Paso Robles' coveted Willow Creek growing region. While knowledgeable wine enthusiasts have raved over Red Soles Winery's limited production estate-grown wines for years, the winery's stellar spirit offerings have largely remained a hidden gem. That ends now, of course. Ready to try this awesome wine country secret for yourself? Visit the tasting room to sample the distillery's playfully-named "California Hooch" (a blended brandy of Garnacha and Tempranillo) or go for some smooth estate-grown grappa. Now you can say that you tried a SLO CAL classic before everyone else.
Red Soles Stillhouse
3230 Oakdale Rd, Paso Robles, CA 
Stay the night at Manucci Spirits
Italian offerings come alive at Manucci Spirits tasting room, home to traditional and barrel aged grappa, sweet limoncello, and excellent brandy infused with natural flavors. What kind of flavors, you ask? We're talking pomegranate, star anise, espresso, habanero and (every Italian's favorite) garlic. Located off iconic Adelaida Road, you'll wonder if you've arrived in Europe or Paso Robles. The best part? You can actually stay the night at the distillery's onsite lodge situated on an active agricultural vineyard. Choose from the luxurious guest house or several hacienda style casitas carved into a mountaintop. Either way, you're sure to receive an incredible first-hand look at the inner-workings of wine country, sunrise to sundown.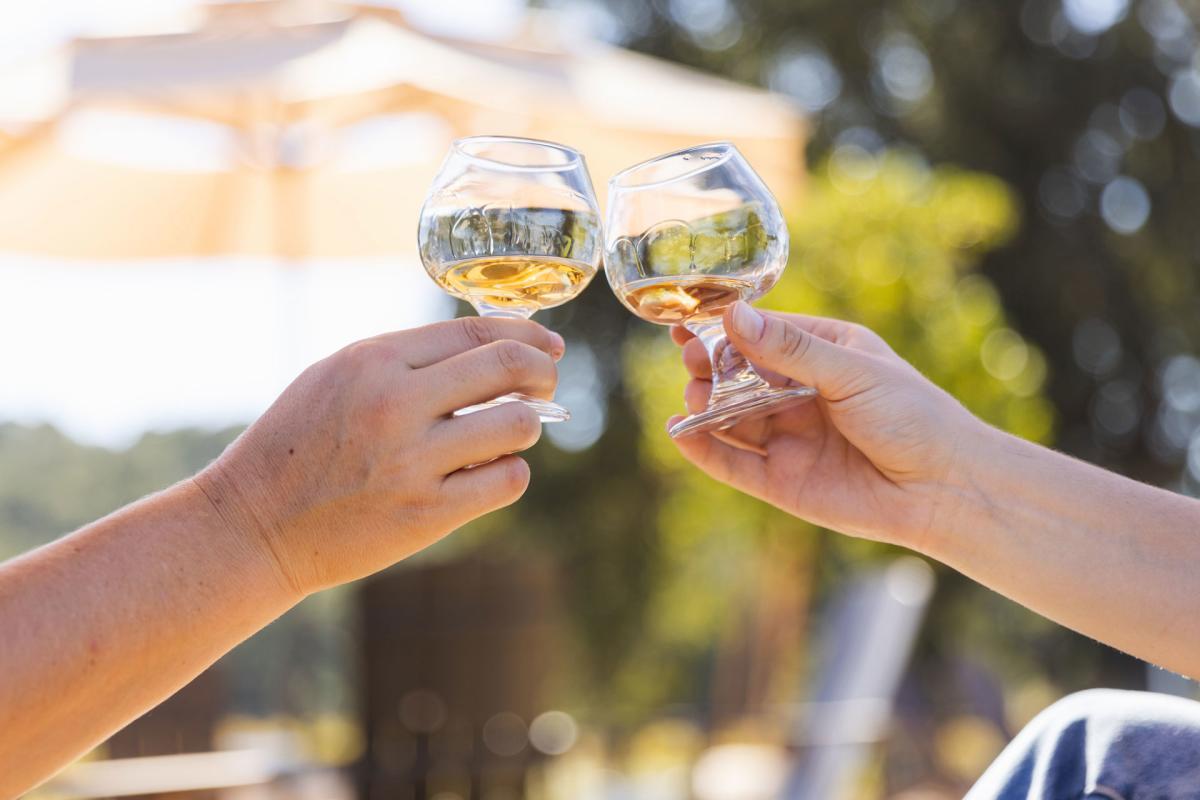 Photo By: Acacia Productions
2. Small Batch Cool
Discover bold, limited production bottles worth collecting
Fabulous flasks at Rambling Spirits
Booze collector? Complete your expertly-curated bar cart with a bottle of Rambling Spirits gin, sure to wow. Located at SLO Public Market in San Luis Obispo, Rambling Spirits is a distillery, bar and restaurant born from its founders' love of California living. Experienced beverage industry veterans, Jon and Ariette Carpenter have knocked it out of the park with SLO-crafted gins ranging from rustic to lavender-infused. Swing by this delightfully modern tasting room for a spirit tasting or grab a ready-to-drink canned cocktail to go in flavors inspired by your favorite drinks (margarita, greyhound and floral cocktail lovers, listen up). Need a gift for a gin aficionado in your life? Rambling Spirits' artfully designed flasks are as pretty as they are useful. Tuck one in a beach bag or picnic basket and come prepared to party.
Rambling Spirits
3845 S Higuera St Suite 114, San Luis Obispo, CA
Visit abroad with SLO de Vie
Spin around the world in a single sip: Founded by two friends—one Russian, one Portuguese—SLO de Vie boasts a distinctly Old World vibe. This is evidenced in the distillery's award-winning bottles, which encompass several variations of Aguardente, a spirit popular in the Azores Islands of Portugal. While this Grover Beach-based distillery focuses on grape skins as the base for their handcrafted offerings, each is special. Why not skip the European vacation and enjoy grappa d'Uva reminiscent of what you might sip in Italy? You might also want to sample their premium vodka, gin or brandy infused with figgy goodness, all available at the Grover Beach tasting room. Needless to say, everything from SLO de Vie is extremely small batch, making each sip that much sweeter. It is a small world afterall! 
SLO de Vie
200 S 4th St, Grover Beach, CA
Fruity finds at Azeo Distillery
Ultra-boutique brandy, rum and vodka are all on deck at Azeo Distillery, but there's something extra juicy about these offerings. If you taste an extra dose of fruitiness, you're right on the money. Passionately crafted from premium fruit, find apple vodka, apple brandy and peach brandy served alongside great grape-based delights. The result? Smooth, fruit-forward flavors that sets Azeo apart from the crop. Head to this tucked-away Paso Robles Distillery housed at the Horn Winery Tasting Room and take your pick of ten high-proof libations, including moonshine and spirit of agave. As you sample, be sure to ask yourself, does the apple fall far from the tree? We think not.
Azeo Distillery
3230 Riverside Ave # 190, Paso Robles, CA 
The key to Tin City at Wine Shine Distillery
Impress your well-traveled friends with a trip to Paso's coolest small-batch distillery, located in the hip industrial area of Tin CIty. "Wine Shine" is just what it sounds like it should be: spirits crafted from top tier wine grapes. If you're a fan of brandy, this is your next tasting room stop, to be sure. Sample oak-aged reserve brandy as well as neutral, mango, cinnamon and walnut variations. Of course, you'll have to try Wine Shine's popular cult classic while you're here: Barrel Aged Manhattan Project Brandy, containing house whiskey, brandy, bitters and vermouth. When pouring from this pre-mixed bottle, all you'll need handy is a glass, ice, a cherry and perhaps a slice of orange peel. There's a reason why this winning cocktail has stood the test of time!
Wine Shine Distillery
3064 Limestone Way, Paso Robles, CA
Port makes perfect at Pendarys Distillery
Taste the rainbow at Pendray's Distillery's must-visit tasting room in scenic Templeton. Choose from a bevy of liqueurs, including amaro, orange, camomile, walnut, spiced apple and plum–and if that weren't enough to perk your ears, this boutique distillery is known for its port barrel aging program totally unique to SLO CAL distillers. Sample excellent aged grappa made from malvasia bianca grapes alongside a never-basic house brandy. Like Pendary's grappa, this classic brandy is aged in port barrels, giving the elixir a rich golden hue and fruity-floral allure. Grape expectations, indeed.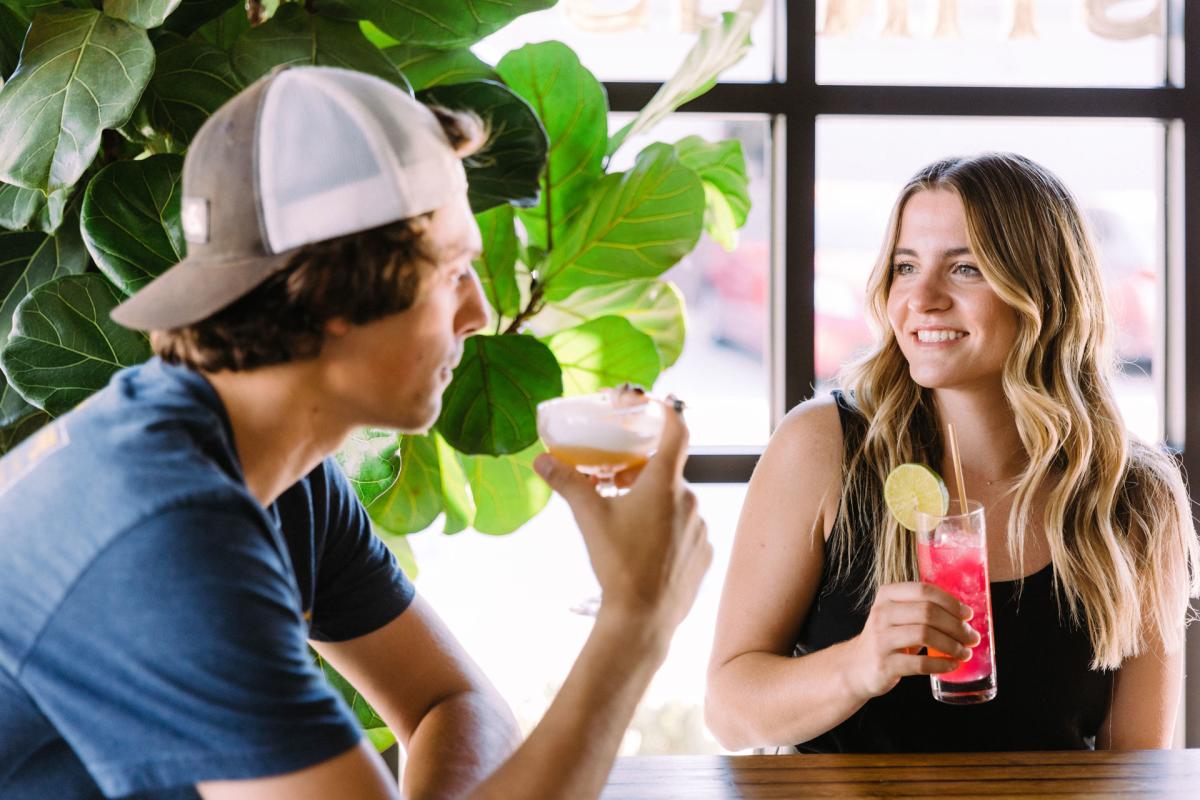 Photo By: Acacia Productions
3. Urban explorer
Expect the unexpected at modern distillery hangouts
What's old is new at Foggy Bottom Distillery
With a rustic ambiance of reclaimed wood and rusted corrugated metal, Foggy Bottom Distillery feels a little like an antique moonshiner's hangout. As it turns out, this is all by design. The Los Osos-based Distillery welcomes patrons with a range of small batch corn whiskeys, bourbons, ryes, gins, and spiced rums. Expect warm hospitality and even a chat with the owner Todd Adams, often found behind the bar serving locals and visitors alike. Tucked behind an unassuming Mexican restaurant, you might be surprised how many spirits are poured up at Foggy Bottom each year. Depending on the season, a cinnamon and pecan whiskey might even end up in your glass. All we can say is: you won't come away thirsty.
Foggy Bottom Distillery
905 Los Osos Valley Rd Suite B, Baywood-Los Osos, CA 
Ride the whiskey wave at Rod & Hammer's SLO Stills
Experience how California does whiskey at Rod & Hammer's SLO Stills. Home to SLO-made cask bourbon, rye whiskey, straight bourbon and limited production reserve bottles handcrafted in small batches, this San Luis Obispo-based tasting room is all about pairing homegrown vibes with quality whiskey. A look around the tasting room reveals both Californian and Australian furnishings inspired by the business's founders, including a collection of historic surfboards. Taste a bottle straight from the source or kick back with a craft cocktail and some good conversation. Hungry? Find food trucks onsite most weekends, weather permitting. For those in a hurry, you're in luck: Rod & Hammer's bottled whiskey cocktails come in flavors like peach, winter spiced, old fashioned and manhattan. Canned cocktail creations—whiskey paloma, whiskey mule, whiskey mai tai to name a few—round out the impressive to-go offerings.
Rod & Hammer's SLO Stills
855 Aerovista Pl, San Luis Obispo, CA
Quirky cocktails at KROBĀR Craft Distillery
Delightfully different spirits have found a home at KROBĀR Craft Distillery in San Luis Obispo. This inviting modern tasting room features inside and outside lounge areas, encouraging folks to relax and stay a while, either with a tasting flight or a creative cocktail. Founder and master distiller Stephen Kroener spent years researching how to make the best craft libations so you don't have to. Find unique kaffir lime vodka with a Thai-spice kick, violet-hued gin infused with ground flower petals and rich malt whiskey finished in port barrels. Sure, the likely suspects are all here too, but why wouldn't you want to try something a little out of the ordinary? While at KROBĀR, dare to drink differently.
 KROBĀR Craft Distillery
10 Higuera St, San Luis Obispo, CA
Top shelf tequila at La Esquina Distillery
The fiesta uncorks daily at La Esquina Distillery in San Luis Obispo, your go-to stop for top shelf tequila tasting in SLO CAL. This vibrant downtown oasis serves up an astonishing lineup of fine tequilas paired alongside flavorful Mexican cuisine. Grab a specialty margarita and kick back in one of the inviting indoor or outdoor dining areas, or head to the bar where you can inspect dozens of blancos, reposados and anejos—not to mention six types of smoky mezcal. If you're a tequila lover, this hip hangout cannot escape your itinerary. Grab some good friends and gather around chips and guac to complete the party atmosphere.
La Esquina Distillery
1051 Nipomo St, San Luis Obispo, CA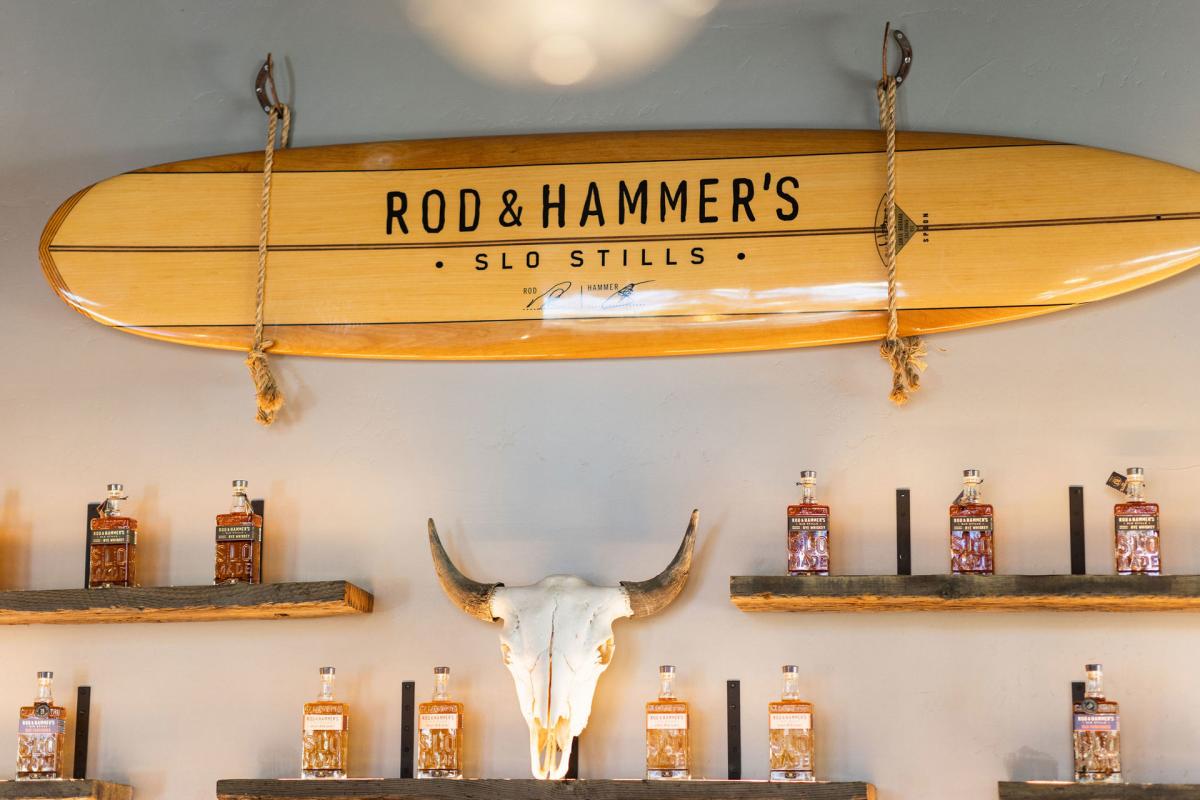 Photo By: Acacia Productions
4. Hidden Gems
Sip like a regular with hyper-local libations
Sip the coast at Calwise Spirits Co.
Founded by the descendant of a pioneering moonshiner, Calwise Spirits brings a distinctly West Coast sense of adventure to the SLO CAL distillery scene. Featuring wild native-growing herbs like juniper, sage and yerba santa, Calwise's Big Sur Gin tastes a bit like a hike through coastal trails (this, of course, is by design). Similarly, the Western Fruit Exchange Orange Liqueur shines with citrus sourced exclusively from California growers. Head to the Paso Robles-based tasting room for samples of the distillery's Hazard Reef Rum (a reference to a rocky point on the shoreline of Montana de Oro State Park) as well as the Axe Hole Whiskey, both local favorites. Want to drink like a SLO CAL native? Order a fresh cocktail poured up with a side of area history. That said, first-time visitors should take the opportunity to sign up for a distillery tour, too.
Calwise Spirits Co.
3340 Ramada Dr Suite B, Paso Robles, CA 
Foraged flavors at Central Coast Distillery
It doesn't get more "local" than foraged ingredients, and that's exactly what you'll find inside Central Coast Distillery's Forager spirits. With an emphasis on utilizing locally hand-foraged and harvested ingredients, each bottle of Forager booze is a nod to sustainability. Head to the Atascadero-based tasting room to sip the region's bounty, including bourbon barrel-finished rum, vodka distilled from raw honey and organic gin garnished with hand-gathered botanicals. Be sure to ask about seasonal drinks and surprising gelato cocktails starring SLO CAL's ripest crops. The "Strawberry FIelds Forever" combines strawberry sorbet and vodka for a decadent dessert topped with a sprig of local mint. Need we say more?
Central Coast Distillery
5804 Traffic Way, Atascadero, CA
Winemaker's hooch at Autry Cellars 
At Autry Cellars in Paso Robles, wines are made with carefully selected grapes grown in the highly-prized Paso Robles and Edna Valley appellations. It's no wonder that this winery-turned-distillery knows how to craft a fabulous grappa that captures that same local magic. Taste the quality of SLO CAL's finest vineyards with Autry's varietal-specific offerings, including grappa crafted from premium albarino and malbec wine grapes. There's no doubt about it: these small-batch spirits were born of wine country dreams. What do those dreams taste like? Brandy aged in Hungarian and American oak wine barrels and apple brandy brimming with apples straight from local trees.
Autry Cellars
5450 Edna Rd, San Luis Obispo, CA 
Estate-sourced spirits at Willow Creek Distillery
If terroir truly matters to you, pay a visit to westside Paso's Willow Creek Distillery. Here, handcrafted grape-based spirits and liqueurs always showcase that local touch. In fact, all of the distillery's grapes are sourced from an onsite estate vineyard or from nearby growers, all of which come together to express Willow Creek's specific blend of soil and sun. Enjoy aromatic fruit brandies, whisky and premium liqueurs all while surveying an awe-inspiring wine country view.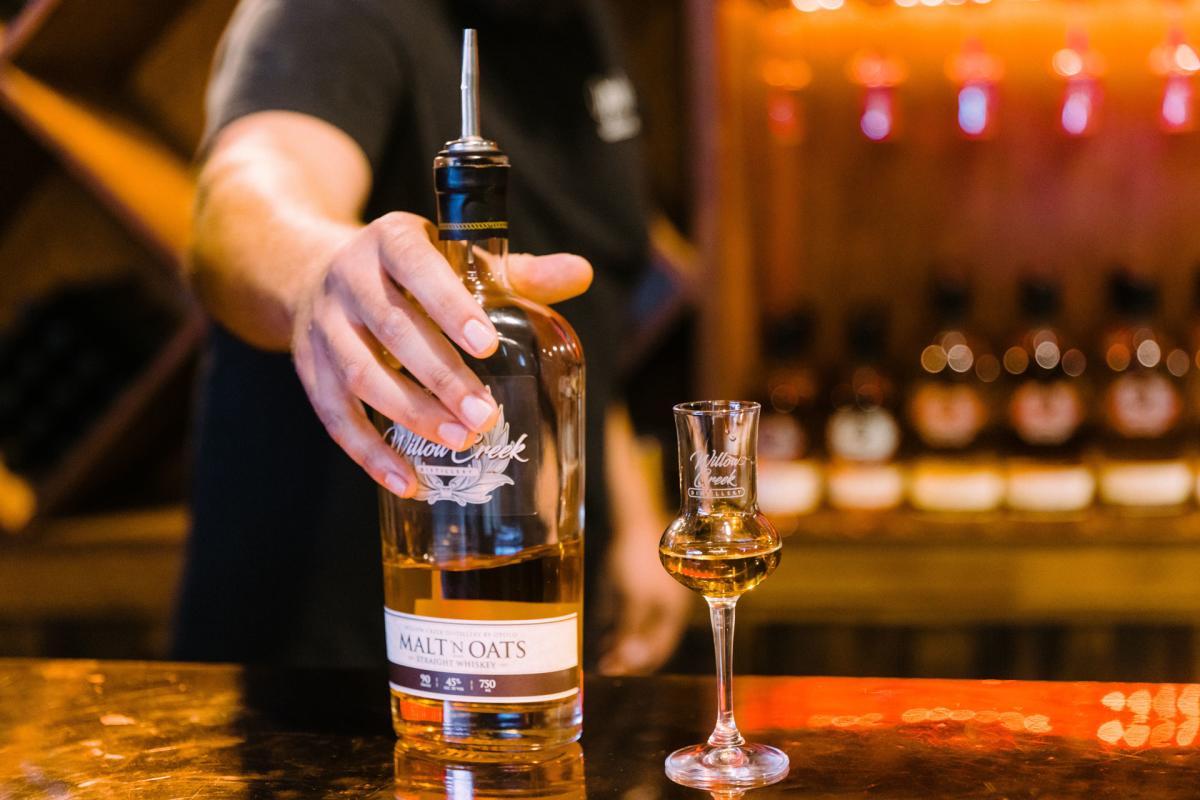 Photo By: Acacia Productions
SLO CAL Distilleries FAQ
Q: How many distilleries are included on the SLO CAL Distillery Map?
A: The SLO CAL Distillery List features 19 different distilleries, each showcasing their craft and providing a diverse range of spirits to explore.
Q: What types of spirits can I expect to find at the SLO CAL Distilleries?
A: Along the trail, you can savor a variety of spirits, including artisanal gins, vodkas, rums, whiskeys and specialty liqueurs, all handcrafted using locally sourced ingredients.
Q: Are tours available at the distilleries on the SLO CAL Distillery List?
A: Yes, many distilleries offer guided tours that provide insight into the distillation process, the history of the spirits, and the chance to witness the craftsmanship firsthand.
Q: How can I plan my visit to the SLO CAL Distilleries?
A: Planning your visit is easy! Explore our SLO CAL Distillery Map for a list of participating distilleries, tour details, operating hours, and a downloadable pdf to help you navigate your tasting adventure.
Q: Are reservations required for tastings or tours?
A: While some distilleries accept walk-ins, it's recommended to make reservations for tours and tastings in advance, especially during peak seasons, to ensure availability and the best experience.
Q: Can I purchase spirits directly from the distilleries?
A: Absolutely! Most distilleries along the SLO CAL Distillery map offer the opportunity to purchase their spirits, allowing you to bring home your favorite bottles as souvenirs or gifts.
Q: Are there any unique events or festivals related to the SLO CAL Distilleries?
A: Yes, throughout the year, you can find special events and festivals celebrating the art of distillation, offering a chance to meet distillers, enjoy tastings, and learn more about the craft.  Remember, when planning your visit to the SLO CAL Distilleries, it's a good idea to check individual distillery websites or contact them directly for the most up-to-date information on tours, tastings, and events.