Welcome to the land of friendly faces, fresh flavors, fabulous treasure-hunting, and high-flying fun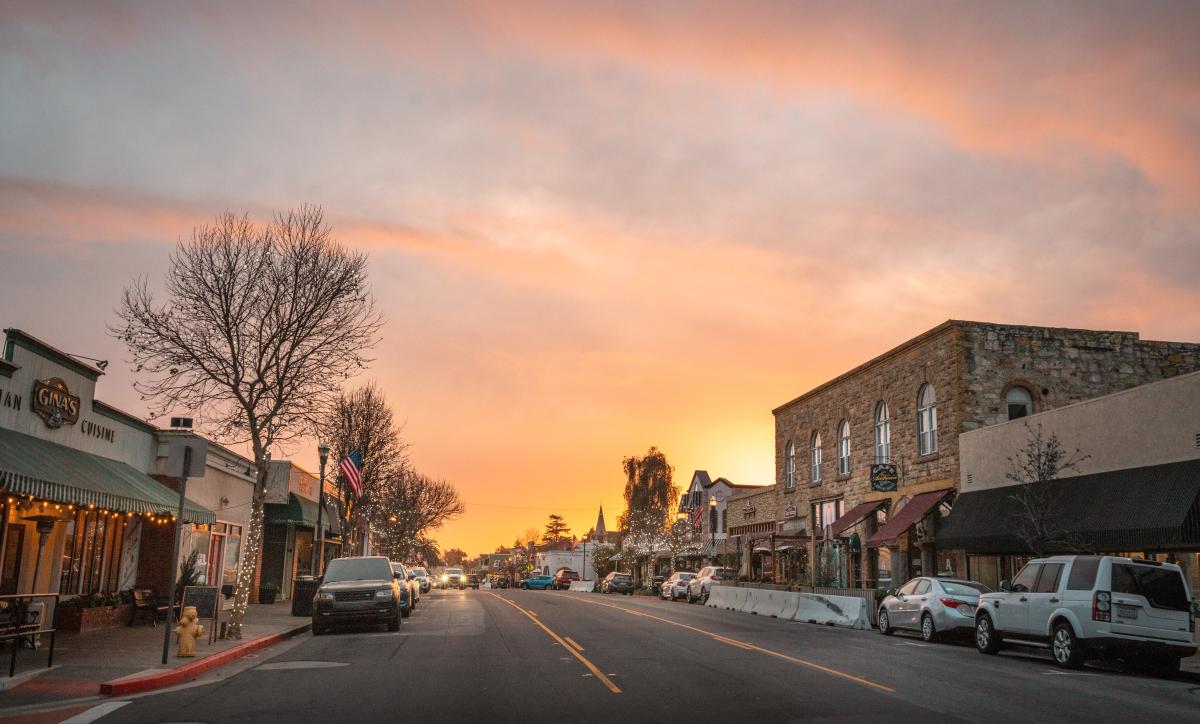 The vibe in SLO CAL's Arroyo Grande is unmistakably fun, friendly, quirky and creative. Here, glimpse through a window into the past, with historic buildings and spaces, as well as antique and vintage shops galore. The main corridor, Branch Street, travels east from the 101 Freeway through the Village of Arroyo Grande, a bustling downtown whose landmarks harken back to simpler times. (In fact, Arroyo Grande has served as a movie set more than once, thanks to its well-preserved good looks.)
At the same time, Arroyo Grande — or A.G., as locals call it — holds a youthful, modern appeal. The town is home to restaurants of national renown, tasting rooms and wineries, breweries, artisan bakeries, ice cream, and farmers' markets. The young and the young-at-heart enjoy its spacious parks, entertainment and recreational spaces, as well as unique shopping and nightlife. 
Twenty-four hours isn't nearly enough time to delve into what makes A.G. special, but it's a terrific start. Here, we offer an itinerary that hits the must-see spots, must-taste flavors, and must-experience moments in SLO CAL's Arroyo Grande.
Breakfast: Cafe Andreini
Lounge like a local in this bustling community hub housed in a 100-year-old building
Entering Cafe Andreini feels instantly familiar: this is a spot where friends, neighbors, colleagues, and family gather for anything from a cup of coffee to smoothies, avocado toast, pastries, and oatmeal with all the fixin's. Located in a tall Victorian built in 1906, Cafe Andreini has high, ornate tin ceilings and a bright, open layout that works for small or larger groups. The menu includes a wide variety of expertly-pulled espresso drinks, breakfast burritos, acai bowls, and stuffed croissants. The artisan open-faced sandwich menu features hearty, locally-grown ingredients like farm-fresh eggs and microgreens. Try something new with an order of breakfast tacos (made with real or plant-based sausage), or go for total decadence with a Belgian waffle slathered in whipped cream and maple syrup. Sit at one of the tables on the outdoor patio, or get cozy in one of the upholstered chairs: Cafe Andreini is a place where everyone feels comfortable.
Morning activity: Swinging Bridge, Santa Manuela Schoolhouse, and roaming roosters
Take a 40-foot-high walk, wander a one-room schoolhouse, and get friendly with feathered locals

Stroll across Branch Street from Cafe Andreini, and you can't help but notice a long cable footbridge that spans the Arroyo Grande creek bed. This is the Village of Arroyo Grande's Swinging Bridge: a landmark constructed in 1875 and the only one of its kind in California. From one end to the other, the bridge spans 171 feet and rides high at 40 feet above the creek bed. After you wobble across the bridge, head to the nearby Santa Manuela Schoolhouse Museum for a taste of what it was like to learn in a one-room schoolhouse. Behind the schoolhouse lies the museum annex, filled with historic machineries like printing presses, vehicles, and farm equipment. As you head back across the Swinging Bridge, look around for the Village's famous pack of wild roosters, numbering between 25 and 55 birds. Sometime around the early 1990s, residents started noticing roosters cruising in a pack around the Village. Some people theorize that they were escapees from local backyards, while others believe they were released here by negligent owners. However they wound up here, these guys definitely rule the roost! 
Lunch: Branch Street Deli
Tasty sandwiches, soups and salads, plus a picturesque patio and live music
There's something on the menu for everyone at the Branch Street Deli, a quaint luncheonette featuring sandwiches, salads, burgers and soups. Open seven days a week, it is a welcoming spot with plenty to choose from, including gluten-free and vegan options, beer and wine, and a great kids' menu. Dine inside at one of the four-top tables to catch the game on one of two widescreen TVs, or head outside to the deli's spacious outdoor patio. Pick a spot in the sun or shade, and you may even be lucky enough to hear musicians play live on the patio stage.
Afternoon activity: Antiquing, Adventuring, or Farm and Winery Tours
Cruise top-notch vintage shops,  take on ziplines, a ropes course, and water slides, or tour a historic farm and winery
Antiquing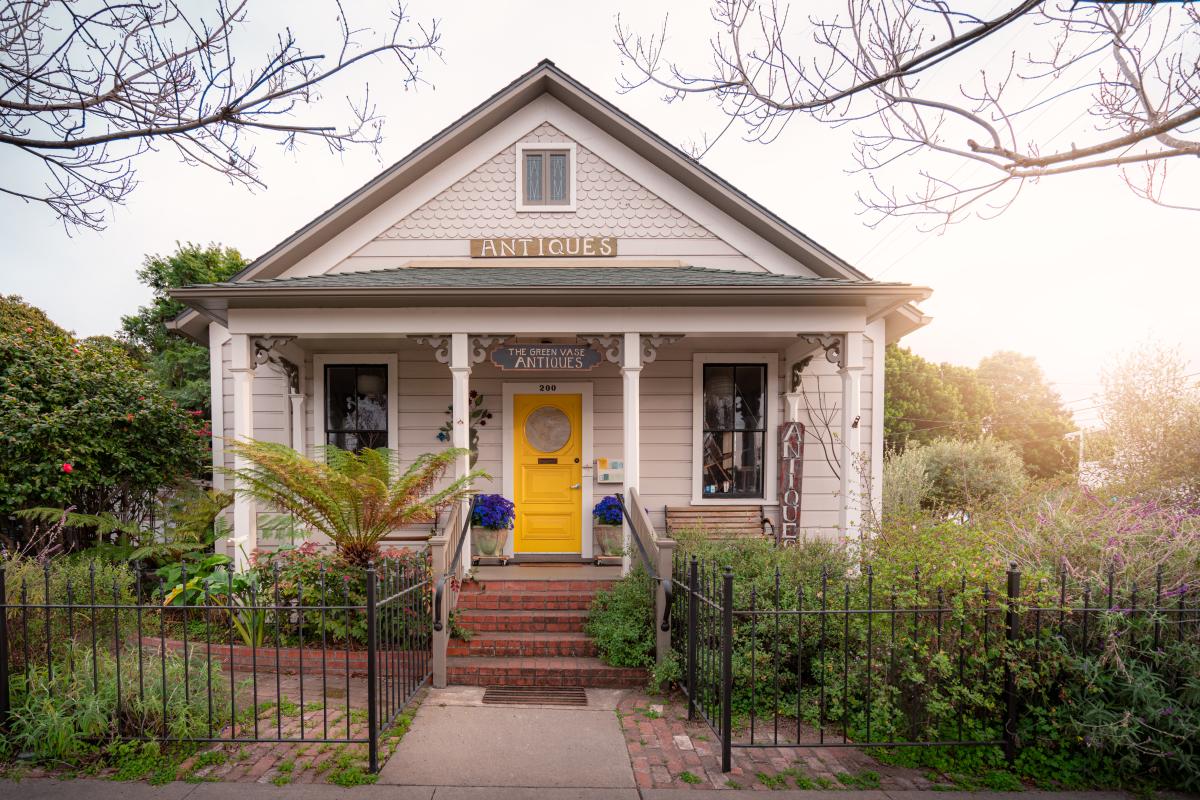 If your idea of a perfect afternoon includes hunting antiques, collectibles, memorabilia and curated vintage finds, Arroyo Grande boasts a remarkable selection of shops. For antique toys, kitchenware, dishes, furniture, books, jewelry and clocks, Branch Street Antiques offers a tucked-away downstairs shop. A Glance Into The Past Antiques occupies a large warehouse on East Branch Street, chock full of antique artwork, signs, dishware, linens, dolls, and toys. (Be sure to check out the wall of Hot Wheels cars!) Just off Heritage Square Park, Green Vase Antiques is a restored home built in 1886, housing a curated collection of vintage goods and antique pieces. And at the corner of Bridge and Branch Streets, Village Vintage specializes in hip vintage pieces with a modern sensibility. 
Adventuring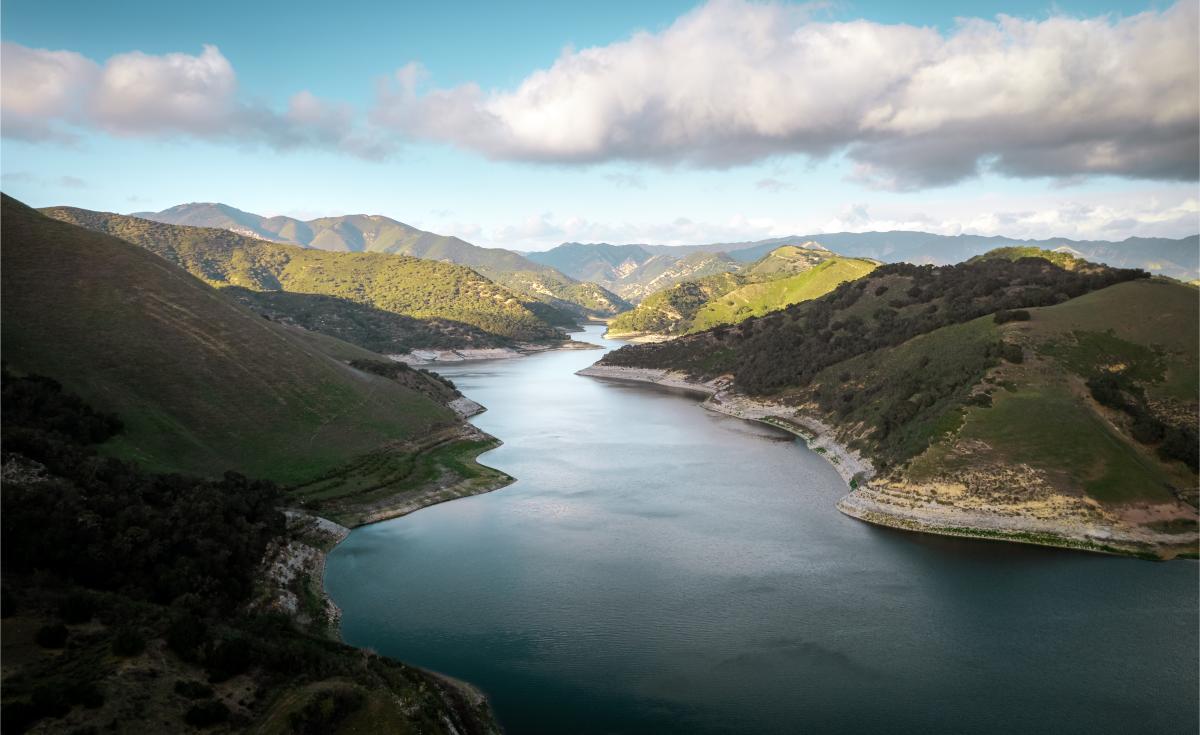 If you're looking for a high-flying afternoon, a trip out to Lopez Lake is in order. Drive east on Branch Street (which becomes Huasna Road and then Lopez Drive) for 14 minutes, and discover the Lopez Lake State Recreation Area, with the Mustang Waterslides and Vista Lago Adventure Park. Mustang Waterslides features two waterslides totaling 1,200 feet of curves and berms, a halfpipe that drops 38 feet, and a large kiddie pool. Three zip lines, a free-fall quick jump, and ropes courses for varying levels of ability also await at the Vista Lago Adventure Park. Situated just across the street from each other in the Lopez Lake Recreation Area, these two parks make for a fun and challenging afternoon. (Note that Mustang Waterslides and Vista Lago Adventure Park are seasonal attractions available Memorial Day through Labor Day annually.) When you're through thrill-seeking, head back to the Village for a beer and snacks at Humdinger Brewing.
Farm and Winery Tours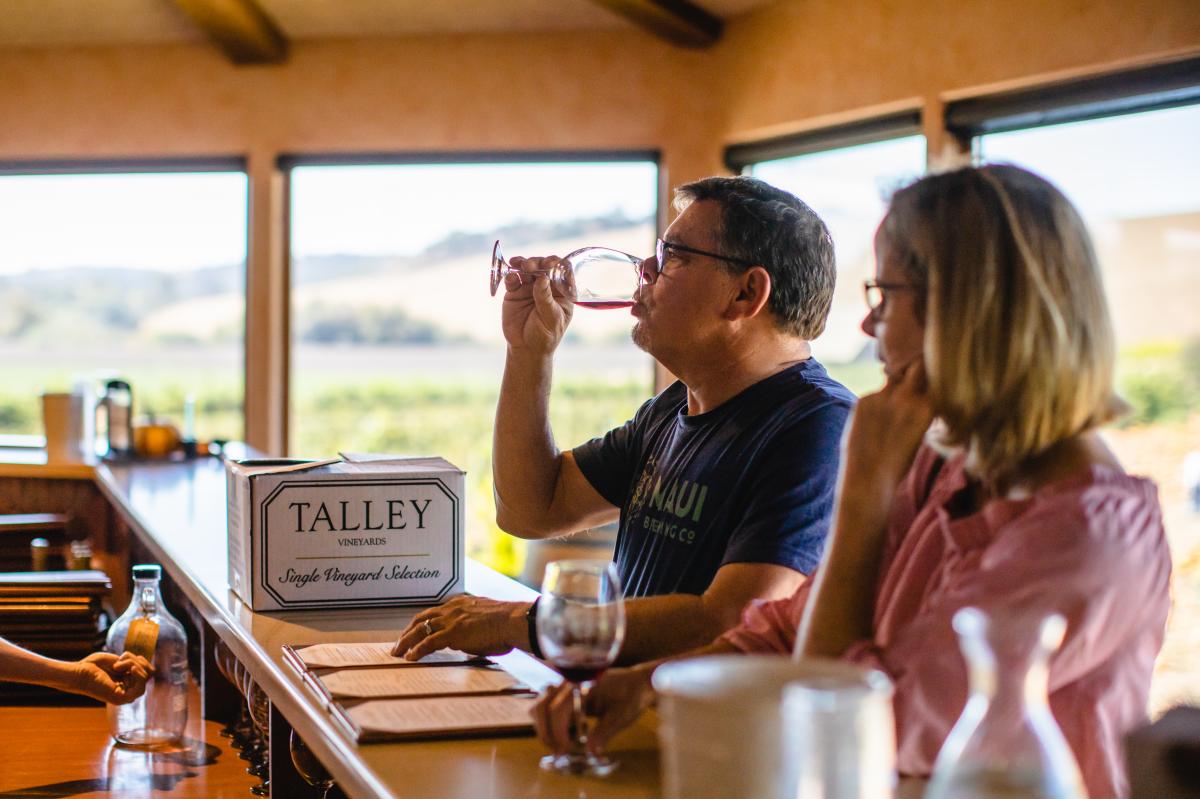 Head east on Branch Street and you'll soon be met with patchwork landscapes of farmland, vineyards, and rolling hills. For a century, this is where many Arroyo Grande families settled to establish farms. One of those is the Talley family, which has owned and operated Talley Farms since 1948. A commercial farming operation covering over 1,500 acres, Talley Farms grows over 40 types of fruits and vegetables and is a destination on the Farmstead Ed Farm Trail. Make an appointment for a tour of the farm, and call ahead to order one of the farm's CSA boxes full of Talley fruits and vegetables to take home with you. (Talley also ships those fruit-and-veg boxes for CSA subscribers.) Afterward, visit sister business Talley Vineyard, just across Lopez Drive. Sample cool-climate chardonnay and pinot noir in the tasting room, or take a Tour and Taste Jeep ride through the vineyards.
Dinner: Ember
Wood-fired flatbreads and steaks, housemade pasta and cocktails worth waiting for
Chez Panisse alum Chef Brian Collins opened Ember in his hometown of Arroyo Grande in 2014 to much fanfare. Years later, the acclaim just keeps coming. This is a warm, family-friendly spot known for its seasonally-driven menu changing monthly. Most of the menu is wood-fired in the open kitchen, including inventive flatbreads, chicken dishes, steaks, salads (yes, salads), and even desserts. A thoughtfully-curated wine, beer, and cocktail list feature local producers, as well as imports. Seating is available in the dining room, at the bar, or on the outdoor patio; just be sure to arrive early, as locals and visitors alike love dining here.
Nightlife activity: Mason Bar & Kitchen
Cozy up to artisan cocktails, an award-winning wine list, and a long line of rotating taps in this comfortable gastropub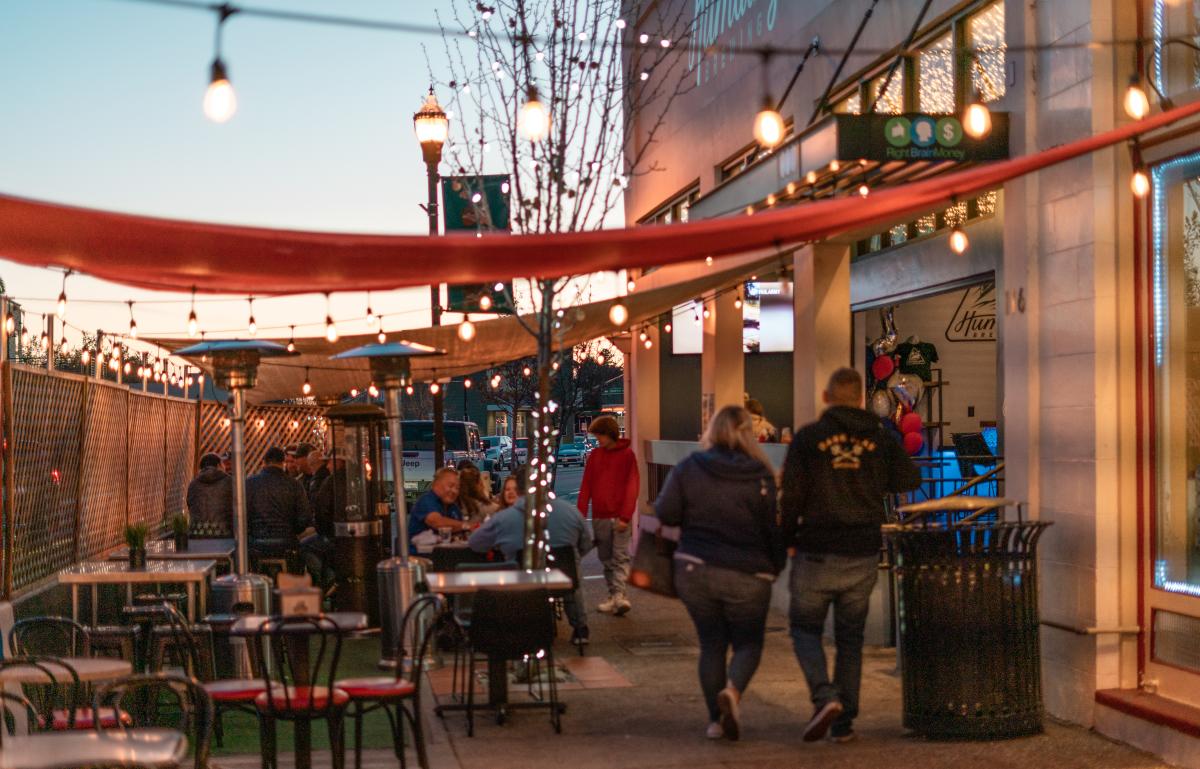 Regularly voted the best bar in southern SLO CAL, Mason Bar & Kitchen features a dining room for farm-fresh cuisine on one side, with a fun and festive bar on the other. The backbone of the bar program is artisan cocktails made with house-crafted syrups and fresh-pressed juices. Choose from a list of signature cocktails or order your tried-and-true — but note that Mason Bar specializes in bourbon and whiskey, with 25 to choose from. They also feature a top-flight wine list awarded the Wine Spectator Award of Excellence numerous times. And beer-drinkers can enjoy a selection of 20 rotating taps featuring local and regional brews. Bonus: Visit Mason Bar for brunch on Sunday mornings, complete with live music.
Whatever your itinerary, Arroyo Grande has the character, history, flavor and fun to make your 24-hour visit a special one. So...who's ready to start planning?