Plan your own unique coastal getaway along Highway 1 and get in on these secret seaside perks
Life can be as pleasant as a day at the beach—with a twist! Just head to SLO CAL, where the coastline is as unique as it is pristine. With endless sunny days, 100+ miles of sandy shoreline, more than a dozen state parks, an elephant seal rookery, Highway 1's world famous scenic route, historic lighthouses, unmatched hiking trails and the only CA beach where you can drive along the sand, SLO CAL's shoreline is rife with alluring surprises that'll make you say "wow!" Think you know what's in store for your next SLO CAL getaway? Think again! Our beaches are known to overdeliver on adventure and keep you guessing all along the way.
1. Something for everyone
Enjoy 100+ miles of uncrowded, untouched and unbelievably beautiful coastline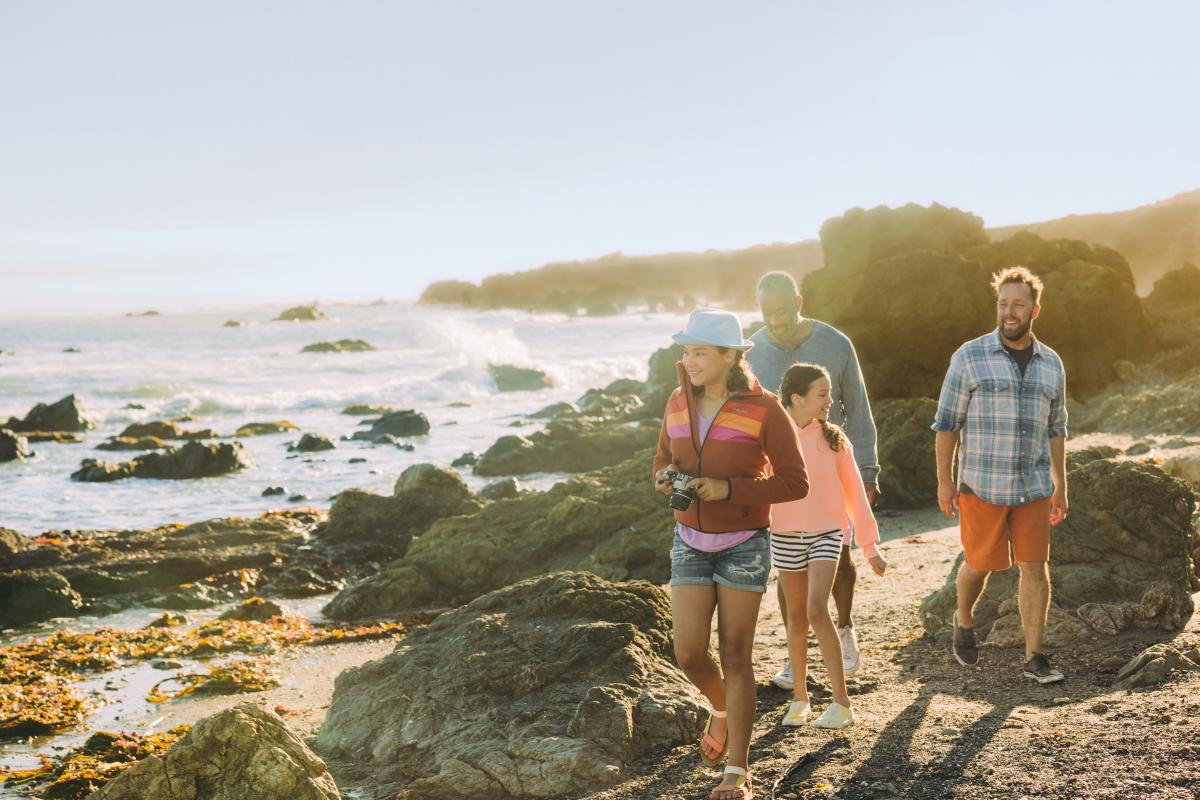 Surprise! A beach for every personality: Whether you want to lounge or splash, you'll find an array of activities to dive into along our one-of-a-kind stretch of coast. With 100+ miles of stunning Pacific shoreline—half of which is protected—SLO CAL beaches offer up enough surf, sand and sun for everyone.
Let's go: With sunny alcoves perfect for sunbathing, beach combing, wildlife viewing, surfing, tide pooling, kayaking, doggie fun or even dune-driving, you're sure to find a cove that caters to your ideal itinerary. The best part? Our gorgeous, white sand beaches are famously uncrowded and pristine—a true haven from the hustle and bustle of modern life.
More to explore:  Whether you grab a surfboard and paddle into the waves in Pismo Beach or search for moonstones and shells along Moonstone Beach in Cambria, you'll find the days are just a little sweeter along the SLO CAL coast. Looking for family-friendly hangouts along the sand? We've got plenty! Stop by Cayucos State Beach, where everything you need for a day of outdoor family-fun comes standard, including picnic tables, restrooms, a playground and outside showers for washing sandy toes. Plus, your four-legged pal will be glad to know that dogs on-leash are also welcome from the Pier, south to Chaney Avenue. Now that's something to wag about.
2. Protected for your pleasure
Preserves, Estuaries and Sanctuaries to ignite your sense of wonder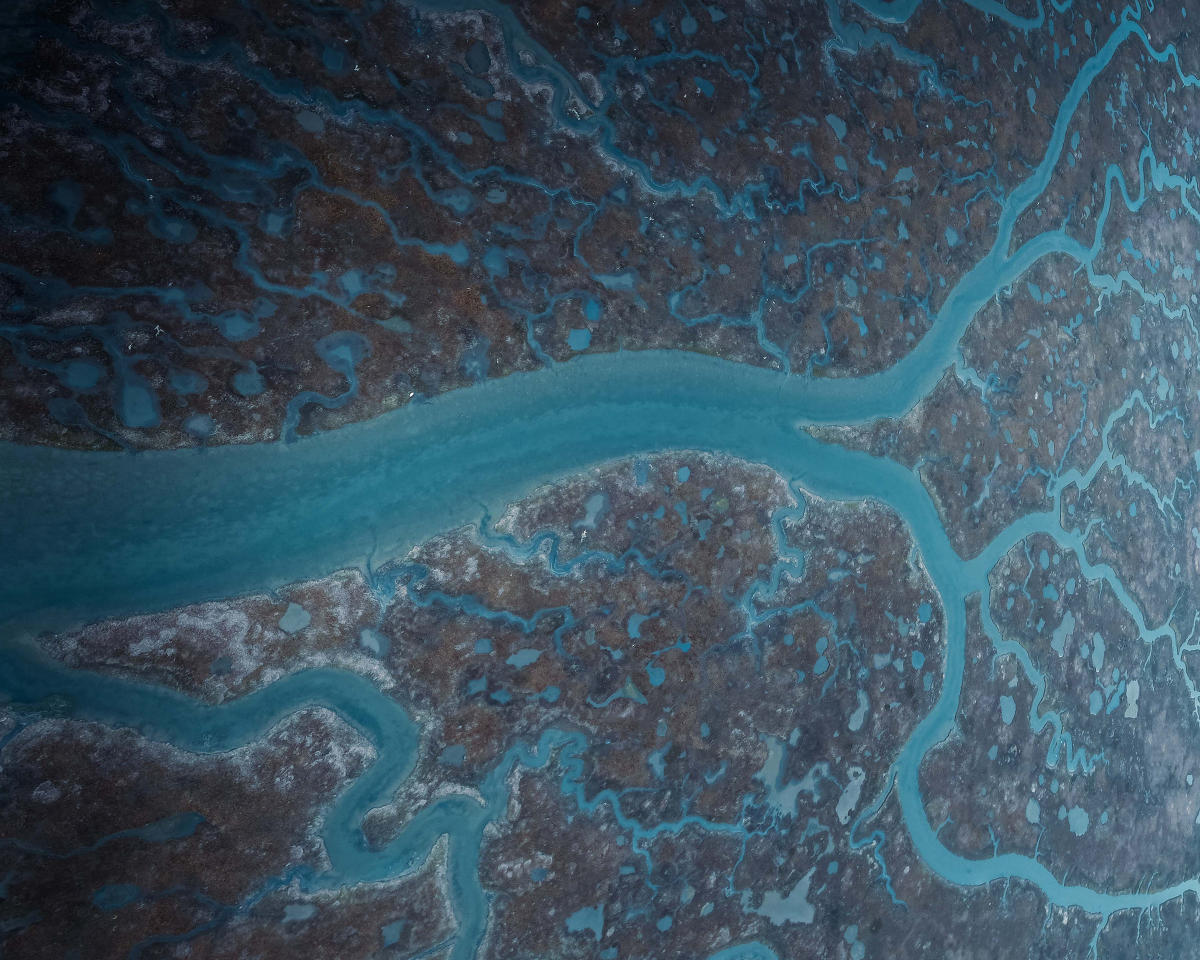 Surprise! Spectacular protected spaces await: Ready for a once-in-a-lifetime experience full of wildlife and secluded views? SLO CAL is home to a bevy of unique preserves, estuaries and sanctuaries sure to engage every member of the family.
Let's go: Follow iconic Highway 1 to The Southern End of the Monterey Bay National Marine Sanctuary and don't forget to pack your sense of adventure! You'll soon be exploring scenic beaches, vibrant tide pools and lush kept forests bustling with rarely seen sea-life, including dolphins, seals, otters and whales, just beyond. Stretching from the Bay Area to the north and concluding along the southernmost seaside alcoves of Ragged Point, San Simeon and Cambria—you'll experience one of the world's most majestic marine protected areas (and best kept secrets).
More to explore: Although kayaking is probably the favorite activity preferred by visitors of Morro Bay's peaceful national estuary, stand-up paddle boarding is also a popular way to meet the local wildlife. Prefer to stay on land as you observe the great outdoors? Farther south in Nipomo, Oso Flaco Lake's meandering trail runs from the Guadalupe-Nipomo Dunes Preserve to Mussel Rock, about a 5.2-miles out and back excursion. The state-sanctioned trail leads to a picturesque lake, grasslands, coastal brush, and a vast beach flanked by rolling dunes. Keep an eye out for birds of every feather!
3. Diverse state parks and beaches
Campgrounds, hiking trails and more all nestled along the coast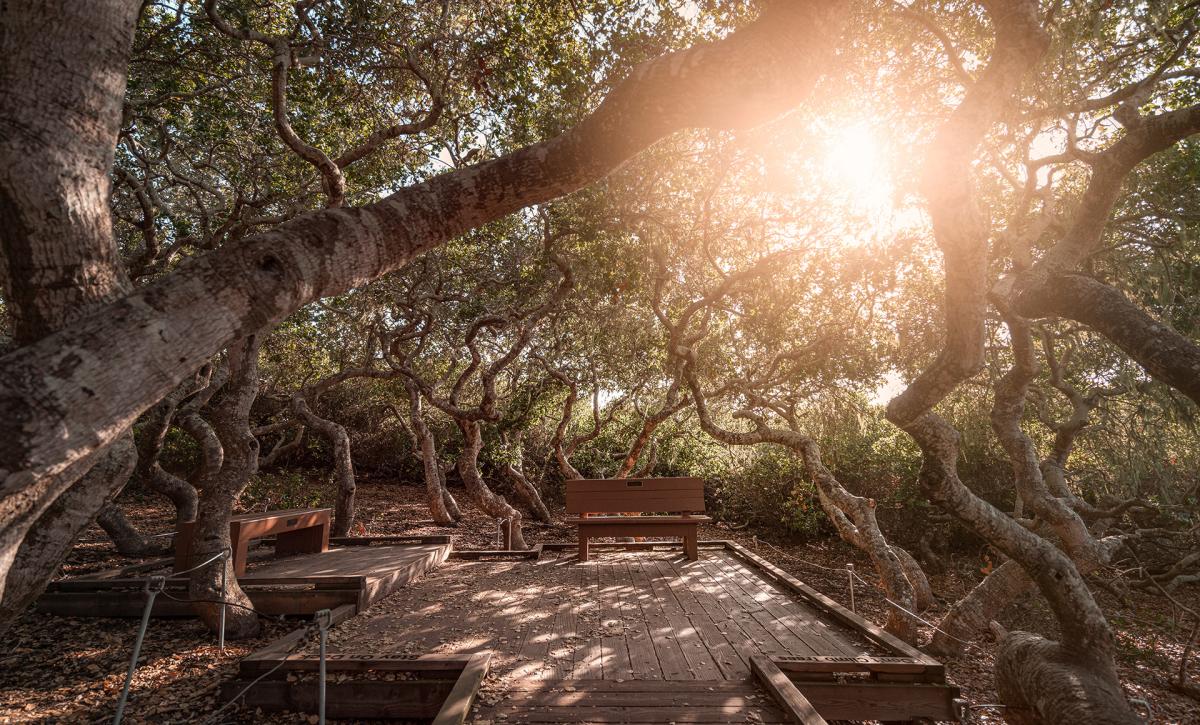 Surprise! More than a dozen state parks to discover: Pack the cooler, grab the camera and set your course for SLO CAL's thirteen state parks and array of incredible state beaches! Packed with stunning trails and thrilling summits to climb, you'll hike along blue waves, marvel at ancient oak trees or simply stake your tent and watch the sun set along the water.
Let's go: From the multifaceted splendor of Montana de Oro State Park's golden hills to the odd story book beauty of El Moro Elfin Forest, Los Osos dazzles the imagination. Tide pools teeming with life, horseback rides along the sand and fiery sunsets await at Montana de Oro. Looking to climb to new heights? With an array of trails—including the Bluff, Valencia Peak, Hazard Peak, Islay Creek, Oats Peak and Reservoir Flats Trails, there's a difficulty level for everyone.
More to explore: Harmony Headlands State Park, a 784-acre coastal park located approximately five minutes north of Cayucos on Highway 1, is a prime example of SLO CAL's many hidden state park gems. Not far from the parking lot, you'll find a 1.5-mile trail winding west to coastal marine terrace. Take the path and you're in for a treat, especially at sunset: view grassland greenery, undulating hills and panoramic views of the Pacific. Nearby, the majestic, four-mile Estero Bluffs State Park offers up a calming collection of beaches nestled on the northern end of Cayucos. Whether hiking, bird watching or checking out a real-life ship wreck, any age can appreciate this precious stretch of unspoiled coastline.
4. Elephant Seals (and much more)
Keep your eyes peeled for whales, otters—even butterflies!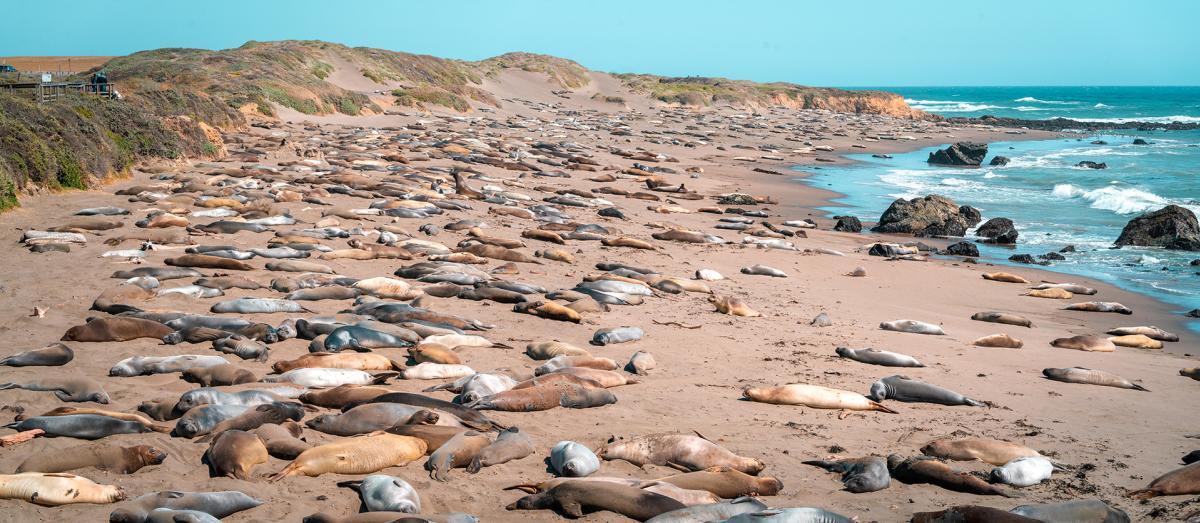 Surprise! Wildlife is everywhere around here: It's always a matter of "when," not "if," you'll spot local wildlife along the SLO CAL coast. SLO CAL's beaches are home to a colorful cast of marine critters. All you need to do is know where to look!
Let's go: Everywhere you go, wildlife abounds along Highway 1. San Simeon's famed Piedras Blancas Elephant Seal Rookery is at the center of all that action! Observe magnificent Elephant Seals in their natural habitat from an easily accessible viewing point where you can catch all the action. Speaking of unforgettable wildlife experiences, the Monarch Butterfly Grove in Pismo Beach is a must-see spectacle that you might also be surprised to find tucked away along Highway 1. If you've never seen these black-and-orange beauties flutter in unison, plan to do so October through February, when populations are at their peak.
More to explore: In SLO CAL, whales are local! From awe-inspiring breaches to fabulous fluking, SLO CAL's Whale Trail is the place to see it all. Stop at designated Whale Trail viewing stations in San Simeon, Cambria, Cayucos, Avila Beach, Los Osos and Oceano/Nipomo and see for yourself! Be sure to look for Whale Trail signage boasting fun facts to heighten your experience (some stops even offer a telescope for easier viewing). How famous are we for world class whale watching? Well, SLO CAL has the most whale watching locations in one county along the entire California coast. Enough said!
5. Scenic routes galore
It's true what folks say—the views from Highway 1 must be seen to be believed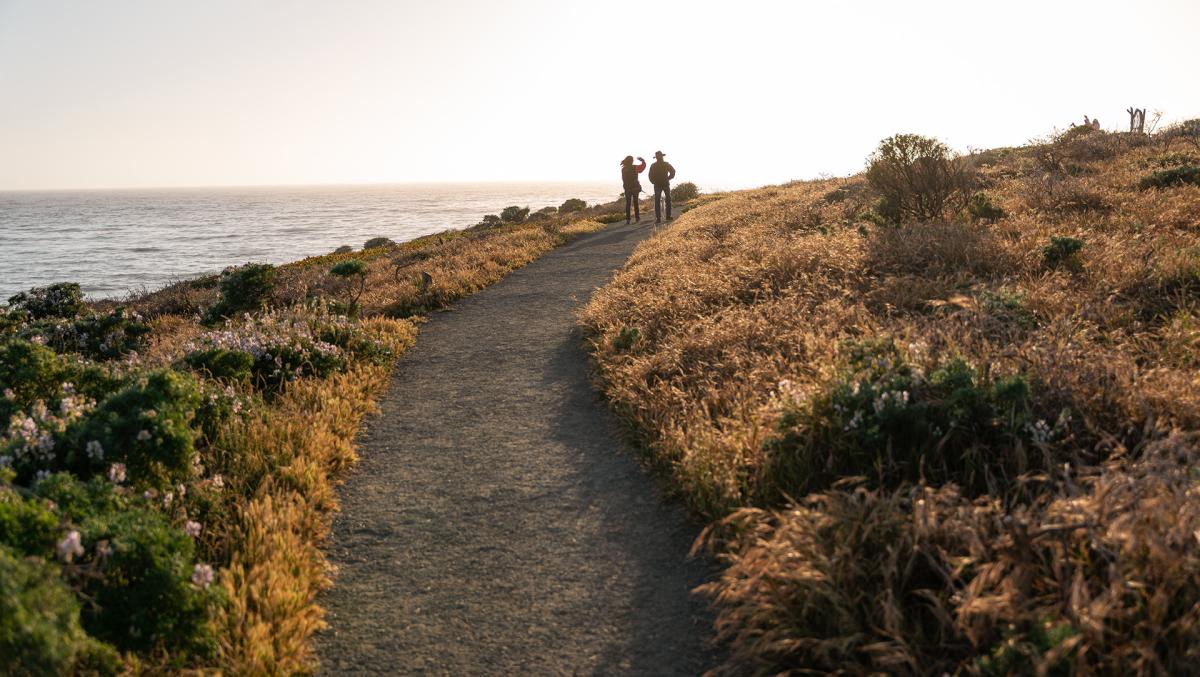 Surprise: You really won't believe your eyes: You probably already know that the SLO CAL coast has earned the title of "the scenic route" among travelers and locals alike. But did you know that Highway 1 received Scenic Byway designation from the U.S. Department of Transportation? Yes, that's some serious recognition if we do say so ourselves.
Let's go: Ready for a pleasure cruise to rival all others? The stretch of Highway 1 between Ragged Point to the north and San Simeon and Cambria to the south boast some of the most photographed (and coveted) coastline in the world. You'll soon see why! Overlooking dramatic craggy cliffs and an endless stretch of azure ocean, this is one drive you'll never forget.
More to explore: Want to experience it all from your bicycle seat? SLO CAL cyclists tend to find their ambition is rewarded by scenic bliss. Case in point: At 64 miles round-trip and 783 feet gained in elevation, the San Simeon to the Silver Peak Wilderness route is as pristine as it is challenging. Traverse San Simeon along Highway 1 through the Gateway to Big Sur and into the Silver Peak Wilderness, home to some of the most jaw-dropping scenery on earth. This magical paved route passes Arroyo Laguna State Beach, popular with kiteboarders and windsurfers alike. Seeking scenic cycling routes that are just as scenic, but a little easier to tackle? CycleCentralCoast brings together miles of world-renowned cycling routes for every level and interest. Cyclists, triathletes, and outdoor enthusiasts alike can discover trip ideas, tips and local resources all accessible from one handy website.
6. History lives here
Historic piers and lighthouses bring back a bygone era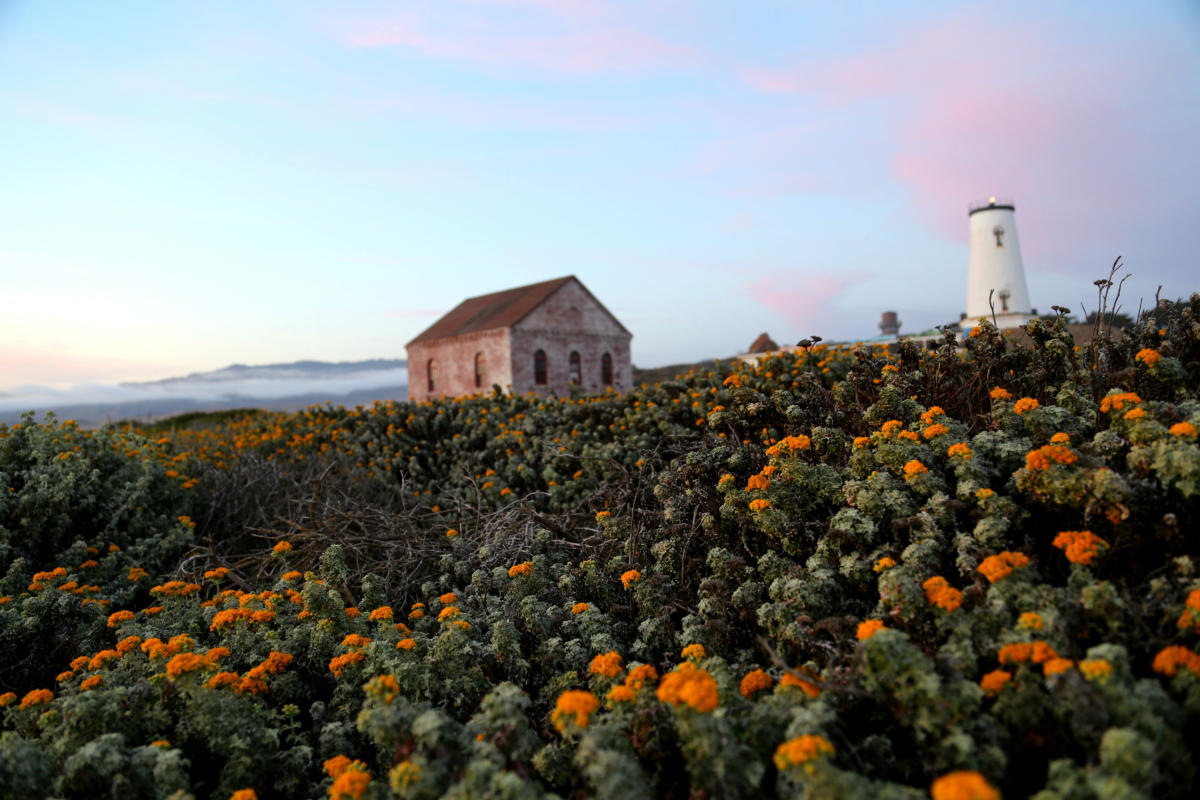 Surprise! The past is present in SLO CAL: Our Historic Lighthouses and Piers make fantastic spots for a quiet picnic. You'll also learn a bit about the native tribes, missionaries and explorers that make up this land's fascinating backstory.
Let's go: At San Simeon's Piedras Blancas Light Station, take a moment to stretch your legs and stroll back in time. Centuries ago, native tribes made Point Piedras Blancas their home, feasting on acorns and fish. Once built to protect ship captains from craggy cliffs, the lighthouse now stands as a testament to the area's rich heritage. Want to walk along a historic pier as pelicans sore overhead? SLO CAL is home to five historic piers, including the  Cayucos Pier, Baywood Park Pier, Avila Pier, Harford Pier/Port San Luis Pier, and Pismo Pier—and each one boasts its own special vibe. Take in the fresh ocean air as you journey along Old San Simeon Bay Pier overlooking William Randolph Hearst Sate Beach. Here, you can imagine William Randolph Hearst surveying what would become his famous stomping grounds or stop for wine tasting at Hearst Ranch Winery.
More to explore:  History doesn't have to mean stuffy! Hop in a two-seater kayak and journey from the sunny shore in Avila Beach to a the historic Point San Luis Lighthouse overlooking the endless blue. Be sure to take a whirl on a rope swing located nearby, sure to replicate the feeling of soaring like a gull over the stunning ocean view. As you paddle back along the glassy water, wave to Sea Lions lounging along the launch point of Harford Pier.
7. You can drive on the beach
Rev up on the only beach you can drive on in the state of California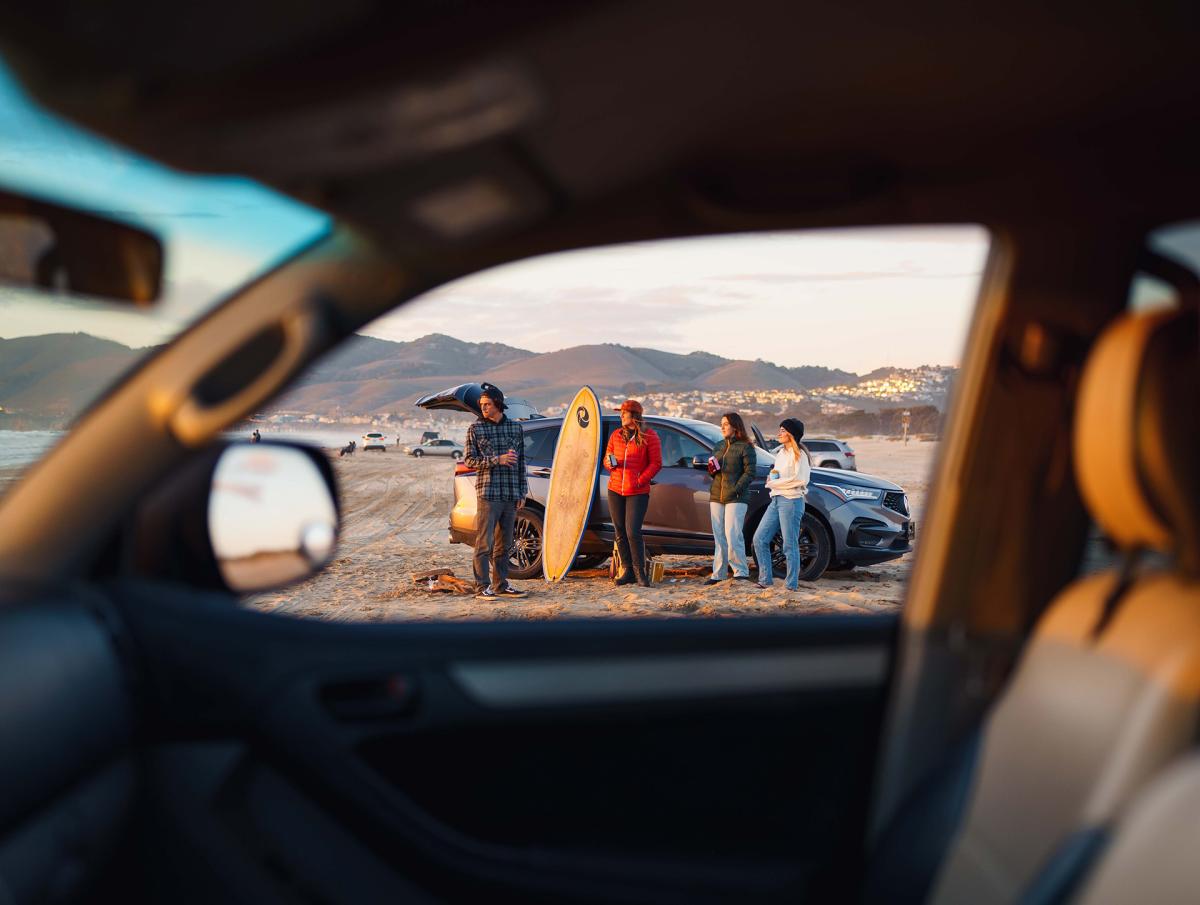 Surprise! Ride an ATV into the sunset: This SLO CAL claim to fame might be our most pulse-pumping yet! Safe to say you've never experienced a state beach that offers beauty and thrills like this.
Let's go: The early Chumash people and the artists' community of the Dunites both called the Oceano Dunes home. Now, the surreal, moon-like scenery is probably best known for the Oceano Dunes State Vehicle Recreation Area (SVRA), the only one of its kind to allow vehicles to drive on the sand. Kick your vehicle into high gear and roll on to your heart's content. Whether you drive your own ride or hop in an ATV, you're sure to get an adrenaline rush.
Explore more: Did you know that you can also drive onto the Harford Pier in Avila Beach? Nestled on Highway 1 between Oceano and Pismo Beach, this family approved destination is home to casual eateries where everyone can dine happy. Leave the car at home and enjoy the Amtrak train, not far from the sand. End your action-packed day with a bonfire on the beach with a round of gooey s'mores!
8. We have our own wine region
Savor wine grown a stone's throw from the ocean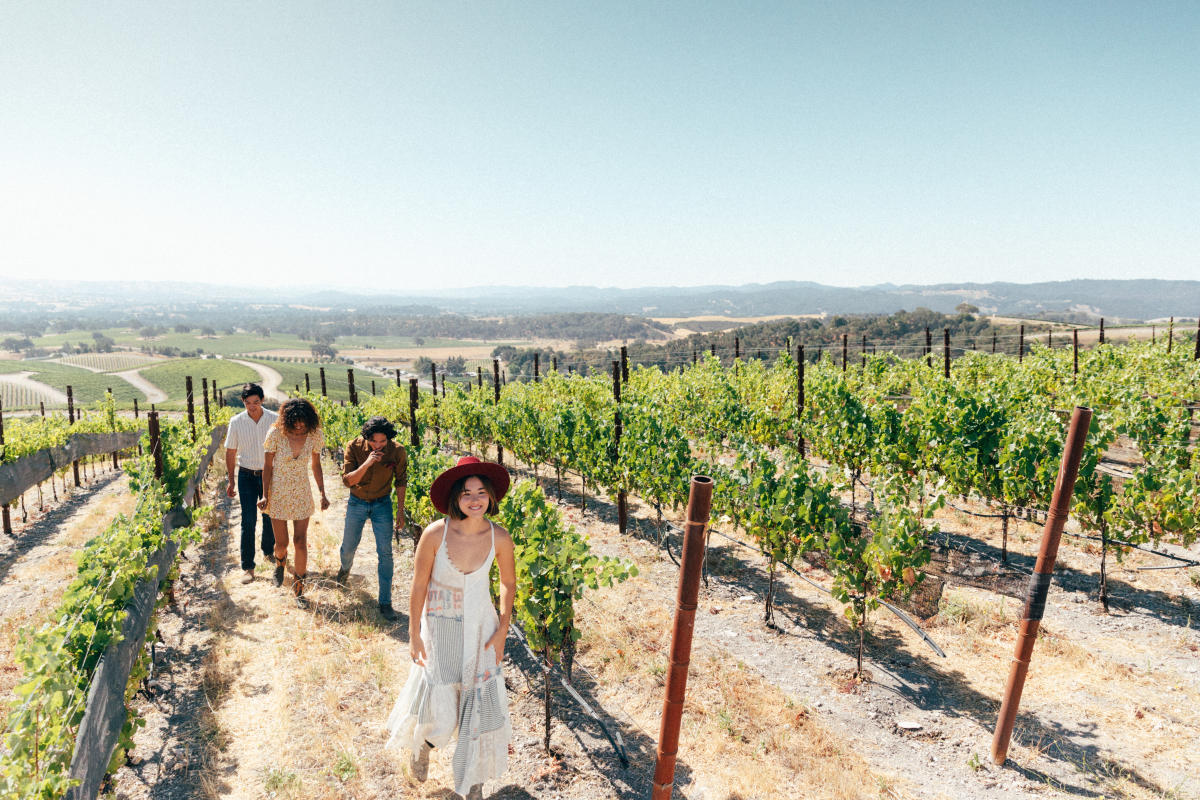 Surprise! Coastal wine is our specialty: Did we mention we have fabulous wine? The SLO Coast Wine Region is located just six miles from the Pacific, producing award-winning cool-climate pinot noir and chardonnay. Cheers to unexpected delicacies!
Let's go: After some sun and fun at the beach, it's easy to sing by a few coastal tasting rooms for a taste of the dynamic terroir. With unique wine trails weaving through Edna Valley, Arroyo Grande, SLO and Pismo Beach, your next hand-crafted tasting experience is just around the corner. That's right. Surf, swirl and savor!
More to explore: Enjoy farm-fresh produce paired with a side of wine at Talley Farms in Arroyo Grande, a testament to the dynamic and fertile soil which lies just a few miles from our fabulous coast. Nearby Avila Beach is home to fine dining experiences that pair luscious local produce with the freshest local wines.