Dogs have a ruff life around here. With our year-round temperate climate and open spaces galore, SLO CAL can fulfill the doggy-est of dog dreams. For play and a good sniff, there are dog parks up and down the coast. For exercise and exploration, there are lots of mountains with dog-friendly trails. For a tasty chow-down, there are restaurants with pup-perfect patios. And for unbridled joy, there are dog beaches that let Rover run full-tilt on the sand — often leash-free. So pack the dog bowl and get going: your four-legged friend is going to love it here.
A quick note: The following list includes must-leash and leash-optional places in SLO CAL. For leash-optional spots, please go leash-free only if your dog is well-behaved, not aggressive, and obedient to your commands. And no matter where you go, always be prepared to pick up after your pet.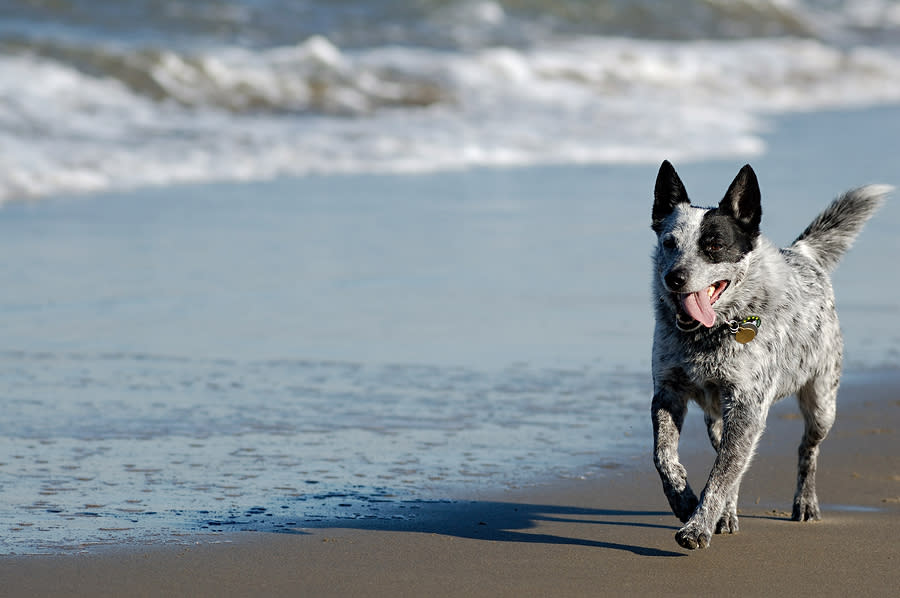 Dog-Friendly Beaches
The uncrowded beaches of SLO CAL are already breathtaking, but seeing dogs run, jump, chase and swim increases the joy factor considerably. 
Right off Highway 1 in the seaside town of Cayucos, Cayucos State Beach beckons pups and people alike to play in the waves. Hang out around the Cayucos Pier or walk south along the shore toward Morro Bay. Leashes are required in Cayucos, but if you want to get a nice, sandy run-in, jog south to Morro Bay's North Point Beach, where leashes are optional. Or, if you want to take in the whole six-mile stretch to Morro Rock, re-leash your pup and stroll Morro Rock Beach.
In Los Osos-Baywood Park lies Montaña de Oro State Park, one of the largest and most beloved state parks in California. Named after the golden wildflowers that grow on the mountains in spring, Montaña de Oro invites people and dogs alike to have a sniff and a picnic at Spooner's Cove Beach. Leashes are required here. (And note that dogs are not permitted on hiking trails or any other beaches in the park.) Take Los Osos Valley Road northwest until it becomes Pecho Valley Road, and follow signs to Spooner's Cove Beach.
Take your pup to Avila Beach, right off Highway 101, for a leash-free romp on two dog-friendly beaches. There, you'll find Olde Port Beach and Fisherman's Beach along Avila Beach Drive, just before you reach the Harford Pier. (Note that Avila Beach's main beach, at the Avila Beach Pier, does not allow dogs between the hours of 10 AM and 5 PM.) 
Left of the Pismo Beach Pier, the stretch of sand between Pismo State Beach and the Oceano Dunes State Park makes for a great on-leash spot to explore with Rover. You can even dig a hole and build a bonfire on the beach in Oceano, perfect for toasting marshmallows shoulder-to-shoulder with your furry friend. Not into getting sandy? Head to Dinosaur Caves Park on the bluff in nearby Shell Beach for ocean views that go on and on.
Dog-Friendly Hikes
Photo by: shopkangapoo
To be honest, most of SLO CAL's many, many hikes are dog-friendly, so long as Rover stays on leash and you're quick to pick up after him. But there are a few stand-outs that are sure to delight the four-legged frolickers among us.
On the 2.5-mile out-and-back San Simeon Point Trail in San Simeon, you and your pup can enjoy views of the cove and even glimpses of Hearst Castle on the hill. Take in over 17 miles of trail at Cambria's Fiscalini Ranch Preserve, a network of pathways that wind through native pine forest, over coastal plains, and along the Pacific coastline. In the hills above Cayucos, the Whale Rock Reservoir invites pets and their humans to hike or jog its 4-mile trail along the water's edge. Get your blood pumping with a 190-foot elevation gain by hiking the 2-mile there-and-back Black Hill Trail in the Morro Bay State Park. In Los Osos-Baywood Park, the Elfin Forest Natural Area Trail includes a 1-mile wheelchair-accessible boardwalk for a leisurely hike beside the Morro Bay National Estuary. In Avila Beach, the Bob Jones Trail offers a paved 4-mile out-and-back path through a sycamore forest to the beach. Or, if Rover really needs to burn off some steam, the Ontario Ridge Trail above Shell Beach is rugged and steep at 4 miles round-trip. In Pismo Beach, the popular Pismo Preserve welcomes pooches to frolic over trails that span the 900-acre open space. And in Oceano, the Oceano Dunes Natural Preserve Trail offers a 2-mile loop over precious coastal dunes.
Inland from the coast, the remote Big Falls Trail and Little Falls Trail in eastern Arroyo Grande lie beneath emerald canopies of trees and past waterfalls and swimming holes just right for your pup on a hot day. This hike is more isolated and may require four-wheel drive. In San Luis Obispo, climb several mountain trails including Islay Hill Open Space, Terrace Hill, Reservoir Canyon, and Cerro San Luis Obispo. For a flatter, more casual walk, stroll San Luis Obispo's 2.5-mile out-and-back Railroad Trail, or the 2-mile Johnson Ranch Open Space. Over the Cuesta Grade, the Rinconada Trail near Santa Margarita gives Rover a 4.7-mile mountainous loop to explore in the Los Padres National Forest. Or for a wine country outing, take him to the Montebello Oaks Open Space Trail in Paso Robles for an easy 2-mile out-and-back hike.
Dog Parks

Photo by: sami_a_wayne
Your pooch has plenty of places to play in SLO CAL, with dog parks big and small, ready to be sniffed. Along the coast, enjoy the Cambria Dog Park, Del Mar Dog Park in Morro Bay, and Dinosaur Caves Park in Shell Beach (note: no fence here). Along SLO CAL's interior, find doggy delight at the Nipomo Dog Park, Elm Street Dog Park in Arroyo Grande, Laguna Lake Park (no fence), and El Chorro Dog Park in San Luis Obispo. Over the Cuesta Grade, pups can play the day away at Heilmann Dog Park in Atascadero, Vineyard Dog Park in Templeton, and Sherwood Dog Park in Paso Robles.
Dog-Friendly Restaurants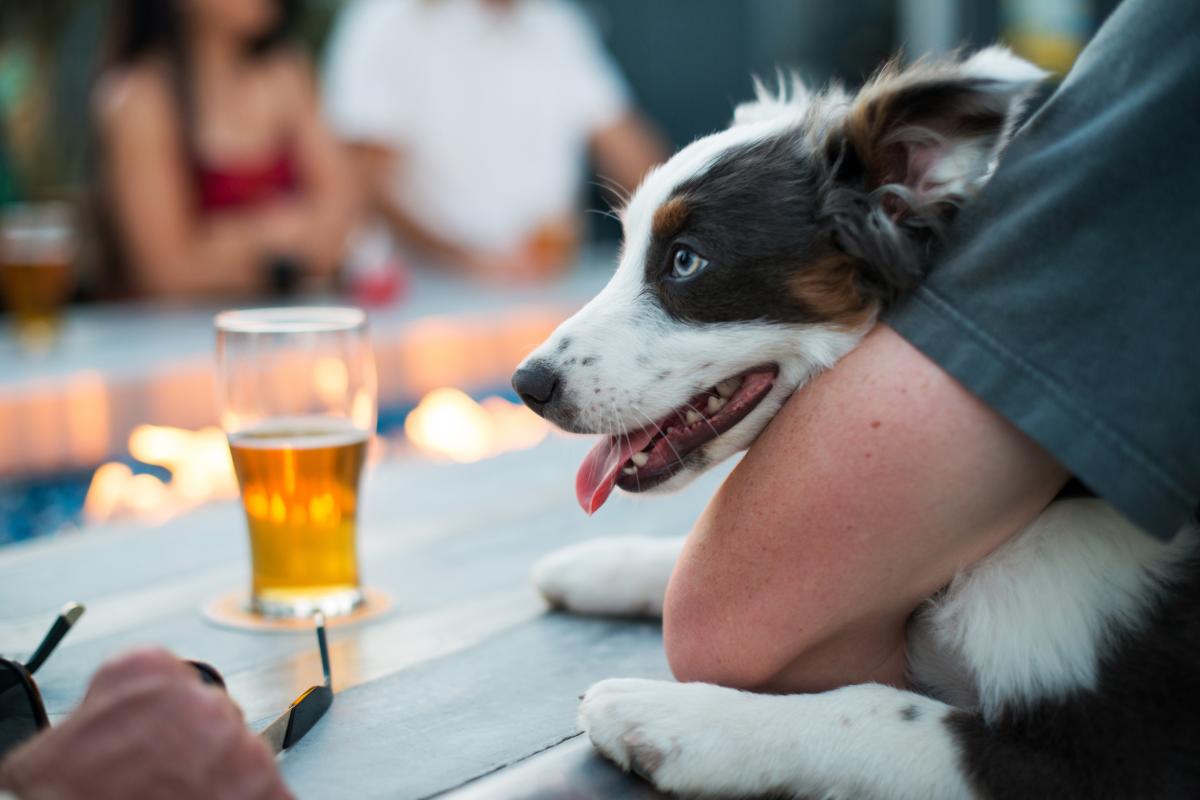 Photo by: Brittany App
Why should humans get all the good grub? The good news is: SLO CAL offers lots of restaurants where pups can hang on the patio. In Ragged Point, hit the Ragged Point Inn Restaurant patio, which is heated and overlooks the vast Pacific Ocean. San Simeon Beach Bar & Grill and Moonstone Beach Bar & Grill in Cambria offer similar menus — and similarly spectacular ocean views from their patios. In Cayucos, the Sea Shanty Restaurant serves up hearty breakfast, lunch, dinner, and desserts, with access to nicely shaded outdoor dining. The Bayside Cafe in the Morro Bay State Park Marina has a wonderful patio from which to sip a glass of wine and sit with Fido watching the boats come and go. Farm-to-table restaurant Blue Heron in Los Osos-Baywood Park makes their heated patio available for dining beside the pretty Baywood Pier. Mersea's in Avila Beach lets you and your four-legged friend watch the seals and sea lions play beneath the pier while you chow down on fresh-caught seafood. The famous happy hour at the Cliffs Resort & Marisol Restaurant in Shell Beach allows pups on the back patio looking over the ocean bluffs, and in Pismo Beach, Wooly's beachside bar and grill offers lots of room for your furry friend. The patios at farm-to-table restaurants The Spoon Trade in Grover Beach and Ember in Arroyo Grande welcome well-behaved dogs, as does American food eatery Willow in Nipomo.
San Luis Obispo offers a number of fantastic pet-perfect restaurants, including Luna Red and Novo, both of which offer globally-inspired dishes and beautiful outdoor dining along San Luis Creek. For an open patio with craft drinks and top-notch bar food, stop by Milestone Tavern. Here they have a dog-friendly "Mutt Menu" to order your pups a tasty snack with proceeds benefitting Woods Human Society. In Santa Margarita, the patio at The Range invites pups to hang out while their humans dine on high-end cowboy cuisine. Atascadero's Colony Market & Deli serves casual salads, sandwiches, beer, and wine on a spacious patio with yard games like cornhole and giant Jenga. Enjoy tapas and a glass of wine or beer from the thoughtfully curated menu on the patio at 15 Degrees C wine bar with your pooch, or head to the quaint backyard of Jeffry's Wine Country BBQ in Paso Robles, where your dog can longingly watch you dine on luxurious mac and cheese, smoky pork ribs, and more.
Click here for more dog-friendly beaches, parks, and hikes