The whole crew can get excited for these family-friendly coastal excursions
Brake for fun in SLO CAL! When the fam's ready for adventure, head to the SLO CAL coast, where kids of all ages can explore, play and giggle in the sand. That's right: Highway 1 is your family-friendly destination for sun, fun and good times to come.
Make new animal friends
Meet unexpected coastal critters along your route (and don't forget the binoculars)! All you need to do is follow our easy wildlife viewing tips.
Dolphins, seabirds and otters, oh my!
It's as easy as opening your eyes: Aquatic animal sightings can be spotted everywhere along Highway 1, all you need to do is look around. All ages should keep an eye out for perky dolphins at play in Pismo Beach, crafty Sea Otters lounging on their backs in Morro Bay kelp beds, and seabirds soaring high through the Cayucos sky. Each winter, whales make their appearance in SLO CAL, inspiring gasps of awe among all ages.
See the seals
They'll never forget this encounter. Elephant Seals, with their unique, trunk-like noses, are a hoot to observe at the The Piedras Blancas Elephant Seal Rookery, located seven miles north of San Simeon on Highway 1. Get your wiggles out after a drive up the coast and say hello to these captivating creatures from a safe and easily accessible viewing point. Depending on the season, you may see males challenge each other to a scuffle or even witness a birth. October through March sees an uptick in population, so there's never been a better time to get out and pay a visit to these behemoth beasts.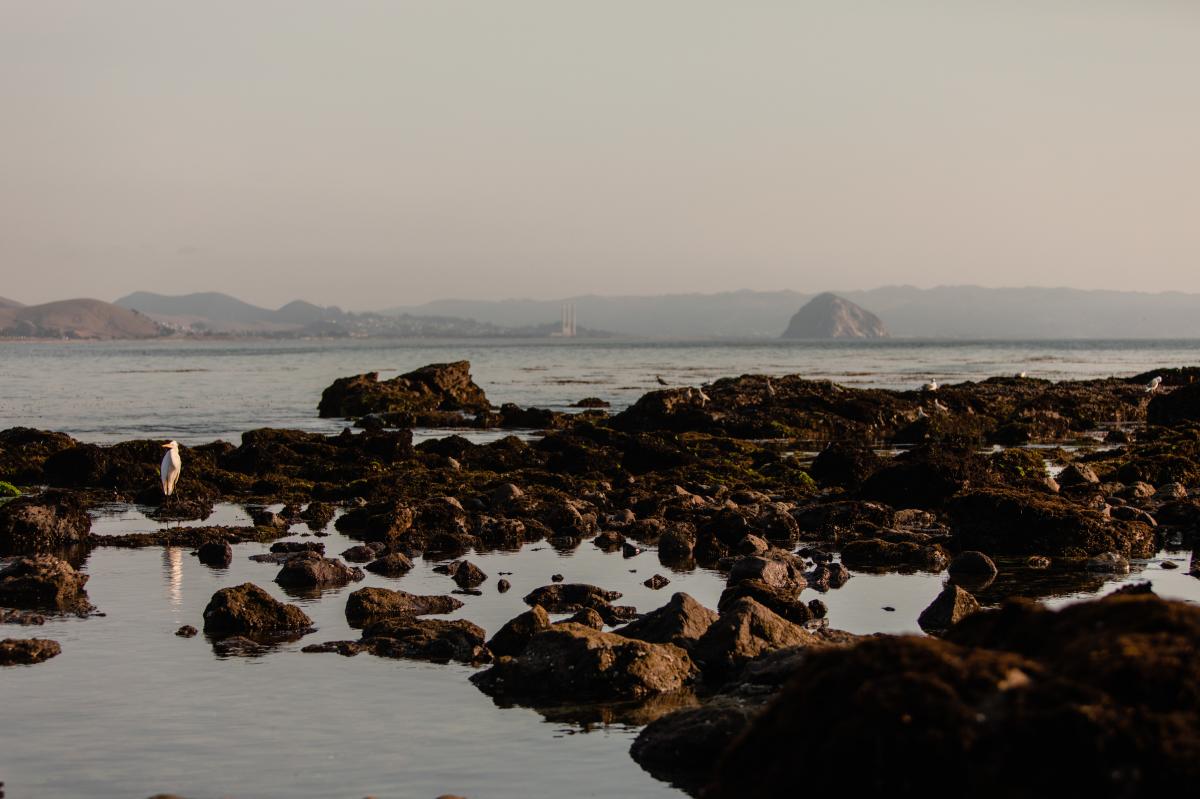 Traverse the tide pools
Pool your efforts: At Montana de Oro State Park, each tide pool is its own universe, complete with ecosystem and cast of colorful characters. During low tide, the waves recede, allowing young and old to take a gander at these interesting undersea specimens, including star fish, urchin, sea anemone, crabs and even gelatinous sea slugs! Tip: You can also view tide pools at Morro Strand Beach (north of Yerba Buena Street), Cayucos Beach (South of Ocean Front and D Streets), Shell Beach (off the rocky reefs), and in Cambria, at the Moonstone Beach Boardwalk. Be sure to bring comfortable shoes with a good grip and be careful as you explore the rocky terrain. The rocks are quite slippery when wet!
A trip to the aquarium
Bring on the bubbles: There's no better place to get up-close-and-personal with SLO CAL's vibrant coastal wildlife than at The Central Coast Aquarium in Avila Beach, where kids can immerse their hands into a salt water touch-tank filled with undersea creatures. Whether the kiddos are itching to view sharks, jellyfish, or a super-intelligent octopus, the gang's all here to delight and surprise! Tip: Check the aquarium's feeding schedule for best viewing times. During the aquarium's monthly Mommies and Guppies event, pre-schoolers can enjoy encounters with sea stars and urchins, listen to story time, partake in sing-a-longs and create arts and crafts.
Travel for good
Want make the coastal animals who reside in SLO CAL really happy? Make your travel experience more meaningful with the Stewardship Travel for Good program activities along Highway 1. Get involved, create unique memories, and know you made a difference to our coastal wildlife. From beach cleanups, trail restoration, museums, and parks tours, your contributions help in a big way!
 
Join the crew
Family members become shipmates when the vessel leaves the dock!
Ahoy!
Pirates and first-mates are wanted for a gripping sea adventure. Hop on a boat or kayak in the Morro Bay Harbor, where the seas are always calm and every trip affords a stellar view of iconic Morro Rock.
The family that paddles together, plays together
Jump in a kayak and tour the waters surrounding Pismo Beach's Dinosaur Caves Park. Afterward, enjoy the 11-acre, ocean-front, bluff-top park, complete with playground and jungle gym. Tip: Stay for sunset, the perfect family photo opp!
What's SUP?
Older kids will get a kick out of stand up paddleboarding—which allows the whole gang to glide along serene water and take in the surroundings. Try SUPing in Avila Beach, and Baywood Park, where the ocean is calm and the 360-degree views are fantastic.
Walk the plank!
Highway 1's array of pleasurable piers are always good for an afternoon stroll. The whole family can fish off the Cayucos Pier in Cayucos, enjoy a bite to eat at the Harford/Port San Luis Pier, watch the surfers hang ten along the Pismo Beach Pier or keep vigil for traveling whales at the scenic San Simeon Bay Pier.
Make history
Take a trip back in time with these historical stops made for learning and laughing.
Light up their life 
SLO CAL's historic lighthouses offer up a fascinating educational opportunity for kids of all ages (plus, just look at that scenery). Make a point to stop at the Piedras Blancas Light Station and Point San Luis Lighthouse, where history meets stunning ocean views. Tip: Why not Kayak to the Avila Beach Lighthouse, an easy-going trek perfect for beginners?
Rancho reality
This is one for the history books. Take a self-guided tour of the Dana Adobe Cultural Center in Nipomo, then explore the Guadalupe-Nipomo Dunes, one of the largest remaining dune complexes in California. The Dunes Visitor Center illuminates their fascinating history, which includes Hollywood movies, Bohemian artists and gurgling ATVs. You can still drive your off road vehicle on the beach today! How about a family cruise down the sand culminating in an oceanside picnic?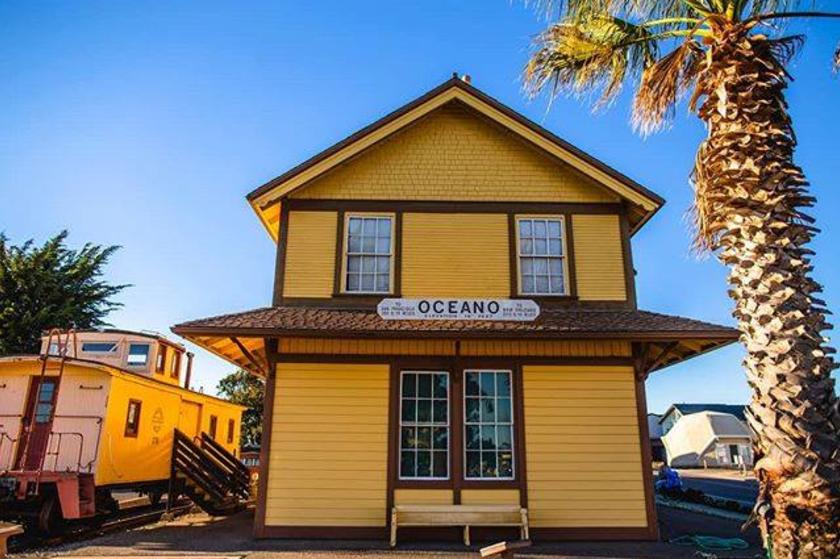 Choo choo!
The Oceano Train Depot is calling all train lovers! Grandfather and grandkid will unite here. Your little engineer will marvel at the museum's artifacts, complete with miniature working trains and time-worn railroad equipment.
School's in session:
Well, not really. Your tike will marvel at the tiny one-room Santa Manuela Schoolhouse, located in the family friendly Village of Arroyo Grande. Nearby, you'll find an ancient swinging footbridge hanging high above a babbling creek and lots of great places to dine and shop. Keep an eye out for roaming chickens who call the village home!
Stoke their imagination
Keep an eye out for the "population 18" sign, because the tiny hamlet of Harmony is easy to miss! This delightful storybook town and revived dairy community is famous for its glass blowers and miniature post office. They'll scream for delicious ice cream, too. Yes, the Harmony Valley Creamery Scoop Truck is on-hand to ensure that the smiles around here are always big.
Let's eat (and play)!
Even the pickiest eaters will love these famous foods located along Highway 1. Plus, opportunities for extra playtime are never far from reach.

Photo credit: Visit Pismo Beach
Grub
This chowder's famous for a reason! Dig into hot and steamy clam chowder bubbling from a sourdough bread bowl at Splash Cafe in Pismo Beach. Play: Marvel for hours at the nearby Monarch Butterfly Grove, where Monarch Butterfly wings flutter against towering trees.
Ruddell's Smokehouse in Cayucos whips up delicious smoked fish tacos topped with a unique blend of apple and celery (we promise, they'll love it). Dessert? Salty sweet perfection is always served fresh at Brown Butter Cookie Co., where the shortbread cookies make a warm and tasty mid-day treat. Play: Hit the sandy Cayucos Beach Playground for a little extra hang time by the water.
A visit to Morro Bay is mournfully incomplete without taking home a bag of fresh saltwater taffy! Play: The day is young and the sun is high. Tidelands Playground, located on the Morro Bay Embarcadero, is just a stone's throw from shops, eateries and attractions.
A classic coastal meal, for all ages: The flaky fish and chips are out of this world at Custom House in Avila Beach. Play: A swing-set located on the sand nearby makes for a memorable day at the beach.
They'll love the 1950s styled train car environs of the Rock N Roll Diner in Oceano—plus, the milk shakes and grilled cheese aren't bad either! Play: Older kids are invited to hop on an ATV or horse for a wild ride along Oceano's moon-styled dunescape.
Santa Maria-style barbecue is a staple of Nipomo's Jockos Steakhouse (and the kiddos can order a plain burger with fries if they wish). Play: Nearby Nipomo Regional Park offers up a relaxed play area with slides, jungle gym and more to let off some steam.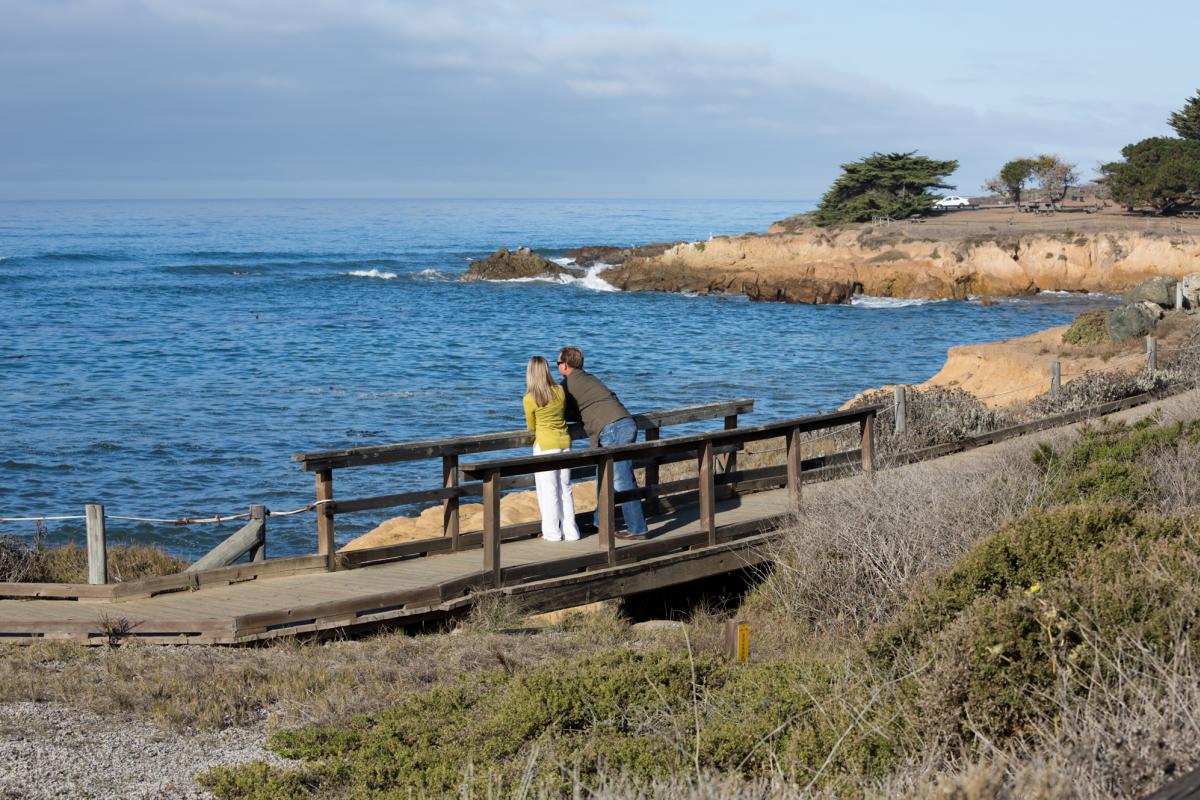 While the historic Sebastian's General Store in San Simeon undergoes an extended restoration, the adjoining Hearst Ranch Winery tasting room has been relocated to a larger, cliffside building across the street. With soaring ceilings, plentiful seating and an accompanying cafe, this new tasting room is the perfect place to stop with the family along your Pacific Coast Highway journey (plus, The Truck, a gourmet food truck, is often parked around back). Play: Hidden treasure is never far from reach when you hunt for moonstones on Moonstone Beach in nearby Cambria.
A modern twist on the comfort classics they'll adore (like house made fried bologna sandwiches) is always on the menu at Grover Beach's casual eatery Spoon Trade. Play: Afterward, pile into a Hummer and embark on an off-road adventure for the whole family along the Oceano Dunes with Pacific Adventure Tours.
Just like grandma used to make, but with a wine country twist, The Apple Farm is a classic, cozy stop for kids of all ages (plus, you can check into an equally cozy room, if needed). Play: Take a historic trolley down Monterey Street, stopping in downtown San Luis Obispo. You'll find the interactive and welcoming SLO Children's Museum located adjacent to scenic SLO Creek!