Glide with ease in Avila Beach, Morro Bay, Pismo Beach, and Cayucos
Maybe you've seen standing ocean-goers gliding along the surf with paddles in their hand. They're certainly not surfing, although they appear to be standing on a board. It's not magic, it's paddleboarding! If you're an adventurous soul and water lover, you probably can't wait to try it out. However, you're probably not sure what it takes to learn. Doesn't stand-up paddleboarding (or SUP, as the regulars call it) require perfect balance, ripped arms and the navigation skills of an experienced sailor? Let me bust all those myths for you right now. You might be surprised to know that paddleboarding is actually a great way to experience SLO CAL's stunning beaches, bays, and coves—even as a beginner. Read on and see for yourself. Life is short, paddle hard!
1. What's SUP?
Standup paddling has existed in its modern form for less than a decade. Though a standup paddleboard is not yet as recognizable as a surfboard or kayak, the activity is garnering more and more fans each year in SLO CAL and beyond. Fueled only by the paddler (that's you), standup paddling offers an incredible cardio workout and helps relieve stress. Oh, and then there's that view above and below the ocean's surface. Look around: this is as close as it gets to walking on water.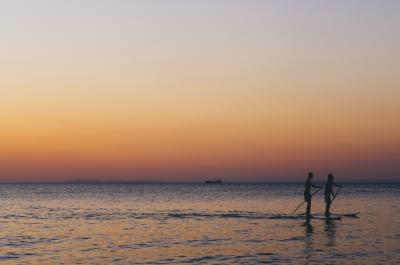 2. Find Your Beach
Avila Beach
Avila Beach is a calm, secluded beach and tucked into a bay, granting it plenty of sunny days. You won't see many surfers out here, as this protected harbor with little to no waves (which is great for the unexperienced paddleboarder). Paddleboarders enjoy paddling out from pier to pier. You can also paddle out to the Port San Luis Lighthouse, which affords a very special view of the coast. Bottom line: Avila Beach is a fantastic place to start your SUP adventure, as it's an easy flatwater experience with no danger of swift-moving tides.
Morro Bay
Morro Bay Estuary to the North offers approachable flat water paddling in SLO CAL. The bay is a large marine and bird preserve providing views of Morro Rock, a sand-spit with dunes over one-hundred feet high, and scenic tributaries flowing into the bay. Paddling from Morro Rock to the back-bay community of Baywood is a four-mile journey (one-way; approximately eight miles round trip) with plenty to see along the way. Keep your eyes peeled for wildlife: Morro Bay is known for playful otter sightings.
Pismo Beach & Shell Beach
Pismo Beach and Shell Beach are both good options for paddleboarding, although you may encounter a few more waves (we do recommend sticking to places vetted by your instructor). SUP enthusiasts enjoy a protected launch spot in a small cove at the bottom of a long set of stairs at the end of Pier Avenue (along Ocean Avenue between Cliff Avenue and Windward). Very near to the access stairs at the end of Pier Avenue, you'll find beautiful rock arches that you can, depending on the weather and your experience, paddle through. An islet just offshore from Dinosaur Caves Park affords views of a stunning cave. As always, check the surf size and conditions before heading out.
Cayucos
Heading to the North Coast of SLO CAL, Cayucos is not to be overlooked. This classic beach community offers up pristine ocean experiences and a relaxed vibe—perfect for those that prefer to paddle in solitude. Glide through hidden coves and view unspoiled beaches seldom seen by visitors. Sea lions, otters, dolphins, and even whales may pop up on the horizon. Cayucos is rugged and beautiful. You should always listen to your instructor for the best first-timer spots.
3. Get the Gear
SUP boards are available in a huge range of sizes, styles and prices with specific boards designed for flat water recreation, river, lake and ocean racing, fishing, long-distance touring, yoga and for SUP surfing. Stop by a local surf shop, and grab a board, paddles and a wet suit. Rent from Stand Up Paddle Boarding in Morro Bay, The Paddleboard Company in Morro Bay, Central Coast Kyakas in Shell Beach, or Pismo Surf Shop in Pismo Beach, among others. They'll get you suited up and ready to get out on the open water.
4. Learn the ropes
Early morning, before the wind picks up, is the best time to go paddling. Many local shops offer both board rentals and instruction, so take advantage. At Avila Beach Paddlesports, beginners can learn from a free demo (no reservation needed; stop in before 3:30 p.m. daily). You can also get your SUP education at California Kiteboarding in Avila Beach and Good Clean Fun in Cayucos, among many other local shops.
5. Get creative
Already a pro paddler? Perhaps you have taken to the sport easily or have lots of prior experience kayaking and surfing. Either way, there's plenty of ways to enhance your experience in SLO CAL. You can even try SUP yoga offered at The Paddle Board Company in Morro Bay. Come find your balance, paddle out, clip-on an anchor line and let go. You'll use all your senses and experience the Bay with a whole new perspective. This "liquid studio" begins with quiet meditation, breathing and intention-setting. Believe it or not, you can also sign up to SUP with your pup, too. This one's only for experienced paddlers, of course. Sounds fun, but a tad challenging, right? Well, it's always nice to have a goal to work toward!