I get the best ghost stories from people on my ghost tours when I ask who's experienced a haunting. They're more like anecdotes than stories: brief encounters—with the dead rather than the living.
The earliest ghost story in San Luis Obispo County, maybe the earliest in California, involves humans transforming into ghost bears. Father Antonio Martinez wrote it down in an 1812 report to his superiors on the beliefs of the people of Tilhini, the name of the Northern Chumash settlement that preceded the Mission San Luis Obispo de Tolosa to whom he referred to as pagans.
"Among the pagans, there is the notion about their eternity in which they change their nature; for those that died here on this soil, they are not to say, were transformed into bears, and they went to live in some mountains six miles from this mission. I myself have known a Christian of this mission who at twelve o'clock in the daytime was chased by a bear. The people presumed that it was of that class of bears because of the little fear the horse manifested and because the bear kept running after him. In the other rancherías, they likewise have the same idea."
Father Antonio knew the person, who was a Christian; it happened in broad daylight; and the witnesses agreed it was a ghost bear: the sort of details you would try to convince someone with two centuries later.
Here are thirteen other local hauntings with a few of their odd details:
1. Dark Watchers, SLO CAL
My favorite apparition of the Central Coast is one indigenous to us: the Dark Watchers. These supernaturally tall figures appear to travelers in the Santa Lucia Mountain Range in the near distance. You look away and then back again and they've disappeared.
Some attribute them to Chumash's belief, but there is no anthropological support for this. Some claim the Spanish referred to them as "Los Vigilantes Oscuros," but I haven't found anyone who gives a source for this information.
Certainly, John Steinbeck wrote about them in his story "Flight," where a murderer flees into the mountains, and the murderer's mother warns him, "If thou sees any of the dark watching men, go not near to them nor try to speak to them." Steinbeck's own mother left fruit and nut offerings for the Dark Watchers in Mule Deer Canyon on her way to school, according to John's son Thomas, and she claimed to have received flowers in their place.
When a couple from Arroyo Grande came on one of my ghost tours, the husband, a contractor, described seeing a dark figure a dozen feet tall pass through them, and the wife, pregnant at the time, said she simultaneously felt it pass over her womb. A Dark Watcher close-up? Who knows?
2. Mee Heng Low, Chinatown, San Luis Obispo
The last Chinese business in all that's left of San Luis Obispo's Chinatown, Mee Heng Low, is a blast from the past; I took the daughter of On the Road's Neal Cassady there, and her husband said, "Chinese food and jazz: how Beat can you get?" It was opened by Gin Jack in 1927, and the building's still owned by the Gins, though the restaurant's now run by the Kwong.
As Paul Kwong tells it, when the staff is in front, pots fall mysteriously from the huge metal shelves in the kitchen. When the staff is in the kitchen, the bell rings on the front counter's toy delivery bike. One of the waiters, cleaning upstairs, saw a child run across the dining room, the Gin family's former quarters. The current building dates from 1957, but it replaced the old wood Ah Louis Store from 1874, moved across the street when the current Ah Louis Store was built in 1885. Which building is the child running through?
Paul's son Russell told me that one night he had a dream that old Mrs. Gin was asking him insistently for a Mountain Dew. When he woke up, he mentioned it to Cody Gin, who said Mountain Dew was his grandmother's go-to drink; she kept a six-pack in her fridge. So Russell bought a six-pack for the fridge in Mee Heng Low's upstairs dining room. No one ordered any for six months, but when someone finally did, Paul's partner Leslie went to take out one of the six-packs, and the entire six-pack—unopened—was empty. Maybe there are two ghosts.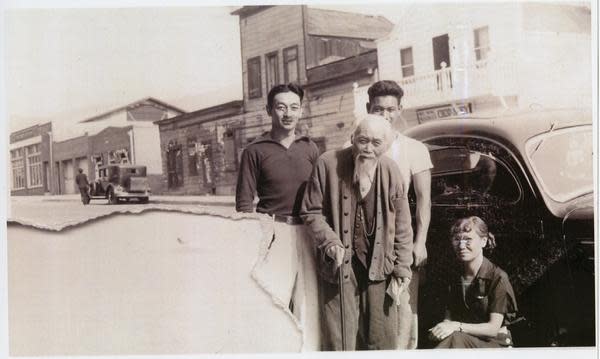 Ah Louis (with beard) and son, Howard Louis (left), with two unidentified people, standing in front of the Ah Louis Store in Chinatown, Palm Street. Mee Heng Low can be seen across the street.
3. Mission San Luis Obispo and Mission Prep
A Mission Ghost appeared to the friend of a friend of mine. The friend of the friend was studying organ in high school, and at night after the church was empty, she would go to practice on the Mission organ, which is in an interior balcony at the back of the church, leading out of the bell loft. The organist faces away from the congregation, but there's a mirror to check what's going on behind her. What was going on behind this young organist was a man in a cassock standing over the burial place of one of the friars.
"If you already believe in the Holy Ghost, a ghost nun isn't much of a stretch," says my informant from Mission Prep, the school a block away from the historic mission. The ghost nun is supposed to haunt the upstairs hallway of the older part of the building, to turn lights on and off and knock on doors and come through them, but I haven't found anyone who's actually seen her. She may be an invention to compliment a creepy atmosphere, but a convent school on the site goes back to the 1870s.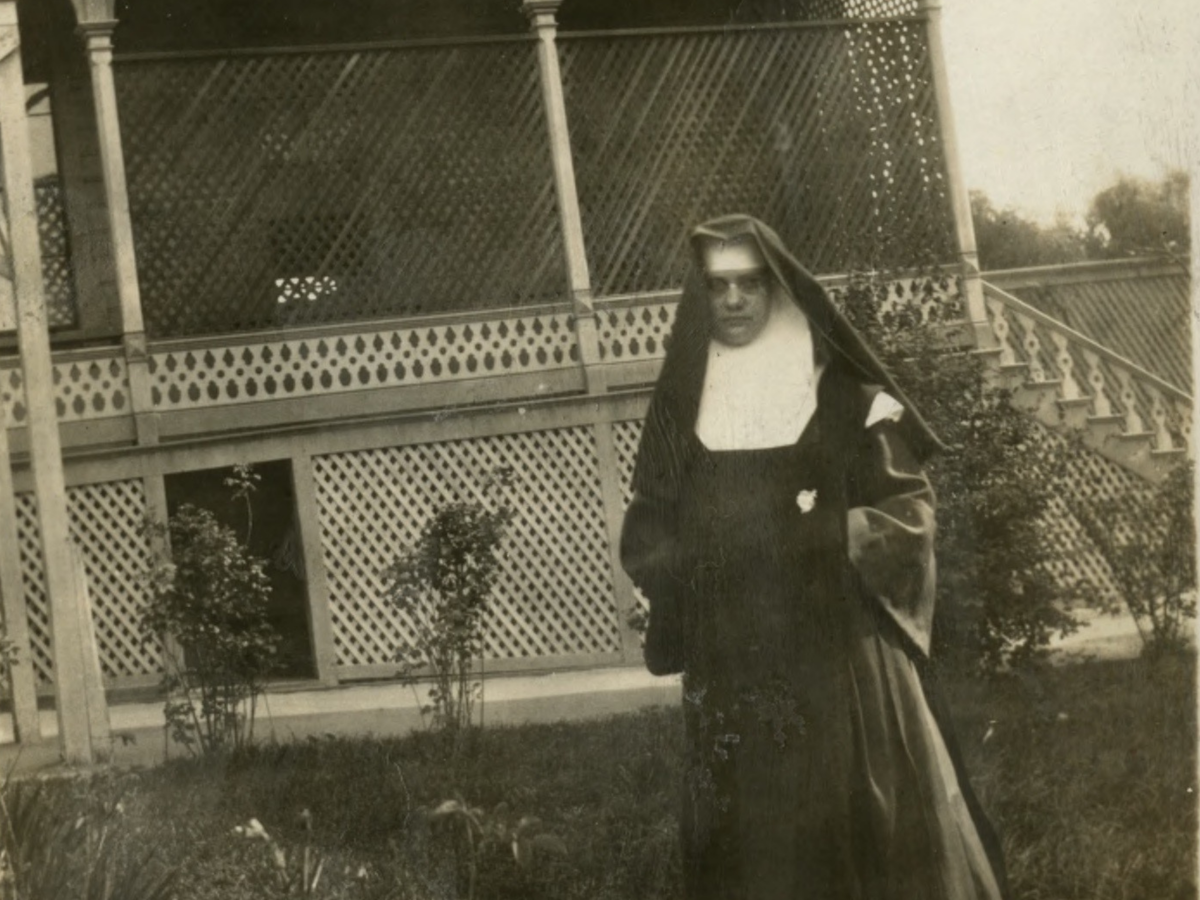 A nun at San Luis Obispo's Immaculate Heart school and convent, where Mission College Preparatory Catholic High School now stands. Photo courtesy: James Papp
 
4. Central Coast Surfboards, Marsh Street, San Luis Obispo
Masonic temples seem to attract ghosts, or ghost stories and the one in San Luis Obispo has ghosts distributed in various parts of the buildings. Central Coast Surfboards, when the storefront previously was home to Law's Hobby, had a reputation among the women who worked there for creepiness in its basement: stock that fell off shelves for no reason, movements out of the corner of one's eye, "sounds that were out of place." One of the surfers who works there now confirms the basement's "pretty gnarly." A vendor doing inventory there came out and asked if it was haunted. The owner admitted it had that reputation. She said there was someone standing nearby looking at her as she went through the boxes.
One night I had a couple of teenage girls on my tour, a niece and a daughter of Mason's. They claimed the third floor was haunted, then one of them recounted a dream she had about the second floor, where meetings are held. She was walking by the three portraits on the way to the elevator: George Washington, William McKinley, and "another guy." The other guy leaned out of his portrait and followed her with his eyes. Later I asked the master of the Masons who the other guy was. Walter Adriance, the Masonic master when the temple was built in 1913. He had an apartment on the third floor—and apparently hasn't given it up.
5. A. F. Fitzgerald Building, 852 Higuera Street, San Luis Obispo
This is a part of town where San Luis Creek runs under the street and buildings. This particular little building, from the turn of the nineteenth century, has housed many different shops, most recently a sock shop. A Wetzel's Pretzels is preparing to move in.
About twenty years ago, the basement floor needed to be lowered for safety reasons. A Mexican workman was hired to demolish it, and suddenly he fled to the shop floor. He couldn't speak English, and no one there could speak Spanish, but they found someone who could translate, and he told them that when he broke through the floor, he could hear footsteps—and the conversation of men, women, and children, speaking a language that was neither Spanish nor English. Below the concrete was hollow-sounding earth, roof tiles, and an oven or kiln.
The owner smudged the basement with burning sage to lay the ghosts, feeling a coldness and a presence. Photos taken, seen straight on, showed orbs, the largest one golden, the others paler. But if you happened to glance out of the corner of your eye, they seemed to be Native American forms.
A new concrete floor was poured, and there was no more haunting after that. Interstitial areas—basements, attics, dark places, visions, and dreams—seem to be where we cohabit with ghosts.
6. Bluebird Inn, Cambria
This is the kind of curious building that attracts ghost stories, out of time and seemingly out of place. A charming Carpenter Gothic cottage from early Cambria, neatly painted blue, has been surrounded by a motel, with a modern lobby and porte cochère attached somewhat ungainly to its front. Whether the ghost disapproves of the architecture, she certainly seems to disapprove of selected guests, who check out quickly after checking in with no explanation. The woman for whom the cottage was built by her husband in 1880, Mary Inman Lull, is seen occasionally standing on its balcony by people who don't know she shouldn't be there. Pati, my informant (along with Tyler), lived in the cottage and said she heard footsteps on the second floor above her when no one was there. Doors opened or closed on the first floor with no one to open or close them.
Descendants of the Lulls occasionally hold family reunions at the Bluebird, and their ancestress apparently supervises their conduct, too, for good manners and not overstaying their welcome. The quiet and well-behaved (it's a favorite inn for writers) find the atmosphere benign.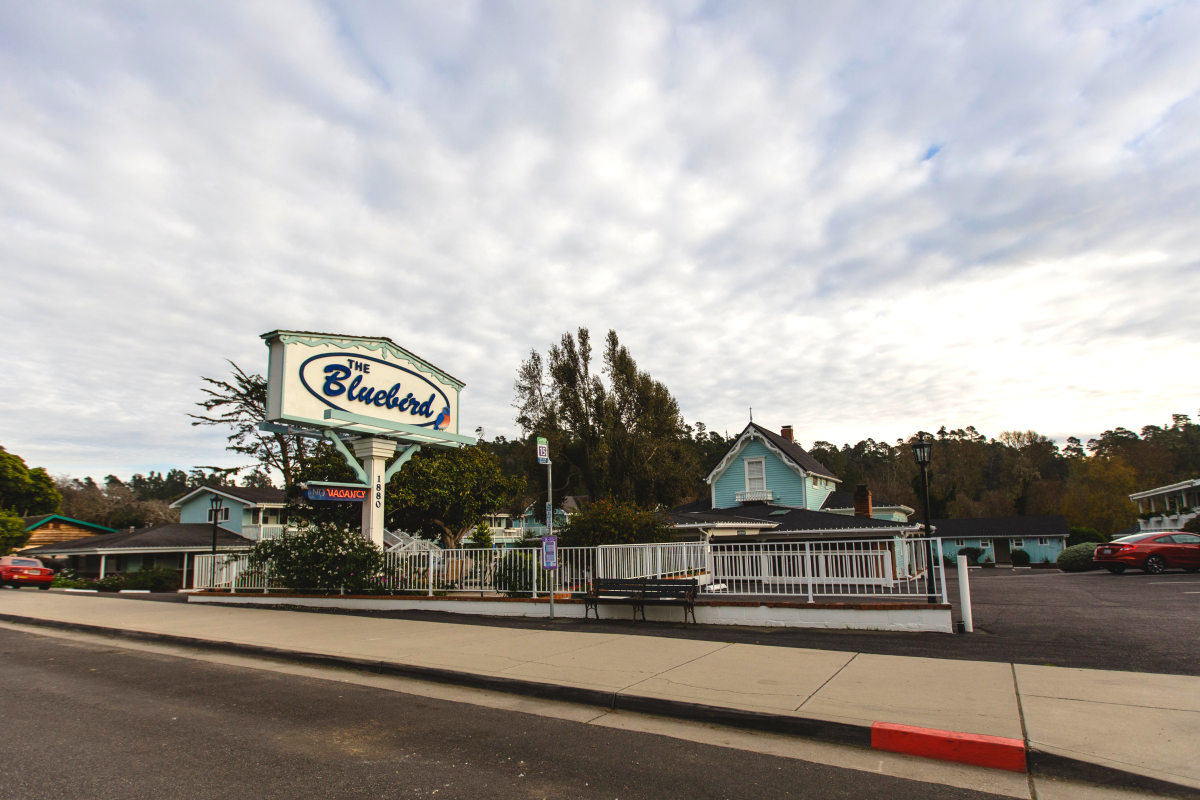 The Bluebird Inn. Photo by: Highway 1 Discovery Route
7. Adelaida Cemetery, Paso Robles
The Adelaida Cemetery, in the north county between Paso Robles and the coast, is closed after dark—which of course is when (and why) local kids hang out there. It's easier for visitors to find it during the day. Although the cemetery itself isn't very scenic, the winding drive through the golden hills and oaks is quintessential Central Coast, and there are wineries and even olive oil distilleries lining every route.
The White Lady of the Adelaida Cemetery is a fairly vague ghost, as ghosts go; many cemeteries have a white lady connected with them, and the only odd thing about her is that she's reputed to displace car keys and cell phones. Indeed, the last time I left the Adelaida Cemetery, my keys were suddenly nowhere to be found—until I checked my other pocket.
The most interesting ghost story I've heard about the Adelaida Cemetery was from a young woman on one of my ghost tours, and it wasn't about the White Lady. This young woman was hanging out there one night with a group of friends, and she wasn't drinking or doing drugs. She saw a young man in a leather jacket leaning against a tree and looking in her direction. The next morning, she described him in detail to her mother, who recognized the young man as her high school boyfriend, who had died, still in high school, in a traffic accident.
8. Paso Robles Inn, Paso Robles
In the nineteenth century, the Paso Robles Inn was one of the great wonders of the county, in fact, the most famous thing about us. People came to "take the waters"; even Paderewski, the great Polish virtuoso pianist, took them for his arthritis, and liked them so much that he moved here and planted a vineyard (now Epoch)—until he moved back to Poland to become its prime minister.
In 1940, however, this monumental Queen Anne structure burnt to the ground, all but the ballroom. It was rebuilt on a much less monumental scale in 1945, with more rooms added after 1999, including room 1007.
The oddity of the new hotel includes calls to the front desk—and even to 911—from room 1007, when no one's there. Once when the maintenance head was sent, he saw the phone light up and call the front desk. When he tried to call the front desk, the phone cut him off, and the room's second line intervened and called the front desk itself. At the other end, they heard a "squelching sound." This is according to a 2013 article in the Tribune. Our local paper has a lot of ghost coverage, and in 1876 even published a front-page interview with its late editor, Walter Murray, by means of séance. (Murray, on his deathbed, had promised the interviewer, "I will come back and see you," and through the medium from the Other Side would only keep repeating, "I am glad to meet you." It was a slow news day.)
The staff at the Paso Robles Inn attributed the phone calls to J. H. Emsley, the night clerk in 1940 who sounded the alarm but then died on the spot of a heart attack. Whoever's calling, the obsession of ghosts with technology that postdates them is interesting and seems to be physical rather than electric. Whenever people tell me about ghosts who shut on and off lights—from the Queen Mary to Zeppo Marx's former house—it is the switch that has been switched, or even in one case, a light bulb screwed back in.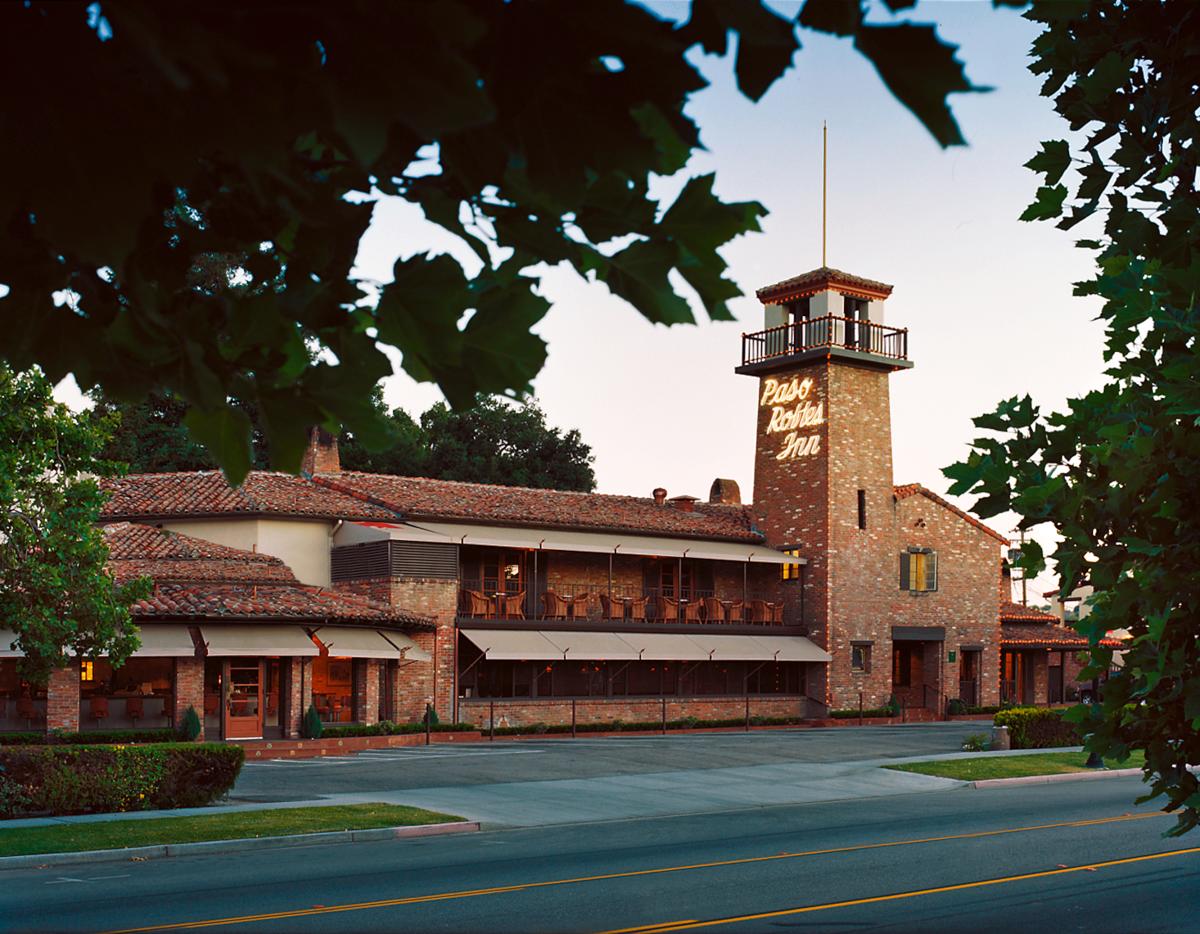 Paso Robles Inn. Photo by: Travel Paso 
9. Mission San Miguel Arcángel, San Miguel
In 1848 at the Mission San Miguel, eleven people were horribly murdered. Governor Pio Pico had sold the mission for quick cash to William Reed, an American. The dead were Reed, his wife, their baby, and two other young children, as well as the Reeds' Indian servants and their children. They were all murdered by travelers—the Reeds' guests at dinner—to get Reed's gold, and the bodies—still warm—were discovered by the famous African American pioneer Jim Beckwourth, who was on his way with the mail from San Luis Obispo.
Beckwourth rode to Monterey to raise a posse, which, under the command of Lieutenant (later Major General) Edward Otho Cresap Ord (after whom Monterey's Fort Ord was named), pursued the murderers to the environs of Santa Barbara, extracted confessions, and executed them on the spot.
In 2003 Wally Ohles told the Tribune of two eyewitness accounts told to him: someone who saw a man emerge out of the south wall of the church in a peacoat, who Ohles thought was William Reed, who apparently wore such a garment, but might as well have been one of his murderers, who were reported to be deserters from the USS Warren in Monterey Bay; and a friend whose three-year-old granddaughter ran into the gift shop having seen "a little Indian boy and he couldn't talk" and "had an owie on his neck."
The original story seems more interesting than the ghost stories, but dead people who refuse to leave have their own following.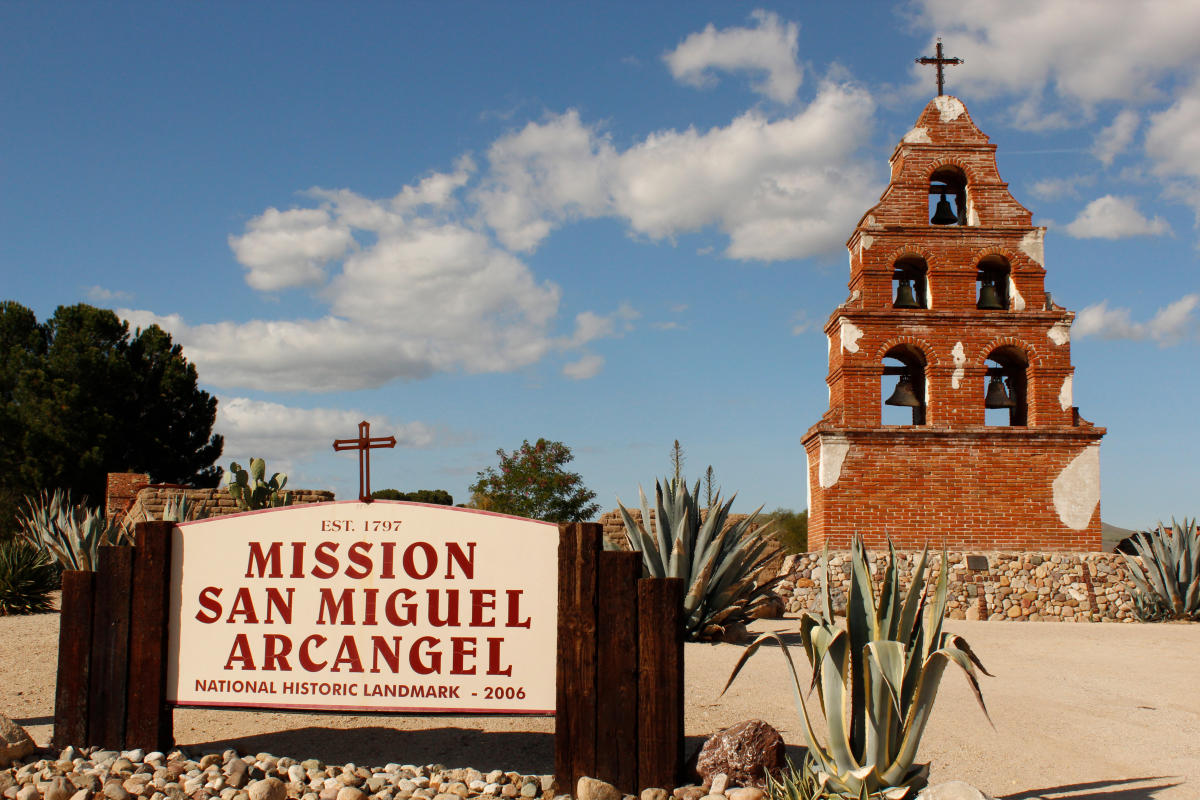 Mission San Miguel Arcángel. Photo by: Travel Paso
 
10. Coffee Rice House, Oceano
If central casting were casting a haunted house, it would be the Queen Anne-style Coffee Rice House, rising from the Casa Del Rey mobile home park in Oceano in bedraggled white. Its history after rancher Coffee Rice built it is extraordinary, having served as a sanatorium for Dr. William Dower, co-founder of the neighboring Theosophist community of Halcyon. Dower's treatments included mainstream medicine as well as color, sound, and electricity. In 1917 Ultra Modern composer Henry Cowell premiered his Tides of Manaunaun—played with a fist, palm, and forearm—on a piano on the beach in front of the Coffee Rice House, lit by automobile headlamps covered by colored cellophane. The Tides of Manauanaun was later played at the White House under FDR and JFK.
Alas, apart from supposed indelible bloodstains in the foyer, vague rumors of ghosts seen by former residents, and music emanating from the house (which appears to have been caused by actual people playing actual music), the ghosts don't live up to their billing. Someone needs to do an Amityville Horror–style fiction, with Henry Cowell's disembodied fists playing the piano.
11. Pitkin-Conrow House (AKA "The Victorian"), Arroyo Grande
This house, rising as starkly from the fields (and a local subdivision) as the Coffee Rice House from a mobile home park, does have a specific ghost, despite its more kempt appearance. (It previously was a bed and breakfast and now functions as an event space.)
The ghost reported by the bed and breakfast visitors and staff is a little girl, who was even revealed as "Alice" by psychic investigators. She is recorded as inhabiting the tower room, trying to open the door to it if it was locked, playing throughout and on top of the vertiginous house, ringing a disconnected doorbell, trying to communicate over the speaker system, getting in bed with guests—and so on. Alas, no historic Alice Pitkin or Alice Conrow seems to correspond with the child. Perhaps she was a visitor, or perhaps ghosts, like Japanese emperors, get different names after death. I was once hired to find documentation on a pipe-smoking ghost, denoted "Marvin" by a psychic. I was never able to track "Marvin" down in census or city directories, but the house's architecture was so interesting that I ended up doing the landmarking application for it instead.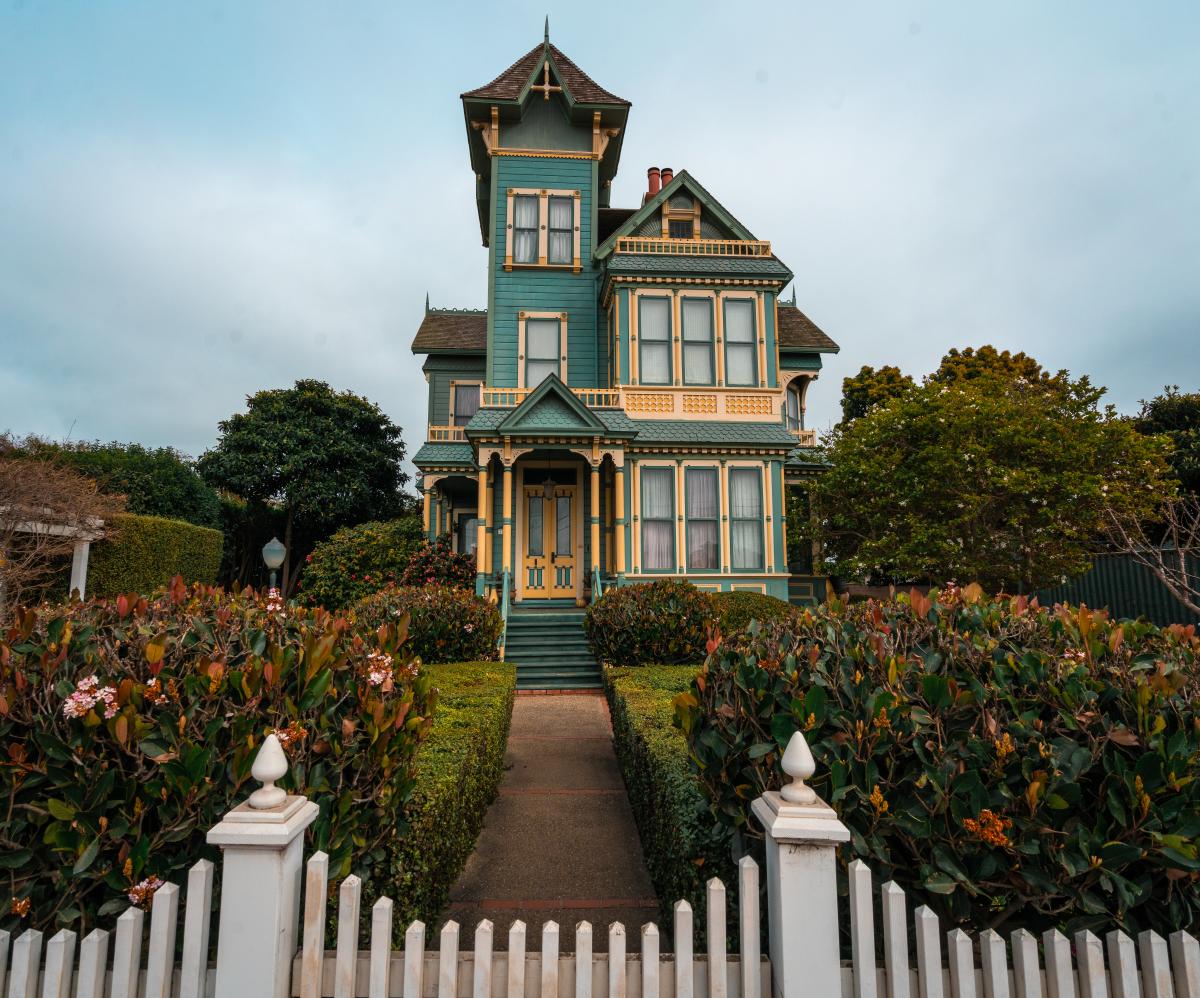 12. Black Lake, Oceano
My specialty is the urban ghosts of the City of San Luis Obispo, and my family is endemically susceptible to poison oak (my great-grandfather had only to point his buggy whip at a patch to get a rash), but I gingerly tiptoed through the poison oak to examine Black Lake, part of the freshwater lake complex of the Oceano Dunes. It seems almost as surprising to find a freshwater lake in oceanside sand as a ghost in an early Victorian dress floating above it. But freshwater lurks just below the surface, which is why the Dunites (doo-nites) were able to flourish there between the two world wars. On my way to Black Lake, I stumbled on the encampment of a modern Dunite, also as surprising as a ghost.
This ghost is reported to be a woman dressed in black with a full skirt, narrow waist, tight sleeves, and black jewelry sounds like she's in mourning and might date from the 1840s or 1850s. Alas, people who see ghosts are rarely costume historians, and the only costume historian I know who's encountered a ghost merely heard a child's bare feet run down the hallway of the historic house in New York City where she was working late at night.
The woman's face appears as a blur, and she appears at half past midnight, when anybody's face, let alone a ghost's, is likely to be a blur. What a woman in mourning was doing somewhere as remote as Black Lake in the 1840s or 1850s is a good question—as well as what people are doing at Black Lake at half-past midnight. The Land Conservancy (lcslo.org), which takes care of this haunting landscape, leads guided hikes during the day.
13. The Curse of the James Dean Death Car, Cholame
In 1955, iconic American film star James Dean died east of Paso at the turnoff for Rancho Cholame (a Salinan Native American word pronounced shuh–LAMM), where Cal Poly student Donald Turnupseed made a left turn into his Porsche Spyder with a Ford Tudor. The ranch is now owned by the Hearst Family and called the Jack Ranch, after its owners between the 1860s and 1960s. If you're going to the site, make a (careful) left to the Jack Ranch Café for some Hearst Ranch beef.
Equally iconic British film star Alec Guinness claimed to have met Dean in a restaurant parking lot a week before the crash when Dean showed off his new car.
"And some strange thing came over me. Some almost different voice and I said, 'Look, I won't join your table unless you want me to, but I must say something: Please do not get into that car, because if you do' — and I looked at my watch — and I said, 'if you get into that car at all, it's now Thursday (Friday, actually), 10 o'clock at night and by 10 o'clock at night next Thursday, you'll be dead if you get into that car.'"
"And he was dead the following Thursday afternoon in that car. It was one of those odd things."
Given that Dean had told him Porsche Spyder would do 150 mph, it was not an unreasonable warning.
"The curse of the James Dean death car" was hyped by a following owner of the wreck, George Barris. The Porsche engine had been repurposed by Dr. William Eschrich in a Lotus (which he then called a Potus), and in a 1956 race at Pomona including Eschrich and Dr. Troy McHenry, who supposedly borrowed some other parts of Dean's Spyder for his own, Eschrich spun out, and McHenry hit a tree and died. The Pomona Fair Grounds track was notoriously accident-prone, and so was racer McHenry, who was about to be installed as president of the American College of Osteopathic surgeons.
That appears to be the extent of the curse. "Race fast, safe car" is a palindrome, not a statement of fact.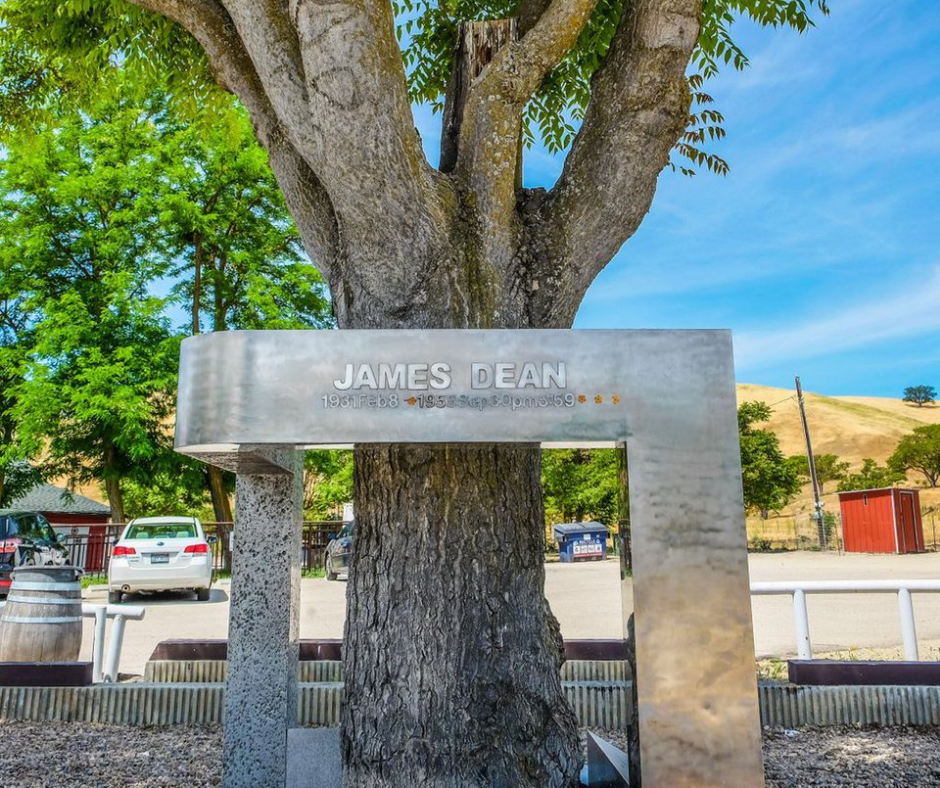 James Dean Memorial site. Photo by: SLOguide
James Papp is a San Luis Obispo architectural historian and executive director of the Coastal Awakening, an organization that focuses on the avant-garde movements that have flourished on the Central Coast. Before COVID, he led public tours through San Luis Obispo; he continues to lead them for private groups. You can call or text him at 805-470-0983.

Cover photo by: riiusnow