September 20th is California Surf Day! With 80 miles of accessible coastline, surfers from all skill levels will able to enjoy the spoils of SLO CAL's beaches. From classic California surf vibes to those resembling northern California, there's a scene and atmosphere for whatever experience you desire. Plus, many of these places are next to the best places to fill those bellies after a day in the water. Catch a wave in SLO CAL to celebrate at these four surf spots, and check out some helpful tips for navigating the SLO CAL waters. As always remember to pack out all trash and leave no trace to keep our beaches clean and explore #SLOCALSafely. 
1) Pismo State Beach 
On any given day, you'll be able to stand on the sand in Pismo Beach and watch as surfers pick their waves next to the Pismo Beach Pier. The waves are slightly smaller than some of its SLO CAL counterparts but can be just as fun and exhilarating. Never surfed before? Book a lesson at Esteem Surf Shop where they'll get you suited up and ready to go learn the basics from a knowledgeable staff member. 
Grub on: Surfside Donuts, Mo's Barbeque, Hoagies, Wooly's or Dell's Pizzeria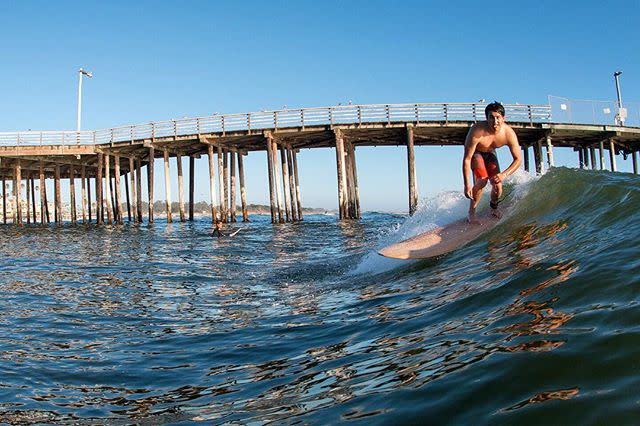 Photo by @jreisphotography
2) Morro Strand State Beach
Have you ever surfed near a 23-million-year-old volcanic plug before? Surfers flock to "The Rock" in Morro Bay to catch waves to the north of this 500-foot (150-meter) tall iconic SLO CAL feature. Grab gear at AZHIAZIAM or Wavelengths surf shops and get out there. The scenery and waves are going to be epic! 
Grub on: Taco Temple, House of JuJu, Tognazzini's Dockside or Frankie and Lola's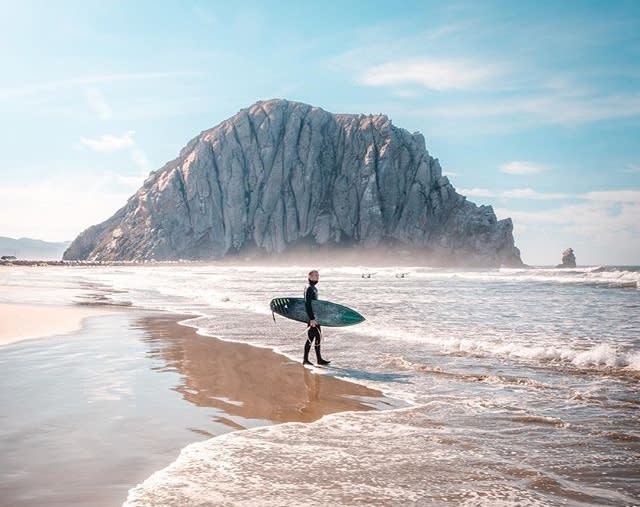 Photo by @g_bm
3) Cayucos Pier
Just north of Morro Bay along Highway 1, you'll find the quaint town of Cayucos, steeped in surf culture. Roam about the small downtown area before plunging into the frosty waters. While the waves aren't as big as those in Pismo Beach and Morro Bay, you're sure to enjoy being out on the Central Coast waters. 
Grub on: Brown Butter Cookies, Ruddell's Smokehouse, Duckies Chowder House or Schooners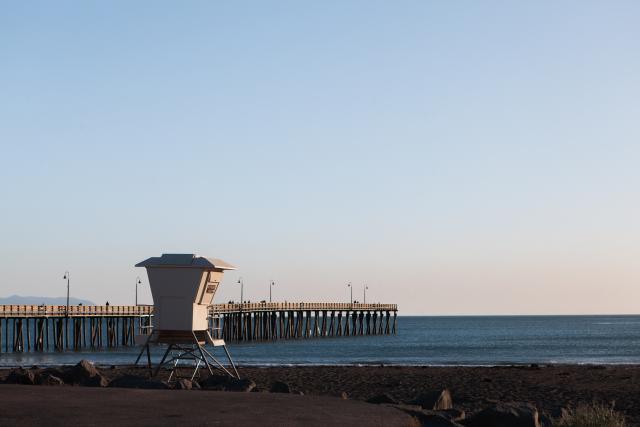 4) North Coast
Travel further up Highway 1 into Cambria and San Simeon to experience more rugged coastlines. Pico Creek is a favorite amongst area surfers and has been known to be a reliable spot to catch a few waves. The water may be colder the further you go north, but with virtually untouched coastline and views of Hearst Castle in the distance, it's nothing a wetsuit can't handle (or a quick trip to a winery or brewery after your sesh). 
Grub on: Moonstone Beach Bar & Grill, Sea Chest Restaurant or Main Street Bar & Grill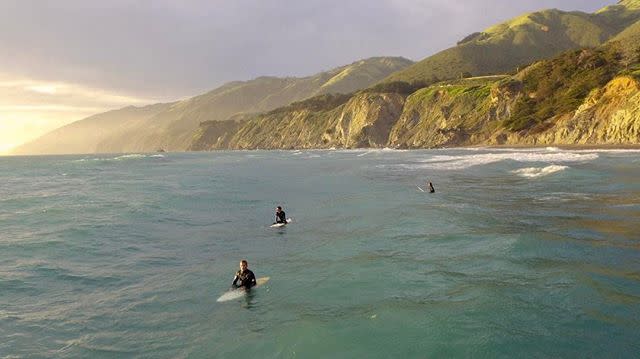 Photo by @patrick_soper
Helpful tips:
Waves tend to be the best during the fall and winter when the sea swell picks up
The water stays cool year-round on the SLO CAL coast, so make sure to pack or rent a wetsuit. Seawater temperatures range seasonally from 55 to 65 degrees Fahrenheit (13 to 18 degrees Celsius). 
The winds tend to pick up in the afternoon, so ride the finest waves during an early morning surf session. 
Get friendly with the locals, they may divulge a few of their favorite spots. 
Now get out there and hang ten! California Surfing Day is September 20