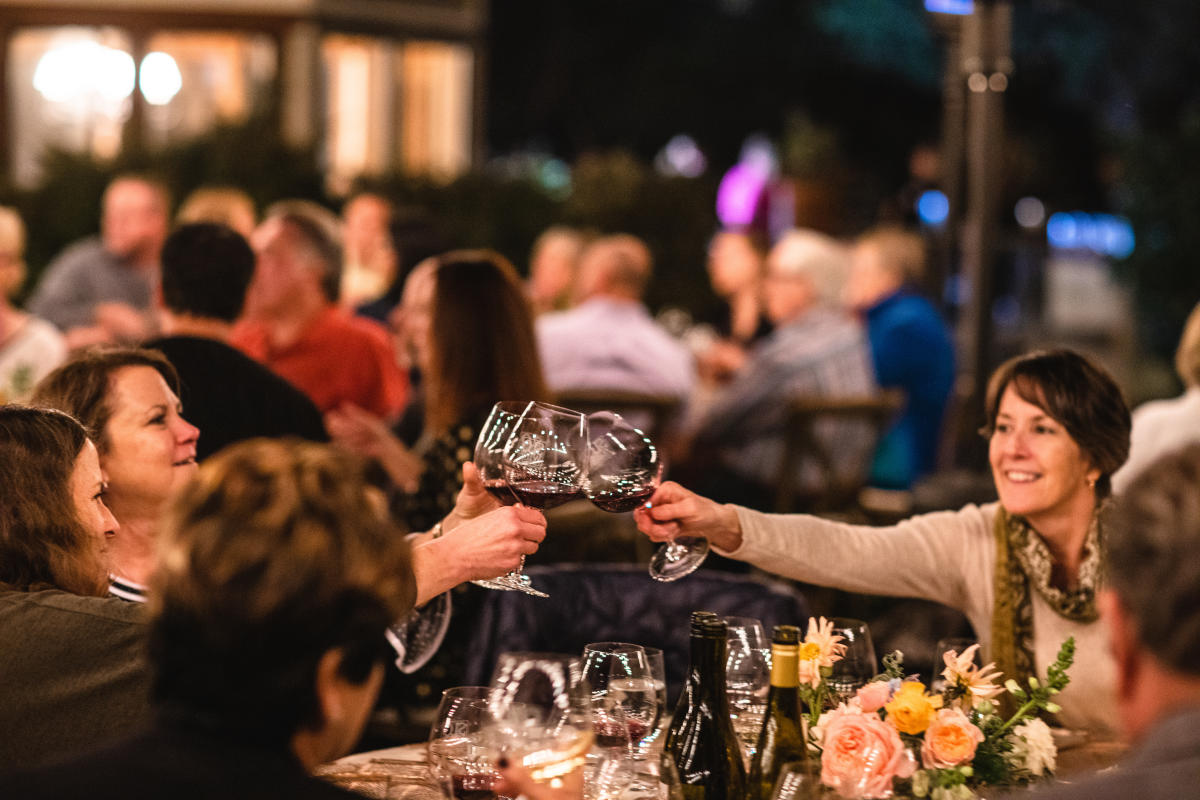 Photo courtesy of Highway 1 Discovery Route
Are you celebrating Thanksgiving away from home in SLO CAL this year? Look no further than these SLO CAL options to add to your itinerary. From dine-in service to take-out, we've got you covered from the top of Cambria to Pismo Beach, and San Luis Obispo to Paso Robles. Call ahead to reserve what might be the best Thanksgiving decision you've made and fill your holiday plate with all the fixins you're used to.
Adhering to our #SLOCALSafely COVID-19 safety measures is essential to keeping our community safe this year. Therefore, reservations should be considered for those establishments planning to accept visitors. But don't worry! There are many local spots offering dine-in and take-out options this holiday season.
Plan to stay a while in the county! With 250+ world-class wineries and craft breweries, stunning beach vistas, and wide-open countryside, SLO CAL is the perfect holiday getaway for everyone.
Browse below to consider making a reservation in support of SLO CAL's hospitality and dining industries while keeping your family safe and well-fed this holiday season.
1119 Broad street, San Luis Obispo
805-592-3880
11:00 AM- 6:00 PM
$65 per person
A Prix-fixed menu of a traditional four-course feast including Herb Confit Turkey or Roasted Prime Rib and sides like Whiskey Roasted Pumpkin Bisque and Fire-Roasted Fall Vegetable Salad. Pre-ordered to-go dinners and whole pies will also be available. Reservations are not required but are highly recommended. Thanksgiving stay packages are offered through Hotel Cerro.
1020 Railroad Ave., San Luis Obispo
805-541-6800
5:00 PM- 9:00 PM
A Thanksgiving menu consisting of a first course, entree, and dessert with entrees including organic roasted turkey, beef short ribs, or wild mushroom lasagna. Kids menu is available for ages 12 and under.
1215 Avila Beach Drive, San Luis Obispo
805-595-7302 ext 326
4:00 PM- 8:30 PM
$65 per person, Kids 10 years and under half off
Enjoy a Prix-fixed menu of Roasted turkey, top sirloin roast, or creamy risotto along with a first course, appetizer, and pumpkin cheesecake with bourbon maple glaze. Reservations are encouraged.
1130 Morro Street, San Luis Obispo
805-544-9100
5:00 PM- 9:00 PM
$65 per person
Three-course Prix-fixed menu with entrees including petite filet mignon, korobuta pork chop, and duck confit. Reservations are available online.
835 13th Street, Paso Robles
805-221-5727
4:30 PM- 9:00 PM
$60 per person
A prix-fixe thanksgiving dinner menu will be offered consisting of options like turkey two ways, grilled breast roulade and leg confit in a Tea-coriander brine, as well as mashed potatoes, savory herb bread pudding, and autumn salad. The Hatch will be welcoming guests indoors only this year. Menu substitutions are politely declined. Reservations can be made online.
2727 Shell Beach Road, Pismo Beach
805-773-8900
11:00 AM- 8:00 PM
$85 per person
Four-Course prix-fixe menu with options like traditional turkey and fixings, 28 dry-aged ribeye, or scallop, with other appetizers and vegetarian options available. Kids menu is also available. Reservations recommended.
2535 Village Lane, Suite A, Cambria
805-927-0371
Holiday menu with appetizers, soups, salads, and entrées including honey-sage turkey, roast pork loin, wild Alaskan salmon, and butternut squash ravioli. Reservations recommended.

 
100 Madonna Road, San Luis Obispo
805-543-3000
12:00 PM -10:00 PM
$44.95 adult, $28.95 child
A holiday menu consisting of turkey, ham, and duck entrees served with antipasto sampler, rolls, soup or salad, snap peas whipped potatoes or candied yams will be available. They will also be serving select items from the classic Steakhouse menu.
2757 Shell Beach Road, Pismo Beach
805-773-5000
12:00 PM -6:00 PM
$57 adult, $25 child
A prix-fixe menu consisting of prime rib, roasted turkey breast, or fried chicken entrees served with starters like turkey pot pie, pumpkin soup, or shrimp cocktail will be available. Kids options are also available offering a turkey plate with mashed potatoes, gravy, dinner roll, side veggies, and a drink.  Limited small party reservations are still available. 
416 S. Main Street, Templeton
805-434-3204
2:00 PM- 8:00 PM
Pre-fixed menu with options including a traditional turkey dinner with cranberry-orange sauce, apple-fennel sourdough stuffing, crème Fraiche & chive mashed potatoes. Reservations are recommended.
4095 Burton Drive, Cambria
805-927-5007
1:00 PM- 8:00 PM
A pre-fixed dine-in and take-out menus are available with options of roast turkey, braised beef short ribs, and Skuna Bay salmon. Reservations for 6 or more can be made by emailing info@robinsrestaurant.com.
 
1255 Monterey Street, San Luis Obispo
805-439-4298 or order online
A holiday takeaway menu offers dinner packages including items like a whole or half oven-ready free-range turkey with sides like garlicky mashed potatoes as well as additional sides to purchase like sweet potato casserole. Orders must be placed by Saturday, November 20th at 6:00 PM. Orders can be picked up at 1255 Monterey St on Wednesday, November 24th between 3:00 PM and 5:00 PM. Payments must be made at the time of order.
147 Stimson Avenue, Pismo Beach
805-773-1011
12:00 PM- 8:00 PM
$89, $49 for kids
Prix-fixe menu includes roasted Distel turkey, autumn spiced scallops, or butternut gnocchi. Includes a glass of house wine, coffee, and tea. Offering a wine flight for $20 with each meal. Reservations recommended.
2248 Main Street, Cambria
805-927-4865
5:00 PM- 9:00 PM
A Holiday menu with an array of options like traditional roast turkey dinner, New Zealand Rack of lamb, and Alaskan halibut in honey macadamia crust are offered. Reservations are encouraged as seating may be limited.
1103 Spring Street, Paso Robles
805-226-4925
1:00 PM -9:00 PM
A Holiday menu includes options like Slow Roast Prime Rib, Atlantic salmon, or Sage Rubbed turkey breast in addition to other appetizers and vegetable options. Reservations are recommended.
 
Friendsgiving Dinner 11/21/21
1313 Park Street, Paso Robles
805-226-5888
6:30 PM Reception, 7:00 PM Dinner
$225 All-inclusive
Attend a winemaker dinner for a sparkling wine reception and an all-inclusive farm-to-table dinner with a Prix-fixed menu. The six-course menu includes courses like grilled quail, venison loin, duck confit, and lamb au Poivre each paired with sides and a corresponding wine for each course. Reservations and tickets can be purchased online.
 
699 Embarcadero, Morro Bay
805-722-0677
2:00 PM- 7:00 PM
$79 adults, $29 children
Prix-fixe three-course dinner menu with traditional Thanksgiving dinner, pumpkin seed crusted local halibut, and Double R Ranch prime rib. Sold out for this year.
1865 Monterey Street, San Luis Obispo
805-439-3739
1:00 PM- 8:00 PM
$39.99 Adults, $19.99 Kids
Full-service buffet including turkey and ham carving stations as well as fixings like traditional stuffing, mac and cheese, and vegan and vegetarian options. Reservations are heavily encouraged.